May, 20, 2014
May 20
1:30
PM ET
The
Miami Dolphins
were a competitive 8-8 in 2013 and just one win away from making the playoffs. They signed
Branden Albert
, a Pro Bowl left tackle and drafted right tackle
Ja'Wuan James
in the first-round to fix the offensive line. Miami added 1,000-yard running back
Knowshon Moreno
to boost their shoddy rushing attack.
Add veteran signings such as cornerback
Cortland Finnegan
, defensive tackle
Earl Mitchell
, safety
Louis Delmas
, a new draft class and the Dolphins should be projected to take the next step, correct?
Not so fast.
The early 2014 projections are in and it doesn't look good for Miami. So far, many experts are predicting the Dolphins slide this year.
ESPN.com recently ranked
the Dolphins in the bottom third of the NFL at No. 24. One voter -- NFL Nation reporter Kevin Seifert -- rated
the Dolphins No. 30
, which rubbed a lot of Dolphins fans the wrong way. Bleacher Report also rated Miami
last at No. 32
and the worst team in the NFL. Football Outsiders predicted Miami
would finish 7-9.
Why is Miami being ranked low nationally? Here are three theories:
1. Head coach on the hot seat
Analysis:
It rarely looks good for a team when the head coach enters the season on the hot seat. Joe Philbin is a shaky 15-17 in two seasons. He has yet to post a winning record or make the playoffs. There are no excuses for Philbin to fail in his third year. Although the Dolphins won't admit it publicly, it's playoffs or bust. What if Miami gets off to a slow start? What if the Dolphins are out of the playoff race in November? Miami must win early to quiet the speculation. Philbin must also get his players to respond week in and week out despite his status.
2. Not much confidence in Tannehill
Analysis:
Quarterback
Ryan Tannehill
has one of the top-selling jerseys in the NFL. He gets a ton of support in South Florida. Yet, Tannehill doesn't get the same love nationally. Tannehill has a mediocre 15-17 record as a starter. He hasn't proven to be a winning quarterback in two seasons and it's now or never. Tannehill is learning a new offensive scheme for the first time since college. He has also struggled throwing the deep ball and holding the ball too long. Based on early Power Rankings, it appears the national media does not think Tannehill is going to do anything special this year.
3. Bad Press
Analysis:
Fair or not, the Dolphins have the national perception of a team in turmoil and previously with a bad locker room. Last year's bullying scandal rocked Miami and put the entire organization in a bad light. To the Dolphins' credit, owner Stephen Ross, first-year general manager Dennis Hickey and Philbin have done a lot to clean up last year's ills. They let
Richie Incognito
and
John Jerry
walk in free agency and traded
Jonathan Martin
. But
recent issues on social media
with Pro Bowl center
Mike Pouncey
, who may face an early-season suspension, and
Don Jones
keep Miami's locker-room issues in the spotlight.
When you consider all these factors, it's easier to see why the national media isn't giving Miami much respect this upcoming season. The Dolphins also have the 12th toughest strength of schedule.
Miami will have a chance to fly under the radar. That could be a good thing. Meanwhile, Dolphins fans shouldn't expect much respect from the national media leading up to the regular season.
May, 11, 2014
May 11
11:51
PM ET
Kudos to the
Miami Dolphins
.
It took the Dolphins' organization just one day to make a swift and stern ruling on defensive back
Don Jones
. On Saturday the second-year player tweeted critical comments about
Michael Sam
, who became the first openly gay player drafted by an NFL team. By Sunday, the Dolphins' brass met with Jones and wasted little time handing out his punishment.
Jones was
fined an undisclosed amount
, excused from the team and required to undergo educational training. Jones cannot return to the Dolphins until that training is complete, according to the team.
The Dolphins were wise to take a hard stance on this issue. For starters, the Dolphins' locker room has had enough issues in the past year with their bullying scandal and cannot add any form of intolerance to that list. Second, the team is letting its players know that further missteps on social media are unacceptable. The team also had a sit-down meeting with Pro Bowl center
Mike Pouncey
after his recent comments on Twitter that first-round pick
Ja'Wuan James
would have to buy him gifts. The tweet was in poor taste after Pouncey was one of the culprits in Miami's bullying scandal.
Jones will have to pay the price for his mistakes. But, more importantly, he must learn from it. During a historic moment for the NFL and society in general, Jones was the only known player in the league to publicly bash Sam. Dolphins general manager Dennis Hickey was quick to point out Jones doesn't represent the views of the organization.
Jones did issue an apology to Sam on Sunday night.
"I want to apologize to Michael Sam for the inappropriate comments that I made last night on social media," Jones said. "I take full responsibility for them and I regret that these tweets took away from his draft moment. I remember last year when I was drafted in the seventh round and all of the emotions and happiness I felt when I received the call that gave me an opportunity to play for an NFL team and I wish him all the best in his NFL career."
Following a controversial 2013 season, Miami is the last team that needs negative press from its players. This is why the Dolphins set an example with Jones.
Miami is trying to change the culture in its locker room this year. Having a low tolerance for these kind of issues is the best approach.
May, 11, 2014
May 11
10:20
AM ET
For two of the past three days,
Miami Dolphins
general manager Dennis Hickey had to interrupt NFL draft news conferences to field questions on veteran players making mistakes with social media.
On Friday, Hickey called an impromptu media gathering at the Dolphins' facility
to make a statement
on Pro Bowl center
Mike Pouncey
, who tweeted "I can't wait for our gifts he's getting us," when Miami selected first-round right tackle
Ja'Wuan James
. The following night Hickey had to
address controversial tweets
by second-year player
Don Jones
' toward
Michael Sam
, who became the first openly gay player drafted in the NFL.
"I was made aware of it and I was disappointed in those comments," Hickey said of Jones. "That's not what we stand for as an organization."
The pair of incidents in a short span highlighted the fact that Miami hasn't completely fixed its locker room culture. As much as the team has worked on all that went wrong last year during "Bullygate," there is still plenty of work to be done in the area of social media. The Dolphins cannot overlook this form of communication. They must do a better job of educating their players. As a general rule, Dolphins players should "think before you tweet."
So far Miami has been too reactive -- instead of proactive -- with issues of social media. The Dolphins met with Pouncey after his comments and will do the same with Jones. It's probably time for Miami's brass to also hold a widespread team meeting during offseason workouts before this social media issue gets out of hand and causes more problems for the organization.
It would be easier if the Dolphins, a billion-dollar brand, could ban all their players from using social media and simply concentrate on football. But that's not a realistic approach and a proper way to treat employees. Education, communication and a low tolerance are the best ways for Miami to fix this issue.
April, 15, 2014
Apr 15
12:40
PM ET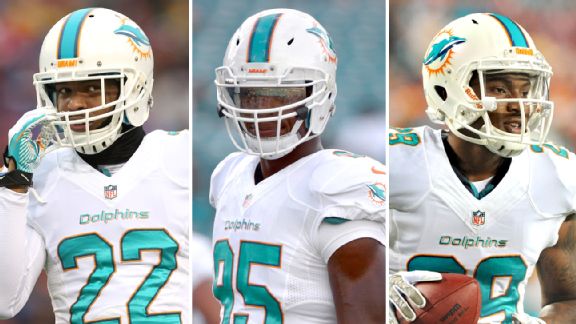 AP Photo, Getty ImagesJamar Taylor, Dion Jordan and Will Davis made a minimal impact as rookies.
Most of the attention over the next three weeks will be focused on the 2014 NFL draft, as each team tries to shape its present and future by identifying the right college players to fill needs.
But for the
Miami Dolphins
, success or failure this season will depend more on the development of the 2013 draft class. Few teams got less production from their rookies last year than Miami. Only the
Denver Broncos
and
Seattle Seahawks
had fewer snaps from first-year players -- and those teams, which competed in Super Bowl XLVIII, were stacked with established veterans.
The Dolphins, who faltered down the stretch and finished 8-8, did not have that luxury.
It's time for Miami's second-year players to come of age during an important time for many within the organization. Head coach Joe Philbin is entering an important third year after going 15-17 his first two seasons, and there could be a lot of change next year if the Dolphins aren't successful.
Most of Miami's top picks -- including defensive end
Dion Jordan
, offensive lineman
Dallas Thomas
and cornerbacks
Jamar Taylor
and
Will Davis
-- basically had red-shirt seasons in 2013, thanks to injuries, inconsistency and lack of confidence from the coaching staff. That lack of production was one reason why the Dolphins failed to get to the playoffs for the fifth consecutive year.
"They got less than anybody in the league out of their draft class, and they had high picks. That's a huge issue," ESPN.com NFL scout Matt Williamson said. "But if that group, the corners and especially Jordan, can play up to what Miami thought they were and what most people thought they were, the Dolphins could rebound."
"We have a lot of hope for the draft class from last year," Philbin said at the NFL owners meetings in late March. "A lot of them have been back early, working. You want to see development throughout the course of an individual player's career, but I think all of you guys would agree you usually see a significant jump between Year 1 and Year 2. These are guys we thought highly of a year ago when we drafted them.
"They had some injury issues that kind of curtailed their development in Year 1. So I'm excited about working with them, developing them and seeing them progress here this season."
The 2013 draft class was one point of contention last year between Miami's coaching staff and the front office. Philbin didn't feel his rookies were ready to take on larger roles. Jeff Ireland, then the Dolphins' general manager, believed in the talent of his draft picks and felt they were not being used properly. Jordan, the No. 3 overall pick in 2013, was perhaps the biggest example.
Due to offseason shoulder surgery, Jordan missed time in training camp and the preseason. He never found his footing in the regular season and he fell behind veteran defensive ends
Cameron Wake
,
Olivier Vernon
and
Derrick Shelby
.
Williamson described Jordan as "a ridiculous athlete." He has immense potential but spent most of the season as the third or fourth defensive end and on special teams. He was involved in 321 snaps and had a disappointing 26 tackles and two sacks.
There have also been offseason trade rumors involving Jordan, which Philbin has denied. Miami's head coach expects Jordan to have a larger role in 2014.
"We feel like with a full offseason, with more time devoted to his fundamentals, he will have a better grasp of the position he's playing," Philbin said. "We do want to do a better job with the numbers, rotating him in. ... We want to get him more snaps on first and second down. "
The Dolphins also are counting on young corners Taylor and Davis, who were drafted in the second and third round, respectively. Both had injury setbacks last season and played a combined 104 snaps.
Pro Bowl cornerback
Brent Grimes
will occupy one starting job, and Taylor and Davis will compete with veteran free-agent acquisition
Cortland Finnegan
for the other spot. Finnegan, a former Pro Bowl corner, is the favorite to start due to experience. But Philbin is not going in with any preconceived notions.
"I want to see the best player, whoever can help us win football games," Philbin explained. "Whoever performs the best should be the starting corner."
Miami got most of its rookie production last year from unlikely sources. Fifth-round kicker
Caleb Sturgis
proved to be the Dolphins' best rookie acquisition last season. He beat out longtime Miami kicker
Dan Carpenter
in training camp and led the Dolphins with 111 points.
The Dolphins also had decent production from undrafted rookie guard
Sam Brenner
, who made four starts and played 274 snaps. Brenner stepped up following the suspension of guard
Richie Incognito
in Miami's high-profile bullying scandal.
Brenner's production highlighted the fact that Thomas, a 2013 third-round pick, was too green to step in and be productive. Thomas was rotated between guard and tackle in training camp and never got comfortable in either position. Thomas must find a home at this season in order to provide quality depth.
In fact, it will be vital for Miami's entire 2013 draft class to find roles and contribute next season. The Dolphins used nine draft picks last year, and most have yet to make an impact.
"The Dolphins have a young quarterback [
Ryan Tannehill
], so they need to build a real core for the long term," Williamson said. "They need last year's draft and this upcoming come to build around Tannehill. They don't need to live for today. A strong core is more important than winning it all this year, although that philosophy can get you fired in Miami if you're 6-10."
September, 29, 2013
9/29/13
9:30
AM ET
DAVIE, Fla. -- When you have two undefeated teams playing at a high level, something unexpected could be the difference.

Could special teams play a major role in Monday's huge matchup between the
Miami Dolphins
and
New Orleans Saints
?
"It's huge," Dolphins head coach Joe Philbin said. "They have excellent specialists. We feel like our specialists have played very, very well up to this point in time. They have a good group of core players, as do we. ... It's going to be a very good matchup in special teams."
The Dolphins take the third phase of the game very serious, and it's one reason Miami is 3-0. Philbin plays several starters on his special-teams units and also is getting tremendous production from his rookie class.
Rookie kicker
Caleb Sturgis
is perfect in six field goal attempts, which includes two makes of 50 yards or more. Seventh-round pick
Don Jones
has been a monster on special teams and he caused a critical fumble last week against the
Atlanta Falcons
. No. 3 overall pick
Dion Jordan
also has contributed.
The Dolphins are starting to find their right mix of aggressive, special-teams players.
"I think special teams is all about who wants it the most," Jones said. "You got to line up and say, 'I'm going to kick your tail on this rep,' and then do it."
Most of the hype this week has revolved around the big keys on offense and defense for Miami and New Orleans. But winning on special teams could also go a long way.
August, 31, 2013
8/31/13
9:30
PM ET

Most significant move:
The Dolphins had several tough decisions to make at the bottom of their roster. Perhaps the biggest call was whether to keep three quarterbacks -- and Miami opted Saturday to keep third-stringer
Pat Devlin
. Devlin played nearly all of Miami's fifth preseason game against the
New Orleans Saints
and threw for 259 yards, two touchdowns and two interceptions. Devlin showed some good and some bad, and it was just enough.
Several other bubble players didn't make the team. Wide receiver
Marvin McNutt
and defensive linemen
Kheeston Randall
and
A.J. Francis
were all in the running for the 53-man roster; all three are strong candidates for Miami's practice squad. There's also the chance that any of the players cut will be scooped up by other teams. That probably explains why the Dolphins were the last NFL team to release their list of cuts Saturday night -- there had to be some gamesmanship involved.
Close calls:
Several Dolphins who made the 53-man roster won't be able to rest easy. Cornerback
R.J. Stanford
, defensive back
Don Jones
, tight end
Michael Egnew
and offensive tackle
Will Yeatman
are among several bubble players who still have jobs.
For Egnew and Stanford in particular, injuries during the course of training camp and the preseason helped their case. The Dolphins might not be finished adding players this weekend, however.
What's next:
Like most teams, Miami will examine the waiver wires closely. Miami spent $200 million in free agency this offseason but is far from a perfect team. The Dolphins can use additional depth at positions such as offensive line, tight end and now wide receiver. By cutting McNutt and
Chad Bumphis
, the Dolphins only have four receivers on their roster. That will change soon. Miami runs a lot of three-receiver sets and needs more players at the position.
It's also time for Miami to set its sights on a Week 1 road game against the
Cleveland Browns
. The Dolphins have playoff aspirations this season, but they must win their first road game to set the tone in 2013.
Dolphins cuts:
G
Chris Barker
, C
Sam Brenner
, WR Chad Bumphis, WR
Keenan Davis
, DT
A.J. Francis
, RB
Jonas Gray
, S
Keelan Johnson
, S
Jordan Kovacs
, T
Andrew McDonald
, WR Marvin McNutt, TE
Kyle Miller
, DE
Tristin Okpalaugo
, CB
Julian Posey
, CB
De'Andre Presley
, DT Kheeston Randal
l
, DT
Tracy Robertson
, LB
Lee Robinson
, LB
Austin Spitler
, WR
Brian Tyms
, OT
Jeff Adams
(waived/injured), QB
Aaron Corp
(waived/injured), LB
Antwan Applewhite
(terminated contract).

NFL SCOREBOARD
Thursday, 8/28
WEEKLY LEADERS