NFL Nation:

Don Martindale
January, 25, 2012
1/25/12
8:00
AM ET
There's no doubt the
Denver Broncos
should be disappointed that they are losing defensive coordinator Dennis Allen.
When the Broncos hired Allen last year, they knew he'd likely get some head-coaching opportunities, but they thought he'd stick around Denver for two or three years. Yet Allen was plucked by Oakland as its head coach after one season as head coach. The Broncos' defense improved immensely under Allen's guidance.
Now Denver's defense will have its seventh defensive coordinator in seven seasons. Think about that.
Champ Bailey
and
D.J. Williams
have both worn a Denver uniform since 2004. They will now have their seventh coach in seven years.
The transition this year will not nearly be as difficult because Denver head coach John Fox is defensive-minded. While Allen did a good job, Fox deserves a lot of credit for Denver's improvement and will ensure the Broncos don't take a step backward on defense.
I think the two names we have to look at as a candidate to replace Allen are former Jacksonville coach Jack Del Rio and Denver linebacker coach Richard Smith. Del Rio was a coordinator for Fox in Carolina and Smith is extremely experienced as well.
The Broncos will miss Allen, but I think they are in better shape on defense than it may appear.
Here is a look at the Broncos' defensive coordinators in the past six years: Larry Coyer (2006, fired), Jim Bates (2007, fired), Bob Slowik (2008, fired), Mike Nolan (2009, departed in mutual decision), Don Martindale (2010, fired), Allen (2011, hired by Oakland).
January, 25, 2011
1/25/11
2:57
PM ET
The
Denver Broncos
just officially announced the hiring of New Orleans secondary coach Dennis Allen as their defensive coordinator.
Denver also hired linebackers coach Richard Smith and linebacker coach Ron Milus. Both Smith and Milus were with John Fox in Carolina. Fox has now brought five of his Carolina coaches with him to Denver. The pair both coached in Denver under Mike Shanahan and Smith was a defensive coordinator in the NFL.
Allen, 38, is beginning his first stint as an NFL defensive coordinator. He is considered one of the bright young defensive minds in the league and in addition to Smith, Allen can also rely on Fox –- a defensive specialist -- as he grows into his new job. The Broncos hope Allen will bring stability to a unit that has had six different coordinators in six seasons. They were last in the NFL in 2010 in total defense and points allowed under coordinator Don Martindale.
Fox has previously said he was open to running either a 4-3 or a 3-4 defensive front scheme. Fox ran a 4-3 in Carolina and Allen has been coaching a 4-3. Denver has used a 3-4 defense for the past two seasons and team will likely add a lot of players on the defensive line and linebacker, so a switch to the 4-3 would matter much.
The key to the switch will be finding to effectively use
Elvis Dumervil
. Shanahan drafted Dumervil and the fifth-year linebacker flourished in a 3-4 defense in 2009. Dumervil, who was given a huge contract last summer, led the NFL with 17 sacks in 2009 but missed the entire 2010 season with a pectoral injury. He will probably be moved back to a rush end spot in the 4-3.
With Allen being hired, there are now two key coaching openings remaining in the AFC West. Kansas City needs an offensive coordinator and Oakland needs a defensive coordinator.
December, 22, 2010
12/22/10
2:10
PM ET
»
NFC Stock Watch
:
East
|
West
|
North
|
South
»
AFC
:
East
|
West
|
North
|
South
FALLING
1. Denver's coaching staff:
Interim coach Eric Studesville, who was the running backs coach under the fired Josh McDaniels, probably has no chance to be a candidate for the permanent job. The Broncos are 0-2 and have lost by a combined 46 points under Studesville. Don't expect defensive coordinator Don Martindale back, either. Denver has allowed an NFL-high 415 points. That means the Broncos will very likely have their sixth defensive coordinator in six seasons in 2011.
2. Kyle Orton's future in Denver:
Orton is a victim of circumstances. He has had a nice two-year run in Denver in a difficult situation. Still, his future with the Broncos is uncertain, even though he signed an extension through 2011 during the summer. The interim staff in Denver, with the agreement of ownership, is giving rookie quarterback
Tim Tebow
a chance to remain the starter for the final two games. If Tebow performs well, ownership could urge the new staff to give Tebow a chance to be the starter in 2011. Orton is a good player, but he may be the odd man out in Denver.
[+] Enlarge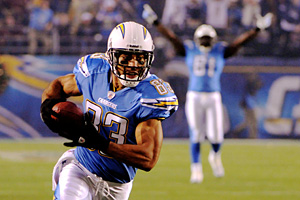 Kirby Lee/US PRESSWIREVincent Jackson caught three touchdowns during the Chargers' 34-7 victory over the 49ers on Thursday.
3. Raiders' playoff chances:
The Oakland Raiders' playoff hopes took a hit in Week 15 even though Oakland smoked Denver. The two teams Oakland is chasing -- Kansas City and San Diego -- both won. The 7-7 Raiders are not out of the race yet, but they are barely breathing. If the Chiefs defeat Tennessee on Sunday or if the Raiders lose to Indianapolis, Oakland's season of progress will end without a trip to the postseason.
RISING
1. Vincent Jackson, Chargers wide receiver:
Jackson showed the Chargers why is he so valuable as he caught three touchdown passes in an easy victory over San Francisco. After a long holdout, Jackson showed just how much of an effect he can have on San Diego as it pushes down the stretch. It may be enough for the Chargers to place the franchise tag on Jackson to keep him in San Diego in 2011.
2. Matt Cassel's popularity in Kansas City:
Cassel wasn't a popular figure in Kansas City a few months ago. Many Chiefs fans thought he was a determent to the team's chances for success and wanted the team to look for his replacement in the offseason. Now, after a tremendous two-month stretch and a gutsy performance in Week 15 (he led the team to a win 11 days after he had an appendectomy), it seems as if Kansas City fans realize they have a positive player at quarterback.
3. Kansas City's playoff dreams:
What seemed so unlikely four months ago is close to happening -- the Chiefs are nearing a playoff spot. This has a chance to be one of the more remarkable stories of the 2010 season. Kansas City won a total of 10 games in the past three seasons and the team wasn't expected to make this type of progress so quickly. Yet, the Chiefs are 9-5 and could secure the AFC West crown as soon as Sunday.
December, 7, 2010
12/07/10
3:50
PM ET
The
Denver Broncos
have to get out of the firing business.
This team hasn't been to the playoffs since the 2005 season and there has been an avalanche of change in Denver since. The team has been in a firing frenzy. That trend was started by former coach Mike Shanahan, who was famous for firing people if the Broncos ever slipped. But owner Pat Bowlen has continued that trend after he fired Shanahan.
Denver has to find the right people for the job and it extends past the head coach. The Broncos must find the right person to replace Josh McDaniels, who was fired 23 months after taking over for Shanahan, who lasted 14 years on the job.
[+] Enlarge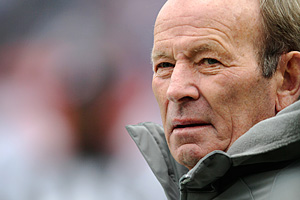 AP Photo/Joe MahoneyBroncos owner Pat Bowlen needs to establish some continuity within the organization.
The following is a look at some key firings in Denver and how they are still affecting this floundering franchise:
Head coach
Firing history:
McDaniels clearly wasn't the right man to replace Shanahan. Now, after going almost a decade and a half with the same coach, Bowlen has to start a coaching search for the second time in less than two years.
Current state:
The Broncos have quickly gone from one of the most stable NFL franchise to being one in disarray. Two years ago, this was perhaps the most attractive job in the league because Shanahan left it in pretty good shape. With a stripped talent base and lack of an identity, this has the look of a team whose reconstruction could take awhile.
Defensive coordinator

Firing history:
The defense has been a mess for several years in Denver. The beginning of the end of the Shanahan era was when Shanahan fired defensive coordinator Larry Coyer after the 2006 season. Shanahan was looking for a scapegoat after a late-season collapse. Coyer was the victim. What a mistake. Coyer, now the defensive coordinator in Indianapolis, is one of the best defensive coaches in the league. All stability on that side of the ball left with Coyer. It began a parade of one-year failures. Jim Bates, Bob Slowik and Mike Nolan all lasted one season in Denver. Nolan and McDaniels mutually decided to part ways after last season. Nolan did a fine job in Denver. McDaniels blew it by not making it work with Nolan, who is now in Miami.
Current state:
Don Martindale will, in all likelihood, be the latest one-year Denver defensive coordinator, meaning Denver will have six defensive coordinators in six seasons. There is little chance Martindale will be kept by the new head coach. Another coaching change could potentially mean the Broncos could move back to the 4-3 base defense that Shanahan used.
Front office
Firing history:
Another underrated loss was when Shanahan fired general manager Ted Sundquist. Shanahan had more power than Sundquist and he got rid of him. It was a mistake. Sundquist was a good personnel man who was detailed-oriented and who built the bottom of Denver's roster very well. The Broncos' roster was always deep when Sundquist was around. The team has gotten thin since he left. After Sundquist -- who is still without a job and who would likely jump at the chance to return to the Broncos -- was fired, Shanahan promoted the father-son team of Jim and Jeff Goodman. When Shanahan was gassed, the Goodmans stayed and were part of the group that hired McDaniels. They were abruptly fired less than two months after McDaniels was hired. This was a bad sign. McDaniels played a role in firing two people who were part of the decision-making team that just hired him. He had too much power for a 32-year-old first-time head coach.
Current state:
Brian Xanders is the general manager, but McDaniels had more control over the team than Xanders. His future with the team is unclear. The Broncos need experienced help in the personnel department and a strong general manager would help.
Whatever happens, Denver has to stop this string of mistakes and settle on the right people at several positions.
December, 1, 2010
12/01/10
1:00
PM ET
»
NFC Stock Watch
:
East
|
West
|
North
|
South
»
AFC
:
East
|
West
|
North
|
South
FALLING
1. Denver's defense:
The Broncos have allowed 100 points in the past three games and have allowed an NFL-high 323 points under first-year defensive coordinator Don Martindale. Denver allowed a total of 324 points last season under Mike Nolan, who departed after one season because he and coach Josh McDaniels mutually decided to part ways. McDaniels may have to look for another defensive coordinator.
2. Oakland's run game:
The Raiders' run game has gone flat during a two-game losing skid. Oakland had 16 yards on 12 carries in a loss to Miami on Sunday and it has 77 yards total in the past two games. Oakland has tumbled from No. 2 to No. 5 in the NFL because of the drought.
[+] Enlarge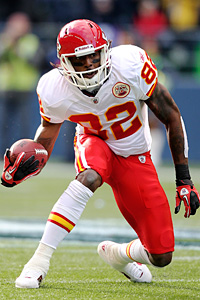 Otto Greule Jr/Getty ImagesDwayne Bowe has 32 catches and seven touchdowns in the past three games.
3. Oakland's quarterback situation:
Bruce Gradkowski
has re-injured a shoulder that kept him out five games. That means
Jason Campbell
may be the starter for an extended period, perhaps even for the rest of the season. If Oakland -- which has benched Campbell twice this season -- wants to pull him again, it will have to go to No. 3 quarterback
Kyle Boller
. Yes, it's a mess. It may not be a
JaMarcus Russell
-like mess, but it's clear the Raiders are heading back to square one at the position.
RISING
1. Kansas City's offense:
The Chiefs' offense is rolling. It has scored 102 points in the past three weeks. Quarterback
Matt Cassel
has thrown 18 touchdown passes and one interception in the past seven weeks. Running back
Jamaal Charles
is second in the NFL with 1,021 rushing yards and receiver
Dwayne Bowe
has 32 catches and seven touchdowns in the past three games. It's as if first-year offensive coordinator Charlie Weis never left the NFL.
2. San Diego's defensive scoring ability:
The Chargers' defense scored more than their offense did in a 36-14 win at Indianapolis on Sunday. Linebacker
Kevin Burnett
and safety
Eric Weddle
both returned interceptions off
Peyton Manning
for touchdowns. The San Diego offense scored one touchdown while settling for five field goals. It's a strange way to get to 36 points, but I'm sure San Diego will take it.
3. The race:
It should be a fun race to the finish in the AFC West. Kansas City has won two straight games and is in first place at 7-4. San Diego has won four straight games and is 6-5. Oakland is on the edge of the race at 5-6. I expect the Chiefs and Chargers -- who play Dec. 12 in San Diego -- to slug this out to the end and demonstrate that the division is getting better and becoming relevant in the NFL landscape again. These are two legitimate playoff contenders heading into December.
September, 22, 2010
9/22/10
4:27
PM ET
Peyton Manning
likes to rely on studying and breaking down what he's seen.
Going against teams with new coordinators early in the season gives him less to study. Last season all three of his AFC South rivals had new defensive coordinators, and he saw one on opening day. The Colts edged Jacksonville and Mel Tucker, 14-12.
Sunday in Denver, the Colts will see a Broncos defense run by Don Martindale, who replaced Mike Nolan after just one season. (Editorial aside: Denver should have given Nolan, now in Miami, a raise, not sent him packing.)
Last week they also saw a new coordinator, and Perry Fewell's plan for the Giants against Manning was questionable at best.
"[The Broncos] have a new defensive coordinator, so it will be the second week in a row of playing somewhat of an unfamiliar defense because it's a new scheme," Manning said in his Wednesday session with the media. "[They have] a lot of the same players from last year, but a new scheme. You never quite know how a team is going to play against you this early in the season, so there is a lot of unknown there."
I'd argue that new coordinators facing Manning for the first time are the ones at a disadvantage due to unfamiliarity. If you don't have much experience trying to adjust to Manning and the Colts' offense, doing so on the fly can be quite difficult, particularly with the Colts' pace.
Pregame checkmark to Manning here, no matter how little information he has on Martindale.
Manning also pointed out that a veteran secondary will pose a challenge to his receivers and require him to be especially accurate.
"I think [Champ] Bailey and [André] Goodman are as solid a corner tandem as you can find and there's nothing Bailey hasn't seen," Manning said. "Goodman, I think, is in his ninth year; he's a veteran. [Brian] Dawkins has been around for a long time. There's a lot he has seen, and [Renaldo] Hill is a 10-year veteran at safety.
"A lot of experience there, you're not going to confuse them or trick them. They all still move real well. It's going to be a tough challenge getting open versus that secondary."
February, 27, 2010
2/27/10
4:00
PM ET
INDIANAPOLIS -- While the Broncos are expected to trade likely restricted free agent receiver
Brandon Marshall
, Denver coach Josh McDaniels said that is not necessarily the case.
Asked Saturday at the NFL combine if Marshall could be in a Denver uniform in 2010, McDaniels said "certainly."
McDaniels said there is no timetable to hash out Marshall's situation. He will likely become a restricted free agent Friday and there is expected to be interest on the trade market. An NFL head coach said Friday he thinks Denver will get a first-round pick in return for Marshall.
"I'm fond of Brandon," McDaniels said. "He's a good person and he's been huge to our team."
Still, if Denver gets a decent offer expect it to deal Marshall.
Here are other highlights from McDaniels' session:
• Tight
Tony Scheffler
could also return. Scheffler is a likely restricted free agent and was suspended for the final game of the season along with Marshall for accountability issues.
• Third-year running back
Peyton Hillis
will remain on the team and McDaniels is looking forward to getting Hillis more involved. He expects to see third-year receiver
Eddie Royal
bounce back as well. Both Hillis and Royal were much less productive in McDaniels' first season than they were as rookies in 2008.
• McDaniels is following the
Darrent Williams
murder trial and is up to speed on
Elvis Dumervil
and Marshall's testimony.
• No. 2 quarterback
Chris Simms
could remain with the team and McDaniels is happy with
Tom Brandstater
' progress. McDaniels said the team has "high hopes" for Brandstater in the long run.
• McDaniels is confident new defensive coordinator Don Martindale will "do a phenomenal job." Martindale, who coached Denver's linebackers last season, replaced Mike Nolan. McDaniels said Martindale had the support of several of Denver's players.
• Second-year player
Seth Olsen
is a candidate to start at left guard and center. McDaniels wants the team to get bigger on the offensive line and that's one of the reasons why starting center
Casey Wiegmann
was cut this week.
February, 1, 2010
2/01/10
12:00
PM ET
Not long ago, I was chatting with a member of the Mike Shanahan regime in Denver.
The former Denver employee and I were discussing what decision marked the beginning of the end for Shanahan's 14-season run in Denver.
After tossing around a few ideas, we came to a consensus: Larry Coyer.
Shanahan should never have fired Coyer, now the defensive coordinator with the Indianapolis Colts, as his defensive coordinator. Shanahan's Broncos never rebounded from his decision to jettison the innovative, successful and popular Coyer after a late-season collapse in 2006.
The Broncos' defense was in a shambles in 2007 and 2008. After Coyer was fired, Shanahan hired Jim Bates to run the defense. He was fired 12 months later. Then, Bob Slowik was promoted to defensive coordinator for the 2008 season. He was fired along with Shanahan. Thursday, second-year Denver coach Josh McDaniels promoted linebackers coach Don Martindale to be the defensive coordinator, replacing Mike Nolan.
Martindale is Denver's fifth defensive coordinator in five seasons.
I wonder if Shanahan would still be the coach in Denver if he hadn't fired Coyer?
Coyer's units were always strong. He was blitz master and he made terrific in-game adjustments.
Coyer,
of course
, has moved on nicely. He is six days away from leading the Colts' defense in the Super Bowl against New Orleans.
January, 23, 2010
1/23/10
1:30
PM ET
The Denver Post is reporting that Broncos linebackers coach Don Martindale
appears to be the front-runner
to become the team's defensive coordinator.

Martindale
This development would be a bit surprising since the early leader in the clubhouse for the position was former New England defensive coordinator Dean Pees. Pees recently said he will allow his contract to run out to pursue another position.
A position popped up Monday when the Broncos and defensive coordinator Mike Nolan stunningly decided to part ways. Nolan quickly became the defensive coordinator in Miami.
Pees and Denver coach Josh McDaniels were coordinators in New England together and they are friends. Pees seemed like a natural fit to replace Nolan.
Thus, a Martindale promotion would be somewhat unexpected. Still, McDaniels and Martindale worked well together in 2008, so perhaps there is a comfort level there. It will be interesting to see if this move becomes official.
September, 29, 2008
9/29/08
10:13
PM ET
Posted by ESPN.com's Bill Williamson

The news that Al Davis is meeting with offensive assistants on the Raiders staff is evidence a change is near. Nothing is official, but this may be the sign that a coaching change is imminent.
Davis is meeting with offensive coordinator Greg Knapp, offensive line coach Tom Cable and consultant Paul Hackett tonight.
They could be the candidates to replace Lane Kiffin. Earlier in the process, receivers coach James Lofton and running backs coach Tom Rathman were considered candidates to replace Kiffin along with defensive coordinator Rob Ryan and linebackers coach Don Martindale.
There had been speculation Knapp would not want the job and that he would likely reunite with Jim Mora next year in Seattle. The two worked together in Atlanta. But Knapp would be a natural fit to take over in Oakland since he works so closely with quarterback JaMarcus Russell and running back Darren McFadden, the core of the offense. There would be little change in the overall scheme if Knapp took over.
Cable has also been linked to Mora's staff in Seattle. He could be attractive to Davis because he has done a fine with the offensive line. The unit has shown improvement, especially in the run game, under Cable's guidance. He uses a zone-blocking scheme that Denver has used for years.
Hackett is the most experienced of the group. He is a special projects assistant with the Raiders. He was brought in this summer. Hackett was the head coach at Pittsburgh and USC and has been an NFL offensive coordinator. He knows the Raiders' style of offense well.
Davis is meeting with these coaches for a reason. Stay tuned.

NFL SCOREBOARD
Sunday, 2/2
WEEKLY LEADERS