January, 2, 2015
Jan 2
5:45
PM ET
ALLEN PARK, Mich. – When
Dan Orlovsky
was making his decision of whether or not to return to the
Detroit Lions
this offseason, he called his old center,
Dominic Raiola
. He wanted to know was what the team was like now.
He wanted to know what he might be walking into. He had familiarity with the organization and with Detroit's new head coach, Jim Caldwell. But he wanted to understand everything else, too. He knew what it was in 2008, when the Lions became the first 0-16 team in league history.
But how much had things changed.
[+] Enlarge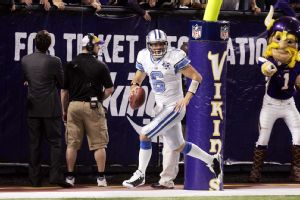 AP Photo/Jim MoneDan Orlovsky was with the Lions during their winless season in 2008 and returned as a backup quarterback this season.
"It's a stark, stark difference from where it was," Orlovsky said. "On an A-to-Z basis, from an in-the-locker-room standpoint to a team-meeting standpoint to an individual-meeting standpoint to a practice standpoint to an expectation-level standpoint to overall culture.
"It's extremely different and it's enjoyable to be a part of."
Back in 2008, though, Orlovsky wasn't sure if this was possible in Detroit. He knew what those Lions were as a franchise. He knew the history before 2008 – history still following Detroit this season, when the Lions finished 11-5 and qualified for the playoffs for the second time in four years as they face the
Dallas Cowboys
on Sunday.
Most of Detroit's players don't understand the Lions' nadir. Five do as the remnants of that 2008 team: Orlovsky, Raiola, wide receiver
Calvin Johnson
, snapper
Don Muhlbach
and defensive tackle
Andre Fluellen
. Three have been with the Lions throughout: Johnson, Raiola and Muhlbach. Fluellen has been cut and re-signed multiple times.
Then there's Orlovsky, the starting quarterback for part of 2008, who chose to come back to Detroit as
Matthew Stafford
's backup.
All five cringed a little bit when thinking back to 2008, what it meant and how far Detroit's franchise had come.
"We were just trying to win a game that year," Muhlbach said. "Oh, we'll get the next one. Then, that Monday, oh, we'll get the next one.
"It just, that was the worst thing I've ever had to go through, football-wise. I wouldn't wish that on anybody. The fact that we've done that makes this so much better, I guess."
Fluellen was a rookie in the league then and that season taught him that "the NFL is really hard."
It didn't get much easier for a while. The shift of the franchise actually began during the 2008 season, when the Lions fired Matt Millen in September, then got rid of then-coach Rod Marinelli after the season. The winless season led the Lions to getting the No. 1 overall pick in 2009.
Raiola looked across the league during Detroit's rebuild and noticed his teammates in 2008 weren't in the league anymore. That's what told him how much work had to be done to reach the point where Detroit is now.
To start that process, Detroit hired Martin Mayhew as general manager and Jim Schwartz as the head coach. The No. 1 pick was Stafford. In their first season together, the Lions went 2-14 in 2009. Then they went 6-10, 10-6, 4-12 and 7-9, leading to Schwartz's dismissal and the hiring of Caldwell.
Early in Caldwell's tenure, he addressed the Lions' past bluntly in a team meeting.
"He said, 'You don't have to carry the burdens of the things from the past,'" Orlovsky said. "That resonated with me and I think that resonated with a lot of guys."
Releasing the burden helped lead Detroit to this point – in the playoffs and what they hope is the cusp of being a perennial playoff contender for the first time since the early 1990s with Barry Sanders and Wayne Fontes.
And those who were around understand how far they really are from 2008 and how important it is.
"This point in time deserves its own moment, you know," Raiola said. "I know what you mean. It has come a long way. Calvin was here, he could tell you. We were going on the field and we didn't have much of a chance.
"But we've come a long way from that."
October, 12, 2014
10/12/14
10:00
PM ET
[+] Enlarge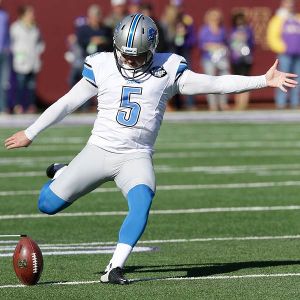 Carlos Osorio/AP PhotoMatt Prater, the Lions' newest kicker this season, went 1-of-3 on field goals Sunday at Minnesota.
MINNEAPOLIS -- Another week, another round of questions and a vote of confidence from
Detroit Lions
coach Jim Caldwell about his kicker.
At least this time, he has years of statistical evidence to back up that confidence.
Caldwell and the Lions would rather not be answering kicking questions again after a
17-3 win
against Minnesota on Sunday, but Detroit is bordering on historic failures when it comes to making field goals.
Matt Prater
-- the third kicker the Lions have had in six weeks -- went 1 of 3 on his field goals at gusty TCF Bank Stadium on Sunday leading to ugly stats and more issues.
"Wind like we had today had an issue," Caldwell said. "He kicked a 52-yarder, which was great, and we have all the confidence in the world in him. The guy's got a great track record and we feel good about him."
They can't, though, feel good about their kicking game. This is a unit that has missed 10 field goals this season, currently at 5 of 15 through six games. Last season, no team missed more than nine throughout 16 games.
According to ESPN Stats & Information, the Lions are also the first team since the
Cleveland Browns
in 1981 to miss 10 field goals in their first six games. Only three Lions players – center
Dominic Raiola
, cornerback
Rashean Mathis
and long snapper
Don Muhlbach
-- were alive when that happened.
Even more jarring: Ten Lions players were born in 1991 or later, meaning they could have been a decade away from being alive.
As for the Lions' latest kicking conundrum, Prater had not kicked since last season's Super Bowl and had spent the first five weeks of the 2014 unable to play due to suspension.
So he expected to be a little bit off -- but not as rough as he was Sunday, where he missed a 50-yarder wide left and clanged a 44-yarder off the left upright and out.
"Yeah, but not like that," Prater said. "I didn't hit it as well as I should have."
The 44-yard miss dropped the Lions to 0-for-7 this season on field goals between 40 and 49 yards. Consider, entering Sunday, 20 teams were perfect this season from the same distance and every team made at least 50 percent of those kicks except Philadelphia, who had not attempted one from that yardage, and Detroit according to ESPN Stats & Information.
While it is unlikely the Lions shift away from Prater at this point -- he's too established and has too good a track record -- there is at least a little bit of reason for concern considering Detroit's kicking history this season.
Plus, unlike some of the other misses by his predecessors
Nate Freese
and
Alex Henery
, the Lions still won Sunday.
"I'm supposed to make them, so I'm upset with my performance today," Prater said. "But I'm glad we got the win."
October, 6, 2014
10/06/14
7:00
PM ET
ALLEN PARK, Mich. --
Sam Martin
understands why everything is going to be questioned right now, after eight missed field goals in five games and with the
Detroit Lions
trying out candidates for kicker No. 3 on Tuesday.
Martin
But the second-year punter/holder/kickoff specialist said he doesn't believe there is anything wrong with the snap/hold operation and timing between him and veteran long-snapper
Don Muhlbach
.
"Up to this point, no misses have been because of holds and snaps," Martin said. "I think our operation has been pretty sound, actually. But with that being said, I don't think I'm a perfect holder or perfect kickoff guy or perfect punter.
"So I'm always trying to improve. If the hold's not perfect and I notice that, I'm going to fix it along with bad punts and bad kickoffs. I don't think I'm perfect at any area."
Lions coach Jim Caldwell said there have not been many issues with Martin's holding and that he hasn't considered a change there – but really, there hasn't needed to be.
"Sam works at it. Sam's got good hands and that's something that every single week is evaluated," Lions coach Jim Caldwell said. "It's looked at closely in terms of the battery between the snapper, the holder and the kicker, so all of that is looked at closely.
"We try to evaluate it, we don't pull any punches if we see an issue that may be a problem. We certainly identify it and address it. I think he does a good job."
Martin said if he were to ever kick in a game -- he hasn't been asked to do so thus far -- that backup quarterback
Dan Orlovsky
is the backup holder. Martin also indicated other players, including starting quarterback
Matthew Stafford
, sometimes work on holding for emergency situations.
Martin also said he has never come in during a kicker tryout to be a holder.
August, 16, 2014
8/16/14
7:00
PM ET
ALLEN PARK, Mich. -- A daily review of the hot topics coming out of
Detroit Lions
training camp:
The Lions ended their camp Saturday afternoon with a practice that lasted a little less than one hour with no pads at all and a lot of players in baseball caps catching passes -- including specialists Sam Martin and Don Muhlbach. Why would Lions coach Jim Caldwell bring the players out there less than 12 hours after they returned from a West Coast trip to Oakland?
"The practice was kind of to break a sweat and often times guys find out they have an injury that they didn't know about," Caldwell said. "So we run them a little bit, loosen it up a little and go through our corrections and get them off the field to get them some rest tomorrow and get back at it at Monday."
Once Monday hits, the Lions will go into their regular practice mode, which also means practices are also no longer fully open to reporters. He also did this Saturday practice to give players an idea of how days go with evaluation and film.
The biggest topic again was defensive tackle Nick Fairley, who seemed more jovial Saturday than he was at any point last week. That's probably a good sign for him and Caldwell indicated he felt he had improved during Friday night's game against Oakland.
Detroit did have a transaction Saturday, signing linebacker Shamari Benton out of Central Michigan and releasing linebacker Justin Jackson from Wake Forest. Benton had 111 tackles, including 10.5 tackles for loss, last season for the Chippewas. He also had four sacks and an interception. He apparently trained at a gym in suburban Detroit co-owned by Tony Scheffler and Ndamukong Suh. He was so new, the Lions didn't even have a jersey for him at practice Saturday.
Caldwell also appeared to be pleased with backup quarterback Dan Orlovsky, saying he "demonstrated that [Friday] night, but we still have two more games to go." Orlovsky was markedly better than he was in the preseason opener, when he was outplayed by No. 3 quarterback Kellen Moore. He appeared to regain his hold on the backup spot with his performance Friday night. Part of the backup quarterback's job, Caldwell said, is to be a collaborator with starting quarterback Matthew Stafford, quarterbacks coach Jim Bob Cooter and offensive coordinator Joe Lombardi.
Asked three of the Lions players who attended Notre Dame (there are five in all as Alex Bullard and Joseph Fauria started at the school and transferred to Tennessee and UCLA, respectively) about the academic investigation at their alma mater. TJ Jones said he knew little about it and wanted to hear more details. Theo Riddick declined to comment, but said he would speak with Notre Dame if the school reached out. Golden Tate, who did not play under current coach Brian Kelly, declined to comment.
December, 6, 2013
12/06/13
7:00
PM ET
ALLEN PARK, Mich. --
David Akers
stepped on to the stage and began to speak, just as he had time and time before, and will likely do time and time again. Known as a football player to most, this stage, this avenue, is the work for the rest of his life.
Akers is a devout Christian and has spoken about his faith before. Now, he has some more backing behind it -- the
Detroit Lions
' kicker said he recently became a licensed minister.
[+] Enlarge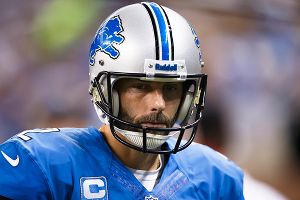 AP Photo/Rick OsentoskiLions kicker David Akers, who recently became a licensed minister, plans on writing a book to help people through their ups-and-downs.
"There's different levels," Akers said. "Mine's kind of more you can marry and bury. It's the first level, but I do so much speaking that it becomes where, 'OK, this is where it is.'
"If I wanted to be more in a church or, say, run a church, you need more for that. It's like getting your bachelor's in divinity."
This process started for Akers three or four years ago, back when he was still kicking for the
Philadelphia Eagles
, the team he will face Sunday in his second work trip back to the place he played for a decade.
He had already been speaking about his faith to conferences and conventions. So he decided to get officially credentialed with online courses through the Assemblies of God, a church based in Missouri.
It took a while, but Akers is now an official minister able to back up his beliefs with actual credentialing now.
See, Akers has lived and seen a lot. And his beliefs, while absolute, have been tested.
He dealt with having to leave Philadelphia, his home for a decade and the South Jersey area his family still lives in, to go to San Francisco for two seasons and now Detroit his season.
He dealt with
losing almost $4 million in a Ponzi scheme
with Triton Financial -- a case study his long-snapper,
Don Muhlbach
, told him he actually studied during the offseason at Wharton Business School.
He dealt with his daughter, Halley,
having a scare with cancer
two years ago.
Through it all, Akers leaned on his faith. His belief in a higher power and purpose that has carried him through his life.
"I had some people in the past two years say, 'Man, you've gone through a lot of crazy stuff,'" Akers said. "There's health, professional, relational, moving all across and in the financial aspect. Lost over 4 million dollars and all kind of crazy things happen, how do you deal with all that adversity?
"I can tell you where my faith lies and what happened."
There's also what he saw.
When he was in San Francisco, he met pastor Francis Chan, a minister who will sometimes take to the streets of the city to preach what he believes. When Akers met him, he decided he needed to go along with him.
To learn what he knew. To see what he saw.
"It's called City Impact," Akers said. "That blew my mind, doing street ministry in the Tenderlion District of San Francisco.
"Where you're walking by people with full-blown AIDS and preaching the gospel to them a little bit. So, that aspect."
Seeing that was only part of his overall experience with his faith, part of his training as a new minister. Akers believed through all of his personal tribulations and what he saw during his classes. It is what he preaches now, what he has worked on writing about. Because Akers already knows what's next, especially as a 38-year-old who knows his professional football career -- a career that helped give him his voice -- is winding down.
His combination of football, life experience and ministry led him to want to tell his story through the prism of his faith. His belief is that his story could help others on their paths or to assist them through their own struggles.
So, he's planning on writing a book.
"What we're going to do is just kind of the different areas in life that you can kind of go through," Akers said. "And how you can build off of it, and how one kind of leads into another.
"I'm really excited about it."
It's a book to help people through their ups-and-downs, through their own lives through the prism of what he has seen, what he has lived. If all goes well, he is hoping it could be out by next year.
"We're moving pretty good," Akers said. "I've got the whole outline on it, got the main chapter that we're going to use for the proposal. We've got the overview, got the literary agent that's ready and push it, sell it, we went to four of them.
"The concept seems to be pretty cool. People have kind of brainstormed with me and kind of heard it. It's going to be a football, life, faith book."
One that will have plenty of real life attached to it.
September, 1, 2013
9/01/13
4:45
PM ET
ESPN colleague Mike Sando's
annual age analysis of NFL rosters
found that the
Detroit Lions
have the oldest roster in the league.

That designation might seem odd when you consider the relative youth of the Lions' primary players. You also might not be interested in a ranking where the full range of age differences is only a few years. In sifting through the Lions' roster, however, the culprit -- if you consider an "old" roster a bad thing -- is a big group of veteran backups.
By my count, the Lions have nine projected reserve players whose ages range between 30 and 33 years old. Six are newcomers to the roster and three -- defensive tackle
Justin Bannan
, linebacker
Rocky McIntosh
and defensive back
Rashean Mathis
-- were signed two weeks ago.
On the one hand, it makes sense to have veteran backups when you have some young starters. If right guard
Larry Warford
struggles, the Lions could replace him with
Dylan Gandy
(31) or even
Leroy Harris
(29). If
Darius Slay
needs more seasoning, the Lions could replace him with Mathis (33).
McIntosh (30) is available to spell any of the Lions' three starting linebackers.
Israel Idonije
(33) will back up rookie defensive end
Ziggy Ansah
, while Bannan (34) and
C.J. Mosley
(30) will provide depth for
Ndamukong Suh
and
Nick Fairley
.
On the other hand,
we discussed earlier
the Lions' draft issues in the past five years. One of the reasons they needed veteran depth is the inability to develop it on their own. Signing veteran backups also makes it difficult to plan long-term and orderly transitions at certain positions.
Regardless, the team the Lions have on the field at any given point will be a nice blend of young and middle-aged players. If you look at their starters on offense, defense and special teams, you really only see five who are 30 and older. Three of those are on special teams -- place-kicker
David Akers
(38), long-snapper
Don Muhlbach
(32) and returner
Micheal Spurlock
(30).
So I'm not sure there is reason to panic here. But if nothing else, now you know why the Lions rank atop Sando's age rankings.
*Update:
The Lions released McIntosh, slightly lowering their composite team age, to make room for safety DeJon Gomes, who was claimed on waivers from the Washington Redskins.
November, 2, 2010
11/02/10
1:00
PM ET
By
Matt Mosley
| ESPN.com
»
NFC Decisive Moments
:
East
|
West
|
North
|
South
»
AFC
:
East
|
West
|
North
|
South
We've devoted at least 3,000 words to Mike Shanahan's benching of quarterback
Donovan McNabb
for "cardiovascular endurance" reasons, so let's look at another defining moment in the Redskins' 37-25 loss to the
Detroit Lions
on Sunday. With 8:50 left in the third quarter, the Skins stopped Lions running back
Jahvid Best
for no gain on third-and-1 from their 7-yard line.

The Lions set up for a short field goal attempt that would have cut the Skins' lead to 13-10. Instead,
Phillip Daniels
was called for jumping offside against the field goal unit. Daniels wasn't the only Redskins player who jumped early, as
documented in the Washington Post
. I've watched the replay several times and you can see Lions deep snapper
Don Muhlbach
flinch his left hip, which appeared to draw the Skins offside. But the officials didn't detect Muhlbach's flinch and penalized the Redskins. The Lions scored a touchdown two plays later and took a 14-13 lead.
It was a defining moment in Sunday's game that was overshadowed by what happened late in the fourth quarter. In case you missed it, Daniels
addressed this call via Twitter
following Sunday's loss. If the Skins had held the Lions to a field goal, it would've been a confidence booster for the team. Alas, the Muhlbach flinch will get you every time.