NFL Nation:

Donnie Nickey
June, 8, 2011
6/08/11
4:32
PM ET
NASHVILLE, Tenn. -- The Titans certainly got some good out of a two-hour, player organized practice session that included more than 50 participants on Wednesday morning at Father Ryan High School.
Cornerback
Cortland Finnegan
and guard
Jake Scott
deserve credit for getting so many players out.
Of note:
Paul Kuharsky/ESPN.comOffensive linemen Eugene Amano, left, and Jake Scott work against each other.

Running back Chris Johnson was part of things. He said his contract isn't on his mind right now and declared that he expects rookie quarterback Jake Locker to start right out of the gate. Here's the news story.

Locker had some nice moments and some that were not so good. About what you'd expect. He certainly threw the ball better than Brett Ratliff. And he didn't go the Joe Cool route like Ratliff and Rusty Smith, who practiced in sunglasses.

The host school's football staff ran the individual position drills, which had to be a cool thing for most of them. From the stretch through some team work, players seemed to strike just the right measure of laughs with work.

Safety Michael Griffin said the defense just worked through basic coverages. Players expect the new defense, coordinated by Jerry Gray will touch on them all. They thought running through basics rather than trying to learn and execute anything new was the smart approach.

Among the notables under contract who were missing -- and let's be clear they didn't have to be there and could have had very legitimate reasons for not making it -- were Michael Roos, David Stewart, Kenny Britt, Nate Washington, Damian Williams, Lavelle Hawkins, Alterraun Verner, William Hayes and Brett Kern. Justin Gage was a late arrival and just watched.

Without their own receivers, the Titans benefited from the presence of three quality outsiders: Derrick Mason of the Ravens, Golden Tate of the Seahawks and Patrick Turner of the Jets. Mason started his career with Tennessee and still has an area home while Tate and Turner are both from Nashville. Tate went to Father Ryan arch rival Pope John Paul II, and wore his purple Ryan shirt inside out.

Paul Kuharsky/ESPN.comLinebacker Gerald McRath coaches up second-round pick Akeem Ayers.

Several players who are not under contract for 2011 participated: defensive end Dave Ball, guard Leroy Harris, linebacker Tim Shaw and safety Donnie Nickey. Nickey had a big, early collision in seven-on-seven work with Marc Mariani as both went up for a pass from Ratliff that put the receiver at risk. It was the only obvious injury scare of the day. Both bounced up.

Plays of note: Mariani dropped a well-thrown deep ball from Locker after slipping behind multiple defenders. Corner Jason McCourty dropped a pick of a pass that bounced off Jared Cook; Ratliff threw an incredibly bad, incomplete pass down the deep middle, a duck that wobbled more than a lot of punts do.

Among the guys I saw doing a great deal of leading of young guys were Scott, Ball, defensive back Vincent Fuller and linebacker Gerald McRath.

The Titans will have another session Thursday.
January, 15, 2011
1/15/11
4:24
PM ET
Here's example No. 1,675 why it's a bad idea to draw unnecessary attention to yourself.
In response to the kind of colorful dialogue you might hear in a Quentin Tarantino film, the NFL has warned teams to
watch themselves on the field and that any intimated threats
can be used against players if they commit unsportsmanlike acts in the game.
In two tweets,
NFL spokesman Greg Aiello confirmed
league vice president of operations "Ray Anderson contacted multiple clubs this week so they could remind players comments of a physically threatening nature are always taken into account in evaluating discipline for illegal physical contact on field."
That goes for you,
Bart Scott
.
The vociferous
New York Jets
linebacker suggested they would be hunting for
New England Patriots
receiver
Wes Welker
, who made
several soulful remarks about Sunday's game
, likely an homage to the foot-fetish videos Jets coach Rex Ryan and his wife posted on the internet.
"I'll tell you what,"
Scott told Newsday reporter Roderick Boone
. "Be very careful what you say about our coach. [Welker's] days in a uniform will be numbered. Put it like that."
Teams have complained Patriots quarterback
Tom Brady
receives preferential treatment as it is.
This week's rhetoric, most of which has emanated from the Jets, will have
referee Bill Leavy's crew on high alert
for head shots, unnecessary roughness and other such unsportsmanlike penalties that could prove costly, especially for Scott, who has been flagged for those types of infractions a few times already this season.
A breakdown of the Jets' misbehavior penalties in the regular season:
Unnecessary roughness four times.
Personal foul three times (Scott with two of them).
Roughing the passer twice (Scott with one of them).
Roughing the kicker once.
Unsportsmanlike conduct once.
Taunting once.
And the Patriots' rundown:
Unnecessary roughness four times.
Personal foul twice.
Roughing the passer twice.
Unsportsmanlike conduct once.
No roughing the kicker.
No taunting.
Although Levy will be working with an all-star assembly Sunday, his guys in the regular season called unnecessary roughness five times, roughing the passer five times, personal foul twice, unsportsmanlike conduct twice and taunting once. They ejected one player (
Tennessee Titans
safety
Donnie Nickey
in Week 8).
Both personal fouls on Levy's watch happened in the Patriots' overtime victory over the
Baltimore Ravens
in Week 6. Patriots safety
Brandon Meriweather
(for his hit on defenseless Ravens tight end
Todd Heap
) and Ravens fullback LeRon McClain were the perpetrators.
September, 2, 2010
9/02/10
11:30
PM ET
NASHVILLE, Tenn. -- Some bullet-point thoughts on the Titans' 27-24 preseason win over New Orleans on Thursday night.
Impressive:
With Chris Johnson not dressing, Javon Ringer showed an ability to keep his feet moving and his eyes open on an early 47-yard run. He felt space open to the left side and took it, slipped a tackle attempt by Leigh Torrence, and moved back to the right. Samkon Gado got a lot of work relatively early with the first team, and broke off a 31-yard run.
Defensive tackle Jason Jones was very good again, with some nice pass rushes. He did well chasing stuff downfield when needed. If he stays healthy, he's looking like a guy who will be heard from outside of Nashville this season.
Gerald McRath showed his ability to cover pretty deep, breaking up a pass down field with Robert Johnson and Nick Schommer also arriving at the throw from Patrick Ramsey intended for Jimmy Graham.
Jared Cook and LeGarrette Blount had some nice yards after the catch by hurdling defenders. Eventually, though, one of the hurdlers will get crushed when he encounters a defender who anticipates it, stays upright and buries a helmet in his chest.
Unimpressive:
Kenny Britt dropped two early passes -- the first on a right-to-left short crossing route, the second on about a 22-yarder on which he was cutting left to right. Both throws were on target from Vince Young. A bit later, Britt caught a 7-yard pass with Jonathan Casillas draped on him and Malcolm Jenkins fast arriving. But then he had a false start penalty when Collins was in at quarterback. Craig Stevens and Lavelle Hawkins also dropped balls they should have caught.
Schommer, in a battle for one of the last safety slots, hurt himself on special teams. Lined up on the right of the line, he allowed Junior Galette to get past him and casually block a Brett Kern punt with one hand. Harry Coleman juggled a bit but kept it in play for himself and pulled it in for a 1-yard touchdown. Kern should have felt the pressure from two rushers on a second block in the fourth quarter.
Too many penalties. Marc Mariani had two nice returns, one undone by penalty against Stevens, one with 15-yards chopped off thanks to a personal foul call against Donnie Nickey. In all, Tennessee was flagged nine times for 133 yards. Schommer needlessly shoved a receiver out of bounds for a late pass interference call. Thankfully, the Saints didn't kick on the fourth-and-2 from the Titans' 16 that came after that with 11 seconds left.
July, 1, 2010
7/01/10
1:00
PM ET
»
NFC On the Radar
:
East
|
West
|
North
|
South
»
AFC
:
East
|
West
|
North
|
South
A player, coach or issue that should be on your radar as training camp approaches.
[+] Enlarge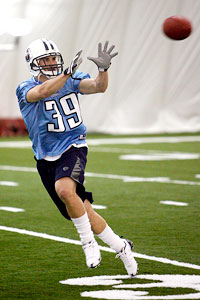 Joe Murphy/Getty ImagesTennessee 2009 seventh-round draft pick Nick Schommer will be vying for a roster spot in 2010 at safety.
A seventh-round pick for the
Tennessee Titans
out of North Dakota State in 2009,
Nick Schommer
spent last year on the practice squad. Defensive coordinator
Chuck Cecil
didn't get a great look at him because of an injury.
Though he was listed at 6-0, 201, I remember thinking he didn't have an NFL safety's build during training camp. He certainly didn't have good body language.
But Cecil said Schommer shined as the Titans wrapped up OTAs. Schommer got some time with the second team when
Donnie Nickey
got married. But he hurt a hamstring in the second-to-last practice.
If Schommer reports healthy and can stay that way, he could make the team ahead of a guy much more well known -- 2010 sixth-round pick
Myron Rolle
, the Rhodes Scholar. The Titans also selected
Robert Johnson
in the fifth round.
Chris Hope
and
Michael Griffin
, each a 2008 Pro Bowl selection, slipped badly in 2009. The Titans need to develop contingency plans and solidify the depth.
"Nick needs to be ready to go," Cecil said. "If he stays healthy and plays the way we think he's capable, then there might be a spot for him… He's totally unknown and during OTAs he couldn't do the thing that he's best at -- hitting is his calling card. He used to knock himself out all the time. He's my kind of guy."
March, 23, 2010
3/23/10
8:53
AM ET
We'll get some good stuff Tuesday morning out of Orlando, where AFC South coaches are having breakfast with reporters at the owners meetings. I'll be monitoring what comes out through some of my colleagues who are there.
The first thing of note I've seen was this from Adam Schefter
via Twitter
:
"Colts coach Jim Caldwell is thinking about playing some four WR sets with Reggie Wayne, Pierre Garcon, Austin Collie and Anthony Gonzalez."
As if three wides and
Dallas Clark
isn't enough of a problem.
I automatically started thinking of secondary depth in the division and how it would stack up against that. Nobody in the league has the kind of corner and secondary depth needed to stand up to that personnel grouping with
Peyton Manning
at the controls.
The Texans and Titans are definitely in the market for a cornerback, and safety is also in play. The Jaguars likely take a defensive back or two as well in the draft.
Teams could obviously use an additional safety in the sort of dime scenarios this could force. Here's our take on the depth at defensive back for each of the Colts' division opponents:

Houston
Nickel: Glover Quin, Jacques Reeves, Brice McCain.

Dime candidates: Cornerbacks Fred Bennett, Antwaun Molden; Safeties Dominique Barber, Troy Nolan.

Assessment: Contemplating this secondary against the Colts' four-wide lineup is scary right now. Throw Clark in as the fifth skill player and I don't know how Houston holds up. Corner and free safety are big draft needs.


Jacksonville
Nickel: Rashean Mathis, Derek Cox, Tyron Brackenridge.

Dime candidates: Corners William Middleton, Kennard Cox, Michael Coe; whichever safety isn't already playing out of Reggie Nelson, Anthony Smith, Sean Considine.

Assessment: Top three are pretty solid, but safety really needs to be sorted out and could have a new piece.


Tennessee
Nickel: Cortland Finnegan, Ryan Mouton, Vincent Fuller.

Dime candidates: Corners Rod Hood and Jason McCourty; safety Donnie Nickey.

Assessment: I am giving the nod as the second starting corner to Mouton right now based on hearing the team is high on him. A draft pick needs to compete for that spot. Overall depth is unproven.
September, 7, 2009
9/07/09
4:03
PM ET

Posted by ESPN.com's Paul Kuharsky
NASHVILLE, Tenn. --
Donnie Nickey
's playing the part of
Troy Polamalu
in practices this week for the Titans, and while the reserve safety is studying the Steelers' offense, not their defense, he's also putting a lot into playing the part.
| | |
| --- | --- |
| | |
| | ESPN.com's Paul Kuharksy |
| | Donnie Nickey's helmet wig makes it clear who's playing the role of Steelers safety Troy Polamalu for the scout team. |
Here's my snapshot of his helmet in his locker.
"It's hairy and very hot, polyester," Nickey said. "It gets in my mouth, I've got these little hairs all over me and my girlfriend is like 'Who?' And 'I'm like, no, no, no, it's for practice, it's for work.'"
A year ago strength and conditioning coach Steve Watterson produced the wig for
Tuff Harris
, the backup safety who drew the assignment before the Titans beat the Steelers 31-14 on Dec. 21.
Harris, recently cut by Tennessee, was signed to Pittsburgh's practice squad.
(To answer the popular question, while the Steelers could be trying to cull information, I think signing a guy recently cut by your opponents usually pays minimal dividends. Who do you think knows more about the Titans' defense: Pittsburgh coaches who've watched hours and hours of film or a guy that played a bit of second-team safety in the preseason? I'll take the coaches.)
Now, Nickey is trying to imitate Polamalu's fervor.
"It's a lot of energy man, just all the disguising, he's just all over the place," Nickey said. "He's got kind of free reign to do whatever he wants because he always ends up in the right place. I've seen enough, we came out in the draft the same year, I met him at the combine and stuff and just through watching film I've seen him play a lot.
"He's just such a high-motor guy, so aggressive and absolutely fearless going into anybody. I just try to be that a little bit. I kind of run out of energy at the end of practice."
August, 9, 2009
8/09/09
11:17
PM ET
Posted by ESPN.com's Paul Kuharsky
Some quick hits on the Titans in the wake of their preseason opener, a 21-18 win over Buffalo in the Hall of Fame Game:
In our first real glimpse, veteran receiver Nate Washington appeared to add just what the Titans were looking for when they signed him away from Pittsburgh -- a more dynamic pass catcher.
If you don't think quarterback Patrick Ramsey looked better than Vince Young, particularly in the command department, you weren't watching the same game I was.
It looked to me as if rookie running back Javon Ringer was better than the competition he was on the field against. He may not have Chris Henry's measurables, but he's just more of a football player. In four more preseason chances, he's got to get some carries with at least the second string.
The deep defensive line is going to have to come in waves and stay fresh, but if the group stays healthy, it has the horses. NBC did a nice job spotlighting second-round defensive tackle Sen'Derrick Marks in the second half, showing us his combination of strength and speed.
I thought rookie linebacker Gerald McRath showed up a lot on special teams.
Is it better as a quarterback to come in, complete a pass, throw a pick six and get replaced ... or not to play? I'm guessing fourth-stringer Alex Mortensen, and his dad, ESPN's Chris Mortensen, would both choose the first scenario, but I'm sure it felt lousy Saturday night. Ramsey returned to finish things after the interception return by the Bills pulled them within five points.
Veteran safety Donnie Nickey has absolutely no argument about the flag he drew for the head shot he delivered to Jonathan Stupar late in the fourth quarter. That could make the officials tape as an example of what they are trying to prevent.

December, 7, 2008
12/07/08
10:21
AM ET
Posted by ESPN.com's Paul Kuharsky
Good morning AFC Southies.
Here are morning headlines for your enjoyment.
I'll be at LP Field in a couple hours for Browns-Titans, where I will do my best to keep my eye on the Colts, Texans and Jaguars as well. You'll get semi-Rapid Reactions on those three games, and as much as I can give you from Nashville...
Houston Texans
Indianapolis Colts
Jacksonville Jaguars
Tennessee Titans
NFL SCOREBOARD
Sunday, 2/2
WEEKLY LEADERS