June, 16, 2014
6/16/14
10:00
AM ET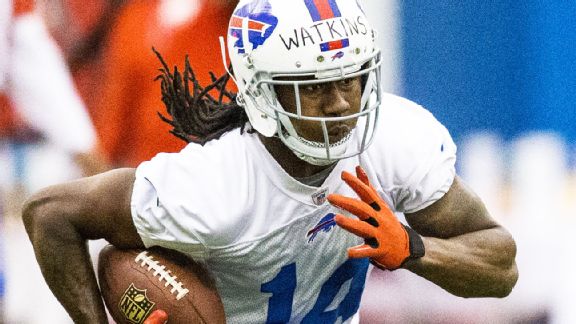 Brett Carlsen/Getty ImagesBuffalo traded a first- and fourth-round pick in 2015 in a bold move to get receiver Sammy Watkins.
As players and coaches trickled off the
Buffalo Bills
' practice field following an organized team activity last week, one man stayed on the field to run sprints.
In a team-issued T-shirt and shorts, he ran for about 15 minutes over the hum of equipment carts cleaning up after the two-hour practice.
No, it wasn't
EJ Manuel
or
Sammy Watkins
on the field.
It was general manager Doug Whaley, the man who has been tasked with turning around an organization that is under increasing pressure to win.
Out of the playoffs for the past 15 seasons -- the NFL's longest active postseason drought -- the Bills need a winning team now. Ralph Wilson, who founded and owned the Bills for 54 years, died in March. There will be a new owner in place by early next year, just in time for the new boss to make sweeping changes if the team can't reverse its fortunes this season.
It would be natural for any general manager in that position, with potentially tenuous job security, to have an increased sense of urgency.
[+] Enlarge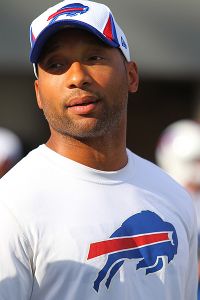 AP Photo/Bill WippertBills GM Doug Whaley knows teams can no longer give a coach or QB several years to develop.
But when he sat down recently with ESPN.com, Whaley sent the message that the Bills' looming ownership transition hasn't changed his mindset. The urgency was already there.
"Everybody's like, 'Whoa, you're in a win-now mode.' The NFL is a win-now mode," Whaley said. "I disagree when people have been saying it's a win-now mode because of the ownership. It's always a win-now mode in this. So that's something I'd like to dispel as quickly as possible.
"It's a results-based business," Whaley said. "You guys, as soon as we lose two years in a row, you're going to be like, 'This needs change, that needs change,' so it's just a sign of the times, for whatever reasons -- from the constant media exposure to owners that want quick results to fans that are willing to quickly judge because of the transient nature of our business nowadays. So that's fine. I got no problem with that."
Results-based, indeed. Some of the league's decision-makers have noticed the same trend: Patience in the NFL seems to be at an all-time low.
"I've just seen this -- and I believe it is a sudden rise -- of owners letting go of top leaders and key leaders, not because they want to but because of public pressure and the pressure of finances,"
Atlanta Falcons
assistant general manager Scott Pioli, formerly GM of the
Kansas City Chiefs
, said at the MIT Sloan Sports Analytics Conference in March.
"I have seen a number of head-coach and general-manager firings over the last several years where owners really didn't want to fire people. They really wanted to give them more time," Pioli added. "They're saying this off the record, behind the scenes, authentically that they don't want to really fire them. However, they're running a business, a billion-dollar business, where they're trying to get stadiums, they're trying to keep fans. There are so many [pressures]."
Speaking on the same panel at the Sloan conference,
San Francisco 49ers
president Paraag Marathe was quick to agree with Pioli's observation.
"Absolutely. And the thing is, we can sit here and say that, but you'll never get an owner -- very rarely, in public -- be able to say that because they can't," Marathe said. "They say it in confidence, but that's because teams and owners would like to, in theory, on paper, like to say 'Yes, we're going to give a coach the best chance to succeed. He's drafting these players. These players take four or five years to develop.'
"But, at the end of the day, if the team doesn't perform in the first couple of years, there are so many external pressures around the billion-dollar business that they are forced to make decisions sometimes despite the fact that they don't want to."
Much of Whaley's background came with the NFL's most stable organization. He was a scout for 11 seasons for the
Pittsburgh Steelers
, who have been owned by the Rooney family since the team's founding in 1933 and have changed head coaches only twice since 1969.
But that doesn't mean Whaley hasn't watched the league change from afar. Look no further, he said, than teams that draft quarterbacks in the first round, and you'll find three-year plans swapped out for the "What can you do for me now?" approach.
"Before, it would never be thought of to put a [first-round quarterback] in [a game as a rookie], even if he was better than the second string. He'd sit on the bench for a couple years," Whaley said. "You can't do that nowadays."
Whaley says one culprit is the 2012 draft, which produced three immediate-impact starters at quarterback:
Andrew Luck
,
Robert Griffin III
and
Russell Wilson
.
"Those guys have success their first year, then everybody's like, 'Why can't this guy do it?' And then you're considered a failure if you don't," Whaley said. "But maybe you're not a failure. You just weren't ready yet.
"But because of the 24-hour media circus, then people say, 'He sucks, he sucks.' And then they don't get the chance again. So it's just the business we're in."
As Bills assistant general manager last spring, Whaley helped scout Manuel. In one of his final acts as general manager before retiring, Buddy Nix traded down to select Manuel 16th overall -- but Manuel missed six games during his injury-plagued rookie season, which cast doubt on him growing into the franchise quarterback.
"It was incomplete last year," Whaley said. "I don't think you can truly judge a guy off the number of plays and number of games that [Manuel] started."
Whaley's defining act as general manager could be his bold trade last month that sent the ninth overall pick, plus the Bills' first- and fourth-round pick in 2015, to the
Cleveland Browns
for the fourth pick.
The apple of Whaley's eye was Watkins, a wide receiver from Clemson. Whaley believes Watkins will help Manuel's development at quarterback.
"[Watkins] is a dynamic playmaker. That's what this game is all about," Whaley said. "We got to score touchdowns."
Strike gold with Watkins and the Bills could be back in the playoffs. Miss -- or have Manuel struggle in his second season -- and not having a first-round pick next year will sting all winter.
So, yes, there is a risk involved -- though Whaley, who briefly worked as a stockbroker before beginning his NFL career, views it differently.
"What you learn from [stock trading] that you apply is, people say risk, but successful people see it as potential," Whaley said. "When you look at it that way, it puts a whole different mindset on it. The most successful people -- not only in business, but in anything -- see potential where other people get scared away and see risk."
For better or worse, that's life in today's NFL. When others are jogging -- sprint.
October, 4, 2013
10/04/13
3:09
AM ET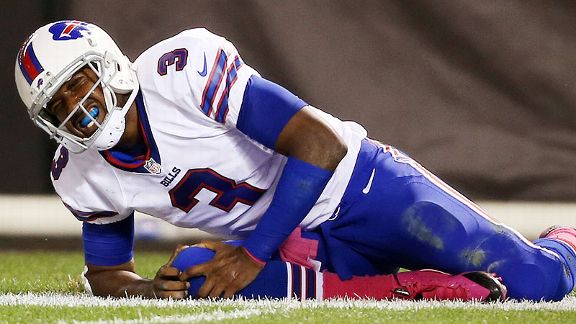 Ron Schwane/USA TODAY SportsEJ Manuel's sprained knee suffered Thursday night is just the latest bit of bad luck for the Bills.
CLEVELAND -- There's a game that the
Buffalo Bills
' brass must feel like they're playing right about now, and it's not just football.
It's Whac-A-Mole.
The Bills have tried to navigate an early-season obstacle course of injuries, one that has taken key players out of the lineup on both sides of the ball.
The latest blow came Thursday night and struck
EJ Manuel
, whom Buffalo drafted in the first round this year to be their franchise quarterback. After scrambling for a first down in the third quarter, Manuel was hit in his right knee by
Cleveland Browns
safety
Tashaun Gipson
.
Manuel has a sprained knee, and with 10 days before the Bills' next game, his prognosis is not immediately clear. But this much is obvious: The version of the Bills that finished Thursday's game resembled something more like the squad that closed out preseason games.
Rookie
Jeff Tuel
-- the undrafted free agent from
Washington State
whom the Bills were ready to start in Week 1, if you need a reminder -- took over for Manuel and looked like, well, an undrafted rookie. He went 8-for-20 passing for 80 yards and threw a pick-six with less than two minutes remaining that ended any hopes of a Buffalo comeback.
The story would be much different, of course, if Tuel had been able to somehow pull out a victory on the road. But in an improbable scenario where both starting quarterbacks were knocked out with injuries Thursday night, nobody will blame Tuel for the Bills'
37-24 loss
.
In fact, it's tough to place blame on anyone for the Bills' 2-3 record thus far. This isn't the team that general manager Doug Whaley and coach Doug Marrone, both in their first seasons, drew up.
Arriving from
Syracuse
, Marrone brought energetic 33-year-old offensive coordinator Nathaniel Hackett along to Buffalo and convinced defensive coordinator Mike Pettine to bring his aggressive scheme with him from the
New York Jets
. And at times, we've seen glimpses of the young, talented team that Whaley and his staff envisioned all spring and summer. This is far from the bottom-feeding roster that other so-called rebuilding teams must contend with.
It's just not a healthy one.
The first signs of trouble came on the first day of training camp, when defensive end
Mario Williams
, one of the best at his position, showed up with a sore foot. Luckily for the Bills, he was able to shake that off.
That wasn't the case with another Pro Bowl defender,
Jairus Byrd
, who signed his franchise-tag tender in late August and also arrived to camp with sore feet.
Byrd has yet to play
-- he was held out Thursday night on a coach's decision -- and his presence as a back-end ball hawk has been missed.
As has cornerback
Stephon Gilmore
, who has been out with a fractured wrist since the preseason. Though only in his second season, the team believes Gilmore can become a top-tier NFL corner.
[+] Enlarge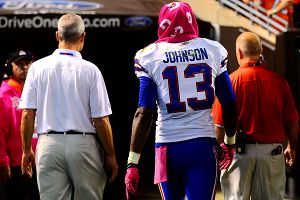 Andrew Weber/USA TODAY SportsBills receiver Stevie Johnson went to the locker room during the second quarter with a back injury.
And on offense, the Bills have dealt with three significant injuries in recent weeks, even before Manuel went down. Their two-headed rushing attack of
C.J. Spiller
and
Fred Jackson
has been slowed by multiple ailments, while top receiver
Stevie Johnson
could not finish Thursday's game after hurting his back.
It's been one injury after another, after another.
For a while Thursday night, it looked like the Bills were finally starting to overcome their problem. Cornerback
Leodis McKelvin
returned to the lineup after missing almost two full games with a hamstring injury, a step toward the secondary getting back to health.
And then came what the Bills probably weren't expecting: Spiller, on short rest and a bum ankle, broke open a 54-yard touchdown run on the third play of the second half.
Spiller trotted back to the bench with a limp, and after the game was seen in the locker room walking even more gingerly. But for one play, the Bills got what they needed out of him, as they did with Jackson, who has a sprained MCL. Jackson carried 17 times for 53 yards and two touchdowns.
"Two gutsy players," Bills center
Eric Wood
said. "Having them out there was vital tonight. Credit them. It wasn't easy for either of them, but they both fought back."
For Buffalo, though, it just wasn't enough. They were too banged up to pull this one out.
The Bills may get Manuel back for their next game, Byrd looks close to returning and the extra days of rest may do wonders for Spiller and Johnson.
But the way this young season has gone for the Bills, it seems like the next injury is lurking around the corner, ready to pop up its head.
August, 24, 2013
8/24/13
9:30
PM ET
When
Buffalo Bills
rookie quarterback
Jeff Tuel
went 19-for-23 passing for 212 yards in a win over the
Indianapolis Colts
two weeks ago, it was one of those preseason headlines that wrote itself.
"Tuel time," some called it. Nice little ring to that one.
But after
Kevin Kolb
left Saturday's game with a possible concussion, "Tuel time" has a whole new meaning for Bills fans:
"Uh-oh."
[+] Enlarge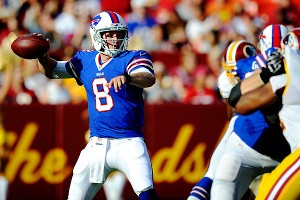 AP Photo/Nick WassWith injuries to EJ Manuel and, on Saturday, Kevin Kolb, the Bills could be looking at undrafted rookie Jeff Tuel, above, at quarterback.
The Bills are officially in a bind. An undrafted rookie from Washington State, Tuel is now the lone healthy quarterback on Buffalo's roster.
It's a nightmare scenario for first-year general manager Doug Whaley, who
told the Buffalo News
after Saturday's
30-7 loss
to the
Washington Redskins
that the Bills will now need to search the free-agent market for another quarterback.
The options out there are limited (
Tyler Thigpen
, anyone?), and with just more than two weeks until the regular-season opener, it won't be easy for any new quarterback to learn the offense and be ready for game action.
Still, the Bills have scheduled a workout on Sunday with former first-round pick Matt Leinart, and will also host John Beck on a free-agent visit, ESPN NFL Insider Adam Schefter confirmed. Leinart or Beck would have the advantage of experience over Tuel if the Bills needed to make that decision for their opener.
The next 10 days could be crucial in deciding the early course of the Bills' regular season. Rookie
EJ Manuel
is recovering from a "minor" procedure on his left knee, while Kolb will be evaluated for a possible concussion. The Bills' game plan for their opener against the
New England Patriots
will be in place by Sept. 4, and they will need to pick a quarterback by then.
If it's Tuel, the Bills are in a real tough spot. Performing well in the second half of a preseason opener is one thing, but once the regular season starts, it's the real deal. Having an undrafted rookie as your starting quarterback, even out of necessity, is playing with fire in the NFL.
Tuel's performance on Saturday (10-for-17, 63 yards) is along the lines of what you could expect against New England, if it comes down to him starting. He's shown the poise to handle the situation without making it a disaster, but the game will need to be won another way.
When the Bills began training camp nearly a month ago, the team's brass liked to talk about how offensive coordinator Nathaniel Hackett would bring an up-tempo philosophy to the offense that would keep defenses on their toes.
But now, it's the Bills on their heels. With Tuel, they would have likely the NFL's worst starting quarterback.
And that's not the Bills' fault. It's not Tuel's fault. It's just bad luck.
May, 18, 2013
5/18/13
12:00
PM ET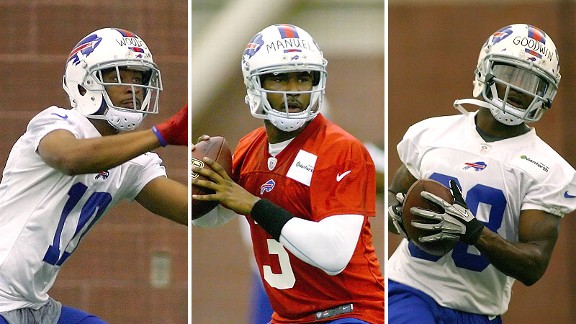 Getty ImagesThe Bills are hoping the future is bright for rookies Robert Woods, EJ Manuel and Marquise Goodwin.
Longtime readers of the AFC East blog know I detest grading drafts before rookies play their first NFL game. But there is nothing wrong with examining potential.
The "P" word is exactly what I see when I look at the
Buffalo Bills
' 2013 draft. I see a potential franchise quarterback in first-round pick
EJ Manuel
. I see potentially two or three good NFL receivers in second-round pick
Robert Woods
, third-round pick
Marquise Goodwin
and talented rookie free agent
Da'Rick Rogers
. I also see an aggressive, potential starting linebacker in
Kiko Alonso
.
The Bills haven't tasted the playoffs since the Music City Miracle in the 1999 season. For the past 13 years, the Bills and their fans have been sent home packing after Week 17. They've had just one winning season since 2000.
Potentially, Buffalo's rookie class could lay the foundation for ending the NFL's longest playoff drought.
"Down the road I think the strength of this draft is going to be in the second round," ESPN NFL draft analyst Kevin Weidl said. "I really like the Woods pick. I liked him on tape a lot. I think Robert Woods is really one of the more underrated players in this draft. ... Alonso is a guy who is an intense football player and a guy who makes a lot of plays. He flies around the field with sideline-to-sideline range, I thought."
However, Manuel is the centerpiece of this group. The Bills shocked a lot of people by making him the first quarterback off the board with the No. 16 overall pick. ESPN draft expert Todd McShay was among the biggest critics, calling it
a mistake and a wasted pick
. Most agreed Buffalo took Manuel earlier than it needed to.
However, the Bills fell in love with Manuel's size, accuracy and athleticism. The rookie has a lot of tools to work with and will compete with veterans
Kevin Kolb
and
Tarvaris Jackson
for the starting job in training camp. Manuel can silence his critics by winning the job this year and playing well.
I caught up with Manuel and Goodwin at this week's NFLPA Rookie Premiere event in Los Angeles, which taught first-year players on the business of football and promoted giving back to the community. Count Goodwin among those who believe Manuel will develop into a franchise quarterback with the Bills.
"If I can describe him in one word, he's A1," Goodwin said. "He's one of the best quarterbacks I've been surrounded by, and he's an even better person. He's my roommate right now, and I've definitely got to know him on a personal level. It's been great. I text him every day. I talk to him every day. So it's been great."
Weidl says Manuel has a lot of physical tools to succeed but still plenty to learn.
"The wild card in this mix is EJ Manuel, and the focus of this draft class will always be EJ Manuel," Weidl said. "Manuel, when you look at him, he's everything you want in a quarterback in terms of physically. He's got size, above average arm strength, he's got mobility, and when you see how he carries himself, he's a true professional.
"But the questions I had is on the field off his tape. He wasn't always naturally accurate and he forces his receivers to adjust at times. And when the bullets are flying, especially under pressure, he didn't always show the poise I'd like to see at quarterback. He didn't always get deep in his progressions."
The Bills have struggled in recent years making big plays in the passing game. Former starting quarterback
Ryan Fitzpatrick
did not have the arm strength to successfully throw deep, and Buffalo lacked big-play receivers.
Enter rookies Woods, Goodwin and Rogers, who all have big-play capability to go with Manuel's size and arm strength. If Manuel can grow over the next couple of years with his athletic and talented rookie receivers, the Bills could have a dangerous passing offense to go with dynamic running back
C.J. Spiller
.
"They are great receivers who run great routes," Manuel said. "The best thing about Robert is he always wins [one-on-one battles]. Marquise, a lot of people talk about his speed, but he runs good routes too."
New Bills general manager Doug Whaley told the AFC East blog this week that he's excited about his rookie class — and for good reason. But the team also took on
some character risks.
Alonso, Rogers and safety
Duke Williams
, who will compete for a starting role, all had off-field issues in college. Alonso had multiple alcohol-related incidents while at Oregon and also was arrested for burglary and criminal mischief in 2011. Rogers' long list of issues include an arrest, a suspension and a failed drug test that resulted in him being kicked out of the University of Tennessee. Williams was suspended three times at the University of Nevada for various incidents. He reportedly got into a fight with a teammate in 2010, which led to one suspension. He also was arrested for theft in 2009.
The Bills said they examined those players' backgrounds and believe their issues are behind them. That remains to be seen. Buffalo was willing to add good talent in exchange for character concerns.
The Bills also could have their kicker of the future in sixth-round pick
Dustin Hopkins
, who was a teammate of Manuel at Florida State and set the NCAA record for points scored. Hopkins will compete with longtime kicker
Rian Lindell
, who is 36 and entering his 15th season. According to Weidl, Hopkins is a good kicking prospect who has a chance to unseat the veteran.
If everything falls into place, the Bills could have a franchise quarterback, a starting linebacker, at least two contributing receivers and a kicker from one draft class. Rarely does everything go according to plan in the NFL, but the Bills appear to have more hits than misses in this draft, which was not always the case for this struggling franchise.
The Bills will not erase 13 years of losing overnight. But in the near future, we may look back at this 2013 draft class as the tipping point for when Buffalo finally started changing its losing ways.
May, 16, 2013
5/16/13
1:53
PM ET

It has been a whirlwind offseason for new
Buffalo Bills
general manager Doug Whaley. He spent the past several months on the road scouting for the NFL draft, and now Whaley is settling into his new position this week as Buffalo's general manager.
Whaley was officially promoted from within to take over for former general manager Buddy Nix and took some time Thursday to discuss his new position with the AFC East blog. Whaley has a big job ahead. The Bills have not been to the playoffs since 1999, which is currently the NFL's longest playoff drought.
Turning the franchise around starts at quarterback, which is a position Buffalo hasn't had a long-term solution for since the days of Hall of Famer
Jim Kelly
. This year the Bills have three players vying for that spot: rookie first-round pick
EJ Manuel
and veterans
Kevin Kolb
and
Tarvaris Jackson
. Whaley said he's not afraid to go into the season with a rookie quarterback if that's how the situation plays out in training camp.
"My philosophy on quarterbacks has always been the same," Whaley told the AFC East blog. "The best guy plays."
There are also new challenges ahead for Whaley that he didn't have to worry about as assistant general manager. One of the biggest issues facing the Bills is the pending contract dispute involving Pro Bowl safety
Jairus Byrd
, who is unhappy about getting the franchise tag. This will be Whaley's first big challenge as GM and a situation to keep an eye on with the Bills this summer.
"We want to keep our good players and Jairus is obviously a good player," Whaley said. "We have an organizational goal not to negotiate in the media and want to keep it that way. But we will continue to negotiate with Jairus."
The
New England Patriots
-- lead by coach Bill Belichick and quarterback
Tom Brady
-- have been the mountain every AFC East team has tried to climb for the past dozen years. The Bills,
Miami Dolphins
and
New York Jets
consistently discuss closing the gap with New England.
Whaley spent 10 years with the
Pittsburgh Steelers
and knows what it is like to consistently contend and win championships. Whaley added it's his ultimate goal to eventually make the Bills the "Beasts of the East."
May, 13, 2013
5/13/13
12:42
PM ET

As expected, Buddy Nix is stepping down from his role as general manager of the
Buffalo Bills
. The
team announced Monday
that Nix will take on an advisory role in the front office. It is expected that Bills assistant general manager Doug Whaley will be promoted to the lead post.
This move has been in the works for several months as Nix, 73, transitions to a less-taxing phase in his career. Nix wanted to make sure he finished the 2013 NFL draft as the lead voice of the Bills and will now serve as a special assistant. Nix's final big move was to land former Florida State quarterback
EJ Manuel
in the first round. Nix hopes he finally provided the Bills a franchise quarterback before stepping down.
Whaley is a bright, up-and-comer who has done a lot of work behind the scenes in Buffalo as assistant general manager. Whaley came from a winning program before joining the Bills. He spent 10 years with the
Pittsburgh Steelers
and played a role in their Super Bowl victories after the 2006 and 2009 seasons.
January, 3, 2013
1/03/13
9:00
AM ET
The Buffalo Bills began their coaching search this week. Several early names have already surfaced, some of which were outlined Wednesday in
the AFC East blog
.
Although more names will surely come up, here are some early thoughts on Buffalo's first round of candidates.
Ken Whisenhunt, former Arizona Cardinals head coach

Whisenhunt
The good:
Whisenhunt comes with good head-coaching experience and Super Bowl experience with the Arizona Cardinals. Whisenhunt also worked with Bills assistant general manager Doug Whaley in Pittsburgh; that familiarity helps. Whisenhunt is a good offensive mind when he has a quality quarterback, such as Kurt Warner or
Ben Roethlisberger
.
The bad:
Whisenhunt is another retread -- a head coach who was fired for failing somewhere else and then given a second chance by Buffalo. That trend hasn't worked well for the Bills, who hired the wrong retreads in Chan Gailey and Dick Jauron. Whisenhunt's career record is 45-51 and he led Arizona to the playoffs in only two of his six seasons there.
Ray Horton, Cardinals defensive coordinator

Horton
The good:
Horton is an up-and-coming assistant who could infuse energy into the Bills. Like Whisenhunt, Horton also has Pittsburgh ties to Whaley -- both came up in the successful Steelers' organization. Horton could be the next assistant ready to become a quality head coach. He is getting plenty of interest from several teams.
The bad:
Horton is somewhat of an unknown with zero head-coaching experience. Is he the next Mike Tomlin or the next Jauron? You never know for sure. Horton has only been defensive coordinator for two seasons. Horton is very much a defensive coach and would require a strong offensive coordinator to call the shots on the other side of the football.
Lovie Smith, former Chicago Bears head coach

Smith
The good:
Smith was head coach of the Bears for nine years and holds a solid 81-63 record. He is 3-3 in the playoffs with one Super Bowl appearance. That is proof that Smith knows how to win in the postseason. Smith has an even-keeled demeanor that worked well in a large, pressure-packed city like Chicago. Buffalo pales in comparison and is a much smaller market.
The bad:
Smith, another retread, only led Chicago to the playoffs in three of his nine seasons. That's not a good ratio. Smith didn't have many awful years, but he didn't have many tremendous years, either. The Bears were about average and finished with seven to nine wins in four of Smith's nine seasons. Smith is a good defensive coach, but his offenses have been terrible. The Bears were 23rd or worse in total offense in all but one of Smith's nine seasons.
Mike McCoy, Denver Broncos offensive coordinator

McCoy
The good:
McCoy's star continues to rise after the stellar job he's done the past two years with quarterbacks
Tim Tebow
and
Peyton Manning
-- two very different signal-callers in terms of experience level and talents. Yet, McCoy thrived and made it to at least the divisional round with both players. Buffalo is unsure of its quarterback situation. But whoever next year's quarterback is, he'll most likely would benefit if taught by McCoy.
The bad:
The Bills, or any other team, must wait for McCoy to finish his season. The Broncos are expected to make a deep playoff run. Some predict Denver will make it the Super Bowl. That would significantly push back any timeline for the Bills to get started with McCoy -- and time is of the essence.
Chip Kelly, University of Oregon head coach

Kelly
The good:
Kelly is an innovative coach whose fast-paced, up-tempo offense is redefining the sport.
New England Patriots
head coach Bill Belichick credits Kelly for helping the Patriots improve their tempo on offense this season. Kelly has produced plenty of NFL players during his tenure at Oregon.
The bad:
The pro level isn't for every college coach. Even top college coaches such as Nick Saban failed in the NFL. Can Kelly make it in the pros? That's the big unknown. But Kelly has a cushy job at Oregon and tons of interest from other NFL teams. The Bills might have to pay top dollar and perhaps get into a bidding war to convince Kelly to leave the college ranks and choose Buffalo over other NFL teams.
This is a good list to start for Buffalo. The Bills are doing a good job of getting right to work and lining up as many coaching candidates as possible.
Which coach out of this group would be the best fit for Buffalo?
March, 31, 2011
3/31/11
12:00
PM ET
»
NFC Draft Watch
:
East
|
West
|
North
|
South
»
AFC
:
East
|
West
|
North
|
South
Each Thursday leading up to the NFL draft (April 28-30), the ESPN.com NFL blog network will take a division-by-division look at key aspects of the draft. Today's topic: decision-makers.

Buffalo Bills
This will be the second draft for general manager Buddy Nix, assistant general manager Doug Whaley and head coach Chan Gailey. Vice president of college scouting Tom Modrak is back for his 11th draft. Bills founder Ralph Wilson has been known to get involved on draft day, but Gailey recently said he hasn't seen the Hall of Fame owner meddle. "He is the boss," Gailey said. "He has all influence, every bit of influence. He says 'Take this guy,' we take him. But he's smart enough not to do that. He hired people to do a job. He lets them do their job. He's letting us do our job. That's what I've seen."

Miami Dolphins
For the first time since general manager Jeff Ireland joined the club in 2008, he will run the show without Bill Parcells watching over his shoulder. Parcells stepped away from the Dolphins a few days before the 2010 season opener, leaving his hand-picked GM at the controls. Head coach Tony Sparano also would appear to have a bigger voice with his contract extension. Dolphins owner Stephen Ross made the move to make amends after an embarrassing flirtation with Stanford coach Jim Harbaugh.

New England Patriots
Bill Belichick is entering his 12th draft with New England. He remains in control of every personnel move and hasn't missed without Scott Pioli, who departed for the
Kansas City Chiefs
in 2009. Belichick receives help from senior football adviser Floyd Reese and director of player personnel Nick Caserio. The Patriots' draft room must be a sight to behold. On the first two days of last year's draft, they made a series of trades in which they acquired 10 picks (including a 2011 second-rounder) with an average value of the 69th pick and peddled eight picks with an average value of the 85th pick. So these minds somehow accumulated more picks and higher in the order.

New York Jets
General manager Mike Tannenbaum and head coach Rex Ryan enter their third draft together. Top college scout Joey Clinkscales is highly respected in the business, but Ryan has considerable say on whom the team selects, especially when it comes to defensive players. Tannenbaum isn't afraid to make moves on the fly, executing several trades to move up and select key players: quarterback
Mark Sanchez
, running back
Shonn Greene
, cornerback
Darrelle Revis
and linebacker
David Harris
.
April, 15, 2010
4/15/10
3:51
PM ET
That speck in the AFC East's rearview mirror is the
Buffalo Bills
.
And, no, objects are not closer than they appear.
Given the circumstances within the division and looming labor uncertainty, it's possible the Bills will have to wait until 2012 to have a reasonable shot at the playoffs.
The Bills went into the 2010 offseason a distant fourth to their three divisional opponents. The
New England Patriots
are defending champs. The
New York Jets
reached the AFC Championship game. The
Miami Dolphins
won the division in 2008.
Those were the facts before offseason maneuverings commenced. After the various signings and trades, Buffalo is lagging even more.
The Bills clearly are rebuilding, and that's OK. They should have embraced that concept years ago. Instead, they treaded below mediocrity, failing to reach the playoffs 10 straight seasons.
As it shapes up now, the Bills would be a miracle playoff team. They not only would need to drastically improve, they'd also have to pray at least two proven AFC East teams crash.
Then there's the serious possibility of a lockout in 2011. Some predict the labor battle could wipe out the season.
The Bills have made some prudent decisions in revamping their front office. They promoted Buddy Nix to general manager and brought in
Pittsburgh Steelers
pro personnel coordinator Doug Whaley to be assistant GM. Nix hired Chan Gailey as head coach, perhaps not an inspirational choice, but a solid one.
Nix stated from the outset his approach to improving the team would be through the draft. That's the plan he has followed. Their biggest free-agent signings were defensive lineman
Dwan Edwards
and offensive tackle
Cornell Green
. They've made no trades. Buffalo is the only AFC East team that does not know who its quarterback will be.
Other AFC East teams have done the opposite, acquiring star veterans that make them better immediately and widening the gap between them and Buffalo enough to make it a three-team division in April.
The Jets have improved on both defense and offense: adding back
LaDainian Tomlinson
, receiver
Santonio Holmes
, cornerback
Antonio Cromartie
and perhaps outside linebacker
Jason Taylor
.
Miami traded for receiver
Brandon Marshall
and signed inside linebacker
Karlos Dansby
.
New England has done little more than re-sign its own players, who happen to be pretty good: nose tackle
Vince Wilfork
, running back
Kevin Faulk
and right guard
Stephen Neal
among them.
Buffalo fans should be optimistic about the new leadership. Nix and Gailey have done nothing yet that contradicts their master plan. They've given no reason to be disheartened about their long-range vision.
But the rest of the AFC East sure has made it tough to expect any Bills thrills for a while.
April, 7, 2010
4/07/10
1:00
PM ET
»
NFC Approach
:
East
|
West
|
North
|
South
»
AFC
:
East
|
West
|
North
|
South
»
Draft Watch
:
Biggest needs
(2/17) |
Busts/gems
(2/24) |
Schemes, themes
(3/3) |
Recent history
(3/10) |
Needs revisited
(3/17) |
Under-the-radar needs
(3/26) |
History in that spot
(3/31) |
Draft approach
(4/7) |
Decision-makers
(4/14) |
Dream scenario/Plan B
(4/21)
Each week leading up to the NFL draft (April 22-24), the ESPN.com blog network will take a division-by-division look at key aspects of the draft. Today's topic: Draft approach.
Buffalo Bills

Buffalo's draft decision-makers have changed and morphed so often over the past decade there's no track record to suggest their strategy this year. Buddy Nix has been influential in past Bills' drafts, but this is his first go-round as general manager. We're not sure how much input new assistant GM Doug Whaley or new head coach Chan Gailey will have. But the front office is exuding a sense of direction it hasn't had in years. In their previous four drafts, nobody really knew who made the decisions and nobody would admit it. Former head coach Dick Jauron, top college scout Tom Modrak, former pro personnel director John Guy and former chief operating officer/GM Russ Brandon all were involved, but to what degree? Of that muddled group, only Modrak remains in his role.
Miami Dolphins

Maybe they're ready to loosen up now that a foundation has been established, but the Dolphins' modus operandi was pretty simple for the first two years under football operations czar Bill Parcells. They were coming off a 1-15 season and needed to be rebuilt carefully. Parcells, general manager Jeff Ireland and head coach Tony Sparano set out to make the safest picks. Because left tackles are surer things than quarterbacks, the Dolphins chose left tackle
Jake Long
first overall in 2008 and not
Matt Ryan
, for instance. Then the Dolphins came back in the second round for quarterback
Chad Henne
. In the first three rounds of the past two drafts, the Dolphins drafted a left tackle, two quarterbacks, two cornerbacks, two defensive ends and a wide receiver.
New England Patriots

Perhaps no club drafts with value in mind more than the Patriots do. Unlike the Jets, who'd rather shoot up in the order, the Patriots are more content to backpedal and collect more picks. In last year's draft, they started out with the 23rd selection, backed up to 26th and eventually ended up with the 41st, 73rd and 83rd. Dissatisfied with the talent pool and reluctant to invest first-round money in anybody on the draft board, the Patriots traded out of the first round completely and took four players in the second. The Patriots have an embarrassment of bargaining chips this year. New England is the only team with four choices in the first two rounds and already holds two selections in the 2011 first round. New England also led the league in compensatory picks, but those cannot be traded.
New York Jets

The Jets own the 29th selection of the draft, but it would be a stunner if they actually pick there. General manager Mike Tannenbaum is intrepid when it comes to making trades, famously moving up to nab cornerback
Darrelle Revis
, linebacker
David Harris
, quarterback
Mark Sanchez
and running back
Shonn Greene
within the past three drafts. Tannenbaum, however, might abandon the maverick approach this spring. The Jets have traded away so many draft choices, they need to replenish their depth for developmental purposes. That could mean moving back into the second round to collect more picks, or, at the very least, holding onto the ones they have. But if presented another chance to pounce, it'll be interesting to see if Tannenbaum succumbs to temptation.
February, 15, 2010
2/15/10
11:13
AM ET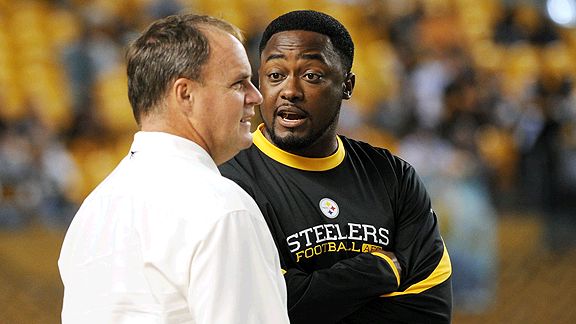 George Gojkovich/Getty ImagesAfter missing the playoffs in 2009, Kevin Colbert and Mike Tomlin hope to get the Steelers back on track, starting with the NFL draft in April.
The
Pittsburgh Steelers
entered last season with the Lombardi Trophy in hand and extremely high expectations. But when the smoke cleared in 2009, Pittsburgh was a disappointing 9-7 and watched from home as 12 other teams competed in the postseason.
So what is the current state of the Steelers? ESPN.com's AFC North blog went straight to the top to find out from Kevin Colbert, Pittsburgh's football operations director and general manager.
In a one-on-one interview, Colbert discussed all things Steelers, including the 2009 season,
Troy Polamalu
's knee injury and his thoughts on the coaching and front-office shakeups within the organization.
Kevin, last year clearly fell short of expectations. So how would you best describe Pittsburgh's 2009 season?
Kevin Colbert:
In looking back at last year, I'm a big believer in you are what your team's record indicates. Right now we're a 9-7 team. Anytime we don't qualify for the playoffs, that's a disappointment, and it was a disappointing year by any and all accounts. That's who we are at this point.
Probably 70 percent of the league would be happy with 9-7, yet the sky is falling in Pittsburgh when it happens to the Steelers. Is the bar and pressure to succeed for this franchise unreasonable?
Colbert:
The pressure is no different than the pressure we would put on ourselves anyway. This organization set a high standard a long time ago with their success. It's been a couple times when we've been able to add to that success. But, again, we understand that not having a chance to compete for the championship, that will always be a disappointing season here. We accept that and we really embrace that, because we're going to have that expectation anyway besides any outside pressure.
After experiencing it in 2006 and 2009, any thoughts on why it's so difficult to defend a Super Bowl title?
Colbert:
I don't think it's necessarily defending the title. I think it's speaks to the strength of the league and the balance of the league. We didn't go into the season feeling we were defending anything. We went into the season feeling that we were 0-0 like everybody else, and we came out of the season 9-7 and not good enough to qualify. So, really, we never talked about or looked at ourselves as defending champs. We looked at ourselves like everybody else at the beginning of last year.
February, 3, 2010
2/03/10
4:25
PM ET
The
Buffalo Bills
chose to operate without a football-minded general manager until a little more than a month ago.
Now they're trying to give their new football-oriented GM a football-oriented assistant GM.
In his blog on NFL.com, Jason La Confora writes the Bills have asked
Pittsburgh Steelers
pro scouting coordinator
Doug Whaley to be the assistant general manager
to Buddy Nix.
Whaley presumably would fill the void created when the Bills
fired vice president of pro personal John Guy
two weeks ago.
Whaley has been with the Steelers for 13 seasons, the past 10 as pro scouting coordinator.
A bit of trivia for Bills fans: The previous men who held the pro scouting coordinator for the Steelers before Whaley?
Tom Donahoe and Tom Modrak.
The Bills hired Donahoe as general manager after the 2000 season and fired him in January 2006. The experience soured Bills owner Ralph Wilson so much that he didn't hire another general manager until Nix.
Modrak is the Bills vice president of college scouting, but has been the target of fan disdain for drafts that have produced zero playoff teams for 10 years running.