NFL Nation:

Dowell Logains
December, 15, 2013
12/15/13
10:25
PM ET
NASHVILLE, Tenn. -- Dowell Loggains pleaded with Mike Munchak when the Titans scored the tying touchdown with 10 seconds left.
The offensive coordinator didn't want to go to overtime. He wanted to try to win the game right there and then. Munchak declined the option, and the Titans lost in overtime,
37-34
.
I imagine momentum factored into it. But I believe in
Ryan Fitzpatrick
's propensity to throw a big interception as much as I do in the idea that a team that had just stormed back from a 17-point deficit somehow carries an advantage into overtime. (Bill Barnwell of Grantland has written convincingly that
momentum is a myth
.)
They kicked the extra point but still had a chance. A defensive offsides call could have given them another attempt, needing just 1 yard, not 2.
But they passed on the opportunity.
Virtually every player I asked about it told me he wasn't the coach and it wasn't his call. Bravo to Munchak for having a team of guys willing to jump on board his groupthink and not publicly challenge their boss. Those are important things to have on a losing football team lacking identity. That and effort will be the top two things Munchak points to when he tries to sell Tommy Smith on keeping him for a fourth season.
[+] Enlarge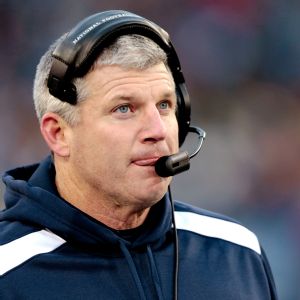 AP Photo/Wade PayneNew Steelers offensive line coach Mike Munchak has used his head coach and Hall of Fame player experience to make a great early impression.
The team could use a couple players, frankly, that might be brave enough to challenge his logic at times, since his logic is a staple ingredient in a 5-9 season.
The only guy I can recall questioning him this season was
Rob Bironas
, after the terrible, tee-less, spinner onside kick failed the Titans a second game in a row at the end of the home loss to Indianapolis.
Lo and behold, Bironas effected change.
On two onside attempts against the Cardinals, he used a tee. And the second succeeded in conventional fashion. He smashed in into the ground, it took a high bounce,
Larry Fitzgerald
went up and got it,
Jackie Battle
crushed him and he lost it,
Daimion Stafford
recovered it.
No player was looking to effect change after this one, really. They were looking not to ruffle feathers.Understandable, I suppose. Though it signals the lack of star power that only one guy said something amounting to, "Damn right I want to go for it there."
Munchak has built this team in his image with a revamped offensive line and a lot of lip service to the running game. He saw the offense score on a lovely play-action pass to
Delanie Walker
from a yard out in the third quarter. This end-of-game scenario should be right in the Titans' wheelhouse.
Instead, Munchak preferred an extra series or multiple extra series to one snap.
"I'm not the head coach," Walker said. "I believe in whatever he wants to do."
Receiver
Kendall Wright
was a monster when the Titans needed him, finishing with 12 catches on 20 targets for 150 yards.
"I definitely wanted to go for it," he at least conceded before turning to the company line. "But I'm not the offensive coordinator, I'm not the head coach. I can't control that. I thought the penalty might have changed it, but it is what it is. We can't control what our coaches do. We've just got to go out there and play."
Said Munchak: "I would hope the offense always wants to go for it."
An unconventional decision grounded in percentages would have been healthy for this team at that stage.
Make it and you were courageous. Miss it and you showed faith in your guys.
"I thought about it a lot," Munchak said. "I just felt that we played so hard to get back into it, to put it on one play, that all of a sudden the game is over, the high to low. Now you sit there and think, 'We might as well have done it. We had a better chance to win.' I felt the momentum was on our side. We got the ball, which I hoped we would. We were in position to take over the game. We have to make plays there and win it. Now that we didn't get it done, I wish we did go for it."
The distance needed for the conversion shrinking after the penalty wasn't really a factor in his thinking, Munchak said.
In my thinking a team that has consistently failed to make plays, plural, this season, would have been better off trying to make a play, singular.
Including Sunday, the Titans have snapped the ball 11 times in 2013 from the 1-yard line. Five times they've scored the touchdown.
Including Sunday, the Titans have 56 snaps needing a yard for a first down. They have 35 first downs and 6 touchdowns. That's 73 percent success -- 23 percent better than the 50 percent that is overtime.
I am not an analytics guy, but I know several who are brilliant on this stuff.
I asked Chase Stuart of
FootballPerspective.com
how he looks at it.
"If 'on average' the two situations are equal, then the characteristics of the team come into play," he said. "Honestly, considering the quality of the Arizona D, notwithstanding the last 3 minutes of the game, I'd probably lean towards playing for OT.
"However, the penalty makes a huge difference. Since 2012, teams have scored TDs on
60 percent of 4th-and-goal from the 1
situations."
His bigger point departs from numerical analysis and melds with mine, looking at the philosophy and structure of the Titans.
Munchak has a team he's spent three years helping craft. The team has spent money, draft picks and resources to be a team that gets a tough yard.
"It's a huge indictment of the organization's philosophy, in my opinion, for THIS team to not go for 2 and run it up the gut," Stuart said. "You can't devote so many resources and time and effort to being a physical running team and then not run in a situation where even average teams convert."
Amen, brother.
Munchak lacks faith in the offense he's constructed just as much as I do, it appears.
Even lacking faith, I would have gone for it from the 1.
September, 23, 2013
9/23/13
12:30
PM ET
A review of four hot issues from the
Tennessee Titans
' 20-17 win over the
San Diego Chargers
:
[+] Enlarge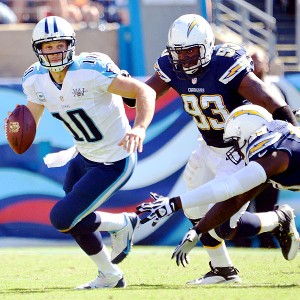 Don McPeak/USA TODAY SportsTennessee's offensive line needs to buy Jake Locker more time in the pocket.
Protection issues:
The Titans have not protected
Jake Locker
as well as most of us expected considering the interior line rebuild. Left guard
Andy Levitre
and right guard
Chance Warmack
aren't going anywhere. Center Rob Turner beat out
Fernando Velasco
in the preseason, while fourth-rounder
Brian Schwenke
fell behind while hurt. Velasco is with the Steelers now.
If Schwenke is up to speed, the Titans ought to consider making the change in the middle. It will not be easy, but Turner has not been good enough. Locker reacted to pressure pretty well against San Diego. But he's been sacked seven times so far and under pressure too often.
Slow starts:
The Titans have not been great out of the gate this season. In Pittsburgh they gave up a safety and a long drive at the start, but took the ball away with a goal-line fumble. The offense punted away its first possession. In Houston they traded first-drive touchdowns. Against San Diego, the Titans went three-and-out, then gave up a touchdown drive. Combined first possession scoring: Opponents 16, Titans 7. That's not resounding, but Tennessee can start better.
Locker hurrying up:
Two weeks in a row we've seen a very well-executed drive by Locker and the offense when they picked up the pace. In Houston they went 99 yards in nine plays for a fourth-quarter touchdown. Against San Diego they went 94 yards in 10 plays for a game-winning touchdown.
The Titans aren't going to be a no-huddle, hurry-up offense all the time. But they ought to incorporate it more often based on how well Locker and the offense have been doing with it. It can still be a changeup if they do it a bit more often.
Get smarter:
The penalty issue Sunday -- 11 for 116 yards and four first downs -- was something the Titans had to fight hard to survive. The Titans talk about being smart, but that is different than actually being smart.
Offensive coordinator Dowell Loggains and Locker raved about the heady play
Delanie Walker
made on a drop during the game-winning drive. The tight end realized his mistake, kept playing and broke up an interception by
Marcus Gilchrist
.
"Smart players do smart things, dumb players do dumb things," Loggains said.
Right now
Kenny Britt
fits into the second category. Others have flashed in to join him.
The Titans have to show they have more smart players and fewer dumb players.
August, 29, 2013
8/29/13
9:48
AM ET
NASHVILLE, Tenn. -- We will see a lot of third-string quarterback
Rusty Smith
Thursday night when the
Tennessee Titans
wrap up their preseason with a game at Minnesota.
[+] Enlarge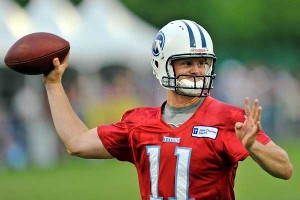 Jim Brown/USA TODAY SportsRusty Smith, a three-year veteran in the NFL, could be a third quarterback option for the Titans.
But is that the last we will see of him?
John Glennon of The Tennessean examines the state of
the Titans' No. 3 quarterback
, and the case for him and against him sticking on the roster.
They'd like to keep him as the third quarterback. Should
Jake Locker
or
Ryan Fitzpatrick
get hurt, there would be built-in insurance. If the No. 1 and No. 2 are healthy, Smith would be a weekly deactivation, one of eight players of the 53 who don't dress for a game.
Offensive coordinator Dowell Loggains called a third quarterback a luxury, but said it's a luxury he hopes the Titans will have.
But Smith is in his fourth season. He was a sixth-round draft pick out of Florida Atlantic in 2010. He's got practice-squad eligibility, and the ideal scenario would be to get him there, but if the Titans cut him, they run the risk of him playing for another team's roster.
Here's an example of what the Titans should do, and it's based on Loggains' answer to a question about the likelihood of Smith getting claimed on waivers if he's cut.
"I think he's done enough in his career and shown the ability to throw the ball good enough that he would have the opportunity to get picked up by someone else, if some other team wants to keep three quarterbacks."
By his fourth year, he needs to at least be able to challenge for the No. 2 job. The Titans swapped out one veteran,
Matt Hasselbeck
, for another, Fitzpatrick, this offseason. They didn't think for a second about turning to Smith as their alternative to Locker. Loggains doesn't think another team would consider Smith as a No. 2.
Fitzpatrick has a two-year deal, so Smith wouldn't necessarily graduate to backup next year either.
They need him on the practice squad, but there isn't room for him on the 53.
If I'm the Titans, that's the move I make. And if someone else snatches him up, well, my scouting department better have a list of a couple guys coming free who'd seize a practice squad opportunity and provide roughly the same things Smith does, even without the experience with the franchise.
NFL SCOREBOARD
Thursday, 10/2
Sunday, 10/5
Monday, 10/6