NFL Nation:

Dr. James Andrews
July, 28, 2014
Jul 28
2:25
PM ET
ENGLEWOOD, Colo. -- A day after being pulled from practice due to a lower right leg bruise,
Denver Broncos
defensive end
DeMarcus Ware
missed Monday's morning practice, too.
The injury isn't significant, but the Broncos were in full pads so they simply held the 10th-year veteran out as a precaution.
"Just a leg bruise; he'll be fine," said Broncos head coach John Fox.
Wide receiver
Demaryius Thomas
, who has been excused since Wednesday night after the death of his grandmother, arrived at the Broncos' complex with about 30 minutes remaining in practice, but did not participate. The Broncos do have a walk-through practice Monday evening.
The Broncos' players have Tuesday off.
Cornerback
Chris Harris
was also not at practice after he traveled to see Dr. James Andrews, the surgeon who repaired Harris' ACL. Harris said this past weekend he believed the visit with Andrews was a formality and that he expected to be cleared to participate in practice at some point this week.
The Broncos will have to move Harris off the physically unable to perform (PUP) list before he can participate in practice.
Also not practicing Monday morning were: defensive end
Greg Latta
(right hip), safety
John Boyett
(back), tight end
Jameson Konz
(left hip) and defensive end
Chase Vaughn
(right knee).
August, 30, 2013
8/30/13
12:52
AM ET
Highlights from the Washington Redskins' 30-12 preseason finale win at Tampa Bay. They ended the preseason 4-0:

1.
Robert Griffin III
tweeted that he had been cleared to play by Dr. James Andrews, but then coach Mike Shanahan said the doc had a couple concerns. And that Shanahan would meet with Griffin over the weekend to discuss the situation. OK, I do not think this is just a ploy by Shanahan to keep the Eagles guessing, especially because the decision could come early in the week -- and if you're Philly, you're prepping for Griffin regardless. Much easier to adjust to a non-read-option attack than vice versa if
Kirk Cousins
has to play. Shanahan, though, is huge on gaining any little advantage. Still, it's legit for Shanahan to want to see another week of practice, if that is the case. Just know that if this is the case, there will be more probing into the coach-player dynamic. Maybe Shanahan just wanted to remind everyone who controlled the decision.
2. But if it's Andrews who has the concerns, then no one can blame Shanahan if he wants to take a little more time to evaluate -- or if he ultimately chooses to sit Griffin for the opener. There is, wrongly, a belief that Shanahan and the Redskins have rushed Griffin back. The kid hasn't played in a game yet and, despite being cleared for practice at the start of camp, did not take any 11-on-11 reps until three weeks in. So, no, they have not rushed him back. When you see Griffin, you see someone who if not 100 percent is very close. If he were limping or missing practices and then it was announced he would play in the opener, then, OK, he's being rushed. Now? Even if he plays I don't think he would have been rushed. There's one person who was rushing here; because of it he's put himself on the verge of meeting his goal to play in the opener.
3. What are the concerns? Could be as simple as: Learn how to take care of yourself on the field. The coaches have preached this to Griffin for a while and, despite perception, he did learn last year. After his concussion he ran out of bounds at a much higher percentage than before. But when it's a key situation he will try to grab every yard possible, turning upfield instead of running out of bounds. Have said this several times, but Griffin needs to learn how to keep the defenses guessing when scrambling by keeping the ball alive -- pump-faking as he approaches the line, or even beyond. Cousins did this a couple times against Pittsburgh. But Steelers QB
Ben Roethlisberger
did it as well, even getting linebacker
London Fletcher
to jump in the air after Roethlisberger had crossed the line of scrimmage. It's just another way for Griffin to protect himself.
4.
Chris Thompson
's speed and playmaking ability will earn him a roster spot. Shanahan praised him earlier in the week, excused his fumbles and called them correctable and said he'd keep getting better. Read between the lines. Then Thompson returns a punt 69 yards for a touchdown. Whether or not he ends up as the main returner immediately is irrelevant; he still needs refining in this role. But it just shows what he's capable of doing. Thompson was extra patient on the return, a trait he showed last week too. He's good at pausing, forcing the coverage to commit and then spotting the opening. What I like about his running style: the ability to cut sharply and the fact that he's always leaning forward when cutting up through the hole. For a little guy, he never gets knocked back.
5. Thompson also picked up a defensive linemen coming on a third-down stunt. Really liked how he attacked the block. The coaches like when you're willing to handle this task, and Thompson did not back down at all. Made a good block, too. He deserves a roster spot; he understands how to run with the ball in this system. Thompson did misjudge a punt, not getting a good read on the ball and falling slightly forward as he caught it. He can work on catching punts in practice, as he has been doing.
6. The question is, did
Evan Royster
do enough to warrant a roster spot. I did not think entering the game that he would earn a job. And I think it comes down to him and
Keiland Williams
. For a while I thought the Redskins would keep only four backs because neither one of the rookies had shown anything in camp. Thompson was in and out of the lineup. But the past week or so changed my mind, and it looks like five backs could earn spots. It would be deserved, too, if you're keeping the best 53. While Royster ran well, I still wonder how he fits. I know if something happened to
Alfred Morris
, Royster would be a good alternative. But if nothing happens? Then what does Royster do? Williams is a better special-teamer and that could still make the difference. I will say, Royster's touchdown run was all him.
Josh LeRibeus
pulled but didn't move anyone, and two defenders popped Royster, who bounced outside to his right and cut up for the score. By the way, on his 31-yard run I liked the subtle block by tight end
Fred Davis
. Royster started left and cut back to the right, the same side Davis was on. He was engaged with the backside linebacker, a block he didn't always sustain last year. This time he did and it proved to be a pivotal one as Royster cut back.
7. Quarterback
Pat White
made some more plays which, considering his layoff from the NFL, isn't too bad. But he still hasn't shown that he can be a consistent or solid passer in the league. He did throw a nice out to
Skye Dawson
, a low zinger into tight coverage. He seems to be more comfortable when he's outside the pocket. He threw an interception because he never saw the linebacker. Yeah, White stared at the receiver, but on a slant sometimes that's what it takes on a quick route. He just failed to see the defender. On that same series he missed badly over the middle and should have been intercepted then, too. Yes, White's touchdown run was nice, but the one thing everyone knew about him before he came to the NFL was that he could run. Can he pass out of the zone read? He didn't do it this preseason. Can he throw any touch passes? Didn't do that either. Or drop it in over the top of a linebacker down the middle – and in front of the safety? Nope. In other words, he has a long ways to go, as he should. I would not keep him.
8.
Brandon Meriweather
showed enough to make you think he'll be fine for the season opener. Shanahan seemed pleased afterward with what he saw. Meriweather did not make a huge impact, but that wasn't surprising given the layoff. He just needed to be active around the ball and prove he can still run well. He was generally around the ball and stuck his nose in the action when appropriate. The Redskins could use what he adds. I remember a corner blitz from the numbers against Philadelphia last season that I'm guessing they don't run if not for Meriweather. Why? Because he had the speed to rotate and cover a speed guy like
DeSean Jackson
. That's why it's important to see how well he was running against the Bucs Thursday night. Meriweather needs to stay healthy.
9. Once again, safety
Bacarri Rambo
tackled well, especially in the open field. Before I get to that, I like how active Rambo is, whether it's deep or playing near the line of scrimmage. I liked that he makes quick reads and breaks when playing the curl/flat drop zone. Last week he broke up a pass to
C.J. Spiller
, and this time Rambo tackled the tight end. Give Rambo credit for getting there before they can do anything with the ball. On one open-field tackle Rambo approached, broke down and then attacked and made the play. It's too bad he didn't really see any legitimate quarterbacks the past two games so he could get tested downfield. But he licked the one problem he had early on. Those missed tackles could turn out to be the biggest plays he made this season – just because of what he learned and how it helped him improve.
10. OK, this is the last observation so we'll combine a few into one with a little rapid fire. I thought
Chris Baker
played a terrific game, showing a lot of strength (as did
Phillip Merling
). Liked what
Bryan Kehl
did; active and avoided some blocks to make plays.
Brandon Jenkins
is a raw pass-rusher. Got inside the tackle on one rush, coming out of a three-point stance. Did see him get wide on one other time but often quiet. Was not impressed with tackle
Tom Compton
early in the game; knocked over on the first play; allowed pressure on the third play and later in the game he whiffed on one pass set, expecting the defender to either bull rush or engage. Instead he went around the edge. Right tackle
Tony Pashos
was fine, though he allowed a pressure.
Leonard Hankerson
dropped another ball. He's an improved route runner, but those hands. … And will
Dez Briscoe
's catch and run help him enough to get a spot as the No. 6 receiver? Briscoe's hands were inconsistent during training camp so that matters, too. It'll probably come down to keeping a sixth receiver or an 11th defensive back or a ninth offensive lineman. Good play by
David Amerson
; right spot, right time on the overthrow.
Jose Gumbs
had a couple good pops, though I wonder on his downfield hit if it could have been better. He hit the receiver with his right shoulder, but he could have taken the guys head off with a big hit (afraid of drawing a fine perhaps?).
August, 27, 2013
8/27/13
4:59
PM ET
The workload increased again this week, with
Robert Griffin
III taking yet another step toward starting the season opener against Philadelphia.
Griffin
He continues to get more reps in practice and once again faced the regular defense, giving him a better look against live competition. The Redskins ended practice for the week, with only a walkthrough scheduled for Wednesday. So Griffin will reach his examination with Dr. James Andrews Thursday with continued positive momentum.
"I can see a big improvement from the start when he came out on the first day," Redskins coach Mike Shanahan said. "You can see he's in football shape. There hasn't been a setback. Everything's been very positive. ... He just feels more relaxed. We put him in more team situations. You can tell when somebody's had enough reps to where it starts to be automatic and you don't have to push it."
Griffin will be examined by Andrews at some point Thursday, either before or after the Redskins game at Tampa Bay.
"I've seen improvement from the first day to where he's at now just in his ability to move and ability to scramble," Shanahan said. "Just the ease in which he practices."
Earlier Tuesday,
Griffin told ESPN980 radio that he was 100 percent
. It's hard for others to measure how a player feels, but offensive coordinator Kyle Shanahan isn't about to argue with Griffin.
"He looks 100 percent to me," Kyle Shanahan said. "He can fly around. He can make the throws. There's no gimp at all -- obviously he wouldn't be out there if there was. But he looks good. Everything from a coaching standpoint is about getting the rust off. He's gotten better each practice and I'm excited to get him out there Week 1."
August, 20, 2013
8/20/13
1:25
AM ET
Redskins coach Mike Shanahan said Dr. James Andrews will make the final decision as to whether or not
Robert Griffin
III will return for the season opener. Andrews examined Griffin before the Redskins 24-13 preseason win over Pittsburgh on Monday, watching him perform on the field and then checking out his surgically-repaired right knee.
Griffin
It's the first time Andrews has evaluated Griffin since training camp started. Shanahan said Andrews will re-examine Griffin after the preseason finale. Andrews performed the Jan. 9 surgery on Griffin's right knee and has consistently said the quarterback is ahead of schedule.
"He'll give us the yay or nay, but right now feels that his progress has been good," Shanahan said. "If there are no setbacks he thinks he'll be ready.
"He really feels the same way as he did before camp with practice -- he feels good about him practicing. He doesn't feel like we should put him in any [preseason] games. ... If Dr. Andrews felt his knee wasn't ready, we surely wouldn't play him [in the opener]. We surely wouldn't play him if he didn't feel that it was in the best interest of Robert and this organization to play him. He's been doing great and there's no reason to have a setback, but you never know."
Griffin worked out before the game, taking the same pre-game snaps as the others while wearing a white T-shirt that read, "Operation Patience." He smiled and laughed and even shook hands with Andrews.
"We're going to have two more weeks of practice and we're going to put him through situations like we've been doing over the last three and a half weeks," Shanahan said, "and keep our fingers crossed that there isn't a setback. If there isn't, he should be ready for Philadelphia."
March, 26, 2013
3/26/13
3:57
PM ET
As a rule here on the NFC East blog, I don't like to pass up any opportunity to do a post on
Washington Redskins
quarterback
Robert Griffin III
. As another, lesser-known rule, I don't like to pass up any opportunity to do a post involving an elephant. I'm sure you'll all agree these are two very good rules, and that the opportunity to do a post that adheres to both of them is straight-up blog gold.
To that end,
this is a link
to a story about Griffin throwing passes to a circus elephant. It includes quotes from the elephant's trainer about Griffin's remarkable adaptability to even the most pachydermic of offensive schemes:
"I pointed out to him one time what to do, and [on his second try] he threw it up and she caught it," Joey Frisco III told The Washington Post.

"Usually it takes time for elephants to get used to how someone's gonna throw, but an NFL superstar quarterback, he knew exactly what to do," he told the newspaper.
Great quarterbacks are the ones who get the most out of the receiving talent around them -- who elevate the play of their receivers regardless of size, body type, athletic ability or length of trunk. So it comes as no surprise that Griffin was able to quickly develop a rhythm with Kelly Ann the elephant. Some of my remaining questions, however, include:
Is Kelly Ann strictly a receiver, or is she willing and able to contribute as a downfield blocker? I know Mike Shanahan likes his receivers to block, and it certainly looks as though Kelly Ann would be a devastating force in the open field. But is she mentally equipped for that, or is she a diva who just wants to rack up the catches and yards?
Do elephants count against the salary cap? The Redskins are hard up against the cap, as we all know, and looking for creative solutions? It's possible they've found a huge, wrinkly, gray means of adding to their roster without going over.
What does this mean for Santana Moss' future with the team? Can the elephant work out of the slot, or is she strictly a big-bodied outside type? Can she play tight end, and possibly replace Fred Davis if he signs elsewhere?
How did Griffin's knee look?
I also wish there was video, but when I clicked on the video atop the story I got that nutty Dr. James Andrews thing from the weekend talking about Griffin being faster than a locomotive and able to leap tall buildings in a single bound just a few weeks after major reconstructive knee surgery. For me, it's enough that he can throw a ball to an elephant. But I guess some people are never satisfied.
January, 9, 2013
1/09/13
3:57
PM ET
Dr. James Andrews, who performed reconstructive right knee surgery Wednesday morning on
Washington Redskins
quarterback
Robert Griffin III
, has released the following statement (along, oddly, with some photos of the good doctor himself in scrubs, which I don't feel compelled to share):
"Robert Griffin III had successful knee surgery early this morning. He had a direct repair of his LCL and a re-do of his previous ACL reconstruction. We expect a full recovery and it is everybody's hope and belief that due to Robert's high motivation, he will be ready for the 2013 season.

The goal of his treatment is to give him the best opportunity for a long professional career."
My first reaction is that those last two sentences are not necessarily compatible with each other. And that the second one, not the first, really needs to be the Redskins' focus at this point.
[+] Enlarge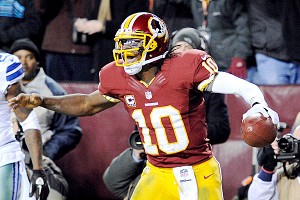 AP Photo/Nick WassRobert Griffin III underwent surgery to repair a torn ACL in his right knee for the second time in four years.
If I'm Mike Shanahan and the Redskins right now, Griffin's ability to be ready for the 2013 season is not my chief concern. In
Kirk Cousins
, they have a capable backup who surely could handle the first however-many games of the season while Griffin works his way back to 100 percent health. And that's 100 percent this time before he takes a snap in an NFL game. Not 80, not 90, not 99.9. It's got to be 100 this time, or he doesn't play for me.
If I'm Shanahan and the Redskins, Griffin doesn't go back onto a field that has an opposing team on it until every doctor who's looked at that knee assures me it's 100 percent ready to go and every single doctor who will return my phone call assures me he's at no greater risk of reinjuring it than he would be if he'd never hurt it in the first place. The whole "If he's healthy enough to play, he'll play" thing (which I admit I went along with until Griffin clearly reinjured himself in the first quarter Sunday) isn't good enough this time. The chief lesson that has to be learned as a result of this is that the Redskins need to be even more careful with their franchise quarterback than they think they do. If he's my quarterback, I wait until he's cleared by everyone in sight, practices for a week without any trouble, and then I sit him down for one more game after that just so I'm a billion percent sure.
If I'm Shanahan and the Redskins, I don't even let Griffin into my office to try and convince me he's ready. I don't want to hear him on this topic anymore. He's lost that right. We all understand he's a tough kid who wants to play and doesn't want to let his team down. That's great, and it's appreciated. But that bravado is part of what got the Redskins into this mess. It wasn't wrong of Griffin to argue his way back into Sunday's game. It was wrong of Shanahan to let him, and he'd better not let him do it the next time he tries. Griffin will always argue to go back in before he's ready. That's his job, he believes, as a player and a leader of the team. But Shanahan's job is to make the decision that's best for the player, not the one that will make the player the happiest. That's another of the lessons that must be learned here, or else this kid just had his knee rebuilt for the second time in four years for no good reason.
Is it possible Griffin could be healthy enough to play in time for the start of the 2013 season? Absolutely, and if he is, good for him and for the Redskins. But if that's their goal right now, I think they're missing the point. The goal for 22-year-old Robert Griffin III right now is that "long professional career" Andrews mentions at the end of his statement. If anything else, including a great 2013 comeback story, is ahead of that on the priority list, then no one learned anything.
January, 7, 2013
1/07/13
10:15
PM ET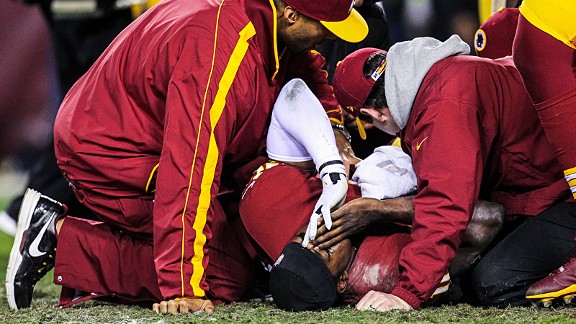 Daniel Shirey/USA TODAY SportsRobert Griffin III will have further tests done to see the extent of his knee injury.
I am not an expert on the way the human knee is constructed, yet I find myself tasked with writing on that topic as we continue to cover the injury to the right knee of
Washington Redskins
quarterback
Robert Griffin
III. So I reached out to ESPN.com injury expert Stephania Bell, and as a result of our conversation Monday night I feel considerably better educated about the way the human knee is constructed and what may lie ahead for Griffin depending on what he finds out when he visits Dr. James Andrews for further testing.
The main point Stephania made during our conversation was that no one will know the extent of Griffin's injury or be able to reasonably forecast a recovery time until such time as a surgeon gets into the knee and identifies how damaged it is. Even if the MRI shows partial tears of the anterior cruciate and the lateral collateral ligaments,
as the Washington Post reported Monday
, there are attendant issues regarding cartilage and the overall health of the joint that can't be fully determined by MRI results. And while it's not certain that Griffin will have any sort of surgical procedure, even if it's just an exploratory arthroscopic one, to determine the extent of the injury and establish a proper course of treatment, it seems safe to assume he will.
To that end, here are some of the issues to watch for with Griffin in the coming days, weeks and months courtesy of Bell.
Dan Graziano
: Does it matter, in terms of recovery time or his post-surgery effectiveness, that this would be the same ACL he tore in college?
Stephania Bell
: Possibly. Any time you have a second insult to a knee, it's less favorable than the first, and having another procedure is less ideal. I don't know, when he had his original reconstruction, whether they used his patellar tendon [to repair the ACL]. But if they did use it, obviously they can't use it again, so what do they do? Do they use his other patellar tendon? Do they use a hamstring graft? That would have a lot to do with his recovery time. And then there's the issue of whether there's any cartilage damage in the knee as a result of this injury. When you're talking abou the life span of his knee, that's going to be one of the big elements -- not just the ligament, but how healthy is the joint itself?
DG:
That's interesting, since the focus in these situations always seems to be on the ligaments themselves.
SB:
We've seen guys come back from ACLs more and more. But the cartilage impact may affect things more. In
Adrian Peterson
's case, they talked about how great the knee looked when they went in -- that there was no damage other than the ACL tear. And that had a lot to do with how quickly and how well he recovered. In the case of RG III, he didn't have a completely healthy knee when this injury happened, so does that mean he has a cartilage injury too? We don't know, and that's what makes it hard for us to sit here and say, 'Oh, he'll need this long to recover.'"
DG:
Is it possible he has leftover cartilage or other structural damage from the 2009 injury?
SB
: It's possible, but he did get drafted. And those guys get examined every which way before the draft. So if there were significant cartilage concerns, I'm sure they would have cropped up during that process, and they didn't. So that and the fact that he's young and amazingly fit and athletic works in his favor.
DG:
So assuming they go in and look at the knee, what are they looking for?
SB:
The first thing is, what's the extent of the damage inside his knee, and then are there other aspects of the joint or capsule that need to be addressed. With an LCL injury, you worry about that back corner of the knee, what we call the posterolateral corner, which is where the LCL is. When you suffer an injury to anything in that complex, it can threaten the overall stability of the knee. Your biggest concern is, is that corner intact? Is it stable? Because if it's not, there's more you have to deal with. RG III being the athlete that he is, that works in his favor. He's young, he's fit, he's highly motivated, and those are all positives. The part we don't know is the anatomy part, which is the part he has no control over.
As I said, I felt like I learned a lot. In particular, I was interested in what she said about the challenge they'd face in repairing his right ACL for a second time. Since they wouldn't be able to take a graft from the same patellar tendon they used in 2009 and would therefore either have to operate on the other knee for the purpose of procuring another patellar tendon graft or use a graft from the hamstring instead. Either way, you'd have to think that would lengthen the recovery time, since either you're rehabbing two knees at once or you've done the less reliable repair.
Anyway, much more to come on this, obviously, but hopefully this helped you feel better informed, as it did me.
January, 7, 2013
1/07/13
5:11
PM ET
In the absence of information, we are left to connect dots, and connecting the
Washington Redskins
' dots Monday with regard to the condition of quarterback
Robert Griffin
III and his injured right knee does not result in a pretty picture.
The first time Griffin injured the knee and they did an MRI, the Redskins were able to tell everyone the next day it was an injury to the lateral collateral ligament (LCL), and among the least severe of the possible ligament injuries. The fear is always that the anterior cruciate ligament (ACL) is damaged, since a tear of that ligament can result in a year of recovery time or more. The fact that Mike Shanahan announced during his news conference Monday that Griffin was
heading to Alabama for further tests
under the supervision of Dr. James Andrews is discouraging for those looking for good news on Griffin's latest injury. That Shanahan referenced the remarkable recovery time of Minnesota running back
Adrian Peterson
from his ACL injury last year as well as the ACL injury Griffin had in college also leads us to believe that this is in fact an ACL injury and they're doing further tests to determine how to proceed.
The
Washington Post reported
late Monday that "Griffin has suffered partial tears of his anterior cruciate and lateral collateral ligaments, according to several people with knowledge of the test results," and that the further tests are to determine whether the damage is old or new.
If Griffin has to have surgery to repair a torn ACL, the generally accepted best-case recovery time is 8-10 months. The start of the 2013 NFL season is about eight months away. The simple math tells you that an ACL tear in this case puts into question Griffin's availability for some of next year's regular-season games.
Griffin tore the ACL in the same knee during the third game of his 2009 season at Baylor and returned in time to play the 2010 season. But the fact that this would be the same ACL leads one to wonder if the recovery might take longer this time or if Griffin's long-term effectiveness as a player (and specifically a runner) might be more significantly affected.
Just as Shanahan's news conference was beginning Monday, Griffin (@RGIII) sent out the following on Twitter:
"When adversity strikes you respond in one of two ways....You step aside and give in..Or you step up and fight."
And again, read into that what you will, but no Redskins fan can feel great about Griffin tweeting of "adversity" on the day his MRI results are coming back.
There has already been, and will continue to be, a great deal of talk about blame. You guys know, if you've been on here at all today, that I believe
Shanahan erred
in not taking Griffin out of the game. He's explained the reason for his decision and offered that it's possible he was wrong, and at this point it's not going to do too much good to keep harping on fault. If Griffin has in fact injured himself to an extent that puts 2013 regular-season games in jeopardy, that's obviously a shame for him, for Shanahan, for the Redskins and really for anyone who watches football. Griffin's a joy to watch and a pleasure to be around, and while he may have handled this situation a bit clumsily, it says something about him that we're surprised a 22-year-old in his kind of spotlight might handle something clumsily.
The Redskins can soldier on and get by for a while with
Kirk Cousins
. But Redskins fans who were feeling so wonderful about their 2012-13 season just a little over 24 hours ago are now left with an impossibly bitter taste about the way it's all ended. And you don't have to be a Redskins fan to wish Griffin better news than it appears he's getting and as speedy a recovery as possible. The game's better with him in it.
January, 6, 2013
1/06/13
6:11
PM ET
LANDOVER, Md. -- The first quarter of Sunday's playoff game could not have gone better for the
Washington Redskins
-- with one very significant exception. As Washington was rolling down the field on two impressive touchdown drives that resulted in an early 14-0 lead, possessing the ball for 11 of the first quarter's 15 minutes, and the Redskins fans at FedEx Field were roaring their enthralled disbelief, Redskins rookie quarterback
Robert Griffin
III got hurt.


The Redskins have made no announcement about Griffin's injury, since he has not yet missed a play. But we are left to assume it has something to do with the right knee ligament he injured in Week 14. Between drives, he was taken to some sort of enclosed structure behind the Redskins' bench and checked out by team's medical personnel, but he went back into the game as soon as Washington got the ball back. The problem is, the injury appears to have completely changed the ability of Washington's offense to move the ball. Griffin looks nearly immobile, in the pocket as well as outside of it, and he underthrew a pass toward the end of the second quarter that was intercepted by Seattle safety
Earl Thomas
. The fluidity of an offense that Seattle could not stop in the first quarter has evaporated, and it simply has to have something to do with the health of Griffin's leg.
Seattle, a very good team that entered the playoffs on a five-game winning streak, is taking advantage. After being outgained 129 yards to 9 in the first quarter, the Seahawks outgained the Redskins 168-11 in the second and cut the lead to 14-13 at halftime. Seattle will also get the ball back to begin the second half.
The question is, whenever the Redskins get the ball back in the second half, what will they do about quarterback? They're either going to have to adjust the offense around an obviously limited Griffin or think about replacing him with backup
Kirk Cousins
, who finished the Week 14 game and won the Week 15 game in Cleveland with Griffin sitting out due to the knee injury. It would be a tough decision to switch to the backup quarterback in the second half of a playoff game, but the Redskins must make an honest assessment of Griffin's ability to perform at the level at which they need him, or they risk seeing their season end today.
All of this happens amid a
controversy
resulting from a USA Today report in which Dr. James Andrews, who's working for the Redskins this year as part of their oversight of Griffin's health (short-term and long-term), contradicted Redskins coach Mike Shanahan's account of the way Griffin's injury was handled when it happened in Week 14. Andrews is on the Redskins' sideline today and presumably monitoring Griffin's health as the game progresses, and he'll surely be involved in whatever decision they make.
The Redskins could theoretically go run-heavy behind
Alfred Morris
, but the problem with that is that Seattle can simply stack the box and take away the run, daring Griffin and his bad leg to beat them. The way the second quarter went not only showed that to be a poor solution, it made it a more difficult one to employ. Would have been easier to grind out yards and clock with Morris if they were up 14 than it is up only one.
One other note that could have an impact on the game: Seattle kicker
Steven Hauschka
has an ankle injury, the team announced during the second quarter. He limped out to kick a 29-yard field goal as time expired in the first half, but it remains to be seen to what extent Seattle will be able to count on him if it needs a big kick made late in this game. This could affect their offensive strategy.
August, 6, 2012
8/06/12
3:56
PM ET
A week ago, the news on
New York Giants
cornerback
Terrell Thomas
was not good. The team announced last week that Thomas had suffered an injury to his twice-surgically-repaired ACL and likely would have arthroscopic surgery to determine how bad it was. But as Adam Schefter reported in the wake of that news, the doctors to whom Thomas was talking were optimistic that the ligament was not torn again. And apparently, Dr. James Andrews concurs.
Giants coach Tom Coughlin told reporters at the team's training camp in Albany on Monday that, after Thomas' visit to Andrews, the decision has been made not to do the surgery and instead to
rehab the knee
. Thomas will return to camp to do that, and there's currently no timetable for a potential return.
Now, what does this mean? Obviously, it means there's a chance Thomas can play and help the Giants this year, which is good news for them and certainly an improvement over the way the situation looked a week ago. A third tear of the ACL would have ended Thomas' season and possibly his career. So Thomas and the team have reason to be relieved about this development.
But this doesn't mean you can expect Thomas back on the field any time soon, and it's obviously no sure thing that he'll be able to play and help the Giants this year. He and they must obviously be extremely cautious for fear of tearing that ligament again, and his rehab from the current issue is likely to be slow, deliberate and susceptible to all manner of a potential setback.
The ultimate conclusion is that Thomas is going to be a question mark for the Giants all year. They don't know if or how much he'll be able to play. They don't know how reliable his knee is going to be if and when he does play. His comeback from the ACL tear that cost him his 2011 season is ongoing and, apparently, far from complete. The Giants have enough depth at cornerback that they can cover a Thomas absence, especially if 2011 first-round pick
Prince Amukamara
can get/stay healthy and take a big step forward in his development. But they were hoping they could count on Thomas to return to his role as a top starting cornerback opposite
Corey Webster
, and it is apparent that they cannot.
February, 25, 2010
2/25/10
8:30
AM ET
By
Matt Mosley
| ESPN.com
INDIANAPOLIS -- Even teams that aren't in the market for a quarterback such as the Cowboys, Eagles and Giants are disappointed that Texas quarterback
Colt McCoy
won't be throwing at the combine
. McCoy decided not to throw this week based on the opinion of surgeon to the stars, Dr. James Andrews, according to ESPN's Chris Mortensen.
I thought McCoy had more to gain by throwing at the combine than he stood to lose. With
Sam Bradford
and
Jimmy Clausen
nursing their own injuries, it may have been a chance for McCoy to move up the draft boards. But if his arm is not recovered fully, there's no reason to take a chance. McCoy should be ready to go in time for Texas pro day on March 31.
Redskins coach
Mike Shanahan
and general manager Bruce Allen are scoping out all the quarterbacks in this draft. If they decide to take an offensive tackle with the No. 4 overall pick, then McCoy could come into play at some point. The knock on McCoy is that he doesn't have a big arm, but I still think his accuracy makes up for him not having a howitzer.
I could see McCoy being similar to
Chad Pennington
in that he's a superb leader who's able to make excellent decisions. Pennington's one of those quarterbacks who won't go away -- as evidenced by the Dolphins' improbable playoff run in 2008.
With McCoy's, Bradford's and Clausen's injuries, this will be an interesting combine for the team doctors. We'll keep you posted if there's any injury news.

NFL SCOREBOARD
Thursday, 8/28
WEEKLY LEADERS