NFL Nation:

draft analysis
April, 30, 2011
4/30/11
6:45
PM ET
»
NFC draft analysis
:
East
|
West
|
North
|
South
»
AFC
:
East
|
West
|
North
|
South
The 2011 NFL draft has reached its conclusion, and this is the time of year when every coach and general manager feels great about their selections.
The AFC North is annually one of the toughest divisions in football, with two powerhouse teams in the
Baltimore Ravens
and
Pittsburgh Steelers
. The
Cleveland Browns
and
Cincinnati Bengals
are trying to close the gap by acquiring good talent in this draft.
With that in mind, here is a look at the draft decisions made within the division:
BEST MOVE
The biggest
draft trade this week
was made by the Browns, who gained five draft picks from the
Atlanta Falcons
for the No. 6 overall pick. The trade eliminated the chance the Browns would make a huge splash in the first round but sets the team up well to
add talent gradually to a thin roster.
Atlanta took Alabama receiver
Julio Jones
with the sixth pick, while the Browns added Baylor defensive tackle
Phil Taylor
in the first round after a trade back up to No. 21 with the
Kansas City Chiefs
. Cleveland also drafted North Carolina receiver
Greg Little
with Atlanta's second-round pick and Stanford fullback
Owen Marecic
with the Falcons' fourth-round pick.
Next year Cleveland will have three additional picks from the Falcons -- including their first-rounder -- and nine draft picks total. That should help the Browns continue to build a solid foundation.
"Because of how the draft fell, we did absolutely the right thing," Browns president Mike Holmgren said of the trade.
Ironically, the Falcons made a similar offer to the Bengals, who passed because they didn't believe equal value was there at No. 4. So the Bengals took Georgia receiver
A.J. Green
, and Cleveland was more than happy to trade with Atlanta at No. 6.
RISKIEST MOVE
[+] Enlarge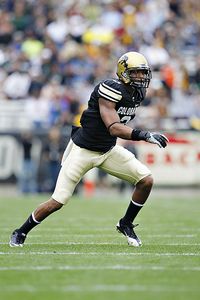 Aaron M. Sprecher/Getty ImagesThe Ravens decided to take a risk on Colorado cornerback Jimmy Smith in the first round.
The Ravens went
all in with a player
many teams refused to touch.
Colorado cornerback
Jimmy Smith
, one of the most talented players in the draft, was taken by Baltimore with the No. 27 overall pick. Smith has a lengthy track record of
off-the-field issues
, which reportedly include three failed drug tests, two alcohol-related violations and an arrest for third-degree assault.
But the Ravens went through a lengthy research and interview process with Smith to dig into his background and personality. They felt comfortable with the selection.
"Every pick, there is some bit of a gamble in it," Ravens general manager Ozzie Newsome said. "But we trust our process. We trust the people that got the opportunity to spend time with him, and there was a number of people that had that opportunity to spend some time with him."
There is no questioning Smith's ability. Baltimore's pass defense has been inconsistent the past few seasons, and the team believes Smith has the potential to be a shutdown corner.
Some around the league have compared Smith to
Nnamdi Asomugha
in terms of pure talent. That is very high praise. But the Ravens have to make sure they keep Smith on the field to reach his potential.
"This guy, he's a special player," Ravens head coach John Harbaugh said. "He's exactly the type of corner that we're looking for. He fits our defense just the way we need him to fit our defense."
MOST SURPRISING MOVE
The most surprising move in the AFC North could be considered a non-move early in the draft by the Steelers. The team didn't address its biggest need -- cornerback -- until the middle rounds.
The Steelers are known for drafting developmental players at that position. But because the Steelers were so thin there this year, they were expected to go against that trend and get one of the top prospects in the first two rounds.
Instead, the Steelers stayed true to form by drafting Texas corner
Curtis Brown
in the third round and
Cortez Allen
from the Citadel in the fourth round. Perhaps these players can make an immediate impact, but it's rare that third- and fourth-round picks become starting corners for a playoff team as rookies.
No. 1 corner
Ike Taylor
and top reserve
William Gay
are both free agents, and there's no guarantee either player will return. The
Green Bay Packers
' passing game torched the Steelers in Super Bowl XLV. Pittsburgh didn't do enough in the draft to ease those concerns.
FILE IT AWAY
Second-round pick
Andy Dalton
became the ninth quarterback the Cincinnati Bengals have drafted in the past 20 years.
Cincinnati has very high hopes
for Dalton, but its track record hasn't been good.
Since 1991, the Bengals have had a series of misses that include
David Klingler
,
Akili Smith
and
Donald Hollas
. The one hit was
Carson Palmer
, which wasn't difficult to scout because he was the No. 1 overall pick in 2003. Some would even argue that Palmer was a bust -- at least relative to the expectations that came with his lofty draft status.
Because Palmer is expected to be
traded or retire
, the Bengals hope Dalton can buck their trend of quarterback misses and develop into a quality starter.
April, 30, 2011
4/30/11
5:00
PM ET
»
NFC draft analysis
:
East
|
West
|
North
|
South
»
AFC
:
East
|
West
|
North
|
South
As three division teams were winning 10 or more games last season, we often discussed the possibility that the NFC South is the best division in the NFL. That topic is always going to be open for debate.
But here's one thing I think we can say with certainty. The NFC South had a more exciting and interesting 2011 draft than any other division. From the
Carolina Panthers
' decision to take
Cam "Mr. Love Him or Hate Him" Newton
to the
Atlanta Falcons
and the
New Orleans Saints
making big trades to get
Julio Jones
and
Mark Ingram
to Clemson defensive end
Da'Quan Bowers
tumbling to the
Tampa Bay Buccaneers
in the second round, this draft was filled with huge storylines and intrigue all around the division.
Let's take a look at the highlights of the NFC South draft:
BEST MOVE
The Saints played it safe with their first-round pick and took defensive end
Cameron Jordan
. That filled a big need that could become bigger if
Will Smith
eventually has to serve the four-game suspension that has been hung up in the legal system for a couple of years. But what the Saints did next was the real key to their draft.
They traded back into the first round to take Ingram. The cost was steep. The Saints gave up their second-round pick this year and their first-round choice in 2012. But next year's first-round pick could be deep in the 20s or 30s if things work out the way the Saints envision.
They already had a trio of role-playing running backs in
Reggie Bush
,
Pierre Thomas
and
Chris Ivory
. Each of those players has certain things he can do well, but none of them is really a complete back. There also are durability concerns because all three were hurt at different parts of the past season, and the Saints ran out of running backs in their playoff loss to Seattle.
Ingram is a do-it-all back and history has shown that, unlike rookie quarterbacks and wide receivers, first-year running backs usually can step right in and make an impact from the start. Ingram already is drawing comparisons to former New Orleans running back
Deuce McAllister
, and I don't disagree at all.
RISKIEST MOVE
Although I knew for about a month that the Panthers were pretty much set on Newton, I had my doubts that general manager Marty Hurney actually would pull the trigger when it came right down to it. Hurney and the Panthers have a long history of playing it safe and have taken the conservative approach for the past decade.
There's nothing conservative about choosing Newton. He's the classic boom-or-bust prospect. There were character and background questions, but the Panthers looked into that and didn't see anything that made them back off Newton. There also are questions about Newton being able to adapt to an NFL offense after playing only one year at Auburn in an offense that's nothing close to a pro-style scheme.
Even the Panthers aren't sure how Newton will adjust to the pro game. But they're so sold on the athletic ability and Newton's upside that they were willing to step totally out of character and take a leap. If Newton is what the Panthers hope, they'll be able to compete again in the NFC South. If not, this is the kind of move that can get a general manager, who survived a 2-14 season, fired a few years down the road.
MOST SURPRISING MOVE
[+] Enlarge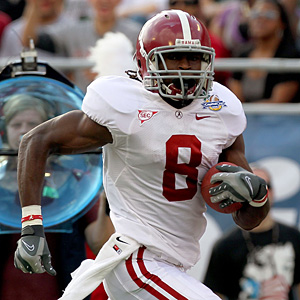 Mike Ehrmann/Getty ImagesJulio Jones had 2,653 yards on 179 catches with 15 touchdowns in three seasons at Alabama.
The rumors started flying a few days before the draft that the Falcons were looking to jump into the top 10 and get a receiver. But most people, myself included, kind of dismissed that notion because moving that far up from No. 27 would be too expensive.
The cost was incredibly high, but the Falcons did it because they wanted an explosive receiver like Jones. They gave up their first-round pick this year, along with their second- and fourth-round picks. They also had to include their first- and fourth-round picks in 2012. That got them to No. 6, where they gladly took Jones.
The stunner here was the cost. But it appears the Falcons are going for broke, which isn't a bad move when you're coming off a 13-3 season. Atlanta added Jones to a passing attack with
Roddy White
,
Tony Gonzalez
and
Matt Ryan
, and
Michael Jenkins
and
Harry Douglas
as role players. By the way, the Falcons also traded up in the fifth round for Oregon State running back
Jacquizz Rodgers
. He's the kind of speed back the Falcons need to pair with
Michael Turner
and
Jason Snelling
. I don't see how this offense can add much more to get better.
Go out and get a pass-rushing defensive end in free agency, and the Falcons truly could be a Super Bowl contender.
FILE IT AWAY
Of all the later-round picks, I think Tampa Bay's selection of Tennessee tight end
Luke Stocker
(the Bucs traded up to get him in the fourth round) is the one that could have the most impact. On the surface, the Bucs have a very good tight end in
Kellen Winslow
. He's got knee issues, and the Bucs do a nice job of resting him most of the week and getting him on the field on Sundays. But there's not a lot of depth behind him.
Jerramy Stevens
was released last season after his latest off-field incident, and role player
John Gilmore
probably will depart as a free agent. That means Stocker has a chance to get some playing time pretty quickly. He's not the receiving threat Winslow is, but Stocker can catch some passes. More important, he's a strong blocker.
His presence should allow the Bucs to pick and choose their spots for putting Winslow on the field. Stocker can handle some of the obvious running downs and could even prompt the Bucs to use more two-tight end sets, which could add another dimension to the passing game for
Josh Freeman
.
More than anything, Stocker provides a nice insurance policy in case Winslow's knees really flare up. He's a guy who can do a little bit of everything that a tight end should. Yes, the early part of this draft was about defense and that was the correct move for the Bucs. But this franchise is built around Freeman, and this is another example of the Bucs doing everything they can to make sure their young quarterback has a strong supporting cast.

NFL SCOREBOARD
Thursday, 9/4
Sunday, 9/7
Monday, 9/8