August, 25, 2014
8/25/14
4:45
PM ET
EDEN PRAIRIE, Minn. -- Three months before the
Minnesota Vikings
drafted
Teddy Bridgewater
, they had constructed a climate in which Bridgewater -- or any young quarterback -- should be able to develop without the pressure of immediate expectations.
The Vikings committed more cash to veteran
Matt Cassel
when he opted out of his 2014 deal, giving him a two-year, $10 million contract that effectively set him up as the bridge to the team's next young QB. They had hired offensive coordinator Norv Turner, who had Troy Aikman,
Drew Brees
and
Philip Rivers
in the nascent stages of their careers. They even had
Christian Ponder
, the former first-round pick who could serve -- at least for a year -- as an emergency option in case Cassel got injured and the Vikings weren't ready to put a rookie on the field.
[+] Enlarge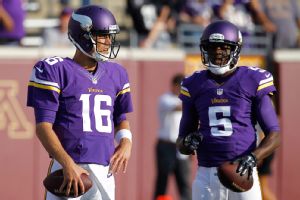 AP Photo/Ann HeisenfeltBy starting Matt Cassel over Teddy Bridgewater, Vikings coach Mike Zimmer has given his rookie more time to develop.
All of the levers were in place to ensure a healthy environment for Bridgewater to develop. The only question: Would the Vikings pull the right ones?
Based on how new coach Mike Zimmer and Turner handled the first three months of Bridgewater's career in Minnesota, the answer appears to be yes. Zimmer named Cassel the starting quarterback Monday for the beginning of the regular season, rewarding the veteran for playing well enough to keep the job after he'd called Cassel the team's No. 1 QB on the first day of training camp.
Zimmer said at the time the designation didn't mean anything, but in a subtle way, it did: It set up a system in which Bridgewater would have to outplay Cassel to get the job, removed whatever temptation there might have been to play the rookie right away and sent a message to an offense filled with veterans -- 29-year-old running back
Adrian Peterson
among them -- that immediate success wouldn't take a backseat to development.
"The team has a lot of confidence in him," Zimmer said of Cassel. "They feel good about his veteran leadership and presence. I had to think about the whole football team; it wasn't just about the quarterbacks. I've said this before: It's not always the best player at that position -- and I'm not saying Matt's not -- but any position, it's how everything works together and at this stage in where we are at right now, I feel like that's the best thing to do."
How this coaching staff handles Bridgewater will play a major role in Zimmer's longevity with the Vikings probably more than how the team fares this season. The decision Zimmer announced on Monday -- and the one his actions had been pointing toward for weeks -- worked on two fronts: It curried favor with players weary of quarterback instability after last season, and it provided more time for Bridgewater to learn in a forgiving environment.
Cassel will be asked to solve a tough
St. Louis Rams
defense on the road in Week 1, and could possibly have to trade scoring drives with
Tom Brady
and Brees the next two weeks. That's a daunting task for a rookie, and by assigning it to Cassel, the Vikings can retain some control over the setting in which Bridgewater eventually debuts.
They've been in a position to do that all along, with a sturdy (but not irreplaceable) veteran and an offensive coordinator who has done this before. All the Vikings needed was a rookie coach who would be pragmatic enough to manage it correctly, and it appears that's what Zimmer has done.
October, 13, 2012
10/13/12
5:00
PM ET
It was understood throughout the Chargers franchise: To end a disheartening two-year playoff drought and to keep the Norv Turner program afloat in San Diego, the defensive performance had to improve in 2012.
"We all knew it," standout Chargers safety
Eric Weddle
said. "It was no secret."
The focus on defensive improvement began when the Chargers fired defensive coordinator Greg Manusky shortly after the 2011 season -- Manusky's only one in that role -- and promptly replaced him with linebackers coach John Pagano. Then the Chargers spent a great number of their free-agency dollars on the defensive side of the ball and concentrated on defense in the April draft, too.
"Then, it was up to us," Weddle said. "We knew the focus and we knew the commitment. Now, it's our turn to go make it work on the field."
Thus far, the Chargers' defense has been much improved. Most important, it has developed an identity -- physical and opportunistic. It is a big reason why the Chargers are 3-2 and leading the AFC West going into a pivotal "Monday Night Football" game against second-place Denver (2-3) on ESPN.
San Diego's defense wilted late against New Orleans and
Drew Brees
in Week 5, and it must find a way to neutralize a red-hot
Peyton Manning
. San Diego goes into the game confident its defense can contain Manning, who has thrown six touchdown passes in his past two games and hasn't thrown an interception in the last 15 quarters.
In the past couple of years, the Chargers might not have been as confident facing such a hot quarterback. But because of the focus on bringing in steady, capable and accountable players, along with the strict and aggressive Pagano running the show, the Chargers now welcome such a challenge.
[+] Enlarge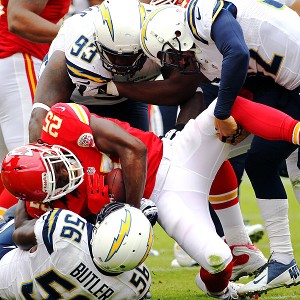 AP Photo/Colin E BraleyEric Weddle (32) and the Chargers D are fifth in rush yards allowed, from 20th last season.
"We're improving and we still have a long way to go," Pagano said recently. "We're creating an identity right now and we're still building that identity as a defense. And when you play certain games, there are going to be good times and bad times. The biggest key for us is playing with effort and the turnovers that we created, those were guys stripping the ball, putting their helmet on the football and going and getting the ball when it's in the air. That shows the progress of what we're trying to build here. The way our guys attack the football is something to be proud of."
The high point for the Chargers' defensive thus far this season came in a 37-20 Week 4 victory at Kansas City. The Chargers forced six turnovers, including three in the first quarter. Although the Chargers haven't been quite that spectacular defensively all season, their statistics show a steady improvement.
In 2011, the Chargers were dead last in the NFL in third-down defense, allowing opponents to convert 49.2 percent of the time -- the worst percentage in the NFL since 1995. This year, San Diego is allowing a 42.9 percent conversion rate, which is 23rd in the NFL.
The improvement is gaudier in other areas. According to ESPN Stats & Information, the Chargers are allowing just 3.74 yards per rush, 10th in the NFL. The Chargers are allowing 5.35 yards per play, 15th in the league and 10 spots better than last season's defense. The Chargers are allowing 74.0 yards on the ground this season, fifth in the NFL and up from 20th last season. They are 11th in the NFL in points allowed (20.4); last season, they were 22nd.
Weddle, who is having an outstanding season and is developing into one of the best safeties in the NFL, credits attention to detail for the defense's overall improvement.
"We spend a lot of preparation time," Weddle said. "Guys want to prove it. Guys get to work early and stay late. Guys study how offenses attack situations. Sure, plays will break down here and there, but you will never question the effort and preparation of guys on this defense."
This group has a chance to be very good for a very long time. The Chargers have struck gold with the No. 18 overall pick in the past two drafts. Defensive end
Corey Liuget
, a first-round pick in 2011, has been a monster in recent games. He is extremely active and physical. Pass-rusher
Melvin Ingram
, this year's first Chargers pick, looks like one of the league's top young pass-rushers. Inside linebacker
Donald Butler
has been tremendous as well.
"I really like this defense," said Matt Williamson of Scouts Inc. "I really like the youth and the overall depth in the front seven. They can just keep rotating guys in throughout their defensive line with different skill sets ... makes it tough to play against."
That was the whole idea of the defensive emphasis of 2012.
"We have to do what it takes to get to the playoffs," Weddle said. "That's what this is all about."
They can take a major step toward the playoffs with a strong defensive effort against Manning.
October, 12, 2008
10/12/08
2:52
PM ET
Posted by ESPN.com's Bill Williamson
NEW ORLEANS -- Random halftime thoughts from New Orleans where the Saints lead, 10-3.
Drew Brees' completion streak is over. He completed his first 16 pass attempts.
Oakland is airing it out. Raiders quarterback JaMarcus Russell has thrown the ball 16 times. Oakland has rushed the ball 11 times and hasn't gotten much going on the ground at all.
Oakland return man Johnnie Lee Higgins is underrated. He always seems to come up with something nice. He had a 35-yard punt return in the first quarter.
Oakland kicker Sebastian Janikowski missed field goal attempts of 57 and 59 yards late in the first half. However, both kicks were much closer than that 76-yard attempt at the end of the first half in Oakland's last game.
New Saints kicker Taylor Mehlhaff has struggled. In his first game in New Orleans, he missed a 31-yard field goal and he booted a kickoff out of bounds. He did redeem himself with a 44-yard field goal with 50 seconds remaining in the first half.
There was some controversy at the end of the first half when Brees hit Billy Miller at the Oakland 26. Television replays showed there was one second remaining but the officials said time expired in the half. Brees and Saints coach Sean Payton passionately argued to no avail.
The New Orleans defense dropped three easy interceptions in the first half.