October, 8, 2010
10/08/10
1:01
PM ET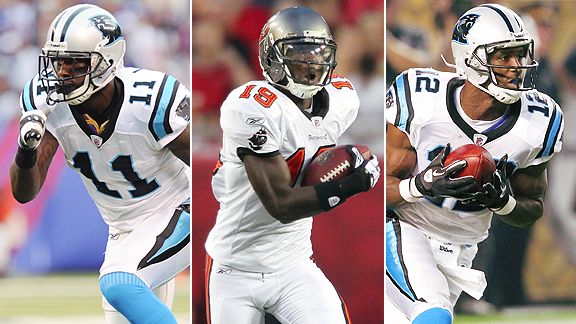 Icon SMI, AP PhotoRookie receivers Brandon LaFell, Mike Williams and David Gettis are expected to start this Sunday.
TAMPA, Fla. -- When you're watching NFC South teams this Sunday, keep an eye on the wide receivers. By choice and by circumstance, you're going to see something rare.
You're going to see a whole bunch of rookie wide receivers starting or playing a lot. That's rare because there's a school of thought, and most NFC South teams have backed it up through the years, that you shouldn't ask too much of rookie receivers too soon.
We're almost certainly going to see at least three rookies start at receiver for NFC South teams on Sunday and a fourth will get considerable playing time. A fifth might even be active for the first time in his career. In Week 5 of the NFL season, it's kind of amazing that NFC South teams are leaning so heavily on rookie wide receivers, especially when not a single one of them was a first-round draft pick.
Tampa Bay's been starting
Mike Williams
, a fourth-round pick, since the start of the season. Tampa Bay coach Raheem Morris hinted strongly during the bye week that second-round pick
Arrelious Benn
will get increased playing time going forward, probably splitting time with second-year pro
Sammie Stroughter
. The Bucs play at Cincinnati on Sunday.
In Carolina, it appears highly likely the Panthers will start two rookies at receiver on Sunday against Chicago. They likely will go with third-round pick
Brandon LaFell
and sixth-round pick
David Gettis
as the starters.
Armanti Edwards
, who is converting from playing quarterback in college, might be on the game-day active list for the first time this season.
In Carolina, this wasn't exactly the plan. The Panthers, who traditionally have been very patient in playing young receivers, wanted LaFell starting as a rookie, but they thought Gettis and Edwards would have time to develop. But that's all changed because the Panthers are likely to be without
Steve Smith
due to an ankle injury. They cut veteran
Dwayne Jarrett
after he was charged with driving while impaired Tuesday morning. The rookie receivers will be working with rookie quarterback
Jimmy Clausen
.
While putting rookie receivers around a young quarterback might sound like a formula for disaster, that's actually the plan the Buccaneers have had since draft day.
"We made the conscious decision to draft these young guys and let [quarterback] Josh [Freeman] grow with them," Morris said.
Morris then pointed to the
New Orleans Saints
and how they let a young crew of receivers grow up around
Drew Brees
. Not a bad example, although Brees had been a starter in San Diego before coming to New Orleans in 2006. Freeman's only been starting since the second half of last season.
"They, and I'm talking the wide receivers and Josh, always talk about growing up together," Tampa Bay receivers coach Eric Yarber said. "We talk about that as a staff. We've got a lot of young guys, but eventually these guys are going to become big-time players in this league."
Williams already has shown promise. In three games, he has 12 catches for 139 yards and two touchdowns. Although Benn was the higher draft pick, he hasn't been much of a factor so far after missing some preseason time with an injury. But the Bucs are saying that's about to change.
[+] Enlarge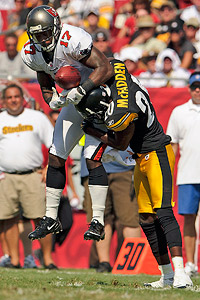 AP Photo/Paul AbellSecond-round pick Arrelious Benn is expected to see more playing time for the Bucs.
"Arrelious is coming on very well," Yarber said. "Early on, he had to spend a lot of time in the playbook. But now that he's got the plays down, he's playing much faster and we're seeing the real Arrelious Benn now."
Still, is it wise or even productive to rely on rookie receivers so early? History has shown it's a position that often takes time to grow into. Atlanta's
Roddy White
, now the best receiver in the NFC South, didn't really produce until his third year and he was a first-round pick. Smith spent a year as a kick returner before even getting a chance at wide receiver. Then, there's a pretty lengthy list of guys who never really developed.
Carolina drafted Jarrett,
Keary Colbert
and
Drew Carter
and got very little from them. Tampa Bay used early picks on
Michael Clayton
and
Dexter Jackson
. Clayton had a big rookie year, but did nothing after that. Jackson never even made an impact and couldn't make Carolina's roster in the preseason.
Yarber admits there are challenges to playing rookie receivers right away.
"It is difficult because of the physicality on the outside against bump and run," Yarber said. "The guys in college are going against maybe one good DB that's physical. On this level, every DB they face is physical and good at rerouting you. They've got to get used to the physicality on the outside.''
But it's far from just being a physical thing. The Panthers have been historically hesitant to play rookie receivers too much because they believe the mental adjustment takes time. In four seasons, Jarrett never was able to grasp the playbook. They don't have much choice but to go with rookies now.
In Tampa Bay, the choice was made deliberately. The Buccaneers let veterans
Antonio Bryant
and
Mark Bradley
go to clear the way for Williams and Benn. They held onto Clayton through the preseason, but cut him once they were comfortable with the way the rookies were progressing.
Still, the Bucs admit their receiving corps is very much a work in progress and that affects the entire offense.
"You have to scale back a little bit," Yarber said. "You want to get them out there, but you don't want to give them too much. That's when you get to paralysis by analysis. They're thinking so much that they can't play fast. You need a happy medium that you don't taper the offense down too much, but you don't want to put too much in so that they're thinking too much and they don't play fast.
"One thing that can be a detriment to young guys early on is if you give them too much, they can lose confidence. You don't want to give them too much too soon. You want them to have some success that they can build on and develop confidence and play better."
For better or worse, much of the NFC South is turning to rookie wide receivers.
April, 27, 2010
4/27/10
1:00
PM ET
»
NFC Big Question
:
East
|
West
|
North
|
South
»
AFC
:
East
|
West
|
North
|
South
Besides Steve Smith, who is going to catch passes for the Carolina Panthers?
Seems we ask that same question every year, or at least every year since
Muhsin Muhammad
left the Panthers the first time. The Panthers have turned to guys such as Keyshawn Johnson,
Keary Colbert
,
Drew Carter
and
Dwayne Jarrett
and none have really worked out. Muhammad, in his second stint with Carolina, did all you could ask of an aging receiver, but still didn't produce like a true No. 2 and wasn't able to take defensive attention away from Smith.
[+] Enlarge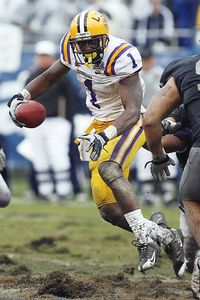 Skip Williams/Icon SMIRookie Brandon LaFell could help take some pressure off of Steve Smith.
But we've got a fresh set of names to look at now and there's at least hope on the horizon. Will draft picks
Brandon LaFell
and
Armanti Edwards
be the combination that does what all the others couldn't?
We won't know for sure until the fall, but there are at least reasons for optimism. LaFell comes with good size and speed and he was productive in a program that wasn't a passing machine on offense. Colbert and Jarrett were very productive in college too, but that might have had more to do with the fact they were playing for an offensive factory at USC than with their abilities.
Edwards was a quarterback at Appalachian State, but the Panthers plan to use him as a slot receiver. That might suggest that it may take some time for Edwards to learn a new position. Plus, the Panthers' history under John Fox shows a trend of going very slowly with young wide receivers.
But it looks like all that's about to change, and LaFell and Edwards could get a chance at big playing time right from the start. The mere fact the Panthers used an early pick on a slot receiver means they're serious about doing more with that position. That is long overdue and it will bring the Panthers in step with the rest of the NFL.
The days of bringing rookie receivers along at a painfully slow pace in Carolina may be over. Fox and general manager Marty Hurney know they have to win now and they drafted these two guys with the idea of playing them sooner than later. Besides, there aren't any other real options on the roster. Jarrett's still around, but he really hasn't shown much of anything.
Smith is screaming for help and he just might get it. One other thing to keep in mind, and this is highly significant, is the change at quarterback.
Jake Delhomme
locked onto Smith way too much and used him as a crutch. That hurt all of the other receivers.
Delhomme is gone and
Matt Moore
or
Jimmy Clausen
will be the quarterback. They'll still want to get the ball to Smith, but he no longer is going to be the only option in the passing game.
February, 27, 2009
2/27/09
10:38
AM ET
Posted by ESPN.com's Mike Sando

Kent Somers of the Arizona Republic takes a big-picture look at the Cardinals in free agency. The team isn't saying whether it plans to strike aggressively. Meanwhile, Kurt Warner's agent says the quarterback will listen to other teams.
Scott Bordow of the East Valley Tribune uses the words crazy, ridiculous and unnerving to describe the Cardinals' standoff with Warner. Bordow: "Usually, it's easy to take sides in a contract negotiation. But in this case, both Warner and the Cardinals are standing on solid ground."
Revenge of the Birds' Hawkwind outlines which offensive free agents Arizona should re-sign, with predictions for each player.
Also from Hawkwind: a look at the Cardinals' running backs.

John Crumpacker of the San Francisco Chronicle updates the 49ers' negotiations with quarterback Alex Smith. Crumpacker: "If the 49ers truly are not going to make a splash in free agency as McCloughan said, the kinds of players they might be interested in include tackle Stacy Andrews of the Bengals, fullback (and former 49er) Moran Norris of the Ravens, wide receiver Devery Henderson of the Saints, safety Jermaine Phillips of the Buccaneers and safety Sean Jones of Cleveland."
Matt Barrows of the Sacramento Bee says Smith will not practice with the 49ers until he reworks his deal. Barrows: "The 49ers do not want to risk another injury to Smith that would force the team to pay him his full salary. If a new deal is not complete by next month, the 49ers will hold Smith out of the minicamp, and he will fall behind in the quarterback competition against incumbent starter Shaun Hill."
Daniel Brown of the San Jose Mercury News says Mike Singletary isn't the only important figure in a leadership role with the 49ers. Brown: "A sliver of spotlight must remain on general manager Scot McCloughan, who quietly enters his fifth season still searching for a winning roster."
Florida Danny of Niners Nation takes an in-depth look at free-agent safeties, with an eye toward the positions they've played in the past. On Mark Roman: "He's the only starting FS in the NFL who was signed as a free agent SS, started initially at SS with his current team, but then got moved to FS later. In other words, the Niners are the only current team that didn't intend to switch their free agent SS to FS when they signed him. How's that for planning?"
Flashback: what espn.com wrote about Roman when the 49ers re-signed him in 2006.

Clare Farnsworth of the Seattle Post-Intelligencer looks at the Seahawks' search for receivers. Farnsworth on T.J. Houshmandzadeh: "The Seahawks are interested, but at the right price and if he's the right fit. They're anticipating a productive return by Nate Burleson from the knee injury he suffered in the season opener and hoping to get a full season from Deion Branch."
Danny O'Neil of the Seattle Times takes a big-picture look at Seattle in free agency.
Also from O'Neil: a look at receivers available in free agency.
The Associated Press quotes longtime Seattle receiver Bobby Engram on the likelihood of him returning to the Seahawks. Engram: "I wouldn't say optimistic. It's going to be interesting how it turns out."
Eric Williams of the Tacoma News Tribune lists and comments upon each of the Seahawks' unrestricted free agents. He predicts a return for Engram.
John Morgan of Field Gulls looks at Raiders receiver Drew Carter as a potential acquisition for the Seahawks.

Jim Thomas of the St. Louis Post-Dispatch thinks the Lions and Broncos could have interest in free-agent Rams cornerback Ron Bartell. A visit to the Saints could come first.
Also from Thomas: Free-agent center Jason Brown is scheduled to visit the Rams.
Steve Korte of the Belleville News-Democrat says the Rams' decision to release Drew Bennett should serve as a warning about the perils of free agency.
VanRam of Turf Show Times rounds up Rams-related stories online.
December, 29, 2008
12/29/08
3:04
PM ET
Posted by ESPN.com's Pat Yasinskas
New Orleans Saints (8-8)
The Saints gambled that this was the year they could challenge for the Super Bowl. They turned out to be very wrong. Trading for linebacker Jonathan Vilma and tight end Jeremy Shockey wasn't enough to put them over the top and they still have to pay the price for missing on draft picks.

Too bad, because they'll need them to overhaul their defense for the second straight year. Although Vilma helped and rookie defensive tackle Sedrick Ellis had some bright moments, the defense wasn't much different than last year. Injuries on defense, poor play in the secondary, inconsistency in running the ball and a brutal schedule all took a toll on the Saints. Even with a huge year from quarterback Drew Brees, the Saints weren't able to get to the playoffs. Grade: D+

Biggest surprise: Lance Moore emerged as the team's No. 1 receiver out of desperation. A former undrafted free agent, Moore became Brees' favorite target after injuries left the Saints with few other options on offense. The speedy Moore was the only consistent receiver the Saints had.

Biggest disappointment: Marques Colston. It wasn't all his fault because an early thumb injury cost Colston significant time. But, even after he returned, Colston wasn't the same receiver he was the previous two seasons.

Biggest need: Once again, it's defense -- just about everywhere on defense. The Saints couldn't defend the pass, couldn't rush the quarterback and didn't stop the running game. Other than that, they were flawless on defense. Vilma, Ellis and strong safety Roman Harper are the only defensive players whose jobs should be safe. A free safety and cover corner are the biggest priorities, but speed at linebacker and another pass rusher to challenge the underachieving Charles Grant and Will Smith would help.

Tip to Sean Payton: Go get a real running back. Let Deuce McAllister go because he's not in your plans and admit that Reggie Bush is not a true feature back. Use Bush as a combination of a receiver and runner, but don't count on him to play every down. This year showed you can go out and throw for around 5,000 yards, but it won't get you anywhere if you don't have a running game.
Tampa Bay Buccaneers (9-7)
Somehow, the Bucs got off to a 9-3 start. But it turned out to be nothing but smoke, mirrors and Antonio Bryant. Once the rest of the league figured out the Bucs were old on defense and had nothing but Bryant on offense, the Bucs collapsed and squandered what appeared to be a certain playoff berth.

That's a bitter way to head into an offseason that's not looking like a lot of fun. The Bucs are losing defensive coordinator Monte Kiffin and that's just the start. Because of age and the way this season disintegrated, this roster is going to be blown up. The Bucs may have had a winning record, but part of that was luck and part of it was coaching. The reality check at the end of the year means the Bucs will be starting from scratch in a lot of places. Grade: D+

Biggest surprise: Bryant. The wide receiver spent all of 2007 out of the league and some thought his career was over. The Bucs took a shot on him and gave him a one-year contract worth just more than minimum and it paid off. Adding Bryant was the best move the Bucs made as he became the go-to receiver and the only bright spot on offense. Now, they've got to make sure they re-sign him to a much bigger deal before he can get to the free-agent market.

Biggest disappointment: Joey Galloway. Bryant's rise came because Galloway couldn't get on the field during training camp. Galloway got so buried in coach Jon Gruden's doghouse that he wasn't even a factor after he got healthy. Losing playing time to Bryant wasn't that sad, but not being able to get ahead of Michael Clayton and Ike Hilliard in the rotation showed that Galloway's time in Tampa Bay is over.

Biggest need: Stability at quarterback. The Bucs haven't had that in forever and the team might as well just let Jeff Garcia walk. He did some good things in his Tampa Bay tenure, but he's old and it's obvious coach Jon Gruden never was sold on Garcia. Brian Griese, Luke McCown and Josh Johnson aren't the answer.

Tip to Gruden and general manager Bruce Allen: You messed up in one huge way this season. If you were going to enter the Brett Favre sweepstakes (and we know you did), you HAD to get him. You didn't and it ruined Garcia and, ultimately, your season. Decide early on if Donovan McNabb or Matt Cassel is your flavor of the month. Then go out and make certain you get him.
Atlanta Falcons (11-5)
The Falcons are in the playoffs and that's one of the biggest miracles of this season. Scary part is, they have a real chance to do some damage in the postseason because they're carrying momentum and have shown an ability to get better each week.

All this seemed inconceivable back at the start of the season when the Falcons had a roster that looked bare and a new coach (Mike Smith) that almost nobody had ever heard of. But every move Smith and general manager Thomas Dimitroff made seemed to be a home run. They drafted quarterback Matt Ryan and signed free agent running back Michael Turner and those two moves alone might have been the best any team made before this year. Grade: A-

Biggest surprise: Ryan. Yeah, it's tough to call a guy who was drafted third overall a surprise. But nobody could have pictured Ryan being this good this fast. The quarterback had to take on the job of being the face of a franchise and playing right away and he did it flawlessly. The Falcons didn't have to dumb-down their playbook. In fact, they opened it all the way and kept adding to it. None of that slowed down Ryan, who became the best rookie quarterback since Dan Marino.

Biggest disappointment: Jamaal Anderson. The second-year defensive end wasn't able to generate a pass rush even as opposing offensive lines devoted all their resources to trying to slow down John Abraham. Anderson still has great physical tools and the Falcons aren't quite ready to give up on him. But they'll bring in another pass rusher and, if Anderson doesn't show something by the start of next season, he could be on his way out.

Biggest need: Without a name player, other than veteran safety Lawyer Milloy, the Atlanta secondary had a shockingly good year after unloading cornerback DeAngelo Hall. But that's more a tribute to coaching and Abraham's pass rush than the personnel. The Falcons need to upgrade here because Milloy is near the end of his career. Cornerback Chris Houston came on nicely and Domonique Foxworth showed he can be a solid third corner. But the Falcons can use another starter at cornerback and a play-making safety.

Tip to Mike Smith: You ran the heck out of Turner this year and got fantastic results. But you can't run any running back nearly 400 times a season and expect him to hold up for long. Sure, Turner's the centerpiece of your offense, but you need to go a little easier on his workload next year. Either give Jerious Norwood some more carries or add another running back.
Carolina Panthers (12-4)
Coach John Fox entered the season on the hot seat. Now, he's as safe as any coach in the league. The Panthers are in the playoffs and they did that by getting back to Fox's basic style of running the ball consistently on offense and stopping the run on defense (aside from in the loss to New York).

Carolina's as solid as any team in the NFL and could go a long way in the playoffs. Fox and general manager Marty Hurney took some big chances by not bringing in a proven alternative to quarterback Jake Delhomme, who was coming off major elbow surgery, and by trading back into the first round to draft right tackle Jeff Otah. Their moves worked out solidly and that's why they're off the hot seat. Grade: A-

Biggest surprise: There was a school of thought that the Panthers would immediately hand the starting running back job to top draft pick Jonathan Stewart and forget about DeAngelo Williams. They didn't. They made Williams, who hadn't done a lot in his first two seasons, the starter and he produced huge numbers.

Biggest disappointment: Carolina fans got all excited when the Panthers signed receiver D.J. Hackett. As it turned out, they could have just kept Keary Colbert and Drew Carter around because they got virtually nothing out of Hackett, who fell behind veteran Muhsin Muhammad and second-year pro Dwayne Jarrett.

Biggest need: Despite a solid season from Muhammad, the Panthers will continue their annual search for a complement to No. 1 receiver Steve Smith. Muhammad's getting older and can't do it forever and there's no guarantee Jarrett is ready for a larger role.

Tip to John Fox: Don't change. You've taken heat for being stubborn. But that's why you stuck with Delhomme and gave Williams the first crack at the running back job.