July, 31, 2014
Jul 31
4:59
PM ET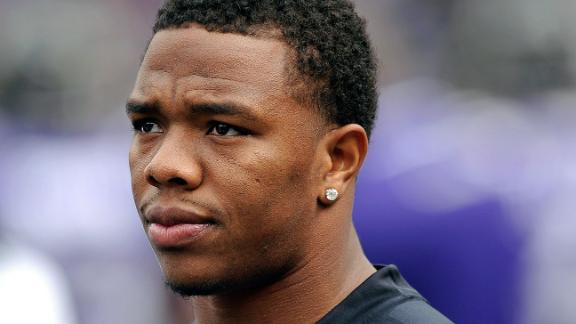 OWINGS MILLS, Md. -- In stark contrast to
Ray Rice
's awkward news conference in May, the
Baltimore Ravens
running back showed Thursday that he finally understood the weight of his actions from the alleged altercation with his then-fiancée in February.
He delivered the correct message, one the NFL failed to do last week with the two-game suspension, by not only apologizing to his wife, Janay Palmer, but also expressing a desire to become an advocate for domestic-violence causes.
Rice was compelling in his contrition, calling it the biggest mistake of his life. He stood in front of the microphone alone, without his wife standing by his side, and took full responsibility for the incident. Perhaps more importantly, Rice actually said the words "domestic violence," which weren't heard in his statement two months ago.
"My actions were inexcusable," Rice said. "That's something I have to live with the rest of my life."
Before anyone pats Rice on the back, this is what he should have said the first time when he broke his silence in May. Instead, Rice nervously fumbled through notes on his phone and apologized to team officials and his sponsors. That debacle of a news conference came across as damage control to his image.
His 17-minute news conference Thursday hit the right tones. He apologized to all women affected by domestic violence. He accepted the blame for losing the respect of fans. Rice came across as genuinely sorry.
"I let my wife down, I let my daughter down, I let my wife's parents down, I let the whole Baltimore community down," Rice said.
Rice's biggest misstep was not talking about what happened in the elevator. He was asked twice about it and declined to answer both times. His stance against domestic violence would have resonated stronger if he had explained his transgressions.
"I'll be honest: Like I said, I own my actions," Rice said. "I just don't want to keep reliving the incident. It doesn't bring any good to me. I'm just trying to move forward from it. I don't condone it. I take full responsibility for my actions. What happened that night is something that I'm going to pay for the rest of my life."
The only way Rice can move forward from this incident and show he's truly sincere is through his actions. It's not by his words. It's not by a hefty donation, which is merely a gesture. It's by proving this will remain a "one-time incident" and by supporting domestic-violence causes.
Thursday represented a small step forward for Rice. But it was an important one.
October, 15, 2010
10/15/10
11:15
AM ET
After they dumped quarterback
Trent Edwards
and traded running back
Marshawn Lynch
in consecutive weeks, a lone member of the
Buffalo Bills
' 2007 draft class remained on the roster.
Just three years later, one keeper is a lousy return.
But consider how the rest of AFC East drafted in 2007.
Only six of 30 AFC East draftees from 2007 still are with the team that drafted them: two
New York Jets
, two
Miami Dolphins
, one New England Patriot and one Bill. (See chart below.)
[+] Enlarge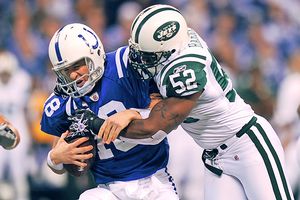 Anthony J. Causi/Icon SMIThe Jets traded second-, third- and sixth-round choices to move up and select David Harris.
The Jets were most effective. They drafted just four players. Their first two have been stars, and the last pick helped them acquire a standout receiver. They traded up to select star cornerback
Darrelle Revis
14th overall and top inside linebacker
David Harris
47th. Seventh-round pick
Chansi Stuckey
was sent to the
Cleveland Browns
in the trade that landed receiver
Braylon Edwards
.
The Patriots were the least efficient on nine picks, but they had only two selections inside the first four rounds. Their lone keeper was Pro Bowl safety
Brandon Meriweather
in the first round.
The Dolphins made 10 selections in what was the final draft class for general manager Randy Mueller and the only one for rookie head coach Cam Cameron. They famously misfired on ninth overall pick Ted Ginn, who was traded for a fifth-round pick this offseason, and second-round quarterback
John Beck
. Still around are defensive tackle
Paul Soliai
and punter
Brandon Fields
.
The last man standing from Buffalo's seven-man 2007 draft class is second-round linebacker
Paul Posluszny
.
So that's a 20 percent retention rate for the AFC East on all draftees and a 40 percent rate for those selected in the top three rounds.
With help from ESPN researcher Keith Hawkins and the Elias Sports Bureau, I wanted to find out how those percentages compared leaguewide.
Poorly, it turns out.
Of the 225 players chosen in other divisions that year, 100 have remained with the teams that drafted them. That's 44.4 percent overall, more than twice the AFC East rate.
When narrowing the field to players taken within the first three rounds, 89 prospects were absorbed into other divisions, and 54 have stuck, a success rate of 60.7 percent.
A few notes turned up by the research:
The Dolphins are the only team that has gotten rid of their top four picks.

Twenty-six teams have parted ways with at least one of their picks from the first three rounds.

Of the 19 teams that had at least one pick in each of the first three rounds, only the Pittsburgh Steelers retained all of them (Lawrence Timmons, LaMarr Woodley, Matt Spaeth).