February, 8, 2011
2/08/11
2:36
PM ET
By
Matt Mosley
| ESPN.com
The
Philadelphia Eagles
have
finalized their coaching staff
, and the moves announced today didn't provide quite as much drama as naming an offensive line coach the defensive coordinator. Coach Andy Reid has hired Johnnie Lynn as his secondary/cornerbacks coach. Lynn, who once served as defensive coordinator for the Giants, had been the secondary coach for the 49ers the past five seasons. He left the team for personal reasons in 2010.
Reid also handed out a flurry of promotions on offense. David Culley now adds the "senior offensive assistant" title to coaching the wide receivers. James Urban moves from quarterbacks coach to assistant offensive coordinator. The Eagles have said that's a promotion, but it's an interesting one since Reid and Marty Mornhinweg seem to hog the offensive game plan a lot of the time. There's a thought that Mornhinweg will eventually land another head-coaching gig, but the Eagles might have to mix in a playoff win for that to happen.
Doug Pederson
, a former NFL quarterback, will replace Urban. And former Eagles running back
Duce Staley
has turned his internship into a full-time role now that he's the special teams quality control coach.
LeSean McCoy
has told me on several occasions that Staley has helped him immensely.
Oh, and make room for young Bobby April, Jr., a defensive quality control coach. Bud Adams would certainly not approve of that move, what with his anti-nepotism stance regarding folks not named Adams.
I'm sure Cowboys coach Jason Garrett was pleased to see April Sr. taking care of his family. Garrett named his older brother John passing-game coordinator this season to go along with his tight ends assignment. The Cowboys are in the process of identifying several more job titles for the elder Garrett brother.
August, 9, 2010
8/09/10
2:01
PM ET
By
Matt Mosley
| ESPN.com
ESPN.com NFL Power Ranking
(pre-camp): 17
BETHLEHEM, Pa. -- On a Tuesday afternoon last week, Eagles quarterback
Kevin Kolb
watched one of his star wideouts,
Jeremy Maclin
, get carted off the field. The same thing had happened to
DeSean Jackson
a couple days earlier. You would think Kolb might be worried, but that's not an emotion that suits him. Kolb spent the three weeks before camp playing out every possible scenario in his mind so that setbacks like these wouldn't affect him.
"I tried to play out the good situations and the bad situations in my mind," Kolb told the NFC East blog. "I need to stay consistent as the quarterback of this team, so I imagined what all could go wrong and sort of told myself how I was going to react. Only 32 guys in the world that will get this opportunity, and I don't want the opportunity to pass me by."
If you were expecting a wide-eyed quarterback trying to grow into a job, you've come to the wrong place. Handed the task of following the best quarterback in the history of the franchise, Kolb just doesn't seem fazed. With Jackson and Maclin both out of Wednesday's practice, Kolb started firing balls to rookie
Riley Cooper
. Kolb entered the league in the same rookie class as linebacker
Stewart Bradley
and
Brent Celek
in 2007, and everyone's known those players would eventually take over the team in terms of leadership. But it was still stunning when the Eagles pulled the trigger on the biggest trade of the offseason.
Kolb has reached out to Packers quarterback
Aaron Rodgers
to ask him about following an elite quarterback. And he's also struck up a texting friendship with Cowboys Hall of Famer Troy Aikman, which may make a few fans queasy. Recently, Kolb spent hours watching an old tape of Aikman because "he was unbelievably accurate."
Kolb is relishing the Eagles' new underdog role and he understands that a lot of that has to do with him being the starter. He understands there's added pressure playing quarterback in a city that seems to base its identity on how the Eagles are performing. But he seems to have the right temperament.
"I played in front of 15,000 people when I was 15," said Kolb. "I think playing high school football in Texas gives you a good foundation. And now that I'm a little older, I think I'll be able to handle 70,000."
[+] Enlarge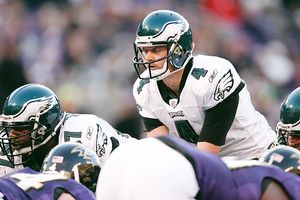 Brian Garfinkel/Icon SMIThe Eagles have high hopes for Kevin Kolb, who threw for more than 300 yards in each of his two starts last season.
THREE HOT ISSUES
1. Will this offensive line have any continuity heading into the season?
When the Eagles lost center
Jamaal Jackson
last year in the playoffs, the offensive line was in trouble.
Nick Cole
had done a nice job at right guard, but he was thrown into a bad situation at center. Jackson is still recovering from a knee injury and will likely be sidelined to start the season. Cole's been banged-up in practice and it's not like
Mike McGlynn
and
A.Q. Shipley
inspire a lot of confidence. The most consistent player on the offensive line last season, left guard
Todd Herremans
, has missed the first part of camp with a foot injury. You don't want Kolb lining up behind an offensive line that features a different player every week.
2. Do the Eagles have the best receiving corps in the league?
When Maclin and Jackson are healthy, the Eagles may have the most dangerous group in the league.
Jason Avant
is one of the best third receivers in the league, and he can bail out a quarterback on third down. Kolb's biggest strength is his accuracy. He knows how important it is to deliver the ball to Jackson and Maclin in stride. If you're wondering why this team seems to have such a quiet confidence, just look at these receivers. Throw in the fact that Kolb and Celek are best friends and you have the makings of a
Tony Romo
-
Jason Witten
combination.
[+] Enlarge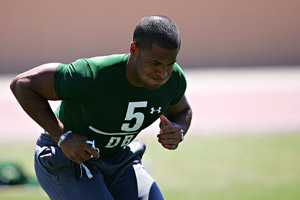 Cliff Welch/Icon SMIThe Eagles hope Nate Allen is the answer at safety.
3. Can rookie Nate Allen solve the issues the Eagles had at safety?
The Eagles never recovered from the loss of
Brian Dawkins
via free agency last season. They tried just about everyone at his old position, but it was a nightmare. Allen has looked like a starter from the day he stepped off the bus. He's mature beyond his years and moves with a grace that belies his inexperience. I think the Eagles made great use of the
Donovan McNabb
pick (No. 37) in landing Allen. And the former South Florida star doesn't appear to feel any added pressure because of where he was taken. It's easy to see that he would've been starting in front of
Marlin Jackson
even if he'd remained healthy.
BIGGEST SURPRISE
I know it's tough to call a first-rounder a "surprise," but
Brandon Graham
has exceeded everyone's expectations. I love how he's spent time in the film room studying some of the shorter defensive ends around the league. And then he immediately takes some of the moves (
Elvis Dumervil
) to the field. The Eagles' offensive line doesn't know what to do with Graham, and I think other NFC East offensive tackles will have the same issue. Graham is learning how to use his arms at this level and he already gets incredibly low to the ground when he's turning the corner. He's been the story of camp in a lot of ways. Can't wait to see him in a game. And one more surprise:
Ellis Hobbs
is having an excellent camp after returning from a neck injury.
BIGGEST DISAPPOINTMENT
There's nothing that really jumps out at this point other than the offensive line issues. But I'd like to see more from
Darryl Tapp
. The defensive end was hoping to jump-start his career after coming over in a trade from Seattle. He just looks out of place in Sean McDermott's defense right now. In the practice sessions I observed, he didn't really make anything happen.
[+] Enlarge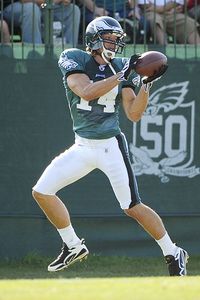 Howard Smith/US PresswireRookie Riley Cooper has stepped up when called upon in training camp.
OBSERVATION DECK
Cooper is taking full advantage of the extra repetitions. He made the catch of the day last Wednesday when one of Kolb's passes was tipped by Tapp. Cooper cut off his route and made a diving catch in the flat. Seems like he's quickly becoming a fan favorite and he could actually play himself into the rotation this season. General manager Howie Roseman's a Florida grad, so look for the Gator connection to continue. I don't think Hank Baskett is long for this roster, but he and Kolb did hook up on a deep ball.

I talked to second-year running back LeSean McCoy about how he's improved his lower-body strength. He thinks he left a lot of yards on the field because he didn't break enough tackles. I think it's helping McCoy to have Duce Staley in camp serving a camp internship.

Rookie free safety Kurt Coleman out of Ohio State has made a favorable impression but was called for pass interference Wednesday when Kolb used an excellent play-action fake to free up McCoy down the sideline. You can tell that McCoy's going to show up in the passing game a lot more this season.

This is the only camp I've attended where fans tailgate in the parking lots between morning and afternoon practices. Even NFL commissioner Roger Goodell seemed to get caught up in the moment when he remembered that he'd visited the Lehigh University campus when he was deciding on colleges a few years back.

Bradley destroyed Eldra Buckley when he made the mistake of trying to jump over a pile. And when Buckley made a catch in the flat, former Lions linebacker Ernie Sims lit him up. Sims stared down at him like Chuck Bednarik once did to Frank Gifford. As I noted in my observations last week, Andy Reid's team hits harder than any of the other teams in the division during camp. We're not simply talking about thuds. I'm talking about linebackers taking ball carriers to the ground. This is how things were done about 20 years ago across the league. Roseman told me that the Eagles felt like it was important to quickly introduce the rookies to how physical the league is.

I watched Reid take Kolb aside Wednesday and have a long conversation. I think he and McNabb had such an understanding that they rarely had to have a lot of long discussions. But I'm not saying that's a negative about Kolb. It seems like Reid's sort of rejuvenated by the thought of having to coach a quarterback all the way through practice. I remember Bill Parcells saying that about Romo all the time. "You have to coach him all the way through the game," Parcells would say. Reid didn't think that was a big deal when I brought it up, but it's obvious he's spending more time with Kolb. And the two seem to have a great rapport. In fact, Kolb already takes the sharp stick to Reid at times.
June, 22, 2010
6/22/10
11:45
AM ET
By
Matt Mosley
| ESPN.com
Notable players
: LB Chuck Bednarik, WR Tommy McDonald, SE Pete Retzlaff, LB Maxie Baughan, QB Norm Van Brocklin, FB Ted Dean, DE Marion Campbell, CB Tom Brookshier
[+] Enlarge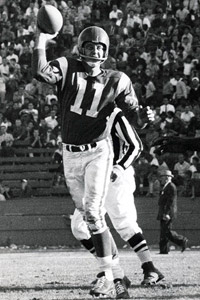 David Boss/US PresswireNorm Van Brocklin quarterbacked the Eagles to the 1960 championship.
Analysis:
Because we reward championships -- even when there weren't a lot of other teams. The Eagles beat Vince Lombardi's Packers in the championship game at Franklin Field, and that's saying something. Bednarik remains an iconic part of the franchise's history. In a win over the Giants in 1960, he famously knocked out Frank Gifford with a punishing blow. Gifford didn't get up that day, and he also missed the following season.
Van Brocklin was at the end of the career, but he made his final season count by delivering bombs to McDonald and Retzlaff. McDonald, a Hall of Famer, averaged more than 20 yards per catch in 1960. He scored a 35-yard touchdown in the Eagles' classic 17-13 win over the Packers. The Eagles won their other two titles in the late 1940s under coach Greasy Neale, but the '60 team made more of an impact in the community. It's only appropriate that the Eagles will break out the kelly green jerseys for the season opener against the Packers. Too bad they can't play at Franklin Field (they supposedly looked into it).
Most impressive win
: Definitely the title game against the Packers. In his second season as head coach of the Packers, Vince Lombardi had Jim Taylor, Bart Starr, Paul Hornung, Max McGee, Jerry Kramer and Forrest Gregg on offense. This was a dynasty in the making, but the Eagles forced the Packers to wait a year before Green Bay won the NFL title in '61.
Best player
: McDonald was a burner, but I'll go with Bednarik because he gave the team its identity. He played center and linebacker.
Honorable mention
2004
:
Donovan McNabb
and
Terrell Owens
formed one of the top combinations in the league, and
Brian Westbrook
was dangerous as a dual threat. This was a superb team -- as evidenced by its playoff run without the injured T.O.
1980
: Eagles fans have fond memories of Wilbert Montgomery carving up the Cowboys in the NFC title game for 194 yards and a touchdown. Nose tackle Charlie Johnson helped anchor a dominating defense.
2002
:
Duce Staley
ran for 1,000 yards and had 500 yards receiving. The Eagles were deep enough that they made it to the NFC title game during a season in which
A.J. Feeley
had to start five games because McNabb was injured. I don't have to remind you what happened against Tampa Bay in the playoffs. By the way, the Eagles dominated the Bucs in a 20-10 win earlier that season.
NFL SCOREBOARD
Thursday, 12/5
Sunday, 12/8
Monday, 12/9
WEEKLY LEADERS