NFL Nation:

Dusty Dvoracek
May, 22, 2013
5/22/13
12:53
PM ET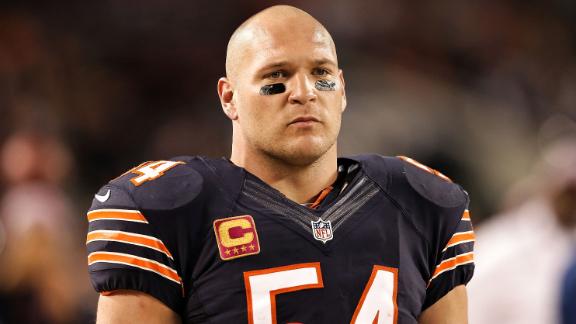 What made
Brian Urlacher
special? You have to start, of course, with the way a 6-foot-4, 258-pound man could run, hit and organize a defense on the field. But even an occasional in-person observer of the
Chicago Bears
over the past decade could notice the reverential stature Urlacher held with his teammates.
If he had enemies, they never surfaced. Urlacher mixed equal doses of dry humor, man's-man competitiveness and two-way respect to keep the Bears' locker room humming smoothly and largely conflict-free during his tenure. So in the moments after Urlacher announced his retirement, I caught up with former Bears defensive lineman Dusty Dvoracek -- who now hosts a sports radio talk show on
The Sports Talk Network
in Norman, Okla. -- to get a better sense for how Urlacher managed to cast such a popular web.
"Once you became a teammate of Brian Urlacher, you would get the best teammate you could ever ask for," Dvoracek said. "He was one of the biggest superstars in the NFL, but he acted like an average Joe, even to people coming in as a rookie. That matters to people and they don't forget it.
"The first week I was there, he opened up his house and invited me over. It wasn't just me. It was everybody. Not just me. Everybody. He tried to make it as easy and as comfortable for everyone. He was very accepting if you were on his team. He wanted you to do well so the team would do well."
In big media settings, of course, Urlacher could be as grumpy as any player I've covered. His answers could be short, snippy and designed to end the questioning altogether. I told Dvoracek that it was always fascinating to me that a player who seemed as cranky as Urlacher could be so universally hailed and beloved as a leader.
"He is about as opposite of that as you can be in personal life," Dvoracek said. "He really is as nice and as kind-hearted a guy as you're going to find in the NFL. A lot of guys put on a show for [the] camera, and behind it they're a jerk. I don't want to say that Brian was the reverse because I don't think he was a jerk to the cameras, but what we saw behind the scenes was genuine and real.
"I mean, he really is a happy guy. He loves to compete at everything he does. He's good at everything. It ticks you off. Whether you're playing pingpong, shuffleboard, basketball or golf, he's really good at everything he does. He's super competitive but really just likes to have a good time with the guys."
Even competitors recognized and appreciated that approach.
Green Bay Packers
quarterback
Aaron Rodgers
told
the Chicago Tribune
earlier this spring that "I always appreciated his ability to enjoy the game while being competitive. He plays the game with a lot of class and professionalism. He does it the right way."
Rodgers added that when playing the Bears, "you never had to worry about cheap shots around the pile or after the whistle. They played the right way and it was led by Brian."
Emotions always run high when a superstar retires, and those who spent time around him tend to wax nostalgic. They are already beginning the work toward cementing a legend. Based on what we've heard about Urlacher over the years, that work shouldn't be hard.
January, 19, 2011
1/19/11
1:01
PM ET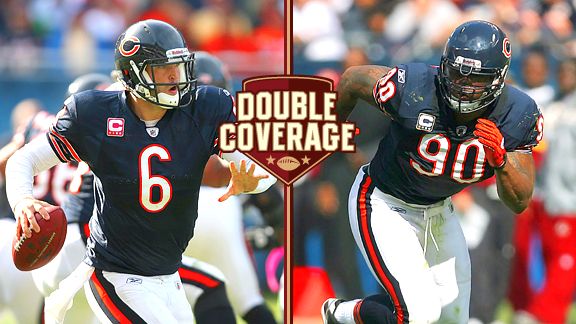 US PresswireThe Bears gave up two first-round draft picks and a third-rounder for Jay Cutler. Is he the reason Chicago is on the brink of the Super Bowl? Or does the credit go to Julius Peppers and the defense?
Let's play a game of addition.
The starting quarterback is the most important player on any football team.

The Chicago Bears finished the regular season 11-5, won the NFC North division title and will host the NFC Championship Game on Sunday at Soldier Field.

Jay Cutler is the biggest reason why.
So, in this case, does 1+2=3? Did the Bears need Cutler as their quarterback to advance this far? Was he the key to their resurgence this season? Or could they have followed the same path without making the 2009 blockbuster trade that cost them three high draft choices? In today's Double Coverage, ESPNChicago.com's Jeff Dickerson and ESPN.com NFC North blogger Kevin Seifert discuss that very question.
Kevin Seifert:
Jeff, you've been covering the Bears for years. You saw them go to Super Bowl XLI with
Rex Grossman
as their quarterback. You've lived through Kordell Stewart, Craig Krenzel, Chad Hutchinson,
Brian Griese
and
Kyle Orton
. You've seen a team win in spite of its quarterback, and you've seen quarterbacks single-handedly lose games. Let's start it off this way: How much credit do you think Cutler should get for the Bears sitting one step from the Super Bowl?
[+] Enlarge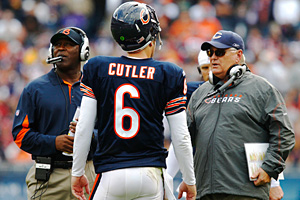 AP Photo/Nam Y. HuhBears quarterback Jay Cutler has thrived in Mike Martz's offense.
Jeff Dickerson:
Cutler deserves plenty of credit, Kevin. As much as we want to hammer Cutler for his mistakes -- more on that later, I'm sure -- you can't overlook the fact his quarterback rating was above 100 six times in the regular season. And you guessed it: the Bears won all six of those games.
So if the most important player on the field was arguably the best player on the field nearly half the time, I find it impossible to minimize the positive impact Cutler had on the Bears' playoff run. Is he going to run for public office after he's finished playing football? No. Does he care that we're talking about him today, either good or bad? No. But to sit back and say Cutler was simply along for the ride wouldn't be doing his contributions much justice.
And by the way, thanks for bringing up Chad Hutchinson. I was trying to suppress that memory. What's next? Are we going to break down the NFL career of Jonathan Quinn? I could talk bad Bears quarterbacks all day.
KS:
Any time. How about this: Cade McNown, Henry Burris, Shane Matthews and Steve Stenstrom. That pretty much covers it for our generation, I think.
Anyway, I agree it would be wrong to overlook some of Cutler's individual performances this season. He bounced back from some early hits in Week 2 to throw three touchdown passes against the
Dallas Cowboys
in a 27-20 victory. He forgot about the early interception against the
New York Jets
and went on to throw for another three touchdowns in a 38-34 victory. His performance against the
Philadelphia Eagles
-- four touchdown passes, 146.2 passer rating -- was superb. And don't forget his late-game drive against the
Detroit Lions
in Week 13, the one that locked up the division title.
But I think the question at hand is whether the Bears would have won 11 games with, say, Orton at quarterback. To me, Cutler was not among the top two reasons for the Bears' success this season.
More important was the defense, which limited opponents to 17.9 points per game, and the best special teams in the NFL. As a result of those two factors, Cutler and the rest of the Bears' offense had the best head start in the NFL. No offense had a
better average start of its drive
(33.7-yard line) than the Bears'.
Do you think the Bears win those games with Orton?
JD:
I must first admit to being a card-carrying member of the Kyle Orton fan club. Is there a more underappreciated quarterback in the NFL? That being said, I think you could make the playoffs with a guy like Orton, but the Bears are in a better position to potentially win a Super Bowl with a guy like Cutler.
Let me explain.
I firmly believe if Orton quarterbacked the Bears in 2009 they probably would have won three more regular-season games (against the Packers,
Atlanta Falcons
and
San Francisco 49ers
). They would have finished 10-6 and perhaps earned an NFC wild-card playoff berth. Cutler cost the Bears those games because of a barrage of turnovers and terrible decisions. But that's where the ride would've ended with Orton, in my opinion.
Could Orton have beaten the Cowboys, Eagles or Jets in 2010? Maybe. But with apologies to Jim Mora, we're talking playoffs, Kevin, playoffs!
[+] Enlarge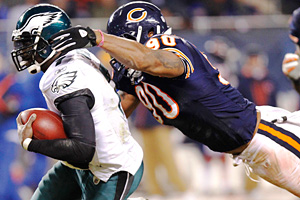 Mike DiNovo/US PresswireThe Bears' defense, led by Julius Peppers, gave the offense a head start on most drives.
Believe me, I know Cutler's only career postseason victory came against Seattle this past weekend, and he could easily go out Sunday and throw five interceptions against the Packers. But he could just as easily throw five touchdowns.
That's why the Bears are better off with Cutler -- because Orton hit his glass ceiling as an NFL quarterback. Cutler has not. Look at how Cutler tore up the Jets. The defense struggled, and it needed a lift from the quarterback position to beat a tough opponent. Cutler delivered. I'm not saying Orton is incapable of leading a team to victory over playoff-quality teams, but the chances Cutler can do it are greater.
Sorry, Kyle. I loved your neck beard. But I have to go with Cutler on this one.
KS:
It's all fantasy talk, of course. We'll never know if Orton would have played well enough last year to compel the Bears to keep offensive coordinator Ron Turner this season. We also don't know if Mike Martz would have wanted Orton this season.
But the Bears gave up two first-round draft picks and a third-rounder for Cutler. Has he provided them enough value for those picks? Or could they have used those draft picks to improve themselves in other areas?
It would be wrong to say that Cutler hasn't had a positive impact on the Bears this season, but I'm not willing to say he was the key to the Bears' division title, either. But if the Bears go to the Super Bowl, no one is going to care about that distinction.
JD:
And you know Cutler is happiest when nobody cares!
I guess it's possible Jerry Angelo would have turned those two first-round selections into starting-caliber players. But I've seen the Bears use high draft choices on the likes of Michael Haynes, Roosevelt Williams,
Mark Bradley
,
Dusty Dvoracek
, Dan Bazuin, Michael Okwo,
Jarron Gilbert
and
Juaquin Iglesias
. So to assume Angelo would've waved his magic draft wand and taken the right guys? Well, that would be misguided, to say the least. Despite all the warts, I'm happy with Cutler and feel the Bears are now in a better position to win their first Super Bowl since the 1985 season because of him.
I could talk bad Bears draft picks all day.
KS:
Spoken like a longtime Bears follower. Basically what you're saying is that while Cutler has demonstrated some flaws, his acquisition nevertheless prevented the Bears from making another series of draft mistakes! Perfect. I love it.
On that note, Jeff, this has been fun. I think we can agree Cutler has made a positive impact on the Bears' run to the NFC Championship Game. Could they have done it without him? That's up for debate.
August, 23, 2009
8/23/09
11:00
AM ET
Posted by ESPN.com's Kevin Seifert
As we review preseason action this summer, I won't pretend to bring you brilliant insight from games I don't cover live. We'll save that kind of thorough analysis for the games that I actually see and conduct interviews at afterwards. (Yes, there was some sarcasm there. Lighten up. It's Sunday morning!)
With that said, it's important to get a feel for every NFC North preseason game in a timely fashion. So while I covered Friday night's Minnesota-Kansas City game, below are some thoughts on the three games that took place Saturday night. I've also included links to the local coverage of reporters who were in attendance as well as some NFL.com video so you can see for yourself.
Chicago 17, New York Giants 3

Everyone can agree that quarterback Jay Cutler was sharp (8-of-13) and productive (17 points in his first three drives) during his second start of the preseason. He threw well on the run, scrambled once on his own for 12 yards and threw a beautiful touch pass to receiver Devin Aromashodu for 38 yards. Working at times from the no-huddle, the Bears gave their future opponents plenty to think about with their passing performance. Cutler and backup Caleb Hanie combined to complete 18 of 31 passes for 241 yards.
If you were worried about tailback Matt Forte's hamstring, it didn't look bad Saturday night on a 32-yard touchdown dash up the middle. Overall, Forte finished with 58 yards on nine carries. On the downside, backups Kevin Jones and Garrett Wolfe each lost a fumble.
Defensive tackle Tommie Harris started but didn't show up in the box score. Fellow defensive linemen Alex Brown, Adewale Ogunleye, Dusty Dvoracek and Marcus Harrison all finished the game with a sack.
Local coverage: ESPN Chicago, Chicago Sun-Times, Daily Herald. For video click here.

Cleveland 27, Detroit 10

Incredibly, the Lions fought among themselves before the game. Defensive end Dewayne White and tight end Carson Butler were the culprits, fighting long enough that they both ended up on the ground. It's always good to be in a "fighting mood" during pregame warm-ups. But actually fighting? Unheard of. I'm guessing Butler, at least, will have his ticket punched out of Detroit soon.
Quarterback Matthew Stafford had a tough night. Getting a start as he competes with Daunte Culpepper, Stafford threw an interception on his first pass and later overthrew two wide-open receivers (John Standeford and Adam Jennings) on passes downfield. Overall, Stafford completed 5 of 13 passes. Neither he nor Culpepper led the Lions to a score. We go to Week 3 of the preseason with no better idea of who will win the starting job.
Let's just say it: Saturday night was terrible all around for the Lions. The special teams gave up two touchdown returns to Cleveland's Josh Cribbs, although one was called back by penalty. And Browns quarterback Derek Anderson picked apart the Lions' defense for 130 passing yards.
Local coverage: Detroit Free Press, Detroit News, Mlive.com. For video click here.
Green Bay 31, Buffalo 21

The Packers' top defense held Buffalo scoreless in the first half and continued to swarm the ball. Safety Nick Collins forced an early interception, and Green Bay got some good pass rush out of its 4-3 nickel alignment. Defensive lineman Johnny Jolly finished with two sacks. The Packers led 21-0 when starters left the game. The only downside: Collins left with a rib injury.
Quarterback Aaron Rodgers was locked in, completing 8 of 9 passes for 98 yards and two scores. His 5-yard touchdown pass to Donald Driver was an athletic play, and fantasy players everywhere are going to like that he connected multiple times with second-year tight end Jermichael Finley.
Backup quarterback Brian Brohm got extended playing time because of a shoulder injury to Matt Flynn that isn't deemed serious. But Brohm didn't give anyone reason to believe he can overtake Flynn on the depth chart if everyone is healthy.
Local coverage: Milwaukee Journal Sentinel, Green Bay Press-Gazette. For video, click here.
December, 4, 2008
12/04/08
7:57
AM ET
Posted by ESPN.com's Kevin Seifert
Thursday should be another interesting day in Minnesota, where there could be action in two different courthouses pertaining to the NFL's suspension of six players for taking a banned diuretic.
First, there will be some kind of follow-up on the temporary injunction issued to Minnesota defensive tackles Kevin Williams and Pat Williams in Hennepin County District Court. At this moment, the players can return to the Vikings' practice facility and prepare for Sunday's game at Detroit, but the NFL seems likely to seek an immediate reversal of the injunction from Judge Gary Larson.
Second, the NFL Players Association is expected to file a lawsuit in U.S. District Court in Minneapolis to overturn all six suspensions, ESPN's Chris Mortensen reported late Wednesday night. One of the judges in that court is David Doty, who has maintained a long-time purview over the league's collective bargaining agreement.
The bottom line is that we're headed toward an unprecedented legal fight to get these six players eligible for Sunday's games. A final answer should come by Friday.
We'll keep you informed and also try to do a better job than we did Wednesday of spreading our coverage to the other teams in this division. Thanks for hanging in with is. This blog will always be a work in progress.
So let's take our morning spin:
December, 1, 2008
12/01/08
9:30
AM ET
Posted by ESPN.com's Kevin Seifert
Deadlines were tight Sunday night, but columnists from Chicago and Minnesota still had time to weigh in on an entertaining, if one-sided, game between the previous NFC North co-leaders. The Vikings' 34-14 victory brought forth a variety of opinions, of which we will take our usual Monday morning sampling.
David Haugh of the Chicago Tribune thought the play before the Vikings' 99-yard touchdown pass represented the true turning point of the game:
Vikings nose tackle Pat Williams and defensive end Jared Allen rose to the occasion, one that was too big for the Bears' offensive line. Williams stuffed the hole on the right side, and an unblocked Allen came from the backside to wrap [Matt] Forte at the waist. ... No matter what "SportsCenter" shows you, that was the play of the game. The one that followed on the Vikings' ensuing possession was more spectacular but not as significant. It was too easy for that.
The Tribune's Rick Morrissey came down hard on quarterback Kyle Orton:
As Sunday's game against the Vikings wore on, Kyle Orton went from Good to Bad to Are You Kidding Me? He threw three second-half interceptions in a crushing 34-14 loss.
Rick Telander of the Chicago Sun-Times got in his shots as well:
People, it's hard to screw up more than the Bears did during a stupendous vapor lock with five minutes to go in the second quarter at the Hump Dome.
Jim Souhan of the Star Tribune, meanwhile, considered Sunday night's game the model the Vikings have been building toward for years.
This is what the Wilfs envisioned when they spent all that money -- Bernard Berrian outrunning his old teammates to the end zone, and the sweat gleaming off Jared Allen's mullet on HD TVs across the land. This is what Brad Childress envisioned when he bestowed the unfortunate nickname of "Kick-ass offense" on his beloved and besieged scheme -- Adrian Peterson running wild, commanding attention from safeties while receivers bolted behind them. This is what the Triangle of Authority envisioned while sketching this team's blueprint -- a team that pounds the line of scrimmage and devours opposing quarterbacks. This is what the Vikings craved all decade -- a dominating, consequential victory that seizes command of a division they've never won, the historic NFC North.
We'll be back later Monday with some a few more thoughts on the division. For now, let's take a look at some news and notes after Week 13's games.
October, 9, 2008
10/09/08
8:30
AM ET
Posted by ESPN.com's Kevin Seifert
NFL head coaches meet and speak frequently with their team owners, but the discussions take on more public meaning when the team is 0-4 -- and heading to 0-and-who-knows. So it was newsworthy this week to learn thatDetroit coach Rod Marinelli met Monday with Lions owner William Clay Ford, a day after the team's 34-7 home debacle against Chicago.
According to Marinelli, there was no discussion about his future with the team. He said earlier this week he would "never" resign.
"I always tell him the truth and what I feel, but I also put it on me," Marinelli told reporters in Detroit. "It's my job. That's what I'm supposed to do, win here."
Marinelli said there were no clues to be gained from Ford's demeanor.
"I never try to read nothing into anything," he said. "I just go in and explain where we're at and what we're trying to do."
The conventional wisdom is that Marinelli will have the rest of this season to prove he should get a fourth as Lions coach. Although Ford already has fired president/general manager Matt Millen, there isn't an obvious in-house replacement for Marinelli to coach out the rest of the season if he fired.
Continuing around the NFC North:
September, 21, 2008
9/21/08
8:44
AM ET
Posted by ESPN.com's Kevin Seifert
As we told you in Friday's programming note, we're setting out for Wisconsin a bit later this morning and will be in place for Sunday's nationally-televised track meet between Green Bay and Dallas.
We'll most likely be in transit when a few important news items become official later this morning. But there a couple of places you can look for news on Chicago receiver/kick returner Devin Hester (ribs) and Minnesota tailback Adrian Peterson (knee). Game-time decisions for both players must be finalized by 11:30 a.m. ET, and shortly thereafter we should have news stories on the ESPN.com NFL page.
We also have a pretty slick system set up to provide a link to John Clayton's 32-team list of inactive players about an hour before kickoff. That link will be pasted directly into our very own NFC North blog. If Hester and/or Peterson don't appear on that list, you can assume they're playing today.
There is no additional information Sunday morning on either player, but in general Hester has seemed a long shot for playing while the Vikings are keeping their fingers crossed on Peterson.
We'll check in later this afternoon. Until then, let's take a stroll around the division:
September, 8, 2008
9/08/08
11:10
AM ET
Posted by ESPN.com's Kevin Seifert
APPLETON, Wis. - This town got off to a rousing start Monday morning. We're headquartered in Appleton, about 30 miles away from Green Bay and the home of most visiting teams for Packers games.
So it was pretty easy to connect the dots of intention when a truck cruised down College Ave., slowed down considerably in front of the Minnesota Vikings' hotel, and started laying on the horn like there was no tomorrow. Not sure what time the Vikings' wakeup call was Monday morning, but we're doubt anyone slept past 7 a.m. CT. Gametime: 11 hours.
We'll be heading up to Green Bay in a few hours and should be in Lambeau Field by early afternoon, where the blogging will commence in earnest. In the meantime, here are extended posts I wrote on the Vikings-Packers rivalry and the teams' running games.
We've brought you our "Black and Blue all over" feature since the ESPN blog network launched in July, with a goal of distilling the volume of NFC North-related stories. We hope this will be an especially valuable service on Monday mornings, considering the thousands of words most newspapers still devote to Sunday games.
Monday night's matchup between the Packers and Vikings left us with only two games Sunday, and like most people, we were surprised by the outcome of both. The Detroit Lions looked nothing like the calm and crisp team that sailed through preseason, while the Chicago Bears were able to turn the switch in time to post an improbably dominant victory at Indianapolis.
Looking at the highlights of Monday's coverage:
August, 29, 2008
8/29/08
9:26
AM ET
Posted by ESPN.com's Kevin Seifert
The good news? The Chicago Bears avoided a winless preseason Thursday night, slipping past the Cleveland Browns 16-10.
The rest of the news? Legitimate concern has surfaced about the Bears defense, which gave up two scoring drives to a watered-down Browns offense despite having the majority of its own starters on the field. Defensive tackles Tommie Harris and Dusty Dvoracek sat out along with safety Mike Brown, but the rest of the Bears' starters allowed 123 yards on 21 plays to the Browns, who were without quarterback Derek Anderson, running back Jamal Lewis and receiver Braylon Edwards.
There weren't a lot of "Oh, it's just preseason" quotes afterward. Cornerback Charles Tillman called the situation "a mess" and said: "If I had an answer I'd tell you right now."
Coach Lovie Smith acknowledged his disappointment and wouldn't use the typically generic defensive schemes of preseason as an excuse:
''We've been vanilla the entire preseason. We are not going to use that as a reason for not playing as well as we need to. We're not going to go down that road. Yeah, we'll have a lot more stuff in [when we play the Indianapolis Colts], but that's the base stuff we do and you need to be sound fundamentally with your base stuff.''
The Bears' No. 1 defense gave up a score on seven of its final nine drives of the preseason. One of the two non-scoring drives ended in a blocked field goal. They haven't panicked yet, but changes already were under way Thursday night. Kevin Payne has leapfrogged Brandon McGowan as the starting strong safety, and defensive coordinator Bob Babich called the game from the sideline rather than his usual perch in the press box.
Chicago plays the Colts a week from Sunday. You think Peyton Manning has incentive to hurry back onto the field?
Elsewhere around the NFC North:

NFL SCOREBOARD
Thursday, 12/18
Saturday, 12/20
Sunday, 12/21
Monday, 12/22
WEEKLY LEADERS