NFL Nation:

Dwight Bentley
December, 5, 2012
12/05/12
12:45
PM ET
We've posted quarterly Stock Watches in
October
and
November
, and now it's time for the third installment of a once-weekly feature.
FALLING
1. Christian Ponder, Minnesota Vikings quarterback:
Ponder has brought the franchise to a crossroads as it nears the end of his second season. The hope was that Ponder would demonstrate steady improvement and establish himself as a long-term starter by the end of the season. Instead, he is still turning in clunkers that are every bit as bad as his worst games as a rookie. Among many abominable numbers, here is perhaps the most eye-popping: Ponder has completed only four passes this season that traveled more than 20 yards in the air, according to ESPN Stats & Information. There are extenuating factors involved, including a weak group of wide receivers, but Ponder is also facing defenses that are aligned more often in run-stopping schemes than any quarterback in the NFL. In short, Ponder has offered no indication through 22 career starts that he can be a long-term starter. Barring an immediate turnaround, the Vikings will have a much tougher decision this offseason than they could have possibly hoped.
2. Detroit Lions drafting philosophy:
The apparent end of receiver
Titus Young
's short tenure has intensified scrutiny on the Lions' four drafts under general manager Martin Mayhew. Of the 29 players selected over that time, seven are currently starters and three more are valuable backups or special-teams players. That's not a horrendous ratio, but what stands out is that Mayhew has taken some risks that have not panned out. Young's character issues were well-known in college. The same goes for the concussion history of tailback
Jahvid Best
. Defensive tackle
Nick Fairley
is emerging as a playmaker, but not after experiencing some of the maturity issues he displayed in college. Injuries have stunted the growth of safety
Louis Delmas
, receiver
Ryan Broyles
and cornerback Dwight Bentley, and Mayhew can't be blamed for those. It should also be noted that 2012 first-round pick
Riley Reiff
appears ready to step in as a starter. But it's clear that after four years of drafting, Mayhew's roster still has some notable holes.
[+] Enlarge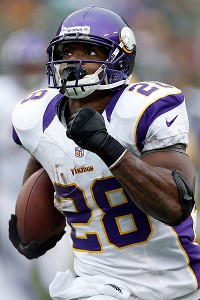 Wesley Hitt/Getty ImagesVikings running back Adrian Peterson is on pace for 1,928 yards this season.
3. Defensive nucleus, Chicago Bears:
The Bears laughed off preseason concerns that their best defensive players were too old in a collective sense, and during a 7-1 start, their defensive veterans -- most notably cornerback
Charles Tillman
and linebacker
Lance Briggs
-- were the talk of the league. The Bears were also emboldened by the emergence of two younger players, defensive tackle
Henry Melton
(six sacks) and cornerback
Tim Jennings
(eight interceptions). But their core has started to break down during a 1-3 stretch. Linebacker
Brian Urlacher
might miss the rest of the season because of a hamstring injury. Tillman has been dealing with a foot injury and has managed just one forced fumble, his specialty, in that stretch. Briggs has an ankle injury and hasn't caused a turnover in six weeks. Defensive end
Julius Peppers
, meanwhile, has two sacks in his past five games. The Bears will need to accelerate their restocking efforts this offseason.
RISING
1. Adrian Peterson, Vikings tailback:
Quite simply, Peterson is having the best season of his Hall of Fame career -- and he still hasn't reached the one-year anniversary of knee reconstruction surgery. He is on pace for 1,928 yards, a total that would put him among the
seven-best seasons for a running back in NFL history
. Given Peterson's competitiveness, you know he is gunning for a 2,000-yard season and hasn't ruled out the possibility that he could break
Eric Dickerson
's record of 2,105 yards in 16 games. To do so, he'll need to average 165 yards per game over the Vikings' final four. It sounds impossible, but what about this season has seemed probable for Peterson? He continues to run with power, averaging an NFL-high 3.2 yards per carry after first contact, which is twice the NFL average. Speed? Peterson has a league-leading 17 rushes of more than 20 yards. Only one other NFL player has double-digit runs of that length (
C.J. Spiller
of the
Buffalo Bills
).
2. Calvin Johnson, Lions receiver:
Somehow, Johnson is on pace to set an NFL record for receiving yards in a season despite playing on an offense where most of the other pass-catching threats have been injured -- and with a running game that hasn't made teams pay for ignoring it. The Lions lead the NFL with 547 passing attempts and rank No. 25 with 295 rushing attempts, and yet Johnson has caught 86 passes for 1,428 yards with four games left to play. It's true that some of those yards have come late in losses, most notably a 207-yard effort in Week 10 against the Vikings. He also has managed only five touchdowns after catching 28 in his previous two seasons combined. But for the most part, Johnson is one of the few Lions players who has maintained his performance level from last year's 10-6 team.
3. Clay Matthews, Green Bay Packers linebacker:
Yes, I know Matthews has missed the Packers' last three games because of a hamstring injury. But hopefully those three games have generated a better appreciation for his impact on the defense. The obvious concern was making up for his pass rush, but I think you've seen how important Matthews' tackling in the run game and overall playmaking is. At the time he was injured, opponents were converting 34.9 percent of third-down opportunities. Since then, they are 46.1 percent. It's also worth noting that the Packers have given up two of their three biggest games against the run with Matthews sidelined. Overall, opponents have racked up 457 rushing yards in those three games -- at 5.5 yards per rush. If you didn't know it before, you should agree that Matthews is more than a pass-rusher.
August, 11, 2012
8/11/12
12:00
PM ET
ALLEN PARK, Mich. -- The
Detroit Lions
improved in each of their first three seasons under general manager Martin Mayhew and coach Jim Schwartz, progressing from 2-14 to 6-10 to last season's 10-6 playoff campaign. So as they moved through training camp this summer, it was fair to ask: What's next?

"Every team wants to be a champion," receiver
Nate Burleson
said. "But now we just have to prove we can be consistently [good]. That's the most important thing. We're not that team yet that everybody looks at year in and year out and says we're going to be a contender. We don't have the consistency yet to give off that perception to people outside this facility.
"We don't want to be the team that falls back and be the team that makes mistakes. We don't want to be that successful team that ends up shooting ourselves in the foot halfway through the season."
A few days at training camp revealed the Lions are once again a genuine playoff contender, one whose structure is so routine that coaches had the entire scheme installed in three days. Discussion of an embarrassing offseason has faded, leaving the Lions to focus their attention elsewhere.
Mathematically speaking, the next step for this franchise would be its first-ever NFC North title. But the Lions instead have spent the summer working to shore up the flaws that got them bounced from the 2011 postseason.
"Our goal is to make the playoffs," quarterback
Matthew Stafford
said. "Once you get in the playoffs, you've got a chance to be in it and go win it. You've seen that it doesn't matter whether you win your division or not. It's good to be fighting tooth and nail and trying to find a way to get in. Once you get in, anything can happen. We want to go back to the playoffs and do something when we get there."
THREE HOT ISSUES
[+] Enlarge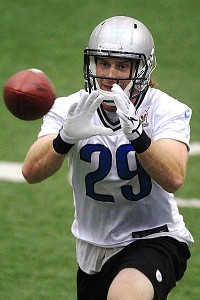 Carlos Osorio/AP PhotoEarly in the preseason, it appears John Wendling will be the Lions' starting safety.
1. Secondary holes:
The Lions had one of the NFL's worst pass defenses over the final six weeks of last season, partially because of injuries to cornerback
Chris Houston
and safety
Louis Delmas
. Houston has returned healthy, but
Delmas had surgery
last week on his left knee and might miss the preseason.
Meanwhile, safety
Amari Spievey
's camp performance has been uneven enough to allow veteran
John Wendling
to supplant him as a starter. The Lions are also working to find a replacement starter for released cornerback
Aaron Berry
, and the most optimistic turn of camp
has been the emergence
of rookie
Dwight Bentley
.
In all, the project to repair one of the Lions' primary 2011 weaknesses remains a work in progress.
"It really doesn't matter what they look like in practice," Schwartz said. "It's how they play in games. These next … preseason games will go a long way toward determining how we feel about those guys and how they practice every day and things like that, not what they've done in the past. We've got some quality guys back there."
2. On-field judgment:
The Lions' issues with penalties last season have been well-documented, and players said Schwartz has been much
more vocal during practice to discourage such easily preventable mistakes
. At one point last week, right tackle
Gosder Cherilus
was removed from a team drill after jumping offsides.
"If you do have penalties, you're going to get it," Houston said. "He's going to yell at you."
Meanwhile, it was worth noting that rookie linebacker
Tahir Whitehead
kept his composure when veteran center
Dominic Raiola
whacked his helmet after getting tripped. Several defensive players surrounded Whitehead to prevent any escalation, but Schwartz was pleased with Whitehead's response and how quickly order was restored.
"I think that that's a good step, particularly a rookie like Tahir," Schwartz said, "to be able to show restraint and keep focus even when guys were competing. The biggest thing is not letting those things get a hold of you, and I thought that Tahir did a very good job in that situation."
We're not going to declare the Lions a changed team based on one instance where cooler heads prevailed. But camp usually is when the tenor of a team is set. And even if you don't buy that theory, consider it this way: A focused camp where players are concentrating on their assignments is preferable to one where fighting and other chaos breaks the routine.
3. Health at running back:
After months of discussion about the potential of a full-strength backfield, the Lions have yet to get
Jahvid Best
and
Mikel Leshoure
on the practice field together. Best remains on the physically unable to perform (PUP) list, still not cleared to practice, and Leshoure has missed most of camp because of a strained hamstring.
Leshoure is expected to return to practice next week, but for now the Lions' most likely Week 1 starter is veteran
Kevin Smith
. In many ways, Smith is an ideal option when a team's top two running backs are sidelined. He keeps himself in excellent condition and once again showed in camp that he is well-versed in the Lions' offense.
REASON FOR OPTIMISM
In this era of NFL passing efficiency, any team with a quarterback like Stafford, a receiver like
Calvin Johnson
and a cast of complementary players at tight end (
Brandon Pettigrew
and
Tony Scheffler
) and receiver (Nate Burleson and
Titus Young
), will be competitive. Just as significant to the Lions' hopes, however, is the consistency of their program.
[+] Enlarge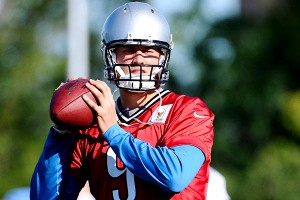 Tim Fuller/US PresswireQB Matthew Stafford & Co. have developed some consistency that should benefit the Lions this year.
Like Schwartz, offensive coordinator Scott Linehan and defensive coordinator Gunther Cunningham are both entering their fourth seasons with the Lions. Special teams coordinator Danny Crossman joined the team in 2010. That means the Lionshave to teach their scheme only to the handful of newcomers they welcomed onto their roster and can spend more of training camp focused on higher matters.
"It's tough for a rookie probably to jump in," Stafford said, "but the whole playbook is in about three or four days. We have a lot of returning starters who know what to do, and it's on the rookies to pick it up along the way."
Schwartz noted that there are always new wrinkles to work on and adjustments to make, but added: "Our first day of training camp, if we had to go play a game, we probably would have been able to call an entire game on offense, defense and special teams. It gives you a little more leeway. You don't have to start over and you don't have to put things in."
REASON FOR PESSIMISSM
The Lions are a good, playoff-caliber team that plays in what might be the NFL's toughest division. Nothing I saw at training camp pointed to anything other than continued progress toward elite status. The Lions' biggest problem is they will fight for a playoff-caliber record in a division that contains two similar teams, the Packers and Bears.
The Lions are 2-10 over the past three seasons against the Packers and Bears. Conventional wisdom suggests they will have to beat out at least one of those teams in the NFC North standings to earn a second-consecutive playoff berth.
OBSERVATION DECK
It seems odd to move through a training camp snapshot without mentioning the player who had one of the best seasons for a receiver in NFL history last year. Johnson looked, well, like Johnson -- a man among boys. Earlier this summer, Burleson said he thought Johnson looked stronger and faster than ever. When I dipped into a media scrum surrounding Burleson's locker last week, he was suggesting that Johnson could outrun Olympic gold medalist Usain Bolt if he trained as a sprinter rather than a football player. I'm not sure if Burleson was joking or not.

We're almost numb to seeing Johnson make inhuman catches, but we're still getting used to the third portion of the Lions' trio of top receivers. Young, by all accounts, has had an excellent camp. Thursday, I watched him meet a low throw in textbook fashion, snatching it just before it hit the ground with both hands. By grabbing the ball and not diving, Young stayed on his feet and used sideline footwork to earn a first down. "He's always been a very skilled player," Schwartz said. "Very good hands. He's an important player in our offense. … He's a guy that missed all of training camp last year. He had very, very few practices. So this is really his first training camp. We are seeing good signs from him, but also continued development. It's not just flashes. It's been a lot more consistency."

The Lions are still working through options to find the best place for second-year defensive tackle Nick Fairley, who is spending time at both defensive tackle and at defensive end in a new "Grey" scheme. Fairley is fully healthy for the first time since breaking his foot last August. When I asked Schwartz if he's seen the player the team thought it had when he was drafted, he said: "I don't want to read too much into practice. He's running well. He's strong. He's still developing in our scheme. This is a very important preseason to evaluate him. Last year even when he was playing with us, he was never 100 percent. He is now, and this will be a good preseason for him to show that."

We have often joked in our SportsNation chats about the relative lack of recognition Stafford received after a 5,038-yard, 41-touchdown season. So I laughed when asking Stafford if he had allowed himself a moment to feel good about a 5,000-yard season, he said: "I mean, it means nothing at all. Shoot, I don't even think half the league even knew it happened. It doesn't matter to me."

Familiarity with Linehan's offense provides at least one advantage: Players are more likely to know multiple positions, allowing them to rotate more often and minimize defensive adjustments. "At this point," Burleson said, "we know the offense and we know each other's positions. Now we can make it even that much more difficult to guard us by the moving [Johnson] around, moving myself around, moving Titus around, so you can't look at the depth chart and know where we're going to line up day in and day out."

Rookie first-round pick Riley Reiff got some first-team work at left tackle, where he will probably replace Jeff Backus one day. But there are no indications that Cherilus is in danger of losing his job, giving the Lions a better backup option than most teams have if a starting left tackle or right tackle is injured.

The Lions are hosting a punting competition for the second consecutive season, but no favorite has emerged. Ryan Donahue, who opened last season as the Lions' punter, is competing against the player who replaced him after a quadriceps injury, Ben Graham.
August, 9, 2012
8/09/12
1:15
PM ET
In which we look ahead to NFC North preseason football over the next two days. (A separate post on the Green Bay Packers' Thursday night turn on ESPN is right here.)
Chicago Bears

Opponent:
Denver Broncos

Location:
Soldier Field

Day/Time:
Thursday/8:30 p.m. ET

Personnel notes:
Middle linebacker
Brian Urlacher
(knee) is among those who won't play in a game most of the NFL will watch to see the return of Broncos quarterback
Peyton Manning
. Urlacher has missed a week of practice because of soreness in his knee and then personal reasons, and it's possible the mystery surrounding his absence could be cleared up if he is in attendance at Soldier Field.
Nick Roach
will start in his place. … Defensive end
Alex Brown
signed a 1-year contract and will retire in an on-field ceremony before the game. … It's also worth noting that quarterback
Jay Cutler
, receiver
Brandon Marshall
and quarterbacks coach Jeremy Bates will be facing the team that began breaking up their nucleus in 2009.
Focal point:
All eyes will be on left tackle
J'Marcus Webb
, who has a big lead in the competition for the starting job but still hasn't earned the full trust of offensive coordinator Mike Tice. Webb can either settle concerns with a solid performance or send the Bears back to the drawing board when camp resumes next week.
Detroit Lions

Opponent:
Cleveland Browns
Location:
Ford Field
Day/Time:
Friday/7:30 p.m. ET
Personnel notes:
The Lions' defensive secondary will have three starters who emerged in the past few days. Rookie cornerback
Dwight Bentley
has done well during stints with the first team in recent days and is expected to start opposite
Chris Houston
. The Lions' safeties likely will be
Erik Coleman
and
John Wendling
.
Louis Delmas
had knee surgery this week and it appears
Amari Spievey
hasn't had a great camp. … Expect tailback
Kevin Smith
to start but there should be plenty of work for
Joique Bell
and
Keiland Williams
, among others.
Focal point:
This will be the first time when we'll see a completely healthy
Nick Fairley
on an NFL field, and the Lions are eager to see what he can do. Fairley broke his foot during training camp last summer and was clearly limited in the 10 games he did play in. The preseason should give us a better idea if Fairley is destined to be a dominant difference-maker, as the Lions hoped when they drafted him, or if he will simply be a member of defensive rotation.
Minnesota Vikings

Opponent:
San Francisco 49ers
Location:
Candlestick Park
Day/Time:
Friday/9 p.m. ET
Personnel notes:
Tight end
John Carlson
(knee), running back
Jordan Todman
(ankle) and cornerback
Josh Robinson
(hamstring) are among the players who won't participate. Starters should see a few series, although coach Leslie Frazier implied that an early scoring drive could make it a short night for the first-team offense. … The defense could see more action in its first game environment under new defensive coordinator Alan Williams. … Rookie
Blair Walsh
is the only place-kicker in camp, so he will get all of the kicks this preseason. We'll see if he gets the opportunity to demonstrate the strong leg he has displayed this summer.
Focal point:
The Vikings have more than a half-dozen new starters, but from now through the foreseeable future, all eyes will be on quarterback
Christian Ponder
to gauge the level of his progress from a rocky rookie season. Preseason performance isn't always an indicator of true development,
but we have found that to be the case
with other young quarterbacks in this division.
July, 23, 2012
7/23/12
11:59
AM ET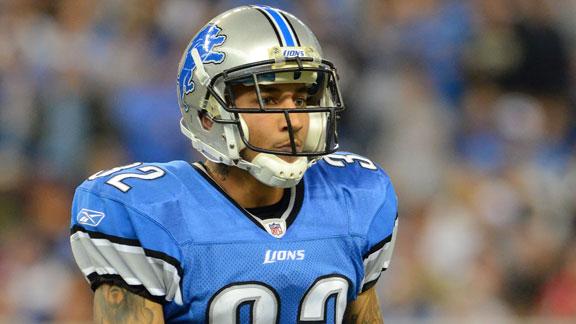 We've already hashed through the
Detroit Lions
' conundrum with cornerback
Aaron Berry
from several angles Monday morning, noting
how easy the ultimate resolution
could be and how
at least some fans feel disappointed in and disconnected from
the franchise. The team's
decision to release Berry
, reported by ESPN's Adam Schefter and others, leaves us with a few items to wrap up.
It's worth repeating that Berry hand-delivered this outcome to the Lions, who prior to this weekend had been unwilling to jettison talent for off-field transgressions. Two arrests in a month by a marginal player at a time of high scrutiny? There was no other option.
Some of you have already pointed out, correctly, that Berry hardly ranks as a prominent player and, thus, made this decision even easier. As an undrafted free agent, he received a signing bonus of $1,500 in 2009 and has earned minimum salaries in each of his past two seasons. According to records I've seen, Berry will count $500 on the Lions' salary cap after his release. That hardly represents a lost investment.
Johnny Culbreath, Mikel Leshoure and Nick Fairley -- and before Berry's run began? We might not get those answers until the next incident. With the offseason coming to a close and free time dwindling for players, "next time" might not be for a while.
Lions president Tom Lewand offered a statement that leaves vague whether the team has entered a new phase of internal discipline. Here is the statement: "We have repeatedly stressed to everyone in our organization that there will be appropriate consequences when an expected standard of behavior is not upheld." Does that mean Berry fell short of a standard that other players arrested this offseason did not? Was a new standard established early this summer -- after run-ins by
Berry ran with the Lions' first-team defense throughout the offseason, but you could make an argument that there isn't much separation between him and some of the other cornerbacks who will now compete for a starting job. That list includes Jacob Lacey, Alphonso Smith and rookie Dwight Bentley. The Lions fielded a weak secondary during parts of the 2011 season, and losing a potential starter isn't ideal. But if he wasn't much better than his competitors, the on-field impact could be minimal.
Moving swiftly Monday morning puts a symbolic capper on the offseason and allows the Lions to open training camp with Berry's future no longer in question. It's the best the Lions could do to diminish the distraction of their offseason.
The biggest remaining question to me is whether what we've seen this offseason reflects poor judgment by some key players, or simply some dumb and poorly-timed mistakes. The former would suggest the Lions are in for another season of bad judgment on the field. The latter would mean there will be no connection. A fair-minded person might say it's a little bit of both.
May, 17, 2012
5/17/12
10:45
AM ET
Our friends at Football Outsiders have reached the NFC North juncture of their annual post-draft needs series for ESPN.com. You'll need an Insider subscription to
read the entire file

but I can provide you a snippet of the needs that Outsiders' statistical analysis points to for each of our teams.

Chicago Bears
Need:
Offensive line
Excerpt:
Left tackle
J'Marcus Webb
"led the league with 15 offensive penalties in 2011."
Seifert comment:
We've been through this before. Outsiders suggests the Bears seek a swing tackle via free agency, but indications are that the team envisions 2008 first-round pick
Chris Williams
in
that role
.

Detroit Lions
Need:
Cornerback
Excerpt:
Free-agent acquisition
Jacob Lacey
"ranked 81st in success rate against the pass last year and 88th in 2010."
Seifert comment:
The Lions prioritize the havoc they can create with a dynamic defensive line over whatever shortcomings they might have in the secondary. Lacey will compete with
Aaron Berry
and perhaps rookie
Dwight Bentley
for a starting job.

Green Bay Packers
Need:
Backup quarterback
Excerpt:
"If any injury causes [Aaron] Rodgers to miss action, the Packers are looking at trotting out either super raw seventh-round rookie
B.J. Coleman
or undrafted and utterly untested third-year man
Graham Harrell
."
Seifert comment:
In 2008, the Packers set a precedent of using an untested backup in
Matt Flynn
. There isn't league-wide certainty that Harrell is prepared to be a No. 2 in 2012, but the Packers are more likely to use him in that role than sign a veteran free agent.

Minnesota Vikings
Need:
Middle linebacker
Excerpt:
"There's no evidence suggesting that [Jasper] Brinkley can handle the full slate of middle linebacker duties."
Seifert comment:
All indications are that Brinkley will get the first chance to replace
E.J. Henderson
. There isn't a notable alternative on the roster, but it's a position where a temporary starter could be signed during training camp. But the Vikings are committed to getting younger and Brinkley is 26.
May, 3, 2012
5/03/12
12:00
PM ET
Did the Detroit Lions do enough to address their secondary?

When the offseason began, it was reasonable to lock in two starters among the Lions' defensive backfield: safety
Louis Delmas
and cornerback
Chris Houston
. That left the other two starters open and possibly subject to upgrade after a well-documented collapse of their pass defense.
Four months later, nothing has really changed about that arrangement. Cornerback
Eric Wright
signed with the
Tampa Bay Buccaneers
, and if there is a safety on the roster who will challenge 2010-11 starter
Amari Spievey
, he isn't easily identifiable.
It appears the Lions are set to open training camp with oft-injured nickel back
Aaron Berry
, free agent
Jacob Lacey
and perhaps
Alphonso Smith
competing for Wright's former position. Although they drafted three cornerbacks last week, the best-case scenario is probably for third-rounder
Dwight Bentley
to win the nickel spot.
You can't fill every hole in an offseason, and the Lions' secondary will continue to be protected by one of the best defensive fronts in the game. But there some important questions remaining to be answered.
May, 1, 2012
5/01/12
3:10
PM ET
St. Louis Rams
fans should know that Bob Mcginn, who recently
finished first
among
60 analysts
projecting which players teams would draft among the top 100 picks, also forecast
Trumaine Johnson
as a first-rounder in
his 2012 mock
.
The Rams drafted Johnson in the third round, with the 65th overall choice. Johnson downplayed any concerns stemming from
an arrest
following a party he hosted.
"I just decided to throw a party after a win," Johnson told reporters during a conference call following his selection Friday. "It got loud. The cops came and shut it down. As we were shutting it down, one of my buddies got tased, so I went over there to try to see what was going on and I got tased. We both got booked and arrested."
Authorities
accused
Johnson of disorderly conduct, obstructing an officer and resisting arrest.
"I believe everybody throws parties and has fun in college," Johnson said. "I feel like I was just in the wrong place at the wrong time, so I shouldn't have thrown the party in the first place just because we were in the season. I learned from it and it's behind me now."
Johnson was among the subjects
Bernie Miklasz
and I discussed during
our weekly conversation
Tuesday on 101ESPN St. Louis. Johnson was the sixth of 34 cornerbacks drafted. The Rams previously used the 39th choice, a second-rounder, for cornerback Janoris Jenkins, a player carrying greater concerns off the field.
The Rams will lean on their veteran defensive coaching staff and newly signed cornerback
Cortland Finnegan
to assist Johnson and Jenkins.
April, 30, 2012
4/30/12
3:00
PM ET
If you're still agitated over the
Detroit Lions
' decision to pass on a group of second-tier cornerbacks late in the second round of the 2012 NFL draft, perhaps this video will put you at ease. ESPN analyst Todd McShay rated Louisiana-Lafayette cornerback
Dwight Bentley
-- the Lions' third-round pick -- as one of three most intriguing choices in the draft.
"The Lions needed a corner," McShay says. "They didn't' reach in the first and second round. They got a great value [in Bentley]. He's a little undersized. But he can be a starter one day."
April, 30, 2012
4/30/12
12:30
PM ET
Cleaning out my notebook after the 2012 NFL draft:
It can be difficult to gauge the value of coaching the annual Senior Bowl, but it's
worth noting that two of the Minnesota Vikings' draft choices played under their coaching staff for the North team
at this year's affair. That included Notre Dame safety
Harrison Smith
, whom the Vikings traded up to draft at No. 29 overall, and NC Sate linebacker
Audie Cole
, a seventh-round pick.

In the case of Smith, the Vikings were so convinced of his value after the Senior Bowl that they didn't speak again through the entire draft process. They didn't interview him at the annual scouting combine and didn't invite him to their facility for a pre-draft visit.
"When we got into our meetings and we put our board together and seeing how it was going to develop and knowing that we do need some help on the back end to improve our secondary," general manager Rick Spielman said, "that was the one huge advantage of being able to coach the Senior Bowl because we got to know those players inside and out and know what they are about. How they are in a meeting room. How they are out on the field. Our coaches know what it's like to coach that player so that was a huge advantage for us and we know exactly what we are getting in Harrison Smith."
We've noted that the
Green Bay Packers
drafted six defensive players to open the draft. Another trend we noted: The Vikings drafted three pairs of players from the same school.
But we probably didn't spend enough time in the latter stages of the draft pointing out that
the Detroit Lions finished the draft by selecting six consecutive defensive players -- including three cornerbacks -- while also drafting three players from Oklahoma.

We should probably chalk up the Sooner connection -- receiver
Ryan Broyles
, defensive end
Ronnell Lewis
and linebacker
Travis Lewis
-- as coincidence. But I wouldn't say the same thing about the defensive trend, considering how poorly the Lions' defense played over the second half of the 2011 season.
The impact of that decision is "yet to be seen," Lions coach Jim Schwartz said. He added: "Drafting them doesn't do anything other than drafting them. They have to play well in preseason and training camp and they have to prove their draft status. So, yeah, it adds more guys to the roster and creates competition and things like that. ..."
With that said, I would think the Lions' cornerbacks should consider themselves on notice. Third-rounder
Dwight Bentley
is a smallish but feisty corner who had an excellent Senior Bowl against elevated competition. And fifth-rounder
Chris Greenwood
might have played at Division III Albion, but he is 6-foot-1 and ran the 40-yard dash in 4.42 seconds. Players with those kind of measurables eventually get their opportunity.

The
Chicago Bears
' decision not to draft a lineman would appear an endorsement of their returning starters.
So it's worth noting that coach Lovie Smith refused to say where offensive lineman Chris Williams will play in 2012,
calling into question the short- and long-term future of the Bears' No. 1 draft choice in 2008.
First, here's what Smith said when asked if Williams would resume his role as left guard when training camp begins: "I can't tell you that right now. We have options with him. We'll see how it all shakes out. Chris, of course, can do both [guard and tackle]. Right now, we're two weeks into our offseason program. Let us get into it a little more and we'll be able to define some roles a little better."
That's hardly an endorsement for a player who has started at right tackle, left tackle and left guard in his disappointing career.
Brad Biggs of the Chicago Tribune
makes some excellent points in suggesting Williams' most likely 2012 destination is a swing backup.
Williams was drafted as a left tackle, but the Bears chose
J'Marcus Webb
to play there last season and don't appear interested in looking back.
Gabe Carimi
, the 2011 first-round pick, figures to return at right tackle, making it easy to move
Lance Louis
back to one of the other guard spots. Louis,
Chris Spencer
and newcomer
Chilo Rachal
would be top candidates to start at the other two guard spots.
Everything is subject to change. But clearly there remain some parts in motion along the Bears' offensive line.

I'm sure the Packers have kicked around the idea of signing a veteran backup quarterback, and it could still happen. But after drafting Tennessee-Chattanooga's
B.J. Coleman
in the seventh round Saturday,
the Packers don't appear eager to add anyone else
. In other words, former No. 3
Graham Harrell
is going to get every opportunity to win that job.
"I don't think you just say, 'I need a veteran backup,'" Packers coach Mike McCarthy said. "We have the MVP in
Aaron Rodgers
as our No. 1, and now we feel that we have three really good candidates to compete for two spots. ... The roster will shake that out."
Those candidates are Harrell, Coleman and
Nick Hill
, a former Arena Football League player who signed in January.
Some people cringed when the Coleman spoke reverentially about his pre-draft work with and respect for
Brett Favre
. Coleman seemed oblivious to the hard feelings surrounding Favre's departure in 2008 and his return with the Vikings in 2009 and 2010.
Maybe Coleman was a bit na´ve, but I thought his giddiness was instructive as much as anything and perhaps illustrative of the big-picture way most of the football world view the relationship between the Packers and Favre.
In the big picture, the Packers-Favre separation was a small portion of a two-decade marriage that is destined to be reconciled. We are hypersensitive to that blip because we lived through it on this blog, but not everyone was as affected. If we aren't already, we'll all be closer to Coleman's perspective than we probably ever thought possible.
April, 28, 2012
4/28/12
6:51
PM ET
╗
NFC draft analysis
:
East
|
West
|
North
|
South
╗
AFC
:
East
|
West
|
North
|
South
The 2012 NFL draft is in the books. Our silly little arguments
on left tackles
and
injured receivers
seem so long ago. Oh, the memories….
In a few years, we'll be able to evaluate this draft with a measure of accuracy. For now, let's just consider some immediate highlights and lowlights.
BEST MOVE
The
Green Bay Packers
fielded arguably the best offense in franchise history last season. Their defense, on the other hand, allowed more passing yards (4,796) than any NFL team that has ever played. So let's award the "Best Move" title to the Packers' decision to deeply supplement their defensive personnel in this draft.
The Packers selected six consecutive defensive players to open this affair, the result of unprecedented maneuvering by general manager Ted Thompson -- who traded up as many times in this draft (three) as he had in his six previous drafts combined. Speaking to reporters in Green Bay, Thompson joked that he is "ashamed" and it was "pathetic" to have given up three of his 11 picks in those trade-ups, but to me that spoke to how seriously the Packers took their defensive slide last season.
Thompson insisted that there was "no intent to do it that way," but that would make for one heck of a coincidence, wouldn't it? Regardless of why it happened, the Packers came away with a pair of pass-rushers/disruptors in linebacker
Nick Perry
(No. 28 overall) and defensive lineman
Jerel Worthy
(No. 51) and two defensive backs -- cornerback
Casey Hayward
(No. 62) and safety Jerron McMillian (No. 133) -- who will have opportunities to compete for immediate playing time.
Worthy, Hayward and linebacker
Terrell Manning
(No. 163) were the three players Thompson traded up for, giving you an idea of how strongly he must have felt about them. Will this group stabilize the Packers' defense in 2012? It's impossible to predict individual performances, but generally speaking I'll go with this theory: The more the merrier.
MOST SURPRISING MOVE
[+] Enlarge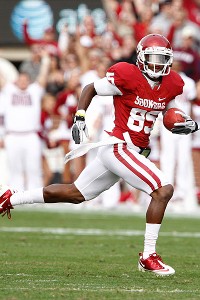 AP Photo/Alonzo J. AdamsDespite depth at the position and an injury history, the Detroit Lions drafted Oklahoma receiver Ryan Broyles.
The
Detroit Lions
had already used their first-round pick on a future need, Iowa tackle
Riley Reiff
, when they grabbed Oklahoma receiver
Ryan Broyles
in the second round. Not only did the Lions already have a deep set of pass catchers, but Broyles is still recovering from a torn ACL suffered last November.
So yes, it was initially surprising to see a match between the Lions and Broyles, even though it was easy to understand how the Lions made the decision. As
we discussed at the time
, the Lions follow their board in as tightly wrapped-up of a vacuum as any team in the NFL. Although they had significant need at cornerback and safety, they had Broyles rated higher and that was that.
Hopefully, those of you who were angry and didn't buy that explanation were assuaged by the latter stages of the Lions' draft. They chose three cornerbacks -- Louisiana-Lafayette's
Dwight Bentley
at No. 85, Albion's
Chris Greenwood
at No. 148 and New Mexico State's
Jonte Green
at No. 196 -- over their next five selections and finished with six consecutive defensive picks overall.
RISKIEST MOVE
The riskiest move in this draft was one that actually didn't happen. The
Chicago Bears
did nothing to address their personnel along the offensive line, first in free agency and now the draft.
It's true that a pair of 2011 starters who suffered season-ending injuries, tackle
Gabe Carimi
and guard
Chris Williams
, will return in 2012. And the promotion of Mike Tice to offensive coordinator should provide linemen with more help and less one-on-one responsibility than they had in the previous two seasons.
But the bottom line is the Bears have been forced to undergo multiple rounds of midseason patchwork in each of the past two seasons to lessen the punishment on quarterback
Jay Cutler
. When coach Lovie Smith said last month that he was confident in his current lineup, many of us wondered if he was just covering the Bears' draft plans.
He wasn't, which means the Bears are setting themselves up for another choppy season of personnel changes if their confidence proves unfounded.
FILE IT AWAY
We noted before the draft
that the NFC North stood on the precipice of transition from the Black and Blue to the Air and Space division. You could make an argument that all four NFC North teams had a need at running back, especially the Packers and Lions. But as the NFL continues to move toward the passing game, it was reasonable to wonder whether anyone would act on those needs.
They did not. In fact, not a single running back was drafted in this division through the first six rounds. The Packers declined to take one in spite of a thin backfield led by injury-prone
James Starks
. The Lions, meanwhile, didn't deem it necessary despite the questionable health histories of
Jahvid Best
,
Mikel Leshoure
and
Kevin Smith
.
Message sent, huh?
April, 27, 2012
4/27/12
11:41
PM ET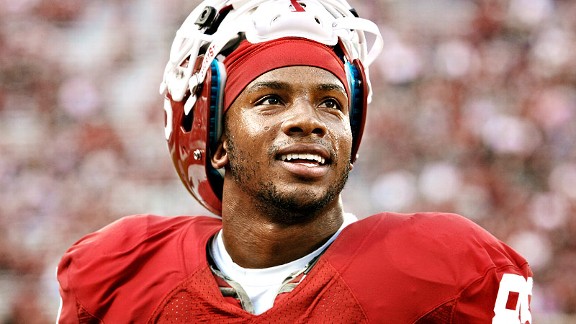 Brett Deering/Getty ImagesBy drafting Ryan Broyles Detroit stuck to their philosophy of targeting talent instead of need.
As they approached their second-round position Friday night, the
Detroit Lions
sure seemed to be sitting pretty. A team with a shortage of cornerbacks was looking at a nice group of second-tier defensive backs whose time on the market appeared up. In addition, the draft's top center was still available if the Lions were inclined to secure a future replacement for starter
Dominic Raiola
.
With their No. 54 overall pick, the Lions passed on Wisconsin center
Peter Konz
, who ultimately went one slot later to the
Atlanta Falcons
.
They turned away a trio of cornerbacks: Vanderbilt's
Casey Hayward
, Montana's
Trumaine Johnson
and Central Florida's
Josh Robinson
. Hayward went at No. 62 to the
Green Bay Packers
, Johnson at No. 65 to the
St. Louis Rams
and Robinson at No. 66 to the
Minnesota Vikings
.
The Lions? Naturally, they went for a 24-year-old slot receiver who tore his anterior cruciate ligament last November. Oklahoma's
Ryan Broyles
will join a seemingly crowded position group that also includes
Calvin Johnson
,
Nate Burleson
and 2011 second-round pick
Titus Young
.
I got a number of immediate reactions along these lines of this one from
@breynolds0324
: "Sadly, best case he is 4th receiver. That secondary made [Matt] Flynn a multimillionaire. Feel like we are a secondary away from SB."
I understand where you're coming from, and perhaps some of you were assuaged when the Lions drafted Louisiana-Lafayette cornerback
Dwight Bentley
in the third round. But I feel like many of you allowed your immediate emotions to overtake rational thought, and more importantly, what should be a clear understanding of how the Lions operate under general manager Martin Mayhew and coach Jim Schwartz.
You can object to the relative lack of attention the Lions have paid their secondary during this rebuilding process. Feel free to dispute their assessment of the talent they've passed over. But by now, like it or not, you should have come to expect that they will follow their board in as much of a vacuum as any team in the NFL. And I hope you also realize that approach has left the Lions short in the secondary but is probably the single-biggest factor in their return to contention.
"You don't solve needs by drafting poor players," Lions coach Jim Schwartz
told reporters in Detroit
. "… There's a discipline that goes into it. You have to be able to stick with that philosophy. The philosophy is: 'Talent rules the board.' … If you chase need, you're chasing a moving target. What looks like a need one day might not be a need another day. If you have the discipline to say, 'Hey look, let's get good football players that fit a philosophy that we have a plan for, that continue to be the highest rated guys on your board,' then you're going to be successful over the long run.
"Even in this organization in the past, I think everybody knows some examples where this organization reached for certain players because of needs. I don't see how that solves your need. When it's all said and done, the need is still there."
It would be reasonable to question whether, say, Hayward would have been a reach at No. 54 when the Packers selected him just a few spots later. But the more relevant question is whether the Lions would have left a more talented player on the board. And in the Lions' evaluation, they would have. That made their decision easy Friday night at No. 54.
Broyles is one of the most productive receivers in the history of college football, having caught an NCAA-record 349 passes in his career. Just five months after surgery to repair his ACL, he ran the 40-yard dash in 4.57 seconds. Mayhew, whose success in recent drafts grants him some leeway in making such judgments, told reporters: "If the guy were healthy now he'd have been gone way before our pick."
And while they are in fact stacked at the front end of their depth chart, the Lions in reality were one injury away from not being able to use offensive coordinator Scott Linehan's three-receiver set. Burleson, meanwhile, will turn 32 this summer. In other words, the Lions could be a year or two away from having an obvious need at receiver. As we discussed Thursday, the key to orderly transitions is acquiring the replacement before he is needed.
Look, the Lions don't need me to be an apologist for a decision -- and thus far, an entire draft -- that might not have much impact on their 2012 team. You have a right to dispute it. But you shouldn't be surprised, and the Lions' success to this point earns them at least a partial benefit of the doubt from me.
NFL SCOREBOARD
Thursday, 11/20
Sunday, 11/23
Monday, 11/24
WEEKLY LEADERS