December, 3, 2014
12/03/14
11:00
AM ET
EARTH CITY, Mo. -- The
St. Louis Rams
have yet to have a week in which they have all of their cornerbacks healthy and ready to play.
Jenkins
Gaines
Recently, they've been without rookies
Lamarcus Joyner
and
Marcus Roberson
. But they have, however, had the services of their top three options in the form of
E.J. Gaines
,
Janoris Jenkins
and
Trumaine Johnson
.
Back before Jenkins and Johnson returned from knee injuries, many wondered how the Rams would deploy their corners if and when they were all healthy. Well, that still hasn't entirely happened but there have been clues along the way.
Before the season, the expectation was that returning third-year corners Johnson and Jenkins would be the starters. Then Johnson suffered a knee injury in the third preseason game and took about half the season to be ready to play. Jenkins suffered a knee injury of his own around the same time Johnson returned, leaving the rookie Gaines to take on a role beyond what anyone could have expected when the Rams drafted him in the sixth round.
Gaines didn't just step into the lineup, either. He's mostly excelled in his role as the starter, to the point where he now seems to be entrenched. Against Oakland last week, it was Gaines who played all 78 defensive snaps. Interestingly, Johnson was next at 57 snaps then Jenkins, who played 40.
But before passing judgment on what that means in the big picture, it's important to note what coach Jeff Fisher said about how the snaps were distributed.
"Our plan was to rest [Jenkins] a little bit because he's still pretty sore off the MCL," Fisher said. "We alternated him -- Trumaine was feeling better."
It's worth noting that Gaines was not one of the players being alternated. He rewarded the Rams' faith with an interception and a fumble recovery as he continues to work toward becoming one of the draft's biggest steals.
Even when Jenkins returns to health, Fisher essentially confirmed that it's Gaines who has solidified his spot. Jenkins has had his share of struggles allowing big plays but Fisher said he and Gaines are asserting themselves for established roles moving forward.
"If we were going start the game tomorrow, we'd start with E.J and Janoris," Fisher said.
When Joyner returns from a groin injury, it will be interesting to see where he fits but if nothing else, it seems Gaines has done enough to earn the trust of Fisher and the coaching staff.
November, 16, 2014
11/16/14
12:00
PM ET
ST. LOUIS -- Not that there's ever a good week to be without your full complement of players at any position, but the
St. Louis Rams
will be short on cornerbacks Sunday against the
Denver Broncos
.
That's especially concerning given that the Broncos come to town with
Peyton Manning
at quarterback and an array of talented pass catchers who are hard to match anywhere in the league. On the team's pregame inactive list, the Rams are without nickel corner
Lamarcus Joyner
and cornerback
Marcus Roberson
. Joyner and Roberson missed practice all week with groin and ankle injuries, respectively.
If there's a silver lining to be found, it's that the Rams will have probably their three best corners available for this one, with
Janoris Jenkins
,
Trumaine Johnson
and
E.J. Gaines
available. With Joyner out, it's safe to expect Gaines to move inside in the nickel, with Johnson and Jenkins on the outside.
When the Rams have to go to further sub packages, they'll likely turn to their three-safety package with
Rodney McLeod
,
T.J. McDonald
and
Mark Barron
on the field together.
Here's the complete list of inactives for Sunday's game:
Rams:
DB Lamarcus Joyner, CB Marcus Roberson, LB
Daren Bates
, WR
Damian Williams
, OT
Brandon Washington
, TE
Alex Bayer
, DT
Alex Carrington
.
Broncos:
WR
Cody Latimer
, RB
Ronnie Hillman
, CB
Tony Carter
, RB
Kapri Bibbs
, LB
Todd Davis
, OT
Michael Schofield
, TE
Virgil Green
.
November, 14, 2014
11/14/14
3:00
PM ET
EARTH CITY, Mo. -- Aside from the fact that this is indeed his first year in the NFL, there's very little about
St. Louis Rams
cornerback
E.J. Gaines
that would let you know he's only a rookie.
Gaines' game tape offers some ups and downs as many rookies have but he's also a cornerback, a position with more volatility than any on the defense. For the most part, though, Gaines has left almost anyone paying attention impressed with how the sixth-round draft pick has adapted to the NFL.
[+] Enlarge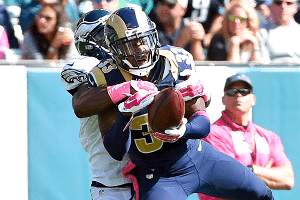 Eric Hartline/USA TODAY SportsRookie cornerback E.J. Gaines has shined in pass coverage for the Rams.
"I feel like being a rookie playing so much you have to get better as the season goes on," Gaines said. "You can't stay the same and keep using rookie as an excuse to make a mistake. I like to get out there and try to do better each and every game."
So far, Gaines has succeeded in that quest. In nine games, Gaines has 39 tackles, a fumble recovery, an interception and five pass breakups.
For what it's worth, Pro Football Focus grades Gaines as the Rams' second-best defensive player, coincidentally only behind another rookie in defensive tackle
Aaron Donald
. That same grading scale rates Gaines in a tie as the 11th-most productive corner in the league.
Perhaps more impressive is how Gaines has handled everything that's been thrown at him. After the third preseason game, Gaines was thrust into the starting role when
Trumaine Johnson
suffered a knee injury. He has since stepped in and started every game outside.
When rookie nickel corner
Lamarcus Joyner
suffered a groin injury against Arizona last week, Gaines had little problem sliding into the slot and taking on a different role.
"He was fine," coach Jeff Fisher said. "He got his hands on the ball. Didn't have any problems … we didn't have to scale down the third-down package per se. He prepares mentally for it and thought he plugged in nicely.
"[It] tells you a lot about him, he's gone from outside to inside just during the course of a game."
Signs point to Gaines having to do even more work in the nickel this week against Denver with Joyner not practicing because of a groin injury. Playing in the slot against the likes of
Wes Welker
and
Emmanuel Sanders
is no easy task for any corner, never mind a rookie who hasn't spent much time playing inside where things happen faster and there's more space to cover.
But Gaines said Wednesday he doesn't expect it to be much of a problem and cited the chance to work on it more during the week as a reason he'd be better prepared to handle nickel duties than he was a week ago.
"It's a lot on my plate but I feel like I'm definitely ready for it," Gaines said. "I try not to look at myself like a rookie. I try to play like a vet. I do as many things as I can like a veteran to help this football team, help this defense out."
October, 28, 2014
10/28/14
11:00
AM ET
A weekly look at what the
St. Louis Rams
must fix:

The
San Francisco 49ers
just played the Rams in Week 6.
Colin Kaepernick
& Co. had plenty of success throwing the ball in that game, as he finished with 343 yards while completing 62.9 percent of his 35 pass attempts.
But if Kaepernick spent his bye week watching the
Rams lose
to the
Kansas City Chiefs
on Sunday, he will see that he can actually be more efficient and take fewer risks against the Rams. The key? Keep it short.
In the Rams' latest loss, Chiefs quarterback
Alex Smith
attempted 28 passes. He completed 24 of them for 226 yards. Of those 28 passes, just one -- a 14-yard completion to
Dwayne Bowe
-- traveled more than 10 yards in the air. In the process, Smith became the first quarterback to win a game without attempting multiple passes of more than 10 yards in the air since Week 8 of 2012.
And Smith's approach is nothing new. The Rams are 12th in the league in passing yards allowed per game at 231.71, but that number is wholly misleading. Because teams have had such success running the ball against the Rams, they haven't had to throw much -- but when they do, they are having a lot of success. The Rams rank 29th in the league in passer rating allowed (106) and last in completion percentage allowed (70.2) while facing the fewest passing attempts in the NFL (205).
Getting third-year starters
Janoris Jenkins
and
Trumaine Johnson
back from knee injuries would be helpful, but the Rams must also find a way to be more aggressive in coverage or teams will continue to nickel and dime them up and down the field.
October, 5, 2014
10/05/14
4:16
PM ET
PHILADELPHIA -- A few thoughts on the
St. Louis Rams
' 34-28
loss Sunday
to the
Philadelphia Eagles
at Lincoln Financial Field.

What it means:
For a team coming off a bye week, the Rams looked wholly unprepared and undisciplined for most of the game. The undisciplined part should be no surprise since it's become commonplace to see the Rams stockpile silly penalties and bust coverages. The unprepared part should be more of a concern. They get credit for making it a one-possession game in the fourth quarter, but they shouldn't have dug themselves a 34-7 hole in the first place. That deficit was the result of many self-inflicted mistakes which were ultimately too much to overcome. At 1-3, the Rams now head into the teeth of a difficult schedule.
Stock watch:
Down -- the offensive line. The Rams' starting five had been trending up in the two weeks before the bye, but Sunday was an obvious regression. The Rams gave up four sacks, including one by left tackle
Jake Long
that turned into an
Austin Davis
fumble and an Eagles touchdown that essentially sealed the game for Philadelphia. And yet, No. 2 overall pick
Greg Robinson
still can't get on the field.
Confusion reigns:
The Rams offered no shortage of head-scratching moments in this one, whether it was play calling, miscommunication or a combination of the two. In one third-quarter sequence, the Rams moved into Philadelphia territory powered by the rushing attack before coordinator Brian Schottenheimer called three consecutive passes. Each fell incomplete and a promising drive died at the Eagles' 44. Later, the Eagles got an easy touchdown on a coverage breakdown between cornerback
Lamarcus Joyner
and safety
Rodney McLeod
, the second time in as many games McLeod has been involved in a busted coverage resulting in a touchdown. To complete the trifecta, the Rams' special teams offered its share of mistakes, too, none bigger than the blocked punt that ended in a touchdown just 23 seconds into the game.
Game ball:
CB E.J. Gaines. Although Davis was deserving of getting this for the third straight game, we'll go with the rookie cornerback who acquitted himself well for most of the day. He recovered a fumble and provided textbook coverage on a deep ball for his first career interception in the first half. Beyond that, he offered solid tackling with four stops and two passes defended on the day.
What's next:
The Rams dive into NFC West play for the first time next week, hosting the
San Francisco 49ers
on "Monday Night Football" followed by a short week before hosting the
Seattle Seahawks
. It's only getting tougher from here.
September, 8, 2014
9/08/14
1:00
PM ET
EARTH CITY, Mo. -- A look at playing time and production of each of the
St. Louis Rams
' drafted rookies and a quick glimpse at the undrafted rookie class in Sunday's
34-6 loss
to the
Minnesota Vikings
.
Robinson
OL Greg Robinson, first round, No. 2 overall:
As expected, Robinson did not start on the offensive line with
Davin Joseph
and
Rodger Saffold
handling right and left guard duties, respectively. Also as expected, Robinson found his way into the game when Saffold departed with a neck injury late in the game. Robinson played nine snaps on offense and three as a blocker on special teams. Watching how the offensive line fared without him, it's hard to imagine Robinson couldn't have turned in a similar pass-blocking performance at worst and represented an upgrade in the run game at best.
DT Aaron Donald, first round, No. 13 overall:
Donald delivered on some of the promise he showed in the early stages of camp with four tackles, including two for a loss against Minnesota's vaunted run game. Most of his 29 defensive snaps came on clear passing downs as Donald entered on third downs inside with
Eugene Sims
joining him at tackle and
Chris Long
and
Robert Quinn
on the ends. There weren't a lot of bright spots among the members of this class, but Donald had his moments.
DB Lamarcus Joyner, second round, No. 41 overall:
The Vikings' run-heavy approach didn't allow for the Rams to be in the nickel much, leaving Joyner with just 23 defensive snaps and a dozen more on special teams. He finished with two tackles on defense and another on special teams in a mostly nondescript debut.
RB Tre Mason, third round, No. 75 overall:
Mason struggled in the preseason and doesn't provide help on special teams which rendered him inactive for his first NFL game. Of the team's five running backs, Mason was the only one inactive against the Vikings.
S Maurice Alexander, fourth round, No. 110 overall:
In a mild surprise, Alexander was also inactive Sunday. It's not a surprise in the sense that Alexander wasn't expected to help on defense right away, but he figured to help on special teams. Rookie cornerback
Marcus Roberson
was active instead.
CB E.J. Gaines, sixth round, No. 188 overall:
The only rookie to start, Gaines got the call in place of the injured
Trumaine Johnson
. Gaines played 56 defensive snaps (97 percent of the total) and six more on special teams. In the process, he had three tackles and two pass breakups, nearly coming up with an interception early in the game.
C Demetrius Rhaney, seventh round, No. 250 overall:
Rhaney is on injured reserve for the season with a knee injury.
Undrafted rookie roundup:
Roberson played 11 snaps on special teams and running back
Trey Watts
played nine there also, neither registered a tackle in the unofficial statistics. ... Tight end
Alex Bayer
and defensive lineman
Ethan Westbrooks
were pregame inactives.
September, 6, 2014
9/06/14
12:00
PM ET
EARTH CITY, Mo. -- The
St. Louis Rams
and
Minnesota Vikings
kick off the regular season Sunday at the Edward Jones Dome. Kickoff is set for 1 p.m. ET on regional Fox coverage.

Here are three things to watch for from the Rams' end:
1. How's Hill?:
Rams quarterback
Shaun Hill
started the preseason opener against New Orleans but hasn't started a regular-season game since 2010, or a season-opener since he was with the San Francisco 49ers in 2009. Despite whatever rustiness he'll have to deal with, Hill will not be set up for failure in this offense. The Rams were always going to be a run-first offense and that won't change with Hill in charge. What Hill will be asked to do is take advantage of the opportunities that the run game might open for the pass, pushing the ball down the field on play-action. While he's not known for his arm strength, Hill does have the ability to get the ball down the field. More importantly, the Rams need Hill to manage the game and take care of the ball. If he can do those two things, the Rams should have enough success running and on defense to be in position to open the season with a victory.
2. On the corner:
The Rams have one of the youngest secondaries in the league and it's actually possible the starting group will be even younger than originally projected when kickoff arrives Sunday. That's especially true at cornerback, where third-year player
Janoris Jenkins
is penciled in at one spot. But the Rams could turn to rookies at the spot opposite Jenkins and in the nickel as
Trumaine Johnson
sits with a knee injury.
Lamarcus Joyner
is set as the team's primary nickel corner, the role the team drafted him to play back in May. Sixth-round rookie
E.J. Gaines
and second-year corner
Brandon McGee
are the top options for the job, with McGee listed as Johnson's backup on the unofficial depth chart. Gaines showed well in the preseason and McGee battled an ankle injury, which could make Gaines the better and more logical fit. But it's asking a lot of any rookie, especially a sixth-rounder, to deal with the likes of Vikings receivers
Greg Jennings
and
Cordarrelle Patterson
in his first NFL game.
3. Containing Peterson:
This almost goes without saying anytime the Vikings are the opponent, but as running back
Adrian Peterson
goes, so goes Minnesota. Peterson apparently still harbors some ill feelings toward the Rams from a 2012 meeting between the teams when Peterson didn't like the amount of trash talk the Rams offered early in that game. Peterson went on to rush for 212 yards and a touchdown and went so far as to
predict a touchdown run on his first carry
in Sunday's game. Whether or not Peterson is able to call his shot remains to be seen, but the Rams have no pretension of believing they can shut down Peterson. Instead, they'll look to slow him down enough to make him earn every yard. If he gets to 100 yards or so, the Rams will be fine with it as long as it comes on 23-plus carries.
August, 28, 2014
8/28/14
12:00
PM ET
EARTH CITY, Mo. -- The
St. Louis Rams
and
Miami Dolphins
meet in Week 4 of the preseason Thursday night at Sun Life Stadium. Kickoff is set for 7 p.m. ET. Here are three things to watch for from the Rams' end:

1. Replacing Johnson:
Projected starting cornerback
Trumaine Johnson
was among the five Rams starters suffering injuries in the first half last week against Cleveland, and though it looked brutal when it happened, it wasn't as bad as feared. Johnson has a sprained MCL in his knee and is expected to miss four to six weeks. That's not good news for a young and thin cornerback group but it's better than what was expected when he left on a cart. But now the Rams must not only figure out the remaining depth at the position, a battle that should include
Marcus Roberson
,
Greg Reid
and
Darren Woodard
, but also who will start opposite Johnson. They'd prefer to keep rookie
Lamarcus Joyner
as the primary nickelback, leaving rookie E.J. Gaines and
Brandon McGee
to battle for the spot. McGee has been dealing with an ankle injury and didn't practice Tuesday, which could mean Gaines gets the first shot to step in for Johnson. Either way, it's a good opportunity for all of the young corners to make a statement on where they belong in the pecking order.
2. Time for starters:
In each of the other three preseason games, coach Jeff Fisher has been pretty open about how much playing time his starters will get in the week leading up to the game. Not this week. Fisher was noncommittal about how much work his starters will get against the Dolphins other than to say some will play more than others. With some players working back into shape off injury or battling injuries of their own, there's a line between those that need the work and those that don't. Expect linebacker
James Laurinaitis
to get some work after sitting the first three games with an ankle injury. As for quarterback
Shaun Hill
, Fisher wouldn't tip his hand. But it wouldn't surprise to see the Rams play it safe with him. Hill took plenty of reps with the first offense in the first week of preseason against New Orleans and it's probably not worth the risk to give him more than some token snaps.
3. Sam vs. Westbrooks:
It's been one of the best battle of training camp and though there are others (potential fourth tight end, fourth running back, sixth linebacker, etc.), this is the one that has seen both players rise to the occasion again and again in the preseason. Ethan Westbrooks probably has the edge going into the game, impressing with his work in practice and games and his ability to play all over the line. But Michael Sam has been productive in games, even if practice hasn't been as good. There's still the outside chance the Rams could keep both but this is the last chance for both to make a strong closing statement.
August, 11, 2014
8/11/14
4:00
PM ET
EARTH CITY, Mo. -- For those that don't closely follow Missouri football, cornerback
E.J. Gaines
will always be the "other"
St. Louis Rams
2014 draft pick from the home state school.
Even though Gaines was drafted a round before defensive end
Michael Sam
, he didn't make the two-hour trip east to St. Louis with nearly the fanfare of the NFL's first openly gay draft pick.
[+] Enlarge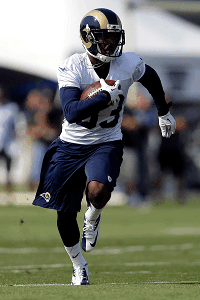 AP Photo/Jeff RobersonRams rookie cornerback E.J. Gaines has impressed coach Jeff Fisher with his smarts.
But, a little more than two weeks into his first NFL preseason and training camp, Gaines is working quickly to make a name for himself. And his coaches have taken notice.
"He's just been making plays," coach Jeff Fisher said. "He's very instinctive, a very conscientious, smart player. He's picked the defense up really well and made plays. He's a football player. He tackles, he covers, he's got ball skills, so we'll continue to get him some reps."
Gaines certainly wasn't lacking for reps in Friday night's preseason opener against the Saints. For most of camp, Gaines has quietly been creeping his way up the depth chart.
Some of Gaines' ascent has been based on injuries as top corners such as
Janoris Jenkins
,
Trumaine Johnson
,
Brandon McGee
and
Lamarcus Joyner
have all missed time at various times.
In the preseason opener, the Rams were without the services of Jenkins, Johnson and McGee, which created a starting nod for Gaines. Because the Rams were relatively thin at the position, it also meant plenty of snaps. Pro Football Focus had Gaines down for a team-high 52 plays in the game.
Gaines made the most of those opportunities, flashing the physical, instinctive approach that made him successful at Missouri. He finished with a team-high six tackles and, aside from his role in allowing
Brandin Cooks
' 25-yard catch and run for a touchdown, was mostly solid in coverage.
"It was crazy, kind of surreal, like a dream come true," Gaines said. "I've been thinking about this moment since I was really young. So coming in and being able to start my first preseason game, it felt good."
With three preseason games to go and some of those banged up corners scheduled to return, it stands to reason that Gaines' workload will decrease a bit over the coming weeks. As a sixth-round draft pick, Gaines is guaranteed nothing in terms of a roster spot.
Jenkins, Johnson and Joyner are almost certainly entrenched in three of the spots reserved for corners and McGee looks to be in good shape for another. The Rams have often kept just five corners under Fisher's guidance but this year could be different.
Early returns indicate the Rams have more talent at corner than safety and so the usual breakdown of five at each spot could be altered. Having Joyner capable of playing both spots also gives the Rams more flexibility in terms of the breakdown in the secondary.
But even if the Rams only keep five, Gaines is playing like he's set on locking down that spot. After being drafted later than expected and living in the shadow of his history-making teammate, Gaines should have no problems finding the motivation to finish the job.
"I always play with a chip on my shoulder," Gaines said. "I think that's what really makes me a good player -- expecting to be kind of underrated. The draft is behind me though, like I said, so I'm just trying to concentrate on making this team, try to make some plays, and hopefully prove that I can play at this level."
So far, so good.
June, 3, 2014
6/03/14
2:30
PM ET
EARTH CITY, Mo. -- As Day 2 of the NFL draft turned into Day 3 and the
St. Louis Rams
set their plan for what direction they wanted to go, Missouri cornerback
E.J. Gaines
was a name sitting on their list of potential additions.
After drafting safety
Maurice Alexander
with their fourth-round pick, the Rams, having traded their fifth-round pick on Day 2, endured a long wait until they picked again in Round 6.
During that long intermission, coach Jeff Fisher and general manager Les Snead considered trade options to move up. Gaines was among the potential targets for a move up, but ultimately the Rams stood pat. To their surprise, Gaines continued to fall.
[+] Enlarge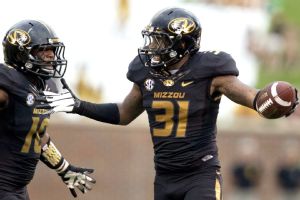 Shane Keyser/Kansas City Star via Getty ImagesDefensive back E.J. Gaines, 31, hopes his versatility helps his bid to win a roster spot with the Rams.
"We had made an attempt early, had considered him earlier," Fisher said. "We felt like he fell to us."
The Rams were happy to stop that fall, using the 188th overall pick on Gaines. While the Rams were pleased to get what they consider a steal in the sixth round, Gaines was doing everything possible to take his mind off what he termed a "surprising" fall.
In his three years as a starter at Mizzou, Gaines was one of the cornerstone players on the defense. He earned first team All Big 12 Conference honors in 2011 and did the same in the Southeastern Conference last year. Included in that 2013 effort was a strong showing against Texas A&M receiver
Mike Evans
in a late-season matchup.
Gaines was instrumental in limiting Evans to four catches for 8 yards. It's a matchup Gaines was asked about regularly through the pre-draft process. Evans went seventh overall to the
Tampa Bay Buccaneers
.
"They brought it up, actually all of them did," Gaines said. "To see him go in the first round and see me go in the sixth is a little crazy to me, but like I said, it's a blessing. God has a plan for me and for Mike Evans, and I'm sure we'll both be great in the NFL."
Gaines' chance to be great will be determined mostly based on his opportunity in St. Louis. While he would have preferred to go earlier in the draft, he at least steps into a potentially prosperous situation in St. Louis.
The Rams are likely set with their top three cornerbacks in
Janoris Jenkins
,
Trumaine Johnson
and
Lamarcus Joyner
, but there is plenty of room to make a mark and earn a spot on the depth chart behind that trio.
Brandon McGee
is the only other cornerback from last season's active roster returning this season, and though he has potential, he's far from proven. Gaines brings the versatility to play any of the cornerback positions and said he could even contribute at safety. That ability to play all over the secondary could be his ticket, not only to a roster spot but even possible playing time as a rookie.
"I think there's plenty of things I can bring to the Rams as far as going inside and playing the nickel, playing outside at corner, even moving back and playing some safety," Gaines said. "I'll do whatever I have to, to get on the field. Like I said, if it's special teams, inside, outside, safety, it doesn't matter."
As Gaines adapts to his new surroundings, special teams will probably be his primary objective. Before drafting Gaines, the Rams had a green dot next to his name which indicates special teams coach John Fassel believes he can be a contributor there right away.
That should buy Gaines time as he adjusts to the NFL and figures out his best fit on the defense.
"He's a good zone player, a good effort player, a solid tackler," Fisher said. "He shows man-to-man skills and he's a good athlete. We had some spots available at the position, so we feel like he's got a chance to come in and not only compete, but also do some things on special teams for us."
May, 12, 2014
5/12/14
11:30
AM ET
EARTH CITY, Mo. -- In the first two years with general manager Les Snead and coach Jeff Fisher in charge of their drafts, the
St. Louis Rams
earned a reputation as a team always looking to make a deal.
It was a logical necessity for a new regime looking to rebuild a roster that was mostly dreadful when it arrived after the 2011 season. In each of those first two drafts, the Rams made six trades, four of which were moves down in order to stockpile picks. Add picks, add bodies, improve the roster. That was the clear plan.
Now that the roster has grown and improved -- though it's still not where it needs to be in the difficult NFC West -- the Rams took a different tact in this year's NFL draft.
Trades were few and far between as the Rams consummated just one deal, a move up in which they sacrificed just a fifth-round pick to Buffalo to move up a few spots to secure Florida State defensive back
Lamarcus Joyner
in the second round.
That isn't to say that Snead and Fisher cut off connection to other teams but it's clear they weren't as interested in making deals as they have been in the past.
"I think we've said all along we like the roster," Snead said. "Obviously, it's young and obviously we've still got to develop. We've still got to continue to evolve. So that's not necessarily the reason why you just held pat. There was a few times we tried to make a move and couldn't."
Instead, the Rams spent most of the draft patiently waiting for players they hoped would fall to them. More often than not, the player did.
As the picks dwindled on Saturday, the Rams targeted Mizzou cornerback
E.J. Gaines
. They briefly considered packaging some of their seventh-round picks to move up, potentially back into the fifth round to secure his services.
Ultimately, they decided against it and Gaines fell into their lap in Round 6.
"Instead of using picks to go get him, we said, 'Let's hold pat,'" Snead said. "We did a little research and felt he might fall, and then you're able to utilize more picks in the seventh."
In the early rounds, the Rams never legitimately considered any potential trade-down options. Buffalo touched base with the Rams at No. 2 before making a deal to move up to No. 4 with Cleveland but the Rams weren't interested in moving seven spots to No. 9 and losing out on one of their elite six players.
The Rams also considered a bold move back into the first round. They attempted to deal with Baltimore at No. 17 after adding tackle
Greg Robinson
and defensive tackle
Aaron Donald
already. The target was Notre Dame offensive lineman
Zack Martin
and it would have been costly but the deal died when Dallas took Martin at No. 16.
There were also rumblings of interest in the Rams moving back into the first round later for Texas A&M quarterback
Johnny Manziel
but again the price was going to be prohibitive and Cleveland was in better position to finalize a deal while only moving up four spots to take him at No. 22.
All told, the Rams added 11 players through the draft. The chances of all of the drafted rookies making the roster aren't good, which is just another indication the Rams have a lot of faith in their current roster.
May, 10, 2014
5/10/14
6:35
PM ET
»
NFC wrap-ups
:
East
|
West
|
North
|
South
»
AFC
:
East
|
West
|
North
|
South
EARTH CITY, Mo. -- A wrap-up of the
St. Louis Rams
' draft.
Best move:
Putting football aside, the Rams made a historic move in using the 249th overall pick on Missouri defensive end
Michael Sam
. Sam became the first openly gay player drafted to the NFL. There will be plenty of time to discuss how he fits the defense, his chances of making the roster and everything else a draft pick entails. But for now, the Rams should be applauded for taking an important step that will have a lasting impact well beyond the confines of a football field.
[+] Enlarge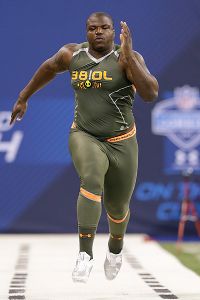 AP Photo/Nam Y. HuhThe Rams strengthened both lines with their two first-round picks, starting with offensive tackle Greg Robinson at No. 2 overall.
Best move, II:
Using their two first-round picks to bulk up on the lines. The Rams could have gone many ways with the Nos. 2 and 13 picks in the first round, and there were other avenues that would have been fine, but they showed a lot of self-awareness by staying at those spots and grabbing Auburn offensive lineman
Greg Robinson
and Pittsburgh defensive tackle
Aaron Donald
. The NFC West is the toughest, most physical division in football. Most games in this league are won up front, but all games in the NFC West are. It's not going to be easy to outmuscle the likes of the
San Francisco 49ers
,
Seattle Seahawks
and
Arizona Cardinals
, but the Rams proved capable of it two seasons ago before taking a step back last season. The first two picks are a sign they don't intend to have their lunch money stolen as often in 2014.
Riskiest move:
Waiting until the sixth round to take a quarterback. There, the Rams selected Southern Methodist's
Garrett Gilbert
. In the run up to the draft, the Rams insisted that not only did they want to get a quarterback, they wanted to land someone capable of pushing starter
Sam Bradford
. Apparently, they didn't feel too strongly about that. The Rams should be set at the backup spot with free-agent addition
Shaun Hill
on the roster, but the future of the position remains up in the air. Bradford has two years remaining on his contract but needs to prove his durability and produce at a higher level for a full season before the team commits to him for the long haul. It's not impossible for Gilbert to develop into a solid backup, but counting on him to provide a possible long-term solution or push Bradford for the job is folly.
Most surprising move:
Spending a third-round pick on running back
Tre Mason
. This isn't to say the Rams didn't need help at the position. Starter
Zac Stacy
has had issues with minor injuries costing him a series here or a quarter there.
Benny Cunningham
has flashed potential, but the sample size is small. This isn't anything against Mason, who is a good back with outstanding college production. It's just more of a surprise that the team went with a back with more pressing needs to be filled. The Rams insist Mason was too much value to resist, but it's fair to wonder whether they could have waited to get a back capable of contributing. After all, they landed Stacy in the fifth round a year ago.
File it away:
Keep an eye on Missouri cornerback
E.J. Gaines
, the team's first sixth-round pick, taken at No. 188 overall. The Rams drafted
Lamarcus Joyner
to handle the nickel duties, and he'll step in right away at that spot, but Gaines played outside on both sides and showed the flexibility to play inside for the Tigers. That versatility should give Gaines a chance to contribute right away and potentially become the primary backup at all three spots. Gaines started 37 games in his career, including a strong performance against Texas A&M receiver
Mike Evans
in a 2013 matchup. Evans had just four catches for 8 yards in that game. Although A&M quarterback
Johnny Manziel
wasn't at full strength, Gaines earned rave reviews for that performance from scouts in the pre-draft process. Gaines was a sixth-round pick, so expectations won't be too high, but that also puts him in position to exceed the ones that exist.