NFL Nation:

Eagles-Chargers 111509
November, 15, 2009
11/15/09
11:07
PM ET
By
Matt Mosley
| ESPN.com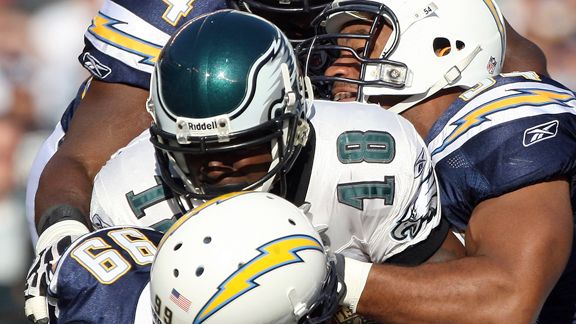 Donald Miralle/Getty ImagesThe San Diego defense made it difficult for the Eagles to get into the end zone from point-blank range.
SAN DIEGO -- Perhaps the
Philadelphia Eagles
should just save themselves the jet fuel in future West Coast trips. Sunday's
31-23 loss
to the
San Diego Chargers
wasn't quite as embarrassing as going belly up in the Black Hole, but it had its moments.
With the defense short on quality personnel, the Eagles needed their offense to realize its explosive potential and beat the Chargers in a shootout. But by the time wide receiver
Jason Avant
decided to take over the game, the Eagles had already dug themselves too deep a hole to overcome.
Donovan McNabb
's eye-popping 35-of-55 for 450 yards and two touchdowns will please fantasy owners, but those are empty numbers when it comes to this team's win total, which by the way is stuck on five. By taking the weekend off, the
New York Giants
leaped into a second-place tie with the Eagles at 5-4, and the
Dallas Cowboys
fell to 6-3 with a
17-7 loss in Green Bay
. The Eagles are still in the thick of the playoff race, which says more about the watered-down NFC than it does about anything this team has actually accomplished.
The Eagles' defense found a way to revive
LaDainian Tomlinson
's fading career, allowing him to rush for 96 yards and a pair of touchdowns. Eagles defensive coordinator Sean McDermott paid homage to Tomlinson after the game, but he tacked on a few harsh words for his players.
"When you play passive football, and not attacking, any running back's going to have a good day," McDermott said.
But it's hard to pick on a unit that was filled out by such immortals as
Dimitri Patterson
and
Ramzee Robinson
. On the play that the Chargers basically sealed the win late in the fourth quarter, McDermott called for safety
Quintin Mikell
to cover Pro Bowl tight end
Antonio Gates
. The Eagles actually have a puncher's chance in that matchup, but someone on the field checked out of that coverage, which forced Patterson to cover Gates instead. Rivers connected with Gates for a 17-yard completion -- and the Eagles began preparing for the in-flight movie.
"Yeah, if we could go back to that, we'd probably make a different check," Mikell deadpanned.
But at least the defense had some legitimate excuses for yielding 31 points. The Eagles' offense had all of its weapons on the field during the second half. They were missing left tackle
Jason Peters
(ankle), but McNabb had plenty of time to deliver the ball throughout the game.
After falling behind 14-0, the Eagles drove 77 yards and had first-and-goal at the Chargers' 1-yard line after
Jeremy Maclin
drew a pass interference penalty from
Quentin Jammer
. Three failed plays later, the Eagles were forced to settle for an 18-yard field goal.
On first down, Eagles fullback
Leonard Weaver
was stuffed for no gain, and on the next play McNabb fired an incomplete pass to
Brent Celek
in the corner of the end zone. On third-and-goal from the 1, coach Andy Reid decided it was a good spot to give rookie
Eldra Buckley
the first meaningful carry of his career. Former Cowboys linebacker
Kevin Burnett
blew up the play.
"When we get in there, we take a lot of pride in scoring touchdowns and not field goals," Reid said. "When you're that close with a first down, you expect to get in there, especially when you've seen [the Chargers] do it the week before, you want to use that and better yourself off somebody else's errors. We weren't able to do that."
The Eagles made two other trips inside the Chargers' 10-yard line that resulted in field goals. Trailing 21-6 in the third quarter, Reid opted to kick the field goal when the Eagles had a fourth-and-1 at the Chargers' 7-yard line. Avant could be seen mouthing the words, "C'mon coach!" in frustration as Reid sent
David Akers
onto the field.
For all of his offensive genius, Reid may be among the worst multi-taskers in the league. His problems with game management (burn those timeouts early) are well-documented, but you also have to question his game planning after Sunday's loss.
It took another
Brian Westbrook
concussion for rookie
LeSean McCoy
to get involved Sunday. McCoy had only two carries in the first half. And we're not talking about a guy who's been a fringe participant on this team. He's been one of the top rookies in the league, but Reid couldn't find a way to get him involved.
The coach said last week that Westbrook and McCoy probably would rotate series, but that's not what happened. At halftime, the Eagles had eight carries for 9 yards. McCoy, who finished with three carries for 5 yards, was at a loss for words as he was asked to explain his limited role.
"I really can't answer that," said McCoy. "It was kind of a normal week. There really wasn't a big difference."
I've heard some people within the organization suggest that Reid doesn't trust McCoy as a pass-blocker, but that's not a concern as long as McCoy has the ball in his hands. I think Reid spent the week trying to make sure Westbrook was featured in the game plan -- to the detriment of McCoy.
Reid devoted more time to calling plays for
Reggie Brown
(yes, still on the roster) than he did for one of the league's most talented rookie running backs. The Eagles had so much success with the big play in the first half of the season that they've forgotten how to score from point-blank range.
The silver lining for the Eagles is that they appear to be surrounded by mediocrity in the NFC East. Oh, and the West Coast portion of their schedule is complete.
November, 15, 2009
11/15/09
8:54
PM ET
By
Matt Mosley
| ESPN.com
SAN DIEGO -- Eagles coach Andy Reid made it very clear the club would proceed with caution in dealing with running back
Brian Westbrook
's second concussion in three weeks. Westbrook had missed the previous two games because of the concussion. He played the entire first half, but he donned a baseball cap and sat on the bench during the second half.
"We're going to do everything the right way, and take every precautionary measure to make sure Brian's OK," Reid told reporters. "In these types of situations, football is secondary. You have to look out for this kid for his future and make sure he is OK before he gets back out there."
Translation: We may not see Westbrook on the field for quite some time. In fact, I wouldn't be surprised to see him shut down for the rest of the season if this turns out to be another serious concussion.
November, 15, 2009
11/15/09
7:36
PM ET
By
Matt Mosley
| ESPN.com


SAN DIEGO -- Don't let the final score fool you. The Eagles put together a frantic comeback in the fourth quarter, but the hole they dug was too deep to overcome.
Once again, the Eagles came up embarrassingly empty on a trip to the West Coast. I'm sure some folks will try to blame this loss on injuries to the defense, but the Eagles should have enough talent in reserve not to get run off the field by the Chargers.
Before their desperate comeback, the Eagles allowed quarterback
Philip Rivers
too much time in the pocket. And it seems that someone forgot that
Antonio Gates
is a game-changing player. He often found himself in one-on-one matchups with inexperienced linebackers -- and that's not a fair fight.
When the Eagles desperately needed a stop late in the fourth quarter, it was rookie
Dimitri Patterson
who was assigned to chase Gates across the middle. Rivers connected with Gates for 17 yards on the play and the game was over.
The Eagles have been solid against the run for much of the season, but
LaDainian Tomlinson
gashed them for 82 yards and two touchdowns in the first three quarters. He may have lost a step, but you couldn't tell it by watching him play against the Eagles' front seven.
It was also the second consecutive game in which the Eagles were not able to convert in a key short-yardage situation. They had a first-and-goal at the Chargers' 1-yard line in the first half -- and came away with only three points.
Brian Westbrook
was effective in spots during the first half, but he suffered another concussion and missed the entire second half.
That forced Andy Reid to get rookie
LeSean McCoy
involved in the offense, something he needed to do earlier in the game. Wide receiver
Jason Avant
kept the Eagles in the game with his career-best game. He made one-handed catch and pretty much anything else asked of him.
In the end, the Eagles simply didn't leave themselves enough time. At 5-4, the Eagles will now slug it out with teams such as the Giants and Falcons for a wild-card spot. But this doesn't look like a playoff team at all right now.
The good news is that they don't have to return to the West Coast. Oh, and the Cowboys lost to the Packers on the road. I'm sure Eagles fans can take some solace on that.
November, 15, 2009
11/15/09
6:52
PM ET
SAN DIEGO -- After a fairly productive first half, Eagles running back
Brian Westbrook
hasn't put his helmet on during the second half. He stood on the sideline early in the second half and he's since retreated to the bench, where he's wearing a baseball cap.
The Eagles have not issued any updates on Westbrook's status. And with the Eagles trailing by two scores, it's not like they've turned to the running game. Westbrook's absence has forced Andy Reid to play rookie running back
LeSean McCoy
, something he should've been doing from the start.
The Eagles just started this drive (12:13 left) in a four-receiver set. They're using McCoy as a receiver and they're dragging
Jason Avant
across the middle on underneath routes. Now would be a good time for the Eagles to dial up a deep ball to
DeSean Jackson
. Ladies and gentlemen, Avant has taken over this football game. Seriously.
November, 15, 2009
11/15/09
6:00
PM ET
By
Matt Mosley
| ESPN.com
SAN DIEGO -- Nothing much to like for Eagles fans in that first half, but here are a few observations:
What's up with rookie running back LeSean McCoy not being part of the offensive game plan? Does that make any sense to anyone? I know Brian Westbrook's back from his injuries, but that doesn't mean McCoy needs to be sidelined. That's a pretty good example of how Andy Reid struggles with multi-tasking.
It's interesting to see how involved Reggie Brown's been in the offense. We haven't seen this guy in weeks and he's now been targeted at least six times that I can recall. I was making fun of the strategy, but he has made two solid catches.
When you have first-and-goal at the opposing team's 1-yard line, surely there's a play that can get you in the end zone. The Eagles threw away second down with a lame throw to the corner. The play had no chance of working because of its poor design. It's the second consecutive game in which the Eagles have failed to convert in that situation. They could've been down only 14-10 if they find a way to pound the ball into the end zone.
Donovan McNabb is 15-of-25 for 179 yards right now. But he hasn't really had a chance to get in a great rhythm. The one thing I'll say is that the offensive line's given him plenty of time. I haven't noticed Todd Herremans having a lot of problems at left tackle.
DeSean Jackson needs to make a play for his quarterback. Could've had a big play when Michael Vick came in during the second half. But Jackson couldn't handle it because the ball was behind him.
NFL SCOREBOARD
Sunday, 2/2
WEEKLY LEADERS