NFL Nation:

Eagles-Giants 121309
December, 14, 2009
12/14/09
2:47
AM ET
By
Matt Mosley
| ESPN.com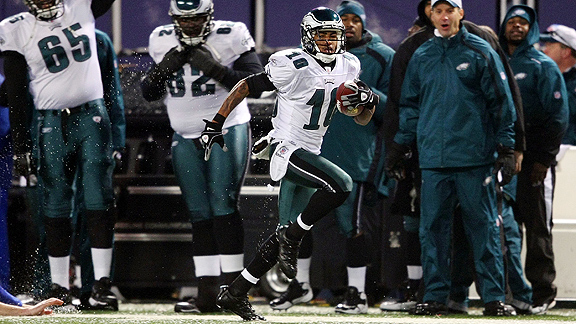 Nick Laham/Getty ImagesDeSean Jackson tied an NFL record for touchdowns of 50 yards or more in a season Sunday.
EAST RUTHERFORD, N.J. -- As a general rule, if you're going to give up 512 yards to the Giants, it's best to have
DeSean Jackson
on your roster. The Eagles' wide receiver has been turning heads for two seasons, but on Sunday night he showed the nation why he's become the most explosive player in the league.
He's the ultimate X-factor on a team that is once again peaking at the right time. And this season, the Eagles may even leave themselves some breathing room. With a
45-38
win in their final trip to Giants Stadium, Philadelphia took sole possession of first place in the NFC East. The Eagles almost seemed to be toying with the Giants before finally pulling away in the fourth quarter.
And in the biggest game of the season to this point, Jackson was by far the best player on the field. Even the stoic Andy Reid can't suppress a smile when he's asked about his precocious star. Jackson isn't much for sideline decorum, so he's often in Reid's ear offering up helpful suggestions such as, "They can't cover me, coach!"
On this night, Jackson scored on a 72-yard punt return and a 60-yard reception. He averaged 44.8 yards on his first five touches of the game and the Giants' defensive backs looked even more helpless than usual. It seemed appropriate that Jackson tied a record for most touchdowns in a season of 50 yards or more (with eight). Jackson is now one of three players to hold the record; the other two are the Bears'
Devin Hester
('07) and former Los Angeles Rams great Elroy "Crazy Legs" Hirsch ('51). Jackson does everything with a flair, so it's about time we give him his own catchy nickname.
When it appeared the Giants had settled things down in the second quarter, Jackson fielded a punt at his 28-yard line and immediately retreated several yards to his right. Giants special-teams aces
Domenik Hixon
and
Bryan Kehl
converged on Jackson, but they left him a tiny escape route along the sideline and he raced 72 yards to the end zone. There's a gear that Jackson has that pretty much eliminates any angle a defender might have.
"That return was disgusting," said Eagles tight end
Brent Celek
, who added his seventh touchdown of the season Sunday. "There's no player like him in the league. There are some great receivers out there, but no one's as quick and fast as him."
Before the game, word spread through the Eagles' locker room that the Cowboys had lost to the Chargers. Several players admitted the good news gave them an extra spark in jumping out to a 14-0 lead during the first six minutes. But unlike the Eagles' win at the Linc last month, the Giants refused to go away in Sunday's game. With 5:12 left in the third quarter, Hixon got loose for a 61-yard touchdown to give the Giants a 31-30 lead. On the sideline, Reid said that Jackson was "bugging" him about wanting the ball.
On the next play from scrimmage, quarterback
Donovan McNabb
dropped back in the pocket and had an eternity to survey the field. With each passing moment, everyone's eyes looked for Jackson, who was in the process of running away from Giants safety
Aaron Ross
. McNabb delivered a perfect pass and Ross' dive came up empty. Jackson punctuated the 60-yard touchdown by running the final 10 yards backward.
"I feel like I'm kind of the big play, the go-to receiver at crucial moments," said Jackson after the game. "So I went to Donovan, coach Reid and Marty Mornhinweg and I told them, 'Just put the ball in my hands.' They were doing some single coverage a couple times and I was like, 'There's no way they can single coverage me.' "
Jackson missed last week's win over Atlanta while recovering from a concussion, but he said he felt fine leading up to Sunday's game. Reid still marvels at how calm Jackson seems to be in big games.
"New York's a pretty big venue," said Reid. "But [with Jackson], it's like we're playing in the backyard. He loves playing the game."
December, 14, 2009
12/14/09
2:36
AM ET
By
Matt Mosley
| ESPN.com
EAST RUTHERFORD, N.J. -- Eagles quarterback
Donovan McNabb
was asked after the game if
DeSean Jackson
reminds him of anyone in the league. He pretty much said that Jackson's created his own niche.
"You try not to compare him to anyone," McNabb said. "He wants to make a name for himself and rightfully so. I think he separates himself from the others. I had the opportunity to play with a guy like
Marvin Harrison
and he was an explosive player. Obviously, T.O. was an explosive player, but that kind of takes credit away from [Jackson] when you try to compare him to someone else. I think the things he's able to do, he hasn't really displayed everything and that's the positive thing about it for all of us to be a part of. To see the fact that you just see glimpses of it. If it's him catching the ball, the punt return, if it's him catching the ball on a 15-yard route and turning it into 25-30. The sky is the limit for him as well as the other guys."
As I say in my column that will be posted soon, I think Jackson has become the most explosive player in the league. What do you guys think?
December, 13, 2009
12/13/09
11:27
PM ET
By
Matt Mosley
| ESPN.com
EAST RUTHERFORD, N.J. -- Like we said, how in the world can the Giants have it inside Eagles territory and then decide to play the field position game? The Eagles responded with a seven-minute, 91-yard drive to effectively slam the door on the Giants -- maybe.
Donovan McNabb
did an excellent job of eluding pressure and finding his receivers. And what a nice job
Reggie Brown
did after the catch to put the Eagles at the Giants' 6-yard line. How can Bill Sheridan make it through the rest of this season? His defense has simply been overwhelmed at the worst possible moments.
December, 13, 2009
12/13/09
11:17
PM ET
By
Matt Mosley
| ESPN.com
EAST RUTHERFORD, N.J. -- With his remarkable performance tonight, Eagles wide receiver
DeSean Jackson
has tied
Devin Hester
and Elroy "Crazy Legs" Hirsch (1951) for the most touchdowns of 50 yards or more in a season with eight. Before he made that last catch, Jackson had averaged 44.8 yards on five touches. He may be the most electrifying offensive player in the league right now.
Sorry, but can someone help me with that last play call by the Giants. They have the ball on the 43-yard line of the Eagles -- and they call an inside handoff? Really? After watching
Hakeem Nicks
and
Kevin Boss
run wild against this defense, that's the best you can do?
The Eagles offense won't stay quiet for long. You have to put the hammer down when you have the chance.
December, 13, 2009
12/13/09
10:39
PM ET
By
Matt Mosley
| ESPN.com
EAST RUTHERFORD, N.J. -- Tom Coughlin knows he can't settle for field goals against Andy Reid's magical, mystical Wildcat machine. And that's why he elected to go for it on fourth-and-goal from the Eagles' 1-yard line. The Giants desperately need a defensive stand. A three-and-out would be huge, but it's hard to imagine as long as
DeSean Jackson
's on the field.
Giants right tackle
Kareem McKenzie
has a right knee sprain and he won't return. Will Beatty has replaced McKenzie and he did a nice job on that first drive of the half. Giants may want to think about covering
Brent Celek
. Just a thought.
December, 13, 2009
12/13/09
10:06
PM ET
By
Matt Mosley
| ESPN.com
EAST RUTHERFORD, N.J. -- I said early on that the Giants couldn't afford to let the Eagles lure them into a track meet -- and I still believe that. But you have to hand it to the Giants for answering the Eagles each time they've gone up by 14 points. The problem, though, is the Giants left the Eagles way too much time.
Donovan McNabb
just eluded a rusher and hit
DeSean Jackson
for a 44-yard pass. The Eagles should have a two-score lead at the half. And they may end up with a two-touchdown lead.
December, 13, 2009
12/13/09
9:54
PM ET
By
Matt Mosley
| ESPN.com
EAST RUTHERFORD, N.J. -- After missing one game because of a concussion,
DeSean Jackson
has returned with a fury. He fielded an awful punt from
Jeff Feagles
and darted to his right. In their haste to tackle him,
Domenik Hixon
and
Bryan Kehl
broke containment on the outside and Jackson made them pay.
He hit the sideline and it was all over for a 72-yard touchdown. He now has the Eagles record for most punt returns for a touchdown with three. It was another brilliant play for one of the most dangerous players in the game. And it gives the Eagles a 24-10 lead late in the first half.
December, 13, 2009
12/13/09
9:40
PM ET
By
Matt Mosley
| ESPN.com
EAST RUTHERFORD, N.J. -- It looked like Giants safety
Aaron Rouse
made significant contact with Eagles tight end
Brent Celek
well before the ball arrived in the end zone. No call was made and the Eagles were forced to settle for a 20-yard field goal and a 17-10 lead.
On the second down play,
Michael Vick
lined up wide and then took a pitch from quarterback
Donovan McNabb
before throwing an incomplete pass toward
Reggie Brown
. Rouse got a hand on the ball to knock it away. But again, do you really need to turn to a razzle dazzle play when you're on a team's 2-yard line?
Giants are very fortunate to only give up the field goal on that possession. First team to 35 wins this game.
December, 13, 2009
12/13/09
9:24
PM ET
By
Matt Mosley
| ESPN.com
EAST RUTHERFORD, N.J. -- Making the first start of his NFL career, Giants rookie wide receiver
Hakeem Nicks
dropped a certain touchdown pass. Then he mistimed his leap and missed another catch along the sideline. Both times, the Giants were bailed out by illegal contact penalties on
Quintin Mikell
.
But given a third opportunity, Nicks turned a short catch into a 68-yard touchdown. Cornerback
Asante Samuel
tried to go for the interception and then the normally dependable Mikell whiffed on a tackle. Nicks showed excellent speed on the way to the end zone. Eagles up, 14-10. Crowd back into it.
December, 13, 2009
12/13/09
9:14
PM ET
By
Matt Mosley
| ESPN.com
EAST RUTHERFORD, N.J. -- According to sources close to the Eagles P.R. department,
Sheldon Brown
is now tied with
Eric Allen
and
Seth Joyner
for the most defensive touchdowns in team history with five. And while we're talking about records,
Steve Smith
only needs two catches to break
Amani Toomer
's single-season catch record of 82.
Toomer served as one of the honorary captains before tonight's game. The Giants have trimmed the Eagles lead to 14-3. But you can't get away with settling for field goals against this quick-strike offense. I'm worried about Tom Coughlin's health. The man has been working over the officials for the past five minutes or so. He's upset about a personal foul call on
Terrell Thomas
.
December, 13, 2009
12/13/09
8:55
PM ET
By
Matt Mosley
| ESPN.com
EAST RUTHERFORD, N.J. -- I don't think
Brandon Jacobs
ever had a good grip on the ball before he fumbled. He had switched arms and then Eagles defensive end
Trent Cole
made contact from behind. The ball just sort of popped out on its own and
Sheldon Brown
was off to the races. It was a 60-yard fumble return for a touchdown.
Giants are on the move now but I don't like their chances in a track meet. The Eagles have the capacity to score a lot faster than the Giants. As we pointed out earlier,
Hakeem Nicks
is making his first professional start. You knew it would happen at some point this season. I'm not sure why it took so long. I think he's been more dependable than Marion Manningham for weeks now.

NFL SCOREBOARD
Sunday, 12/22
Monday, 12/23