NFL Nation:

early kickoffs
September, 22, 2012
9/22/12
1:00
PM ET
The San Francisco 49ers' recent dominance has transcended time and location.

The note
about the 49ers having won five consecutive games kicking off at 10 a.m. PT now has additional context: "That's the longest such streak by a team from the Pacific or Mountain time zones since the Raiders won six in a row spanning the 1999 and 2000 seasons."
Thanks to Jeremy Mills and Jason Vida from ESPN Stats & Information for tracking down the note with an assist from Elias Sports Bureau. Thanks to everyone else for noticing I scheduled this item for 1 p.m. ET.
Only a 49ers victory against Minnesota on Sunday stands between San Francisco and its Bay Area counterpart.
September, 21, 2012
9/21/12
1:30
PM ET
»
NFC Final Word
:
East
|
West
|
North
|
South
»
AFC
:
East
|
West
|
North
|
South
Five nuggets of knowledge about Week 3:
Playing to their strengths:
The
Arizona Cardinals
went into this season feeling as though their defense, special teams and rushing attack could carry them as long as the team reduced turnovers at quarterback. The ground game has yet to get going for Arizona, but the rest of the formula has helped the Cardinals reach 2-0. Quarterback
Kevin Kolb
has yet to throw an interception, and he is taking fewer chances down the field. His passes have traveled 5.9 yards past the line of scrimmage on average, the lowest figure in the league this season. That number is well below the NFL average (8.2) and the 7.9-yard average for Kolb last season. Getting more aggressive carries risks. Philadelphia has held opposing quarterbacks to a 6.7 out of 100 Total QBR, the second-lowest figure in the NFL.
[+] Enlarge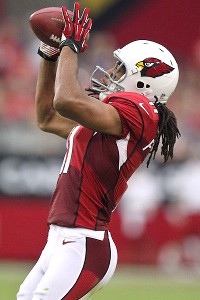 AP Photo/Paul ConnorsLarry Fitzgerald has eight TDs in four games against the Eagles.
Something has to give:
The Cardinals have won nine of their past 11 games, tied with New England, San Francisco and Green Bay for the best regular-season record during that span. That includes a 7-1 record for the Cardinals in their past eight games, tied with the Patriots for best in the league. Arizona's Week 3 opponent, Philadelphia, has won its past six regular-season games, the longest active streak. But with the Eagles suffering nine turnovers this season and Arizona failing to exceed 20 points in either game, these 2-0 teams are sliding under the radar a bit. A breakout game from
Larry Fitzgerald
(five receptions this season) could restore some offensive identity to Arizona. Fitzgerald has averaged 114 yards per game against the Eagles, the most for any player with at least four games against Philadelphia. He has 26 catches for 456 yards and eight touchdowns in four matchups.
Early bird special:
Western teams have long complained about too many road games kicking off at 10 a.m. PT. The
San Francisco 49ers
have
done their share
of the complaining, but with a victory at Minnesota in an early kickoff Sunday, the 49ers can run their record to 6-0 under coach Jim Harbaugh when kicking off at 10 a.m. PT. None of the other Western teams -- Arizona, San Diego, Oakland or Seattle -- has approached such a run in recent years. The 49ers had gone 2-9 in their previous 11 games kicking off that early. They were 7-27 in early kickoffs under Mike Nolan and Mike Singletary. The best teams can win just about any time and anywhere. The 49ers, 15-3 under Harbaugh, have become one of those teams.
Turning a corner:
The
St. Louis Rams
need a victory at Chicago to exceed a .500 winning percentage for the first time since the 2006 team stood 4-3 after Week 7. Quarterback
Sam Bradford
has been a key to St. Louis' increased competitiveness. He has arguably outplayed
Matthew Stafford
and
Robert Griffin III
in the Rams' first two games. Can he outplay the Bears'
Jay Cutler
? That seems like a reasonable expectation after Cutler threw four picks and took seven sacks against Green Bay. Both teams' top running backs have injury concerns, putting even more of the focus on the quarterbacks. Bradford completed all nine of his third-down passes against Washington last week. He'll face a Bears defense that held
Andrew Luck
and
Aaron Rodgers
to a combined 5 of 14 passing with one pick and four sacks on third down. Luck went 1-for-7 and threw the interception.
Roughing up receivers:
Seattle cornerback
Brandon Browner
led the NFL in penalties last season with 19. That included six for pass interference, four for defensive holding, four personal fouls and three for illegal contact. Browner continues to play an aggressive brand of cornerback. At 6-foot-4, he must put his size to use. Through two games this season, Browner has drawn only one penalty -- defensive holding in the season opener at Arizona. Being able to play aggressively against the Packers' smaller receivers could be a key for Seattle against Green Bay on Monday night.
ESPN Stats & Information contributed to this piece.
July, 3, 2012
7/03/12
1:00
PM ET
Each NFL team played eight regular-season road games in 2008, same as every season.
The
Seattle Seahawks
traveled 29,912 air miles for their road games. The
Pittsburgh Steelers
traveled 5,682 air miles for theirs.
Grantland's Bill Barnwell explores
what those disparities can mean
for NFL teams. He does not directly address
how kickoff times compound travel issues
for Western teams, but his research is welcome to those hoping to affect positive change in that area. It's good to have someone without an NFC West address carrying the conversation.
Of course, there is no remedy beyond franchise relocation for some of the travel headaches. As Barnwell writes, "Pittsburgh accrues about 1,122 miles in traveling to and from its divisional rivals, while Seattle's round-trips to their NFC West brethren clock in at a whopping 7,024 miles."
The
San Francisco 49ers
have fought the mileage deficit by remaining on the road between two-game swings. They did it last season and plan to do so again in 2012, this time between visits to the
Minnesota Vikings
and
New York Jets
. They won close games against Cincinnati and Philadelphia during their two-game trip in 2011.
NFC West teams appear to be improving, particularly on defense. That should help them become more competitive at any time or place.
Note:
I'm told ESPN.com is working to restore functionality to the comments sections.
April, 20, 2012
4/20/12
12:54
PM ET
Bravo to Jim Harbaugh and the 2011 San Francisco 49ers for proving West Coast teams could flourish against a schedule packed with dreaded 10 a.m. PT kickoffs.
The 49ers went 5-0 in those games, including 4-0 when those games were in the Eastern time zone. That was a monumental achievement, but also an aberration for all but the very best Western teams, notably the great 49ers teams of decades past.
After
hammering on this issue
for years out of a sense of Western duty, it's great to know backup has arrived.
Scott Kacsmar's piece
for Cold, Hard Football Facts takes the research to another level, demonstrating more convincingly the disadvantage Western teams face heading East.
Game results from 2007 show teams from each time zone posting very similar home winning percentages. The road winning percentages are far worse for Western teams, and dramatically so for those dreaded early kickoffs -- especially when adjusting to exclude divisional road games against Central time opponents St. Louis and Kansas City.
"Games between teams from the same time zone saw the home team's record hover around the NFL's normal home-field advantage," Kacsmar writes. "The big news is the Eastern teams dominating the six Western teams, going 44-15 (.746) against Pacific, and 24-11 (.686) against the Mountain. Combined, that is a staggering 68-26 (.723) record against Western teams. ...
"If home-field advantage is only supposed to be around 57 percent (and Eastern teams are just .536 against Central teams), then this increase of over 15 percentage points for East vs. Western is clearly a significant advantage."
Hey, even the NFC West blog runs on Eastern time, as the time associated with this item declares. There's no question those 10 a.m. blog entries are weaker than their later counterparts.
October, 16, 2011
10/16/11
9:04
AM ET
DETROIT -- The
San Francisco 49ers
arrived in Detroit on Friday. Good for them.
As for my journey from the West Coast?
Well, it began Saturday morning and ended, after multiple delays, at about 3 a.m. ET Sunday. The clock on my laptop reads 4:55 a.m. PT at the moment. I trust the 49ers will be much better adjusted to the Eastern time zone as they seek to improve upon their 2-0 record this season in games kicking off at 10 a.m. PT.
NFC North blogger Kevin Seifert and I will be heading to Ford Field beginning around 9:30 a.m. ET. We hope you can join us for an in-game chat once the 5-0 Lions and 4-1 49ers kick off. I'll provide the link once it's available.
Oh, and if you haven't left predictions for NFC West games in Week 6, please do so in the comments section of
this previous item
. I took the Lions at home by a narrow margin, figuring the 49ers had a decent chance to prevail.
November, 28, 2010
11/28/10
1:52
PM ET
SEATTLE -- NFC West teams play only late games Sunday or the prime-time game Monday, leaving those on the West Coast little reason to renew
old complaints
.
I'll reproduce an updated version of a chart I've been running periodically on the blog. The concept is becoming a little outdated in one sense: There's little reason to differentiate between 10 a.m. PT kickoffs at St. Louis or elsewhere because the Rams are competitive.
The Arizona Cardinals play an early game at Carolina in Week 15. The San Francisco 49ers face the Green Bay Packers (Week 13) and Rams (Week 16) in early games. The Seattle Seahawks play an early kickoff at Tampa Bay in Week 16, but they are six games into a nine-game stretch without a 10 a.m. PT kickoff.
Seattle won at Chicago in an early kickoff this season. The Cardinals and 49ers are a combined 0-6 as visitors in early kickoffs. Both teams have issues transcending time, of course, but teams based in the West have complained about having to play earlier than their body's internal clocks would prefer. An early kickoff can mean 5 a.m. PT wake up calls on game days.
A quick look at early kickoffs for Western teams this season:
San Francisco (5): Games against Kansas City (Week 3), Atlanta (Week 4), Carolina (Week 7), Green Bay (Week 13) and St. Louis (Week 16) were scheduled for 10 a.m. PT. The 49ers also had a 10 a.m. PT game at London in Week 8. I have excluded that one.
Arizona (4): Games against Atlanta (Week 2), Minnesota (Week 9), Kansas City (Week 11) and Carolina (Week 15) were scheduled for early kickoffs.
Oakland (4): Games against Tennessee (Week 1), Pittsburgh (Week 11), Jacksonville (Week 14) and Kansas City (17) begin at 10 a.m. PT.
Seattle (3): Games against St. Louis (Week 4), Chicago (Week 6) and Tampa Bay (Week 16) were schduled at 10 a.m. PT.
San Diego (2): Games against St. Louis (Week 6) and Houston (Week 9) featured early kickoffs.
October, 17, 2010
10/17/10
9:27
AM ET
CHICAGO -- The
Seattle Seahawks
,
San Francisco 49ers
and
Arizona Cardinals
are 0-4 this season and 10-54 (.156) since 2005 in non-division road games kicking off at 10 a.m. PT.
Their record is 17-30 (.362) in non-division road games kicking off later than 10 a.m. PT.
That is something to keep in mind when the Seahawks' team buses
leave for Soldier Field at 6:30 a.m. PT
Sunday for a 10 a.m. PT kickoff against the
Chicago Bears
.
This game will mark the second of three 10 a.m. PT kickoffs for Seattle this season. The Seahawks' charter plane departed Seattle for Chicago on Friday in an effort to let players' internal clocks adjust to the time difference.
The second chart breaks down all Western teams' road records since 2005. Games against the
St. Louis Rams
were broken out separately.
A quick look at early kickoffs for Western teams this season:
San Francisco (5): Lost at Kansas City (Week 3), lost at Atlanta (Week 4). Visit Carolina (Week 7), Green Bay (Week 13) and St. Louis (Week 16).
Arizona (4): Lost at Atlanta (Week 2). Visit Minnesota (Week 9), Kansas City (Week 11) and Carolina (Week 15).
Oakland (4): Lost at Tennessee (Week 1). Visit Pittsburgh (Week 11), Jacksonville (Week 14) and Kansas City (17).
Seattle (3): Lost at St. Louis (Week 4). Visit Chicago (Week 6) and Tampa Bay (Week 16).
San Diego (2): Visit St. Louis (Week 6) and visit Houston (Week 9).
The Chargers have had a good team over the years. That's why they've fared better in early games and all road games. I do think the early kickoffs present special challenges for West Coast teams, however. Teams generally arrive for games one or two days early. An early kickoff can mean 5 a.m. PT wake-up calls on game days.

NFL SCOREBOARD
Thursday, 12/18
Saturday, 12/20
Sunday, 12/21
Monday, 12/22
WEEKLY LEADERS