NFL Nation:

Earnest Byner
August, 17, 2012
8/17/12
11:02
AM ET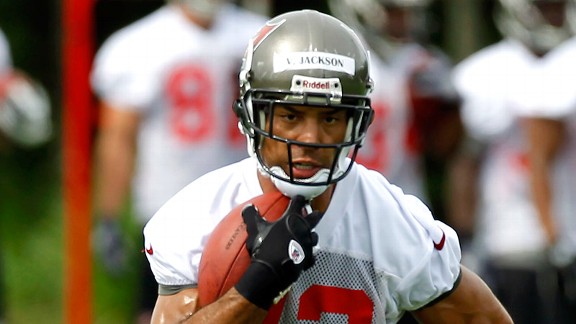 AP Photo/Chris O'MearaVincent Jackson, in his first season with the Bucs, adds some much-needed veteran leadership.
TAMPA, Fla. -- When the
Tampa Bay Buccaneers
went out and spent huge money on free agents
Carl Nicks
and
Vincent Jackson
back in March, part of the logic was to acquire unique physical talents.
"I would say specifically those two guys are two-time Pro Bowlers," general manager Mark Dominik said during a recent training camp visit. "Those guys just don't hit the market very often. That's the aggressiveness we went out of the chute with. We said, 'It's a rare chance to get two guys that have been multiple Pro Bowl players and that just doesn't happen in free agency.' Usually, those guys get locked up with their clubs and stay there forever."
But pure talent wasn't the only thing the Bucs were looking for when they signed Nicks and Jackson. The Bucs were the youngest team in the league the last two seasons and a lack of leadership became a big problem as the team lost its final 10 games last season. The fact Nicks played on a Super Bowl champion in New Orleans and that Jackson's San Diego teams were always at least in playoff contention made them even more attractive. They know how to win and that could help in the locker room.
"We also looked at it from a leadership aspect and that's a big part of the reason we're here," Dominik said. "Same with (backup quarterback)
Dan Orlovsky
and (tight end)
Dallas Clark
. We've been trying to do that across the board, to not only increase the talent of the football team, but to add some leaders as well. Just about every room has a guy that has that trait now. The running back room, that's where we're young, but that's where I thought hiring (running backs coach)
Earnest Byner
was important because he certainly has played the position and knows it well.''
Nicks said he didn't have to make a concentrated effort to be a leader with the Saints because New Orleans already had so many veterans. But Nicks said he's embracing a leadership role with the Bucs.
"We are a young team and I'm kind of looked at as the veteran and this is my fifth year,'' Nicks said. "It's kind of a different role for me. We're a young team and we've got a lot of talent, but it's got to come together and our attention to detail has to be second to none and our preparation has to be the best.''
Nicks and Jackson didn't have to walk into the building and tell their teammates they were leaders. Their resumes were enough to put them in leadership positions.
"Whenever you can get a champion in here, it's always good,'' guard
Davin Joseph
said. "Those are two championship-quality guys. They're guys that have been there and done that already and to bring their experience here is very important to our improvement and our growth.''
May, 18, 2011
5/18/11
1:00
PM ET
Examining the most crucial event in the history of every team in the division.
Fly into the city of Pittsburgh, and there is no doubt what is the most memorable moment in Steelers' history.
Inside Pittsburgh International Airport there is a life-sized statue of Hall of Fame running back Franco Harris' "Immaculate Reception." Harris caught a deflection off teammate Frenchy Fuqua late in a 1972 AFC divisional playoff game to score the winning touchdown in a 13-7 victory over the
Oakland Raiders
.
Msdmr writes:
"[Pittsburgh] had only been to playoffs twice at that point. It got them out of the doormat category, gave them tangible proof that they could win."
Krankor
watched the "Immaculate Reception" live on television nearly four decades ago: "I was a kid at the time, about 10 years old. What I remember most clearly was that, after the play, the delay while the officials decided what to call was unprecedented. I'd never seen anything like it, before or since."
Not everyone is impressed by the memorable play, especially those outside of Steeler Nation.
Washed_up_ball_player writes:
"Funny how the No. 1 selection, the 'Immaculate Reception,' is just a lucky play where the football gods smiled down on the Steelers. That sounds like the definition of the Steelers to me."
The "Immaculate Reception" led the way with 34 percent of the 40,000-plus votes as of 3 p.m. ET Tuesday, edging Pittsburgh's 1974 draft (31 percent) that included four Hall of Famers in linebacker Jack Lambert, center Mike Webster and receivers Lynn Swann and John Stallworth. The Steelers' 1974 draft is often considered the greatest in NFL history. We may never see four Hall of Famers drafted by one team in the same year again.
Former Steelers Hall of Fame coach Chuck Noll also had his share of supporters. Noll's hiring in 1969 received a solid 26 percent of the vote. Noll coached Pittsburgh to four Super Bowl wins in the 1970s before retiring in 1991. He started an impressive run of only three head coaches -- Noll, Bill Cowher and Mike Tomlin -- running the Steelers since 1969.
Jebei_espn also writes:
"The Steelers were always bad before they hired Chuck Noll and have been consistently good since then. Noll turned the franchise around and with great support from the Rooney family they started a great tradition that continues to this day."
RAVENS: First draft was huge
Speaking of impressive draft classes, the
Baltimore Ravens
had one of their own during their inaugural season in 1996.
The Ravens landed two future Hall of Famers in the first round. Baltimore selected left tackle
Jonathan Ogden
with the No. 4 overall pick and middle linebacker
Ray Lewis
at No. 26 overall, which received an impressive 54 percent of the vote as of Tuesday afternoon. Both players were longtime stalwarts on offense and defense, and Lewis, 36, still leads the Ravens entering his 16th season.
DaReel2008
summed it up best by writing: "Drafting Lewis and Ogden was our defining moment, and the others mentioned -- even the Super Bowl -- aren't even close. Ray Lewis and Jonathan Ogden are two of the best players to ever play their positions. They not only helped carry the Ravens to a Super Bowl, but made us a perennial contender for most of the last 12 years. Our team prides itself on its character and its toughness, both of which are embodied by these two players, who will be in the HOF upon their first year of eligibility."
The Ravens also got a nice sleeper in the fifth round of the 1996 draft by getting receiver and return specialist
Jermaine Lewis
. He was the first of many gems Baltimore's front office was able to discover in the middle and late rounds.
Baltimore's Super Bowl XXV victory over the
New York Giants
following the 2000 season came in second place with 40 percent of the vote. It remains the Ravens' only Super Bowl victory.
Clifford from Baltimore
makes a good case for Super Bowl XXV when he writes: "It solidified the identity of the franchise. The Ravens were a good defensive football team for two years or so before their Super Bowl run, but winning a championship with defense effectively defined the entire culture of the team as a whole."
BROWNS: Hard luck adds to Cleveland curse
Now we get to the downtrodden segment of our "Flash Points" series. After more than 50,000 votes -- the highest total in the AFC North -- "The Fumble" and "The Drive" led the way among Browns fans with 37 percent.
Cleveland's championship drought in pro sports is at 47 years and counting. The Browns' teams of the late 1980s were solid and had a chance to break that streak. But Hall of Fame quarterback
John Elway
and the
Denver Broncos
broke Cleveland's heart in back-to-back years with a pair of late-minute victories.
Denver and Cleveland met in the AFC title game one year later, and
Earnest Byner
's late fumble on the 3-yard line thwarted a chance for the Browns to tie the score in regulation. Following a late safety, Denver held on to win 38-33.
Daffy87 writes:
"I would lean towards 'The Fumble' and 'The Drive' since that's the first thing that comes to people's minds when they bring up the Browns. Anytime anything bad or strange happens in a game, announcers roll the film."
I interviewed Byner
a few years ago to discuss his fumble. The play serves as a cruel reality, because Byner had a solid career, rushing for 8,261 yards, but he will be most remembered for one bad play.
"To be honest, it helped me be a better man and a better person," said Byner, who now is an assistant coach with the
Jacksonville Jaguars
. "Going through something like that really gives you perspective that life is not over when you have something tragic happen or something that definitely challenges you."
Both Denver teams lost in the Super Bowl. Cleveland fans can always wonder if those Browns teams would have been a better representative for the AFC and perhaps won at least one championship following the 1986 or 1987 season.
BENGALS: Downhill since Montana
The
Cincinnati Bengals
have had some highs and lows in their history. But an overwhelming 49 percent of Bengals fans chose
Joe Montana
's late, game-winning drive to lead the
San Francisco 49ers
over the Bengals in Super Bowl XXIII as Cincinnati's biggest turning point.
GreatestBengalsFanOfAllTime writes:
"The last-minute loss to the 49ers defines the Bengals, forever and always. Many fans like to say it was the
Mike Brown
era, but the truth is, the Bengals weren't exactly legends under Paul Brown, either. The last-minute loss to the 49ers accurately sums up the entire history of Bengaldom in one simple phrase: 'So close, yet so far.'"
Trailing 16-13, the 49ers needed to drive 92 yards in the final three minutes to win the Super Bowl. Montana got in rhythm and connected with receiver
John Taylor
with 34 seconds left to win the game, 20-16. It was the last Super Bowl appearance for the Bengals, who in turn have struggled mightily for the past two decades.
Bengals owner Mike Brown taking over the franchise was a distant second with 27 percent. Brown's father, Hall of Famer Paul Brown, starting the franchise in 1968 was third with 13 percent, and drafting left tackle Anthony Munoz in 1980 was fourth with eight percent.
December, 26, 2010
12/26/10
12:00
PM ET
When I spoke with Dirk Koetter a couple weeks, we touched on
Rashad Jennings
working as a change-up to
Maurice Jones-Drew
.
Today, with Jones-Drew out because of a knee injury, Jennings will start. Here's what his offensive coordinator said about him recently:
"Rashad really came on and played well at the end of last season, too. This year he went through that period where he had a beat-up shoulder. We didn't get him very many opportunities early in the year and then he missed three or four weeks with that shoulder. But Rashad is playing like we thought he would and we thought he could.

"He is a nice combination of power and speed. He understands protections so he's not a liability [in the pass game]. Maurice is a great third-down back and a great short-yardage back, you hate to ever take him off the field. Well, Rashad has followed in those footsteps. He can be your third-down back. He can rest Maurice on a run down. He knows his pickups. He's got great hands. He's a great route runner. He can run with power and he can run with speed.

"We believe you feed your stud. When Maurice gets rolling it's hard to take him out. But Coach [Jack] Del Rio has been constantly on me and Earnest Byner, our running backs coach: 'We've got to keep working Rashad, we've got to get Rashad in there, we've got to get Rashad in there.' I tell Rashad this all the time -- last year I was scared when Maurice had to come out, because I wasn't sure that Rashad knew everything.

"But now, in his second year he's a good student of the game. When he goes into the game, we're comfortable with any of our calls, we're not holding anything back."
October, 7, 2010
10/07/10
3:19
PM ET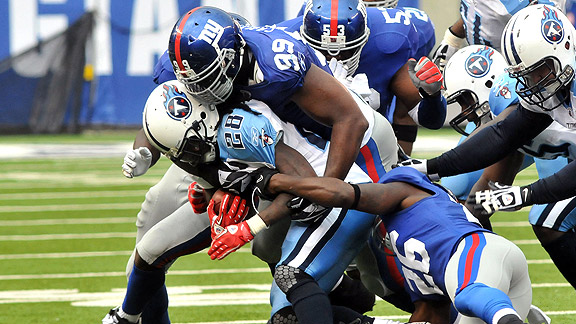 Tom Berg/Icon SMIWith teams often putting eight, nine or even 10 defenders in the box, Chris Johnson is finding it more difficult to find daylight this season.
NASHVILLE, Tenn. -- He's the NFL's sixth-leading rusher with averages that project to a 1,416-yard season and 16 rushing touchdowns. That would be the sixth-best season in 51 years of franchise history.
But it wouldn't be good enough for
Chris Johnson
, or the
Tennessee Titans
.
A year after he ran for 2,006 yards and set an all-purpose yards record with 2,509 yards, expectations are gigantic. He pumped them even more with his prediction of a 2,500-yard season.
So far, however, his 3.8-yard average, league-high 94 carries and the Titans' 2-2 record are setting off alarms.
And no, he and the Titans' running game just don't look quite the same.
"We're an average run game right now," running backs coach Craig Johnson said.
"We're not as good as we want to be running the ball right now," Chris Johnson said.
Here's insight I gathered talking to key people and some of my own thinking on a bunch of issues concerning what's "wrong" and what the Titans might be looking to do to maximize CJ's chances as they prepare for a trip to Dallas.
Throw it more and better:
The passing offense is limited and it isn't scaring anyone into backing off the line of scrimmage and creating space for Johnson.
The Titans keep saying they are seeing defenses stack eight, nine, even 10 in the box -- I guess we're talking goal line or major short-yardage situations there. The natural way to combat that is to complete passes behind all those defenders.
Craig Johnson said those defenses have been exceptionally disciplined in their run support.
"They are going to do everything they can to stop him," receiver
Nate Washington
said. "So we have to do everything we can to open things up for him."
The trouble is, teams aren't real scared of getting beat over the top.
"As usual, the passing game is the problem here," said Matt Williamson of Scouts Inc.
Backing people off might not spring CJ for big yards anyway, Titans left tackle Michael Roos said.
"If you've got eight, nine guys in the box and you give him just enough of a crease, there's nobody left to tackle him," Roos said. "… If we're physical enough, push people by enough, he can just run right past that ninth guy in the box and there is no safety left to make that tackle.
"You can beat it that way or, yeah, you can pass the ball and get them backed up. But I am pretty sure most teams, no matter how good we pass it for a week, two weeks, whatever, are going to keep saying, 'Let's try to make them beat us with the pass and load up to stop CJ.'"
Johnson joked Wednesday that he wished the Titans had gotten
Randy Moss
because he knows Moss would take defenders deep. That's an unintentional commentary on the Titans' threats.
Try three-wide:
I'd like to see the Titans go with more three- and even four-wide sets to spread things, then run against personnel that's made for defending the pass. The Steelers didn't always go into nickel against three-wide, but that doesn't mean Dallas and upcoming opponents won't be more conventional. And it can be more about the spacing than the personnel.
Justin Gage
is dealing with a hamstring injury. The Titans should let him rest and get
Lavelle Hawkins
, who's not yet been active, on the field as the slot receiver. He's different from the other receivers and if he can live up to the offseason hype the team generated about him, perhaps he can help alter things.
Keith Hawkins of ESPN Stats & Information ran some Chris Johnson numbers for me. Johnson's been the ball carrier or target on only 14 three-wide plays this season.
On eight carries, he has averaged 11.1 yards and on 13 touches he has averaged 6.8 yards.
In all other packages, he has averaged 3.1 yards a carry and 3.3 yards a touch.
It's certainly a small sample size on the three-wide numbers. So let's see a bigger one.
[+] Enlarge
Charles Small/US PresswireChris Johnson had eight TD runs of 50 yards or more during his first two seasons.
Expectations:
Even before he talked of wanting 2,500 rushing yards this season, most outlooks were unrealistic. The guys before him who topped 2,000 yards didn't play in the fantasy era, in which a 1,400-yard, 14-touchdown follow-up season could ridiculously rank as a monstrous disappointment to a large share of the fan base.
Johnson's home run rate has been spectacular, and you'd expect some regression to the mean.
In his first 32 games, Johnson had eight touchdown runs of 50 yards or more. That's already third-most in NFL history. The only backs ahead of him are
Barry Sanders
(15 in 153 games) and Jim Brown (12 in 118).
Has that created ridiculous expectations?
"It's not realistic," right guard
Jake Scott
said. "What he's done is ridiculous. You can't look at it and say, 'Oh, it's been three weeks since he had an 80-yard run, he's a failure.' That's not reasonable to say that. You can't get caught up in that."
Measure his carries:
There has been some ridiculous talk of getting
Javon Ringer
on the field more because he's looked good in spot relief work.
I'm fine with carries for the backup as spot relief work. None of them should be as an alternative to Johnson at anytime that could be considered a crucial moment of the game.
I'm not a big critic of the heavy workload, but I understand that stance and the numbers that support it.
In his first season and a half in the NFL, he averaged 17.2 carries and 5.54 yards.
In the four games after that (games eight-12 last season), he averaged 25 carries a game and 5.50 yards a carry.
In the four games after that (games 13-16 last season), he averaged 28.5 carries a game and 4.36 yards a carry.
And in games one through four this season, he averaged 23.5 carries a game and 3.77 yards a carry.
He's probably better with a lighter load. But that doesn't scream "run someone else" to me as much as it begs for a more balanced offense.
That doesn't mean we'll get it. I believe the Titans have trust issues with
Vince Young
as a passer and while the Titans would like to be balanced, Jeff Fisher's teams almost always have run-first offenses.
"If they continue to gang up on CJ, we have other avenues we can attack," Craig Johnson said. "But we also are never going to let any team dictate to us how much we are going to run the ball. Because we are always going to be a good running football team."
In the summer while in Jacksonville, I asked Jaguars coach Jack Del Rio about the concept of reducing carries for a premier back like Johnson.
"I think they should limit his touches," Del Rio said laughing. "Especially against the Jaguars."
[+] Enlarge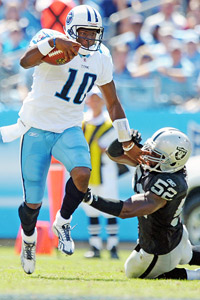 Jim Brown/US PresswireIf Vince Young were running more -- or burning defenses through the air when they stack the box -- it could open things up for Johnson.
Run VY:
The idea of having a second threat in the backfield to concern the defense is a good one. A handful of option plays are fine. I also wish Young would run more. He's coached to take off when he doesn't see an open target, but seems reluctant to do so. He averages just over three rushing attempts a game.
More runs by him could help Johnson's cause.
"It's another way of making the defense honor something else," Roos said. "Whether it's passing, him running or him running and then throwing on the move, it forces them to honor him, spread out and make sure they cover him. At least there is something else to think about every play and they can't key on CJ too much."
Block better:
Roos said it's tough to compare how the line is blocking now and how it was blocking last season when Johnson was running wild.
"Overall, I don't think we're any better, I don't think we're any worse," he said. "Little things kind of happen here and there during the course of a game and this year they might be happening at more crucial times or farther away from the goal line so we're not able to convert third downs and stay out in the field."
I don't believe much of the problem is related to the changes --
Kevin Mawae
gone,
Eugene Amano
shifted to center,
Leroy Harris
installed as left guard. All involved say that although Mawae was an excellent communicator and crafty player, Amano is making the same calls.
Said Williamson: "Amano has been rather terrible and the offensive line overall is a smidge overrated."
Be decisive:
There are a lot of questions about Johnson's decisiveness.
"I don't think Johnson is running with the same conviction," Williamson said. "He's dancing a little more than usual. He's not 'hitting it up in there' as much. Still, if he gets free in just one of these 'down' games ... then no one is talking about him slumping. So, the nature of his game is a little hit and miss."
To all that, Chris Johnson said: "I'm running the same."
He also said he knows it's dangerous to start swinging for the fences instead of letting things open up, a line of thinking he has clearly discussed in the meeting room with his position coach.
"What you don't want to do in situations like this is panic and start looking for the big runs all the time, that's what gets you in a lot of trouble," Craig Johnson said. "That's something as a coach I've got to make sure about, make sure he doesn't get frustrated and start looking for the big run.
"His big runs have not come because he's looking for them; they just happen. He hits the hole with a sense of urgency, he's been able to keep his balance, we've done well on the front side and just as importantly the backside pursuit is cut down. The hope for any runner there is to get a one-on-one situation and the rest is history."
3-4s:
Dallas plays a 3-4, meaning three of the Titans' first five opponents use base 3-4 fronts. Different defenses require different means of attack, and the Titans haven't done so well with that, particularly against Pittsburgh and Denver. Johnson totaled 87 rushing yards against the Steelers and Broncos.
After the Cowboys, there are four 3-4 teams left on the schedule: San Diego, Miami, Washington and Kansas City.
Figuring how to move and run the ball better against those teams is a must.
Continue to develop a key relationship:
Craig Johnson has been around and knows the Titans' offensive scheme very well. But he was shifted to the running back job a week before camp started after Jeff Fisher's hand-picked guy, Kennedy Pola, bolted for USC before ever working a game with Tennessee.
Johnson's previous position coach, Earnest Byner, played running back in the league and had experience coaching the spot in the league. Craig Johnson is a different sort of resource.
Chris Johnson has said it's not a big difference to him, but that he gets a full picture of the offense more often in the classroom, rather than just the running back's perspective.
"That could be part of it, I don't know," Craig Johnson said of the different sort of relationship. "We're still trying to find that out.
"But I have been around for a little bit, so I do understand the X's and O's and concepts of the game. The bottom line is as a backfield, it starts with us. Make sure we stay on our blocks, get our assignments … Then everything gets it going."
July, 26, 2010
7/26/10
6:08
PM ET
Jeff Fisher's stinging comments about Lane Kiffin's lack of professionalism in luring Kennedy Pola away from the
Tennessee Titans
' staff were only a first indication of the team's discontent.
[+] Enlarge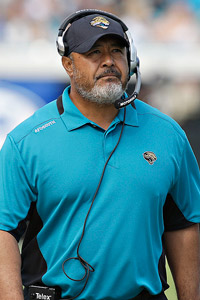 AP Photo/Phil CoaleThe Titans hired Kennedy Pola to be their running backs coach in January.
Jim Wyatt reports
the team has sued both Kiffin and USC
. The school hired Pola, Fisher's running backs coach, away from the Titans on Saturday, to be its offensive coordinator just a week before the Titans' first training camp practice.
"According to the lawsuit, 'USC and Kiffin maliciously intended to -- and did -- induce Pola to breach his contract with the Titans.' The lawsuit alleges 'USC and Kiffin engaged in improper means in their procedure of the breach and were not legally justified in their actions.'

"According to the lawsuit, Pola agreed he would 'not under any circumstance solicit discussions or entertain employment with any other person or entity during the term without given written permission to do so,' under the terms of his contract with the Titans. Pola was not given written consent by the Titans.

"'Kiffin and USC's actions through him were part of a course and pattern of conduct fostered by Kiffin and USC to use improper methods and means to the direct harm and damage of parties to contract, to interfere with an existing contract includes the breach thereof,' the lawsuit reads."
The Titans would love to stop Kiffin and USC from having Pola, but they certainly wouldn't want him back after this. If the suits are successful, they could see USC or Kiffin penalized financially and make a statement about protecting their turf, which might also set a precedent that would help ensure other franchises don't wind up dealing with similar issues in the future.
Pola joined the Titans in January, leaving Jacksonville. Fisher long coveted Pola and fired Earnest Byner to make room for the new assistant. Byner wound up replacing Pola on Jack Del Rio's staff.
Since Pola jumped to USC, Fisher has faced a second round of bashing from fans over the Byner move. How, they ask, could he have fired a coach who oversaw
Chris Johnson
during a 2,000-yard season?
I've been critical of Fisher for being overly loyal to assistants in the past. In recent years, however, largely because of his stability, he's put together and held together one of the NFL's better coaching staffs.
If he didn't love Byner and did love Pola, then making the switch was fine by me. And it's not as if Fisher could have foreseen that (a) the new coach at his alma mater would steal Pola away, or that (b) Pola would actually leave him in such a bad spot so late in the year.
Fisher told Wyatt he intends to replace Pola from within.
Fisher could shift quarterbacks coach Craig Johnson over, or elevate one of three assistants who don't have their own position groups -- assistant special-teams coach Marty Galbraith, offensive quality control coach Dowell Loggains or offensive assistant Richie Wessman.
June, 22, 2010
6/22/10
11:30
AM ET
By
Matt Mosley
| ESPN.com
Notable players
: QB
Mark Rypien
, RB
Earnest Byner
, WR
Gary Clark
, G
Mark Schlereth
, DE
Charles Mann
, CB
Darrell Green
, K
Chip Lohmiller
[+] Enlarge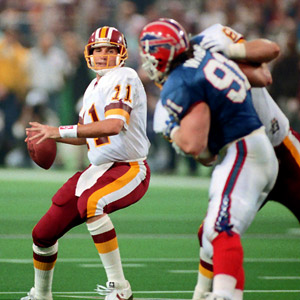 US PresswireMark Rypien threw for 3,564 yards and 28 touchdowns during the 1991 season.
Analysis
: Maybe I should've leaned toward the Riggo-Theismann teams, but in my mind, the '91 team was too stacked to ignore. Clark was such an unbelievable competitor and he still drops by practice from time to time and inspires the current players. Green was the primary reason opposing teams only managed 6 yards per passing attempt that season. His battles with
Michael Irvin
were priceless.
The '91 offensive line was dominant to a ridiculous degree. Redskins quarterbacks were only sacked nine times that season, which is a decent half for the current unit. Rypien had 14 touchdown passes of 25 yards or more to lead the league. Washington could beat you with the pass or run and then its defense knew how to protect leads.
Most impressive win
: The Redskins breezed through the regular season with a 14-2 record and then pounded the Lions and Falcons in playoff games. But the 37-24 Super Bowl win over the Bills stands out to me. The Bills were in the middle of a remarkable run and they had an immensely talented offense. The Redskins didn't care about any of that. We remember the Cowboys being the dominant team of the '90s, but the Redskins set the table in '91 with a memorable season.
Best player
: Green was brilliant at cornerback, but Rypien was the MVP of the league. For that one season, he put up numbers (3,564 yards passing, 28 TDs) that would make any quarterback envious. And the man threw an excellent deep ball.
Honorable mention
1987
: I'll never forget Doug Williams' performance in the Super Bowl. He was shaky early in that game, but after the Skins fell behind the Broncos by 10, Williams settled down and started shredding the defense.
1983
: I know the '82 team won a Super Bowl, but that was in a strike-shortened season. Give me the '83 team even though it was pummeled by the Raiders in the Super Bowl.
1972
: The Skins ran into the perfect Dolphins in the Super Bowl, but Billy Kilmer and the gang had a tremendous season. Larry Brown was a monster and the great George Allen had the Cowboys in full paranoid mode. It was a classic time in the rivalry because the Cowboys also had become an elite team.
June, 17, 2010
6/17/10
1:57
PM ET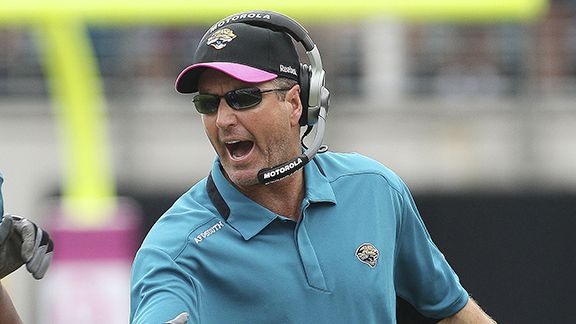 AP Photo/Phil CoaleWith two strong-willed assistants gone, Dirk Koetter may be more assertive but says he still has to tailor things to the strengths of his players.
He's heading into his fourth season. Two strong-willed veteran offensive assistants have departed. His team needs to make a leap with several second-year guys in key roles.
So
Jacksonville Jaguars
offensive coordinator Dirk Koetter, regarded as a creative offensive mind as a head coach at Arizona State and Boise State, is about to show us how clever he is, right?
While the coordinator is aware of the labels he might have carried when he came into the league in 2007, he's even more aware of the realities of the NFL.
"Shoot, when I was a college coach, I was supposedly one of the most innovative college coaches there was," Koetter said. "In the NFL, you're not showing defensive coaches and defensive players something they haven't seen before. So that whole creativity thing -- it's not like you're going to break out the veer and go up to Tennessee and fool Jeff Fisher because he's never seen it before.
"I think the best teams in the NFL are more about execution than they are about creativity."
Koetter said he never felt overshadowed by the departed assistants. He values the time he gets with good coaches and that he learned a lot from Kennedy Pola, who handled running backs, and Mike Tice, who oversaw tight ends. Their replacements, Earnest Byner and Rob Boras, respectively, won't rank as weaker members of the offensive staff.
Koetter feels the Jags have a valuable asset in improving execution: experience.
Last season, he had six rookies on the field at once during the team's 41-0 loss at Seattle .
But now, players like tackles
Eugene Monroe
and
Eben Britton
and receivers like
Mike Thomas
,
Jarett Dillard
and
Tiquan Underwood
and tight end
Zach Miller
all have a better understanding of what they are being asked to do and how the league works.
"Am I saying to Dirk, 'Hey, let's put the pedal down, let's be as good as we can be and be yourself and do things you want to do?'" head coach Jack Del Rio said. "I think he naturally feels a little more free to do that because we had a couple strong coaches, really good coaches, that were here before he got here in Kennedy Pola and Mike Tice and they're both gone.
"He probably deferred to them a little bit more. Now that they're not here, he's not going to defer to them. I think he'll work closely with [offensive line coach] Andy Heck and the rest of the staff and put together a plan. But I think he'll have a chance to push some of his thoughts to the forefront and I've encouraged him to do that."
August, 22, 2009
8/22/09
2:04
AM ET
Posted by ESPN.com's Paul Kuharsky
ARLINGTON, Texas -- The biggest story out of the Cowboys' 30-10 preseason win over the Titans in the football debut for Cowboys Stadium was the enormous video board factoring into play. NFC East guru Matt Mosley and I showed the preseason teamwork capabilities of the blog network by combining on this news story about it.
The short version: The Titans think the scoreboard is a huge issue for punters; Jerry Jones thinks of it more like a windmill on a miniature golf course. [Full disclosure, I borrowed that line from Matt.]
One additional quote from Craig Hentrich on the issue: "It's a bad situation when you've got guys that can hit it four or five times in a row, you've got your guys covering down the field four or five times in a row and you're having to redo it and redo it. It's a serious issue. It's pretty cool to see [the giant video board], but you hit a great punt and you hit the scoreboard, then what if you shank one? It's penalizing a great punt and that's not the way it's supposed to be."
Other than A.J. Trapasso's punt that dinged the TV, the stadium scored very highly. Keith Bulluck, who visited the new Yankee Stadium earlier this year, tweeted that Jones had outdone George Steinbrenner.
"It's pretty magnificent, pretty impressive definitely," he said after the game.
Setting aside that fantastic development, the Titans were pretty awful with 191 net yards, 10 first downs and fewer than 20 minutes of possession. Defensively, they allowed 466 yards, 27 first downs and two fourth-down conversions.
They didn't have their starters on the field as long as Dallas did, as the Cowboys stayed on the field through the first half.
But spin as they might, it's hard to find much to like about the work of second quarterback Vince Young or Patrick Ramsey, who is third in line. Jeff Fisher said while Young won't necessarily start, he will get time with the starters in one of the final two preseason games.
Rookie running back Javon Ringer qualified as the primary bright spot.
He finished with the best rushing average in the game thanks to five carries for 33 yards. The Titans fifth-round pick out of Michigan State also had an impressive 51-yard kickoff return and worked on kick and punt coverage teams.
August, 2, 2009
8/02/09
8:33
PM ET
Posted by ESPN.com's Paul Kuharsky

NASHVILLE, Tenn. -- I took a great interest in a drill Sunday that pitted linebackers against running backs in a pass protection scenario.
I thought Stephen Tulloch was especially impressive going against the Titans running backs in the team's first practice in shoulder pads.
Here's a mini-breakdown of some of the matchups:
After practice, I was considering my notes/scorecard and sought clarification from running back coach Earnest Byner on what amounted to a win on a snap of the drill.
"If a guy gets good contact, shows the ability to get on a guy and then tries to run him by, that's pretty good," he said. "In that drill, the defense is supposed to win. That's really a defensive drill. If a guy can get any contact and maintain the contact for like two seconds, that's a win."
A couple important notes for context:
If they weren't on the line of scrimmage, the backs lined up very close to it. In game situations they wouldn't be so close to the defender they need to block at the snap. At a practice the backs are without one major tool -- the cut block that would take a linebacker's legs out and put him on the ground. Ganther said ideally a back will push the rusher outside, buying a quarterback who is stepping up in the pocket additional time.
"It's much easier in a game," Byner said. "You have the ability to cut block, you have the ability to use your line a little more. If you can block in that drill, the game is easy. I thought the guys did well. They sit tight, hard to the defender. I wanted that. I didn't want them to sit and be cautious and not do anything. I wanted the aggression, and I was pleased with that. We can learn from that."
Some other practice observations:
Cornerback Tanard Davis, who finished last year on the practice squad, had a strong afternoon and has been good so far, though working against lesser players. He muscled his way in front of Chris Davis to intercept a short Vince Young pass in one-on-ones. Later, in a team period he moved in front of Paul Williams to grab another pass from Young.
Rob Bironas, who was due back from his mystery injury, did not return. Fisher continued to decline to say what the injury was, on a day when Kenny Britt talked openly about the right hamstring that landed him on PUP. If Bironas' injury is so insignificant, than why wouldn't it be shared? It gives us all reason to believe something odd is up.
Britt is still dealing with a right hamstring issue, so he starts out on the PUP list. Fisher didn't quite rule Britt out of the Hall of Fame Game against Buffalo, but said it's "probably unlikely." Britt sounded pretty upbeat. Fisher made it sound as if a week would be the most Britt misses.
Jared Cook went to the ground to scoop a Young pass. He has made a lot of catches on the run or going up to get the ball, and I took note that he also looked comfortable going to the ground.
During a two minute drill period, a sliding Nate Washington caught a Kerry Collins pass on the right with Chris Hope and Nick Harper closing. It was too close to call as to whether Washington had his right knee down in bounds before his left leg crossed the sideline. Both sides pleaded with Fisher, who got a shout out from Hope when he came to a quick verdict and the sides "split the difference" on the gain. The drive produced an Alge Crumpler touchdown catch.
Paul Williams made a very nice, spinning, leaping sideline catch.
Jovan Haye stepped up and crushed Henry on a carry the back tried to take up the middle.
Ringer looks a lot better in pads, and a lot better than he did in OTAs.
November, 20, 2008
11/20/08
12:40
PM ET
| | |
| --- | --- |
| | |
| | US Presswire |
| | In addition to being threats running the ball, rookie running backs Steve Slaton (left) and Chris Johnson have picked up blocking schemes which allows them to stay on the field more. |
Posted by ESPN.com's Paul Kuharsky
NASHVILLE, Tenn. -- Dominic Rhodes was making a big jump, from Midwestern State to the Indianapolis Colts.
As an undrafted rookie in 2001, he got a sense rather quickly that his running skills could translate.
But the other responsibilities, like blocking?
"I remember when I first got here and then I left and went back home for that little break, I told my family, 'I might be the dumbest football player ever in the world, because I do not know any of this,'" Rhodes said. "It's hard, it was overwhelming for me.
"Because I had never really been introduced to the game like that. It took me a little while and I finally started picking it up right before training camp and as I got in the games more and more and more and then by my second year it was pretty easy for me."
The Colts have a long history of plugging in rookie running backs and expecting them to accomplish what Rhodes identifies as priority No. 1: "All they care is if you are picking up the blocks and 18 isn't getting hit."
Helping protect No. 18 -- that's Peyton Manning, in case you're not a numbers person -- is a big part of an Indianapolis running back's job.
Now two explosive rookie running backs in the AFC South, Chris Johnson in Tennessee and Steve Slaton in Houston, have emerged as players their teams have a hard time taking out of the game on third down. But weapons that might get the ball on those plays first have to prove capable of protecting the quarterback.
If not ...
Well, Johnson's quarterback, Kerry Collins, suffered a broken jaw as a Carolina Panther when he got leveled by Denver linebacker Bill Romanowski on a blitz in a preseason game in 1997. The hit cost Romanowski a $20,000 fine. Colts president Bill Polian was running the Panthers then and cited the play as an example of the risk of a young running back in pass protection.
The guilty party, you might imagine, would have worn a Scarlett letter. But it turns out reporters, the team's PR chief and Collins don't remember precisely who it was and Polian didn't offer up the name. But the young back who would have most likely been in the field at that stage of a preseason game was second-year man Tim Biakabutuka, who missed all but four games of his rookie season and was still learning.
"Running backs are so much a part of the equation when it comes to protection," said Collins, who's been sacked just five times. "You look at all the great running backs -- Emmitt Smith, Marcus Allen -- those guys were phenomenal in pass protection. Of course, it gets overshadowed by all the things they could do with the ball. But they can really determine whether you are a good protecting team and we've got good ones here."
Colts coach Tony Dungy said the process is simple for a rookie running back. He can be an incredibly dangerous third-down weapon, but if he doesn't earn the trust of his position coach he'll find himself on the sideline on what may be the game's most important plays -- third down.
Most backs come into the league with qualities like speed, quickness, vision and power that mean they will be good runners, but have to learn a lot about blocking. Some cut blocked a lot in college, but NFL teams don't usually want them trying to topple an athletic NFL linebacker or safety in such a fashion. A lot of good runners were rarely asked to block in college. But not all of them come in as blank blocking slates.
Podcast: The Herd

Titans head coach Jeff Fisher says his team is always trying to improve and isn't letting their 10-0 record

distract them.
"I know in our case it benefitted us that Joseph Addai had played in that style of offense at LSU. He was familiar with a lot of that," Dungy said. "I would imagine that Slaton playing in a wide-open system and a lot of throwing at West Virginia was the same way. I think you do have to credit the coaches of the NFL teams, but a lot of those guys have experience coming out of college."
Johnson and Slaton are not liabilities in pass protection, but that doesn't mean they are always looking to block on third down, said former Titans running back Eddie George.
"You can't go out there and not understand the protection and who you have and the adjustments you have to make," George said. "But what you are seeing now, a lot of them aren't picking up the blitz, they are out on a hot route as a receiver. They're in maybe 80 percent of the time in the route, not in the blitz pickup."
Said Titans offensive coordinator Mike Heimerdinger: "If you don't want him protecting, then you can scheme it up so he doesn't have to protect, then you get him out in the flat. You can do both. You can keep a tight end in and let him go free release. However, you've got to get a guy who can change the game on the field, you've got to do that. If they can't protect you've got to change you're scheme up and get them out [on a quick route]. Chris can do both, we've used him in both all the way."
So if Collins sees a free rusher coming at him, he should also be able to see Johnson leaking out to a spot where he can be hit with a quick pass -- the release of which should limit the chances of absorbing a shot.
Johnson's a quality pass catcher who's being asked to do more as a receiver. With 30 catches, he's second on the Titans. But he rates himself as an adequate, super-willing blocker. He said he blocked plenty at East Carolina, but that the schemes there were nowhere near as sophisticated as the ones he is asked to understand now.
His position coach, Earnest Byner, tells him it'
s usually about desire.
"He let me know it's all about wanting to. It doesn't matter how bad your technique is, if you want to block then you can do it," Johnson said. "My technique is OK. I can get better. But the want to is perfect."