May, 18, 2012
5/18/12
11:07
AM ET
When he watched his quarterback go into the Pro Football Hall of Fame in 2004,
Rod Smith
wondered if his bust would be bronzed next to John Elway's some day.
Now that he's entered the
Denver Broncos
' ring of fame, the rag-to-riches receiver still wonders if he will end up in the Canton, Ohio museum.
[+] Enlarge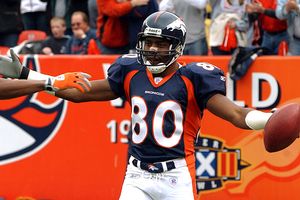 AP Photo/Ed AndrieskiWill former Broncos star Rod Smith ever hear his name called for the Pro Football Hall of Fame?
It's an interesting question. Will Rod Smith be a Pro Football Hall of Famer?
There's no doubt the undrafted free agent turned star receiver has a strong resume, however, he played a position which has not been overly valued by hall of fame voters in the recent past.
Tim Brown
,
Cris Carter
and
Andre Reed
are part of a receiver logjam waiting to be elected to the hall.
Smith may have a long wait, if he makes it at all, even though he has won two Super Bowl rings. He is 11th in NFL history in career receptions (849), 17th in career receiving yards (11,389) and tied for 30th in career receiving touchdowns (68). He caught 70 or more catches for nine straight seasons, which is tied for the second-longest streak in NFL history. His career reception and receiving yardage totals is the best in league history for undrafted players.
Known as one of the hardest workers in the league while he played, Smith himself thinks he deserves to be inducted, although he knows it won't be easy.
"Well what are they basing the Hall of Fame on?" Smith asked reporters Thursday in an interview to discuss his induction into the Broncos' ring of fame. "What do you base it on? Do you base it on wins? I have some of those. Do you base it on catches? I have a lot of those. Touchdowns … and the unsung stuff to me is the blocking that Eddie [McCaffrey] and myself and the other guys I played with. You look at the running backs in my era and how many yards they rushed for. I take that personally because it was about the team to me. Honestly, there are a ton of guys that my numbers are way better than theirs, so why not be considered for it? When I went into the business I wasn't looking at that, but once I got in the business and I saw that those things were possible. I went to John Elway's induction into the hall of fame and I said it's possible. It's hard to see it until you see somebody else kind of go through it. When I saw John get inducted, I was very emotional that day, because I knew a piece of me went. But, I said, 'Why not be right beside him? Why not have a bust right beside him?' One thing I can say is this: I don't get to vote, and if I did, I would vote for me because I gave them everything I had. That's all I can do. I tried to be the best teammate I could. I tried to represent the game, the NFL shield as best as I could. Those who vote will hopefully see it the same way. That's all I can do."
Smith certainly has a case for Canton. The trouble is he plays a position where many players have a case, so his wait for enshrinement may be a long one.
June, 25, 2010
6/25/10
11:45
AM ET
Notable players:
QB John Elway, RB Terrell Davis, WRs Rod Smith and Ed McCaffrey, TE Shannon Sharpe, OT Tony Jones, C Tom Nalen, G Mark Schlereth, DE Neil Smith, DE Trevor Pryce, LB Bill Romanowski, LB John Mobley, S Steve Atwater, K Jason Elam.
Analysis:
This was a great all-time NFL team. In 2007, the NFL Network ranked the team as the 12th-best Super Bowl winner.
[+] Enlarge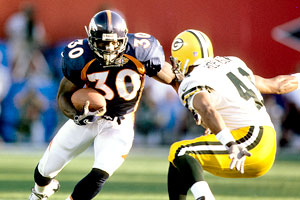 US PresswireTerrell Davis gained 2,008 rushing yards in 1998, just one of six 2,000-yard seasons in NFL history.
The 1998 Broncos followed up their magical 1997 season, in which they were a surprise Super Bowl winner, with a surgically precise team. The Broncos were masterful in every aspect of the game. Elway led the Broncos during his final NFL season, which culminated in an MVP-winning performance in an
easy 34-19 win over Atlanta
in the Super Bowl.
The Broncos won their first 13 games and finished the regular season 14-2. The only game Denver lost that it truly tried to win was its 14th game, a last-moment loss to the Giants at The Meadowlands. The Broncos were never challenged during three postseason wins. Known for not having the best supporting casts for much of his career, Elway enjoyed the benefit of a stunning running game and a nasty, fierce defense in his final season.
Running back Terrell Davis ran for 2,008 yards, which was then the third-highest rushing total in NFL history. He won the NFL MVP award that season.
When Davis' hard, downhill running in coach Mike Shanahan's brilliant zone-blocking scheme was combined with the elegance of Elway passing to Smith, McCaffrey and the game-changing Sharpe, Denver was breathtaking to watch on offense.
Defensively, this mean, nasty group always seemed to come up with the big play. Things rarely went wrong for this team. It simply steamrolled through the season.
"We were stacked," said Elam, who tied an NFL record with a 63-yard field goal during the season. "I remember us routinely being up by three touchdowns at the end of the first quarter and we knew it was over … It was a dream season."
Most impressive win:
The 34-19 victory over the Atlanta Falcons in Super Bowl XXXIII. The supremely focused Broncos never truly let the Falcons in the game. It was a perfect ending to a near-perfect season.
Businessmen:
People around this team always talk about how serious it was. Unlike the 1997 season in which Denver had to fight and scrap every step of the way for its first Super Bowl championship, winning it all was a foregone conclusion all season in 1998.
The Broncos were focused on winning the Super Bowl all season. After the win over Atlanta, there were no wild celebrations. Sure, players were happy. But they were businesslike. It was a different scene from the euphoric celebration that followed the team's win over heavily favored Green Bay the year before. It was as if the 1998 title was expected all season.
Honorable mention:
1977:
Red Miller's 12-2 outfit was strong, but it was no match for the Cowboys in the Super Bowl.
1996:
The memory of this team still stings in Denver. The Broncos were a great team, perhaps better than the 1998 outfit, but it lost at home in the divisional playoff round to Jacksonville, ruining everything good associated with this team.
1997:
This is probably the most popular Denver team ever. It fought its way to the franchise's first Super Bowl win as a wild-card team. The words "This one is for John" will never be forgotten in the Rocky Mountains.
May, 4, 2009
5/04/09
12:36
PM ET
Posted by ESPN.com's Paul Kuharsky
Houston Texans
Indianapolis Colts
Jacksonville Jaguars
Tennessee Titans
NFL SCOREBOARD
Thursday, 12/5
Sunday, 12/8
Monday, 12/9
WEEKLY LEADERS