November, 17, 2014
Nov 17
8:00
AM ET
PITTSBURGH -- Wide receiver
Markus Wheaton
is in his second season with the
Pittsburgh Steelers
and he has learned one important lesson.
If he wants to catch extra balls after practice from a JUGGS machine he needs to do everything he can to make sure he gets in line ahead of
Antonio Brown
.
"With him," Wheaton says with a smile, "there's no telling how many he catches. Usually you're out there waiting for a while."
Brown's tireless approach to getting better has made him one of the best wide receivers in the NFL.
Brown has made the Pro Bowl twice in his first four seasons even though he lasted until the 195
th
pick of the 2010 NFL draft. And, barring injury, he will hold team records for the most catches, receiving yards and all-purpose yards by a player in his first five seasons before the end of 2014.
[+] Enlarge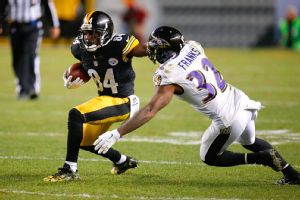 Gregory Shamus/Getty ImagesDespite being 5-foot-10, 185 pounds, Antonio Brown is known for stiffarming opponents in the open field.
And, says the 26-year-old Brown, "You still ain't getting the best part of my game yet. I've still got room to grow."
In many ways, yes.
But Brown stopped growing physically after he reached 5-10, and his relative lack of size is the biggest reason why he is just starting to get mentioned among the top players at his position.
The NFL has long been enamored with tall wide receivers, and Brown is at the forefront of smaller players re-asserting themselves as premier pass catchers. After the 10
th
week of the season six of the top 10 players in wide receiving yards were 6-feet or shorter.
Brown topped the list in both catches and receiving yards heading into Week 11, and no less an authority than Jerry Rice has said he is the best young wideout in the game. Steelers safety
Mike Mitchell
says he is the best wide receiver, period.
"I know others guys are bigger and maybe have better career numbers, but if you look at who's doing it right now who's doing it better?" said Mitchell, who is in his first season with the Steelers after previously playing for the
Carolina Panthers
and
Oakland Raiders
. "He plays like he's 7-feet tall. He stiff arms safeties when he's running the ball, and have you seen him lose a jump ball?"
Watching Brown stiff-arm an opponent or run with the ball in the open field makes it clear that the 5-10, 186-pounder is blessed with exquisite instincts.
And he did not get stiffed in the gene pool either, as his father, Eddie Brown, is a former standout wide receiver who in 2006 was voted the best player in the history of the Arena Football League.
But ask those who are around Brown on a regular basis the secret to his success, and they contend that there is no secret: Brown simply refuses to let anybody outwork him.
He never slows down, not even in offseason practices. Brown sprints to the end zone every time he makes a catch in the non-contact practices, a habit that the Steelers coaches make sure to point out to his teammates. During the season Brown puts in a full day at Steelers' headquarters, and then two nights a week he will also go to a local gym to get in another workout.
"Just my regimen," Brown says with the easy smile that is also one of his signatures. "That's what I do."
His teammates aren't nearly as nonchalant about what Brown does.
"How many No. 1 receivers in the NFL are catching punts in practice and running it all way back for a touchdown?" Steelers quarterback
Ben Roethlisberger
says. "Then Dri [Archer] steps up and [Brown] tells him to get out because he wants another one. His work ethic and demeanor and attitude are just unbelievable. He's literally nonstop and I'll grab him and pull him aside and make up a fake conversation just to keep him out of running so many (punts) back and wearing himself down. His work ethic and attitude are just unbelievable."
Steelers offensive coordinator Todd Haley, who has been coaching in the NFL since 1997, agreed.
"He works as hard as anybody that I have seen," Haley says. "He is very driven to prove that he is among the elite guys at his position right now. I think from a big picture standpoint, he is one that they will talk about for a long time."
August, 3, 2012
8/03/12
1:30
PM ET
CANTON, Ohio -- A
Seattle Seahawks
scouting contingent planned to visit the University of Miami for a closer look at Hurricanes cornerback
Robert Bailey
.
"All of a sudden," Joe Vitt recalled, "when we put the film on, everyone had heard of
Russell Maryland
, but we put the film on and
Cortez Kennedy
was making all the plays."
Vitt, now the
New Orleans Saints
' interim coach, was a Seahawks assistant under Chuck Knox at the time. This was in 1990.
"I called Chuck and told him to send down (defensive line coach) George Dyer because we've got a guy down here now," Vitt said. "Now, all of a sudden, we finagled that draft and moved up to No. 3 (overall). Our first three picks that year were Cortez,
Terry Wooden
and
Robert Blackmon
. We structured our defense exactly like the Miami Hurricanes because of Cortez and it was the smartest thing we ever did."
Kennedy is now the only Seahawks draft choice selected to the Pro Football Hall of Fame. His enshrinement is Saturday. The Los Angeles Rams wound up picking Bailey in the fourth round.
The chart shows Kennedy and all the Hall of Famers drafted by current NFC West organizations since the first common draft in 1967.
There were stories behind the other selections as well.
The
San Francisco 49ers
famously selected
Jerry Rice
with the 16th pick in 1985 after their preferred choice, receiver Eddie Brown, went to Cleveland three picks earlier. Former 49ers personnel man Mike Lombardi, now with NFL Network, said 49ers coach Bill Walsh even tried to trade up with the Browns for the 13th choice. He wanted Brown that badly.
"And coach Walsh handed me the phone and said, 'Don't worry about it. We'll just pick Jerry Rice,' "
Lombardi recounted
for a USA Today story.
June, 23, 2010
6/23/10
12:00
PM ET
Notable players:
OT Anthony Munoz, QB
Boomer Esiason
, RB James Brooks, RB Ickey Woods, DL
Tim Krumrie
, WR Eddie Brown, S
David Fulcher
[+] Enlarge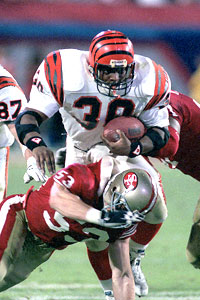 Manny Rubio/US PresswireIckey Woods led the Bengals with 1,066 yards rushing and 15 TDs.
Analysis:
If not for the late-game heroics from
San Francisco 49ers
Hall of Fame quarterback
Joe Montana
, the 1988
Cincinnati Bengals
would have earned the franchise's first and only Super Bowl title. Instead, they join a long list of great teams that are often forgotten after losing in the big game.
With the Bengals leading by three points, Montana drove San Francisco 92 yards for a touchdown late in the fourth quarter to seal a 20-16 victory in Super Bowl XXIII. Montana's game-winning touchdown throw to receiver
John Taylor
with 34 seconds remaining has been replayed constantly and is a reminder of how close the Bengals were to winning the Super Bowl.
But being that close to a title is what makes the '88 Bengals the best team in franchise history.
Cincinnati's explosive offense led the NFL in scoring with 448 points and in total yards in '88. Esiason threw for 3,572 yards and 28 touchdowns, and the Bengals nearly had two 1,000-yard rushers in Ickey Woods (1,066 yards) and James Brooks (931 yards).
The '81 Bengals also won the AFC and are a close second. Coincidentally, Cincinnati lost to San Francisco in the Super Bowl that year as well.
Most impressive win:
Despite Cincinnati lighting up the scoreboard all season, the AFC Championship Game was a defensive battle against the
Buffalo Bills
.
The Bengals had to win with toughness, holding the
Jim Kelly
-led Bills to 181 total yards in a 21-10 victory. Cincinnati held Buffalo to 45 yards rushing and forced three turnovers. The Bengals also ran the ball 50 times for 175 yards in the win to set up their Super Bowl showdown with San Francisco.
Research room:
The Bengals had seven Pro Bowlers in '88. Esiason, Munoz, Brooks, Brown and tight end
Rodney Holman
represented the AFC on offense. On Cincinnati's defense, Fulcher and Krumrie also earned Pro Bowl nods.
The Ickey Shuffle:
To the casual football fan, probably the most memorable aspect of the run made by the '88 Bengals was the invention of the "The Ickey Shuffle."
Woods came up with a famous (infamous?) touchdown dance that consisted of a stutter-step to each side, then a spike of the football. Artistically, "The Ickey Shuffle" wasn't all that great. But it became one of the most well-known touchdown celebrations in NFL history.
Honorable mentions:
1981:
This remains the only other Bengals team to play in a Super Bowl. Quarterback Ken Anderson had a career year, throwing for 3,754 yards, 29 touchdowns and a 98.4 passer rating.
2005:
The best team of the Marvin Lewis era, Cincinnati went 11-5 and won the AFC North. But a first-quarter knee injury to quarterback
Carson Palmer
led to a quick playoff exit against the
Pittsburgh Steelers
.
1975:
Another first-round playoff exit makes this a quality but forgotten team. The Bengals were very well-balanced in '75 and ranked in the top seven in total offense (No. 2) and total defense (No. 7).

NFL SCOREBOARD
Thursday, 12/18
Saturday, 12/20
Sunday, 12/21
Monday, 12/22
WEEKLY LEADERS