NFL Nation:

Eddie DeBartolo Jr.
July, 11, 2013
7/11/13
3:00
PM ET
ESPN's Robert Flores, Jay Soderberg and I used the latest
"Football Today" podcast

to consider two subjects: Hall of Fame snubs and NFL teams whose championship windows are closing.
Flores pointed to Ray Guy and asked about another former Raider, ex-coach Tom Flores. Soderberg stumped for a Canadian Football League legend. I offered thoughts from my perspective as a Hall of Fame voter.
One key point: Selectors do not vote "against" candidates. We vote for them, and some miss the cut because only five modern-era players can qualify in a given year. The very best candidates get in quickly, while others get in eventually.
The bar for enshrinement rises and falls depending upon the strength of the field. In that way, the process resembles a golf tournament. Shooting even par would have won the Masters in 2007. It would have fallen short by 19 strokes in 1997.
Still, there are some valid questions surrounding Hall of Fame candidates repeatedly considered as finalists before fading from the conversation. We discussed some of the considerations during this podcast.
The chart ranks candidates by most appearances as finalists without being enshrined to this point. Thirty-one others have been finalists up to three times, including NFC West favorites Eddie DeBartolo Jr., Roger Craig and Aeneas Williams.
February, 2, 2013
2/02/13
6:16
PM ET
NEW ORLEANS -- A strong contingent of newly eligible Pro Football Hall of Fame finalists complicated efforts to settle on five modern-era enshrinees for 2013.
I was among the 46 selectors for a fourth year and can tell you it's extremely difficult reducing the field, particularly on the final cut from 10 to five.
Larry Allen, Cris Carter, Jonathan Ogden, Bill Parcells and Warren Sapp were the last modern-era candidates standing this year. The Hall of Fame will enshrine them in Canton, Ohio, this summer.
Allen, Ogden and Sapp were eligible for the first time. Michael Strahan, also a first-timer, made the initial cut to 10 before missing the cut to five.
The strong push by newly eligible candidates contributed to former
San Francisco 49ers
owner Eddie DeBartolo Jr. missing the cut from 15 to 10. This is the second year in a row DeBartolo has made the final 15 without advancing to the final 10. Art Modell, Kevin Greene, Will Shields and Tim Brown also missed the first cut.
While this isn't the end for DeBartolo as a candidate, some voters in the end seem to struggle supporting contributors over players on the final reduction.
Rules allow no more than five modern-era candidates to be enshrined in a single year.
Former
St. Louis Rams
and
Arizona Cardinals
great Aeneas Williams made the cut to 10 for the second consecutive year. That's a strong indication voters consider him worthy -- eventually. For example, Cortez Kennedy earned enshrinement last year after twice making the final 10.
Voters discussed Parcells' candidacy for more than one hour, the longest discussion for any candidate. Rules prevent voters from disclosing more specific details about the proceedings.
Curley Culp and Dave Robinson earned enshrinement as seniors candidates.
Andre Reed, Jerome Bettis, Charles Haley, Williams and Strahan missed the cut from 10 to five.
January, 11, 2013
1/11/13
12:30
PM ET
Five of 15 modern-era finalists for 2013 Pro Football Hall of Fame enshrinement have ties to teams currently in the NFC West.
Their names are shaded in the chart below:
Kevin Greene
,
Charles Haley
,
Aeneas Williams
,
Jerome Bettis
and Eddie DeBartolo Jr.
The first two men listed qualify as seniors candidates. Their enshrinement does not affect the maximum five slots available to modern-era candidates.
San Francisco 49ers
great
Roger Craig
was among the 12 semifinalists not making the reduction to 15 this year. The others were:
Morten Andersen
,
Steve Atwater
, Don Coryell,
Terrell Davis
,
Joe Jacoby
,
Albert Lewis
,
John Lynch
,
Karl Mecklenburg
, Paul Tagliabue,
Steve Tasker
and George Young.
The next round of voting begins and ends one day before the Super Bowl. I'm one of the voters and will have a tough time reducing to five on the final ballot, as usual. It's a select group that makes it in the end. Strong cases can be made for each of the four players eligible for the first time. Adding them to the list makes it tougher for some of the holdovers.
April, 5, 2012
4/05/12
8:30
PM ET
The San Francisco 49ers cannot reasonably complain about the past year, all things considered.
They posted a 13-3 record, won the NFC West, claimed a playoff victory and secured funding for a new stadium. As much as they would have relished watching former owner Eddie DeBartolo Jr. win enshrinement in the Pro Football Hall of Fame, there was no shame in "Eddie D" reaching the round of 15 finalists for the first time.
Having NFL Films on DeBartolo's side can only help his chances in the future.
Jed York, 49ers CEO and nephew to DeBartolo,
revealed plans
for an NFL Films special on DeBartolo, set to run during the 2012 season.
"
A Football Life
" will feature former players and coaches reflecting on the role DeBartolo played in building and maintaining the 49ers' five championship teams spread across the 1980s and 1990s. The retrospective will also surely focus on the personal touches that endeared DeBartolo to players and others in the 49ers organization.
DeBartolo's 2000 departure from the 49ers following a one-year NFL suspension damaged his reputation. The passage of time has helped. The 49ers' recent successes under York, who frequently taps his uncle for advice, also should work in DeBartolo's favor.
An assist from NFL Films will return even more of the focus to DeBartolo's accomplishments. We should expect a favorable portrayal heavy on testimonials from former players, with additional details on the lengths DeBartolo would go to show his concern -- as
the case was when he helped care
for Freddie Solomon during the former receiver's final days.
Earlier:
Ira Miller, who helped present DeBartolo's case to Hall selectors, including me, expanded upon
DeBartolo's credentials
and issues related to considering team owners.
March, 21, 2012
3/21/12
1:16
PM ET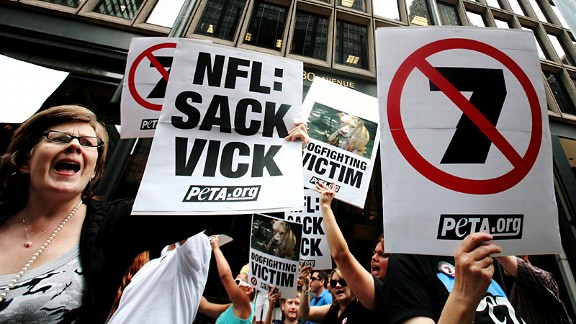 AP Photo/Bebeto MatthewsMichael Vick's arrest and imprisonment shocked the NFL and sent the Falcons reeling.
The most significant scandals in NFL history affected individuals and organizations alike. The nature of the allegations, the prominence of the individuals involved, the punishment meted out and the overall impact led us to single out the following five, realizing there were others worth strong consideration.
1. Michael Vick to prison.
Involvement in a dogfighting ring brought down one of the NFL's highest-profile, most dynamic quarterbacks in his prime. Vick was released and sent to prison, sending the
Atlanta Falcons
into turmoil. Vick owed nearly $20 million when he filed for bankruptcy in 2008 and the Falcons had to rebuild their franchise.
2. Saints bounties
. Offering cash payments for injuries inflicted on opponents
brought down the wrath from commissioner Roger Goodell
: Saints coach Sean Payton was suspended for one year, former defensive coordinator Gregg Williams was suspended indefinitely, general manager Mickey Loomis was suspended for eight regular-season games, the team was fined $500,000 and lost two second-round draft picks (one in 2012 and '13) for their participation in a bounty program.
[+] Enlarge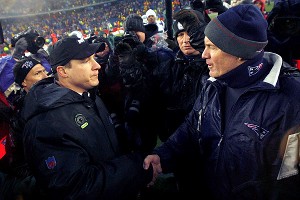 Jim Rogash/Getty ImagesThe New England Patriots haven't won a Super Bowl since cheating allegations cost them $750,000 and a draft pick.
3. Spygate allegations.
Cheating claims levied against the
New England Patriots
threatened to tarnish the legacy of a flagship franchise at the peak of its powers. Commissioner Roger Goodell determined the Patriots acted against league rules by videotaping opponents' hand signals. The NFL levied $750,000 in fines and revoked the Patriots' first-round choice in 2008.
4. Hornung/Karras gambling.
The NFL suspended Paul Hornung and Alex Karras for the 1963 season after both admitted to betting on NFL games. Hornung and Karras were both Pro Bowl players and Hornung was one of the league's biggest stars playing for the NFL's most iconic team: the
Green Bay Packers
. Commissioner Pete Rozelle reinstated both players in 1964, and Hornung wound up in the Hall of Fame.
Art Schlichter's one-year ban two decades later also deserves mention among player gambling scandals, but his standing in the league wasn't as strong at the time.
5. Eddie DeBartolo Jr. suspended.
The
San Francisco 49ers
' former owner remains a beloved figure in team lore. He was a finalist for the Hall of Fame this year. But his 1998 felony conviction for failing to report extortion relating to a Louisiana casino project produced a $1 million fine and one-year NFL suspension. DeBartolo wound up selling the 49ers, precipitating a decade of futility for the organization.
February, 5, 2012
2/05/12
12:52
AM ET
INDIANAPOLIS -- Over the past year, the
San Francisco 49ers
have hired Jim Harbaugh, drafted
Aldon Smith
, posted a 13-3 record, won a playoff game, placed an NFL-best nine players in the Pro Bowl, watched former owner Eddie DeBartolo Jr. become a Hall of Fame finalist and secured funding for a new stadium.
Oh, and Harbaugh was named coach of the year Saturday night.
Those notable achievements should ease whatever sting the 49ers are feeling after DeBartolo failed to earn Hall of Fame enshrinement and Smith, coming off a 14-sack season, finished second to
Von Miller
in balloting for NFL defensive rookie of the year.
DeBartolo was a first-time finalist facing stiff competition from candidates the selectors had been considering for years, including Cortez Kennedy and Chris Doleman, enshrinees with ties to current NFC West franchises. Failing to make the cut doesn't necessarily mean a candidate was deemed unworthy. Sometimes it means there were simply five other candidates with greater appeal among the 15 modern-era finalists considered each year.
Smith, meanwhile, finished his rookie season with 14 sacks as a situational pass-rusher. He played about half the defensive snaps and did not start. Miller started 15 games and had 11.5 sacks while playing nearly 80 percent of the defensive snaps for Denver. Both were strong candidates. Smith seemed to gain on Miller late in the year.
February, 4, 2012
2/04/12
8:21
PM ET
INDIANAPOLIS -- Thirteen modern-era NFL players were finalists for enshrinement Saturday in the Pro Football Hall of Fame.
Only one was named offensive or defensive player of the year during his career.
That was the Seattle Seahawks' Cortez Kennedy. His eight Pro Bowls, all-1990s selection and
overall dominance
made my job as his presenter quite simple. State the facts and let Kennedy's career do the talking. Picking the final five out of 15 modern-era finalists is always tough, however, because it usually requires leaving off worthy candidates.
[+] Enlarge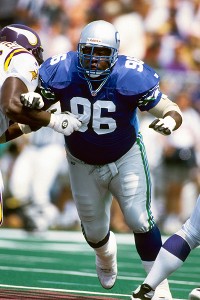 US PresswireNo doubt, Seattle's Cortez Kennedy was one of the most dominant defensive players of his era.
The 43 other selectors and I met for more than seven hours before identifying Kennedy, Chris Doleman, Dermontti Dawson, Curtis Martin and Willie Roaf as the class of 2012. Jack Butler made it as a seniors candidate.
A few thoughts on the process and the results:
This class made it through at a good time. Larry Allen, Michael Strahan, Jonathan Ogden, Warren Sapp, Bryant Young, John Lynch and Steve McNair become eligible for the first time in 2013. Shaun Alexander, Derrick Brooks, Marvin Harrison, Rodney Harrison, Tony Dungy and Mike Holmgren join the list in 2014. Isaac Bruce, Edgerrin James, Walter Jones, Junior Seau, Chris Samuels, Kurt Warner, Ty Law and Orlando Pace are among those eligible beginning in 2015.

Former St. Louis Rams
and Arizona Cardinals
cornerback Aeneas Williams should feel great about cracking the final 10 in his first year as a finalist. Williams had 55 career interceptions and scored nine touchdowns. He was a big-time playmaker for bad and good teams alike.

The situation at receiver remains a mess and it's not going to get easier with Harrison becoming eligible in a couple years. Voters are having a tough time deciding between Cris Carter and Andre Reed. Both made the final 10 this year. Reed made the final 10 last year as well. Having both crack the final 10 this year made it harder for one of them to break through. Voters were more likely to choose one wideout when forced to pick only five players.

Former San Francisco 49ers owner Eddie DeBartolo Jr. did not make the reduction from 15 to 10. I think it's tougher for voters to quantify how owners and even coaches -- think Bill Parcells, who missed the cut from 10 to five -- contributed to their teams' success. The discussions for Parcells (55-plus minutes) and DeBartolo (42-plus minutes) were more than twice as long as the discussions for other candidates. Hall bylaws prevented voters from considering the legal troubles and suspension that preceded DeBartolo's exit from the game.

DeBartolo was a finalist in part because he hired Bill Walsh, promoted a winning culture, cared tremendously for his players and helped win five Super Bowls. He spent this weekend with former 49ers player Freddie Solomon, who is in the final days of a battle with cancer. The 49ers' renewed success this past season also reflected well on DeBartolo, who has become a tremendous resource for current team president Jed York, his nephew.

Electing one pass-rusher (Doleman, who spent part of his career with the 49ers) to the Hall could give former 49ers and Dallas Cowboys pass-rusher Charles Haley an easier time in the future. But with Strahan joining the conversation in 2013, Haley faces stiff competition again. Former Rams pass-rusher Kevin Greene did not make the final 10 despite 160 career sacks.
It's been a whirlwind day. Hall bylaws prevent me from sharing specifics about what was said in the room during the proceedings. The Hall also asked voters not to reveal their votes outright. I voted for five of the six players enshrined on the final cut and supported others. As always, however, reducing to only five in the end required leaving off candidates I hope will make it in the future.
February, 4, 2012
2/04/12
10:13
AM ET
INDIANAPOLIS -- Pro Football Hall of Fame voters are beginning to assemble for a day-long session to determine the 2012 class.
Eddie DeBartolo Jr., Cortez Kennedy, Kevin Greene, Aeneas Williams, Charles Haley, Chris Doleman and Jerome Bettis are among the 15 modern-era finalists with ties to current NFC West organizations. I will be presenting Kennedy's case to the selectors as the representative for the Seattle market.
We will discuss each candidate -- see them all
here
-- and then hold a series of votes. The first vote will reduce the modern-era finalists from 15 to 10. The second vote will reduce that group from 10 to five. From that group, those with an 80 percent approval rate gain selection.
The NFL Network is scheduled to announce results at 5:30 p.m. ET.
In the meantime, here are our
Super Bowl predictions
.
January, 31, 2012
1/31/12
6:16
PM ET
INDIANAPOLIS -- Seven NFL figures with ties to current NFC West franchises head toward Saturday as finalists for the 2012 Pro Football Hall of Fame class.
Cortez Kennedy, Eddie DeBartolo Jr., Kevin Greene, Charles Haley and Aeneas Williams spent all or much of their careers with franchises currently in the division. Jerome Bettis and Chris Doleman spent shorter stretches with current NFC West franchises.
I'll be among the 44 selectors trying to single out the five best candidates for enshrinement with the class of 2012.
710ESPN Seattle hosts Dave Grosby and Bob Stelton inquired about Kennedy's chances during our latest conversation Tuesday. That
audio is here
. In my view, more than five candidates deserve enshrinement in a typical year. That means worthy candidates must wait. Predicting how the voting will go becomes a futile pursuit.
January, 7, 2012
1/07/12
3:38
PM ET
The
San Francisco 49ers
' resurgence this season recalls the team's greatest years.
How appropriate, then, that Eddie DeBartolo Jr. has emerged as a Pro Football Hall of Fame finalist for the first time. DeBartolo and former St. Louis/Arizona defensive back
Aeneas Williams
add NFC West flavor to the proceedings as first-time finalists for the Hall. I'll be among those casting votes when the selection committee gathers during Super Bowl week.
No more than five of the maximum
15 modern-era finalists
can qualify for enshrinement in a given year. That makes handicapping a candidate's chances difficult. Worthy finalists miss the cut every year, in my view. They must wait their turn while other worthy finalists gain enshrinement.
Without slam-dunk candidates such as
Emmitt Smith
or
Jerry Rice
on the ballot this year, the door could open for some who have waited their turn recently.
Cortez Kennedy
,
Charles Haley
,
Jerome Bettis
,
Chris Doleman
and
Kevin Greene
are among the finalists with ties to franchises currently in the NFC West. Kennedy made the final 10 last year.
Also among the modern-era finalists:
Tim Brown
,
Cris Carter
,
Dermontti Dawson
,
Curtis Martin
, Bill Parcells,
Andre Reed
,
Willie Roaf
and
Will Shields
. Jack Butler and Dick Stanfel are eligible as seniors nominees. Their enshrinement would not come at the expense of the maximum five slots for modern-era finalists.
February, 3, 2011
2/03/11
3:30
PM ET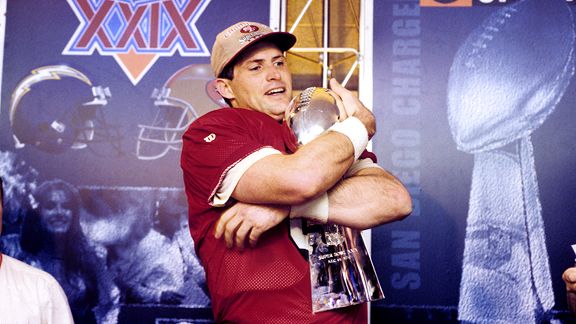 US PresswireThe 49ers haven't won the Super Bowl since Steve Young held the Lombardi Trophy on Jan. 29, 1995.
DALLAS -- Sixteen years have passed since
Steve Young
defined his legacy while leading the
San Francisco 49ers
to their fifth Super Bowl championship.
The 49ers haven't been back to a Super Bowl since and they haven't even sniffed the playoffs since 2002. That was four head coaches and one interim coach ago.
Ten quarterbacks have started games for the 49ers since 2000; the number was 12 for the previous 19 seasons, and two of those guys are in the Pro Football Hall of Fame.
The losing and instability stand in stark contrast to the standards two other proud franchises, Green Bay and Pittsburgh, have set in reaching this Super Bowl. The Packers and Steelers have weathered downturns and gotten stronger.
What happened to the 49ers? Who deserves the blame? Why? What will it take to restore the 49ers' status? Those were
the questions I asked
on the blog Wednesday. There was no shortage of material in the comments section, but one of the shortest answers summarized most of the feelings.
"Bad ownership picking bad leadership picking bad coaches picking bad talent,"
Claatuop
wrote.
Total system failure, in other words.
It's the ownership
Green Bay and Pittsburgh feature arguably the strongest, most stable ownership situations in the NFL.
The Packers have had the same basic philosophy toward personnel since Ron Wolf became their general manager in 1991. Wolf has long since retired, but the Packers' current GM, Ted Thompson, learned under him. Green Bay has likewise run a version of the West Coast offense since Mike Holmgren became their coach in 1992.
The Steelers have had three head coaches since 1969.
The 49ers enjoyed stable ownership until legal troubles forced Eddie DeBartolo Jr. to give up control of the team in 2000. The team posted winning records under coach Steve Mariucci in 2001 and 2002, but Mariucci was out after that season and the team hasn't had a winning record in any season since.
"For the 49ers, it all comes down to ownership,"
caseytb4949
wrote. "After the Eddie DeBartolo fiasco, ownership of the team transitioned to his sister, Denise, who had little interest in the 49ers. Her husband, who exerted practical control of the team, was and is not a football guy. What's worse, his ego was such that it precluded him from hiring sound football minds. He hired an inexperienced GM, Terry Donahue, and forced out a winning coach in Steve Mariucci. His GM then went on to completely gut the team's talent."
Harsh words, but the evidence supports the general idea, minus the ego part. Quite a few comments suggested the 49ers have put business before football since DeBartolo's departure.
"It was 'Eddie D' leaving and the departure from the Bill Walsh coaching/personnel tree,"
kingjames988
wrote. "When you move away from what made you great, you almost always end up with less success."
John York and Denise DeBartolo York have handed control of the team to their son, Jed. Jed York, as team president, has shown he values the 49ers' past and the values that made the organization great, but there's little evidence to this point he knows how to return the team to its previous standing.
Its' the leadership
The 49ers have bounced from one leadership team and front-office model to another.
They've handed over total control to a head coach (Mike Nolan). They've had a GM (Scot McCloughan) work with a head coach (Mike Singletary) who had final say over the 53-man roster. They've gone without a GM (after McCloughan left the team abruptly last year).
The current setup is more traditional, with new coach
Jim Harbaugh
working under new general manager Trent Baalke.
Frequently shifting leadership has made it tougher for the team to develop players and maintain a consistent philosophy. Bad luck has compounded matters, as when offensive coordinators Mike McCarthy and Norv Turner took head coaching jobs.
The 49ers sustained Walsh's philosophy on offense and overall, at least to an extent, into the last decade. But Walsh's influence was eroding all the while. And when Donahue took over as general manager in 2001, Walsh was available only as a consultant. He was out of the organization by 2005 and died in 2007.
"Going from Walsh to Donahue was a complete swing-and-miss, and he fired Steve Mariucci after a year where the Niners went 10-6 and won one of the most epic playoff games of all time,"
Joey Barrows
wrote. " 'Mooch' was perfect for the Niners and bad management messed that up."
What started as a reasoned explanation turned into a more emotional rant mentioning Dennis Erickson,
Tim Rattay
,
Ken Dorsey
, the York family's ownership, Turner and Mike Nolan. It concluded with, "And don't get me started on Mike Singletary. Dear Lord."
It's the coach
Walsh set the standard. George Seifert sustained the legacy. Mariucci maintained offensive continuity. They all won.
The 49ers haven't had a winning season since Mariucci lost an internal power struggle.
Singletary projected strong leadership, but he had never been even a coordinator, let alone a head coach. Nolan had never been a head coach, either. In retrospect, the 49ers could have benefited from more seasoned leadership on the sideline, particularly without more experienced leadership in the front office.
"It seems that every department performed poorly after Mariucci left,"
catterbu
wrote. "There is also a certain chicken-egg sort of scenario that has taken place. Instability with coaching leads to poor development of players since the same coaches are not there for very long, which leads to poor performance and firing of the coaches. It's the cycle that must be broken. I think that many of us 49ers fans still love the team, but have almost grown numb to the pain."
Harbaugh has succeeded as a head coach at the college level. He has expertise on offense, something the 49ers haven't had in a head coach since Dennis Erickson replaced Mariucci. The 49ers ranked fifth in yards and ninth in points under Erickson while going 7-9 in 2003, but they parted with quarterback
Jeff Garcia
after the season.
Which leads to the next problem area.
It's the quarterback
[+] Enlarge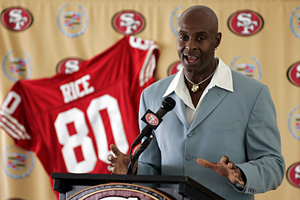 Justin Kase Conder/US PresswireFormer 49ers receiver Jerry Rice says the team's instability at quarterback has been a major reason for it's lack of success in recent seasons.
One of the greatest 49ers, retired receiver
Jerry Rice
, offered his thoughts Thursday morning between appearances on ESPN. He pointed to management problems and the 49ers' decision to draft
Alex Smith
over Packers quarterback
Aaron Rodgers
with the first overall choice in 2005.
"I mean, there are certain draft choices that you make or you don't make and it's going to cost you," Rice said. "This guy (Rodgers) was right there at Cal. He wanted to be a 49er. But we decided to pass on him and go with Alex Smith. This is not all his fault, but Alex Smith at Utah was more of just a shotgun passer. That is a whole different scenario there. Then with him having so many offensive coordinators and stuff like that, it was major."
The 49ers won at least 10 games in every non-strike season between 1981 and 1998. Young played only three games in 1999 before retiring.
Joe Montana
and/or Young were the quarterbacks during that brilliant run from 1981-1998. The 49ers had limited success with Jeff Garcia in subsequent years, but they haven't acquired or developed the right quarterback. Sometimes it's that simple.
"The Niners were once a team that was built upon a strong mixed offense,"
SFDM12
wrote, "but over the years they have had some key ingredients, but always lack one important piece: a stable quarterback that can handle the pressure and deliver."
Having the wrong quarterback magnifies problems that might not matter so much otherwise, whether it's losing a coordinator or making a mistake in the draft. Rice thinks the quarterback issue is even bigger now than when he played, because players are less apt to rally around a lesser one.
"When I played the game, if it was not Montana or Young, I had to do whatever I had to do to make that guy under center better, and I took pride in that," Rice said. "But with the guys today, they are not going to do that. If they feel you are not capable of doing it, they are not going to waste their time. You are done. It's a whole different generation of guys. I'm not saying they don't love the game, but I could tell with the Niners that they did not feel confident that this guy was the leader and they could win games with him."
For that reason, and because the 49ers have pretty good talent elsewhere on the roster, Rice said he thinks the 49ers should pursue a veteran quarterback.
The road back
The 49ers' ownership isn't likely to change. The leadership and coaching positions appear set.
Quarterback remains a massive question mark.
Harbaugh has a five-year contract and a clear offensive philosophy. He should be able to offer some continuity on offense, at least. And he has said he'll reach back into the West Coast tradition Walsh established three decades ago.
"That was the philosophy he was using at Stanford," Rice said. "It is very simple where these players can just go play football. I think that is going to help. I think having a GM in place is going to help because it takes some of the pressure off Jim Harbaugh."
They will, of course, need the quarterback.
"Since the hiring of Nolan, they have at least tried to do the right thing, and the roster talent has grown immensely,"
WakeTripper
wrote. "With Jed at the helm, there seems to be a new attitude, more similar to the 'Eddie D' days. And now, capped with the hiring of Harbaugh and his desire to bring back the West Coast Offense, us longtime fans can at least have hope that the Niners can regain their team identity and return to their former status as one of the great teams in the league."
May, 20, 2009
5/20/09
9:42
AM ET
Posted by ESPN.com's Mike Sando

Bernie Miklasz of the St. Louis Post-Dispatch says the Rams have no interest in former Giants receiver Plaxico Burress. Miklasz: "When new head coach Steve Spagnuolo was hired, he stressed the four pillars of his leadership, the four pillars that would rebuild the franchise: (1) Faith; (2) Character; (3) Core Values; (4) Team. Does that sound like Plaxico Burress to you?" Burress could be facing jail time.
Jim Thomas of the St. Louis Post-Dispatch says bouncing between nose tackle and three-technique tackle hasn't helped first-round choice Adam Carriker. Thomas: "Carriker's first two seasons were slightly disappointing, but in his defense he was bouncing around [from] NT to UT. He's more suited for UT, or 3-technique, it seems, and if he's left there, he might come around pretty quickly. [Clifton] Ryan has been pretty solid in the middle. The rest of the rotation is pretty much up in the air at this point. Rookie Darell Scott probably will be in there, and Orien Harris, too. As for [Claude] Wroten, I expect the Rams to release him as soon as he's reinstated. Of course, I could be wrong about that. But he doesn't seem to fit the Spags profile."
Bill Coats of the St. Louis Post-Dispatch says Spagnuolo is stressing penalty reduction. Also: "Larry Grant worked with the first unit at strongside LB on Tuesday. That spot is open following the release of veteran Pisa Tinoisamoa. With second-round draftee James Laurinaitis still with the No. 2 unit, Chris Draft was at MLB with the ones."

Mike Swift of the San Jose Mercury News says the 49ers have reached agreement with Santa Clara on financing for a new stadium. Mayor Patricia Mahan: "I believe we have negotiated as far as we can, and we are ready to bring it to the public." The public could get a look at the deal next week.
Ray Ratto of the San Francisco Chronicle sizes up the 49ers' stadium efforts this way:"In this corner, there is Jed York, born to the purple and working on behalf of mom and dad to get the Santa Clara deal moving. In the other, there is Carmen Policy, Eddie DeBartolo's old wing man, working on behalf of Lennar, the folks who are trying to make the 49ers a new home at Hunters Point if the Santa Clara thing collapses. And in the middle -- leaning toward Jed -- is Eddie, who is about to be inducted into the 49ers' Hall of Fame, largely on Jed's initiative. We're sure the development is entirely coincidental and meritorious."
Gwen Knapp of the San Francisco Chronicle says the 49ers' other receivers seem to be embracing first-round choice Michael Crabtree, viewing him more as a threat to opponents than to their own playing time. If veteran Isaac Bruce is concerned, it's not showing. He has skipped the voluntary workouts to this point.
John Crumpacker of the San Francisco Chronicle says 49ers players keep getting hurt during organized team activities (OTAs). Crumpacker: "The early diagnosis on [Walt] Harris was a sprained knee, with further evaluation to come. The 49ers are not deep at cornerback. Behind Harris on the depth chart is Tarell Brown and after him, there's Shawntae Spencer, who is coming off a 2008 knee injury that cost him 14 games."
Matt Maiocco of the Santa Rosa Press-Democrat says the best-case scenario for Alex Smith and the 49ers would be for Shaun Hill to open the 2009 season as the starter. I think that depends on how the quarterbacks look during the offseason, specifically during the exhibition games. Is there a chance Smith wins the job and plays well for 16 games? Also, just to be clear, the 49ers also have no interest in Burress.
Matt Barrows of the Sacramento Bee says the 49ers' depth at receiver is being tested with Bruce away, Crabtree rehabilitating a foot injury and Jason Hill suffering a sprained ankle in practice.

Bob McManaman of the Arizona Republic says new Cardinals running back Jason Wright is embracing the opportunity in Arizona. Wright: "It's an offense that puts players in the best position to win. It's an attacking offense, aggressive and it's not reactive. I love that about this offense. It's forward moving and it's very efficient. In fact, I was amazed during our first minicamp at how many completions there were and how few dropped balls and mental errors I saw. That's really rare. But they've got something really crisp going on."
Also from McManaman: Karlos Dansby expresses confidence in the Cardinals' ability to reach a long-term agreement with him.
Carrie Watters of the Arizona Republic details Arizona's failed bid to land the 2013 Super Bowl. New Orleans was more than a sentimental favorite.
Darren Urban of azcardinals.com says Kurt Warner, Larry Fitzgerald, Adrian Wilson, Sean Morey, Kenny Iwebema, Bertrand Berry and Chike Okeafor did not attend OTAs Monday. Urban expects them to show up later.
Revenge of the Birds' Hawkwind sizes up Cardinals sixth-round choice Will Davis. Hawkwind: "It wouldn't be surprising at all, given the current depth at OLB, for Davis to spend the season on the practice squad. He has zero experience in space [and] his transition to OLB will be more difficult than second round pick Cody Brown. When you add in that he also needs to get stronger and possibly drop some weight, a year on the practice squad seems to make sense. If he does find his way onto the roster, it'll likely be because he's made a name for himself on special teams."

Gregg Bell of the Associated Press says Bryan Pittman's agent confirmed the long-snapper's contract agreement with the Seahawks.
Clare Farnsworth of Seahawks.com says vice president Joe Biden, speaking at Wake Forest's commencement, pointed to Seahawks linebacker Aaron Curry as reason for optimism. Biden: "As a student of history, it's the history behind me and the people in front of me that give me such a degree of optimism. ... It's about Aaron Curry, a scrawny freshman linebacker recruited by only two schools, who worked his rear off, became a Top 5 pick, and is walking off this stage into an opposing NFL backfield. Aaron, I heard you wanted to go to law school -- you were considering going to graduate school. I also heard that your fellow draftees have taken up a collection encouraging you to go. So I'm sure there's a scholarship there if you want it."
John Morgan of Field Gulls outlines 10 keys for the Seahawks on defense. Darryl Tapp's emergence tops the list.
July, 25, 2008
7/25/08
9:31
AM ET
Posted by ESPN.com's Mike Sando
Jim Thomas of the St. Louis Post-Dispatch has the good news for Rams fans: Pro Bowl left tackle Orlando Pace has been cleared to practice. That means Pace won't open camp on the physically unable to perform list, as coach Scott Linehan had suggested he might. Pace is coming off shoulder surgery and two injury-shortened seasons. I think the Rams are a potential playoff team if Pace plays a full season at a high level.
Bill Coats of the St. Louis Post-Dispatch has the latest on contract talks for Rams running back Steven Jackson, who was not immediately in camp. Jackson should be in good position to command a new deal given what new offensive coordinator Al Saunders thinks about him. Saunders knows what Jackson means to the offense. Jackson is scheduled to earn $1.7 million in 2008, the final year of his contract.
Doug Lesmerises of the Cleveland Plain Dealer tells how Ohio State coach Jim Tressel used his relationship with former 49ers owner Eddie DeBartolo Jr. to bring in Jerry Rice, Ronnie Lott, Joe Montana and Roger Craig as motivational speakers. What, no Elvis Grbac?
Danny O'Neil of the Seattle Times takes roll heading into Seahawks camp. Rookies Lawrence Jackson and John Carlson remain unsigned and absent. O'Neil also has a chart showing the length of recent contract disputes involving Seattle rookies.
Dave Boling of the Tacoma News Tribune breaks down the issues Seattle faces heading into camp, noting that the big ones sound quite familiar. Marcus Tubbs, the offensive line, etc. Boling's conclusion: "The Hawks have been to the playoffs nine times in their history & and six of them have been under Holmgren, including the last five straight. That's an example of redundancy that fans can live with." Full disclosure: Dave was best man in my wedding.
Brian McIntyre of the Scout.com network provides a pre-camp Seahawks roster breakdown in the format I used for years as a beat reporter. You might see similarly conceived roster analyses here.
Kent Somers of the Arizona Republic breaks down Anquan Boldin's beefs with the Cardinals. Says Boldin: "At this point, I'm not even interested in a contract. For me, it's been going on two years, and especially after last year, I was promised a deal would get done before the season. But the season's here and obviously that hasn't happened. I don't want a deal. People may think I'm being funny or saying that just to say it. But, for me, I'm just tired of it. Washed my hands of the whole situation. My agent has direct orders not to negotiate. So that's how I feel about it."
Scott Bordow of the East Valley Tribune thinks the Boldin impasse could negatively affect the Cardinals' season, given Boldin's role as heart and soul of the team. Bordow also says we shouldn't discount the possibility of an agreement if the Cardinals were to up their offer at some point in the future. I tend to agree only because Boldin has three years remaining on his deal, and much can change in three NFL seasons.
Mike Tulumello of the East Valley Tribune breaks down Steve Breaston's push for the No. 3 receiving job. We'll have a better idea how the race will shake out once third-round receiver Early Doucet puts on the pads at camp. I'll judge Doucet more by how he fares in exhibition games than how he fares in practices, particularly early in camp.
Tom FitzGerald of the San Francisco Chronicle was there when 49ers rookie Kentwan Balmer broke down in tears (of joy) after signing his rookie contract. I don't know much about Balmer, but this has to be a good sign. The guy obviously cares.
Clare Farnsworth of the Seattle Post-Intelligencer puts the 80-man roster limits in perspective, going beyond the obligatory comments from coaches lamenting the reductions. Farnsworth digs deep into his notes to recall a 1989 conversation with defensive end Jacob Green, who knew what smaller roster limits could mean for veteran players. Projecting ahead, I don't see the limits affecting Seattle as much as they might affect teams run by hard-nosed defensive coaches. Mike Holmgren already tends to limit the amount of contact in the interests of keeping players healthy.
Thomas Bonk of the Los Angeles Times reminds us how some were picking the 49ers as a sleeper team last season. Not this season, and that's a good thing for the 49ers. They need to prove it to themselves before the rest of us buy in.
Jamie Griswold of MyNorthwest.com provides a link to a Matt Hasselbeck interview featuring a telling quote from the Seattle quarterback regarding new line coach Mike Solari: "He's really done a nice job of bringing our running game together." Seattle fans should be encouraged when Hasselbeck directs optimistic thoughts toward a specific area, particularly when that specific area is the much-maligned Seattle ground game.
NOTE: Please drop additional links into the comments section if you think I've missed some good ones. I'm an RSS fiend but still can't get to everything.

NFL SCOREBOARD
Thursday, 8/14
Friday, 8/15
Saturday, 8/16
Sunday, 8/17
Monday, 8/18
WEEKLY LEADERS