NFL Nation:

Edgar Bennett
September, 15, 2014
Sep 15
10:30
AM ET
GREEN BAY, Wis. -- Whether it was Rob Davis or Edgar Bennett or someone else on the
Green Bay Packers
' sideline, coach Mike McCarthy vowed that it won't happen again -- that there won't be any more penalties on his bench.

McCarthy
It happened in the second quarter of Sunday's comeback win against the Jets, and at the time it looked like a costly mistake. The Packers trailed 21-3, and
Jordy Nelson
had just picked up 17 yards on a catch near the sideline. The Packers wanted a late hit on Jets defensive lineman
Sheldon Richardson
, who drove Nelson to the ground near the sideline.
Not only did they not get that call, but they were flagged for unsportsmanlike conduct for apparently arguing the no call. It appeared Davis, who is not a member of the coaching staff but works with players off the field, or Bennett, the team's receivers coach -- or perhaps both -- were upset that the play carried on outside the boundary. Line judge Byron Boston heard something he deemed unruly from the Packers.
"That's disappointing," Packers coach Mike McCarthy said. "Byron called it on our bench. He said someone said some things to him, and he reacted quickly. Obviously at the end of the play, I don't remember who exactly was going out of bounds, but there looked to be a potential late hit. Things were said and a flag went up.
"I've talked to a number of people, I talked to Byron about it a couple times. I don't know who he threw it on. That's what's kind of in question. But the penalty was on our bench, which is not ... we're not going to do that no more."
Nelson's catch would have put the ball at the Jets' 28-yard line, but the flag backed up the Packers to the 43. They still managed a field goal on the drive after failing to score a touchdown despite having first-and-goal at the 5.
August, 5, 2014
Aug 5
7:15
PM ET
GREEN BAY, Wis. -- When general manager Ted Thompson drafted Fresno State receiver
Davante Adams
in the second round this year, there were instant comparisons to former
Green Bay Packers
wide receiver
James Jones
-- another California kid with similar size and physical attributes.
Adams and Jones even worked out together before the draft this spring.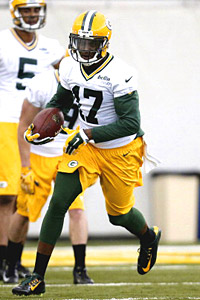 Mike McGinnis/Getty ImagesSecond-round pick Davante Adams is making strides at wide receiver for the Green Bay Packers.
A little more than a week into training camp, however, the 6-foot-1 and 215-pound Adams has looked more like another, more productive former Packers' receiver.
The way Adams cuts in and out of his breaks with ease has reminded the Packers of a young
Greg Jennings
, who was perhaps the best route runner this team has had in the last decade or more. Because of that, Adams is making a strong push for the No. 3 receiver spot behind
Jordy Nelson
and
Randall Cobb
.
"We noticed that the first day he got here," Cobb said after Tuesday's practice. "He's really smooth."
That was on display in Saturday's Family Night practice at Lambeau Field. With 67,336 people looking on, Adams made the best catch of the night on an out route from backup quarterback
Matt Flynn
. Adams had to extend to haul in the pass toward the left sideline against tight coverage.
Adams got off to a slow start in the offseason practices, making
Jarrett Boykin
look like a lock for the No. 3 spot. But with every training camp practice, it looks more like Adams will push and perhaps overtake Boykin, who has had an ordinary camp.
"I feel like I've made a pretty big jump," Adams said. "I was having some trouble at first just getting here for OTAs and getting adjusted. I was playing well, but it was a matter of just making sure I got all the concepts down. It's starting to be more fluid, and I feel better."
There may have been a good reason it took Adams' abilities a little longer to show up, and it is not solely because he missed the first week of OTAs while attending the NFL Players Association Rookie Premier event in Los Angeles. He said Tuesday that he was bothered by a hamstring injury this offseason. It did not keep him out of any practices, but he believes it impacted his ability to catch the ball.
"I'm a lot healthier now," he said. "Now, I'm rolling on two wheels so it's easier to catch up to the ball."
Receivers coach Edgar Bennett used the terms "explosive" and "quick" to describe Adams despite his 4.56 second 40-yard dash time at the combine. If Adams doesn't have blow-by-you speed, he uses his athleticism (his vertical jump of 39.5 inches was tied for third among the receivers at the combine) and precise route running to make up for it. He led the nation in receptions with 131 last season for a reason.
"He's not going to wow you with speed," Packers cornerback
Davon House
said. "But he's very quick off the line. Him and Boykin probably give me the most trouble off the line, and he's a big target who can catch."
The Packers are not necessarily down on Boykin, who caught 49 passes for 681 yards last season, but a bad drop like he had in Monday night's practice has further opened the door for Adams.
No Packers rookie receiver has caught more than 40 passes since Jennings had 45 and Jones 47 in consecutive seasons (2006 and 2007, respectively). Jones played seven solid years in Green Bay but caught more than 50 passes only twice and never had a 1,000-yard season, while Jennings went to a pair of Pro Bowls and had three straight 1,000-yard season before signing with the
Minnesota Vikings
in 2013.
"He adds another dimension to our team," Cobb said of Adams. "You can see that he has that playmaking ability, so I'm excited for him."
November, 1, 2013
11/01/13
6:30
PM ET
GREEN BAY, Wis. -- No defensive back in the NFL has forced more fumbles in the last decade than
Chicago Bears
cornerback
Charles Tillman
, and no one knows that better than the
Green Bay Packers
.
Lest they forget, all they need to do is ask
James Jones
.
[+] Enlarge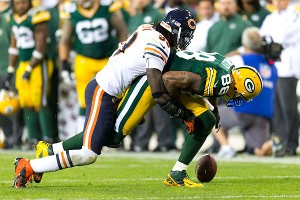 Jeff Hanisch/USA TODAY SportsGreen Bay is game planning for Bears CB Charles Tillman, who has a knack for forcing fumbles -- including this one in the team's Sept. 13, 2012 game.
The Packers receiver was a rookie in 2007, when Tillman got him twice -- on consecutive series no less -- in a
27-20 loss
to the Bears.
"That was a while ago, though," Packers receivers coach
Edgar Bennett
said.
But it should serve as a reminder of what kind of damage Tillman can do, especially to an unsuspecting young receiver.
Since he came into the league in 2003, Tillman has forced 41 fumbles. Only
Indianapolis Colts
outside linebacker
Robert Mathis
, with 43, has more during that stretch. And Tillman is the only one in the top 12 on that list whose primary responsibility isn't to rush the quarterback. Eleven of the top 12 are either defensive ends or outside linebackers, according to ESPN Stats & Information.
If Jones' knee injury keeps him out for a third straight game on Monday night against the Bears, the Packers will once again rely on a couple of young receivers -- second-year pro
Jarrett Boykin
and rookie
Myles White
-- to team up with veteran
Jordy Nelson
in their three-receiver sets.
"They've got to learn from that," Bennett said. "You turn the tape on, and you see guys doing it the right way, being fundamentally sound as far as how they're carrying the football, being smart in certain situations with the football, and we've got to apply that knowledge and put it to good use. If we do that, then we'll have some success in that area."
Bennett is a stickler for ball security. He learned the importance of it as a player, when he lost playing time early in his career as a Packers running back because of fumble problems.
The Packers have had just one fumble by a receiver this season -- Jones against the
Washington Redskins
in Week 2. And even that was something of a fluke when he tried to reach out for the end zone and lost the ball. It hit the pylon, which made it a touchback.
"Edgar is as good as it gets in staying on those guys about ball security," Packers quarterback
Aaron Rodgers
said. "I've never seen any coach stay on his group the way that he does."
And Tillman should heighten that ten-fold.
As good as former Packers cornerback
Charles Woodson
was at forcing fumbles, he has less than half as many as Tillman over the same time period. With 20 since the start of 2003, Woodson ranks tied for 15th.
Bennett often picked Woodson's brain about his mindset when it came to forcing fumbles and helped apply that to his coaching.
"It comes down to being fundamentally sound," Bennett said.
When asked whether Tillman does anything different to create fumbles, Nelson said: "He's just better at it."
But then Nelson went on to note Tillman has a knack for punching straight at the ball.
"You can tell he works on it because he hits the ball every time, and it will just pop right out," said Nelson, who has not fumbled since Week 16 of the 2010 season. "You know they put an emphasis on it. They probably work on it all the time. He's got plenty of years doing it and has been successful."
But he's never gotten Nelson.
"Not that I know of," said Nelson, whose 2010 fumble is the only one of his career on offense.
And the Packers would like to keep it that way.
August, 23, 2013
8/23/13
12:45
PM ET
GREEN BAY, Wis. -- Expect to see replay after replay of
Golden Tate
and
M.D. Jennings
fighting for the ball on the final play of last year's Week 3 game between the
Green Bay Packers
and
Seattle Seahawks
during the television broadcast of Friday night's preseason game at Lambeau Field.

But that's old news, at least to the Packers, who have two preseason games and just three more practices remaining before final roster cuts are due Aug. 31.
Here are five things to watch for from the Packers' perspective:
1. Playing time for the starters:
Coach Mike McCarthy has typically used the third preseason game as a dress rehearsal for the regular-season opener, playing his starters at least the full first half and resting them in the exhibition finale. This year could be different. McCarthy and general manager Ted Thompson still have a long list of young players they want to see in extended game action to get a better evaluation. To do so, they might have to cut back on playing time for some of the starters. "I talked to Ted about some things, so once again we're trying to get as much information as we can," McCarthy said. "We want to play very well, we want to win the game, but we've got guys who have been injured the whole camp. We have guys who have been injured from the spring all the way through camp that are finally maybe playing."
2. Young receivers:
Among the players McCarthy was referring to are rookie receivers
Kevin Dorsey
and
Charles Johnson
. Both missed most of training camp and the offseason program. Dorsey returned last week from a hamstring injury but did not play in Saturday's game at St. Louis. Johnson returned this week from a knee injury. The seventh-round draft picks were expected to challenge for the Nos. 4 and 5 receiver spots but have fallen way behind. "I think they have a good grasp of our offense, our concepts, what we do," receivers coach Edgar Bennett said this week. "But unfortunately, a big part of what we do is taking it from the classroom and going out on the practice field and working our fundamentals to improve, and that's the area that, unfortunately due to injury, they haven't been able to take full advantage of. Will they get some opportunities in these next two preseason games? We'll see."
3. Cornerback carousel:
Casey Hayward
was arguably the biggest playmaker for the Packers defense last season. As a rookie, he intercepted six passes while playing the slot position in the nickel package. He missed the first month of training camp because of a pulled hamstring he sustained while working out over the summer. During his absence, rookie
Micah Hyde
has played well in the slot position.
Sam Shields
and
Davon House
have manned the outside spots while
Tramon Williams
remains out with a knee injury. Hayward returned to practice this week and could see some action against the Seahawks. "You have Sam and House outside, Micah is right there, so [Hayward] is fourth right now," cornerbacks coach Joe Whitt said. "So until Casey moves either him or House out of the way, he's not going to get as many reps. You have to be deserving of your reps, and really what you did last year is last year."
4. Harris' return:
Despite the emergence of rookie
Eddie Lacy
, McCarthy insists that
DuJuan Harris
remains his starting running back
. Harris might get one chance to prove that. He will make his preseason debut after finally returning from a knee injury he sustained in the offseason. Harris, who was signed to the practice squad in October and wasn't promoted to the roster until Dec. 1, finished last season as the starter and averaged 4.6 yards per carry over the final four regular-season games. "He did great things for us, I thought, down the stretch in the last part of the season," running backs coach Alex Van Pelt said. "Unfortunately, he had the injury there in OTAs that kept him out of the first part of training camp, but all that being said, he did his job when he was asked to do it last year and he's going to continue to get the first chances to do it now that he's back."
5. Crosby … again:
It wouldn't be a Packers preseason game if there wasn't some drama surrounding the kickers. Just when
Mason Crosby
looked like his struggles were behind him after he made all three of his kicks against the Rams,
he had a horrible practice Wednesday
. He missed three straight field goals before finally knocking a fourth through the uprights. Crosby was scheduled to kick only one or two balls, but special-teams coach Shawn Slocum made him keep kicking until he finally made one. Just one day earlier, Slocum had praised Crosby. "I thought Mason kicked the ball well all week, and he did it in the game and did it again yesterday," Slocum said Tuesday. All eyes will be on Crosby to see if he falters again and re-opens the door for challenger
Giorgio Tavecchio
to beat him out.
February, 2, 2012
2/02/12
9:58
PM ET
Promoting Tom Clements to offensive coordinator
was the logical choice for
Green Bay Packers
coach Mike McCarthy, who lost incumbent Joe Philbin two weeks ago to the
Miami Dolphins
. But two key questioned remained unanswered in a news release issued Thursday to announce the change:
Will Clements double up as his own quarterbacks coach, a job he has held since 2006, or will McCarthy add a new one?
Will Clements call the plays, or will McCarthy continue to do so?
Pete Dougherty of the Green Bay Press-Gazette
suggests that Packers tight ends coach Ben McAdoo would be a candidate for the quarterbacks coach job if McCarthy keeps it separate from the coordinator's role. McCarthy has shown a willingness to shuffle assistants before, having moved longtime running backs coach
Edgar Bennett
to receivers coach a year ago.
There is no reason to think McCarthy will give up his role as the Packers' play-caller, but it's worth noting that he had Clements call plays during last Sunday's Pro Bowl. And in the Week 17 game against the
Detroit Lions
, McCarthy assigned the job to quarterback
Aaron Rodgers
because he wasn't playing. We'll let you know when the Packers address either of those issues.
Update:
Thanks to @cspurls for pointing out via Twitter that a
story on the Packers website
reports McCarthy will still call plays. That information was not in the press release sent out by the team.
January, 20, 2012
1/20/12
8:08
PM ET
I was away from the blog today for some unexpected reasons, but I want to pop in now that
Green Bay Packers
offensive coordinator Joe Philbin has been hired as the next head coach of the
Miami Dolphins
. Some thoughts:
[+] Enlarge

AP Photo/Mike RoemerFormer Packers offensive coordinator Joe Philbin is heading to Miami. Will backup quarterback Matt Flyn and QB coach Tom Clements follow?

Philbin's life has changed dramatically in the past two weeks. He first interviewed with the Dolphins on Jan. 7, the day before the death of his 21-year-old son, Michael. I can't imagine the range of emotions he and his family are feeling Friday evening. To my knowledge, Philbin hasn't spoken publicly since the tragedy.

Philbin was an offensive coordinator who didn't call plays, a combination that left him largely unknown to fans outside of the NFC North. But NFL teams clearly were aware of his even temperament and impeccable character, not to mention his connection to the most successful team of the past two seasons. In addition to the Dolphins, Philbin also interviewed with the Kansas City Chiefs and Tampa Bay Buccaneers. The Oakland Raiders were also reported to be interested, largely because their new general manager is former Packers executive Reggie McKenzie. It's nice to see teams take notice of an assistant who is neither a self-promoter nor one whose qualifications are easily measured in public.

The obvious question is whether Philbin will push the Dolphins to pursue Packers backup quarterback Matt Flynn, either in free agency or in a sign-and-trade. The biggest knock on Flynn is that his two career starts provide a small sample size for teams looking for a starting quarterback. But Philbin has coached almost every practice Flynn has taken part of in Green Bay. If anyone has the background and institutional knowledge to take a measured risk on him, it's Philbin. On the other hand, Philbin also has a larger body of work to conclude that Flynn might not be ready to take the next step. So the Philbin-Flynn connection could work both ways here.

It will be interesting to see if Philbin wants to take highly-regarded Packers quarterback coach Tom Clements with him to be his offensive coordinator/play-caller. The Packers could block him from going, as they did when the Chicago Bears wanted to interview him for their offensive coordinator job in 2010. But even if the Packers promote him into Philbin's old job as offensive coordinator, it still wouldn't be a play-calling role unless coach Mike McCarthy gives that up.

Another candidate for the Packers' offensive coordinator job would be receivers coach Edgar Bennett, who moved from running backs coach last season to broaden his horizons.

Success has its challenges, and one is replacing the inevitable brain drain that occurs as opponents try to replicate. This month, the Packers have lost a top front office talent in McKenzie and one of their top coaches in Philbin. The pressure is on the Packers to continue to develop qualified successors.
July, 11, 2011
7/11/11
4:00
PM ET
We've mentioned
but
not obsessed
over the possibility of a training camp competition for the
Green Bay Packers
' starting tailback job. Our general assumption is that veteran
Ryan Grant
would resume his role as the team's primary runner, with the likely tweak of a true(er) rotation with a deep list of backups headed by
James Starks
.

Starks

Grant
Grant appears to be of the same mindset, but he said all the right things during a recent interview with WSSP-1250. Here is how Grant described the situation, as transcribed
by sportsradiointerviews.com
:
On keeping his starting role

Ryan Grant: "I would think so. I don't know. From what I've heard, that's the conversation that was told to me. ... I was told that by [former running backs coach Edgar Bennett], initially. Jerry [Fontenot, the new position coach] didn't tell me that anything changed. Jerry told me that, as of right now, I'm still the leader of the backfield and the expectations won't change. ... I do believe there will be competition, which is fine. I'm all for that."

On whether he wants to start

RG: "Of course. Why would you not want to? Who doesn't want that? But I do want to win, more importantly. And I do feel like what I bring to the table and what I do on the field is very direct to me. ... I'm looking forward to whatever happens regarding all that and I'm just going to take care of what I can."

On if he was asked to be a backup

RG: "If it was in the best interest of the team, I'm all for it."
Everything is contingent on Grant returning in full health from an ankle injury that cost him 15 regular-season games and all of the postseason in 2010. But it would be easy for coach Mike McCarthy to keep Grant in a nominal starting role. What will be more interesting, however, is the extent to which McCarthy spreads carries between Grant, Starks, and rookies
Randall Cobb
and
Alex Green
. McCarthy might also have to factor in veterans
John Kuhn
and
Brandon Jackson
, who are pending free agents but could re-sign.
Grant was the Packers' unquestioned starter during the 2008 and 2009 seasons. McCarthy handed him the ball 312 times in 2008 and 282 in 2009. No other running back got more than 45 carries in either of those seasons. You would think those numbers will move closer together in 2011. How much closer? That will be the interesting part.
June, 22, 2011
6/22/11
11:00
AM ET
This week's edition of ESPN.com's offseason Power Rankings
was one of my favorites, and not just because I wrote it. As opposed to ranking the best of this moment, our goal was to look ahead and project some of the people we might include in future Power Rankings.
If we're right, this week's list represents the core members of the next wave of NFL head-coaching candidates. We didn't include college coaches, and we made the executive decision to eliminate anyone who has already been a head coach, allowing us to focus on up-and-coming assistants throughout the league.
Given how much projection was involved in this exercise, I felt most comfortable with the people I know most about. (So did the other bloggers, and 24 assistants ended up appearing on at least one ballot.) To that end, I voted for four NFC North coaches in the order below:
3.
Green Bay Packers
safeties coach
Darren Perry
6. Packers receivers coach
Edgar Bennett
7.
Chicago Bears
special-teams coach Dave Toub
10. Packers assistant head coach/inside linebackers
Winston Moss
Moss (No. 6) and Perry (No. 10) made the top 10. My thoughts below:
Perry has two important attributes going for him. First, he is a good coach and deserves credit not only for guiding the transition of Pro Bowl free safety Nick Collins into a new scheme but also patching together the strong safety spot last season between multiple starters. Second, and this is just as important to his future, he is a long-time disciple of defensive coordinator Dom Capers, having played and coached in his 3-4 scheme. Given the success of the Packers' defense last season, and the fact that both Super Bowl teams played that scheme last season, Perry has the schematic pedigree NFL teams will be looking for. Many people around the league believe it is a matter of when, not if, Perry makes the next step to defensive coordinator.
Bennett presided over the rise of tailback Ryan Grant from obscurity in 2007 and has drawn particular praise for drills designed to limit fumbles. Grant deserves some credit as well, but the fact remains he lost five fumbles in three years under Bennett as the Packers' primary tailback. Last season, no one among the trio of Brandon Jackson, John Kuhn and James Starks lost a fumble on a running play. The Packers' decision to shift Bennett to receivers coach suggests he is being groomed for a bigger job -- either in Green Bay or elsewhere.
I didn't really expect anyone else to vote for Toub, and I can't say for sure that an NFL owner would seriously consider hiring a special-teams coach from outside the organization for his own head-coaching job. But Toub has quite simply fielded the most competent and explosive special-teams group in the NFL since joining the Bears in 2004. (One obscure stat among many: The Bears have more blocked kicks during Toub's tenure than any other NFL team.) Toub also has the global mindset necessary to be a head coach, and in 2009, Philadelphia Eagles coach Andy Reid said: "On your staff, the coach that's best prepared to be a head coach is your special-teams coach. They have to deal with everybody on the roster, plus [the media]. That's a tough thing to do. Dave Toub would be a great head coach down the road." Like current Baltimore Ravens coach John Harbaugh, Toub might need to move to an offensive or defensive role for a time period to balance his résumé.
Moss drew interest from both the St. Louis Rams and Oakland Raiders two years ago for their respective head-coaching jobs. He is a strong leader, someone that players enjoy working for and deserves credit for transitioning A.J. Hawk into an inside linebacker and Desmond Bishop into a full-time starter. Moss has experience in a 3-4 and a 4-3 scheme, and there was talk of the Raiders hiring him as their defensive coordinator this winter. My thought in ranking him No. 10 is that NFL teams would pursue Perry before Moss because of Perry's connection with Capers, but that's just an educated guess.
Remember, this was a ranking of up-and-coming assistants, not a list of the 10 best assistant coaches in the NFL. If it had been, my list would have looked dramatically different. Many of the NFC North's best assistants are former head coaches who might not get another chance at the top job. That list includes Capers, Chicago Bears assistants Rod Marinelli, Mike Martz and Mike Tice, and Detroit Lions offensive coordinator Scott Linehan.
And finally, we put together a little video that you might have missed in the original post. Extra credit for anyone who identifies the photograph in the background of my segment.
June, 21, 2011
6/21/11
1:00
PM ET
ESPN.com's NFL writers rank the top 10 up-and-coming assistant coaches in the league today. Next week: Top players overall.
Seven NFL teams named new head coaches after last season, tapping into a pool that included experienced coordinators and relatively unknown assistants alike. The class of 2011 featured longtime candidates (Leslie Frazier, Ron Rivera). It also included a trusted position coach in Mike Munchak (
Tennessee Titans
) and a couple of relative hotshots in Hue Jackson (
Oakland Raiders
) and Pat Shurmur (
Cleveland Browns
).
Who will comprise the NFL's next batch of head-coaching candidates? That was the question ESPN.com hoped to answer in this week's edition of the offseason Power Rankings. We established one ground rule by eliminating any assistant who has already had a permanent head-coaching job. The idea was to develop a list that focused on the "next wave" of coaching candidates.
No less than 24 NFL assistants received at least one vote, a reflection of both the variables involved in head-coaching searches and the relative lack of national name recognition for all but the most highly regarded assistants.
So in that vein, it was no surprise to see four well-known assistants at the top of our list, headed by
New York Giants
defensive coordinator Perry Fewell -- who placed first or second on six of the eight ballots.
Dallas Cowboys
defensive coordinator Rob Ryan finished second, followed by
New York Jets
offensive coordinator Brian Schottenheimer and Arizona offensive line coach Russ Grimm.
Fewell is an ideal candidate in many ways, having spent time as the
Buffalo Bills
' interim coach in 2009 and leading a substantial turnaround of the Giants' defense last season. Fewell interviewed for four head-coaching jobs last winter, and NFC East blogger Dan Graziano suggested that experience, along with a high profile afforded to coaches in New York, make him "the most likely guy on the list to be a head coach soon."
Just don't bother forwarding his name to AFC South colleague Paul Kuharsky, who couldn't find room for Fewell on his 10-man ballot. Kuharsky noted the Giants' poor performance in Week 2 last season against the
Indianapolis Colts
, during which quarterback
Peyton Manning
threw three touchdowns and cruised to an easy 38-14 victory.
"Certainly I'm letting one game overinfluence my ballot," Kuharsky muttered. "But Fewell's plan for the Giants against the Colts last season was so bad that I could not help but score him down for it. Was he not familiar with how Peyton Manning and Indianapolis operate?"
We can't cover every coach who received votes in this exercise, but let's hit some of the more interesting names that received attention.
Another Ryan?
Deserved or not, Ryan has long been considered a loose cannon. There is little doubt about his schematic prowess, but hiring him would require a confident owner ready to make a leap of faith.
The success of twin brother Rex Ryan with the Jets might have softened the perception of that risk, and collectively we see Rob Ryan on the doorstep of a job.
"Similar to Rex, Rob Ryan is good with X's and O's and has the type of outgoing personality players want to be around," AFC North blogger James Walker said. "I think both are equally important in today's NFL. Both brothers say exactly what's on their mind, and before that scared off a lot of teams. But Rex broke the ice with his success in New York and that could help Rob in the future."
The next generation:
Schottenheimer has turned down more opportunities to interview for head-coaching jobs than he has actually submitted to. He has nixed requests from the
Miami Dolphins
and Bills in recent years, but he did interview for the Jets' job that ultimately went to Ryan. I placed him atop my ballot (he finished No. 3 overall) because I think NFL people have made up their mind that he is the kind of young and innovative assistant who can turn around their franchise. (Think: Cowboys coach Jason Garrett.)
Schottenheimer's pedigree doesn't hurt -- he's the son of longtime NFL coach Marty Schottenheimer -- and I'm not sure how closely teams will dissect the specifics of the Jets' offensive performance. Graziano, on the other hand, thinks Schottenheimer is close to coaching his way out of the golden-child image he cultivated and left him off his ballot.
"Having spent a good amount of time around that team the past couple of years, I just feel like defensive coordinator Mike Pettine is the more likely guy to end up a head coach," Graziano said. "Schottenheimer's under a ton of pressure as Ryan defers the offensive responsibilities to him. I feel like, if the offense has a bad year, he could end up in trouble or even out of a job. And given their youth at quarterback and running back and the uncertainty of their receiver situation, a bad year for the Jets' offense is possible.
"Now, he could be a genius, make chicken salad and be the next hot name eight months from now. But I think there's the potential that he may have already peaked as a hot coaching prospect and that he might not be set up to succeed in New York."
The big fella:
Four years ago, Grimm thought he would be the next
Pittsburgh Steelers
coach. He moved to Arizona after the Steelers selected Mike Tomlin instead, and we view his status as a head-coaching candidate with wide disparity.
AFC West blogger Bill Williamson put Grimm atop his ballot, and AFC East blogger Tim Graham had him No. 2. Kuharsky and I left him off.
Williamson thinks Grimm has moved to "the top of the food chain" largely because most of his "hot-name" contemporaries have already gotten jobs. As well, Graham suggested that it will soon be Grimm's turn because he is still well-regarded throughout the league.
Personally, I couldn't get past Grimm's well-publicized gaffe after interviewing with the
Chicago Bears
, after which he referred to the team owners as the "McClaskey" family. I also agree with NFC West blogger Mike Sando, who ranked Grimm No. 8 and wondered: "Is he still ascending? Grimm seems content coaching the line in Arizona. He has plateaued and doesn't seem to be losing any sleep over it."
Welcome back:
Unless you're a college football fan, you might not have heard of
Jacksonville Jaguars
offensive coordinator Dirk Koetter. He spent six years as the head coach at Arizona State, but has drawn some quiet acclaim for his work with the Jaguars and made a strong impression while interviewing with the
Denver Broncos
last winter.
"In a setting where he won't have to deal with boosters and can shine for being a smart X's and O's guy with strong coaching DNA," Kuharsky said, "I think he'd do far better. He's smart and will interview quite well. He really impressed John Elway and the Broncos before losing out to John Fox's experience. St. Louis wanted him as coordinator, but Jacksonville wouldn't let him go. He's heading into the final year of his contract. How
Blaine Gabbert
develops early on will have a big bearing on Koetter's future."
Secret weapon:
In two years, the
Tampa Bay Buccaneers
have developed quarterback
Josh Freeman
into one of the better starters in the league. The man largely responsible is offensive coordinator Greg Olson, who navigated a disastrous 2009 preseason -- coach Raheem Morris promoted him in the middle of training camp after firing Jeff Jagodzinski -- and NFL teams often seek out coaches with success developing young quarterbacks.
"I think Olson deserves a ton of credit for developing Freeman so quickly," said NFC South blogger Pat Yasinskas. "Freeman threw for 25 touchdowns and six interceptions in his first full season as a starter and carried an incredibly young team to a 10-6 record. I also think people need to look at what Olson did last year with rookie running back
LeGarrette Blount
and rookie receiver
Mike Williams
. He helped make them into instant stars."
Super Bowl entitlement:
The
Green Bay Packers
were the only team to place more than one name in the top 10, as would be expected from a championship team. Assistant head coach/inside linebackers Winston Moss is at No. 6, while safeties coach Darren Perry finished No. 10. I also voted for receivers coach Edgar Bennett, who has moved over from running backs coach and is clearly being groomed for bigger things.
I'll detail my ranking of the Packers' assistants, including why I think so highly of Perry, in a future post for NFC North readers. But we'll say this for now: Moss is a strong leader who has drawn interest from the Raiders, while Perry is a disciple of Packers defensive coordinator Dom Capers and his coveted 3-4 scheme.
June, 21, 2011
6/21/11
12:10
PM ET
The last few weeks, in conjunction with our Power Rankings, I've done posts with AFC South players sharing their lists.
I wanted to do the same this week, but as we look at the NFL's up-and-coming assistant coaches, there was no player with the frame of reference to offer a ballot.
So I turned to agent Bob Lattinville. His firm,
Premier Stinson Sports
, represents over 100 college and professional coaches in football, men's and women's basketball and baseball. (We'll unveil our list at about 1 p.m. ET.)
But as a preview, we share Lattinville's thoughts.
I asked that he be reasonable and measured in including his own clients on his list of the top 10 up-and-coming assistants, and he was. Only his No. 10 selection is a client.
Here then, are his opening comments and his list. We thank him for supplying a great read from an interesting angle:
Following is my top 10 list of up-and-coming NFL assistant coaches. I split my list into two categories: (a) six younger, position coaches with eventual head-coach potential, and (b) four veteran, coordinator level coaches who are an opportunity away from ascending to a head-coach position.
My list not only takes into account statistical performance but, more importantly, player development and performance in the context of what these coaches deliver given the personnel resources provided and how they respond to the situations their players/positions/clubs are required to handle.
[+] Enlarge

David Butler II/US PresswireDirk Koetter has been the offensive coordinator in Jacksonville since the 2007 season.

Dirk Koetter (offensive coordinator, Jacksonville Jaguars). Koetter's expertise with X's and O's and scheme are rare, even for the NFL, and he remains cool under pressure.

Russ Grimm (assistant head coach/offensive line, Arizona Cardinals). Well respected by players, coaches and front offices, it's just a matter of time before this Hall of Famer rightly ascends to a head-coach position.

Juan Castillo (defensive coordinator, Philadelphia Eagles). An intelligent coach with a masterful ability to teach and relate to players. His recent switch to the defensive side of the ball will only enhance his already head coach-worthy credentials.

Greg Manusky (defensive coordinator, San Diego Chargers). Manusky's defenses are always among the NFL's most productive and his players play hard for him.

Edgar Bennett (wide receivers, Green Bay Packers). Bennett spent the last six years turning young, and frequently undrafted, running backs into NFL stars. His switch to coaching the Pack's talented group of wideouts will further showcase his skills.

Aaron Kromer (offensive line, New Orleans Saints). The cradle of coaches, Miami (Ohio), produced another winner in Kromer. Incredibly well respected by his players and mentored by one of the NFL's brightest minds in Sean Peyton, Kromer's troops make it all go for the Saints' prolific offense. Without exception, every player I have represented who played for Kromer says the same thing: "He made me better."

Todd Downing (quarterbacks, Detroit Lions). Downing prepared three quarterbacks for the Lions in 2010 and each one of them was productive. At only 31, Downing already has eight years of NFL experience under his belt.

Mike Priefer (special-teams coordinator, Minnesota Vikings). Organized and talented, this U.S. Naval Academy graduate also benefits from strong NFL bloodlines (son of veteran NFL special-teams coach Chuck Priefer). Working with players from several positions on both sides of the ball has developed Priefer's talent evaluation skills as well.

Mike Devlin (tight ends/assistant offensive line, New York Jets). A tough-minded coach's son, Devlin developed as a player under Iowa's Kirk Ferentz, carved out an NFL career from sheer will and flawless technique and is being polished by the league's hottest coaching staff.

Matt Griffin (offensive coach, Jacksonville Jaguars). Griffin's tireless approach, analytical skills and dedication to his players will flourish under Jack Del Rio, a head coach who develops and promotes his staff (an underappreciated aspect of good head coaches). (Lattinville represents Griffin.)
April, 30, 2011
4/30/11
11:27
AM ET
While we were grinding away on other topics Friday night, the Super Bowl champions quietly added two fascinating prospects who are equipped to add new dimensions to their already explosive offense. I'm guessing few teams around the NFL would enjoy reading that sentence about the
Green Bay Packers
, but it's true.
[+] Enlarge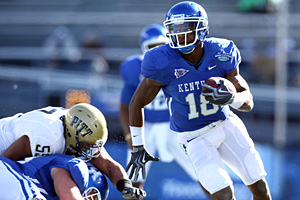 Marvin Gentry/US PresswireRandall Cobb was used as a receiver, running back and quarterback at times by Kentucky.
Kentucky's
Randall Cobb
is officially listed as a receiver, but in reality he was an all-purpose running back-receiver-returner in the fast-paced SEC who could play all over the field for the Packers. And running back Alex Green's experience in Hawaii's run-and-shoot offense all but guarantees he will be a reliable and bruising receiver out of the backfield. Packers running back
Brandon Jackson
caught 43 passes last season, but his return as a pending free agent is questionable at best.
Cobb was one of 25 players the NFL hosted at the draft at New York City's Radio City Music Hall, and in case you haven't heard of him, here's one statistic that should make you sit up straight: He set an SEC record last season with 2,396 all-purpose yards. Given that conference's long history of dynamic playmakers, it was quite an accomplishment.
Among others, it bettered the totals racked up by former Florida scatback
Percy Harvin
, who was used in a similar manner and is now with the
Minnesota Vikings
. Cobb is about 15 pounds lighter than Harvin, and I'm guessing his slighter stature had something to do with his availability at the No. 64 overall pick. But Packers coach Mike McCarthy is one of the more creative offensive minds in the game, and I have no doubt he'll find plenty of ways to use Cobb in a Harvin-like fashion.
Speaking to Wisconsin reporters, Cobb embraced the comparison.
"He's able to do a lot of different things on the field and he's a very active football player and really understands the game and has a lot of great talent," Cobb said. "And I believe I can really fit in that mode, too."
As
Jason Wilde of ESPNMilwaukee.com
points out, that list could include punt and kickoff returns and even the Wildcat, a formation the Packers have never really embraced under McCarthy.
Said receivers coach Edgar Bennett: "I'm going to defer that to Coach Mike, but certainly this kid (having) had some background as a quarterback, it just opens up additional opportunities," Bennett said. "We're talking about a guy that's versatile. We're not game-planning right now, but I'm pretty sure we'll take full advantage of what this kid is capable of doing."
[+] Enlarge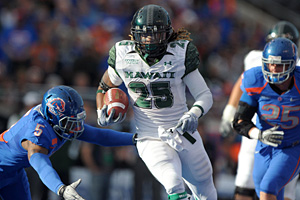 Kirby Lee/Image of Sport/US PresswireAlex Green caught 27 passes out of the backfield for Hawaii last season.
Green, on the other hand, might not get as much immediate playing time as long as incumbents
Ryan Grant
and
James Starks
are rotating in the backfield. But neither are built like the 6-foot, 230-pound Green, and I'm guessing the Packers will find a way to use his receiving skills at some point during the season. He averaged 13.4 yards on 27 receptions last season, and I would be curious to see how he would fare in the fourth quarter of games when his legs are fresh and defenders are growing tired.
Like the
Detroit Lions
, the Packers
have remained true to their draft board
and refused to deviate to find a potential starting right outside linebacker. Perhaps they could find a candidate Saturday among their six picks in the final four rounds. Regardless, the Packers' haul to this point has been intriguing to say the least.
February, 25, 2011
2/25/11
5:19
PM ET
INDIANAPOLIS -- I have to admit being surprised Friday when the
Green Bay Packers
made
Edgar Bennett
their receivers coach. Bennett was a tailback in his playing days and has coached the position for the past six years.
My next thought: Bennett is a coach who has a chance to go places.
Already, Bennett has the good fortune to coach for a high-profile offense that just won Super Bowl XLV. That association, combined with a presumably successful transition to a new position, would make Bennett a hot offensive coordinator candidate in the next year or two.
I don't think that was the primary reason for the change, but coach Mike McCarthy said Bennett "jumped through the door" when he learned of the opportunity.
"Going back to his personal development, it definitely increases here," McCarthy said during a break at the NFL scouting combine. "I think Edgar Bennett is someone that will be looked at like a potential coordinator candidate in the future. It's like anything. You coach running backs, any position, it's easy to get into that box and stay in it. When you're not coaching the other parts of the offense, you know it but you don't know it.
"It's one thing to know the plays and know the adjustments. But when you're coaching every day, it's totally different. This a great opportunity for Edgar personally, but this isn't about personal opportunity. This is about what's best for our offense, and we're going to be better for it."
Bennett replaces receivers coach Jimmy Robinson, who left to take a similar job with the
Dallas Cowboys
. Jerry Fontenot, who has spent the past four years as an assistant offensive line coach, will take over as running backs coach.
In reality, it's silly to presume that playing a position is a prerequisite to coaching it. McCarthy pointed out he was a tight end in college but wound up coaching quarterbacks in the NFL. If Bennett is as good of a coach as advertised, he'll have no trouble with the transition.
"I've seen that story written before," McCarthy said. "Edgar Bennett will do a hell of a job. It's a good opportunity for him. It will give him a chance to broaden his horizons and develop as a coach. This is an opportunity that he jumped through the door for. He wanted to do it."

NFL SCOREBOARD
Thursday, 9/18
Sunday, 9/21
Monday, 9/22
WEEKLY LEADERS