NFL Nation:

Ellis Lankster
March, 5, 2014
Mar 5
9:50
PM ET
Addressing cornerback depth before the start of free agency, the
New York Jets
re-signed backups
Ellis Lankster
and
Darrin Walls
, the team announced Wednesday night. Lankster was slated to become an unrestricted free agent, Walls a restricted free agent.
Lankster
Walls
The moves came on the same day in which they acquired cornerback
Johnny Patrick
on waivers from the
San Diego Chargers
. It means they have six experienced corners under contract, although the future of the No. 1 corner --
Antonio Cromartie
-- remains cloudy because of a $15 million cap charge.
Lankster is an underrated signing. In fact, he was ranked No. 6 on our list of the team's 16 unrestricted free agents. He didn't play much cornerback last season (only 29 snaps), but he was a core special teamer, finishing second on the team with 20 tackles. The Jets were concerned that he'd draw interest on the open market, so they made a preemptive strike.
Walls is coming off a weird year. He played a fair amount of football (three starts and a total of 289 snaps), starting opposite Cromartie whenever rookie
Dee Milliner
was in the doghouse. But when Milliner was in the lineup, Walls was the forgotten man. The Jets rarely used more than three corners in any package, so it turned into an all-or-nothing situation for Walls, who finished with no interceptions and four pass breakups.
Rex Ryan has plenty of bodies at corner, but he'll have a gaping hole if they cut Cromartie. Aside from Milliner, none of the others are starting-caliber players.
December, 24, 2013
12/24/13
2:54
PM ET
FLORHAM PARK, N.J. --
New York Jets
cornerback
Ellis Lankster
(jaw) was not at practice during the portion open to the media Tuesday. Lankster missed Sunday's game with a jaw injury suffered against Carolina on Dec. 15.

The Jets were also without tight end
Kellen Winslow
(knee) but that's part of his schedule. Winslow sits out Wednesdays because of chronic pain in his knee, and because of the holiday, Tuesday is serving as a Wednesday for the Jets' practice purposes.
The Jets are otherwise healthy. They didn't suffer any injuries in their 24-13 win against Cleveland on Sunday.
October, 29, 2013
10/29/13
3:50
PM ET
The Cincinnati debacle notwithstanding, the
New York Jets
have exceeded expectations with a 4-4 record. Some so-called experts didn't think they'd win four games for the entire season. You know who you are.
Before the season, I spoke to several personnel experts, and the consensus was that it was a six-win roster. A former Jets player, someone who understands the pulse of the team, told me in the preseason, "They're going to be terrible."
[+] Enlarge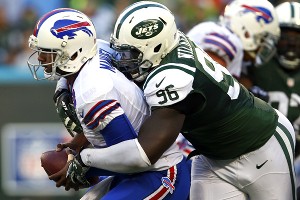 Rich Schultz/Getty ImagesMuhammad Wilkerson is the defensive star through eight weeks, notching a career-high seven sacks.
They were terrible in Cincinnati and in Tennessee, but the Jets aren't a terrible team. Despite having only one or two blue-chip players, DE
Muhammad Wilkerson
and maybe C
Nick Mangold
, they've managed to hang around in the wild-card race. Rex Ryan and his staff have done a nice job of coaching around the obvious deficiencies and a rookie quarterback. Sure, they've benefited from a couple of huge breaks (the
Lavonte David
late hit and the
Chris Jones
push), but at least they were good enough to capitalize on them.
Without further delay, our midseason awards:
Offensive MVP
: QB
Geno Smith
. Not much competition here. Yeah, I know, he cost them a couple of games with turnovers, but he also won games with his deep-throwing ability (
Buffalo Bills
), poise in the clutch (
Atlanta Falcons
) and mobility (
New England Patriots
).
Defensive MVP
: DE Muhammad Wilkerson. A no-brainer. He already has a career-high seven sacks, along with one interception and one forced fumble. He's a lock for his first Pro Bowl. If he keeps it up, he could get some votes for NFL Defensive Player of the Year.
Special-teams MVP:
PK
Nick Folk
. You can't quibble with perfection. The man is 19-for-19 on field goals, including three game winners. Next to Wilkerson, he's the team MVP.
Most Improved
: RB
Bilal Powell
. He began training camp as an afterthought, but he worked his way up to the starting job. He has become a more elusive runner than in past years.
Least Improved
: NT
Kenrick Ellis
. He was expected to make a big jump in Year 3, but he was slowed by a preseason back injury and hasn't come close to being a dominant run stuffer.
Biggest Surprise
: NT
Damon Harrison
. "Big Snacks" came out of nowhere last year and Wally-Pipped Ellis in the preseason. Harrison is one of the reasons why the Jets are No. 1 against the run.
Biggest Disappointment
: CB
Antonio Cromartie
. Coming off a Pro Bowl season, Cromartie already has allowed five completions of at least 46 yards. His uneven play has made it harder for the defense to deal with the
Darrelle Revis
void.
[+] Enlarge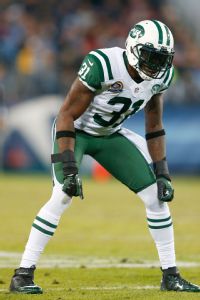 Joe Robbins/Getty ImagesIn 2013, Jets cornerback Antonio Cromartie hasn't quite lived up to his Pro Bowl season of last year.
Best Rookie
: DT
Sheldon Richardson
. If it weren't for him, GM John Idzik would be taking major heat for the Revis trade. Richardson, acquired with the Revis pick (No. 13 overall), is a future star.
Best Offseason Acquisition
: RG
Willie Colon
. Plagued by injuries in recent years, Colon hasn't missed a play and has added an element of toughness to the offensive line.
Worst Offseason Acquisition
: RB
Mike Goodson
. Because of his embarrassing arrest and the subsequent suspension, he was a disaster before he stepped foot on the field. Maybe next time the front office will put more stock in its background checks.
Best-kept Secret
: CB
Ellis Lankster
. He's not the leading tackler on special teams (he's second, behind
Nick Bellore
), but Lankster is the most dynamic player on the coverage units.
Best Coaching Move
: Ryan decided before the season to take control of the defense, running it on a day-to-day basis. Ryan is at his best -- ditto, the defense -- when he's in charge.
Worst Coaching Move
: The decision to insert
Mark Sanchez
in the fourth quarter of a preseason game, behind a backup offensive line, was a brainlock for the ages.
Biggest Concern
: There's not enough offense. In their four losses, the Jets have managed only two touchdowns. They have to face four top-12 defenses in the second half. Uh oh.
Key to the Second Half:
Continued improvement from Smith. His passer rating in Games 5-8 (75.2) was better than Games 1-4 (68.6), meaning he's moving in the right direction, albeit with baby steps. The struggling pass defense is another key, but luckily for the Jets, they face only one top-10 passing offense -- Sunday against the
New Orleans Saints
.
The Jets will make the playoffs if
: They win at least five of their remaining eight. Take a look at the AFC standings; a 9-7 record could be good enough for the second wild-card spot.
Player Ready to Emerge
: RB
Chris Ivory
. He showed flashes against the Patriots. With the weather beginning to turn, Ivory's power-running style will be critical down the stretch.
September, 1, 2011
9/01/11
11:43
PM ET
WHAT IT MEANS:
The Jets finished the preseason at 2-2 after a sloppy,
24-14 loss
to the Eagles on Thursday night at MetLife Stadium. Our advice: Erase those numbers from your memory because they don't matter anymore; it's time to focus on the season opener against the Cowboys. The only significant development from the annual Backup Bowl was a potentially serious thumb injury for rookie QB
Greg McElroy
, the Jets' No. 3.

QUARTERBACK ISSUES:
With
Mark Sanchez
resting and
Mark Brunell
recovering from a pulled calf, the Jets started McElroy -- and he didn't make it past the second quarter. McElroy left the game after injuring the thumb on his throwing hand; he appeared to bang it on the helmet of right guard
Matt Kroul
on a follow-through. One preliminary report said McElroy dislocated his thumb, which would mean a long-term injury. The team didn't provide an immediate diagnosis.
Rex Ryan has said he expects Brunell to be ready for the opener, but it's still a precarious situation, considering Brunell missed all four preseason games and a lot of practice time. If something were to happen to Sanchez, they'd be in big trouble. One move that makes sense is re-signing
Kellen Clemens
-- assuming he's released by the Redskins. He knows the Jets' system and would be able to play in an emergency.
PHILLY'S QB ISSUES:
Naturally,
Michael Vick
-- the $100 million man -- didn't play. His backup,
Vince Young
, pulled a hamstring just before halftime and didn't return. In came third-stringer
Mike Kafka
, who was drilled by linebacker
Mattias Berning
in the third quarter and nearly came out of the game. They have no other quarterbacks, so it would've been interesting if Kafka hadn't been able to return. Andy Reid probably would've used the Wing-T before using Vick.
DREW WHO?:
McElroy was replaced by fourth-stringer
Drew Willy
, an NFL journeyman who has bounced around on a few practice squads. He also played in the UFL. Willy did well for himself, throwing a 14-yard touchdown to rookie receiver
Scotty McKnight
on his first pass. Not bad, huh? Willy showed some mobility, running for his life on a few occasions. Willy was going to be released Friday or Saturday; maybe he earned an extended stay.
WOE-LINE:
The Jets started their second-team offensive line and it was ugly. McElroy was under heavy pressure from the outset, suffering two sacks in the first quarter. That he got hurt on a freakish play was stunning, considering the pounding he took. Right tackle
Vladimir Ducasse
was a mess, committing three penalties -- two false starts and one holding (declined).
Clearly, the depth is a problem on the offensive line, with backup center/guard
Rob Turner
(leg) is down for at least two months. GM Mike Tannenbaum needs to get on the horn and bring in an experienced backup.
RUNNING IN PLACE:
The coaching staff was hoping to see some big things from backup running backs
Joe McKnight
and rookie
Bilal Powell
, but they did virtually nothing -- a combined total of 10 rushing yards. Worse, McKnight lost a fumble, conjuring up memories of his mistake-prone preseason in 2010. So much for McKnight's positive momentum.
POSITIVE AUDITIONS:
Rex Ryan said they went into the game with three roster spots still up for grabs. Three defensive players helped their chances -- cornerback
Ellis Lankster
(67-yard interception return for a TD), outside linebacker
Aaron Maybin
(1.5 sacks) and rookie linebacker
Nick Bellore
. Outside linebacker
Eddie Jones
also flashed some potential. Ryan will have some difficult decisions to make at linebacker.
No one on offense really stood out, but rookie tight end
Josh Baker
showed some pass-catching ability and versatility. Baker, an H-Back in college, also lined up as a fullback. The Jets have only one fullback on the roster,
John Conner
, who is nursing a sprained ankle.
August, 28, 2010
8/28/10
10:13
PM ET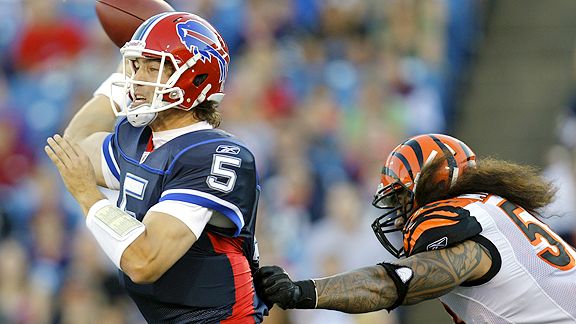 AP Photo/ David DupreyTrent Edwards has the starting quarterback job locked up after another solid preseason performance.
ORCHARD PARK, N.Y. -- Thoughts from the press box at Ralph Wilson Stadium, where the
Buffalo Bills
beat the
Cincinnati Bengals
on Saturday night
35-20
:
If there was any doubt before -- or if Bills fans were in denial and still clinging to hope Brian Brohm would win the gig -- Trent Edwards is Buffalo's quarterback.

On the first possession, Buffalo had minus-12 yards aside from a pass interference penalty. The Bengals sacked Edwards the only time he tried to pass. But Edwards rebounded on the second drive, methodically taking the Bills down the field. He completed all five of his passes for 48 yards and connected with Roscoe Parrish for a 12-yard touchdown.

Edwards' stat line: 13-of-17 for 153 yards and one touchdown with no interceptions. He had a 122.9 quarterback rating.

C.J. Spiller had another brilliant game. He ran 12 times for 52 yards and two touchdowns and two receptions for 33 yards in a half of work. He had a 20-yard run and a 26-yard reception.

As mentioned in my notes column following the Bills' victory over the Indianapolis Colts last week, Spiller is going to have a lot of negative-yardage runs because of his style and the Bills' offensive line. He had runs of minus-7 and minus-11 yards. But he's a threat to break away every single time.

The Bills showed off a little Wildcat. Spiller took a direct snap and ran 6 yards for a first down. In case you were wondering, Edwards remained on the field, split wide right. In the fourth quarter, rookie running back Joique Bell also took a direct snap and ran for 4 yards.

Parrish is one of those players fans always want to see more of, but size always seemed to be an impediment to increased involvement. Think Leon Washington with the New York Jets. Maybe new Bills head coach Chan Gailey has been able to figure something out. Parrish caught all four balls thrown to him for 56 yards and a touchdown.

Maybe the Bills were showcasing Ryan Fitzpatrick for a potential trade (hello, Arizona?). Otherwise, Brohm can't like the fact he quarterbacked only two series late in the fourth quarter. Brohm threw one pass, an incompletion.

Buffalo's secondary didn't have the same success against Carson Palmer that it did against Peyton Manning. Palmer completed all but two of his 11 passes for 95 yards and two touchdowns for a 142.2 rating.

Second-year outside linebacker Aaron Maybin, the 11th overall draft choice last year, may have gotten some traction. He didn't start even though Reggie Torbor was out with an undisclosed injury. Chris Ellis started instead. But Maybin did force J.T. O'Sullivan into an intentional grounding call with some heavy pressure in the third quarter and sacked Jordan Palmer twice in the fourth quarter.

James Hardy, a second-round draft pick in 2008, didn't make much of an impression in his bid to stay on the roster. He had one catch for 30 yards (great pass from Fitzpatrick) and a drop. That was all.

Undrafted rookie receiver David Nelson had another strong game: two receptions for 34 yards, including a 20-yard touchdown.

Third-year cornerback Reggie Corner looked like he might be on the roster bubble in a deep defensive backfield. He helped himself in the fourth quarter by intercepting Jordan Palmer and dashing 20 yards for a touchdown.

Reserve cornerback Ellis Lankster, meanwhile, had another rough night. Quan Crosby beat him for a 44 yard pass play one series after Corner's touchdown. Lankster broke up a pass on fourth-and-goal from the 6, but he got away with pulling on Dezmon Briscoe's collar. Lankster was called for illegal hands to the face to wipe out an Arthur Moats 9-yard sack.

The Bills strength in recent years has been their special-teams play. Special teams coordinator Bobby April bolted for Philadelphia, and the transition to Bruce DeHaven has not been smooth. Their kickoff coverage unit has been awful. The Bengals averaged 32.7 yards per return and rarely started a drive insider their own 30-yard line.
August, 19, 2010
8/19/10
11:49
PM ET
TORONTO -- The
Buffalo Bills
bounced back from a putrid performance in their preseason opener to beat the
Indianapolis Colts
34-21
on Thursday night in the Rogers Centre.
Some notes and observations from the game:
Trent Edwards might have won the starting quarterback job with how he responded to one specific play. On a third-and-10 play in the first quarter, Colts defensive end Robert Mathis crushed Edwards while throwing. The hit knocked off Edwards' helmet and chipped a tooth. Two possessions and five plays later, Edwards hooked up with Lee Evans for a 70-yard touchdown bomb.
Bills coach Chan Gailey said of the sequence: "I never thought anything less would happen to be honest with you. All of our guys have moxie. You've got to have moxie to play quarterback in this league. I was impressed with that, really impressed with it. I asked after he got hit 'Are you OK?' He didn't even flinch. ... I think he's a tough guy."
If the Bills can count on three home-run plays a week, they'll be fine. Their touchdowns were a 31-yard C.J. Spiller run, a 78-yard Terrence McGee interception return and a 70-yard bomb to Evans.
Spiller's run snapped a string of 20 straight preseason possessions without a touchdown for the first-team offense. He's going to be fun to watch, one of those players who has a legitimate shot to score every time he touches the ball because he makes tacklers miss.
Backup quarterback Brian Brohm didn't get the most glorious opportunity to make an impression or gain ground on Edwards. Brohm could have gotten a series against the Colts' first-team defense, but Gailey sent Edwards out for a fifth possession with 11:49 left in the second quarter. Brohm entered the game with 6:05 left in the half.
Brohm's performance was OK against the Colts' backups. He threw a lot of high-percentage short stuff, completing 14 of 21 attempts for 125 yards with no touchdowns or no interceptions. He had a wonderful chance to throw for his first NFL touchdown right before halftime. The Bills had second-and-goal from the 5, but Brohm misfired on two passes. The Bills kicked a field goal.
Brohm set up the goal-to-go situation with a gorgeous pass and catch by Chad Jackson along the right sideline for a 26-yard gain.
Would have been nice to see Brohm air it out on third and long. In the third quarter, Brohm dumped off to Chad Simpson for 4 yards on a third-and-13 play. On a third-and-12 play two series later, the Bills ran.
Spiller was busy without Fred Jackson (broken hand) and Marshawn Lynch (sprained ankle). Spiller averaged only 14 carries his senior season at Clemson. He ran 10 times for 54 yards in a quarter and a half of work.
Spiller looked scintillating on his touchdown scamper, but his jitters and jukes didn't fool the Colts all the time. He averaged 2.6 yards on his other nine carries. He had runs that went for minus-6, minus-2, zero and 1 yards.
Overshadowed by Spiller was undrafted rookie running back Joique Bell, who ran 11 times for 80 yards and a touchdown. He's making a statement. Simpson, conversely, ran eight times for 8 yards.
The Bills' defense gave Peyton Manning some problems. He completed 8 of 15 passes for 91 yards and one touchdown with one interception. His 66.3 passer rating was less than half of Edwards'.
After an ugly opener against the Washington Redskins six days earlier, the defense rebounded with a great first series. Defensive lineman Marcus Stroud batted down Manning's first attempt. Cornerback Leodis McKelvin nearly intercepted a long ball to Reggie Wayne. Nose tackle Kyle Williams stuff Joseph Addai for a 3-yard loss on a screen pass.
Gailey said he was just wanted to give him more time in pass-rushing situations, but it's disconcerting to see last year's 11th overall draft choice, Aaron Maybin, on the field at the end of a preseason game.
Bills cornerback Ellis Lankster had another rough game. Taj Smith got behind him for a 43-yard touchdown strike from Curtis Painter in the second quarter.
Despite 35 points in the first quarter, the Rogers Centre was rather sterile again, just like the previous three Bills games played here. The announced crowd was 39,853 fans.
The crowd, however, got interesting in the final minutes. Perhaps the best play of the night: A Rogers Centre security guard chasing down a fan who sprinted onto the field with 1:55 left in the game. The fan had about a 20-yard head start, but the guard caught up to him and slammed his head to the turf. As the guard walked back past the Colts sideline, Wayne went out of his way to give him a high-five.
August, 14, 2010
8/14/10
12:09
PM ET
Some observations from the
Buffalo Bills
'
42-17
loss to the
Washington Redskins
at FedEx Field on Friday night ...
You can see why the Bills hotly pursued Mike Shanahan to be their overlord. The Redskins went 4-12 last season, but looked like a far more polished team under Shanahan than the Bills did under their new coach, Chan Gailey.
Buffalo was sharp on its opening drive, despite losing running backs Fred Jackson (hand) and Marshawn Lynch (ankle) to injuries. Trent Edwards completed all but one of his five passes for 44 yards. Every throw was to a different target. A 20-yard Lynch run was wiped out by a penalty.
That was about all that went right for the Bills' starters or second-stringers. It seemed unfair to watch veteran quarterback Rex Grossman hook up with prospect Devin Thomas on a 44-yard touchdown in the third quarter. The Bills don't nearly have that kind of depth.
This is how Buffalo ended a span of seven straight possessions, beginning with its second and lasting deep into the third quarter: interception, punt, punt, punt, punt, punt, punt.
Of those seven series, only one began inside the Bills' own 20-yard line. None went farther than their own 38. Five of those six punts were of the three-and-out variety. They had another in the fourth quarter.
It didn't matter what Redskins offensive unit was on the field when it came to figuring out the Bills' new 3-4 defense. Not helping was inside linebacker Paul Posluszny being scratched. He missed the first part of training camp while recovering from groin surgery and should be OK.
The Bills were destroyed in every phase. The first game without special teams coordinator Bobby April, and Bruce DeHaven's return to Buffalo, was ugly. The Bills allowed a 77-yard punt return for a touchdown. Ellis Lankster fumbled away a punt return.
Outside linebacker Aaron Maybin played deep into the fourth quarter and appeared to get pushed around. He finished with two tackles and was called for roughing the passer on what should have been an incomplete pass on third-and-6 in the first quarter. The Redskins eventually scored a touchdown.
But Maybin did record his third sack in an NFL uniform, getting to Miami Dolphins castoff John Beck in the fourth quarter. All three of Maybin's sacks have been in preseason games.
For you Dolfans out there, Beck struggled with his third team. He completed two of seven attempts for 27 yards, fumbled once and was sacked twice.
On a positive Bills note, backup quarterback Ryan Fitzpatrick closed out a drive late in the third quarter with a 5-yard touchdown pass to David Nelson. The score capitalized on a 43-yard Chad Simpson run two snaps earlier.
Nelson finished with a game-high five catches for 47 yards.
With Jackson and Lynch sidelined, Simpson and undrafted rookie Joique Bell had their moments. Bell ran five times for 52 yards, including a 28-yard touchdown.
Brian Brohm didn't play. Many Bills fans hoped Brohm would win the starting job, because he presents unknown possibilities that Edwards and Fitzpatrick don't. Seventh-round draft choice Levi Brown completed three of seven passes for 28 yards and an interception.
Gailey said Brohm will play Thursday night against the Indianapolis Colts, while Fitzpatrick sits out.
September, 3, 2009
9/03/09
10:32
PM ET

Posted by ESPN.com's Tim Graham
ORCHARD PARK, N.Y. -- Some random thoughts from Thursday night's
preseason finale
in Ralph Wilson Stadium, where the
Detroit Lions
beat the
Buffalo Bills
17-6.
The Bills' first-team offense didn't play, ensuring it finishes the preseason without a touchdown.
The first-unit offensive line went a few series, but none of the skill players did.
Trent Edwards
,
Marshawn Lynch
,
Fred Jackson
,
Terrell Owens
and
Lee Evans
all got the night off.
For the record, the Bills' first unit played 16 series. It ran 78 plays for 269 net yards. The possessions ended in nine punts, three interceptions, two fumbles, one field goal and halftime.
Matthew Stafford and Calvin Johnson looked like Montana and Rice.
Of course, it must be noted the Bills opened with their second-string defense. But it sure was fun to watch Johnson perform. He had two catches for 46 yards and had a 34-yard touchdown nullified by a holding call.
The Bills' second-team defense showed flashes against the Lions' first-team offense.
Rookie pass-rusher
Aaron Maybin
got to Stafford for a strip sack the Bills recovered. Defensive tackle
John McCargo
also notched a sack in the first quarter.
Reggie Corner
intercepted Stafford on the opening play of the second quarter.
Rookie guards Eric Wood and Andy Levitre played the entire first half.
The rest of the starting line came out a few series earlier, but head coach Dick Jauron wanted the newbies to get as many game reps as possible. Before they exited, left tackle
Langston Walker
was flagged for holding and center
Geoff Hangartner
committed a false start.
Steve Johnson shook off a rough start to make a couple of sensational plays.
Johnson dropped a pass and was whistled for a false start in the first half. But he played most of the game and became
Gibran Hamdan
's favorite target in the second half. Johnson made a pair of phenomenal catches for 27 and 33 yards despite tight coverage in the third quarter.
Rough night for tight ends Derek Schouman and Jonathan Stupar.
Schouman fumbled the ball on consecutive receptions in the first quarter. He gathered the first one himself, but lost the second. Stupar dropped two passes in the first half.
Rookie defensive back Ellis Lankster is fun to watch.
The seventh-round draft pick keeps standing out. He made some mental mistakes, but there's a crackle about him. The stat team credited Lankster with three tackles, including one for a 1-yard loss. He had a 23-yard punt return.
The Bills' punt return team burnt by another fake.
In the Hall of Fame Game, the
Tennessee Titans
ran a brilliant fake that sprung punter
A.J. Trapasso
for a 40-yard touchdown. The Lions ripped off a 20-yarder at the end of the third quarter Thursday night.
Posted by ESPN.com's Tim Graham
As competitive as the AFC East was last year, what happened this weekend at the draft could make the difference in deciding the playoffs.
The
Miami Dolphins
won the division on a tiebreaker, and you better believe they sense the rest of the division closing in on them.
Eleven victories last year weren't enough to get the New England Patriots into the postseason. With quarterback Tom Brady coming back from his knee injury and with some new blood on board, the Patriots are the favorites to win the AFC East.
The New York Jets, desperate to get over the hump, made two splashy trades to acquire two potential offensive stars.
The Buffalo Bills -- stuck on 7-9 for three straight seasons -- made some head-scratching picks, ignoring tackle and loading up on defensive backs, a position that was relatively healthy.
Best move
| | |
| --- | --- |
| | |
| | James Lang/US Presswire |
| | Trading up to draft Mark Sanchez was a bold move for the Jets. |
The Jets have been skeptical about their quarterback situation for three years and decided to do something dramatic about it.
They parted with two substantial draft picks and three players who might not have started in 2009 to get the franchise-caliber quarterback they believe in.
For that alone, regardless of how Mark Sanchez pans out, the Jets deserve credit for pulling off the deal.
Sanchez gives the Jets the best leading-man candidate in decades. He's their earliest-drafted quarterback since they selected Joe Namath first overall in the 1965 AFL draft.
The Jets began the process of drifting away from Chad Pennington in 2007, when they drafted Kellen Clemens in the second round.
They obviously haven't been satisfied with Clemens as an option. They wanted him to seize the job last summer, but Pennington outplayed him. The Jets, eager for a solution, boldly traded for Brett Favre and cut Pennington. Favre lasted one season before arm problems forced him to retire again, putting Clemens back atop the depth chart.
In eight months, we'll have a better idea of what Sanchez can do for the Jets, but we probably won't know how great the pick was for three years.
But the Jets gave themselves their best opportunity in generations to find a star quarterback. For that alone, they've made the best move of the draft.
Riskiest move
The Buffalo Bills traded Pro Bowl left tackle Jason Peters a week before the draft and didn't select a tackle.
You can look at this three ways: 1) the Bills are confident veteran Langston Walker and second-year project Demetrius Bell can handle the tackle positions; 2) they might be working on a trade for someone like Levi Jones after the Cincinnati Bengals drafted Andre Smith; or 3) Buffalo's front office doesn't know what it's doing.
Buffalo went with Penn State defensive end Aaron Maybin, Louisville center Eric Wood, Oregon defensive back Jairus Byrd, Oregon State guard Andy Levitre, Southern Miss tight end Shawn Nelson, Oklahoma linebacker/safety Nic Harris, Southern California cornerback Cary Harris and West Virginia cornerback Ellis Lankster.
Maybin and Wood can easily be justified as first-round choices. But the Bills are adding a variable to Wood's future by moving him to guard after he started 49 straight games as Louisville's center.
What's with all the defensive backs?
The Bills seemed to have their secondary penciled out heading into the draft: Terrence McGee and Leodis McKelvin or Drayton Florence at cornerback and Donte Whitner, Bryan Scott and George Wilson at safety.
McKelvin was the 11th player chosen overall last year. He is
expected to step in for Jabari Greer, a free agent who went to the New Orleans Saints. The Bills brought in Florence for help. Ashton Youboty and Reggie Corner also are on the roster.
Whitner was the eighth overall pick in 2006.
Within the next nine picks after the Bills selected Levitre, three tackles went off the board. The Minnesota Vikings took Oklahoma's Phil Loadholt. The New England Patriots drafted Houston's Sebastian Vollmer. The New York Giants chose Connecticut's Will Beatty.
Most surprising move
Patriots overlord Bill Belichick passed on a variety of striking defensive prospects when he moved totally out of the first round to gather more draft picks.
Southern California linebackers Clay Matthews and Rey Maualuga, Ohio State linebacker James Laurinaitis and Illinois cornerback Vontae Davis were around, but the Patriots weren't interested.
None of these decisions seemed like a surprise when it happened, but if someone were to tell you before the draft that the Patriots would have at least one crack at those prospects -- in some cases, two or three cracks -- you would've bet your last penny they'd draft one. Each would look natural in Patriots' gear.
It's not like we misread the Patriots' needs either. The Patriots were going after those positions. They drafted defensive backs Patrick Chung and Darius Butler in the second round and linebacker Tyrone McKenzie in the third round.
You can't argue with Belichick's judgment when it comes to player evaluations, especially on the defensive side.
Still, to think none of those players landed in Foxborough, Mass. seems strange.
File it away
In what could go down as a classic example that Bill Parcells and his acolytes know more than everybody else, the Dolphins drafted Patrick Turner from Southern California in the third round. He was the 13th receiver off the board, and that might have been a reach.
Scouts Inc. rated him the 38th best receiver in the draft. Pro Football Weekly's draft guide ranked Turner 30th, saying he "has no upside" and that he benefited from facing single coverage because the Trojans' offense was so loaded. Lindy's Pro Football ranked him 18th.
But Turner is 6 feet, 5 inches tall and weighs 223 pounds, and the Dolphins don't have much size at receiver. They made a boo-boo when they signed free agent Ernest Wilford to provide a big target, but he played so small he usually wore street clothes on game day.
Turner caught 49 passes for 741 yards and 10 touchdowns last season.
"I feel I bring a red-zone threat," Turner said. "I feel I bring a lot of mismatches. I feel like I'm a possession receiver.
"I feel that in the fringe area, to be a bigger guy, I feel I run pretty good routes, and I feel sure-handed, like I can contribute."
If Turner works out, he'll make Parcells look like an even bigger genius.
April, 23, 2009
4/23/09
5:52
PM ET
Posted by ESPN.com's Paul Kuharsky
There will be picks on Saturday and Sunday that prompt brows furrowed into question marks on the faces of fans of the four teams of the AFC South.
So in advance of this weekend's draft, the AFC South Blog is here to warn you: Don't be surprised when the Colts look to cornerback; don't be shocked when the Titans turn to a tight end and/or a defensive end. Should the Texans invest a reasonably high pick in a receiver or the Jaguars dip again in to the pool of defensive ends, they won't be making redundant roster choices.
They'll be thinking more about 2010 than about 2009.
We've discussed the current needs of all four teams a lot in the build-up to the draft. But teams obviously have to look further ahead than that. They can't count on the CBA expiring and the rules of free agency changing. Because if a new labor deal is struck and free agency continues to operate in the fashion we are used to -- with players who've logged at least four years and have expired contracts hitting the free market -- teams have to be prepared to lose people, and they need to have replacements ready.
Some of those potential replacements are already lined up, of course, working as backups. But others must be targeted.
"You're not just drafting for this year, you're drafting for future years too," Titans general manager Mike Reinfeldt said. "You have to have the vision of what they might be in two or three years. ... You're always building depth on your team and you're getting, especially in the later-round guys, traits that can be developed."
Here is a look at the issues teams may be facing in terms of departing free agents in 2010 with some suggestions, courtesy of Scouts. Inc.'s Matt Williamson, on mid- and late-round picks who could fill the holes.

NFL SCOREBOARD
Thursday, 9/18
Sunday, 9/21
Monday, 9/22
WEEKLY LEADERS