NFL Nation:

Elmer Angsman
June, 24, 2010
6/24/10
9:00
AM ET
Notable players:
Charley Trippi, Elmer Angsman, Paul Christman, Pat Harder, Stan Mauldin, Chet Bulger, Billy Dewell, Mal Kutner, Boris "Babe" Dimancheff, Jeff Burkett, Marshall Goldberg
[+] Enlarge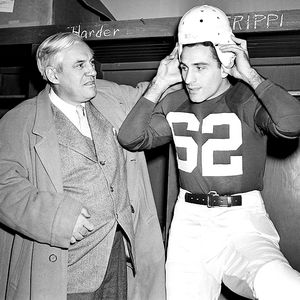 AP PhotoCharley Trippi, right, signed a four-year contract to play for Jimmy Conzelman before the season began.
Analysis:
The Pro Football Hall of Fame describes Jimmy Conzelman as a "newspaper publisher, playwright, author, orator, actor" -- and the only head coach to win an NFL championship with the Cardinals. (The team was based in Chicago from 1920-59. It played in St. Louis from 1960-87.)
Conzelman's brilliance as a coach shined through before and during the Cardinals' 28-21 victory over the
Philadelphia Eagles
in the 1947 NFL championship game. Conzelman initially refrained from reporting the Eagles for illegally filing down their cleats to better cope with the icy conditions at Comiskey Park. Conzelman instead reported the Eagles on a player-by-player basis, and only after Philadelphia had made significant gains. Officials wiped out the gains and penalized the Eagles, forcing players to leave the field to replace their equipment.
The Cardinals had addressed the footing issue by changing into sneakers before the game. Angsman scored twice on 70-yard runs. Trippi scored on a 44-yard run and 75-yard punt return.
Conzelman's resourcefulness reflected his varied background. His playing career included stints with Decatur, Rock Island, Milwaukee, Detroit and Providence. He had even owned the Lions for a couple of seasons in the 1920s, supposedly paying $100 for the franchise before returning it to the league. He retired as a player in 1930 and returned as a coach a decade later. But his record in three seasons with the Cardinals was only 8-22 when he stepped away following the 1942 season. The Cardinals brought back Conzelman four years later and he rewarded them by winning 27 of 37 games, counting playoffs and the only league title in franchise history.
The 1947 season produced tragedy in addition to triumph. A plane crash killed punter Jeff Burkett as he tried to rejoin the team following an appendicitis. Charles Bidwill, the team's owner since 1933, had died in April before the season.
Most impressive win:
The 1947 team needed a victory over the
Chicago Bears
in the final regular-season game to win the Western Division title. The Cardinals picked off Bears quarterback Sid Luckman four times in the 30-21 victory, but the offense might have provided the most important contribution. Christman's touchdown pass to Dimancheff on the first play of the game set a winning tone for the Cardinals. Dimancheff had missed every practice during the week while tending to his expectant wife, preventing him from practicing a play Conzelman was eager to run. No matter. The Cardinals isolated Dimancheff against Bears linebacker Mike Holovak, a speed mismatch Dimancheff used to his advantage.
Free-spending Cardinals:
The team landed Trippi before the season with a four-year contract worth a then-staggering $100,000. Trippi had been a Maxwell Award winner and Rose Bowl MVP at the University of Georgia, which retired his No. 62 jersey after a college career that later
landed Trippi a spot
on ESPN's list of 25 greatest college players. The move helped put the Cardinals over the top in 1947. Trippi ranked second on the team that season with 641 yards from scrimmage.
Honorable mention
2008:
The Cardinals came within a defensive stop of winning the Super Bowl against Pittsburgh after
Kurt Warner
found
Larry Fitzgerald
for the go-ahead touchdown pass late in the game. This team delighted in disproving skeptics and redefining an organization known for decades of futility.
1948:
A defeat in the championship game prevented this Cardinals team from challenging and probably overtaking the 1947 team as the best in team history. The 1948 team went 11-1 during the regular season as Trippi became a bigger threat.
1975:
Coach Don Coryell produced an 11-3 record thanks to an offense featuring Pro Bowl players in quarterback Jim Hart, receiver Mel Gray, running back Terry Metcalf, fullback Jim Otis and offensive linemen Dan Dierdorf and Conrad Dobler.
January, 17, 2010
1/17/10
1:06
PM ET
I just received some more details from ESPN Stats & Information about
Reggie Bush
's dynamic performance in Saturday's playoff victory.

Bush
On five carries, Bush averaged 16.8 yards. That's a league postseason record. The previous record was 14.9 yards by
Michael Vick
in a 2004 divisional playoff game. Stephen Davis set the record one year before Vick in a divisional playoff game. Before that, the record was 12.8 by Bo Jackson in a 1990 divisional playoff.
Bush also became only the second player in history to score on a run and a punt return in the same postseason game. Charlie Trippi first did it in 1947.
Bush also became just the fifth player in history to score two touchdowns of 45 or more yards in a postseason game.
Randy Moss
(2000 season) Ricky Sanders (in Super Bowl XXII), Elmger Angsman (1947) and Wayne Millneer (1937 also did it).
Bush's 83-yard punt return also was the third longest in NFL postseason history. Jermaine Lewis (88 yards) set the record in 2001. Anthony Carter had an 84-yarder in a 1987 playoff game.
NFL SCOREBOARD
Thursday, 10/30
Sunday, 11/2
Monday, 11/3