August, 5, 2013
8/05/13
2:14
PM ET
Years ago, conventional wisdom would have applauded
Carson Palmer
for topping 4,000 yards passing with the
Oakland Raiders
last season.
Now, conventional wisdom has evolved to the point where mainstream analysis discounts those 4,000 yards because Palmer, entering his first season with the
Arizona Cardinals
, accumulated those yards in a losing context. Palmer went 4-11 as a starter.
Andy from New York
hit the NFC West mailbag with a challenge we'll take up here. He thinks Palmer deserves more credit than he's getting.
"After two minutes of research, I found on the Hall of Fame's website that only 48 quarterbacks have thrown for more than 4,000 yards in a season (a combined 110 times)," Andy wrote. "Of those 110, only 18 times has it been done on a losing team (14 more times with a .500 record). If it is so 'easy' for a QB to rack up yards when playing from behind (when the defense knows it is a passing situation), why has it been accomplished only 18 times on a losing team in the entire history of the NFL?"
It's an interesting point. Passing for that many yards in a season requires some talent, obviously. But there is nothing inherently magical about the 4,000-yard plateau. Palmer passed for 3,970 yards while posting a 4-12 record in 2010. The 48-yard gap between 2010 (3,970 yards) and 2012 (4,018 yards) means nothing.
Palmer, Jon Kitna and Drew Brees each owns two seasons with at least 4,000 yards and a losing record. Elvis Grbac, Josh Freeman, Trent Green, Jeff Garcia, Bill Kenney, Peyton Manning, Dan Marino, Cam Newton, Aaron Rodgers, Matt Schaub, Matthew Stafford and Vinny Testaverde have each done it once.
Some of those quarterbacks were or are great players. Others were not so great.
ESPN developed the Total QBR metric to measure a quarterback's contributions to winning, whether or not the quarterback accumulated lots of passing yards. Manning scored a league-high 84.1 out of 100 last season.
Mark Sanchez
scored a league-low 34.0.
QBR can tell us something about the recent run on 4,000-yard seasons. Quarterbacks have combined for 42 of them since 2008. The QBR score Palmer posted last season (44.7) ranked 42nd out of those 42 on the list. The chart shows the seven times over the past five years when a quarterback passed for at least 4,000 yards without posting a winning record. Palmer probably had the worst supporting cast, but if anything, QBR affirms the general feeling on Palmer.
Now, back to Andy's point. Why aren't more quarterbacks from losing teams passing for 4,000 yards regularly? I'd venture that most quarterbacks good enough to pass for that many yards will be good enough to help their teams win most of the time. The question here is whether Palmer is one of those quarterbacks. Recent evidence suggests he might not be, but I think his prospects will improve with
Larry Fitzgerald
,
Michael Floyd
,
Andre Roberts
,
Rob Housler
and possibly even
Patrick Peterson
catching his passes.
February, 27, 2013
2/27/13
6:25
PM ET
Once again,
Alex Smith
is following the footsteps of Joe Montana.
When he was the No. 1 overall pick of the 2005 draft by the
San Francisco 49ers
, Smith heard the Montana comparisons and expectations. Smith never got close to filling the legendary Montana's shoes in San Francisco.
With his San Francisco career behind him, Smith, once again, is connected to Montana.
After being a superstar for the 49ers, Montana played his final two seasons, 1993-94, in Kansas City after being traded. Montana led the Chiefs to the AFC title game in 1993. His trade started a San Francisco-to-Kansas City quarterback pipeline.
In 1994, the 49ers traded backup quarterback Steve Bono to the Chiefs. He led the Chiefs to a 13-3 record in 1995.
In 1997, Elvis Grbac left the 49ers and signed with the Chiefs as a free agent. He was the Chiefs' starter for four years.
Now, it's Smith's turn in Kansas City.
September, 13, 2012
9/13/12
1:03
PM ET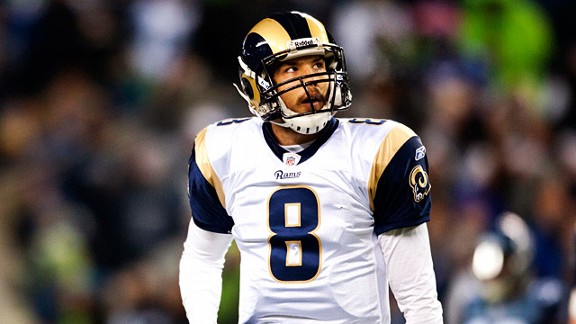 Jay Drowns/Getty ImagesAfter a successful rookie campaign, Sam Bradford has been largely ineffective as the Rams struggled with the lockout and injuries.
The stat line for
Robert Griffin
III seemed too good for a rookie making his first NFL start: 19-of-26 passing for 320 yards with two touchdowns, no turnovers and just one sack.
It was
the third time
in the past 50 seasons a
Washington Redskins
quarterback completed at least 70 percent of his passes for at least 310 yards with at least two touchdowns and no picks.
Mark Rypien
and Joe Theismann each hit all those baselines once.
NFC West baselines
Kurt Warner
did it
three times
for the
Arizona Cardinals
and
five times
for the
St. Louis Rams
.
Marc Bulger
and
Jim Everett
each managed one such game for the Rams.
Matt Hasselbeck
(twice) and Jim Zorn (once) are the only
Seattle Seahawks
to
post games
with at least 70 percent completions, 310 yards, two touchdowns and no interceptions.
Steve Young
(five times),
Jeff Garcia
(three),
Elvis Grbac
(once) and John Brodie (once) have
done it
for the
San Francisco 49ers
. In a bit of a surprise,
Joe Montana
never did.
Griffin and Bradford
The most relevant comparison this week: Griffin to Rams starter
Sam Bradford
.
Their teams face one another Sunday at the Edward Jones Dome. The Redskins selected Griffin with a draft choice acquired from the Rams once St. Louis determined Bradford would remain its starter. Both players were very high draft choices, Bradford first overall in 2010 and Griffin second overall this year.
The scheduling rotation called for the Redskins and Rams to play one another this season regardless of the trade. That part was coincidental. Scheduling Griffin against Bradford in Week 2 gave fans something to anticipate early in the season. Bradford nearly led the Rams to an upset at Detroit last week. Griffin helped the Redskins knock off New Orleans in the Superdome.
Few great games
A note from ESPN Stats & Information, displayed in the first chart, revived a point I've heard recently from a source I can't recall.
The point is that Bradford has never had a truly great statistical performance in two-plus seasons with the Rams.
The chart at right shows players with the fewest games featuring a Total QBR score of at least 70 out of 100, counting only games with at least 25 action plays for the quarterback. Bradford has the fewest.
Matthew Stafford and Alex Smith are on the list, but both have made strides. Smith's QBR was at 83.5 during the 49ers' victory over Green Bay in Week 1. Stafford tossed three picks and struggled, but he led the winning touchdown drive after Bradford had helped rally the Rams into the lead.
Top offensive rookie
Bradford was most productive in 2010, when he was healthy and won offensive rookie of the year honors. Injuries to him and a long list of teammates affected Bradford last season. Learning a new offense on short notice -- we all recall the lockout -- had to be tough.
Bradford completed 59.5 percent of his passes for 308 yards, three touchdowns and no picks during a victory over Denver as a rookie. His Total QBR score for that game was 94.7, a career high by a wide margin. That was one of three 300-yard games for him. It was the only time Bradford tossed more than two touchdown passes. He has five games with two, 12 games with one and nine games with none.
The nine games with no scoring passes are
the most since 2010
for quarterbacks with at least 20 pass attempts in a game.
Anyone familiar wit the Rams' offense over the past three seasons -- its linemen, wide receivers and changing schemes in particular -- realizes Bradford isn't the primary problem in St. Louis. Still, the best quarterbacks and even a few average ones hit the statistical jackpot every so often. Bradford's time will presumably come.
Closing thoughts
QBR measures how quarterbacks affect win probability for their teams. It correlates to winning more closely than even turnover differential. The Rams haven't won much at all.
So, have the Rams dragged down Bradford more than Bradford has held back the Rams? I think so. We'll have a better idea as the Rams improve around Bradford. We shouldn't expect Bradford to produce the way Griffin did last week. We shouldn't even expect Griffin to do so. That game was the exception. But it's reasonable to expect progress.
The biggest concern from the Rams' perspective is how Bradford will perform behind an offensive line that has already lost center
Scott Wells
and left tackle
Rodger Saffold
to injuries. That angle is getting tiresome, but it's real. It's at least a threat to cloud the the Rams' quarterback evaluation until those players return.
At a certain point, the Rams need Bradford to transcend the challenges around him. Having it happen against Griffin and the Redskins would come as a welcome bonus.
November, 17, 2011
11/17/11
1:42
PM ET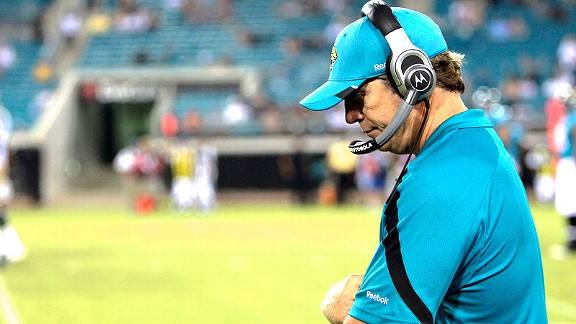 AP Photo/John RaouxIf the Jaguars replace Jack Del Rio, it makes sense to hire an offensive-minded head coach.
Ten weeks into most NFL seasons we have a good sense of head-coaching jobs coming open and the prime candidates for them.
This year feels different.
Jim Caldwell may coach a potential 0-16 team. But to hear Bill Polian talk, the Colts' coach may well survive. In Jacksonville, Jack Del Rio's got one year left on his contract and a lame-duck staff.
It's widely held that Jaguars owner Wayne Weaver will make a change if he judges the team to have shown insufficient improvement this season, and it's hard to envision a giant turnaround now for the 3-6 Jaguars based on how poorly the offense is producing.
As for prime head-coaching candidates, I sense no buzz about the hot, young offensive assistant who's the next big thing. In previous years -- no matter if they panned out or not -- we've seen guys like Josh McDaniels, Jason Garrett, Todd Haley and Ken Whisenhunt tabbed as up-and-comers who were ready.
Who are those guys now?
While Northern Florida might hold out hope that Weaver will want a name and would be able to lure one, I don't see Bill Cowher or even Jeff Fisher heading for EverBank Stadium.
The franchise should re-sign general manager Gene Smith, allow him to decide on Del Rio and make the recommendation on the next coach.
And if Smith's in the market, that next coach should be a young offensive mind who likes
Blaine Gabbert
and has the best shot at developing him. Smith needs to hit a home run finding the next Mike McCarthy, Sean Payton or, this year aside, Andy Reid.
I asked around this week, talking to a couple coaches and an executive about which NFL assistant qualifies as a QB guru who's ready to be a head coach.
Through those conversations, I present this list of possibilities:
Mike Mularkey, Atlanta offensive coordinator
-- Mularkey posted a 14-18 record as Buffalo's head coach in 2004-05. But he's got enough distance from that now that he could be worthy of a second act.
He took over as offensive coordinator in Atlanta in 2008, when quarterback
Matt Ryan
was a rookie. He has a bruiser of a running back in
Michael Turner
to go with Ryan. Ryan became just the second rookie quarterback in NFL history to throw for more than 3,000 yards, and the Falcons won 11 games.
There is a connection to Smith: Mularkey's son, Patrick, is a scouting assistant in Jacksonville's player personnel department.
Jay Gruden, Cincinnati offensive coordinator
-- Gruden's done fantastic work this season with rookie QB
Andy Dalton
. But is one good year enough to vault him to a head coaching job?
He worked on his brother Jon's staff in Tampa Bay from 2002-08, but as an offensive assistant he wasn't a year-round guy. He stacked the work on top of his duties quarterbacking and then coaching the Orlando Predators of the AFL.
Jay Gruden has head coaching experience in the AFL and the UFL, where he led the Florida Tuskers to the 2010 championship game as head coach and GM.
Word is he's different than his brother, calmer with a better presence with his players.
Rob Chudzinski, Carolina offensive coordinator
-- His first tour as an offensive coordinator came in Cleveland from 2007-08. The 2007 Browns won 10 games with
Derek Anderson
shining at quarterback.
Now Chudzinski's been lauded for his work with
Cam Newton
, revising and shaping the offense to feature what the rookie quarterback does best. He's got a strong background with tight ends, too, and is regarded as a rising star by many around the league.
He's also a quieter, unassuming type.
Tom Clements, Green Bay quarterbacks coach
-- Clements worked in the same post for New Orleans (1997-99), Kansas City (2000) and Pittsburgh (2001-03). During those stops he worked with
Tommy Maddox
during his comeback player of the year season in 2002 and with
Kordell Stewart
and
Elvis Grbac
during their best seasons.
He also worked as offensive coordinator in Buffalo in 2004 and 2005.
With Green Bay, Clements guided
Brett Favre
in his final Packers' years while helping prepare
Aaron Rodgers
. He's also had a hand in the progress of highly regarded backup
Matt Flynn
.
But does he have the qualities of a good head coach?
Pete Carmichael, New Orleans offensive coordinator
-- He's in his third year as Payton's top offensive lieutenant after three seasons as the Saints' quarterbacks coach.
Carmichael's been closely involved with an offense that has excelled with
Drew Brees
as quarterback, with a specific role in routes, protection schemes and quarterback responsibilities.
Like Clements in Green Bay, Carmichael works for a strong coach with an offensive background and so he doesn't function as the play-caller. While very smart, he comes across as bland and that could be a big issue for a guy expected to be the face and the personality of a franchise.
April, 29, 2011
4/29/11
2:12
PM ET
One thing we can all agree on when it comes to ESPN analyst Trent Dilfer: He can be counted on to bring a strong opinion and with little nuance, especially on the topic of quarterbacks.
[+] Enlarge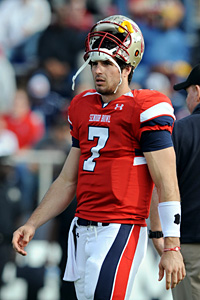 Chuck Cook/US PresswireQuarterback Christian Ponder has sparked considerable debate after being selected 12th overall by Minnesota on Thursday.
Appearing Thursday morning on
ESPN Radio's "The Herd with Colin Cowherd,"

Dilfer left little doubt his take on the
Minnesota Vikings
' decision to draft Florida State quarterback
Christian Ponder
with the No. 12 overall pick.
"Christian Ponder is Elvis Grbac," Dilfer said. "He's Elvis Grbac. Elvis Grbac was a beautiful thrower. He threw for 4,000 yards. He did a lot of nice things. Every time it got tough, he melted."
I think it's only fair to note that in 2001, the
Baltimore Ravens
replaced Dilfer with Grbac. The Ravens became a better passing offense but never returned to the Super Bowl, and I think that episode remains stamped in Dilfer's brain.
But that said, Dilfer told Cowherd that he watched every snap Ponder took in college. He described Ponder as a quarterback who looks great in workouts but quickly loses accuracy and effectiveness in the pressure of a game.
"His drop, his arm speed, everything about him ... it's one tempo," Dilfer said. "He has to play at the 7-on-7 tempo. The drop has to be rhythmical. The receivers have to be open. The ball goes one speed. The pocket has to be nice. Any time he's asked to quicken that up or there's people around him, his accuracy is awful. ...
"The great quarterbacks are as accurate going to [options] two, three and four as they are when you go to one. ... Christian Ponder, as soon as you get to two or three, the ball is dirting. It's high. It's all over the place. OK?. He plays with a lot of anxiety. Do you want your quarterback in the NFL to play with a lot of anxiety?
"Christian Ponder tests off the charts. He's in shorts and a t-shirt. He goes to his pro workout, he's in shorts and a t-shirt. His big pecs are hanging out. He's got big guns. He looks great. He's a good-looking young man and he spins that ball around the football field in a perfect environment and people go 'wow he can play.'"
Dilfer also suggested that Ponder will continue to have a high injury rate because of the way his shoulders are built and because his arm action puts pressure on his elbow. TCU quarterback
Andy Dalton
would have been a much better pick, Dilfer said, and called it a "travesty" and a "major, major whiff" that neither the Vikings nor the
Seattle Seahawks
(at No. 25 overall) drafted him.
Finally, Dilfer said he was "very self-aware" and recognized that he didn't always react well under pressure during his career.
I'm not budging off my take from Thursday night
. I think the Vikings had to take a shot at a quarterback at No. 12. No one said Ponder was the 12th-best player in this draft or even the next great quarterback in this league. He doesn't have to be for the Vikings to get where they want to go. And, I can tell you there is a wide disparity of opinion on whether Ponder or Dalton is the better pro prospect, a topic I'll further explore later Friday. Let's just say Dilfer represents one side of the spectrum.
June, 23, 2010
6/23/10
11:30
AM ET
Notable players:
LB
Ray Lewis
, OT
Jonathan Ogden
, S
Rod Woodson
, TE
Shannon Sharpe
, RB
Jamal Lewis
, LB
Peter Boulware
, CB
Chris McAlister
, DT
Sam Adams
[+] Enlarge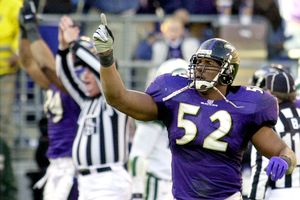 AP Photo/Nick WassRay Lewis and the Ravens' defense helped the young franchise win its first, and so far only, Super Bowl.
Analysis:
The 2000 Ravens are the clear choice for a franchise that's only been in existence for 14 years. It was the only team to win a Super Bowl and also had arguably the most dominant defense of all time.
Baltimore was far from a perfect Super Bowl team in 2000. Most notably, the team had issues at quarterback. The Ravens started with
Tony Banks
under center but finished with
Trent Dilfer
, who played efficiently enough for Baltimore to make an incredible run to end the season.
At one point, the Ravens were a middle-of-the-pack, 5-4 team. Then Baltimore got hot, winning seven straight to end the regular season and four more postseason games, including a victory over the
New York Giants
in Super Bowl XXXV.
Led by middle linebacker Ray Lewis, the Ravens set several defensive records in 2000, including fewest points (165) and fewest rushing yards (970) allowed in a 16-game season. Baltimore also pitched four shutouts.
There were seemingly no weaknesses on defense. Baltimore's defensive line was stout with Adams and
Tony Siragusa
, the linebackers were elite, and the secondary had stud playmakers at safety (Woodson) and cornerback (McAlister).
Then-rookie tailback Jamal Lewis anchored the offense with 1,364 rushing yards. Tight end Sharpe was the team's most dependable receiver, recording 67 receptions for 810 yards.
Most impressive win:
Although the Super Bowl win over the Giants will go down as the biggest game of the season, the most impressive was Baltimore's dominance in the AFC Championship Game, a 16-3 road win over the
Oakland Raiders
. The Ravens' defense smothered Oakland's high-powered offense led by quarterback
Rich Gannon
. Baltimore forced five Oakland turnovers.
Research Room:
Longtime Ravens kicker
Matt Stover
made the only Pro Bowl of his 19-year career in 2000. With an inconsistent offense, Stover was clutch in connecting on 35 of 39 field goals. He led the NFL in both field goals made and field-goal attempts that season. Stover also converted all 30 extra-point attempts.
Lone ranger:
Ray Lewis remains the only player currently with the Ravens from their Super Bowl team in '00. Now 35, the future Hall of Famer is still playing at a Pro Bowl level. Lewis signed a multi-year deal in '09 to make certain that he retires a Raven.
Several key members from Baltimore's Super Bowl team left the organization in the past several seasons. Jamal Lewis last played for the Ravens in '06, Ogden retired after the '07 season, and McAlister and Stover last played for Baltimore in '08.
Honorable mentions (in order):
2006 (tie):
Baltimore finally got solid quarterback play from former NFL MVP
Steve McNair
, and the Ravens won 13 regular-season games. But in the postseason they ran into nemesis
Peyton Manning
and the
Indianapolis Colts
, who eventually won the Super Bowl.
2008 (tie):
The Ravens became the first NFL team to win two road playoff games with a rookie quarterback (
Joe Flacco
). But their run was stifled in fourth quarter of the AFC title game to another eventual Super Bowl champion: The
Pittsburgh Steelers
.
2001:
Baltimore's attempt to defend a Super Bowl title ended with a second-round playoff exit. The
Elvis Grbac
experiment was a disaster. After signing a big free-agent deal with Baltimore, he had more interceptions (18) than touchdowns (15).
June, 7, 2010
6/07/10
10:00
AM ET
I understand why the
Miami Dolphins
and their fans are geared up about
Chad Henne
.
[+] Enlarge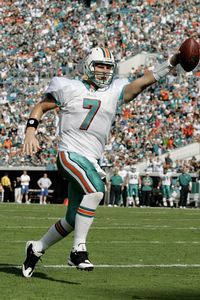 Kim Klement/US PresswireDolphins' owner Stephen Ross has made some bold predictions about Chad Henne.
For nearly 30 years -- between Bob Griese and
Dan Marino
, with help from Earl Morrall and David Woodley -- the Dolphins could count on a franchise quarterback. They've been searching for another since Marino retired a decade ago.
Henne looks like he might be
the guy to end the parade of Marino's successors
. With the exception of 2001, another new quarterback has started a game for Miami each year. In four of those 10 seasons, at least two quarterbacks who'd never started for the Dolphins before were given the nod.
But Dolfans seem to be going a little too gaga over Henne.
Dolphins owner
Stephen Ross made headlines over the weekend
with some bold declarations, saying he thinks the Dolphins will be in the Super Bowl this season and promoting Henne's potential to be the greatest quarterback to wear the aqua and orange.
"Chad has been the greatest quarterback the University of Michigan has had," said Ross, a Michigan alum himself, "and I'm sure that I'm hoping, as is everyone else, that he goes down as the greatest quarterback in Miami Dolphins history -- and you know what that will mean."
I do know what that will mean.
Depending on your preferred measurement of success, Henne would have to either:
A) rewrite the NFL record book to be considered better than Marino, or

B) win three Super Bowls to be considered better than Griese. And maybe go undefeated for a season in the process.
It's way too soon to be talking like this, no?
"Henne can handle the pressure,'' Ross added. "That I can tell you. He started at the University of Michigan as a true freshman and was playing in front of 110,000 people and led them to the Big Ten championship.
"I think the Miami Dolphins have a great quarterback for the future and I think everybody in South Florida is excited about what Chad Henne brings to this team."
Ross is correct when he says Henne is the "greatest quarterback the University of Michigan has had" -- based on career stats.
There was a guy named
Tom Brady
before him. Others to pass through the program include future Pro Bowlers
Jim Harbaugh
,
Elvis Grbac
and
Brian Griese
. Pete Elliott, Benny Friedman and Harry Newman are
Michigan quarterbacks in the College Football Hall of Fame
.
Henne has a bright future ahead of him, but I don't know if Dolphins supporters are doing him -- or themselves -- any favors by ratcheting the expectations for a player with 13 starts, 12 touchdown passes and 14 interceptions in his career.
Big-play receiver
Brandon Marshall
certainly will help, but Henne still has a lot of growing to do before he should be compared with the best quarterbacks in Dolphins history.
April, 5, 2009
4/05/09
1:12
PM ET
Posted by ESPN.com's Mike Sando

Kevin Lynch of Niner Insider says the 49ers use pre-draft visits to answer lingering questions about a prospect. Lynch on Mark Sanchez: "Possibly the most intriguing prospect because of the position he plays. With the leadership a quarterback demands, having him visit is always a good idea, but with Mike Nolan gone, who's going to run him through ridiculous drills to test his ability to blindly follow authority?"
Matt Barrows of the Sacramento Bee doesn't think the 49ers will draft Sanchez. Barrows: "My read on the subject is that the 49ers feel they have three quarterbacks perfectly capable of running the type of offense that Jimmy Raye is cooking up for this season. Remember, Raye enjoyed his greatest success with Elvis Grbac at the helm. Remember also that Shaun Hill is 7-3 as a starter and that the 49ers' decision makers still believe in Alex Smith."

Revenge of the Birds wonders whether Plaxico Burress' release makes the Giants more eager to trade for the Cardinals' Anquan Boldin. Just about every player can be had for the right price. What would the Cardinals take for Boldin? What would a receiver-needy team offer for him? We've never heard anything tangible on either subject, which probably means the Cardinals haven't been shopping Boldin.

Danny O'Neil of the Seattle Times expects significant improvement from the Seahawks in 2009. O'Neil: "I think the Seahawks figure to bounce back significantly. I expect the defense to be greatly improved under a new coaching staff and an attack-oriented philosophy. Whether the Seahawks can bounce back to the top of the division will depend upon Matt Hasselbeck's health. Will his back hold up for the whole season?"
Eric Williams of the Tacoma News Tribune asks 10 questions heading into the Seahawks' upcoming minicamp. One answer: "With [Mike] Holmgren's long shadow gone, this is team president and general manager Tim Ruskell's team now. And whether or not the team rebounds from a lackluster season largely falls on his shoulders. If Seattle returns to its playoff form, he likely will get a lot of the credit. However, if the Seahawks continue their slide, Ruskell, who makes the personnel decisions, probably will get the lion's share of the blame with Holmgren now gone. So this season is an important one for Ruskell."
Charean Williams of the Ft. Worth Star-Telegram says the Seahawks are among the teams to have worked out Texas A&M quarterback Stephen McGee.
Michael Steffes of Seahawk Addicts considers McGee a likely late-round choice who could spend time on a practice squad in 2009.

Jim Thomas of the St. Louis Post-Dispatch checks in with Rams cornerback Tye Hill. Thomas: "Hill obviously is behind that schedule as he prepares for his fourth NFL season. He had a decent rookie year, opening the season at nickel back but eventually starting 10 games following injuries to veterans Fakhir Brown and Travis Fisher. Hill shared the team lead in interceptions (three) on a Rams pass defense that ranked eighth in the NFL. But in the two seasons that followed, injuries prevented Hill from enjoying the breakout season that he -- and the Rams' coaching staff -- had anticipated."
Also from Thomas: Knee issues might have delayed Gus Frerotte's signing with the Rams, clearing the way for Kyle Boller to become the Rams' backup quarterback.
VanRam of Turf Show Times thinks the Rams' run defense needed help at middle linebacker and strong safety as much as along the defensive line. New strong safety James Butler is in place.
January, 31, 2009
1/31/09
10:29
AM ET
Posted by ESPN.com's Mike Sando

Mike Tulumello of the East Valley Tribune looks into Kurt Warner's chances for the Hall of Fame. One voter says Warner won't be in the conversation without a victory over the Steelers in Super Bowl XLIII.
Bernie Miklasz of the St. Louis Post-Dispatch quotes Marshall Faulk and Joe Montana as saying Warner should be in the Hall of Fame either way.
Also from Miklasz: Brenda Warner speaks for her husband at the NFL's man of the year news conference.

Kent Somers of the Arizona Republic checks in with Cardinals general manager Rod Graves, who declines to gloat about the team's success.
Also from Somers: He sizes up Russ Grimm's chances for the Hall of Fame.
More from Somers: Cardinals coach Ken Whisenhunt consults the notes he took while observing other coaches, including Bill Cowher.
Darren Urban of azcardinals.com asks Cardinals players about differences between Whisenhunt and former coach Dennis Green. Urban: "Safety Adrian Wilson said too often there were two different messages coming from the coaching staff -- one from Green, and one from the assistants."
Bob McManaman of the Arizona Republic explains how Cardinals rookie Dominique Rodgers-Cromartie made it through the week, which included a short trip home Tuesday.
Dan Bickley of the Arizona Republic follows Rocky Bleier and Mike Ditka on an emotional visit to a veterans hospital. Bleier, the Vietnam veteran and former Steelers fullback, discourages comparisons to former Cardinals safety Pat Tillman, who died in Afghanistan. Bleier: "I got drafted. Pat chose. There's a big difference."
Ginger Rough of the Arizona Republic looks at the Cardinals' revamped conditioning program.
John Faherty of the Arizona Republic checks in with Cardinals fans in Tampa. They feel outnumbered.
Scott Bordow of the East Valley Tribune compares the current Cardinals organization to the Steelers of nearly 40 years ago.
Revenge of the Birds' Hawkwind looks at keys to the game for Arizona.
John Dudley of Cold, Hard Football Facts makes a case for the Cardinals as Super Bowl champs. Ken Whisenhunt has an 8-1 record in postseason as an assistant and head coach.
Aaron Schatz of Football Outsiders previews Super Bowl XLIII: "The real mystery of the Arizona playoff surge is the improved pass defense."
Doug Farrar of Football Outsiders profiles the Cardinals' Karlos Dansby and others. Farrar: "Given Pittsburgh's reliance on the pass in situations both conventional and unconventional (hint: a lot of third-and-short), don't be surprised if Dansby has the modus operandi for success."

Jim Thomas of the St. Louis Post-Dispatch says the hiring of Kevin Demoff puts the Rams in position to start negotiating contracts with key players, including Oshiomogho Atogwe and Ron Bartell. Also, Brendan Daly is joining the Rams' coaching staff, probably to oversee the defensive line. Finally, former Rams assistant Jeff Horton is joining former Rams head coach Scott Linehan in Detroit.

The 49ers' Web site provides a transcript of Jimmy Raye's conference call with reporters.
Also from the 49ers: a transcript of Mike Singletary's conference call with reporters.
More from 49ers: links to recent interviews involving team president Jed York.
Niners scout Quentus Cumby picks the Cardinals to beat the Steelers. Cumby: "The first half of the game, I think both teams will be feeling each other out and Pittsburgh may have the upper hand early on. As soon as Arizona realizes that it's just another football game, I think they're going to explode."
Niners assistant Tom Rathman explains why he's rooting for Arizona in the Super Bowl. He doesn't want the Steelers to pass the 49ers in Super Bowl victories.
John Crumpacker of the San Francisco Chronicle says the hiring of Raye and quarterbacks coach Michael Johnson rounds out the offensive staff.
Matt Maiocco of the Santa Rosa Press-Democrat offers highlights from the conference calls with Raye and Singletary.
Also from Maiocco: Raye's philosophy lined up with that of Singletary.
Matt Barrows of the Sacramento Bee says the 49ers would like Johnson to eventually succeed the 62-year-old Raye as coordinator.
Dan Brown of the San Jose Mercury News says the 49ers and Raye are the same age. Also: "Raye pointed to his successful 2000 Chiefs team as evidence that he can air it out when called upon. Quarterback Elvis Grbac threw for 4,169 yards and 28 touchdowns that season, while tight end Tony Gonzalez and rece
ivers Andre Rison and Derrick Alexander also had big seasons."
Note: If you see anything from the Seahawks or more stories worth checking out, please share links in the comments. Thanks.
NFL SCOREBOARD
Thursday, 11/20
Sunday, 11/23
Monday, 11/24
WEEKLY LEADERS