NFL Nation:

Emmanuel Acho
November, 2, 2014
Nov 2
7:15
PM ET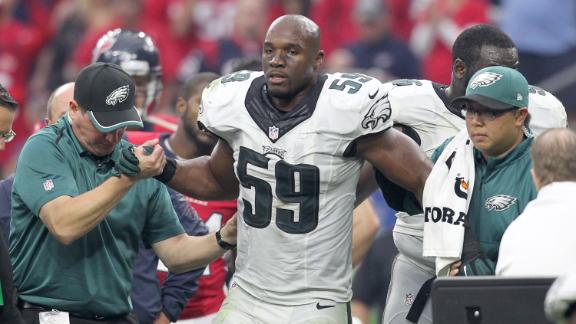 HOUSTON --
Nick Foles
was in the locker room, getting X-rayed.
Mark Sanchez
, the onetime star quarterback for the
New York Jets
, was playing quarterback for the
Philadelphia Eagles
for the first time against the
Houston Texans
.
For Sanchez's first play, Eagles coach Chip Kelly called for a deep throw to wide receiver
Jeremy Maclin
. Sanchez dropped back, stepped into the throw and caught Maclin in stride for a 52-yard gain.
Eagles left tackle
Jason Peters
turned around, expecting to high five Foles. There was Sanchez.
"I didn't even know Foles was out," Peters said. "I saw the bomb to Maclin and I turned around to congratulate him and it was Sanchez. I didn't even know the guy was out. For Sanchez to come in for Foles was big-time."
That's how this season is going for the Eagles. On Sunday, they lost Foles to an injury in his shoulder area and inside linebacker
DeMeco Ryans
went down in the fourth quarter with what was reportedly an injury to his Achilles tendon. (UPDATE:
Foles has a broken collarbone
.) Center
Jason Kelce
returned after missing four games, only to have left guard
Todd Herremans
(who was playing with a torn biceps) leave with an ankle injury.
In spite of all that, the Eagles beat the Texans,
31-21
, to move into first place in the NFC East.
"We're winning," Peters said. "That means we've got depth. Bench has got to step in. When one goes down, the next goes up. You just keep rolling when someone goes down."
It doesn't matter whether it's a guard or the quarterback. The way Kelly runs his practices, every player gets a fair amount of practice time. So even though he had not appeared in a game since the preseason, Sanchez was comfortable stepping into a game against the Texans' ferocious pass rush and was familiar with his receivers.
"I was expecting maybe a handoff or a quick screen," Sanchez said. "Ease my way in, but you know Coach Kelly. I said it to [TV personality] Tony Siragusa. If he was a basketball coach, he would bring you off the bench shooting 3-pointers. That's the way it goes. You have to be ready."
Last season, Foles hit his stride after taking over the starting quarterback job from
Michael Vick
. In the second half of the season, Foles led the Eagles to a 7-1 record. They finished 10-6 and won the NFC East title.
This year, in spite of injuries and a rash of turnovers, the Eagles are 6-2 at the halfway point. If they can get by without Foles and Ryans, the latter likely for the rest of the season, they are in position to have a really special season.
Casey Matthews stepped in for Ryans. Now that Mychal Kendricks is back from his calf injury, Matthews and Emmanuel Acho will be able to fill in for Ryans.
Sanchez, who has a few of those on his resume, turns out to be just the right guy to back up Foles. He was comfortable being the No. 2 guy, but prepared to step in.
"It's been a while," Sanchez said. "It all comes back quickly. I don't want to use the phrase 'it's like riding a bike.' I wish it was that easy, and that defense didn't make it that easy. It just felt good to get back out there. It felt good to make some calls, to scramble a little bit, get hit a little bit. All that stuff was really fun."
Sanchez opened with the 52-yard throw to Maclin. He finished with an 8-yard touchdown pass to Maclin that capped a 15-play, eight-minute, clock-devouring drive. In between, Sanchez threw a couple of interceptions. There is room for improvement, but he did enough for the Eagles to win.
Come to think of it, no wonder Peters couldn't tell that Foles was gone. That's how he's been winning all season long.
December, 17, 2013
12/17/13
5:45
PM ET
PHILADELPHIA – Figuring there's safety in numbers, the
Philadelphia Eagles
added to the number of safeties in their injury-strewn secondary Tuesday. They signed
Keelan Johnson
off their practice squad, releasing linebacker
Emmanuel Acho
to create a roster spot.
Going into their Sunday night game against the Chicago Bears' high-powered offense, the Eagles have serious issues with four of their safeties, plus nickel corner
Brandon Boykin
.

Rookie starter
Earl Wolff
, who injured his knee six weeks ago in Green Bay, said he expects to play.
"I'll be probable, which means I'll probably play," Wolff said. "If the game was today, I would play. On Sunday, it just didn't feel right. I thought this would be three or four weeks. I didn't think it would be this long."
Safeties
Kurt Coleman
(hamstring) and
Colt Anderson
(knee) were injured Sunday in Minnesota. Both are also important special-teams players. That is the role Johnson likely would fill if he is active for the Bears game.
"Right now, it's just about trying to get healthy and help this team out," Coleman said. "We're trying to make a push for the playoffs. I've got to get better as fast as possible because we need everyone out there."
The other safety with issues is veteran
Patrick Chung
. In his case, the issues are related to performance, not any injury. Eagles defensive coordinator Bill Davis said Chung was in "a slump" that had the coaches moving Coleman into the lineup before he was hurt.
"Until they separate themselves," Davis said, "I'll let the competition get the best out of both of them."
Wolff had separated himself from Chung earlier in the season before getting hurt.
"He was starting to really show some playmaking ability," Davis said. "He got injured and has been out for a while. We have to crawl him back into the mix as we go."
Boykin was knocked out of the Minnesota game with a concussion. He was out on the practice field Tuesday, which is a positive sign, but he still has to be cleared according to the NFL concussion protocol. If Boykin can't play, Davis said, either Chung or cornerback
Roc Carmichael
would move into his role in the slot.
"For me, I like playing outside more," Carmichael said. "That's what I've done my whole career. But going into the inside, it's still a defensive-back position. Playing man will be the same, but now I have to learn more of the zones – which 'backer do I have to help, is the end going to drop, little things like that."
The 5-foot-11, 212-pound Johnson was in training camp with the
Miami Dolphins
. He signed to the Eagles' practice squad in September.
September, 1, 2013
9/01/13
3:43
PM ET
The Philadelphia Eagles' waiver-wire spree didn't really materialize Sunday. The team was awarded just one player, former
Cincinnati Bengals
cornerback
Shaun Prater
.

One possible reason for the relatively light activity: The
Jacksonville Jaguars
, who are two spots higher than the Eagles on waiver claims, were awarded a stunning seven players. That included two players, DE/LB Chris McCoy and TE
Clay Harbor
, who were released by the Eagles.
Prater is 5-foot-10, 190 pounds. A fifth-round pick out of Iowa last year, Prater spent his rookie season on injured reserve with patellar tendinitis. He is not expected to be a factor right away. The Eagles will roll with
Cary Williams
and
Bradley Fletcher
(who played with Prater at Iowa) outside and
Brandon Boykin
in the slot.
But at least Prater can practice and play. To make room for him, the Eagles released
Curtis Marsh
, another member of their disastrous 2011 draft class. Marsh had surgery on his broken hand last month and was not available for the last two preseason games.
A couple of other roster-related notes:
The Eagles signed four players to their practice squad, all of whom were released over the weekend: OT Michael Bamiro, RB Matthew Tucker, WR Greg Salas and LB Travis Long. They have four more spots to fill.
Didn't do too poorly on my projected 53-man roster, which was posted Friday morning. I had 48 players right. And where I was incorrect, I might have been right in a couple of spots where the Eagles turn out to be wrong.I had McCoy staying and Casey Matthews going. We'll see how that one turns out.

I had Salas and Russell Shepard among six wide receivers. The Eagles kept five, including Jeff Maehl. That's two Oregon guys who made the team that I didn't expect.

I thought they'd keep 10 offensive linemen, including Matt Tennant. They went light there, cutting Tennant, and kept one more tight end than I expected: Emil Igwenagu.

Finally, they kept two more DBs than I expected. One was Colt Anderson, who will play only on special teams. The other was Marsh, who was released today. So maybe I had 4.5 players wrong.
Roseman made two trades involving a running back for a linebacker. He got Emmanuel Acho, who made the team, for Dion Lewis, who is on IR in Cleveland. And he got Adrian Robinson, who was cut Friday, for Felix Jones, who made the Steelers roster.
The Eagles were off today and have some conditioning work scheduled for Monday. They'll be off again Tuesday. The practice week for Monday night's game at Washington begins in earnest on Wednesday.
August, 31, 2013
8/31/13
4:41
PM ET
The
Philadelphia Eagles
got their roster down to 53 with nine more cuts Saturday. The most notable, of course, was former first-round pick
Danny Watkins
. A few others were more surprising.
Wide receivers
Greg Salas
and
Russell Shepard
both had very good training camps. With so many injuries at the position, including projected starter
Jeremy Maclin
, they looked like candidates to make the team. Both were released. That means
Jeff Maehl
, who played for coach Chip Kelly at Oregon, made the 53-man roster.
Clay Harbor
, the tight end who attempted a midsummer conversion to wideout, was also released.
Outside linebacker
Chris McCoy
, who stood out in Thursday's preseason finale against the Jets, was cut.
Emmanuel Acho
made the team, as did reserve inside linebacker
Casey Matthews
. Another linebacker,
Travis Long
, was cut.
While running back
Matthew Tucker
looked very good all summer, the Eagles kept just three backs. Tucker, Shepard and tackle
Michael Bamiro
, a 6-foot-8 behemoth, could all wind up on the practice squad.
The 53-man roster looks like this, pending late additions via trade or the waiver wire:
Quarterbacks (3):
Matt Barkley
,
Nick Foles
,
Michael Vick
Running backs (3):
Bryce Brown
,
LeSean McCoy
,
Chris Polk
Wide receivers (5):
Jason Avant
,
Riley Cooper
,
DeSean Jackson
,
Damaris Johnson
, Jeff Maehl
Tight ends (4):
James Casey
,
Brent Celek
,
Zach Ertz
,
Emil Igwenagu
Offensive Line (9):
Allen Barbre
,
Todd Herremans
,
Lane Johnson
,
Jason Kelce
,
Dennis Kelly
,
Evan Mathis
,
Jason Peters
,
Matt Tobin
,
Julian Vandervelde
Defensive line (7):
Fletcher Cox
,
Vinny Curry
,
Clifton Geathers
,
Bennie Logan
,
Isaac Sopoaga
,
Damion Square
,
Cedric Thornton
Linebackers (8): Emmanuel Acho,
Connor Barwin
,
Trent Cole
,
Brandon Graham
,
Mychal Kendricks
,
Jake Knott
, Casey Matthews,
DeMeco Ryans
Defensive Backs (11):
Nate Allen
,
Colt Anderson
,
Brandon Boykin
,
Patrick Chung
,
Kurt Coleman
,
Bradley Fletcher
,
Brandon Hughes
,
Curtis Marsh
,
Jordan Poyer
,
Cary Williams
,
Earl Wolff
Specialists (3):
Jon Dorenbos
,
Alex Henery
,
Donnie Jones
August, 29, 2013
8/29/13
10:15
PM ET
EAST RUTHERFORD, N.J. -- It is probably a mistake to read too much into the
Philadelphia Eagles
'
27-20 preseason-ending loss
to the
New York Jets
, but let's do it, anyway. Here, with all due awareness of the relative lack of meaning, are some observations:

Maybe the most significant thing that happened for the Eagles was the hamstring injury that sent tight end James Casey to the locker room in the first half. The severity wasn't immediately known (and given Chip Kelly's casual approach to dispensing injury info, may never be known), but staying healthy is the No. 1 priority in a fourth preseason game. So an injury to a guy expected to be a key part of the offense can't be good.
This one last chance to impress before roster cuts resulted in more impact defensive plays than in the first three preseason games combined. If coordinator Bill Davis is looking for reserves who can step in and make an impact, he had to like what he saw from:
-- Inside linebacker Emmanuel Acho, who sacked Jets QB Matt Simms on a blitz, played solidly against the run and forced a Konrad Reuland fumble in the second quarter. In the first half alone, Acho was credited with eight tackles. Acquired from Cleveland in the Dion Lewis trade, Acho sure looks like the third-best ILB on the team right now behind starters DeMeco Ryans and Mychal Kendricks.
-- Brandon Graham, who bull-rushed Simms on the Jets' first possession and wrapped him up in the end zone. Simms threw the ball away, an intentional-grounding play that resulted in a safety. Graham still needs work on his pass drops (an understatement), but he can get to the QB from the OLB spot.
-- Chris McCoy, who started at the ROLB spot and tormented Jets tackle Jason Smith. McCoy dropped an interception on the first play from scrimmage -- a negative, sure, but he was in position to make it -- and sacked Simms for a 6-yard loss on the third play. McCoy got around Smith and hit Simms from behind, knocking the ball loose.
-- Everette Brown, the guy singled out by Pro Football Focus for his play against Jacksonville, ended the first half by sacking Simms and knocking the ball out of his hands when the Jets were in the red zone. Eagles fans would recognize the failure to get even a field-goal attempt from Marty Mornhinweg's days as Andy Reid's lieutenant.
On the other side, a few of the veterans who are trying to stick just did not impress. Safety Nate Allen gave up a 23-yard completion to Zach Rogers on a third-and-19 play. He had decent coverage on Michael Campbell on a later Jets possession, but did not make any real impact. Of course, neither did fifth-round pick Earl Wolff, who started alongside Allen.
Inside linebacker Casey Matthews had a very rough night. If he makes the team, it is going to be because he's that valuable on special teams. Matthews had gap control and a chance to tackle Kahlil Bell in the backfield, but ran into a teammate instead. Bell ran into the end zone for an all-too-easy 8-yard TD. Matthews had a defensive holding penalty two plays before that.
The only significant competition on the offensive side is for the backup spots along the line. With the starters sidelined, it was interesting to see who Chip Kelly lined up out there. Allen Barbre, who played two games at left tackle in place of Jason Peters, was at left guard. Undrafted rookie Matt Tobin, a 6-foot-6, 300-pounder from Iowa, started at left tackle. With Dennis Kelly expected to miss at least a couple of regular-season games because of a back injury, there is an opportunity for a backup tackle. Michael Bamiro, the massive but raw rookie from Stony Brook, started at left tackle. He looked massive and raw, especially in the early going. Danny Watkins was at right guard. He looked like Danny Watkins. Julian Vandervelde looks very much like he'll make the team as the backup center.
There was no reason to ponder whether Nick Foles should have been given a longer opportunity to compete for the starting QB job. He did not have a great game. But then, he was playing behind a dreadful offensive line against a Jets defense that blitzed more than usual in the preseason. It was also clear that Kelly was using as little of his offense as possible. Foles fumbled the ball away on the first series. He succeeded in finishing the game, and the preseason, without an injury.
By the second half, when Matt Barkley took over at QB, the line had settled in a little bit. Barkley engineered a 16-play, 80-yard touchdown drive. On the downside, he threw the Kevin Kolb-patented pick-six with two minutes left in the game. Barkley didn't get enough on an out to Jeff Maehl. Antonio Allen stepped in, intercepted and returned it for a TD.
In the midst of a sea of vanilla, Kelly suddenly called one of the triple-option plays the Eagles frequently ran in a recent practice. Foles faked a handoff, started running to his left, then whipped an overhand lateral to wide receiver Greg Salas. Surprised Kelly put that on film. Also, that play seems certain to result in a turnover at some point.
The injury plague continued at cornerback. Trevard Lindley limped off the field in the third quarter with a right ankle sprain. The Eagles have two corners, Curtis Marsh and Brandon Hughes, sidelined with broken hands. They are so thin there that safety Kurt Coleman was playing corner even before Lindley went down.
Speaking of which, Coleman would seem to be one of the guys on the bubble here. The fact that he played both safety and cornerback could help his case for making the team. You never know when you're going to be caught short in a game. On the other hand, it could mean Coleman is so far out of the running at safety that Kelly and Davis weren't interested in seeing him there.
If the cutdown to 75 was an indicator, Kelly is likely to do most of his roster work Friday, the day before the deadline to reach 53.
NFL SCOREBOARD
Thursday, 11/27
Sunday, 11/30
Monday, 12/1
WEEKLY LEADERS