January, 31, 2013
1/31/13
2:00
PM ET
NEW ORLEANS -- The glitz is still here, but the tone this Super Bowl week just doesn't seem to fit with the celebrations on Bourbon Street or the free and easy nature of the host city.
The issue of player safety has been as topical as
Ray Lewis
' last game or brothers Jim and John Harbaugh coaching against each other.
We've heard predictions that the NFL will be gone in 30 years, or at least reduced to a game of two-hand touch. President Barack Obama hypothetically has wondered whether or not he would let a son play football. Current players have said they "signed up" for a violent game and all that may eventually come with it, even as thousands of former players are pursuing lawsuits claiming the NFL failed to warn them of the long-term effects of concussions.
ESPN.com surveyed a group of current and former players and executives to get their thoughts on the player-safety issues.
The group included current San Francisco linebacker
NaVorro Bowman
, former NFL cornerback Eric Davis, current Baltimore safety
Ed Reed
, retired quarterback Bobby Hebert, former NFL director of officiating Mike Pereira, former linebacker Willie McGinest, current San Francisco linebacker
Aldon Smith
, NFL Players Association president Domonique Foxworth, current Baltimore linebacker
Terrell Suggs
, retired lineman Shaun O'Hara, current San Francisco fullback
Bruce Miller
, longtime
Dallas Cowboys
executive Gil Brandt and current San Francisco guard
Alex Boone
.
[+] Enlarge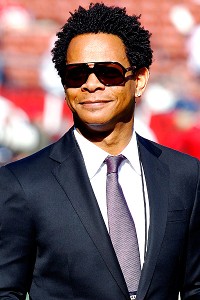 AP Photo/Kevin Terrell"Let's be real honest," former NFL safety Eric Davis said. "It's a gladiator sport. Coliseums were built for it."
Here are the highlights of their answers to the hot-button questions:
Where do you see the NFL in 30 years?
Brandt:
"I don't think we're Montgomery Ward. Montgomery Ward, at one time, was the leading retailer in the world and they made the mistake of saying we're not going to go into the little towns, we're just going to go into these big places, and they stood still. The league may doze, but it will never close. They're always looking for ways to make things better. They've been working on making the game safer and they'll continue to make it safer."
Pereria:
"I see it not a whole lot different than it is. I think the league will go as far as it can and still go further than it is now to try to make the game safer. But I don't think it's going to make the league disappear as some people have said. I think this is still a once-a-week game that people get very passionate about their games."
McGinest:
"I think the NFL definitely is going to be here to stay. I think that this is the best game in the world. I think that they're doing everything in their power to keep it that way and to make it one of the safest games. I don't think it's going to look different. I think they're just changing certain things to make it safer. If you're talking about hit zones, if you're talking about staying away from head shots and stuff like that, that's not something we're not used to hearing. So I don't think we're going to go back to leather helmets with no face masks or no helmets. This game is going to be the way it is. I just think they're doing everything and taking every precaution to make it safer."
O'Hara:
"Football is not going to disappear in 30 years. Will it look different? Of course it'll look different. Look at the game 30 years ago to today -- different game, different rules, different equipment. So 30 years from now, absolutely, it'll be a different game."
Are the safety concerns overblown?
Foxworth:
"My responsibility is just to protect the rights of the players and their health and safety, so I don't think that there can be enough [attention given to safety issues], especially given some of the things that have happened as a result of some of the head injuries. I'm pretty sure that those players and their families would say that there's no such thing as too much attention on the health and safety of the guys. So I come from that standpoint, and, being a former player, it's something I'm keenly aware of from a personal standpoint, and a lot of my friends are in this league and I know a lot of our kids may potentially be in this league. So it's very important that we put as much effort, time and money toward evolving the game and the science of the game as we can."
Smith:
"The game is what we signed up for. We didn't sign up for tennis. We didn't sign up for swimming and didn't realize we were going to go out there and get tackled. We signed up for football, which we knew was a physical sport."
Davis:
"Let's be real honest. It's a gladiator sport. Coliseums were built for it. People like to watch it and we're talking about big, strong, fast men. There are going to be collisions. There are going to be injuries. Do all the things you have to do to make it as safe as possible, but the reality is there's always going to be some danger."
Hebert:
"A little bit. But the NFL is so popular because it's the modern-day gladiator. I mean, I don't know what that says about mankind. But you can also look at boxing and ultimate fighting and how popular they are. Fans don't want to see flag football. I still think football will be here. You can change it, but you can only change it so far."
McGinest:
"I think it's necessary based on some of the studies, some of the former players and what they're going through, some of the players now. It's necessary. And it's also showing that the NFL cares about its players. If they're taking time to put on these full-on studies and they're going through every precaution with the testing of the gear and the helmets and they are willing to change certain things about the game to make sure that it's going to be here and be a safer game, it has all the signs of going in the right direction."
Boone:
"I just never understood how you change the game when you have players who are bigger, stronger and faster every year. It's just football. It's going to be physical. It's a physical sport. There are going to be injuries, but we're doing things to correct it.''
What one change would you make to improve safety?
Pereria:
"The safety issue is really all about the head. That's something the league has been focusing on for a long time and they'll continue to focus on making the rules broader than they are right now. Right now, only nine players are protected in certain situations. Can you go further? Possibly. The whole notion is going to try to be to get the head out of the game and get back to the wrap and tackling as opposed to lowering the head. They're serious about that, and they should be. To me, as I watch so much football on Sundays, it's already made a difference. You see situations where a defender really has a chance to blow up a receiver and he doesn't. To me, that means the rules are taking effect and that the fines have made a difference."
Davis:
"They're making the game safe for quarterbacks and star players. But they're not making it safer for all players. You never hear of a defenseless running back. You never hear of a defenseless linebacker. Defensive players aren't protected. Unless you make it safer for all players, I don't think you're doing as much good as you can. You have to put everyone on equal footing."
Reed:
"Defensive players should be protected, too. Offensive guys, quarterbacks in general, shouldn't be treated better than everybody on the football field.''
McGinest:
"I would take out the chop-block. That's another thing we don't talk about. A lot of emphasis is on the head, guys getting concussions and stuff, but there are also a lot of players getting their ACLs knocked out because now guys are diving. Now that they know they can't go high, guys are starting to attack with chop-blocking. That's also knocking guys' careers either out or messing them up. Not everybody's
Adrian Peterson
coming back from those injuries. A lot of guys, they take the wrong hit on the knee, they're never the same player."
O'Hara:
"I think the only real way to get everybody on the same page is to somehow get all the players in the NFL and all the coaches in the NFL and all the referees, get everybody in the same building and have, 'This is what is acceptable and this is what is not.' No second- and third-person regurgitation of the facts and, 'Here's what we're looking for,' because that needs to be consistent and everybody needs to hear the same message. Centralize the education, basically."
What else can be done to make things safer?
Hebert:
"I think you truly have to take it out of the players' hands as far as whether you're going to go back into the game or not after a head injury. As a player, when it comes to your teammates, you never want to be looked upon as a wuss. You want to be a tough son of a gun. To me, it totally has to be out of the hands of the players."
[+] Enlarge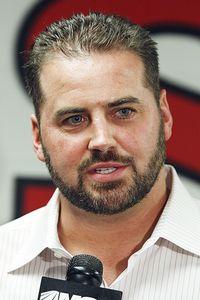 AP Photo/Mel Evans"You wouldn't give your son a circular saw and let him go and start whittling wood," former lineman Shaun O'Hara said. "You would teach him how to use that."
Davis:
"Look, the guys I played with and the guys that are playing now were schooled a certain way. It's too late for us and maybe too late for the guys still playing in the NFL. But the next generation is where a difference can be made. The kids that are coming into Pop Warner now need to be taught how to tackle properly. And maybe, just as importantly, they have to be taught that if you get dinged, if you take a hit to the head and you don't feel right, you go straight to the coach or the doctors and tell them immediately. People do that with ankle injuries. You hurt your ankle, you come out of the game. Head injuries need to be treated the same way."
Foxworth:
"In nine years, you can ask me that question and I'll have a definitive answer. But I don't know. We don't know how much damage repetitive hits do or whether it's the big knockout blows that do the damage. There are just so many questions. We're not sure about the best treatments and the quicker recovery time and if there are any precursors that make someone predisposed to have these kinds of brain injuries. Those are questions that will be answered by this Harvard research, and at that point, I think we can be able to set forth clear protocols of how to treat a player after a practice or how many hits [before] it's time to sit a guy out. Those sorts of things that are changes that can be made easily."
Brandt:
"I think it's like the Internet. People that are older, like myself, are not Internet-savvy. Kids that are 7 or 8 know more about it than I do. I think it's a thing that you build from the bottom up. Where I think we have a problem is that we have a lot of youth football leagues and the guys that are coaching sometimes get overzealous. I think we're gradually educating that element."
Would you let a young son start playing football right now?
Bowman:
"I'm not going to deter my kids from the game. When they see the game, they understand what it's all about. It's a physical game."
Suggs:
I respect [the president's comments] for the simple fact that this is a very physical and dangerous sport, especially considering that with the concussions and the current findings of Junior Seau. A parent would be reluctant [to let] his or her child play football. I think, if you play the game right and you play it appropriately, that injuries are part of the game.''
Pereria:
"Sure, I would. But I'd also be out there with him, coaching and working with the coaches to make sure that the game, at that level, is being coached properly and that kids are keeping their heads up and abiding by the rules that are still in the NFL rule book, which defines tackling as wrapping your arms around the opponent and taking him to the ground."
Miller:
"Everyone has their own opinions, but I would let my kid play football. It's a violent game, but not too violent. At the same time it builds character, hard work, dedication, responsibility. All of those things are important. They are taking caution to be careful and concerned for the players' safety and taking that into account more."
Foxworth:
"My son's so young, I like to think that we would have made advances by the time he's old enough to play to make it safer. Given the current state of the game, I wouldn't stop him from playing it, but I'd be very cautious about the exposure and the frequency with which he may come into contact with those type of dangers."
O'Hara:
"If my son wanted to play football, I would absolutely let him. I would drive him. But I would teach him. You wouldn't give your son a circular saw and let him go and start whittling wood. You would teach him how to use that. There's a proper way to use power tools. So my issue is, when I hear parents say, 'I don't want him to play football,' well, it's because you don't want to take the time to teach him how to do it right. Or you don't know how to teach him right. So that, to me, is a big sticking point. When I see kids that want to play football, I just want them to learn it the right way. We need to make sure our coaches are teaching our kids the right way to do things, because for every one kid that gets hurt, that's something that could affect a whole lifetime."
October, 23, 2011
10/23/11
4:28
PM ET
CHARLOTTE, N.C. -- Thoughts on the
Carolina Panthers
'
33-20 victory
against the
Washington Redskins
at Bank of America Stadium:


What it means:
The Panthers didn't let this one slip away. The team that's had problems holding leads until the end finally got it done. This was a significant win for the Panthers because the Redskins came in with a winning record. It also was significant because the fan base was starting to get a bit frustrated with moral victories. This was a real victory and a real stride for a young team.
What I liked:
Carolina's defense. It was far from perfect and the Panthers were going against
John Beck
, who entered the game with an 0-4 record as an NFL starter. But the defense, which had been hit hard by injuries, did some things it had not been doing, like getting the Washington offense off the field and making some big plays.
What else I liked:
Cam Newton
. This was the first time I've seen the rookie quarterback in person in game circumstances. He might be even more impressive in person than on television. I knew Newton could run and throw, but didn't fully appreciate his arm strength, accuracy and ability to shrug off hits from defenders.
What I didn't like:
The Panthers had successive plays at the end of the first half where
Olindo Mare
kicked the ball through the uprights, but the field goal didn't count. Mare got pushed back and finally was successful from 45 yards. But you can't get away with mistakes like that every week.
In the record books:
Chris Gamble
recorded the 25th interception of his career in the fourth quarter. That ties Gamble with
Eric Davis
for the franchise record.
Still going strong:
Carolina receiver
Steve Smith
continues to look like the Smith of the middle of the last decade. He had seven catches for 143 yards and was full of energy. People talk a lot about how Newton has revitalized Smith. But it also needs to be noted that Smith is doing a lot to make the rookie quarterback look good.
What's next:
The Panthers host the
Minnesota Vikings
next Sunday.
June, 24, 2010
6/24/10
9:30
AM ET
Notable players:
QB
Joe Montana
, QB
Steve Young
, WR
Jerry Rice
, WR
John Taylor
, RB
Roger Craig
, FB
Tom Rathman
, TE
Brent Jones
, G
Guy McIntyre
, FS
Ronnie Lott
, OLB
Charles Haley
, DE
Pierce Holt
, DE
Kevin Fagan
, OLB Keena Turner, LB Matt Millen.
[+] Enlarge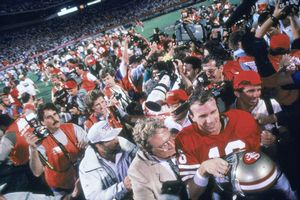 Andy Hayt/Getty ImagesJoe Montana and the 49ers were at the height of their success during the 1989 season.
Analysis:
The
San Francisco 49ers
had multiple teams worthy of consideration as the best in franchise history. I'll take the one that outscored its opponents 126-26 during the postseason, including 55-10 over the
Denver Broncos
in the Super Bowl. Denver led the NFL in scoring defense that season.
The 1989 team featured the 49ers' offense at the peak of its powers.
Joe Montana averaged 9.1 yards per attempt with 13 starts that season. The figure for three-game starter Steve Young -- 10.9 yards per attempt -- was even more ridiculous.
Drew Brees
set a career high at 8.5 yards per attempt last season.
Tom Brady
's average was 8.3 during his historic 2007 season.
Dan Marino
was at 9.0 in his 1984 career season. None could match the 49ers' top two quarterbacks during this special season.
This was the first 49ers team of the 1980s without Bill Walsh, but offensive coordinator Mike Holmgren was still there, as were nearly all of the team's iconic offensive players from the decade. Tight end Brent Jones emerged as a starter. Roger Craig topped 1,000 yards rushing. Fullback Tom Rathman caught 73 passes. Montana set a career high for passer rating at 112.1, completing 70.2 percent with 26 touchdowns and eight interceptions. Rice caught 17 touchdown passes while averaging 18.1 yards per reception.
The defense was typically overlooked except by those forced to play against it.
John Elway
completed only 10 of 26 passes for 108 yards and two interceptions against the 49ers in the Super Bowl.
"Their defense doesn't get enough credit," Broncos coach
Dan Reeves said
afterward. ''I can't say enough about them.''
Walsh later regretted retiring. This team made it easy to see why.
Most impressive win:
Having already touched on the Super Bowl victory, let's focus on the victory that delivered the NFC West title to San Francisco that season. Montana passed for 458 yards, including 286 to receiver John Taylor, and the 49ers twice overcame 17-point deficits to edge the division-rival Rams, 30-27, on the road.
Transcending Walsh:
This 49ers team became the only one in NFL history to win back-to-back Super Bowls with different head coaches. The change from Walsh to George Seifert might have actually helped this team, at least for a season. The offensive-minded Walsh left the defensive-minded Seifert with a veteran offense trained to function at a high level without much big-picture help. Holmgren took the best of what Walsh taught him and made it even better with his own tweaking. In that sense, the 1989 team might have gotten the best of what Walsh and Holmgren had to offer. Montana was also at his best. He never enjoyed a finer season.
Honorable mention
1984:
This was the team that knocked off Marino in the Super Bowl after the quarterback shredded defenses for a then-record 48 touchdown passes. This was a great 49ers team with a franchise-best 15-1 record, but the best group in 49ers history needed to include Rice, I thought. He arrived the next year.
1994:
Proponents of this team will point to a defense featuring
Deion Sanders
,
Rickey Jackson
,
Ken Norton
,
Merton Hanks
,
Eric Davis
,
Tim McDonald
,
Bryant Young
and others. They'll point to Young's record six touchdown passes against the
San Diego Chargers
in the Super Bowl.
1948:
Let's save some recognition for one of the early 49ers teams. This one outscored opponents by more than 17 points per game on its way to a 12-2 record. Frankie Albert put up modern-day numbers with 29 touchdown passes, 10 interceptions and a 102.9 rating.