January, 10, 2014
Jan 10
11:45
AM ET
Baltimore Ravens
assistant general manager Eric DeCosta has been contacted by the
Miami Dolphins
about their general manager opening, according to the
Miami Herald
.
It would be a surprise if DeCosta interviewed for the position because the Ravens have made him the general manager-in-waiting and he's turned down other opportunities in the past.
The Ravens showed their commitment to DeCosta and rewarded his loyalty to the team when they promoted him to assistant GM nearly two years ago. DeCosta, 42, has long been one of the hot general manager candidates after helping the Ravens become a perennial playoff team and a Super Bowl champion last season.
In March 2012, owner Steve Bisciotti told
The Baltimore Sun
that the Ravens structured DeCosta's contract in a way "where he's off the market for a few years."
It's unknown when general manager Ozzie Newsome (who turns 58 in March) plans to step down, but DeCosta has shown patience in the past. Since 2009, DeCosta has pulled his name out of the
Seattle Seahawks
' general manager search and has turned down three teams (the
Indianapolis Colts
,
St. Louis Rams
and
Chicago Bears
) when they sought permission to speak to him.
It's difficult to see DeCosta pursuing the Dolphins' job when he turned down opportunities with more stable franchises.
May, 7, 2013
5/07/13
5:49
PM ET
The
Baltimore Ravens
are surprisingly not giving up on
Rolando McClain
despite his latest arrest. Ravens assistant general manager Eric DeCosta told fans at
The Baltimore Sun
Sports Forum that McClain "deserves a second chance."
McClain
If you're counting at home, McClain is actually on his fourth chance in the NFL. The Ravens' real message to McClain should be: You're getting one final chance. McClain has been arrested three times in 11 months, all in his hometown of Decatur, Ala. He has been arrested for firing a gun next to someone's head, writing an expletive on a police citation instead of his real name and inciting a crowd by shouting expletives at police.
As I've written previously, I thought the Ravens
would release McClain
when he got arrested 10 days after signing a one-year contract with Baltimore. Ravens coach John Harbaugh has talked in the past how he has gone to great lengths to clean up the team's image. Taking in someone who was deemed too much of a bad boy for the
Oakland Raiders
doesn't fit Harbaugh's vision for the team.
By keeping McClain, this tells me that the Ravens really need him, even after they traded up in the second round to draft inside linebacker
Arthur Brown
. Maybe the Ravens aren't certain that Brown can start right away. He is converting from a 4-3 defense at Kansas State. And, when seeing Brown at Ravens rookie minicamp, he was so small-framed that he looked more like a running back. Perhaps the Ravens are hoping McClain can be that one-year bridge until Brown can take over as starter.
McClain, a former first-round pick by the Raiders, pleaded guilty Monday to a charge of violating rules on car window tint. He paid $186 to settle the fine and court costs. McClain still has a July 9 court date for a disorderly conduct and resisting arrest in April. Based on McClain's past year in his hometown, the Ravens better make sure McClain doesn't hang around in Decatur, Ala., for too long.
April, 25, 2012
4/25/12
10:00
AM ET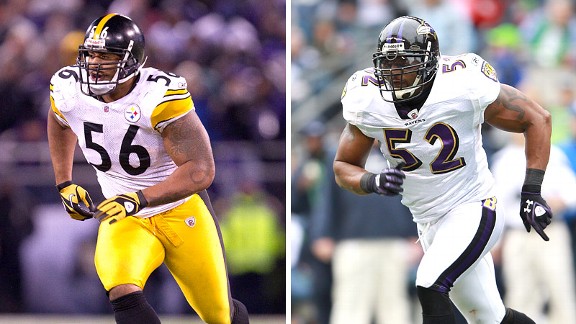 Getty ImagesThe Steelers and Ravens have made a habit of drafting Pro Bowl players like linebackers LaMarr Woodley, left, and Ray Lewis.
This is the time of the offseason when the
Baltimore Ravens
and the
Pittsburgh Steelers
shine. They build the foundation for Super Bowl-contending teams by finding players in April and not in March.
When it comes to drafting Pro Bowl players, the Ravens and Steelers rank
among the top four
since 1996, according to the Ravens' public-relations department. Baltimore and Pittsburgh have each selected 15 Pro Bowl players during that span, tied for third-most in the league. Only the
New England Patriots
(17) and
Green Bay Packers
(16) have produced more.
The secret to the Ravens' and Steelers' drafting success is establishing a vision of what type of player fits their teams. That philosophy comes from the stability of the organizations. Ozzie Newsome has been the Ravens' chief decision-maker since the team relocated to Baltimore in 1996, and Kevin Colbert has been the Steelers' general manager since 2000. The teams each have had two head coaches (Mike Tomlin and Bill Cowher for the Steelers, and John Harbaugh and Brian Billick for the Ravens) for the previous 13 seasons.
That type of cohesion builds a relationship to the point where the scouting department knows what players the coaches want. The front office has insight on what players succeed in their teams' offensive and defensive systems.
"I think that's one of the enjoyable things about Pittsburgh," Tomlin said at the Steelers' pre-draft press conference this week. "We don't get caught up in draft grades and the evaluation of the draft, and things of that nature like a lot of other things that could distract you. It's simply measured in terms of how we perform."
The Steelers have drafted four Pro Bowl players in the past five years: linebacker
LaMarr Woodley
(2007), wide receiver
Mike Wallace
(2009), center
Maurkice Pouncey
(2010) and receiver-returner
Antonio Brown
(2010).
Last season, seven of the Ravens' eight Pro Bowl players were drafted by the team: inside linebacker
Ray Lewis
, safety
Ed Reed
, outside linebacker
Terrell Suggs
, defensive tackle
Haloti Ngata
, running back
Ray Rice
and guards
Ben Grubbs
and
Marshal Yanda
.
This type of consistent success is more amazing when you consider the level of difficulty. The Steelers and Ravens are finding these Pro Bowl players despite annually picking toward the bottom of each round.
These division rivals don't like each other, but they tend to like the same type of player. The Ravens and Steelers target tough, physical and competitive players.
"His motor in the fourth quarter is really, really important," Ravens director of player of personnel Eric DeCosta said. "A lot of the guys who impress me are the guys who are getting their butts kicked in the fourth quarter, losing by 20, 25 points, and he's still making plays or trying to make plays."
DeCosta added, "How does a guy tackle? If it's a cornerback, does he face up and use his facemask? Does he bring you down? Does he miss a lot of tackles? If he's a running back, does he run through contact? Does he lower his pads and try to break tackles? You get a sense. When you talk to people, you get a sense. Then when you interview a guy, you get a sense for his toughness."
The true measure of draft success isn't the number of Pro Bowl players produced. There is a higher standard.
"Super Bowl championships," Colbert said. "That's it. There is no scorecard. Never will be, never has been."
April, 4, 2012
4/04/12
5:13
PM ET
OWINGS MILLS, Md. -- The Ravens have the 29th pick in the NFL draft, so there's not a lot of drama surrounding the team's first-round pick. Here are my impressions from Baltimore's pre-draft press conference:
The Ravens are open to trading up or down in the first round, and their history suggests they will do it again. Over the past four drafts, Baltimore has made a trade in the first round three times and nearly did it for a fourth straight year if not for the draft-day debacle with the Bears last year. The Ravens, though, won't trade up more than 10 spots. "It's really who the player is and who the other players are around him," said Eric DeCosta, Baltimore's director of player personnel. "You'll never see us trade up to get a player unless we think clearly he's by far he's the best player there."
General manager Ozzie Newsome was honest when he named the team's biggest draft needs: offensive line, wide receiver, depth in the pass rush and strong-side linebacker. Even though coach John Harbaugh once again spoke about how Jah Reid can take over at left guard, I'm thinking the Ravens want a highly rated prospect like Georgia's Cordy Glenn to fall to them. When asked about interior linemen, DeCosta mentioned four names: Glenn, Stanford guard David DeCastro, Wisconsin guard Kevin Zeitler and Wisconsin center-guard Peter Konz.
The Ravens acknowledged they probably won't sign another player in free agency until after the draft. Baltimore only has $1.7 million in salary-cap room (third smallest in the NFL), but Newsome said that won't stop them from making a move. "Regardless of what the number we are at the cap, we have a plan," Newsome said. "We talk about the cap every day. If there is a good player that can come in and help our football team, we will be able to fit him under our cap."
Baltimore officials appear resigned to the fact that running back Ray Rice won't be attending any offseason team activities. Rice, who has yet to sign his franchise tag, said yesterday that he hasn't decided if he will skip team workouts. "Up until a guy actually signs his franchise tender, he's not under contract and we're not even allowed to ask him to our mandatory minicamp," Newsome said. "We understand those things and lived them through [Terrell] Suggs, Chris [McAlister] and even Wally Williams. We've experienced that before. Would Coach Harbaugh want 100 percent participation in every offseason program and every OTA and every minicamp? Yes he would. But he knows that unrealistic also."
I get the feeling that the Ravens are privately pleased by Joe Flacco's comments that he is "the best" quarterback in the NFL. There was talk last year that the Ravens waited to start negotiations on an extension with Flacco to motivate him for the 2011 season. Now, by making such a bold statement, Flacco has to live up to those words this year. "I don't think there is any player, any coach and any GM who doesn't think they're not the best at what they do," Newsome said. "If you make a statement like that, you have to prepare yourself to be the best. I am sure Joe is also doing that."
January, 6, 2012
1/06/12
12:51
PM ET
We've had two rapid-fire news developments pop up Friday concerning the
Chicago Bears
:


Baltimore Ravens executive Eric DeCosta, who might have been the Bears' top candidate to succeed general manager Jerry Angelo, announced he will remain with the Ravens and won't interview for any outside jobs. The Bears had requested permission to interview DeCosta, who likely is the heir to Ravens general manager Ozzie Newsome.
The search for an offensive coordinator to replace Mike Martz, meanwhile, has reached its expected conclusion. As first reported by Jay Glazer of Fox Sports, offensive line coach Mike Tice has been promoted to the job.
There's not much more we can say about DeCosta's decision. It's easy to say the Bears' job has limited attraction for a big-time general manager candidate, considering he will be required to inherit coach Lovie Smith. Most general managers prefer to hire their own people, including the coach. But DeCosta also turned down opportunities to interview for jobs where he would hire the head coach. One name to keep in mind for the Bears continues to be
Atlanta Falcons
executive Les Snead.
Tice's ascension makes sense for the reasons
we've been discussing for weeks
. Mostly, it means the Bears won't start completely from scratch after hitting their offensive stride midway through the season. Tice shares some of Martz's terminology and root concepts, and has had two years to build a relationship with quarterback
Jay Cutler
. That puts the Bears ahead of where they would have been had they hired from the outside.
Tice, of course, is a much bigger proponent of the power running game than Martz was, and that puts him on a closer wavelength with Smith. It will also lead to a unique arrangement that presumably covers for some of the downsides this move would otherwise present.
Tice will call the plays for the first time in his career, according to
the Bears' web site
. But he will have a running-game focus, while a yet-to-be-hired quarterbacks coach will concentrate on the passing game.
The upside of that arrangement is that Tice will spend more time with the offensive line during the week, even though a new line coach will be hired. And it will also make the new quarterbacks coach more significant in the Bears' hierarchy than he otherwise would have been. (My first thought went to Jeremy Bates, Cutler's former quarterbacks coach when both were in the
Denver Broncos
. Just a guess, though.)
On the other hand, it will require a special degree of communication and cooperation for this to work.
There is a prevalent line of thought in the NFL that the play-caller and quarterback must be in lock-step and spend maximum time with each other during the practice week. Is that possible if Tice is focusing on the running game, and a quarterbacks coach who isn't the play-caller is spending more time with Cutler?
We'll find out. If the Bears truly become a run-oriented team under Tice, maybe it'll make more sense to have him work with the offensive line. Regardless, as we've discussed many times, there was no perfect solution awaiting the Bears on this issue. Starting over with a brand new coordinator and scheme, which would have been the fourth such change for Cutler in the past five years, wasn't appealing in the short-term. At this point, the Bears' best option was to find a way to make it work with Tice.
January, 5, 2012
1/05/12
10:00
AM ET
The Ravens might be hard-pressed to keep their heir apparent to general manager Ozzie Newsome.
Four teams -- the
Indianapolis Colts
,
Chicago Bears
,
St. Louis Rams
and
Oakland Raiders
-- are expected to seek permission to speak to Ravens director of player personnel Eric DeCosta for their general manager openings. In many ways, DeCosta has become the Jeff Fisher of front-office searches.
The Colts have already received permission to talk to DeCosta, according to WBAL's
Gerry Sandusky
, the team's radio play-by-play announcer.
DeCosta has long been considered the successor-in-waiting to Newsome, the team's only general manager, who turns 56 in March but has never publicly hinted at retirement. Ravens owner Steve Bisciotti has rewarded DeCosta for his loyalty -- he removed his name from the Seahawks' general manager search in 2009 -- with an increase in pay and responsibility.
"I think Eric knows how highly regarded he is in Baltimore, but when you have a guy as successful as Ozzie Newsome in the job, there's not a ton of promises that you can make," Bisciotti said in March 2010. "I think Eric is smart enough to see what happened with Phil [Savage] and George [Kokinis], and he'll probably limit himself to consideration of just a handful of jobs. His relationship with Ozzie is just as solid as any relationship I've seen in the NFL. He's so happy in his job that I think it will take a perfect job to get his serious consideration. Eric is going to make a great GM someday."
The problem for the Ravens is that the perfect job could be coming DeCosta's way. With four teams in the mix, the competition for DeCosta might result in a deal that he can't refuse.
DeCosta officially became Newsome's right-hand man in the war room in 2005, when Savage left for the
Cleveland Browns
' general manager job. One team official said DeCosta sets up the draft and Newsome makes the final decisions.
What makes DeCosta attractive to so many teams is his age (40), track record and a thoroughness that highlights his desire for better results.
"We even grade our lunches," DeCosta once said. "If I say it's a 6.2 lunch - all the guys know what that means: pretty good, but not great. A 7.5 is like the Pro Bowl; if I say the soup is a 7.5 today, everybody runs to get the soup."
March, 31, 2011
3/31/11
12:00
PM ET
»
NFC Draft Watch
:
East
|
West
|
North
|
South
»
AFC
:
East
|
West
|
North
|
South
Each Thursday leading up to the NFL draft (April 28-30), the ESPN.com NFL blog network will take a division-by-division look at key aspects of the draft. Today's topic: decision-makers.

Baltimore Ravens
Ozzie Newsome continues to be one of the NFL's best general managers, and right-hand man Eric DeCosta is starting to create a significant buzz in league circles as well. DeCosta is widely viewed as the
Ravens' future GM
whenever Newsome decides to retire. But together they have helped Baltimore become a consistent contender in the AFC North.
The Ravens rely heavily on their regional scouts to provide the initial groundwork, while the front office digs deeper to determine which prospects fit the system. The Ravens have an established identity, and they evaluate toughness and football character better than most teams. Baltimore also thrives on finding value picks in the draft, particularly in the middle rounds, which is hard to do.

Cincinnati Bengals
Many have been critical of Cincinnati's lack of a general manager and lighter resources in its front office and scouting staff. Bengals owner Mike Brown recently defended the practice. But the results, which include zero back-to-back winning seasons in 29 years, speak volumes.
The Bengals had a solid draft last year and that needs to continue to develop the same consistency as their rivals. With fewer resources than most teams, the Bengals too often miss on important things such as character and work ethic, which eventually comes back to haunt them.

Cleveland Browns
The power duo of president Mike Holmgren and general manager Tom Heckert flexed its muscle for the first time last year in Cleveland. The result was a solid draft that landed cornerback
Joe Haden
, safety
T.J. Ward
and quarterback
Colt McCoy
in the first three rounds. The Browns also made a shrewd trade to land 1,000-yard rusher
Peyton Hillis
from the
Denver Broncos
for quarterback
Brady Quinn
.
But Cleveland posted its second consecutive 5-11 season, proving there is still plenty of work to do. Starting with the No. 6 overall pick, Holmgren and Heckert have a chance to land impact players in this draft to help ease the transition for rookie head coach Pat Shurmur.

Pittsburgh Steelers
Not much has changed in Pittsburgh, which is a good thing for the Steelers. Pittsburgh continues to let the front office dominate the offseason while giving way to the coaching staff during the season. Kevin Colbert mostly stays out of the public eye but is well-known as one of the league's top general managers. The Steelers continue to build through the draft and got plenty of rookie contributions last year from center
Maurkice Pouncey
and receivers
Emmanuel Sanders
and
Antonio Brown
during their Super Bowl run.
This year some of Pittsburgh's philosophies will be put to the test. The team usually avoids cornerbacks in the first round but may have several good options at No. 31. The Steelers also have the propensity to take the best available player later in the first round instead of the biggest need. Do not be surprised if the Steelers go against the grain in both instances.
April, 24, 2010
4/24/10
5:00
PM ET
»
NFC draft analysis
:
East
|
West
|
North
|
South
»
AFC
:
East
|
West
|
North
|
South
This season is expected to be a close race in the division. So the drafts of the
Baltimore Ravens
,
Cincinnati Bengals
,
Pittsburgh Steelers
and
Cleveland Browns
could go a long way toward determining who comes out on top.
With that said, here is a look at the decisions made this week in the AFC North:
Best move
The "Wizard of Oz" was at it again
. After trading out of the first round for the first time in franchise history, Ravens general manager Ozzie Newsome came back strong in the second round by grabbing two first-round talents in linebacker
Sergio Kindle
and defensive tackle
Terrence "Mount" Cody
.
[+] Enlarge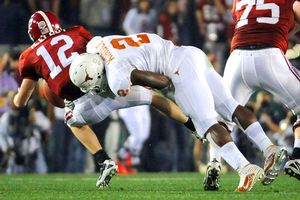 Harry How/Getty ImagesSergio Kindle notched 16 sacks over the past two seasons for Texas.
Baltimore passed over some good players in the first round when the team traded its No. 25 overall pick to the
Denver Broncos
, who surprisingly selected former Florida quarterback
Tim Tebow
. In return the Ravens got three valuable picks and selected two potentials steals on defense in Kindle and Cody.
"Well, I think the biggest thing that we did [is] we got guys that we wouldn't want to play against," Ravens director of player personnel Eric DeCosta said. "You know, these guys all have, really, a dominant trait in some respect. They do different things very well, and that's intriguing in our situation to get a linebacker that can really rush the passer -- a very explosive guy. And then we've had a lot of success over the years with these massive run-stuffers. Terrence Cody is that guy."
The Ravens had Kindle rated very high on their board and weren't scared off by injury concerns about his knee. That was the reason he fell to the second round. Cody has weight issues. But if he's able to keep that under control, Cody can be a force alongside Pro Bowler
Haloti Ngata
to create one of the biggest pairings of defensive tackles in the league.
Riskiest move
It's hard to doubt the Steelers with their stellar track record. But they did ignore more immediate needs in the top half of this year's draft.
Pittsburgh passed over help in other areas early to grab pass-rushers
Jason Worilds
and
Thaddeus Gibson
. Barring injuries, this pair of outside linebackers will have a very hard time getting on the field while sitting behind Pro Bowlers
James Harrison
and
LaMarr Woodley
.
Worilds and Gibson could turn out to be productive players at some point. But if I had rated positions of need for the Steelers entering this draft, outside linebacker would have been last.
In particular, there were plenty of quality defensive linemen available in the first three or four rounds who could've provided a more immediate impact in Pittsburgh's defensive rotation. But the team
did a solid job
addressing another immediate need at cornerback by trading with the
Arizona Cardinals
for former Steelers starter
Bryant McFadden
.
Most surprising move
McCoy
Although it wasn't shocking the Browns landed former Texas quarterback
Colt McCoy
, the manner in which Cleveland did it
was very surprising
.
The Browns really liked McCoy, particularly his intangibles and accuracy, but felt they had more pressing needs to address early in the draft. Cleveland instead plugged holes in the secondary and at running back for three rounds as McCoy surprisingly slid further than expected.
When the Browns came up at No. 85 overall, Cleveland finally got its quarterback of the future.
"In Colt's case, I really didn't think that he would be available to us," Browns president Mike Holmgren said. "I really felt that he would go before we had a chance to pick him. But when it didn't happen, it was something I really wanted to do and [coach] Eric [Mangini] and [GM] Tom [Heckert] went along with me and there you have it."
McCoy, a projected early second-rounder, wasn't too thrilled about his slide. But it could work in his favor.
As much as the city of Cleveland tends to
love its backup quarterbacks
, McCoy is coming to the Browns as a low third-rounder and without a ton of pressure to perform immediately.
Veteran quarterback
Jake Delhomme
is the starter in 2010, and the team has an experienced backup in
Seneca Wallace
. So McCoy should be able to hold a clipboard, learn the offense and get used to the NFL game for a full season before Cleveland thinks about putting him on the field.
"I don't expect him to play this year," Holmgren said. "We didn't draft [McCoy] to play this year."
File it away
The Bengals' third-round selection of Texas receiver
Jordan Shipley
adds a tremendous amount of competition to Cincinnati's receiving corps. Out of necessity, expect a surprise cut or two at the position coming out of training camp.
Pro Bowler
Chad Ochocinco
and free-agent pickup
Antonio Bryant
are set as the two starters. But Shipley,
Andre Caldwell
,
Matt Jones
,
Quan Cosby
and former second-round pick
Jerome Simpson
also will compete for roles on the team.
There are not enough roster spots to carry everyone. Could this be the year Cincinnati cuts ties with Simpson, who has been a bust his first two seasons? Or will the controversial signing of Jones, who's had off-field troubles and was out of football last season, be for naught? Cosby, last year's punt returner, also is a possible cut.
The Bengals have a lot of options in their passing game, which struggled at the end of last season. But they will have to make some key decisions about who will be a part of it in 2010.
April, 23, 2010
4/23/10
10:47
PM ET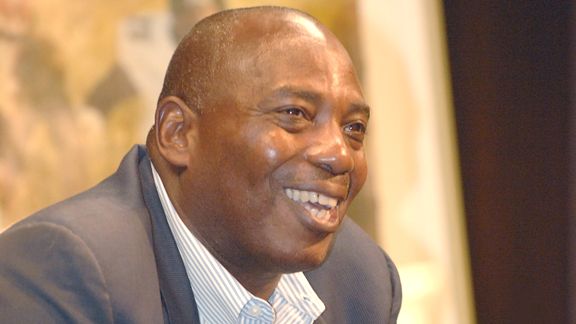 Mitchell Layton/Getty ImagesOzzie Newsome and the Ravens have reason to smile after Day 2 of the NFL Draft.
Despite a stellar track record as one best talent evaluators in the NFL, some questioned general manager Ozzie Newsome when the
Baltimore Ravens
traded their first-round pick to the
Denver Broncos
.
Not only was it the first time in franchise history the Ravens traded out of the first round, but quality prospects such as cornerback
Kyle Wilson
and defensive linemen
Jared Odrick
and
Dan Williams
were available at No. 25. Any of those players could have been good fits for the Ravens.
But 24 hours later, no one should be doubting Baltimore after acquiring three extra picks and taking highly-touted linebacker
Sergio Kindle
and defensive lineman
Terrence "Mount" Cody
on Friday. Both players are first-round talents that Newsome and his staff found at a tremendous value in the second round.
After improving the offense in free agency, particularly with the
Anquan Boldin
trade, the Ravens stocked up on defense with their first two picks of the 2010 draft.
"We're a team that historically has been built through the draft, and we knew back in September this was going to be a strong draft," Ravens director of player personnel Eric DeCosta said following Thursday's trade. "It's proven to be a strong draft, and we wanted more picks. Our scouts and coaches are very excited."
The Ravens took Denver's second-, third- and fourth-round picks Thursday. The Broncos wound up selecting former Florida quarterback
Tim Tebow
at No. 25, a move that has been heavily criticized by the national media.
But few can argue with Baltimore's draft approach. The same GM who hit home runs with
Michael Oher
(2009),
Ray Rice
(2008) and
Joe Flacco
(2008) the past two years may have done the same with a pair of second-rounders.

Kindle

Cody
Kindle, who was taken with Denver's second-round pick, was a very productive force at Texas, where he recorded 16 sacks the past two seasons. He fell to Baltimore in the second round because teams were worried about his history with an injured knee. But in terms of talent, he is often compared to
Terrell Suggs
as a player who could seamlessly translate to outside linebacker in a 3-4 defense and become a disruptive force.
"Getting to the quarterback is my specialty, and I can only get better learning from Suggs and guys like that," Kindle said. "The sky's going to be the limit once I get there and get in the system."
Cody is one of the biggest prospects in this year's draft, which is filled with quality defensive linemen. The Ravens felt comfortable that they could get a quality depth at the position later in the draft, which is part of the reason they made the trade with Denver.
With the exception of Pro Bowler
Haloti Ngata
, Baltimore's defensive line is getting long in the tooth. Cody should fit in well, teaming with veteran defensive tackle
Kelly Gregg
, 33, and eventually should become his replacement.
"I had a real good feeling this is where I would be going," Cody said. "It took longer than I thought it would, but at the end of the day I'm a Baltimore Raven and proud to be one."
Baltimore also selected Oregon tight end
Ed Dickson
in the third round, which was another pick acquired from Denver. Dickson should help with depth at tight end behind longtime starter
Todd Heap
.
The Ravens will forever be linked as the other party in the highly controversial Tebow deal. Denver is on the hook for a major project at quarterback who could be a boom-or-bust player. But Baltimore did its part by drafting multiple quality players across the board who should help the team in the long and short term.
April, 14, 2010
4/14/10
1:00
PM ET
»
NFC decision-makers
:
East
|
West
|
North
|
South
»
AFC
:
East
|
West
|
North
|
South
»
Draft Watch
:
Biggest needs
(2/17) |
Busts/gems
(2/24) |
Schemes, themes
(3/3) |
Recent history
(3/10) |
Needs revisited
(3/17) |
Under-the-radar needs
(3/26) |
History in that spot
(3/31) |
Draft approach
(4/7) |
Decision-makers
(4/14) |
Dream scenario/Plan B
(4/21)
Each week leading up to the NFL draft (April 22-24), the ESPN.com blog network will take a division-by-division look at key aspects of the draft. Today's topic: Decision-makers.

Cleveland Browns
There is no question who calls the shots in Cleveland this year. New team president Mike Holmgren joined the Browns with the unofficial title of "football czar." In other words, "The Big Show" has final say on everything inside their building. To Holmgren's credit, he's delegated some of his vast power to general manager Tom Heckert in the front office and Eric Mangini on the coaching side while overseeing the entire operation. But rest assured, next week's draft will have Holmgren's fingerprints all over it.

Pittsburgh Steelers
The Steelers are very traditional when it comes to personnel decisions. The coaches coach during the season and the front office picks the players afterward. That firm line makes for very little confusion on the South Side. Pittsburgh's Kevin Colbert is one of the league's best general managers and probably doesn't get enough credit. For the most part Colbert avoids the spotlight and sparingly does interviews, although he
spent some time with the AFC North blog
recently. Instead Colbert prefers to stay behind the scenes most of the year until it's time to make moves on draft day.

Cincinnati Bengals
The Bengals don't put nearly as many resources into scouting as their rivals, and it's a major reason they
haven't had back-to-back winning seasons in 28 years
. Without a normal front-office setup, the final calls are made at the ownership level led by Mike Brown. It's somewhat of a mystery exactly how Cincinnati scouts its players with such a scant front office, but the coaching staff plays a large and active role with scouting in the offseason.

Baltimore Ravens
"In Ozzie we trust" is a saying you hear often in Baltimore this time of year. Ravens general manager Ozzie Newsome is one of the best in the business at replenishing Baltimore's roster with young talent via the draft. In the past couple of years alone, Newsome has hit home runs with
Ray Rice
,
Joe Flacco
and
Michael Oher
. Director of player personnel Eric DeCosta is Newsome's right-hand man in Baltimore, and you'd be hard-pressed to find a better pairing of talent executives in the league.
March, 23, 2010
3/23/10
9:34
AM ET
By
Matt Mosley
| ESPN.com
ORLANDO, Fla. -- During my search for peel-and-eat shrimp last night at an NFL owners meetings reception, I bumped into Jerry Jones and his entourage, which included his wife, Gene, daughter Charlotte and Hall of Fame quarterback Troy Aikman. While we spoke, a woman dressed as a 14-foot spruce tree danced nearby. You know, the usual.
Anyway, I visited with Jones for a few minutes before popping the question, "Are you guys playing the first game in new Meadowlands stadium?"
Jones looked as if he'd just been wounded and he wheeled around and walked away. I'm still trying to interpret what that abrupt departure may have meant. The NFL will likely announce the Giants' Sept. 12 opponent this afternoon. I think it will be the Eagles or Cowboys -- especially since the Giants have opened against the Redskins in recent years.
In other late-night news, I'm told that Redskins coach Mike Shanahan was highly entertaining during his time at the Ritz-Carlton's main bar Monday night. I'm sad to report that the Beast blog turned in before Shanahan arrived. Earlier in the evening, I had a chance to catch up with my former boss and current Ravens owner Steve Bisciotti.
He and Ravens director of college scouting Eric DeCosta engaged in a spirited conversation about how they arrived at drafting quarterback
Joe Flacco
a couple of years ago.
OK, stay with us all day for constant updates from the owners meetings. I'm scheduled to visit with all of the NFC East coaches tomorrow, but I'm hoping to land interviews with Bruce Allen and Jerry Reese today.
Thanks for participating in the owners meetings blog.
NFL SCOREBOARD
Sunday, 2/2
WEEKLY LEADERS