August, 8, 2014
Aug 8
3:30
PM ET
The NFL announced Friday that
New York Giants
offensive lineman
Eric Herman
has been suspended for the first four games of the 2014 season for violating its performance-enhancing drug policy.
Herman can continue to practice with the team and play in preseason games, but once the regular season begins he must stay away from the team until Friday, Sept. 26 -- the day after the Giants' Week 4 game at Washington. He will not be paid during the suspension.
As always seems to be the case with these NFL PED suspensions, Herman says he wasn't cheating and it was all some kind of clerical misunderstanding.
"The NFL requires a therapeutic use exemption (TUE) for permission to take certain medications," Herman said in a written statement released by the team. "I have a TUE for one medication, but not another stimulant that treats the same condition. Unfortunately, a stimulant for which I don't have a TUE was in my body, and the rules are very strict, so I am taking responsibility and I sincerely apologize to my teammates, coaches and the club. This won't happen again, and I will spend the four weeks working hard to be ready to return to work."
Whatever. Herman messed up and he got caught, and he's out for a quarter of the season. Feel bad for him if you want to, but do it without me, please. I do not share the football-crazed public's bottomless tolerance for players who fail drug tests.
Herman is a young player the Giants like, and he's been working hard in training camp as a backup guard and center, but his roster spot is no sure thing. If this costs him a spot on the team, then that's what he deserves. We're long past the time when it was worth it to hope that suspensions like these would stop players from using illegal performance-enhancing drugs. They don't, they won't, and I'm sure I'll be writing another post like this one again very soon.
April, 29, 2013
4/29/13
12:19
PM ET
If you follow the
New York Giants
regularly, you can't honestly sit there and say you're surprised they didn't take a linebacker in this year's draft. Whether you agree with them or I agree with them or any other team agrees with them is immaterial. They just don't think it's that important of a position.
What the Giants do like -- and what they were after in this year's draft -- is size and toughness on the lines, both offensive and defensive. They used their first three picks on linemen a month after their owner spoke publicly about needing to toughen up on the lines. And while it's entirely possible that no one from this year's draft makes a significant impact in 2013, the Giants don't generally draft for immediate impact anyway. They use the draft as part of their perpetual commitment to a deep roster, especially at high-priority positions.
[+] Enlarge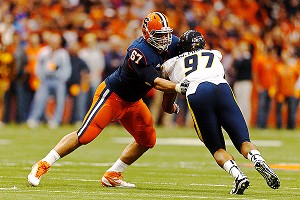 Jason O. Watson/USA TODAY SportsThe Giants are hoping that former Syracuse star Justin Pugh can provide some needed toughness up front.
So they used their first-round pick on Syracuse offensive lineman
Justin Pugh
. He's likely not going to come in and start right away at right tackle, as some may have hoped the Giants' first-round pick would. By pick 19, those guys were gone. Pugh played tackle in college but is more likely a guard (or maybe even a center) at the NFL level. With
Kevin Boothe
on a one-year deal and
Chris Snee
showing some signs of age, Pugh is likely more of a factor in 2014 and beyond. Yes, he could push for playing time at one or more spots this year. And yes, he could turn out to be a good NFL tackle. But the Giants took him because they like the player and person and believe he has the ability to fill more than one role. Since they don't know yet what their specific offensive line needs will be after 2013, he's a nice fit because he can help them go a number of different ways.
Second-round pick
Johnathan Hankins
, the massive defensive tackle out of Ohio State, could well be a part of the interior defensive line rotation this year. But again, he doesn't have to be. The Giants signed veterans
Cullen Jenkins
and
Mike Patterson
and
Shaun Rogers
and have returning starter
Linval Joseph
, among others, to fill those roles if the rookie isn't ready to play right away. But all of those new veterans come with question marks, and Joseph has one year left on his deal, so Hankins is yet another hedge against future needs at an important position. He's a run-stopping defensive tackle, and the Giants' run defense was near the bottom of the league last year.
It's easy to see what the Giants like about Texas A&M defensive end
Damontre Moore
, and why they were so pleased to find him still sitting there when their turn came in the third round. He was a sack machine in college, and with
Osi Umenyiora
gone and
Justin Tuck
coming off a disappointing year, they need to be thinking about the future of their pass rush. Moore dropped due to some off-field and character concerns, but he's 20 years old and the Giants believe strongly in their program and their coaching staff when it comes to developing and getting the best out of young players. He could produce right away in the pass rush if the attitude and work ethic concerns turn out to be overblown or immediately correctable, and if he does he could be one of the steals of the draft.
I didn't personally love the trade-up to get Syracuse quarterback
Ryan Nassib
in the fourth round. But quarterback is in the eye of the beholder, and as Mike Shanahan and the Redskins will tell you, the chance to get one you like in the fourth round is worth taking even if you feel set at the position. No quarterback in the league is as durable as
Eli Manning
, but should the unthinkable happen the Giants feel they have a quality young backup behind him in addition to
David Carr
. And even if Nassib never plays for the Giants, quarterbacks are valuable commodities in this league.
Fifth-rounder
Cooper Taylor
is a small-g giant as well as a capital-G Giant, a tweener-kind of player who's kind of a safety, kind of a linebacker and could develop into a useful piece in three-safety looks. Seventh-round guard
Eric Herman
is a seventh-round guard with a reputation for an on-field mean streak, and seventh-round running back
Michael Cox
is a worthwhile flyer for a team that just parted ways with a very successful seventh-round running back in
Ahmad Bradshaw
.
All in all ... well, it's generally hard to get overly excited about a Giants draft, because of the way the Giants draft doesn't lend itself to big dreams and excitement about how much better it made the team right away. Giants fans tend to trust GM
Jerry Reese
, and while they might have felt better this weekend if a linebacker or a top-flight cornerback had been one of the early-round picks, you have to respect the Giants for doing things their way. They contend every year, and once in a while they mix in a Super Bowl title. They must be doing something right.