December, 1, 2011
12/01/11
3:30
PM ET
In this week's
ESPN.com Hot Read
, Greg Garber set out to find out what makes the
Chicago Bears
'
Devin Hester
better than anyone else who has ever returned kicks in NFL history. Garber sought out a number of authoritative figures on the topic, including longtime returner Eric Metcalf, who played for seven teams from 1989-2002. Here is an excerpt of that portion of the story:
"That's the thing people don't understand," Metcalf said. "It's not clear-cut when you're on the field, in the middle of it. It's a feel thing. You get a second to peek when the ball is in the air. You see where everyone is and after you catch it, you can kind of [extrapolate] where everyone is going to be. If you misjudge it they can get a big shot on you, which you're really trying to avoid. Have you ever seen Devin Hester get blown up?"

Metcalf said there were times when he would try to appear as though he were running faster than he was by pumping his arms and taking smaller steps.

"And then, when they think they've got you," Metcalf said, "you turn on your afterburners. You stop and cut under them. I see Hester doing that all the time. He's running, puts on the brakes, just breaks it back. He has the ability to slow down enough to make the cut, and then pick it back up. It's actually his deceleration that is so amazing."
In the video below, Sports Science compares Hester's speed to that of an actual bear, who was not injured during its time on set. And if it suits your fancy, you can follow
this link
to a free ESPN Arcade game called "Return Man 2."
November, 18, 2011
11/18/11
10:30
AM ET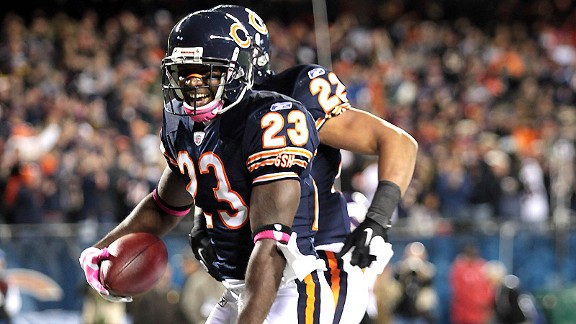 Tasos Katopodis /Getty ImagesDevin Hester is one return away from tying Deion Sanders' NFL record of 19 TD returns of any kind.
Chicago Bears
kick returner/receiver
Devin Hester
is 29. So it's reasonable to assume the actual debate on his candidacy for the Pro Football Hall of Fame is at least 10 years -- and probably a few more touchdown returns -- away. Already, however, Hester's unique status has conjured discussion about his place in history and whether he'll ultimately be recognized as one of the best players of this era.
Here are the facts:
Less than six years into his career, Hester has obliterated the NFL record for career kick returns for touchdowns. He has 17 in his 85-game career, most recently an 82-yard punt return last Sunday against the Detroit Lions, plus one more in the playoffs. It took Brian Mitchell 223 games to finish with 13, the previous record.

When you add in his return of a missed field goal in 2006, Hester is one return away from tying Deion Sanders' NFL record of 19 touchdown returns of any kind. Sanders played in 188 games before retiring.

The Hall of Fame has never inducted a player based on his impact as a returner. In fact, there is only one "pure" special-teams player in the Hall: Place-kicker Jan Stenerud.
Hester's record-breaking production, not to mention his pace, has spurred passionate discussion among his supporters. Bears linebacker
Brian Urlacher
provided a particularly direct assessment this week
during an interview with ESPN 1000
.
"He's the greatest of all time at what he does," Urlacher said. "And in my opinion, when you're the greatest of all time at your position, you should be in the Hall of Fame. He is a first-ballot Hall of Famer in my opinion. He's going to have 30-something touchdown returns if people keep kicking to him. It's a no-brainer for me. I just don't see how people can not agree with that."
From my amateur vantage point, the best way to consider Hester as a potential Hall of Fame candidate is to expand the analysis of his impact. It's going to be difficult for voters to elect a player based solely on "30-something" touchdown returns over the course of a decade, if that's indeed what Hester finishes his career with.
The reality is that punt and kickoff returns make up less than 10 percent of the total plays in an average game; the figures were about 12 of 138 plays in 2010. That's essentially the definition of a specialist who is hard-pressed to make a broad-based impact on games when he is typically exposed to so few opportunities. That's probably why neither Mitchell nor Dante Hall (12 return touchdowns) nor Eric Metcalf (12) have received serious consideration as a Hall of Fame candidate.
But Urlacher made an important point this week: "He changes every football game he's in."
How? By impacting the Bears' field position. Take a look at the chart accompanying this post, which we present after some dutiful research by Mike Corbo of the Bears' communications office.
The Bears have had the NFL's best field position, based on the start of their average drive, in three of Hester's five full seasons. They ranked No. 3 in the other two.
Multiple factors contributed to that success, including their Bears' strong defense of this era. And it's worth noting that they had top-10 field position in four of the five seasons preceding Hester's arrival. But it would be foolish to ignore the role of Hester's returns and also of kicks intentionally shortened or otherwise diverted by opponents to keep the ball away of him.
There are all kinds of politics, waiting games and backlogs involved in election to the Pro Football Hall of Fame. Given the difficulty that players like Kevin Greene (160 career sacks) and Cris Carter (1,101 receptions) have had getting attention, it's hard to imagine that a couple-dozen touchdown returns alone would put Hester on track for induction.
But when you consider him a player that impacts field position all game long, as Hester appears to have done for large portions of his career, then you're moving the conversation away from a specialist and towards the kind of criteria voters are looking for. If you're a proponent of Hester's burgeoning candidacy, that's the direction you need to head.

NFL SCOREBOARD
Sunday, 12/28
WEEKLY LEADERS