August, 30, 2012
8/30/12
10:29
PM ET
Let's run through some quick observations on the Panthers'
17-16 loss
to the
Pittsburgh Steelers
in Thursday night's preseason finale:
Coach Ron Rivera held out just about all of his starters and it showed. Charlie Batch and Pittsburgh's offense went right through Carolina's defense for a touchdown on the first drive of the night. But let's keep in mind this wasn't Carolina's rebuilt -- and healthy -- first-team defense.
Veteran backup Derek Anderson got the start at quarterback and played the first half. Jimmy Clausen replaced him. The Panthers already have decided Anderson will be Cam Newton's backup. I've been back and forth on whether or not the Panthers should even keep Clausen, a second-round draft pick in 2010, on the roster. After watching Clausen in extended playing time, I say keep him around. Clausen wasn't flawless, but he showed more than I've seen out of him in a long time (maybe since his Notre Dame days). He led the Panthers on a long touchdown drive on his first series. He also threw a long touchdown pass in the fourth quarter. I had been thinking the Panthers might be better off letting Clausen go, keeping only two quarterbacks on the active roster and bringing in a developmental project on the practice squad. But I think Clausen showed he still has some upside. I'd keep him around, just in case something happens to Newton or Anderson. If it does, I'd rather see Clausen than some developmental guy.
The Panthers have gone to great lengths to improve the special teams. But I think there's still reason for concern. It was negated by a penalty, but Pittsburgh's Chris Rainey had what should have been a 78-yard punt return for a touchdown.
One guy who continues to impress me is defensive end Thomas Keiser. He's done some good things earlier in the preseason and he did it again against the Steelers. Keiser swatted down a Batch pass at the line of scrimmage. I think Keiser's emergence was a big reason why Eric Norwood was released earlier in the week.
I think receiver Joe Adams makes the team, mostly because the team used a fourth-round pick on him. But I think the Panthers might go slowly with Adams, who was a contender for some work as a return man. But I think Adam's muffed punt return and lost fumble could prompt the Panthers to bring him along slowly. He did have a 20-yard punt return at the end of the first half.
Speaking of rookie receivers, it's going to be difficult to cut undrafted free agent Jared Green. He had a nice training camp and caught a touchdown pass from Clausen on Thursday night. I think the numbers make it almost impossible to keep Green on the 53-man roster. But I think he's a strong candidate for the practice squad.
The quick conclusion when the Panthers released veteran Olindo Mare was that Justin Medlock would be their kicker. He still might be. But Medlock missed two field-goal attempts on Thursday. Neither was a chip shot, but you still have to wonder if the Panthers might watch the waiver wire for kickers.
August, 27, 2012
8/27/12
3:16
PM ET
Olindo Mare
, who received a huge contract from the
Carolina Panthers
last year, won't be handling the kickoff duties for the team this year.

The Panthers announced Monday that Mare has been released. Presumably, that means former Canadian League player
Justin Medlock
has won what was a competition for Carolina's kicking job throughout the preseason.
Mare's signing last year caused controversy because the Panthers released
John Kasay
, the final remaining player from their 1995 expansion team, to make room for Mare. The thinking was that Mare was as accurate as Kasay and could also handle kickoff duties. But Mare had a disappointing 2011 season and missed some crucial field-goal attempts. The Panthers brought Medlock in as competition and decided to let Mare go.
Although the Panthers gave Mare a four-year, $12 million contract last year, the salary-cap implications of his release are minimal. Mare was scheduled to count $3.2 million against this year's salary cap. By releasing him, the Panthers still will be responsible for $3.1 million.
The kicker job isn't the only area where the Panthers are going in a younger direction. They also released veteran
Nick Harris
. That means the Panthers are ready to go with rookie
Brad Nortman
as their punter. The Panthers drafted Nortman in the sixth round. They brought in Harris to compete with him and Nortman won the job.
As Carolina trimmed its roster to 75 players, there were several other moves of note.
Receiver
David Gettis
, who missed last season with a knee injury, has been placed on the physically unable to perform list. Gettis, who had been considered a candidate to start, wasn't able to get healthy enough during the preseason. By going on PUP, Gettis now can be activated after six games. The Panthers also placed cornerback
Brandon Hogan
on the reserve/injured list. Hogan had been considered a candidate for significant playing time, but he also was slow in recovering from a knee issue. In the next five days, it will be decided if Hogan will take an injury settlement, be placed on injured reserve for the entire season or be released.
The Panthers also waived receiver
Darvin Adams
, guard
Roger Allen
, receiver
Michael Avila
, receiver
Brenton Bersin
, guard
Will Blackwell
, defensive end
Eric Norwood
, running back
Lyndon Rowells
, tight end
Greg Smith
, running back
Josh Vaughan
and receiver
Rico Wallace
.
September, 21, 2010
9/21/10
1:03
PM ET
»
NFC Decisive Moments
:
East
|
West
|
North
|
South
»
AFC
:
East
|
West
|
North
|
South
With eight minutes and 20 seconds remaining in the second quarter, the
Carolina Panthers
and
Tampa Bay Buccaneers
were tied 7-7 Sunday at Bank of America Stadium. For just a second, it looked like Tampa Bay's chances of starting 2-0 were in trouble, and it looked like the Panthers might have found a pass rush for the first time in the post
Julius Peppers
era.

For just a second.
Facing a third-and-17 from his 25-yard line, Tampa Bay quarterback
Josh Freeman
made the decisive play of the week in the NFC South and probably the most impressive play of his career so far. By all rights, Freeman should have been sacked -- twice.
But the 6-foot-6, 248-pound Freeman shed individual tackle attempts by
Charles Johnson
and
Eric Norwood
and continued rolling to his right. When he finally was free, he squared his shoulders and threw a frozen rope down the sideline to tight end
Kellen Winslow
, who was well covered. But Freeman put the ball in the one spot where Winslow could get it and the tight end did.
On the next play, Freeman threw a touchdown pass and the Buccaneers took the lead for good.
August, 12, 2010
8/12/10
11:25
PM ET
Jimmy Clausen
looked very good at times in his NFL debut.
Matt Moore
looked mediocre at times.
Does that add up to a sudden quarterback controversy for the
Carolina Panthers
? Not just yet. I'll explain why as we run through seven observations from Thursday night's preseason game between the Panthers and
Baltimore Ravens
. By the way, for those who actually track preseason results, the final was
Baltimore 17, Carolina 12
.

1. Clausen looked very NFL ready, at least until the rain started.
He made some nice throws and seemed to have a good sense of awareness. But let's remember a few things. Clausen was playing against Baltimore's backups and the Panthers pretty much decided Moore's performance at the end of last season earned him the right to open this regular season as the starter. Clausen landed some jabs, but nothing close to a knockout punch.
2. Moore was far from horrible.
He wasn't spectacular, but he did some nice things. Something else to keep this in perspective -- Moore was playing against a very good Baltimore first-team defense. He also was doing it without receiver
Steve Smith
, right tackle
Jeff Otah
and running back
Jonathan Stewart
. All three are expected to be ready for the start of the regular season and they will make Moore a much better quarterback. Moore would have to absolutely bomb to lose the job now and he didn't do that.
3. What was the deal with Jordan Gross?
The left tackle got called for three penalties in the first 12 minutes and that didn't help Moore. I wouldn't be too concerned with this and I doubt the Panthers are. Gross is one of the best left tackles in the league. He's not going to have games like that in the regular season.
4. The pass rush is very much a work in progress.
When it mattered with the first and second teams, the Panthers had stretches when they didn't generate any pressure on
Joe Flacco
and
Marc Bulger
. But they also had a few flash plays where they did. The good news is veteran
Tyler Brayton
had two sacks on Flacco. The bad news is Brayton suffered some sort of ankle injury on his second sack. We don't know the extent of that injury yet. The most encouraging news is rookies
Greg Hardy
and
Eric Norwood
showed some real flashes. If I'm John Fox, I let Brayton sit for most (or all) of the rest of the preseason. The Panthers know what they can get out of Brayton. They need to find out more about what they can get from Hardy, Norwood,
Charles Johnson
and
Everette Brown
.
5. Whoov?
Like a lot of Carolina fans, I was more than a little concerned when the Panthers let fullback
Brad Hoover
go after last season. It was hard to find a fullback more dependable than Hoover. But I liked what I saw of replacement Anthony Fiammetta. He blocked well and looked good as a receiver out of the backfield.
6. Backup running back Tyrell Sutton had a few nice plays.
But I wouldn't go drafting him for your fantasy team. As long as
DeAngelo Williams
and Stewart are healthy, they're going to get almost all of the carries. Besides, Sutton fumbled at the goal line and Fox isn't big on giving the ball to guys who fumble.
7. Rookie Armanti Edwards will be a factor on offense, but not immediately
. Jon Gruden and Ron Jaworski both talked about how the former college quarterback is adjusting to playing wide receiver and implied it might take until about midseason for him to have much of a role in the offense. That's the exact word I got from the Carolina brass when I visited training camp. But don't be surprised if Edwards is handling punt returns sooner than that. That's a new task for Edwards, too. But he showed he can catch punts, even in the rain, and the guy has the dynamics to make things happen in the open field.
August, 5, 2010
8/05/10
3:03
PM ET
ESPN.com NFL Power Ranking (pre-camp): 22
SPARTANBURG, S.C. -- In the kindest of terms, fans and media are referring to the
Carolina Panthers
as a team in a youth movement.
There's some basis for that as they opened camp with the league's third-youngest roster after saying farewell to popular veterans such as
Julius Peppers
,
Jake Delhomme
and
Brad Hoover
.
In the harshest of terms, fans and media have referred to those departures as a "bloodletting'' and are talking about the Panthers as a team without an identity, a team that's not going to be very good.
Now, let's turn to two guys who beg to differ.
"How do you say we're going through a youth movement, when we beat those teams late in the season using the same key components?'' running back
DeAngelo Williams
said. "People can say what they want to say. But we know what it takes to win and we have what it takes to win.''
"The way I look at it is, I like our core guys,'' linebacker
Jon Beason
said. "I think we have a great nucleus. Now we're looking for a few good men, a few young guys who are talented. For those young guys, it's an opportunity to come in and do great things.''
Maybe Beason and Williams have valid points. They're two team leaders with a pretty good feel for the pulse of the locker room. They also have impressive résumés. Williams was one of two Carolina running backs (
Jonathan Stewart
was the other) to run for 1,100 yards last season. Scouts, coaches and players everywhere will tell you Beason is one of the best linebackers in the NFL.
Can you really call the Panthers a team without a face?
That's kind of a difficult statement to make when you look at Carolina's roster and see Beason and Williams. Then, keep looking and you see Stewart, left tackle
Jordan Gross
, center
Ryan Kalil
, right tackle
Jeff Otah
, receiver
Steve Smith
and cornerbacks
Chris Gamble
and
Richard Marshall
. Those are all guys the Panthers view as core players. Look around the league and see how many teams have that many core players in place.
"There are question marks, sure,'' coach John Fox said. "Anytime you have question marks, the expectations on the outside might not be that high. But on the inside, we know we've got some very good core players and those core players are going to have to have big seasons.
THREE HOT ISSUES
[+] Enlarge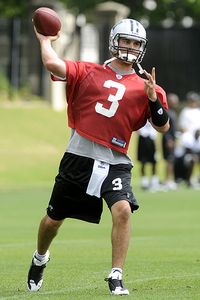 Sam Sharpe/US PresswireThe Panthers' confidence in quarterback Matt Moore appears to be growing.
1. Can this team win with Matt Moore as the quarterback?
Let's cut to the chase. This team already has won with Moore as the quarterback. Moore started the final five games of last season after Delhomme was injured. The Panthers won four of those games and Moore looked sharp the entire time.
Sure, that's not the longest of track records and the Panthers did draft
Jimmy Clausen
in the second round. But this isn't the Carolina camp of 2001, where the Panthers were kind of expecting Jeff Lewis to fail and to hand the job to rookie Chris Weinke.
Williams' point about the youth movement taking place last year might be right. Moore won this job with his play down the stretch and, so far in camp, the team's confidence in him is only growing.
"Matt Moore is a gamer,'' Williams said. "When he mentally locks in, the game comes easy for him. All quarterbacks in the league are pretty much the same. They can all throw the ball or they wouldn't be here. The thing that separates the good ones from the bad ones is decision making. Matt Moore can make decisions. Matt's going to be fine.''
Let's keep one other thing in mind. With an excellent offensive line, two very good running backs and Smith at wide receiver, Moore has a pretty strong supporting cast. He doesn't need to be
Peyton Manning
or
Drew Brees
. He just needs to keep mistakes to a minimum and the job can be his as long as he wants.
2. Can the defensive line be any good?
For much of Fox's tenure, the defensive line has been the foundation of the team. But Peppers was the last in a line of supernovas that used to include
Mike Rucker
,
Kris Jenkins
and
Brentson Buckner
. There are no current stars on this defensive front.
But Fox and the Panthers don't appear to view that as a bad thing. They're not expecting any single guy to come in and replace Peppers. They believe they can get quality out of quantity and are hoping the defensive front can attack in waves. They've got high hopes for
Charles Johnson
and
Everette Brown
, and rookies
Eric Norwood
and
Greg Hardy
have been very impressive in camp. They brought back
Tyler Brayton
for a bit of continuity, but they feel they've got some pass-rushers who can emerge.
They also have a better feeling about defensive tackles
Louis Leonard
,
Tank Tyler
and
Ed Johnson
than a lot of people realize. This might not be the traditional Fox defensive front with a huge run-stuffer in the middle and a big name on the outside. But, keep in mind, the Panthers brought in Ron Meeks as defensive coordinator last year and his system is based more on speed than power up front.
"We were eighth in the league in defense a year ago with a new scheme,'' Fox said. "It's kind of early to tell, but we should be better with our scheme the second time around.''
[+] Enlarge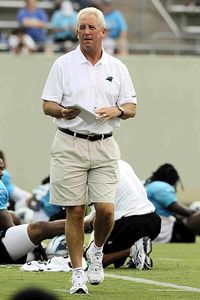 AP Photo/Chuck BurtonJohn Fox owns a 71-57 record in eight seasons with the Panthers.
3. Does all this talk about Fox being in the last year of his contract really make a difference?
Not at all. Fox is a creature of habit and he's going to coach the way he always has coached.
He's a confident guy with a pretty solid résumé. He's not losing sleep because he knows he can get another job if it comes to that. But he wants to make it work in Carolina, a place where his family has set down roots. Keep in mind, Fox never has had a truly bad season. There have been some disappointing years, but the record's always been close to or above .500. He's sometimes stumbled a bit when expectations were high, but he always has done his best job when people weren't counting on much out of the Panthers.
BIGGEST SURPRISE
Greg Hardy. The defensive end was a sixth-round draft pick because his college career didn't end all that well. But the Panthers took a shot because they thought there was uncommon physical talent sitting out there late in the draft. So far, they feel as if they might have hit a home run. Hardy has looked great in camp. Coaches are noticing him and so are other players. There were some questions about Hardy's ability to focus on football at the pro level. But so far, so good on that end. Brayton, Johnson and Brown are competing for the starting jobs, but Hardy appears to be carving out some playing time.
BIGGEST DISAPPOINTMENT
Dwayne Jarrett
. As they've been doing for his entire career, the Panthers are hoping the light suddenly comes on for this wide receiver. He's still running with the first team, but all indications are it's just not happening for Jarrett. There's still some work to be done and polish to be added, but the Panthers are starting to think rookie
Brandon LaFell
is their best option at the starting position opposite Smith. Jarrett basically is fighting for a roster spot at this point. The fact he's still making mental mistakes this far into his career means there's a good chance he's gone before the preseason is over.
[+] Enlarge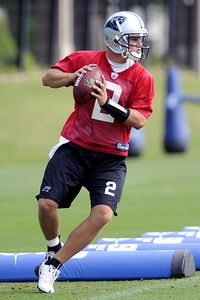 Sam Sharpe/US PresswireCarolina has been pleased with how Jimmy Clausen has looked in the early part of camp.
OBSERVATION DECK
As mentioned above, the Panthers are singing Moore's praises and that's all very legitimate. But behind the scenes, the Panthers also are thrilled with what they've seen from Clausen. His physical skills and mechanics are as solid as expected and Clausen's doing everything right on and off the field. There's not a sense of urgency to play him because Moore has looked so solid. But the Panthers believe they got a steal when they took Clausen in the second round.

There's been a lot of hype about third-round draft pick Armanti Edwards. Understandable because he was a college quarterback and came from Appalachian State, which automatically makes him popular in the Carolinas. The Panthers aren't disappointed with Edwards by any means, but the reality is he's just feeling his way as a receiver and a return man. Don't look for him to be a huge contributor instantly. There's big upside here because Edwards is so dynamic and he might be in a few packages early on. But it's going to take some time for him to become a staple in this offense.

The Panthers let go of Keydrick Vincent, who played every snap at right guard last season, for a reason. He was older and they had Duke Robinson waiting in the wings. Coaches, players and the front office believe Robinson can be a punishing run-blocker. Put him on the right side with Otah and the Panthers believe that side of the line can be just as good as the left, where Gross and Travelle Wharton are outstanding.

If you're looking for a long shot to make the roster, I'll throw out Trent Guy's name. This is a tiny wide receiver, but every time I looked up during my visit to Wofford College, Guy seemed to be making a play. He's got rare speed and good hands, and also could be a factor in the return game.

Thomas Davis, who had major knee surgery in June, has been hanging around at camp and working hard at his rehab. The Panthers haven't ruled out a possible return for him later this season, but I don't see that happening for a guy who has torn his ACL twice in less than a year. The Panthers wouldn't have moved Beason from the middle to the weak side unless they thought he'd stay there for the long haul. At the moment, they're happy with what they've seen from Dan Connor in the middle and James Anderson on the strong side. That better stay that way because, aside from Jamar Williams, there's no real depth at linebacker.

A lot of people have questioned why the Panthers would take Beason out of the middle where he's been such a dominant player. The answer is simple. Under Meeks, the Panthers run the "Tampa 2'' defense. In that scheme, everything goes through the Will linebacker. Think Derrick Brooks.
June, 10, 2010
6/10/10
1:00
PM ET
»
NFC On the Radar
:
East
|
West
|
North
|
South
»
AFC
:
East
|
West
|
North
|
South
A player, coach or issue that should be on your radar as training camp approaches.
As recently as a couple of days ago,
Jamar Williams
looked like a backup linebacker and special-teams player for the
Carolina Panthers
. Now, he could be a starter.
[+] Enlarge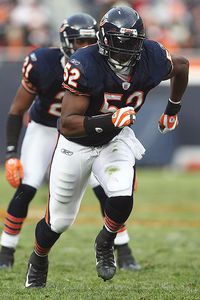 Jonathan Daniel/Getty ImagesJamar Williams has a chance to earn a starting role with the Panthers.
Williams seemed almost like a throw-in (a body to complete the deal) when the Panthers traded away safety
Chris Harris
to the
Chicago Bears
. But, as of today, Williams is looking like a possible starter at weakside linebacker.
With
Thomas Davis
suffering his second torn ACL in less than a year, the Panthers suddenly are looking for a starter and Williams may be their safest option. Although rookie
Eric Norwood
and some other young players could be factors, Williams is the most experienced of the candidates to replace Davis.
He's only 25, but Williams spent four seasons with the Bears. He has started only three games in his career, but he was the top backup to
Lance Briggs
and got a lot of playing time, making 43 tackles. At 6-foot and 237 pounds, Williams fits Carolina's profile of linebackers who aren't huge, but can run.
Williams has shown the ability to cover tight ends and running backs in the passing game. He may not be a playmaker like Davis, but Williams remains a bit of an unknown and there could be an upside. Briggs prevented Williams from really getting a chance in Chicago.
But Davis' injury is going to give Williams a chance to raise his profile in Carolina.
April, 28, 2010
4/28/10
12:47
PM ET
I'll be heading to Charlotte for this weekend's minicamp with the Panthers. It's going to be a little bit of a strange atmosphere up there because, for a change, the Panthers won't be the biggest story in Charlotte.
[+] Enlarge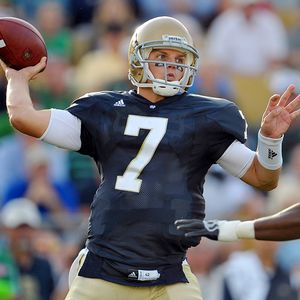 Matt Cashore/US PresswireHow Jimmy Clausen fits in with teammates could have a bearing on the QB competition in Charlotte.
Tiger Woods is in town. He's
playing in a pro-am
today that also features Carolina coach John Fox, who by all accounts, can swing the sticks pretty well. But I still think
Jimmy Clausen
's going to get his share of attention this weekend.
Here are five things I'll be paying particular attention to at Carolina's minicamp:
1. Clausen.
Although he fell to the second round, Clausen's still the biggest-name quarterback to come to the Panthers since
Chris Weinke
. All right, that's not exactly a flattering comparison. But Clausen comes with a lot of hype and it won't just be the media watching his every move. If this guy's going to have a shot to beat out
Matt Moore
from the start, he's going to have to fit in the locker room. Clausen's got a reputation for being selfish. Moore's very well liked in that locker room. Besides showing passing skills, Clausen needs to show some humility.
2. Jon Beason.
This guy's been a leader since about the second game of his rookie year. It just comes naturally to Beason. But I'm expecting to see him step forward even more and officially claim this team as his own.
Julius Peppers
never was a leader, but some people were hesitant to do anything that might give the appearance of stepping on his toes. Safety
Chris Harris
, who was traded to Chicago on Tuesday, was a bit of a vocal leader on the defense, even if he wasn't the best player. Now, it's clear, Beason is the best player on the defense and a vocal leader. He's free to lead with everything he's got. It's his team and his time.
3. The wide receivers beyond Steve Smith.
I'm sure we'll get some of the same old talk about how this will be the year
Dwayne Jarrett
finally breaks out. It could happen. But the Panthers aren't counting on that. That's why they drafted
Brandon LaFell
and
Armanti Edwards
. It's going to be hard to judge their readiness in a three-day minicamp, but I'm hoping Fox breaks his tradition of bringing rookie receivers along slowly. He needs to take a chance and turn these guys loose from the start.
4. The competition at strongside linebacker.
The departure of former starter
Na'il Diggs
really wasn't that big a deal. He was pretty ordinary. But the Panthers are having an open competition to replace him. They've got
James Anderson
,
Dan Connor
, rookie
Eric Norwood
and
Jamar Williams
, who came over in the Harris trade. They're going to throw them all out there and see who rises up.
5. The defensive ends.
Peppers is gone and someone's got to step up. I've only seen quick glimpses of
Everette Brown
in games last season and last year's training camp. Brown is the guy the Panthers drafted last year to eventually replace Peppers. Now is the time for him to step up.
April, 24, 2010
4/24/10
11:43
AM ET
It's the fourth round and things aren't as interesting as they were earlier in the draft, but we just saw what might have been some strong competition between two NFC South teams.
The
New Orleans Saints
decided to jump up to No. 123 to take LSU defensive tackle
Al Woods
. They gave up picks No. 130 and 201 to Arizona to get there, and they might have done that with the
Carolina Panthers
in mind. The Panthers had shown some pretty strong interest in Woods in the pre-draft process, and it was no secret the Panthers were in the market for a run-stuffer. So were the Saints and they got one. And he's a local guy.
The Panthers held pick No. 124 and they turned around and went with a local guy of their own. They took South Carolina linebacker
Eric Norwood
. That still leaves a need for a run-stuffer, but Norwood brings some other skills.
Originally a defensive end, Norwood moved to linebacker later in his college career and was very productive there. Norwood has some skills as a pass-rusher and also has the skills to develop in pass coverage. He likely will get a chance to compete with
James Anderson
and
Dan Connor
for the starting job on the strong side.
NFL SCOREBOARD
Thursday, 12/5
Sunday, 12/8
Monday, 12/9
WEEKLY LEADERS