NFL Nation:

Ernie Accorsi
April, 23, 2013
Apr 23
5:52
PM ET
Alec Ogletree
was sitting there at No. 19 when it came time to make the pick for the
New York Giants
in this year's ESPN.com
blogger mock draft
. And man, could the Giants use him. Heck, if I were running the Giants, that's probably the pick I'd make if the draft fell just that way. But I don't run the Giants. Jerry Reese does, and he apprenticed under Ernie Accorsi, and that's the way deep-rooted organizational principles live through the decades. The last linebacker the Giants took in the first round was Carl Banks in 1984. That's not a coincidence. That's 29 years' worth of evidence that they just don't assign first-round value to players who play that position.

Trufant
So linebacker was out, and since we were rolling with trends and history anyway, I figured why not pick the position to which the Giants consistently assign first-round value -- defensive back. There were some good ones available at this point. Only one cornerback (
Dee Milliner
) and one safety (
Kenny Vaccaro
) had been taken. I went with Washington's
Desmond Trufant
, mainly because he was the highest-rated corner after Milliner on the Scouts, Inc. draft board. It's entirely possible that, should they find themselves in this situation Thursday night, the Giants will have
D.J. Hayden
or
Xavier Rhodes
or
Jamar Taylor
rated ahead of Trufant and pick one of those guys. I do not know how they have the defensive backs ranked on their board. I just know that they've used their first pick on a defensive back in four of the last eight drafts, so it made sense to me to take one there this time around.
I thought about
Bjoern Werner
, the Florida State pass-rusher. I thought about
Sylvester Williams
, the North Carolina defensive tackle. Defensive line is another position on which the Giants like to use first-round picks, and either would have made sense there. My point was that, in predicting the Giants' first-round pick, it's important to understand the way they think. Yes, they believe it's important to take the best player still available on their board. But when they craft their board, the Giants tend to assign less value to some positions than to others. So while someone like Ogletree might look like the best player available at 19 to you or me, he likely doesn't look that way to the Giants, who believe they can find good value at linebacker in later rounds.
March, 27, 2013
Mar 27
4:13
PM ET
The most recent edition of the Todd McShay/Mel Kiper Jr. "
First Draft

" podcast discusses picks 16 through 20 in the first round of next month's NFL draft. And you devoted readers of the NFC East blog know that the
Dallas Cowboys
and the
New York Giants
are picking 18th and 19th, respectively. If you'd like, you can skip to the 11:28 mark to hear them discuss the Cowboys' pick and to the 12:58 mark to hear them discuss the Giants' pick.

I found the Giants discussion interesting, because Mel cites a long-held organizational philosophy established by former GM Ernie Accorsi to support his belief that the Giants will not draft an offensive lineman in the first round. They don't believe in it, he says, unless it's for a "super-elite left tackle." They believe they can develop offensive line talent. Their recent long-term signing of former second-round pick
Will Beatty
as their left tackle supports this, as does the fact that they haven't drafted an offensive lineman in the first round since 1999.
But this leaves Mel and Todd (who says, "I think offensive line makes a lot of sense," which it does for the Giants) to speculate about the Giants taking an inside linebacker with this pick, and they haven't drafted a linebacker in the first round since 1984. So if passing on offensive lineman in the first round is an organizational philosophy, passing on linebackers in the first round feels more like a religious belief. Todd mentions that they could still use cornerback depth even after using high picks on corners in recent drafts, and their history shows that to be a far greater likelihood than either offensive line or linebacker.
If linebacker
Alec Ogletree
is on the board at 19, Todd says the Giants should "run up to the podium." We will see whether that happens. Color me skeptical.
As for the Cowboys, Mel and Todd seem to think one of the top guards,
Chance Warmack
or
Jonathan Cooper
, will be available at 18 and would make way too much sense for the Cowboys to pass up there. I agree on both counts. Talking about safety, Mel thinks "there are going to be safeties as good as
Kenny Vaccaro
that go in the second round," so the Cowboys should wait on that position and running back, which are both needs, while using the first round to address the offensive line. Smart guy, that Kiper. Smart, smart guy.
April, 2, 2012
4/02/12
1:00
PM ET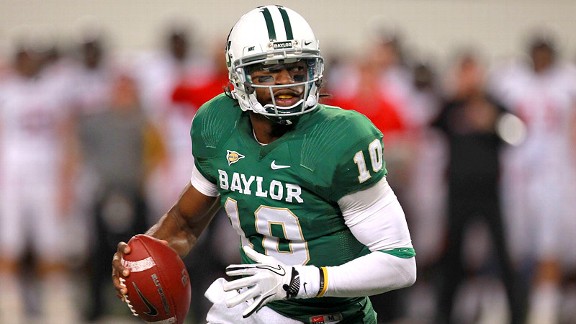 Ronald Martinez/Getty ImagesSome scouts apparently feel that Robert Griffin III is a bit overhyped as the NFL draft nears.
The deed done weeks ago, the
Washington Redskins
and their fans have had little to do but wait. They know they're going to get a quarterback with the No. 2 pick in the draft later this month. Whether that quarterback is
Andrew Luck
or, more likely,
Robert Griffin III
, they believe he has the stuff to be a franchise quarterback -- to provide stability and excellence at the game's most important position for years to come. The Redskins paid a significant price for this -- three first-round picks and a second-round pick -- and since it happened there has been nothing to do about it but wait and anticipate.
What goes on during the anticipation phase? Buyer's remorse would be natural, of course. A feeling of concern. Did we pay too much? What if this doesn't work out? Have we doomed the franchise to two more decades of misery?
Natural questions, to be sure, and in their quiet moments Mike Shanahan & Co. have surely entertained some form of them. But the advice from someone who has been there before tells them not to dwell on what-ifs.
"What you're thinking at the time when it gets done is, 'That's our guy. We were able to accomplish it. Here he comes. Let's go,'" Giants coach Tom Coughlin said last week at the NFL owners meetings. "You've got to have great conviction. You've got to believe in your system. And once the deal is accomplished, there's no looking back."
In 2004, Coughlin's first year as their head coach, the Giants made a similar move up in the draft for a franchise quarterback. After the
San Diego Chargers
took
Eli Manning
with the No. 1 pick, the Giants drafted
Philip Rivers
at No. 4 and traded Rivers, their third-round pick in 2004 and their first-round and fifth-round picks in 2005 to get Manning. Not as steep a price as the Redskins paid the Rams last month, but it was a lot, and at the time (and in the years that followed) there was much debate as to whether it was worth it.
[+] Enlarge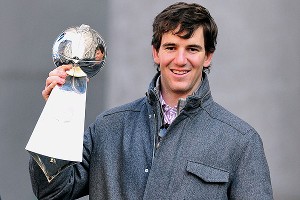 James Devaney/WireImageIt's safe to say that the price the Giants paid to nab Eli Manning in the 2004 draft was worth it.
But to hear Coughlin tell it, that debate never happened within the walls of the Giants' team headquarters. All of that debate happened before GM Ernie Accorsi made the deal, and once the deal was made it simply could not continue.
"You make that kind of investment, you'd better have done the research," Coughlin said. "You'd better have made the decision on how he's going to impact your team. And you'd better be prepared, because that young man has got to go through what every other young guy did. This league is tough. People make it very, very hard on that position when you have a young guy taking the snaps. There are things he's going to see that he's never seen in his life -- never even imagined seeing."
Which makes it scary, this business of dealing away big parts of the future in exchange for a kid who has never played an NFL down. It has worked out well for the Giants, obviously, as Manning has led them to two Super Bowl titles in the past five years. If the Giants ever had any doubts early in his career, or in the immediate aftermath of the trade, Manning has erased them all and confined the debate over the worthiness of the trade to ancient history.
What happens with the Redskins and their new quarterback remains to be seen. But it sounds as though Shanahan is already living Coughlin's advice. Asked last week whether it mattered to him which quarterback fell to him at No. 2, Shanahan said no, of course not. They wouldn't have given up what they gave up to get to No. 2 if they weren't convinced that Luck or Griffin could both be what they need. And they wouldn't have made the move if they hadn't already erased all of their doubts about whether it was too much to pay. Franchise quarterback is too important, and the Redskins saw a chance to get one.
"The Super Bowls that I've been involved with, with Steve Young, with the John Elways, both were franchise quarterbacks," Shanahan said. "They can make plays when everything breaks down. And if somebody can do that, then you've got an opportunity, once you get to the playoffs, to do something special. Now, can you still win without one? Sure you can. But you'd better be pretty special."
The teams that don't have franchise quarterbacks spend their existences wandering in search of one. It can consume them, as it has the Redskins for so long. That's why, when it comes down to it, there's really no such thing as overpaying for a chance to get one. Besides, if it doesn't work out, everybody who was in on the decision is going to be working elsewhere anyway. Right, Tom Coughlin?
"You don't ever go down that road, either," Coughlin said. "It's going to work."
That's the mindset the Giants had in 2004, and it's the mindset the Redskins have right now. When you're dealing with stakes and prices this high, there's really no other way to be.
March, 31, 2009
3/31/09
3:53
PM ET
| | |
| --- | --- |
| | |
| | AP photos |
| | No one will argue that new Bills receiver Terrell Owens keeps himself in great shape. So does Buffalo coach Dick Jauron have a right to be upset if he doesn't come to voluntary workouts? |
Posted by ESPN.com's Tim Graham
The definition of voluntary is rather simple. Crack open the dictionary.
The definition of voluntary workouts also is clear. It's spelled out in the NFL's collective-bargaining agreement.
The concept of whether a player should feel compelled to attend voluntary workouts, however, is vague and the source of controversy every offseason when certain players don't participate.
"It's a never-ending situation I've faced my entire career," said Ernie Accorsi, the former Baltimore Colts, Cleveland Browns and New York Giants general manager.
Coaches and general managers would prefer their players volunteer to show up for the good of the club, to be internally hardwired to want to work out with their teammates at the facility.
But, aside from a three-day minicamp, teams can't punish players for skipping offseason conditioning programs or organized team activities, commonly referred to as OTAs.
"You can't force them to be there," Accorsi said. ""But what you can't replace is the chemistry part of it.
"To me, the most important element of the offseason is the unity and the chemistry. Coaches are going to say something different. They're going to say control over their conditioning programs and learning the systems. That's important. But, to me, building a cohesion by going through the period that's a lot of hard work and no games together."
Some high-profile examples of players not attending have taken place in the AFC East.
Star receiver Terrell Owens has declared he won't be attending the Buffalo Bills' workouts unless they're mandatory. Pro Bowl left tackle Jason Peters has been skipping them for a second straight year because he's unhappy with his contract.
Pro Bowl running back Thomas Jones isn't sweating in the New York Jets' facility until he has a new contract.
In 2008, Jason Taylor chose "Dancing With the Stars" over the Miami Dolphins' offseason program, much to the dismay of austere football operations boss Bill Parcells.
| | |
| --- | --- |
| | |
| | Ron Turenne/NBAE/Getty Images |
| | Despite missing the Bills' voluntary offseason workouts, Terrell Owens found time to visit an NBA game in Toronto –- just an hour and a half from Buffalo. |
Those, of course, aren't the only players not showing up for voluntary sessions. There are scores throughout the league, but the stars are the ones people notice.
Should players be vilified for enjoying their offseasons?
Fans often decide that answer. Owens is in his honeymoon stage. Bills fans generally seem less bothered by Owens' absence and more incensed with the media's spotlight on his decision. Yet they're mostly fed up with Peters.
Dolfans, stinging from a 1-15 season but enraptured with Parcells' arrival, railed against Taylor last summer. They did this even though he's one of the franchise's biggest stars and was the NFL's reigning Walter Payton Man of the Year for his extraordinary community service.
"In some cases, players should be there and need to be there," Taylor said Sunday night at a charity event for the Jason Taylor Foundation in Hollywood, Fla. "You understand the team side of things. They want everybody there, somewhat to babysit them, to make sure they're doing things. It does create chemistry in a certain way.
"But at the end of the day it is voluntary. That's your offseason, a chance for you to do some of the things you can't do during the season and be with your families."
Article XXXV, Section 1 of the collective-bargaining agreement spells out voluntary workouts:
No player shall be required to attend or participate in any offseason workout program or classroom instruction of a club other than as provided in Article XXXVI (minicamps). Any other club offseason workout programs and classroom instruction sessions shall be strictly voluntary.
Section 5 adds that "No club official shall indicate to a player that a club's offseason workout program or classroom instruction is not voluntary (or that a player's failure to participate in a workout program or classroom instruction will result in the player's failure to make the club)."
With some football managers, Parcells being one of them, offseason voluntary workouts are emphasized. Attendance is expected unless there's a damn good reason. A celebrity dance contest apparently wasn't on the list.
Parcells and his protégés demand commitment and accountability, and one of the best ways a player can show he's embracing those concepts is with a willingness to work without being told.
Quarterbacks have a tendency to show up for voluntary sessions. So do eager youngsters and those on the fringes of the 53-man roster. But coaches value veteran starters who show up when they don't have to. Those are the types of players who can set a tone in the locker room.
ESPN analyst Herm Edwards claimed he didn't get too agitated by his players skipping the offseason conditioning program when he was head coach of the Jets and Kansas City Chiefs.
"You would hope if you're a new player and you just got traded or somebody picked you up that you would be there," Edwards said. "But it ain't something to make a big deal out of, and especially when you get a guy with a big name. There's a fine line."
But in the case of Owens, who announced shortly after signing a one-year, $6.5 million contract with the Bills that he will be skipping all voluntary workouts, Edwards has a problem.
"That's why I wouldn't take the guy," Edwards said. "If he doesn't come for OTAs, that's 14 practices he's going to miss.
"He'll be there at minicamp for three or four days. He'll run around and be in sh
ape and they'll throw him some passes, but that hurts the quarterback. Now you have to wait all the way until they get to training camp to get the timing down with the guy and get a feel for the guy.
"Does that kill you? No, it doesn't kill you. But you wish you can get some of that done in shorts before you get to the pads, the timing, the terminology."
Edwards qualified his comments by asserting repeatedly that Owens will take care of himself and remain in fabulous shape without the Bills' offseason program. But Edwards noted the person who'll be affected most by Owens' reluctance to show up is the Bills' third-year quarterback, Trent Edwards.
| | |
| --- | --- |
| | |
| | NFL.com Video |
| | NFL Total Access counts down the top 10 moments of Terrell Owens' career. |
"He's making a statement," Herm Edwards said. "He's saying 'I'm T.O. I'm the star. This is how I do it. I know what it takes for me to get ready.'
"It's sad because you wish the guy was there because he's a new player and he happens to be a receiver, but there's not a whole lot you can do about it."
Coaches want their players to attend voluntary workouts and be around the team facility because they're constantly searching for every little edge.
What if a division rival has a better offseason attendance record? What if opponents are finding chemistry while another team's players are scattered across the country? What kind of disadvantage does a franchise such as Buffalo have over Miami, where the players live year-round and don't need to be convinced to stick around in the offseason and stop by the film room?
"Coaches feel like you're behind if your guys aren't around," Herm Edwards said. "But you can't go crazy about that. It's not a battle worth fighting, not in March or April."
Accorsi laughed at the idea of how much offseason conditioning has evolved since he entered the NFL.
The Colts' program was nonexistent when they hired Accorsi in 1970. They stepped it up by purchasing memberships at the Towson, Md., YMCA, where the exercise of choice was handball or basketball. The Colts eventually began paying their players to lift weights and run together.
"For an old-timer like me it didn't seem right," Accorsi said. "But it was the only way in some franchise cities that you were going to get them, especially if they were from the warm weather and you were asking them to come to a cold climate."
Accorsi isn't a big fan of offseason programs to begin with. He said they're overrated from an X's and O's standpoint. He also has a theory that players suffer more injuries because they don't have enough time off.
The value, Accorsi insisted, is in building team unity. But even that is achievable without insisting players huddle in the spring.
"You'd like to have your whole team together, but you have plenty of time to generate chemistry," Accorsi said. "Certainly, an offseason together would enhance it, but that doesn't mean you're not going to have it.
"If there was a rule that there could be no offseason programs, some teams would have chemistry and some teams wouldn't."

NFL SCOREBOARD
Sunday, 12/22
Monday, 12/23