November, 15, 2012
11/15/12
11:30
AM ET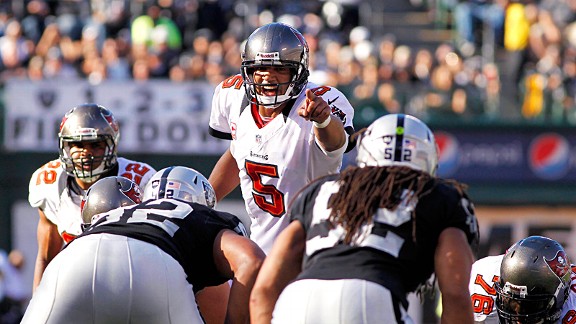 Cary Edmondson/US PresswireTampa Bay quarterback Josh Freeman is directing the league's third-highest scoring offense.
This really has been true for only five weeks, but I don't think I'm going out on a limb by saying the
Tampa Bay Buccaneers
have the most exciting offense in franchise history and they have a true franchise quarterback for the first time.
Start thinking about the history of this franchise because that's a part of why I feel comfortable making those statements. We'll run through that inglorious history in just a moment, but let's start with the past five games.
In that stretch,
Josh Freeman
, who entered the season as a huge question mark, has established himself as a big-time quarterback. Rookie running back
Doug Martin
has become such a phenomenon that he finally might have shed
that nickname
he doesn't like. And wide receiver
Vincent Jackson
has turned out to be worth every penny of that five-year, $55 million contract he signed back in March.
In each of the past five games, the Bucs have scored at least 28 points. When's the last time that happened?
Never.
What's happened in the past five games has vaulted the Bucs into the league lead in average yards per play (6.21). They're averaging 28.9 points per game, which ranks them behind only New England (see
Brady, Tom
) and Denver (see
Manning, Peyton
). Speaking of Peyton Manning, he's second in the league with an average of 8.20 yards per pass attempt. Freeman is No. 1 at 8.27.
Martin had a 251-yard, four-touchdown game at Oakland and has turned out to be the "all-purpose back'' that coach Greg Schiano and general manager Mark Dominik talked about on the night they drafted him.
Jackson's leading the league by averaging 21.4 yards per reception. Heck, teammate
Mike Williams
is second at 18.3.
Heck, if this keeps up, we might be calling Freeman, Martin and Jackson "The Triplets'', the way Troy Aikman, Emmitt Smith and Michael Irvin used to be referred to in their Dallas glory days. At times, some people got carried away and called the Cowboys' stars "The Quadruplets'' because they actually thought Alvin Harper was good.
That's a perfect way to jump back into the history of offensive football and the Buccaneers. Harper was the receiver the Bucs signed in the mid-1990s to be their Irvin. Instead, the thing most Tampa Bay fans remember about him is that he got part of his finger sliced off in a training-room accident.
For their entire existence, including the good years, the Bucs have been anywhere from dismal to mediocre on offense. They won a Super Bowl with Brad Johnson as their quarterback and Monte Kiffin commanding a defense for the ages. They won a lot of games and tasted their first sustained success under coach Tony Dungy ... with Kiffin commanding a defense for the ages.
At one point in the 1990s, Tampa Bay's bread-and-butter offensive play was having Errict Rhett run into Mike Alstott's back and fall as far forward as possible. They later upgraded and had Warrick Dunn run into Alstott's back and actually make a cut or two.
Even back during the first rise to prominence (1979), Tampa Bay was much more defined by Lee Roy Selmon and the defense than it was by the offense and Doug Williams.
Speaking of Williams, he was the best quarterback in franchise history -- until Freeman's emergence. Between them, the Bucs have trotted out the likes of Steve Young (before he became Steve Young in San Francisco), Vinny Testaverde, Craig Erickson, Trent Dilfer, Shaun King, Brian Griese and Jeff Garcia.
[+] Enlarge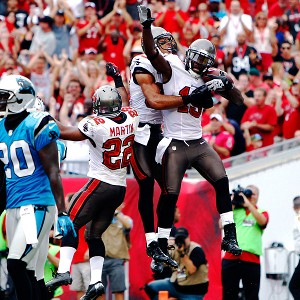 Matt Stamey/US PresswireA supporting cast that features receivers Mike Williams (19) and Vincent Jackson (83) and running back Doug Martin makes the Bucs' offense so fearsome.
Although Young, Testaverde and Dilfer had talent, they never had a chance in Tampa Bay because they didn't have a supporting cast. Williams was easily the best quarterback in Tampa Bay history, but I'm not sure you can call him a franchise quarterback because his tenure lasted from 1978 until he left for the United States Football League in a contract squabble following the 1982 season.
Freeman's not going to follow a similar route. He's under contract through 2013, but, after what he's shown this season, I think it's safe to say Freeman's going to be around a lot longer than that. Sometime in the offseason, the Bucs almost certainly will give Freeman a big contract extension.
Freeman has bounced back from the disastrous final season of the Raheem Morris era. He's turned out to be everything Schiano and offensive coordinator Mike Sullivan said he would be upon their arrival. Schiano and Sullivan said they wanted to build an offense that ran the ball consistently and they wanted to take some shots downfield in the passing game.
That formula's working. According to ESPN Stats & Information, Freeman leads the league with 19 completions on throws of 20 yards or more. Jackson leads the NFL with 10 receptions on throws of 20 yards or more.
Williams has revived a career that seemed to stall last year. The Bucs plucked receiver
Tiquan Underwood
off the scrap heap and he's turning in big plays. Martin is making things happen in the running game and as a receiver and the offense is clicking, despite the fact the Bucs are without injured Pro Bowl guards
Carl Nicks
and
Davin Joseph
.
For the longest time, there was a joke in Tampa Bay that the most exciting offense the region ever saw was the "Fun and Gun'' orchestrated by Steve Spurrier and the USFL's Tampa Bay Bandits, who, briefly, were more popular than the Bucs in the 1980s.
Those Bandits were wildly entertaining, but part of the reason they're so fondly remembered is because the Bucs always were boring -- and usually bad -- on offense.
Until now.
November, 24, 2011
11/24/11
8:05
AM ET
This Thanksgiving morning is a good time to share the story of former Tampa Bay running back
Errict Rhett
, who continues to do great things long after his career ended.
This weekend, The Errict Rhett Foundation will
raffle off a custom-built house
in Fort Lauderdale, Fla. For only $10, you can take a shot at winning a home that's worth a tremendous amount more than that.
[+] Enlarge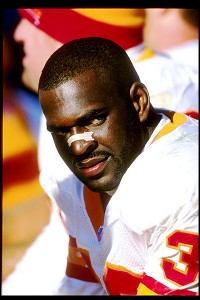 Jonathan Daniel/Getty ImagesErrict Rhett was a tough running back who rushed for more than a thousand yards twice in four seasons with Bucs.
All the proceeds from the raffle go to Rhett's foundation, which is designed to help inner-city children in South Florida. The foundation was formed during Rhett's playing days with the Buccaneers,
Baltimore Ravens
and
Cleveland Browns
. Since his retirement after the 2000 season, Rhett has been more involved than ever in the foundation.
"I want kids to realize their dreams and help mentor them,'' said Rhett, now 40. "In the foundation, we try to go beyond the usual things like just telling kids to study hard. We try to mentor them in a way that helps build character and integrity that will last a lifetime.''
To really appreciate what Rhett is saying, you need to hear his story. It's one about building character and integrity that have served him very well for a long time.
Rhett didn't have it easy. He was raised in Hollywood, Fla., in a neighborhood where conditions were far from ideal.
"Believe me, 4230 Southwest 18
th
Street was a long way from paradise,'' Rhett said. "Our refrigerator was held up by a brick. My brother and I ate ground beef every single night for 18 years. I couldn't even afford to buy a jacket when I got to the University of Florida and it started to get a little cold that first November or December.
But that doesn't mean Rhett didn't have a good home. His mother, Naomi Rivers, raised Rhett and his brother by herself.
"There was a bed for me and my brother and my mom slept on the couch every night for 19 years,'' Rhett said. "She worked two or three jobs at a time and she did everything she could for us materially. But she gave us a lot more than that. She gave us a lot of love and taught us how to pray. That's what gave me the strength and endurance to get through football and all the challenges of life.''
It's funny, Rhett should use the words "strength'' and "endurance'' because those are two of the words I would have used to describe him back when I covered him playing for the Buccaneers in the mid-1990s.
Rhett wasn't the fastest or flashiest running back I've ever covered. But I'm sure he was the toughest. In those days, the Bucs didn't have much of a passing game. In 1994 and '95, they gave the ball to Rhett a lot and he gave them two 1,000-yard seasons. Rhett was a bruising, physical runner, who took a beating every week and kept getting up.
In fact, the thing I remember most about Rhett was what he used to do in practice. The Bucs didn't tackle during practices and coaches would just whistle that the play was over when it looked like defenders were in position to make a tackle.
When the whistle blew, everyone stopped. Everyone except for Rhett. On every single play, Rhett would keep running all the way to the end zone. Then, he'd run back to the huddle and do it again.
Rhett still is going the extra mile with his foundation. Rhett is very thankful he had a mother like Naomi. He built her a new house in Plantation, Fla., while he still was playing in the NFL. She still lives there and life is good for Rhett and Rivers these days.
But Rhett hasn't forgotten where he came from.
"I'm very thankful I have a mother like her,'' Rhett said. "She helped me climb a ladder to bigger and better things. But not everyone is fortunate enough to have a parent like that. That's why I like to let that ladder down to try to help pull other people up.''
January, 2, 2011
1/02/11
7:23
PM ET
NEW ORLEANS -- As the
Tampa Bay Buccaneers
left the Superdome a few hours ago, they remained in the playoff picture.
They did their part by defeating the Saints,
23-13
. But the Bucs (10-6) didn't get the help they needed as the Packers and Giants won their games. The Packers ended up with the No. 6 seed.
There's no playoff berth for the Bucs even though they reached what Raheem Morris constantly referred to as "the race to 10'' wins all season. Ten wins usually mean a playoff berth, but it didn't happen for the Bucs.
Still, you have to look at their season as a big success. Even in the New Orleans locker room, the Bucs were receiving high praise.
"I think Raheem Morris should be the coach of the year,'' Saints linebacker
Scott Shanle
said.
That's pretty high praise from an opponent. Let's throw out some other superlatives about the Bucs.
The 10-6 season following last year's 3-13 record marks the biggest turnaround in franchise history. The previous record came when the Bucs went from 5-11 in 2004 to 11-5 in 2005.
Quarterback Josh Freeman threw two touchdown passes. He now has thrown at least one touchdown pass in 13 consecutive games, which breaks the 12-game record set by Brian Griese.
Freeman finished the season with 3,451 passing yards, 25 touchdowns and six interceptions. The only other quarterback in franchise history to reach 3,000 yards, 20 touchdowns and fewer than 10 interceptions in a single season was Brad Johnson in 2002. Freeman also finished with a 95.9 passer rating. That's the second-best mark in franchise history. Griese had a 97.5 rating in 2004.
Rookie receiver Mike Williams had an 18-yard touchdown catch against the Saints. That gives Williams 11 receiving touchdowns, which is a new franchise record. Joey Galloway had the previous record, 10 touchdown catches in 2005. Williams also finished with 964 receiving yards. The only rookie to have more receiving yards in franchise history was Michael Clayton (1,193) in 2004.
LeGarrette Blount became only the third rookie in franchise history to rush for 1,000 yards in a season. Cadillac Williams did it in 2005 and Errict Rhett in 1994. Blount finished with 1,007 yards and he did it on only 201 carries. In Williams' rookie season, he carried 290 times and finished with 1,178 yards. Rhett carried 284 times for 1,011 yards.
With the Bucs' victory, the NFC South finished with three teams with 10+ wins this season (Atlanta – 13-3; New Orleans – 11-5; and Tampa Bay – 10-6). It marks just the second time since realignment in 2002 that a division has had three teams with double-digit wins in the same season (also the AFC South in 2007).
August, 15, 2010
8/15/10
10:50
AM ET
Some quick observations on Tampa Bay after the Buccaneers lost their preseason opener to Miami,
10-7
, on Saturday night.
Forget the final score. This one was a victory for the Buccaneers. They controlled the game when the starters were in, and even through a long stretch with the second teams playing. It wasn't until the benches really got cleared that the Dolphins won the game.
I thought quarterback Josh Freeman had a very strong outing. He completed all four of his passes, and his touchdown throw to Sammie Stroughter showed how much his patience and maturity have grown. It's also obvious that he has developed chemistry with rookie receiver Mike Williams. Freeman also ran the ball a couple times, which is nice and certainly will help in the regular season. But I'm not so sure it was such a great idea to have him scrambling around on a rainy and muddy night in Miami.
Tampa Bay's defense did something it couldn't do last season. It got the Dolphins off the field. Geno Hayes busted up a screen pass, E.J. Biggers made a nice play against receiver Brandon Marshall and Sabby Piscitelli came through with pressure on a blitz to force the Dolphins to punt on their first three drives.
Backup quarterback Josh Johnson threw an interception and lost a fumble on a sack. But he threw the ball pretty well overall. I've questioned why the Bucs haven't brought in an experienced backup. But I'm going to back off that a bit. Johnson has some talent, and might be able to be effective if he can take better care of the ball.
I know the playbook is a lot more sophisticated with offensive coordinator Greg Olson. But there was one moment when I had to laugh out loud as the Bucs ran a play that reminded me of the mid-1990s. Derrick Ward took a handoff and ran straight into fullback Chris Pressley's back. It was just a one-time thing. But there was a time back in the dreary old days when Errict Rhett taking a handoff, running into Mike Alstott's back and plowing for a yard or two was Tampa Bay's signature play.
Speaking of Ward, who's fighting to earn more carries, he looked good at times. He even was having a nice run on a third-down draw play, until he fumbled. Turning the ball over probably will wipe out the rest of the good stuff he did Saturday. The Bucs aren't going to be a team with a big margin for error, so they're not going to give a lot of carries to a guy who puts the ball on the ground.
Running back Kareem Huggins, who has had a nice camp, continued to impress. This guy's going to make the roster, but he's going to do more than that. He's got a shot at some playing time in the backfield and on special teams.