NFL Nation:

ESPN Stats and Information
November, 5, 2014
11/05/14
1:30
PM ET
Miami Dolphins
quarterback
Ryan Tannehill
has had an up-and-down three seasons. But lately Tannehill is starting
to find consistency
and play some of the best football of his career, while the Dolphins (5-3) are on a three-game winning streak.
Here are some impressive statistics Tannehill is putting up in Year 3:
Tannehill has a passer rating of at least 109.3 or higher in three of his past five games. He's posted passer ratings of 123.6 and 125.6 in two of the past three games.

Tannehill

Under Tannehill, Miami's offense is averaging 30.6 points per game since Week 4, which is fifth highest in the NFL.
Tannehill's completion percentage (63.3) through eight games would be fourth all-time in Dolphins history for a single season.
According to ESPN Stats & Information, Tannehill has an 82.9 QBR in his past five games.
Tannehill joined Steve Young and Michael Vick as the only three quarterbacks in the past five years to post a run of 20 yards or more in four straight games.
Tannehill is second on the Dolphins in rushing (245 yards) and averages 7.9 yards per carry. He owns Miami's longest run of the season at 40 yards.
Miami's offensive line has allowed just 17 sacks on Tannehill in eight games.
Tannehill is still out to prove he is the long-term solution in Miami. Keeping up these kind of numbers for the remainder of the season will go a long way.
June, 19, 2013
6/19/13
11:00
AM ET

The
New England Patriots
are arguably the most disciplined, well-coached team in the NFL. But one area where they struggled mightily last year was tackling in the secondary and preventing yards after the catch.
New England was 27th in the NFL with 1,845 yards allowed after the catch last season, according to ESPN's Stats and Information. The Patriots struggled to cover. But once receivers made the catch, they were oftentimes able to run freely and/or break tackles from New England's secondary. The Patriots were 29th against the pass last season.
The
New York Jets
, even without star cornerback
Darrelle Revis
(knee) for most of the season, led the NFL with the fewest YAC in 2012. Here are the YAC totals for all AFC East defenses last season:
No. 27: Patriots, 1,845 yards
Tackling receivers and tight ends must become a huge priority for New England's defense this year. The Patriots' top-ranked offense carried the team most of last season, but personnel changes and injuries may force this group to
take a step back
. Therefore, New England's defense must make major strides and fix its weaknesses.
This further explains why New England signed physical, hard-hitting safety
Adrian Wilson
in free agency to add an intimidating presence on the back end of the defense. The Patriots also were wise to bring back No. 1 cornerback
Aqib Talib
, who was a midseason acquisition last year.
November, 30, 2012
11/30/12
1:30
PM ET
»
NFC Final Word
:
East
|
West
|
North
|
South
»
AFC
:
East
|
West
|
North
|
South
Five nuggets of knowledge about Week 13:
Tom terrific:
Even at 35 years old,
New England Patriots
quarterback
Tom Brady
is playing some of the best football of his career. The Patriots have won five straight games and Brady put up monster numbers in that stretch, including throwing for 14 touchdowns and zero interceptions. He has had five consecutive games of at least two touchdowns and zero interceptions, which is the second longest streak of his career according to ESPN Stats & Information. The Patriots lead the NFL in total offense and scoring, and Brady is the primary reason. He's justifiably one of the favorites for the NFL MVP award this season.
[+] Enlarge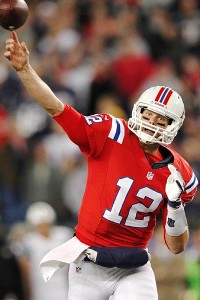 Greg M. Cooper/US PresswireQuarterback Tom Brady and the Patriots take on the Dolphins in a Week 13 matchup that Miami is desperate to win.
A wild card:
New England's opponent Sunday, the
Miami Dolphins
, is in the thick of the wild-card race. Miami (5-6) is one game behind the
Pittsburgh Steelers
(6-5) and
Cincinnati Bengals
(6-5). All three teams have tough games. The Steelers are on the road against the
Baltimore Ravens
(9-2), while the Bengals travel to play the
San Diego Chargers
(4-7). It's possible that both Pittsburgh and Cincinnati could lose their road games Sunday, which would open the door for Miami to gain a game. But the Dolphins upsetting the Patriots is a tall task.
No shotgun for Sanchez:
New York Jets
quarterback
Mark Sanchez
is having a poor season all around. But it may be wise for the Jets to keep Sanchez out of the shotgun as much as possible in the final five games. According to ESPN Stats & Info, Sanchez has the NFL's second-lowest completion percentage (56.6) from the shotgun formation. Sanchez also has six interceptions and has been sacked 15 times from the formation. New York is a ground-and-pound team that's not adept at using multiple wide receivers and airing it out.
Jets need sacks:
A lot of the focus has been on the Jets' struggling offense. However, New York's defense also has been inconsistent. This was a group expected to finish in the top five in the NFL. But injuries and underachieving have kept New York's defense back. One big issue has been New York's inability to pressure the quarterback. The Jets are 30th in the NFL with only 17 sacks. Look for New York to attack the
Arizona Cardinals
with different blitz looks Sunday. The Cardinals are starting struggling quarterback
Ryan Lindley
.
Bills could face Babin:
The
Philadelphia Eagles
created national headlines earlier this week when they released Pro Bowl defensive end
Jason Babin
. He was claimed 24 hours later by the
Jacksonville Jaguars
, who will travel to Buffalo to face the Bills on Sunday. Babin is expected to make his Jacksonville debut against Buffalo in some capacity this weekend. The irony is Buffalo tried to claim Babin, who was one of the NFL's top pass-rushers last season. The Jaguars (2-9) are last in the NFL with 13 sacks.
November, 23, 2012
11/23/12
11:00
AM ET

The general rule of thumb is that rookie quarterbacks struggle in the NFL against the blitz. The disguises, exotic looks and increased speed of the game often make it tough on rookies to throw well under pressure.
However,
Miami Dolphins
rookie quarterback
Ryan Tannehill
is not having a traditional rookie season. The area where Tannehill is struggling the most is against base defenses. It is part of the reason Miami is 4-6 and has lost three straight games.
According to ESPN Stats and Information, Tannehill has the NFL's second-worst completion percentage (55.2) against four or fewer rushers. When defenses do not blitz, it throws Tannehill off his game. He's been sacked 10 times and thrown five interceptions against base defenses this season.
Opponents frequently blitzed Tannehill at the beginning of the season, which is normal for rookies. But Tannehill showed the ability to make quick and accurate throws in Miami's West Coast offense, and had early success. Then, opponents adjusted around midseason by not blitzing as much and dropping a lot of defenders back. That is where Tannehill hit a wall.
The early book is out on Tannehill now that teams have enough film on the rookie quarterback. It will be up to Miami's coaching staff and Tannehill to make the adjustment in order to have success when teams do not blitz.
June, 27, 2012
6/27/12
10:00
AM ET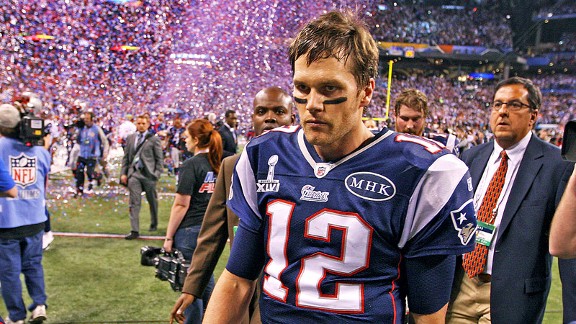 Jim Davis/The Boston Globe/Getty ImagesHistory is against Tom Brady and the New England Patriots returning to the Super Bowl this season.
The reigning AFC champion
New England Patriots
have the talent, experience and depth to get back to the Super Bowl in February. Many football pundits agree the Patriots -- led by quarterback
Tom Brady
and coach Bill Belichick -- are one of the safest picks to represent the AFC in New Orleans.
But history suggests New England is better off not showing up this season. The Patriots were runners-up in Super Bowl XLVI -- and historically that is an awful position to be in.
According to ESPN Stats & Information, it's been 39 years since a team bounced back from a Super Bowl loss to win a championship. The
Miami Dolphins
won Super Bowl VII in January 1973 after losing Super Bowl VI the previous year. In fact, it's only happened twice in the Super Bowl's 46-year history.
New England is trying to become just the third team to accomplish the feat -- and the first in nearly four decades. Thirty-eight consecutive teams have tried and failed. That is a ton of history against the Patriots as they chase their fourth Super Bowl title in the Belichick-Brady era.
Mathematically, only 4.3 percent of NFL teams have been able to accomplish what New England is trying to do this year. Those are long odds, indeed.
"The Patriots played more games than any other team but one last year and I think that takes a toll," Scouts Inc.'s Matt Williamson said of difficulty of getting back to the Super Bowl. "Those playoff games are really intense and you have to do more physical damage to your roster than teams that didn't make it deep into the playoffs. So I think it's a little more difficult to be fresh when your season comes around. Your offseasons aren't as long and you're more beat up."
To Williamson's point, the Patriots are still ailing from last year's playoff run.
Pro Bowl guard
Logan Mankins
tore his ACL in the postseason and had surgery in February. He is questionable for Week 1 and could begin the year on the physically unable to perform list. Patriots Pro Bowl tight end
Rob Gronkowski
needed ankle surgery this offseason after getting injured in the AFC Championship Game against the
Baltimore Ravens
. He continues to rehab and hopes to be back by training camp. Neither star was able to participate in offseason workouts.
The numbers are a little more in New England's favor in terms of getting back to the big game. Seven Super Bowl runners-up have repeated as conference champions in 46 years, which is 15.2 percent. Most recently, the
Buffalo Bills
bounced back from three Super Bowl losses to return to the title game in the 1990-93 seasons. The
Denver Broncos
also lost Super Bowl XXI in the 1986 season and made it back to Super Bowl XXII the following year. But 17 consecutive Super Bowl runners-up have not returned to the big game. The Patriots will try to end the drought this season.
History is not on New England's side, but there are reasons to believe the Patriots can shake the runners-up curse.
For starters, New England is stacked this year. There is depth at nearly every position, and the defense should be much improved from the 31st-ranked unit we saw a year ago. Second, New England has the easiest strength of schedule in the NFL. The Patriots play just four teams with winning records in 2011. A 12- or 13-win season appears very attainable for the Patriots.
Finally, New England's offense is a juggernaut. Brady is playing some of the best football of his career and he has a supremely talented supporting cast that includes Gronkowski,
Brandon Lloyd
, Pro Bowl receiver
Wes Welker
, dynamic tight end
Aaron Hernandez
, veteran receiver
Jabar Gaffney
and a young, exciting group of running backs.
"They would be No. 1 on my power rankings. I'm not saying they will win the Super Bowl, but if I had to pick one team, they would be my pick," Williamson said. "The key to me is you can't outscore them. The Patriots were one of the two or three best offenses last year and they had some flaws. They had nothing outside the numbers and no deep-ball capabilities, and they went out and changed that with Brandon Lloyd. That's a big step forward on offense, and now you're going to have to score 40 to beat them."
The AFC appears to be the weaker conference, which also plays into New England's favor. There are only a handful of serious contenders. Besides New England, the list includes the Ravens,
Houston Texans
,
Pittsburgh Steelers
and maybe the Broncos if future Hall of Fame quarterback
Peyton Manning
can return to full strength.
But the first step for the Patriots is conquering the AFC East. New England has won the division nine of the past 11 years under Brady and Belichick. Williamson does not see any reason the Patriots cannot win their 10th AFC East title in 12 years.
"I think the Jets are declining and the Bills are rising, but I don't think either one is close to the Patriots' level," Williamson said. "I don't think the rest of the division is that good. The Bills have come a long way -- for the Bills. But I still think they're an 8-8 or 9-7 team if everything goes well. No one in the division has a quarterback close to Brady. No one has the big-game experience, and none of them have a coach on Belichick's level."
Barring significant injuries, the Patriots are a safe bet to make the postseason for the fourth consecutive year. But when it comes to getting to the very top of the NFL mountain, history suggests New England's 2012 journey will fall short.
January, 19, 2012
1/19/12
12:47
PM ET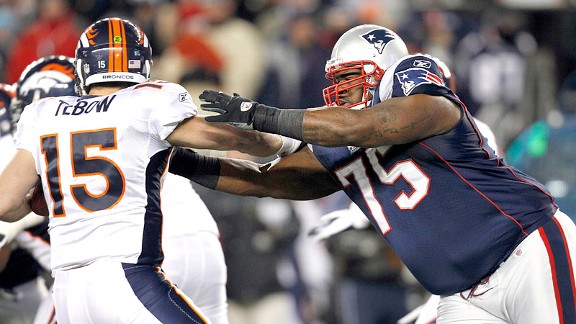 AP Photo/Elise AmendolaVince Wilfork, right, and the Patriots' defense dominated Saturday's playoff game against Denver.
Trick question: Which team has the top-rated defense in the NFL playoffs? If you answered the
New England Patriots
, you are correct.
The much-maligned Patriots' defense had the best performance of the playoffs thus far in a 45-10 win against the
Denver Broncos
. A group that was mostly on its heels during the regular season attacked Denver and quarterback
Tim Tebow
, allowing just 252 total yards. Whether the one-game performance was a fluke or a sign of things to come is a subject of intense debate.
We will find out Sunday when the Patriots host the
Baltimore Ravens
in the AFC Championship Game. When it comes to defense, the Patriots stand out in a group that includes the Ravens, the
San Francisco 49ers
and the
New York Giants
in the conference championships. Baltimore and San Francisco were both top-four defenses. The Giants were injured on defense all season, but are finally healthy and playing like the talented unit most expected.
According to ESPN Stats and Information, New England is trying to become, by far, the worst-rated defense ever to win a Super Bowl. New England was ranked 31st in total defense in the regular season. Only the
Green Bay Packers
-- who were 15-1 but one-and-done in the playoffs -- were worse. Is this Patriots' defense good enough to win a championship?
"Everyone is real easy to jump on the Patriots' defense and say they're so terrible and they can't win a Super Bowl being this bad. But I don't agree with that," said Matt Williamson of Scouts Inc. "I don't think it's great. It's clearly the worst defense still in the playoffs. They allow all these passing yards, but they don't allow that many points, and that's more important."
The Patriots continue to challenge the longstanding theory that "defense wins championships." The past three Super Bowl champions -- Green Bay, New Orleans and Indianapolis -- were led by dynamic offenses. But this season, defense is making a comeback.
The Patriots have the best offense and worse defense remaining in the field. Yet, they are the odds-on favorite to win the Super Bowl.
"Big defenses will stand up in playoff situations. So it's still relevant," NFL analyst Steve Young explained in a conference call this week. "It's just not quite as relevant as the old days in my mind. It's a big deal, and I think the Giants and 49ers playing each other is interesting, because [they have] two really great defenses. The Patriots will have to be proven wrong, that they can't go the distance in this pass-happy era. ... I think the question is going to be answered on the field. Phenomenal offense against a great defense and we'll see in this era who can pull off championship football."
The matchup between Baltimore's offense and New England's defense is an intriguing one. Both groups have been the weaker links of their respective teams. With Baltimore's passing game inconsistent, the key to slowing the Ravens will be corralling Pro Bowl running back
Ray Rice
. In many ways, Rice is to Baltimore what quarterback
Tom Brady
is to New England. Rice led the Ravens in rushing (1,364) and receptions (76). Patriots head coach Bill Belichick usually attempts to take away an opponent's best weapon and force a team to win with its second and third options. Similar to last week, expect New England to gear up heavily against the run and see if Baltimore can keep up with New England's high-powered offense by passing the football.
But stopping Rice won't be easy. He had six 100-yard rushing games this season, including 204 yards against the
Cleveland Browns
and 191 yards against the
Cincinnati Bengals
.
"I'll tell you what, he's probably one of the toughest guys to bring down in this league because he always keeps those wheels spinning," Patriots Pro Bowl defensive lineman
Vince Wilfork
said. "He always comes up with big plays for his team, if it's in the pass game or the running game. When you have a running back like that, you can do anything with him. I think the Ravens do a good job of using him. That's first on our list, we have to slow him down if we want to be successful as a defense."
If things go as planned for New England, there will be a lot of pressure on Ravens quarterback
Joe Flacco
to keep up. Flacco's performances in the playoffs have been inconsistent. Last week he completed just 14 of 27 passes for 176 yards in a 20-13 win against the
Houston Texans
. Flacco also was sacked five times. That also happens to be the same amount of sacks New England registered against Tebow last week. You also cannot ignore the "Brady Factor" when talking about New England's defense. The future Hall of Famer is playing some of the best football of his career, and is coming off a six-touchdown performance against Denver, which tied a playoff record.
New England's high-scoring offense is averaging 40.5 points in the past four games and has complemented the defense well. Despite all of New England's defensive issues, the team is pretty solid in the red zone and is 15th in points allowed (21.4) per game.
"The Patriots are not great [defensively], but they don't need to shut teams out either with Brady and the offense that they have," Williamson said.
For months many have wondered if the Patriots' struggling defense can step up in the playoffs if the offense cannot light it up against an elite defense. This is probably the week we find out against Baltimore in the AFC Championship Game.
Perhaps no group in the playoffs has more to prove this week than New England's defense, which might or might not be turning the corner.
"It's playoff time," Patriots starting cornerback
Kyle Arrington
said. "Our records, our stats go out the window this time of year. We're fully committed to play for one another."
January, 10, 2012
1/10/12
12:54
PM ET
How do you view
Tom Brady
's postseason record?
Overall, it's impressive. But lately Brady hasn't done so well with the season on the line.
Brady is a stellar 14-5 in 19 career playoff games. According to ESPN Stats and Information, Brady is tied with Hall of Famers Terry Bradshaw and
John Elway
for the second most playoff wins in NFL history.
But Brady is winless in his past three playoff games. This includes two consecutive one-and-done postseasons following the 2009 and 2010 seasons. New England also lost Super Bowl XLII to the
New York Giants
.
In fact, Brady hasn't won a playoff game since the AFC Championship following the 2007 season. Four years is a long postseason drought for Brady and Patriots head coach Bill Belichick, who are the NFL's winningest quarterback-coach tandem.
There are no excuses for New England not to win a playoff game this year. The Patriots (13-3) are huge favorites and got
the easiest possible draw
for the divisional round with
Tim Tebow
and the
Denver Broncos
(9-8).
Brady, who won 14 of his first 16 playoff games and three Super Bowls, needs to get back on the winning side of the postseason starting this Saturday. If the Patriots, Brady and Belichick lose their fourth consecutive playoff game, expect a ton of offseason criticism in New England.
January, 9, 2012
1/09/12
5:02
PM ET


Say what you want about
Denver Broncos
quarterback
Tim Tebow
. But one thing he does pretty well is throw the deep ball over top of coverage that's trying to stop the run.
Tebow had a career day Sunday throwing deep in a wild-card win over the
Pittsburgh Steelers
. Tebow was had three completions over 50 yards and, according to ESPN Stats & Information, the most yards per completion (31.6) in NFL playoff history.
The Steelers made the mistake by stacking the line of scrimmage too much and showing little respect for Tebow's deep ball. New England's pass defense, which is notorious for giving up big plays, has to be more balanced in its approach in order to avoid getting "Tebowed."
"Really one of the best things that he did or better things he did among a number of things at Florida was he threw the ball down field really well," Patriots director of player personnel Nick Casario said Monday. "He has good arm strength, real accurate with the football, and I think there have been a lot of examples this year in Denver, not only in yesterday's game against Pittsburgh, but where they've thrown the ball down the field and been able to get the ball behind the defense. They have players on the perimeter that they're able to get vertical into the defense and down the field."
The opportunities will be there for Tebow to make plays with his arm. The Patriots were 31st in the NFL defending the pass. New England also led the league in giving up an astounding 79 pass plays of 20 yards or more this season.
Tebow's accuracy isn't great -- he was 10 for 21 last week -- but he proved against Pittsburgh that he's not afraid to "pull the trigger." His 80-yard touchdown pass in overtime to Broncos receiver
Demaryius Thomas
was the biggest play in Denver's season.
January, 9, 2011
1/09/11
8:29
PM ET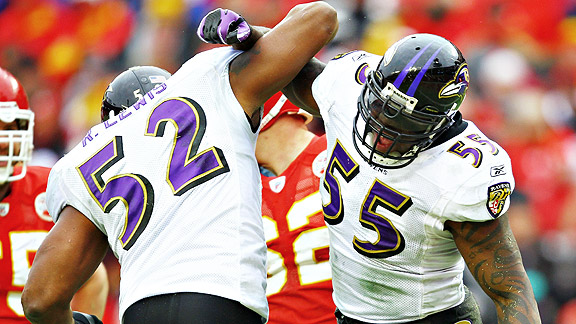 Dilip Vishwanat/Getty ImagesAfter dispatching the Chiefs, Ray Lewis, Terrell Suggs and the Ravens will take on division rival Pittsburgh.
KANSAS CITY, Mo. -- Nothing against the AFC West champion
Kansas City Chiefs
, but the only team that got a rise out of the
Baltimore Ravens
on Sunday was the AFC North champion
Pittsburgh Steelers
.
Moments after
Baltimore crushed and humiliated the Chiefs
30-7 at Arrowhead Stadium, you had the sense the Ravens were well prepared to field questions about their most-hated rival. Baltimore knew ahead of time that a wild-card win would set up another classic trilogy between the Ravens and Steelers, which will be the second time it has happened in the past three seasons.
"Here we go again," Ravens linebacker
Ray Lewis
said with a smile on his face. "I told you guys earlier in the year, man, that it's something [special] about the journey."
"It seems like poetic justice," Ravens coach John Harbaugh said.
As Harbaugh alluded, it's only fitting that these rivals settle their differences in the playoffs with both of their seasons on the line. There has been a lot of debate all season about which division team is truly better. The teams split two regular-season meetings and each finished 12-4. Pittsburgh won the tiebreaker and a coveted bye because it had a better division record.
But Saturday at Heinz Field there will be no excuses. The top division team will advance to the AFC title game and a shot at Super Bowl XLV.
"This is the NFL at its best," Ravens Pro Bowl defensive end
Terrell Suggs
said. "This is what the world wants to see. They want to see Baltimore and Pittsburgh."
On Sunday, Baltimore continued its stellar run the past three seasons in the wild-card round. According to ESPN Stats & Information, Harbaugh is the second NFL coach to win a playoff game in each of his first three seasons, joining former
Dallas Cowboys
coach Barry Switzer. The Ravens own convincing wild-card wins over the
Miami Dolphins
,
New England Patriots
and Kansas City in three consecutive seasons.
Baltimore also improved to 7-3 all time on the road in the playoffs and is arguably this year's most dangerous wild-card team, especially when the defense is playing at a Super Bowl level. The Ravens' defense the past two weeks forced 10 turnovers and allowed only 14 points. Kansas City had no answers for Baltimore after committing three interceptions, fumbling twice and allowing three sacks of quarterback
Matt Cassel
, who was battered and confused. He passed for only 70 yards,
one of the worst passing performances in playoff history.
The Ravens said they were inspired by Pro Bowl safety
Ed Reed
, who played with a heavy heart Sunday. His younger brother, Brian, was reported missing this weekend and police called off the search in Louisiana. Brian Reed apparently jumped into the Mississippi River
after being confronted by a deputy sheriff in response to a stolen car report
.
"What the Reed family is going through is a big part of this victory. That's what will be remembered by our players," Harbaugh said. "The Reed family is part of the Raven family, and the Raven family is part of the Reed family. That's the way it works with our team, our organization."
[+] Enlarge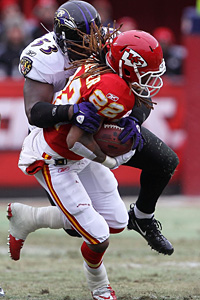 Doug Pensinger/Getty ImagesLinebacker Jameel McClain, 53, and the Ravens physically dominated Dexter McCluster and the Chiefs on Sunday.
Reed had four tackles, including a big hit on Chiefs receiver
Dexter McCluster
, and received a game ball afterward.
"Who is a better teammate than Ed Reed?" Suggs said. "He didn't have to play today, but he played. And it was the simple fact that we wanted to give him three hours of peace to just go out there and have fun with your football brothers, and we did that."
The Ravens must be at their best again next week. The Steelers are well rested and franchise quarterback
Ben Roethlisberger
is
8-2 in his career against Baltimore
, including six straight victories. Baltimore pulled off a rare win at Heinz Field in October, but that was during the final game of Roethlisberger's four-game suspension.
But there could be good karma for the AFC North. The last time these teams met in the playoffs was in the 2008 AFC Championship Game, and Pittsburgh advanced to win Super Bowl XLIII over the
Arizona Cardinals
.
The winner of this year's rivalry game will face the winner of the
New York Jets
and Patriots from the AFC East. Both divisional-round games involve teams that split the first two meetings in the regular season.
"It's Armageddon for all four teams, and there can only be one winner at the end," Suggs said. "What better teams than these four?"
Without a doubt, next weekend is going to be brutal in the AFC.
Perhaps the biggest question is, will any of these teams have anything left for the AFC Championship Game?
October, 29, 2010
10/29/10
4:01
PM ET
»
NFC Final Word
:
East
|
West
|
North
|
South
»
AFC
:
East
|
West
|
North
|
South
Five nuggets of knowledge about Week 8:
[+] Enlarge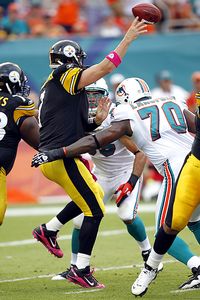 AP Photo/Paul SpinelliBen Roethlisberger is not afraid to stay in the pocket even when under pressure.
Big-play Ben:
Pittsburgh Steelers
quarterback
Ben Roethlisberger
has a chance to make a lot of big plays in Sunday's prime-time matchup against the
New Orleans Saints
. According to ESPN's Stats and Information, Roethlisberger leads the NFL in passer rating (140.1) and yards per attempt (11.1) against the blitz, which consists of five or more rushers. Roethlisberger is not afraid to hold the ball an extra second or two against pressure to allow his receivers to get downfield. Four of Roethlisberger's five touchdowns passes this year have come against the blitz. The Saints and defensive coordinator Gregg Williams are a blitz-heavy team, which could play into Roethlisberger's hands Sunday.
Winning the turnover battle:
It's no secret why the
New York Jets
(5-1) and the Steelers (5-1) are two of three teams tied for the NFL's best record. They are No. 1 and 2, respectively, in turnover ratio. The Jets are plus-10 in six games and the Steelers are plus-9. Pittsburgh adopted a conservative offense, which took care of the football in Roethlisberger's absence while wreaking havoc on defense. The Steelers are plus-2 in turnover ratio in Roethlisberger's two starts.
Banged-up Bengals:
The
Cincinnati Bengals
are hurting entering their must-win game against the
Miami Dolphins
, most notably in the secondary. Starting cornerbacks
Johnathan Joseph
(ankle) and
Leon Hall
(hamstring) both missed practice time this week, as did safeties
Chinedum Ndukwe
(knee) and
Roy L. Williams
(knee).
Adam Jones
(neck) also was put on
injured reserve
. Quarterback
Carson Palmer
missed Thursday's practice with
a hip injury
, but Bengals coach Marvin Lewis says he expects Palmer to play Sunday.
Red zone woes:
The Bengals have been gaining yards but have stalled in the red zone. Cincinnati is ranked No. 8 in total offense but in the bottom third (No. 24) in red zone efficiency, which has made a huge difference in its 2-4 start. The no-huddle has helped between the 20s, but the unit has to toughen up and stop settling for field goals. During Cincinnati's three-game losing streak, the team converted touchdowns on only four of 10 trips to the red zone.
Bye-week thoughts:
As the
Baltimore Ravens
enter the bye week, star safety
Ed Reed
(hip) will continue to get healthy after an impressive return in last week's win over the
Buffalo Bills
.
Reed recorded two interceptions
against Buffalo, and according to ESPN's Stats and Information, only two players have more multi-interception games (nine) than Reed: Hall of Famers
Ronnie Lott
and Paul Krause. The
Cleveland Browns
must find a way to score more points before taking the field Nov. 7 against the
New England Patriots
. The Browns are No. 28 in scoring at 16.9 points per game. The defense has played hard, and Cleveland is 2-0 when scoring 23 points or more.
September, 19, 2010
9/19/10
11:18
PM ET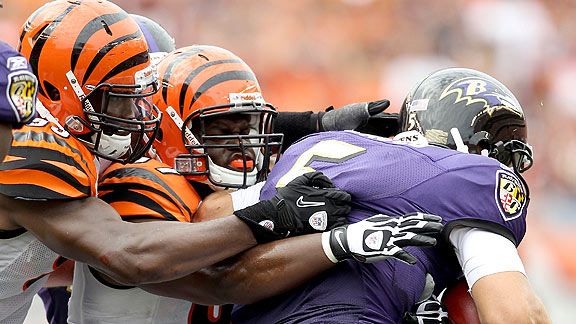 Matthew Stockman/Getty ImagesThe Cincinnati defense forced Ravens QB Joe Flacco into the worst game of his career.
CINCINNATI -- Bengals defensive coordinator Mike Zimmer -- who is as intense as any coach in the NFL -- was eerily subdued in preparation for the
Baltimore Ravens
.
Zimmer didn't call out his defense after the Week 1 debacle against the
New England Patriots
. He took the blame in the media for everything that went wrong and kept the pressure and attention off his players. Even behind closed doors, players said Zimmer's demeanor was encouraging and complimentary, which isn't his usual style after a bad performance.
But Zimmer's rarely used strategy worked this week. His unit played loose and responded by forcing four turnovers during Sunday's
15-10
division victory against the Baltimore Ravens (1-1).
"Usually, Coach Zimmer is [a] brute," Bengals safety
Chris Crocker
said. "But he took the bullet and as a defense, we were like 'wow.' That let us know that he has our back regardless of what happens."
What happened Sunday was Cincinnati's defense looked more like the unit that finished No. 4 in the NFL last season. In a close game that included six field goals, the Bengals (1-1) dictated the pace with their defense, which continually stuffed drives. Linebacker
Brandon Johnson
, safety
Chinedum Ndukwe
and cornerbacks
Leon Hall
and
Adam Jones
had interceptions for the Bengals.
Cincinnati's offense sputtered against Baltimore's defense, which still hasn't allowed a touchdown this season. But the Bengals' defense remained undeterred. The Ravens, who have plenty of talent on offense, could never gather any momentum, converting only 4 of 15 third-down conversions and gaining only 259 yards. In Week 1, Cincinnati's defense gave up 376 yards against the Patriots and a near-flawless
Tom Brady
and fell behind 31-3 early in the second half.
"I wasn't surprised; I was just happy to see them play that way," Bengals quarterback
Carson Palmer
said of Cincinnati's defense. "You know, there's a lot of talk about Baltimore's defense and everybody talks them up -- and they're great. But I think our defense takes that as a personal challenge, and they outplayed them today."
The Bengals focused on confusing and pressuring Ravens quarterback
Joe Flacco
, who had the worst game of his career. Flacco finished with 154 yards, one touchdown, a career-high four interceptions and a 23.8 quarterback rating.
Flacco did not look comfortable and his mechanics gradually got worse as the game wore on. The Bengals only had one sack but kept the pressure on Flacco, who completed 17 of 39 attempts and threw off his back foot way too often. Three of Flacco's interceptions came in the second half.
"I felt like he was frustrated; his picks were more out of frustration," Crocker said. "We tried to show him different coverages also, and I think that helped. But I think he was definitely pressing."
[+] Enlarge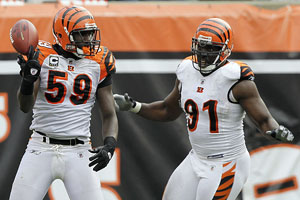 AP Photo/Ed ReinkeBrandon Johnson and Cincinnati's defense held the Ravens to 259 total yards.
The Bengals still have plenty of concerns, particularly with sloppiness and penalties on offense. Cincinnati once again was heavily penalized (nine for 56 yards). Many of the mistakes were mental errors that could have easily been prevented. But as long as Cincinnati continues to win in the division, the team will be in good shape. The Bengals, the defending division champion, have won eighth straight division games dating to 2008.
Even more important is that Cincinnati was able avoid an 0-2 start, which would have reduced its chances of making the postseason. According to ESPN's Stats and Information,
only 13 percent of teams have made the playoffs after starting 0-2 since 1990.
I believe Sunday's performance was closer to what we will see from Cincinnati's defense in 2010. Week 1 now feels more like an aberration.
"Zim had no problem taking one on the forehead, but deep down as a player you know he's not the one making tackles," Johnson said. "He's not the one letting guys get open, and he's not the one getting blocked. So even though he took the blame, we had to look at the man in the mirror, and that's what we did. Everybody in the locker room had to come out and play better and play harder."
With this type of dominant performance, perhaps the Zen version of Coach Zim is here to stay.
March, 8, 2010
3/08/10
12:01
PM ET
Arizona Cardinals
, new
Baltimore Ravens
receiver
Anquan Boldin
is not a stranger to the AFC North.
According to ESPN Stats & Information, Boldin played six career games against his new division rivals -- the
Cleveland Browns
,
Cincinnati Bengals
and
Pittsburgh Steelers
. Currently the Browns and Steelers both lack quality depth at cornerback, although the draft and free agency could change that.
Paired with former teammate
Larry Fitzgerald
, Boldin was the second option in Arizona's offense, but could have more balls thrown his way next season as the top option for Baltimore and quarterback
Joe Flacco
. This also means Boldin will face more No. 1 cornerbacks in the AFC North like Pittsburgh's
Ike Taylor
and Cincinnati's
Johnathan Joseph
.
Last season, Boldin caught 84 receptions for 1,024 yards and four touchdowns with the Cardinals. It was the fifth time Boldin eclipsed the 1,000-yard mark in his career.
Despite spending his entire career with the