September, 4, 2014
9/04/14
9:00
AM ET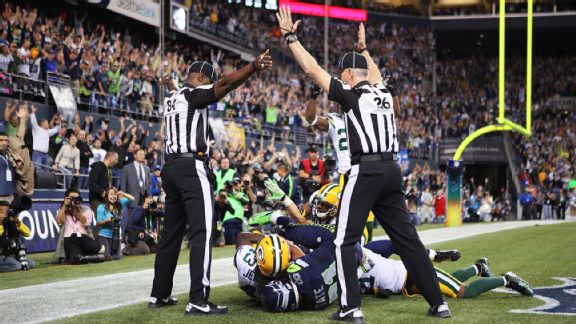 Otto Greule Jr/Getty ImagesThe Packers and Seahawks open the NFL season in their first meeting since 2012's "Fail Mary."
Of course. Two of the NFL's best teams will kick off the 2014 season Thursday night -- and all you want to talk about is some random play that happened two years ago in a dark period of NFL history.
Fail Mary?
Thpptttt.
You still don't think
Golden Tate
caught the ball? You're waiting for Roger Goodell to invoke his right to reverse outcomes? You're incredulous the NFL would open itself to outside influence by substituting woefully underqualified officials as leverage in collective bargaining? You're still following
T.J. Lang
after he posted the
most re-tweeted tweet of all time?
Nope? Me neither. Over it.
I, for one, am far too focused on the crucial nuts and bolts of this game -- and the upcoming season -- to get worked up about the most recent time the
Green Bay Packers
visited the
Seattle Seahawks
. This is all business. I want to see if quarterback
Aaron Rodgers
can withstand the Seahawks' fierce pass rush and if his girlfriend, Oliva Munn, is in the stands to watch it. I'm pumped to break down how
Richard Sherman
matches up with
Jordy Nelson
-- in between viewings of his latest Campbell's Soup ad.
Nothing generates deep discussion of strategy, scheme and precision like the NFL. How will the
Cleveland Browns
find a deep threat after the suspension of
Josh Gordon
? (And what club will
Johnny Manziel
hit after their first game?) Will
Robert Griffin
III
respond to new expectations as a pocket passer? (And who will be the next world leader to speak out against the
Washington Redskins
' team name?) How in the name of doomsday will the
Dallas Cowboys
field a competitive defense? (And can owner Jerry Jones find a way to market
a practice squad player?
)
So many questions, so little time in the film room. So for your collective preparation efforts, here is a touchdown's worth of predictions for the 2014 NFL season. Carve them in stone, bet the house on them, and if I'm wrong, feel free to call me at (555) 555-5555.
1. Officiating will be better
[+] Enlarge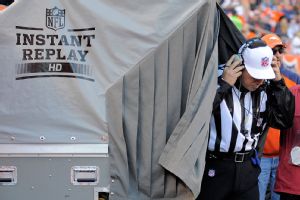 AP Photo/Jack DempseyOfficials will now get instant replay assistance from the league office.
Yes, I know. We spent the entire preseason freaking out about a spike of penalties for illegal contact and defensive holding, two key points of emphasis dictated by the NFL's competition committee. I'm well aware that officials called
almost the same number
of those penalties in 69 preseason games (271) as they did in 256 regular-season games (285) in 2013.
But it's also worth taking a breath and reiterating that the rate dropped sharply in the final week of the preseason as all sides adjusted. The rate will still be higher than in 2013, but I wouldn't expect anything close to what we saw in the first few weeks of the preseason.
Aside from that issue, the league
took several important steps
this offseason in response to a rough go of it in 2013. It replaced three referees and a total of 13 officials, the biggest turnover in more than a decade. New instant replay assistance from the league office will make the system more accurate and quicker -- by nearly 20 seconds per review, according to vice president of officiating Dean Blandino -- and officials will communicate better now via wireless headsets.
I still expect to see plenty of disputed calls, and I'm not sure how to quantify improvement. But there is no doubt this operation is moving in the right direction.
2. Russell Wilson will be elite . . .
By the time the season is over, the Seahawks' quarterback will no longer be the target of condescending compliments. He won't be known as a winner, a game manager or surprisingly strong-armed for his size. No, Wilson will be one regarded as one of the absolute best quarterbacks -- and passers -- in the NFL. Rodgers,
Peyton Manning
,
Tom Brady
and
Drew Brees
will have no choice but to let him into their club.
This preseason, Wilson looked like a Ph.D. student who has submitted his dissertation. Preseason results are to be taken lightly -- sorry, just expunging the final drops of condescension -- but Wilson was the best player on the field this summer. He accounted for six touchdowns in three games while completing 31 of 37 passes for 400 yards. Wilson looked for all the world like a player on the brink of an individual breakout, one that will force the Seahawks to place him among the league's highest-paid players when he's eligible for a contract extension this spring.
3. . . . and Johnny Manziel, uh, won't
[+] Enlarge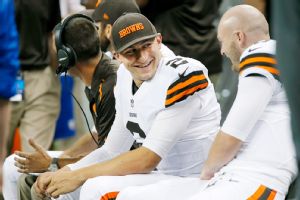 AP Photo/Duane BurlesonJohnny Manziel seems destined to be more like Troy Smith than Russell Wilson.
Manziel (6-foot) has drawn plenty of comparisons to Wilson (5-11) because of their height, but the associations should end there. This summer, Manziel revealed a big-play attitude but offered no confirmation that he has the physical attributes to carry it out.
There's reason to believe Manziel's inaccurate passing (47.9 percent in the preseason) can improve over time. But what made him a special college player was his ability to break the pocket and pressure defenses on the edge. Those expecting him to play that way in the NFL saw good instincts but not the kind of speed that suggests he can make a living doing it. Instead, we were reminded that Manziel (4.68 seconds in the 40-yard dash) isn't nearly as fleet as players who have pressured defenses with speed in recent years. Griffin (4.41), Wilson (4.55) and
Colin Kaepernick
(4.53) were all considerably faster when drafted.
Manziel will get on the field, but he'll conjure more images of Troy Smith than Russell Wilson this season.
4. Texans will regret QB approach
The
Houston Texans
made the right call in bypassing Manziel at No. 1 overall, despite the pleading of some fans. But they'll rue both the day they allowed the
Minnesota Vikings
to leapfrog them for
Teddy Bridgewater
at No. 32 overall and the day after, when they passed up
Derek Carr
at No. 33.
There is no more important job for a new coach than to identify his quarterback, and Bill O'Brien almost certainly won't do that in his first season. Evidence of concern surfaced last week, when the Texans acquired the mildly touted
Ryan Mallett
to join a mix of journeyman
Ryan Fitzpatrick
and could-miss prospect
Tom Savage
. In all likelihood, the Texans have pushed this critical question into O'Brien's second year. Texans fans should prepare to hear a ton about
Marcus Mariota
,
Jameis Winston
and
Brett Hundley
, the quarterback trio that should lead the 2015 draft.
5. A big-time coach is in his final season
I'm just not sure who yet. Will it be Tom Coughlin, the 68-year-old
New York Giants
coach whose team might need a rebuild? Coughlin has won two Super Bowls, but he has also missed the playoffs four of the past five seasons. Would the Giants move on if that streak becomes five of the past six?
What about Marvin Lewis? In resurrecting the
Cincinnati Bengals
, Lewis has made the playoffs five times but now holds the NFL record for coaching the most games (176) without a postseason victory. The Bengals will have their hands full in a tougher AFC North, and Lewis will be coaching without two treasured coordinators, Jay Gruden and Mike Zimmer. Is this the year Lewis must win a playoff game to keep his job?
[+] Enlarge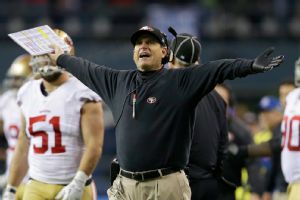 AP Photo/Marcio Jose SanchezWill Jim Harbaugh's supernova personality explode in San Francisco?
Then there's Jim Harbaugh, whose contract negotiations with the 49ers have been put on hold until after the season. Plenty of smoke arose this offseason about internal discord and even a potential trade to the Browns. Some consider Harbaugh's personality to be a supernova -- burning brightly for a short time before it explodes.
Jeff Fisher might be facing the biggest challenge in St. Louis. After consecutive seven-win seasons in the game's toughest division, Fisher has again lost his starting quarterback for the year. Has he built his defense into a strong enough group to carry the Rams into the playoffs? Otherwise, he's headed toward his fifth consecutive non-playoff season. The most recent time a Jeff Fisher team won a postseason game? The 2003
Tennessee Titans
.
6. Marc Trestman's reputation as a "quarterback whisperer" will swell . . .
. . . when
Josh McCown
goes back to being Josh McCown, when
Jay Cutler
continues his refinement and when
Jimmy Clausen
(!) survives as the
Chicago Bears
' backup.
McCown had an undeniably great season in 2013. He finished with the NFL's top Total Quarterback Rating (85.1) and threw 13 touchdowns with just one interception. That performance got him a starting job with the
Tampa Bay Buccaneers
, but the Trestman blip in McCown's career is too obvious to ignore.
Before teaming up with Trestman, McCown was a 58 percent passer with a 13-20 career record as a starter and seven more interceptions (44) than touchdowns (37). What's more likely: that he suddenly figured it all out in his 11th season, or that Trestman found a special connection?
McCown's performance overshadowed what turned out to be the best season of Cutler's career (66.4 QBR, 89.2 rating). With a settled offensive line and the
Brandon Marshall
/
Alshon Jeffery
receiving duo, Cutler has every opportunity to continue blossoming under Trestman. And if Clausen -- who was out of football in 2013 -- proves anywhere close to a credible backup, as the Bears are counting on, then it'll be time to recognize Trestman as the NFL's top quarterback guru.
7. This will be the last season of the extra point as we know it
Enjoy it while you can. League officials were pleased with an experiment that called for 33-yard extra points in the first two weeks of the preseason. It resulted in eight misses, albeit in some cases by place-kickers who won't be in the league in 2014. At this point, however, the NFL wants something other than a sure thing moving forward -- and the past season's 99.8 conversion rate was pretty darn close.
One alternative to keep an eye on: Some coaches and players want to see the
spot moved from the 2- to the 1-yard line.
That shift, as the theory goes, would encourage more teams to go for two points -- a decidedly more exciting play than an extra point from any distance. In either event, start getting your autographed prints now. The closeout sale has started.
July, 8, 2013
7/08/13
9:45
AM ET
So on Sunday, Lance Easley made his
previously reported appearance
as a celebrity umpire in a charity softball tournament organized by
Seattle Seahawks
cornerback
Richard Sherman
.
Photographs circulated of Easley and Seahawks receiver
Golden Tate
, who caught the disputed "Fail Mary" pass that gave the Seahawks a Week 3 victory over the
Green Bay Packers
last season. Many of us also learned that Easley
has written a book about the call
, the repercussions and lessons learned on how to live with your decisions.
And from what I could see Sunday night on Twitter, Packer Nation erupted. Again.
@TannerSmith47
tweeted that "this is like a surgeon operating on the wrong limb and trying to become a celebrity."
@HelpIamaCabbage
added: "Reflects poorly on @realLanceEasley that he's making money off this rather than humbly admitting his mistake."
@DaveyPinstripes
called the scene "despicable."
There is no doubt that Sherman's courting of Easley -- he sent a private jet to whisk him to the game, according to
Easley's Facebook page
-- implies a level of thanks for helping the Seahawks win more than it does a show of support for an embattled official. And it sure feels like Easley is helping to twist the knife with photographs such as the one with Tate below.
Seahawks WR Golden Tate reunites with "Fail Mary" referee Lance Easley at celebrity softball game » pic.twitter.com/slkuuC6TYq

— SportsCenter (@SportsCenter) July 8, 2013
But let's not allow this episode to cloud the waters of blame and free market. The NFL office bears full responsibility for the mess that put Easley in position to make the call.
Sunday night on Twitter, I compared it -- somewhat hastily -- to an NFL team signing a Division III quarterback and then losing a game on his key mistake. Who deserves blame? The unqualified quarterback who had been assured by the team he could handle the job? Or the team itself?
The league's attempt to use replacement officials as leverage in a labor dispute was arrogant from the start and failed miserably. Easley and his compatriots were earnest but miscast and put in an impossible situation.
The loss impacted the Packers' playoff seeding and
cost them a first-round bye in the playoffs
, but let's not hold Easley responsible for that. Easley might not have kept his eye on the ball, but we can in a figurative sense. You might argue with his decision to capitalize on it, but ultimately the market will determine his success.
I don't think anyone wants to hear his justification for making the call, although it's here in a
Tacoma News Tribune blog post
if you're interested. But if his message moving forward is about handling fallout from the split-second decisions we all make every day, then maybe something good can eventually come from this mess.