NFL Nation:

Favre Streak Over
December, 14, 2010
12/14/10
12:48
AM ET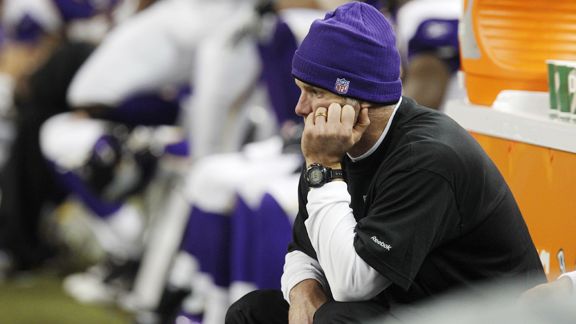 AP Photo/Carlos OsorioBrett Favre ended his streak of consecutive starts and may have played his final NFL game.
DETROIT -- I looked carefully and waited patiently Monday night as
Brett Favre
addressed his first "DNP" in 19 years. His camouflage hat pulled low over his forehead, I assumed it was only a matter of time before the blubbering began.
Three minutes passed.
Five minutes.
Ten.
In a 15-minute news conference in the bowels of Ford Field, Favre neither shed a tear nor so much as expressed disappointment about sitting out the
Minnesota Vikings
' 21-3
loss
to the
New York Giants
, thus ending his 297-game streak of consecutive starts. Instead, Favre seemed resigned to the fact that he has likely played his final NFL game and in some ways relieved that an intersection of factors -- the Vikings are eliminated from playoff contention and his own play this season has been far below his career standards -- has made it almost a natural course of events.
Favre said he will undergo another examination Tuesday on his sprained SC joint, one that he believes has exacerbated numbness in his right hand, but never suggested he could return for any of the Vikings' remaining three games.
"I won't play again if I can't feel my hand," Favre said. "I think it would be foolish to even consider playing if you don't have total feeling in five fingers."
Favre and Vikings interim coach Leslie Frazier spoke extensively Monday night and are planning to speak again after Tuesday's exam. Frazier refused to rule out Favre's return -- and I don't blame him after watching backup
Tarvaris Jackson
stink it up Monday night -- but that will be Favre's call.
Monday's decision was a "no-brainer," Frazier said, and Favre never so much as attempted to throw a pass during pregame warm-ups. As he spoke later to reporters, Favre's right hand was a deep shade of purple and his complexion pale.
"I've played through a lot of stuff," he said. "I think this is something different that I've got to be more cautious of. ...Whether [the streak] ended today, in several weeks, end of last season, it's been a great run. A great run. So I'm very proud of it. ... I think it is a very difficult thing to do. I realize that more so now because it seems like I've been hurt a lot worse. I can't believe that something like this hasn't happened before. Pretty amazing."
Favre twice used a form of the word "relief" to describe his reaction to watching the game from the sideline -- where he stood in sweatpants and a stocking cap and watched Jackson take four sacks, throw an interception, complete 50 percent of his passes and leave three times because of injury.
"Relief was in the sense that there wasn't a lot of pressure on me," Favre said. "It was different. It's been a long time. I'd much rather be playing. And that's just my nature. I don't want to say it was time, [but] it's probably been long overdue. There has probably been a lot of times when the streak should have ended. It wasn't really a flood of emotions. I just couldn't play. I didn't feel like I could function good enough."
Place-kicker
Ryan Longwell
, his longtime friend and teammate, sounded like he was delivering a commencement speech for Favre's career.
"He's in a great place," Longwell said. "He's really at peace with everything and OK with the streak ending. ... Now that it's over, I think it's a relief."
My sense Monday was a little different. I wonder if Favre wasn't trying to conjure relief as a facade to cover for what has been a legacy-altering season.
He will obviously still be a first-ballot Hall of Fame player who was statistically tougher than any player in the history of the game. But there is no way to sugarcoat it: Favre is going out a beaten and battered man, one who tried and failed to squeeze a final triumphant season out of his career. It will forever be part of his career tapestry.
Favre has tried to characterize this season as a "favor" to his teammates, and his continued assertions that he had "nothing left to prove" this season is code for "this season doesn't count." Unfortunately for him, it doesn't work that way. It all goes into the crock pot in the end.
But no matter what we say about this season, and the way it appears to be ending, we should make clear that Monday marked a historic moment in pro football. The chances of another player matching this feat -- starting all of his team's games over two decades -- are pretty low.
In fact, I found myself nodding in agreement as Favre described a recent conversation with some acquaintances who said they would "hate to see the streak end like this."
Favre said he responded: "End like what? It's been a great run. I will not hang my head one bit because it ended today."
Nor should he. Brett Favre was the Iron Man of football. And now it's time to move on. After five years of thinking about it, he finally appears ready.
December, 13, 2010
12/13/10
6:37
PM ET
By
Matt Mosley
| ESPN.com
It's official that
Brett Favre
(right shoulder) is inactive
for tonight's game against the
New York Giants
. One of the most impressive starting streaks in professional sports has ended at 297.
I actually think the Vikings are much more dangerous with
Tarvaris Jackson
in the lineup, and that's who the Giants have spent the majority of their time preparing for. I know that defensive ends
Justin Tuck
and
Osi Umenyiora
have a lot of respect for Jackson and his ability to move around in the pocket.
There will be an emphasis on staying outside on the edge and bringing the pressure from the middle. And look for Perry Fewell to bring his cornerbacks and safeties on delayed blitzes. I'll be observing the game and offering commentary Tuesday morning.
December, 13, 2010
12/13/10
6:31
PM ET
[+] Enlarge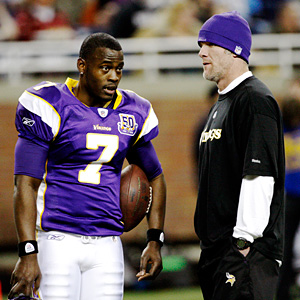 AP Photo/Duane BurlesonBrett Favre is inactive for the Monday night game against the Giants. Backup Tarvaris Jackson will start in his place.
DETROIT -- Has
Brett Favre
thrown his final NFL pass? That's a postgame question we'll have for Favre, who won't play Monday night against the
New York Giants
because of a sprained SC joint near his right shoulder.
The Vikings have three games remaining after tonight, and ESPN's Ed Werder reported the team is giving serious thought to placing him on injured reserve. Doing so would eliminate the spectacle of a 41-year-old quarterback trying to heal quickly enough to squeeze in one or two more starts before heading into retirement.
That decision wouldn't necessarily be up to Favre, but we'll see in a few hours if he thinks it's a possibility.
December, 13, 2010
12/13/10
6:14
PM ET
DETROIT -- And now, for the game.
As you
might have heard
, the
Minnesota Vikings
won't have quarterback
Brett Favre
for Monday night's game against the
New York Giants
. (And perhaps for the remainder of the season, reports ESPN's Ed Werder.) But Favre's shoulder injury is only one of several significant hurdles the Vikings will have to overcome. Among them:
Left guard Steve Hutchinson (thumb), receiver Percy Harvin (migraines) and defensive end Ray Edwards are also inactive.
The Vikings have only one healthy quarterback for this game: Starter Tarvaris Jackson. The backup will be rookie Joe Webb, who was nursing a sore hamstring all week and practiced mostly as a receiver two weeks ago.
Hang on to your hats. Make sure you join me over in
Countdown Live during the game
.
December, 13, 2010
12/13/10
5:58
PM ET
DETROIT -- Mercy.
Take a breath,
Brett Favre
.
[+] Enlarge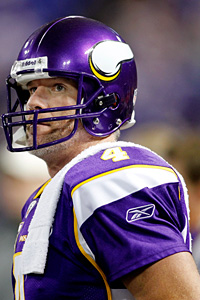 Bruce Kluckhohn/US PresswireBrett Favre's streak of consecutive starts has ended at 297 because of a shoulder injury.
You deserve it.
The
Minnesota Vikings
quarterback finally gave in Monday to sports mortality, ending his consecutive starts streak at 297 games. He eluded the Four Horsemen for 19 years, steering through Death, Pestilence, Famine and War before they cornered him.
Favre, 41, will miss a game for the first time since Sept. 6, 1992, felled by a sprained SC joint near his right shoulder. The injury left him with numbness in his right hand all week and unable to throw with anything close to his normal velocity.
I avoided pre-posting this item even as evidence mounted last week that Favre would need a sports miracle to play. I wanted to take in the moment, such that it was, and see how it felt.
My overwhelming reaction when the Vikings announced him among their game-day deactivation: The moment was overdue. Even Favre seemed to agree. He never emerged from the locker room for a scheduled pregame throwing routine and won't be in uniform Monday night.
What Favre did from 1992 until 2009 proved him to be one of the toughest men to play the most brutal game in American sports history. What he has done this season has mostly been sad and at times tough to watch.
Age caught up to Favre this season in a hurry. He has been a stationary target since the moment he began practicing in August, limited by a half-dozen ailments that all contributed to his decline. His 69.6 passer rating is by far the worst of his career, and while there are no statistics to prove it, I would suggest Favre has absorbed a higher number of brutal hits than in any other season.
Favre, of course, was too proud to take a seat on his own or speed up his retirement plan. And the Vikings, who begged him to play this season and guaranteed him $16 million, would never have considered benching him.
So this injury came at a time of convenience for the team and should be a relief to Favre. He said last month that the streak "probably should have ended a long time ago."
I'm not sure about that, but it definitely needed to end now. The point has long since been proved. It was time for Brett Favre to rest. Mercy.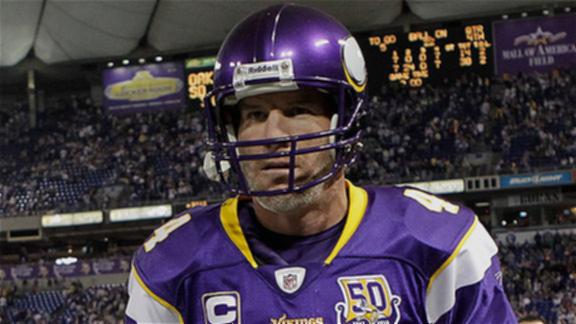 December, 13, 2010
12/13/10
5:00
PM ET
By
ESPN.com staff
| ESPN.com
Join our ESPN.com NFL experts as they break down the conference clash between the New York Giants and the Minnesota Vikings.

Contribute your thoughts and questions beginning at 8 p.m. ET. See you there.


December, 13, 2010
12/13/10
4:25
PM ET
DETROIT -- Further evidence that
Minnesota Vikings
quarterback
Brett Favre
's 297-game streak of consecutive starts streak will end Monday night at Ford Field:
ESPN's Ed Werder reported that "all indications" suggest Favre will not play against the
New York Giants
.
Tarvaris Jackson
will get the start because Favre's sprained SC joint has left him unable to throw with any velocity. Werder reported that Favre has had numbness in his right hand all week, possibly because of a pinched nerve in his neck.
Favre told Werder he is unlikely to take a pain-killing injection because it would have to be done at a hospital to avoid hitting any arteries.
Finally, Werder reported that teammates have encouraged Favre to take the first snap to extend his streak and then leave the game. Favre has ruled out that scenario.
Aside from divine intervention, Favre appears to have run out of options.
December, 13, 2010
12/13/10
12:57
PM ET
DETROIT -- The magic number could be 297. The trivia answers would include Dec. 13, Ford Field,
Arthur Moats
and
Tarvaris Jackson
.
Barring what would be a genuine sports miracle Monday night, it appears that quarterback
Brett Favre
will miss his first start since taking over the
Green Bay Packers
on Sept. 27, 1992 -- a 297-game span that brought him a Super Bowl title and almost every NFL career passing record.
Cause of work stoppage: A sprained SC joint near his right shoulder.
The
Minnesota Vikings
haven't ruled out Favre for Monday night's game at Ford Field against the
New York Giants
, but that's only because they don't have to. NFL teams aren't required to submit game-day deactivations and lineup changes until 90 minutes before kickoff. For Monday night's 7:20 p.m. ET start, that would be 5:50 p.m. ET.
Although Favre is still scheduled to throw in pregame warm-ups, Vikings coach Leslie Frazier said Monday in a text message to
ESPN's Adam Schefter
that it is "doubtful" Favre will play. Favre himself said the same thing over the weekend and told ESPN's Ed Werder that he would not have played if the game had kicked off as scheduled Sunday.
So can 30 hours heal an SC joint? Our only reason for pause is knowing that Favre has found a way to play through any number of other injuries over the past 19 seasons. But this one, suffered Dec. 5 on a sack by Moats, a
Buffalo Bills
linebacker, has rendered him unable to throw with anywhere close to his normal velocity ever since.
Favre, 41, last missed a game in its entirety in Week 1 of the 1992 season -- coincidentally, a Packers loss to the Vikings on Sept. 6, 1992. He appeared in a reserve role in Week 2, replaced injured starter
Don Majkowski
in Week 3 before making his first start.
We will of course keep you updated on the situation, and I plan to be at Ford Field in time for whatever pregame workout Favre attempts. Stranger things have happened, but in boxing terms, we're approaching "8" on the standing count.