October, 27, 2011
10/27/11
10:59
AM ET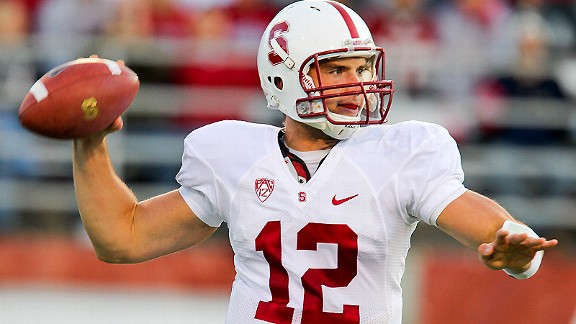 Steve Conner/Icon SMIStanford's Andrew Luck has thrown for 1,888 yards and 20 touchdowns so far this season.
No one knows for sure whether Andrew Luck is the next great NFL quarterback, the next first-round bust or something in between.
For now, the Stanford quarterback projects as the franchise-saving reward for some poor NFL team careening through an otherwise lost 2011 season.
But what if the team holding the No. 1 overall choice already has a franchise quarterback?
Four of the five teams with no more than one victory this season fall into that category, as the chart explains. I suspect
Peyton Manning
's age and injury situation would compel Indianapolis to draft a quarterback first overall if given the opportunity, but what if the
St. Louis Rams
held the top pick?
The Rams already invested millions in
Sam Bradford
. They like him very much despite what has been a rough second season for him. But if the team continues losing in a noncompetitive fashion, changes could sweep through Rams Park. New leadership could, in theory, seek a fresh start across the board -- including at quarterback.
Blasphemy, right? Hear me out.
While keeping Bradford and trading the No. 1 overall pick sounds attractive in theory, teams drafting lower could call the Rams' bluff. They could wait until draft day, then maneuver for the second overall choice, betting against the Rams taking another quarterback.
The Rams' 0-6 start has exposed holes throughout their roster. They need additional draft choices to restock a depth chart featuring too many
Al Harris
and
Ben Leber
types. Bradford would fetch quite a few picks from a team needing a quarterback.
Contract-wise, Luck would cost about half as much as Bradford cost, thanks to the new labor deal. When it comes to the salary cap, where there's a will, there's a way.
Under this scenario, the Rams could trade Bradford outside the division and even outside the conference. Cleveland would rank atop my list of destinations. Browns executive Mike Holmgren values quarterbacks, and he has additional picks from the draft-day trade with Atlanta. Browns coach Pat Shurmur was Bradford's coordinator in 2010, so Bradford could make a smooth transition to an offense he knows well.
It's a lot to digest, but time is on our side. We're still 182 days from the 2012 draft. The chart below shows the five teams with fewer than two victories.
September, 30, 2010
9/30/10
1:27
PM ET
Bill Parcells has been a media hermit since he took over the
Miami Dolphins
in December 2007.
He sat down for an introductory news conference and reluctantly met with reporters at an endorsement obligation for Gatorade. That was all we've heard aside from an extemporaneous comment here or there about his love for horse racing or some historical football perspective.
[+] Enlarge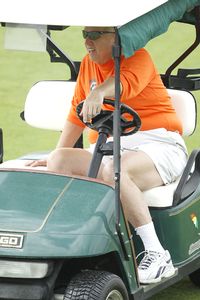 Joel Auerbach/Getty ImagesBill Parcells' contract with the Dolphins runs through 2011, but a clause in that contract allows him to leave at any time.
So it was pretty big news that
Parcells was on a conference call Thursday
with
New York Giants
reporters to talk about being inducted in their Ring of Honor at the new Meadowlands stadium.
For the first time, reporters had the chance to ask him about his future. The Dolphins announced a few days before their season opener
Parcells had stepped down as executive vice president
and turned over football operations to general manager Jeff Ireland.
Parcells has stayed on as a consultant. But what's next?
"Well, that is a good question," Parcells replied. "I am not a sit-around-the-fireplace guy. I don't know. I am not certain about it. We will see what happens when the time comes.
"I know I want to do something even if it is not day-to-day or something like that, I know I want to do something. I don't like sitting around. I like to get up and go do something. We will figure it out when the time comes."
Parcells' comments are ominous given his history as a restless football soul and the fact he can walk away from his Dolphins contract with full pay whenever the mood strikes him.
His contract with the Dolphins runs through 2011. When new owner Stephen Ross bought the team from Wayne Huizenga, Parcells negotiated a clause that will allow him to leave at any time, collect every last cent and not be prevented from working for another team.
Under Ross, the Dolphins have turned into a glitzy operation that embraces celebrity and the South Florida lifestyle as much as it does touchdowns. Ross has sold pieces of the team to Fergie, Gloria Estefan, Marc Anthony and Serena and Venus Williams. Jimmy Buffet got involved in a deal with the Dolphins last year that included stadium naming rights.
For Sunday night's home opener, the Dolphins rolled out an orange carpet for a slew of celebrities to walk past the paparazzi: Jennifer Lopez (Anthony's wife), Kim Kardashian, Enrique Iglesias, T-Pain, Anna Kournikova, Tara Reid and Helio Castroneves among them. attendees who avoided the orange carpet included Tiger Woods, Dwyane Wade and LeBron James, who, coincidentally, was the
subject of a story for which Parcells once actually called me back
.
As much as Parcells isn't a fan of the media, I'm sure even he rolled his eyes when he learned the Dolphins converted their press box into a nightclub-style suite.
Parcells is a football man. I'm sure he'd love to work for an organization that makes football the only priority and doesn't still consider Tara Reid a star.