NFL Nation:

Final Word 2010 Week 10
July, 31, 2014
Jul 31
4:59
PM ET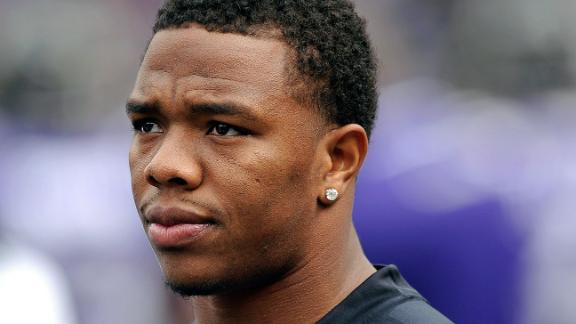 OWINGS MILLS, Md. -- In stark contrast to
Ray Rice
's awkward news conference in May, the
Baltimore Ravens
running back showed Thursday that he finally understood the weight of his actions from the alleged altercation with his then-fiancée in February.
He delivered the correct message, one the NFL failed to do last week with the two-game suspension, by not only apologizing to his wife, Janay Palmer, but also expressing a desire to become an advocate for domestic-violence causes.
Rice was compelling in his contrition, calling it the biggest mistake of his life. He stood in front of the microphone alone, without his wife standing by his side, and took full responsibility for the incident. Perhaps more importantly, Rice actually said the words "domestic violence," which weren't heard in his statement two months ago.
"My actions were inexcusable," Rice said. "That's something I have to live with the rest of my life."
Before anyone pats Rice on the back, this is what he should have said the first time when he broke his silence in May. Instead, Rice nervously fumbled through notes on his phone and apologized to team officials and his sponsors. That debacle of a news conference came across as damage control to his image.
His 17-minute news conference Thursday hit the right tones. He apologized to all women affected by domestic violence. He accepted the blame for losing the respect of fans. Rice came across as genuinely sorry.
"I let my wife down, I let my daughter down, I let my wife's parents down, I let the whole Baltimore community down," Rice said.
Rice's biggest misstep was not talking about what happened in the elevator. He was asked twice about it and declined to answer both times. His stance against domestic violence would have resonated stronger if he had explained his transgressions.
"I'll be honest: Like I said, I own my actions," Rice said. "I just don't want to keep reliving the incident. It doesn't bring any good to me. I'm just trying to move forward from it. I don't condone it. I take full responsibility for my actions. What happened that night is something that I'm going to pay for the rest of my life."
The only way Rice can move forward from this incident and show he's truly sincere is through his actions. It's not by his words. It's not by a hefty donation, which is merely a gesture. It's by proving this will remain a "one-time incident" and by supporting domestic-violence causes.
Thursday represented a small step forward for Rice. But it was an important one.
November, 12, 2010
11/12/10
4:22
PM ET
»
NFC Final Word
:
East
|
West
|
North
|
South
»
AFC
:
East
|
West
|
North
|
South
Five nuggets of knowledge about Week 10:
Chiefs return to happy place:
The
Kansas City Chiefs
are enjoying a revival in 2010. They are 5-3 at the midway point and are leading the AFC West by a half game heading into their game at Denver on Sunday. Some in the Kansas City organization believe the Chiefs' turnaround started in Denver in the final game of last season when the Chiefs hammered the Broncos, 44-24. Denver was still in the playoff hunt at the time. Kansas City running back
Jamaal Charles
had 259 yards as the Chiefs showed they could be a team to reckon with in 2010.
[+] Enlarge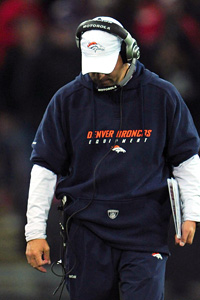 Kyle Terada/US PresswireJosh McDaniels has yet to defeat an AFC West team at home.
Can McDaniels beat an AFC West team at home?
Second-year Denver coach Josh McDaniels is feeling the heat. The Broncos, 2-6, are 4-14 since the Broncos started 6-0 under McDaniels last season. What is also alarming is Denver is 0-4 against AFC West opponents at home under McDaniels, including a 59-14 loss to Oakland. If the Chiefs knock around the Broncos on Sunday, McDaniels will be hearing even more boos than he did after the Oakland debacle.
Battle of the Colquitts:
During training camp
, as he was vying to become Denver's punter,
Britton Colquitt
said he was looking forward to the opportunity to play the Chiefs. Kansas City's punter is his older brother,
Dustin Colquitt
. The brothers are sons of former NFL punter Craig Colquitt. Britton Colquitt said it was his father's dream to have his sons punt on the same NFL field. Sunday, it will become true.
Can the Broncos score early?
One of the Broncos' biggest problems in 2010 is that they have started slowly and fallen behind quickly. Denver has scored just seven points in the first quarter this season. The key to winning in the NFL is to start fast. Denver has not been able to overcome their slow starts. If the Broncos are going to upset the Chiefs, they need to strike fast.
The return of Eddie Royal:
One of the bright spots for Denver this season is the play of third-season receiver Royal. He flourished as a rookie under Denver coach Mike Shanahan in 2008. He had 91 catches. Yet, in 2009 Royal didn't fit well in McDaniels' offense. He had just 37 catches for 345 yards. Through eight games this season, Royal has 38 catches for 427 yards. Denver has a lot of problems, but it is a good sign that Royal is a productive player again.
November, 12, 2010
11/12/10
4:18
PM ET
»
NFC Final Word
:
East
|
West
|
North
|
South
»
AFC
:
East
|
West
|
North
|
South
Five nuggets of knowledge about Week 10:
[+] Enlarge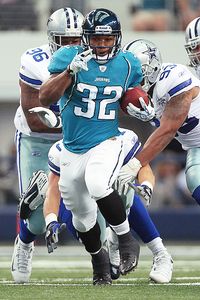 Matthew Emmons/US PresswireThe Jaguars will rely heavily on Maurice Jones-Drew against Houston.
Roll with him:
Both the Texans and Jaguars will look to their primary backs --
Arian Foster
and
Maurice Jones-Drew
, respectively -- early. It's more important for Jacksonville to gain some control over time of possession and to get a lead that will allow for MJD to run often. The Jaguars will be adjusting to playing defense without injured
Aaron Kampman
. Minus their primary pass-rush threat, the Jaguars likely will allow
Matt Schaub
more time to throw. Yes, the Texans have the league's worst pass defense. But Jacksonville's is 28th and also super-susceptible to big plays. And Houston has more big-play threats.
Old connection:
Kerry Collins
and
Randy Moss
have history, even if it's ancient history.
Vince Young
was limited Friday, and while he's technically a game-time decision it appears increasingly likely that Collins will sub for Young (ankle) on Sunday in Miami. No matter who's playing quarterback, how much of an impact can the Titans get from Moss after a week's work? And will the Dolphins' coverage immediately create space for
Chris Johnson
in the run game? That's what the team was expecting by making the move.
Jason Allen beyond special teams:
He was a late waiver claim this week, but the Texans' pass defense is struggling. Allen's likely to have a role on special teams right away in light of the loss of
Dominique Barber
. Gary Kubiak has completely backed rookie cornerback
Kareem Jackson
and I don't anticipate a change. But if
David Garrard
is getting good protection and throwing well, will the Texans stick with a troubled group or look to change something up, at least in a nickel package?
Slowing Owens:
The Colts have gotten better play from
Kelvin Hayden
recently, but their second corner and nickel corner have been question marks.
Deshea Townsend
, who's been filling in as nickel, was cut this week. The Bengals will try to keep
Terrell Owens
hot, as the Colts continue to recover from injuries in the defensive backfield.
Jacob Lacey
should be better his second week back.
Jerraud Powers
said he expects to be back.
Justin Tryon
is questionable. If it's Hayden, Powers and Lacey as the top three, Indianapolis should be able to keep things in front of them.
Minus Daniels:
The Texans will be without
Owen Daniels
(hamstring) but that doesn't mean they cannot be effective throwing to tight ends.
Joel Dreessen
and
James Casey
accounted for nine of the team's 21 catches and 105 of their 267 passing yards last week in a loss to San Diego. Houston should have Schaub keep targeting the duo and look to expand Casey's role. He's a guy that can do some damage, and they should see what he can do with increased opportunity.
November, 12, 2010
11/12/10
4:04
PM ET
By
Matt Mosley
| ESPN.com
»
NFC Final Word
:
East
|
West
|
North
|
South
»
AFC
:
East
|
West
|
North
|
South
Five nuggets of knowledge about the Week 10 games.
Will the Redskins' Cover 2 scheme work as well as it did last time they faced the Eagles?
Even before he was sandwiched at the goal line and knocked out of the game in September, Eagles quarterback
Michael Vick
was struggling to find anyone downfield against Washington. I assume the Redskins will once again try to keep everything in front of them, which could frustrate Eagles receivers
DeSean Jackson
and
Jeremy Maclin
. Vick will have to be patient against the Skins and wait for the right moments. But you know Jackson will try a double move at some point. The Skins will have a spy on Vick at all times. I just hung up the phone with Redskins outside linebacker
Lorenzo Alexander
, who made his first start of the season in the Skins' win over the Eagles in Philadelphia. He and
Brian Orakpo
have to rush "with vision," which basically means they can't simply put their heads down and race upfield. You'll see them play a little bit more under control against Vick.
[+] Enlarge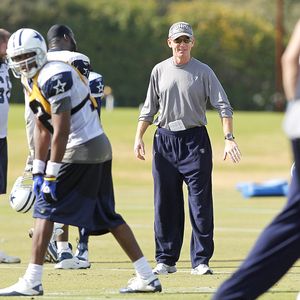 AP Photo/James D SmithWill the Cowboys be motivated to play for new head coach Jason Garrett?
Will all of Jason Garrett's changes translate to better on-field performance?
The Cowboys' new head coach has been impressive in front of his players and the media this week. And he even had his team in full pads Wednesday and brought them in earlier than usual. But we still don't know if these players will play for him. I think the Cowboys will actually keep this thing close, but it's hard to imagine a win. I do think Dallas is catching New York at a good time, and we'll talk more about that in the next "nugget."
The Giants will be missing starting left tackle/guard David Diehl and center Shaun O'Hara in this game.
Rich Seubert
will start at center again and either
Kevin Boothe
or
Mitch Petrus
will line up at left guard. My money's on Boothe, by the way.
Shawn Andrews
gets his second consecutive start at left tackle. That's looking like one of the shrewdest moves in the division by general manager Jerry Reese. The Giants will also be without starting wide receiver
Steve Smith
(partial pectoral tear), which means that
Mario Manningham
will start.
Ramses Barden
becomes the No. 3 receiver, so we'll see whether he can live up to all that potential we've heard about the past two seasons. Also keep the name
Duke Calhoun
handy during this game because he may receive some snaps at receiver as well.
Donovan McNabb has been working on that infamous two-minute drill.
Apparently Father & Son Shanahan brought one of the most complex two-minute drills in football to town. The terminology is so tough to grasp that a veteran star apparently had to hit the books over the bye week. All eyes will be on McNabb to see how he responds to being benched by Shanahan at the end of the Lions game. If he bounces back with a big game, folks will say that Shanahan motivated him. I certainly don't think McNabb will be saying that. If he gets off to a rough start, will
Rex Grossman
be ready to go? For whatever reason, Kyle Shanahan seems enamored with this guy.
Can the Cowboys' offensive line hold up against Osi Umenyiora and Justin Tuck?
I had the chance to speak to Tuck at length Thursday and he feels no sympathy for what the Cowboys are going through right now. He compares it to what the Giants endured in the second half of last season. On film, Umenyiora thinks the Cowboys offensive linemen look confused at times. You can expect to see Tuck line up on both sides at defensive end and then move inside and play at tackle. He has a lot of respect for
Jon Kitna
, but he also knows that Kitna's a sitting duck. The Giants won't admit it publicly, but I think they have a big sack number in mind. I'm talking a Cutler-like performance.
November, 12, 2010
11/12/10
4:03
PM ET
»
NFC Final Word
:
East
|
West
|
North
|
South
»
AFC
:
East
|
West
|
North
|
South
Five nuggets of knowledge about Week 10:
History on their side:
The
Chicago Bears
have won eight of their past nine home games against the
Minnesota Vikings
. Their only loss during that stretch came in 2007, and it took 224 rushing yards from Vikings tailback
Adrian Peterson
and a 54-yard field goal from
Ryan Longwell
in the final seconds to make it happen. The Vikings also haven't won a road game in more than a calendar year, going 0-7 away from the Metrodome since winning at Lambeau Field on Nov. 1, 2009. Even before you get to X's and O's, the Bears already have something on which to build.
[+] Enlarge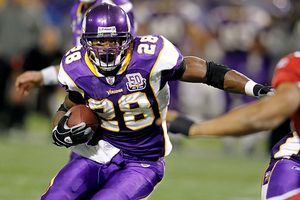 Bruce Kluckhohn/US PresswireAdrian Peterson has scored 11 touchdowns in six games against the Bears.
Ball!
The Vikings have turned the ball over 19 times this season, tied for the sixth-most in the NFL. (Most of them have been committed by quarterback
Brett Favre
, who has thrown 13 interceptions and has been credited with four lost fumbles.) The Bears, on the other hand, rank second in the NFL with 20 takeaways. That's a good combination if you're a Bears fan. Nothing can turn a game more quickly than a turnover advantage. Obviously every game is different. But as we approach this one, we can say with confidence that one of the NFL's sloppiest teams is playing one of its most opportunistic. You do the rest of the math.
Trending:
Peterson has run for more yards against the Bears (733 in six games) than any other NFL team. He also has 11 touchdowns in those games, the second-most rushing touchdowns against the Bears by one player since the 1970 NFL-AFL merger. Given Favre's turnover problems and the Bears' ball-hawking tendencies, you would expect Peterson to play a central role in this game. In three previous games at Soldier Field, Peterson has run for 224, 121 and 94 yards. The Bears are hoping that trend continues its downward direction.
Lesser of evils:
If you are a
Green Bay Packers
fan during this bye week, whom are you rooting for at Soldier Field? Do you want to see the Bears win, matching the Packers' 6-3 record but further burying the Vikings? Or do you pull for the Vikings to win, leaving the Bears a full game behind the Packers but keeping the Vikings within two games at 4-5? Here's what I would say: If you're confident in your team, you pull for the Vikings to win Sunday and assume your Packers will win Nov. 21 at the Metrodome. If you're worried about the Packers' ability to sustain over the second half, you pull for the Bears and take your chances with their difficult second-half schedule and the knowledge that the Week 17 Packers-Bears matchup will be at Lambeau Field.
Make it stop:
The
Detroit Lions
need a victory Sunday at the
Buffalo Bills
to avoid breaking the all-time NFL record for consecutive road defeats. That's right. The Lions have lost 24 consecutive games away from Ford Field, dating back to 2007. That figure ties the Lions' previous NFL record. You would like to consider winning a reasonable task when taking on an 0-8 team, but keep in mind that the Bills haven't exactly been pushovers this season, especially recently. In fact, they have tied an NFL record by losing three consecutive games by three points or fewer. That's about as close as you can be, right?
November, 12, 2010
11/12/10
4:03
PM ET
»
NFC Final Word
:
East
|
West
|
North
|
South
»
AFC
:
East
|
West
|
North
|
South
Five nuggets of knowledge about Week 10:
Sam Bradford hits the road.
The Rams' rookie quarterback has thrown more touchdowns than interceptions in two of his three road games this season. He has shown an ability to play well for stretches away from the Edward Jones Dome. Bradford didn't play well enough in the second halves of road defeats against Oakland and Tampa Bay, however. The Rams held halftime leads in both games. Bradford probably must finish stronger for the Rams to beat the
San Francisco 49ers
and claim their first road victory of the season.
Matt Hasselbeck's opportunity.
Hasselbeck's return to the lineup at quarterback after a concussion-induced absence gives Seattle the edge at quarterback against
Derek Anderson
and the Cardinals in Week 10. Although the Cardinals' shaky play this season does give Hasselbeck a fresh opportunity, his passer ratings at Arizona have fallen precipitously in his past three games there (133.5 in 2006, 94.8 in 2007 and 59.4 last season). The Seahawks haven't won in Arizona since their 2005 Super Bowl season. They have never won at University of Phoenix Stadium.
[+] Enlarge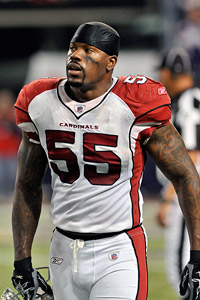 AP Photo/Jim MoneArizona pass-rusher Joey Porter could be a factor against Seattle.
Getting after Bradford.
The 49ers' pass-rush put the hurt on Denver's
Kyle Orton
. Outside linebackers
Manny Lawson
and
Ahmad Brooks
incurred
$22,500 in NFL fines
for hits on the Broncos' quarterback. Bradford enters the crosshairs in Week 10. Bradford has limited experience against 3-4 defenses. The last time he faced one, San Diego put some hard hits on him. The league fined the Chargers'
Antwan Barnes
for one of those hits. Chargers linebacker
Kevin Burnett
escaped punishment for a helmet-to-helmet hit because Bradford was scrambling outside the pocket.
Appreciating greatness.
The NFC West has invited its share of criticism as the only division without a winning team entering Week 10. The Rams'
Steven Jackson
and the 49ers'
Frank Gore
do offer some redemption. Both run with heart, toughness and skill. They're fearless. They punish defenders. The AFC South's
Arian Foster
and
Chris Johnson
form the top 1-2 punch for any division, with 1,585 yards. The AFC West's
Darren McFadden
and
Jamaal Charles
have 1,476 yards. Jackson and Gore aren't far behind. They've combined for 1,367 yards, matching the AFC North's
Rashard Mendenhall
and
Ray Rice
among dynamic divisional duos.
Porter and the reporters.
The Seahawks went out of their way to stop the
New York Giants
'
Osi Umenyiora
from getting after the quarterback last week. Cardinals pass-rusher
Joey Porter
might not draw as much attention, particularly now that Seattle has better depth at left tackle (even if
Russell Okung
misses another game). Porter had two sacks against Minnesota in Week 9. He ribbed reporters for suddenly paying attention to him, suggesting he's been consistent even without the sacks. Either way, he's someone to watch Sunday.
November, 12, 2010
11/12/10
4:02
PM ET
»
NFC Final Word
:
East
|
West
|
North
|
South
»
AFC
:
East
|
West
|
North
|
South
Five nuggets of knowledge about Week 10.
[+] Enlarge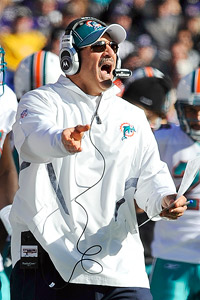 AP Photo/Gail BurtonCoach Tony Sparano turned to Chad Pennington this week in hopes of jump-starting a sputtering pass game.
Sunday couldn't be any more critical for the Dolphins.
They went into the season with Super Bowl aspirations. At the halfway point they're still looking for their first home victory. They're in third place in the AFC East. They benched their supposed franchise quarterback this week in hopes of finding a spark, replacing
Chad Henne
with
Chad Pennington
. That's the sign of a desperate team, a move that likely will define the season for head coach Tony Sparano. Dolphins owner Stephen Ross, on the same June day he predicted his team would play in the Super Bowl, professed that Henne -- his fellow Michigan alum -- would be go down as the best quarterback in Dolphins history. Pennington will be playing for the first time since suffering a separated throwing shoulder 14 months ago. If the Dolphins lose -- or, worse yet, if Pennington has a bad game -- the Dolphins will hit crisis territory. And Bill Parcells' office has been empty for weeks ...
This would be an embarrassing week for Jets receiver Braylon Edwards to have a relapse.
Edwards is notorious for dropping catchable passes. But through the first half of the season, Edwards has only one drop. The second half of his season will begin in Cleveland, the battleground for what he calls his "personal war" after four-plus miserable seasons with the Browns. "I remember the writers. I remember the fans. I remember the coaches. I remember the people in the organization," Edwards said. "I remember everything and everybody there that had something to say when 17 exited the doors. ... For the people that don't like me, I share the same feeling. I don't like them as well. I could give you a B.S. answer, but the short and skinny of it is that I'm going back there to handle business."
Tom Brady's injured foot better be healthy enough to run away from James Harrison.
Brady didn't practice Wednesday and was limited Thursday with a foot problem. He was spotted in the Patriots locker room Friday and told reporters he was ready for the Steelers. They are tied for fifth in the NFL with 24 sacks. Harrison has seven of them. Brady was sacked just once the past two weeks, but in the three games before that he was dumped 10 times.
The Bills will record their first victory Sunday.
The Bills are playing in Ralph Wilson Stadium for the first time in five weeks and are facing opponents almost as hapless as they are. The Lions are 2-6 and have lost quarterback
Matthew Stafford
again. The Bills have performed very well the past three weeks, losing to the Ravens and Chiefs in overtime and then succumbing to the Bears despite a late lead. This is the week I think the Bills put it all together and erase the zero from their win column. Ticker-tape parade in Niagara Square!
New England's defense will face its toughest test of the year Sunday.
The Patriots are coming off an embarrassing loss in which the Browns trampled them. Based on the highlights, you'd think
Peyton Hillis
broke some of Jim Brown's records. The Patriots surrendered four rushing touchdowns. They'll meet another strong running team Sunday, but what will make defending the Steelers particularly challenging is a formidable passing game.
Ben Roethlisberger
is getting better every week. He and his receiving corps are a tad better than
Colt McCoy
and the Browns' targets. If the Patriots somehow can rebound and win Sunday, then you'll see them return to the top of
ESPN.com's Power Rankings
.
November, 12, 2010
11/12/10
4:00
PM ET
»
NFC Final Word
:
East
|
West
|
North
|
South
»
AFC
:
East
|
West
|
North
|
South
Five nuggets of knowledge about Week 10:
[+] Enlarge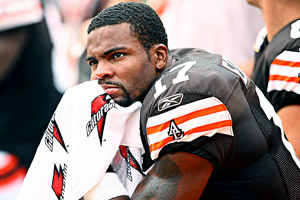 Jamie Mullen/US PresswireExpect Jets receiver Braylon Edwards to be excited to play in Cleveland, where his career began.
Braylon Edwards returns:
The
Cleveland Browns
should expect a motivated Braylon Edwards when they host the
New York Jets
Sunday. As a former first-round pick of the Browns, Edwards developed a reputation as a "bright-lights player" during his tenure in Cleveland. Despite his inconsistency, when the spotlight was on, Edwards usually was at his best. Although this isn't a prime-time game, this is a big one for Edwards, who wants revenge after being traded by the Browns. He also felt mistreated by Cleveland fans. The Browns should expect his best effort. Edwards has 25 receptions for 453 yards and five touchdowns with the Jets.
Fourth-quarter woes:
If the game between the
Pittsburgh Steelers
and
New England Patriots
comes down to the final quarter, the advantage could be for New England. According to ESPN's Stats and Information, Pittsburgh has the NFL's No. 2 defense in the first three quarters, but is ranked last in yards allowed in the fourth quarter. Last week the Steelers led the Bengals, 27-7, on
"Monday Night Football."
Cincinnati scored 14 unanswered points in the fourth quarter, but an incomplete pass to rookie
Jordan Shipley
ended a late rally. Pittsburgh's late struggles on defense date to last season.
The Palmer rollercoaster:
Bengals quarterback
Carson Palmer
has yet to put consecutive quality starts together. He will try to accomplish that feat against the
Indianapolis Colts
. In three previous outings this season when Palmer had a passer rating of 80.0 or higher, his average rating was an abysmal 60.6 in the following game. Palmer posted a respectable 88.7 passer rating against Pittsburgh and will need to perform well again to have a chance against the
Peyton Manning
-led Colts.
Getting Ocho involved:
Bengals Pro Bowl receiver
Chad Ochocinco
blew up on national television last week after catching just one pass for 15 yards against Pittsburgh.
His frustration boiled
over toward Palmer, and Ochocinco was briefly benched. To avoid this from happening again, Cincinnati's coaching staff must find a way to get Ochocinco involved. Yes, Ochocinco is getting most of the coverage, which has freed up
Terrell Owens
to have a big season. But little wrinkles such as quick outs, hitches and screens are creative ways the Bengals can get Ochocinco the football.
Extended break:
The
Baltimore Ravens
, who lost to Atlanta on Thursday, have extra time to rest and prepare for their next game, against the
Carolina Panthers
(1-7) on Nov. 21. It's almost another bye week for Baltimore, which had just three days to prepare for the
Falcons
. The Ravens
have some issues to correct
, particularly in the secondary, where cornerbacks
Fabian Washington
,
Lardarius Webb
,
Josh Wilson
and
Chris Carr
had bad moments against Atlanta. I'm curious to see what corrections and improvements Baltimore makes with its pass defense.
November, 12, 2010
11/12/10
4:00
PM ET
»
NFC Final Word
:
East
|
West
|
North
|
South
»
AFC
:
East
|
West
|
North
|
South
Three nuggets of knowledge about Week 10 (we're keeping it short because there's only one NFC South game Sunday):
[+] Enlarge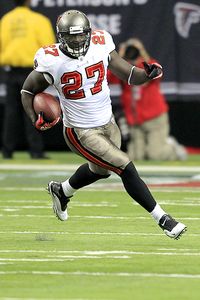 AP Photo/David GoldmanThe Bucs might give Carolina a big dose of running back LeGarrette Blount on Sunday.
Homecoming game.
With the
Carolina Panthers
coming to town, the
Tampa Bay Buccaneers
shouldn't have to rely on any fourth-quarter heroics from quarterback
Josh Freeman
. The Bucs should have this game under control before that. Carolina has been bad and is getting worse. After a tough loss in Atlanta last week, the Bucs must capitalize on a soft spot in their schedule if they really are going to be a playoff contender.
Fantasy advice.
Speaking of the Bucs getting ahead early, this would be a good week to have
LeGarrette Blount
on your fantasy football team. Tampa Bay should be looking to run the clock if it gets ahead. Heck, given how bad Carolina's run defense has been and that the Panthers have had to shake up their linebackers, the Bucs could be looking to run right from the start. Blount's going to get most of the carries.
Armanti time?
Carolina fans are screaming for the Panthers to take a look at rookie
Armanti Edwards
at quarterback. Although Edwards was drafted as a receiver, the screams got louder this week when coach John Fox said Edwards would be the third quarterback behind fellow rookies
Jimmy Clausen
and
Tony Pike
. But I'm not buying into the idea that Fox is going to suddenly make a drastic change to his entire offense, no matter how bad things have been. If anything, the Panthers might use some sort of Wildcat package with Edwards at quarterback for a few plays. Like it matters, huh?