NFL Nation:

Final Word 2010 Week 12
November, 26, 2010
11/26/10
4:21
PM ET
»
NFC Final Word
:
East
|
West
|
North
|
South
»
AFC
:
East
|
West
|
North
|
South
Five nuggets of knowledge about Week 12:
[+] Enlarge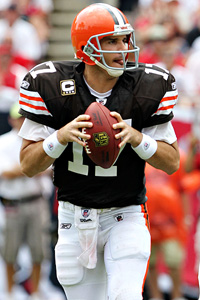 Kim Klement/US PresswireJake Delhomme will start for the Browns for the first time since Week 1.
Back to Delhomme:
Did the
Cleveland Browns
choose the right quarterback? Although the statistics say otherwise, Browns coach Eric Mangini believes veteran
Jake Delhomme
gives them the best chance to win Sunday against the
Carolina Panthers
. With rookie quarterback
Colt McCoy
out with an ankle injury, Mangini likes Delhomme's familiarity against his former team over backup
Seneca Wallace
. But Delhomme hasn't played well in limited time this season. He's thrown one touchdown, four interceptions and has a 48.2 passer rating. Wallace, on the other hand, has thrown four touchdowns, two interceptions and has a 88.5 passer rating.
Ganging up on Hillis:
Browns tailback
Peyton Hillis
is getting a lot of attention for the first time in his career. Hillis has established himself as Cleveland's primary weapon, and defenses are doing everything to take him away, which includes crowding the line of scrimmage. Last week Hillis averaged just 2.3 yards per carry in a loss to the
Jacksonville Jaguars
. After a fast start, he's surpassed 100 yards rushing only once in his past six games. The Browns have to find other players to step up offensively and take pressure off Hillis in order to score more points and consistently win games.
Stopping the run:
The
Baltimore Ravens
have had uncharacteristic lapses in their run defense. There was a time when the Ravens would go seasons without allowing a 100-yard rusher. But this year they've already allowed two, including Panthers backup tailback
Mike Goodson
, who rushed for 120 yards against Baltimore last week. Baltimore faces another stiff challenge against
Tampa Bay Buccaneers
running back
LeGarrette Blount
, who is one of the NFL's hottest rookies. The Bucs will try to control the line of scrimmage and are 12th in the league in rushing.
Beware of the pass:
Buffalo Bills
quarterback
Ryan Fitzpatrick
isn't a household name, but he's been one of the most streaky quarterbacks in the NFL this season. That could be a problem for the
Pittsburgh Steelers
, who have issues defending the pass. Fitzpatrick caught fire last week against the
Cincinnati Bengals
and torched them for four touchdowns. He has 18 touchdowns passes on the season and isn't afraid to take shots downfield. One of the few ways the Bills could pull the upset would be with big plays against Pittsburgh's secondary. The Steelers need to get pressure on Fitzpatrick and keep Buffalo's receivers in front of them.
Ugly finish:
The Bengals (2-9) lost their eighth straight game Thursday against the
New York Jets
. Looking at their schedule, Cincinnati could end up with only two or three wins this year. Of the five remaining games, the Bengals (2-9) face just one team currently with a losing record: Cleveland (3-7). That's the only game Cincinnati may be favored in at home. Otherwise, it would take a big upset by the Bengals against teams like the
New Orleans Saints
(8-3), Ravens (7-3) and Steelers (7-3). The good news is a 2-14 or 3-11 record should land the Bengals in the top three of next year's NFL draft, where they will be able to fill a major need.
November, 26, 2010
11/26/10
4:00
PM ET
By
Matt Mosley
| ESPN.com
»
NFC Final Word
:
East
|
West
|
North
|
South
»
AFC
:
East
|
West
|
North
|
South
Five nuggets of knowledge about Week 12:
[+] Enlarge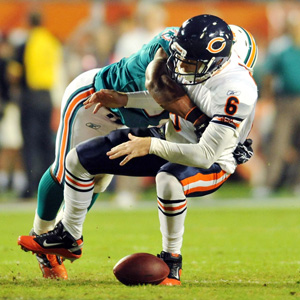 Steve Mitchell/US PresswireBears QB Jay Cutler could be susceptible to the strip sack against the Eagles defense.
The Eagles need to continue their remarkable turnover margin.
When I last checked the Eagles were plus-15 in turnover margin, which leads the league. But it looks like cornerback
Asante Samuel
(7 INTs) will be a game-time decision with an MCL sprain.
Chicago Bears
quarterback
Jay Cutler
has thrown seven interceptions over the past four games and he doesn't always protect the ball in the pocket. I think this is a game where defensive ends
Trent Cole
and
Brandon Graham
can be looking for the strip sack when they get close to Cutler. The Bears are last in the league in allowing sacks per pass attempt. Cutler gets sacked about once every eight times he drops back. And I don't see that changing Sunday afternoon in Chicago.
The Eagles have the 26th-best punt coverage unit in the league.
And that's not a good thing when you're facing the explosive
Devin Hester
, who has two touchdown returns this season.
Sav Rocca
has done a much better job in recent weeks of pinning teams inside their 20-yard line. But with Hester, Rocca will have to be a little more creative and think about angling the ball away from him. Eagles special-teams coach Bobby April arrived to much fanfare, but he has been pretty pedestrian to this point. This is a game where his unit needs to make some plays.
Welcome back to the starting lineup, Brandon Jacobs.
New York Giants
coach Tom Coughlin benched the talented
Ahmad Bradshaw
because he has lost five fumbles and hasn't done enough to address the issue. I don't think Jacobs can channel his 2007 form, but I do think he's capable of running downhill on the Jaguars. With the Giants losing starting receivers on a weekly basis, they'll need to lean on their running game Sunday. I'd look for Bradshaw to come off the bench and do something special. In fact, I'll be surprised if he doesn't go for more than 100 yards in this game.
It's time to unleash Keiland Williams on the sad-sack Vikings.
Mike Shanahan made the curious decision to enter training camp with
Clinton Portis
,
Willie Parker
and
Larry Johnson
as his three running backs. Now, he's having to scramble to find replacements on a weekly basis. Portis probably has played his last down with the Skins, so it's time for Williams to show what he has. With
Ryan Torain
missing another game, Williams will have to be the workhorse against the Vikings. He started only three games at LSU during his career, so he's not used to being the feature back. But he can make plays in the passing game, and that's something this team desperately needs. The Skins will encounter a Vikings team playing its first game for interim head coach Leslie Frazier. As we've seen with the Cowboys, a coaching change can have a dramatic effect on a team's performance level. The Skins need to survive that early surge from the Vikings. If
Brett Favre
tosses a couple of early interceptions, that surge will vanish.
This should be a big game for the Giants' pass rush.
Jaguars left tackle
Eugene Monroe
will miss this game with a concussion, and it's not as if Jacksonville has a lot of other options. The Giants will recognize their former fourth-round pick
Guy Whimper
if he steps in for Monroe. The Jaguars have given up 27 sacks this season even when Monroe has been in the lineup. I'd look for Giants defensive coordinator Perry Fewell to take full advantage of the Jaguars' injury situation and try to force the issue on the right side. The Jags probably will counter by using tight end
Marcedes Lewis
as a blocker, and that will take a significant weapon out of play.
November, 26, 2010
11/26/10
4:00
PM ET
»
NFC Final Word
:
East
|
West
|
North
|
South
»
AFC
:
East
|
West
|
North
|
South
Five nuggets of knowledge about Week 12:
[+] Enlarge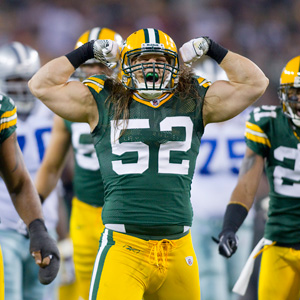 AP Photo/David StlukaIf Clay Matthews and the Packers' pass rush can disrupt Matt Ryan, Green Bay will have a better chance to win.
Atlanta's barrier:
It's well-known that
Atlanta Falcons
quarterback
Matt Ryan
is 18-1 at home in his career. But no matter where he plays, the Falcons always protect him. They've allowed 15 sacks this season, tied for the third-fewest in the NFL. They gave up the eighth-fewest sacks in the league last season and the fifth-fewest in 2008. That provides the crux for arguably the most critical matchup Sunday at the Georgia Dome. The
Green Bay Packers
have 29 sacks this season, tied for fourth-most in the NFL, and are doing so despite sending four or fewer rushers on 68.9 percent of passing plays this season. Linebacker
Clay Matthews
has seven sacks when the Packers send fewer than five pass-rushers. If they can disrupt Ryan the way they have other quarterbacks this season, the Packers have an excellent chance to win.
Never too early:
The Falcons are the only two-loss team in the NFC and would be an awfully difficult playoff foe if they get home-field advantage in the playoffs. The Packers first need to worry about the
Chicago Bears
in their race for the NFC North title, but there's no denying this game could play a huge role in determining playoff seeding. The Packers have won six of their past nine road games and typically have played well away from Lambeau Field under coach Mike McCarthy, but home playoff games are always the preference. Packers quarterback
Aaron Rodgers
said
: "I've played in this league long enough to realize you don't really need to start talking about the postseason until December football. But if you take a step back and realize we've got six games left, these guys are a game ahead of us, and the other teams that are chasing them. You don't really want to fall two games plus a tiebreaker behind the Falcons if you start thinking about home-field advantage in the playoffs, should we be fortunate enough to get there."
Vick dilemma:
The Chicago Bears have had an excellent four-man pass rush this season, but they haven't faced a quarterback like the
Philadelphia Eagles
'
Michael Vick
. The general consensus always has been to do whatever it takes to keep Vick in the pocket. This year, he leads the NFL with 218 rushing yards on 22 scrambles. But he also has been the league's best passer inside the pocket, according to ESPN Stats & Information. He has a 114.3 passer rating on passes thrown after standard dropbacks, but that figure drops to 83.5 -- pulled down by a 51.6 percent completion percentage -- when Vick throws on the run. So if you're the Bears, do you try to flush Vick from the pocket or hope you can disrupt him before he throws from inside it?
Keeping up:
The Eagles are scoring 28.4 points per game, second-best in the NFL this season. The Bears are giving up 14.6 points per game, tied with the Packers for best in the league. You would like to say that defense trumps offense, but the Bears' offense better make sure it capitalizes on its opportunities just in case. Quarterback
Jay Cutler
ranks No. 31 in the NFL in red zone passing (83.8 passer rating), and has largely limited himself to two targets in those situations: Tight end
Greg Olsen
and receiver
Earl Bennett
. Olsen and Bennett have been targeted on 21 of Cutler's 38 red zone attempts. Olsen has three scores and Bennett has one. That relative inefficiency hasn't mattered against some of the inferior teams on the Bears' early schedule, but they will have to be much more efficient, and possibly pull in a few more red zone options, against the Eagles.
Frazier factor:
Interim
Minnesota Vikings
coach Leslie Frazier has a tough job: Reversing a steep attitude decline within his team's locker room. The Vikings have more than enough talent to defeat the
Washington Redskins
, especially a team that won't have running back
Ryan Torain
or safety
LaRon Landry
because of injuries. Frazier is well-liked and respected by Vikings players, but it will be up to them -- not him -- if they decide to rally behind him. An interim coach can't effect much in the way of schematic changes, and Frazier has said he is not considering any personnel disruptions. Sunday will mark the beginning of a referendum on the character of the players on this roster as much as it is on Frazier's coaching acumen.
November, 26, 2010
11/26/10
4:00
PM ET
»
NFC Final Word
:
East
|
West
|
North
|
South
»
AFC
:
East
|
West
|
North
|
South
Five nuggets of knowledge about Week 12:
[+] Enlarge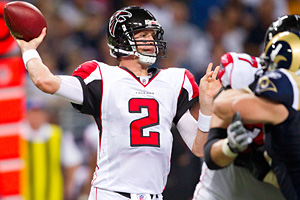 Dilip Vishwanat/Getty ImagesMatt Ryan and the Falcons have a chance to add a quality win to their resume against Green Bay.
Crunch time.
We're going to find out a lot about the Falcons over the next week or so. Nobody has a better record than Atlanta, but there are plenty of questions about this team. Although the Falcons have won big games against New Orleans and Baltimore, they also have lost big games to Philadelphia and Pittsburgh. You can't truly be considered a Super Bowl contender until you show you can consistently win big games. The Falcons will get that chance now as they play host to Green Bay on Sunday and travel to Tampa next week.
Testing the defense.
The defense will be the key for Atlanta as the Falcons play the Packers. At times, Atlanta's defense has looked very good and the additions of cornerback
Dunta Robinson
and linebacker
Sean Weatherspoon
have given this unit a faster, more aggressive look. But Weatherspoon and Robinson each missed some time with injuries, and there have been times when this defense hasn't looked all that different from the past two years. Weatherspoon and Robinson are healthy now and that's encouraging. But we're about to find out how good the Atlanta defense really can be as it goes against a good Green Bay offense.
Respect time
. Although the Buccaneers are a surprising 7-3, their fans don't feel as if the team gets enough respect nationally. There might be a reason for that. Tampa Bay's wins haven't come against very good teams. That's not the Bucs' fault. But they can shed the image by going into Baltimore and winning against the Ravens.
Defense rising.
Speaking of Tampa Bay and the soft schedule, the Bucs went out to San Francisco last Sunday and shutout the 49ers. Although San Francisco is a bad team, a shutout in the NFL is still a major accomplishment, and it could give the Tampa Bay defense some confidence to build on. The Bucs had been winning mostly with offense this year, but the defense has shown big improvement the past few weeks. Rookie defensive tackle
Gerald McCoy
is the major reason for that. He started off slowly, but is starting to show some glimpses of how good he can be.
Facing the past
. As bad as this season has been for the
Carolina Panthers
, it might be about to get worse. The Panthers will have to face
Jake Delhomme
when they play the
Cleveland Browns
. Delhomme was Carolina's long-time quarterback and was released after last season. Carolina has struggled mightily at quarterback this season. Facing Delhomme is going to provide some fans with a reminder of what it was like when the Panthers had steady quarterback play. But don't get too caught up in the nostalgia. Delhomme did some nice things in his Carolina days, but his last year there was disastrous. Things wouldn't be much different if Delhomme had stayed.
November, 26, 2010
11/26/10
4:00
PM ET
»
NFC Final Word
:
East
|
West
|
North
|
South
»
AFC
:
East
|
West
|
North
|
South
Five nuggets of knowledge about Week 12:
[+] Enlarge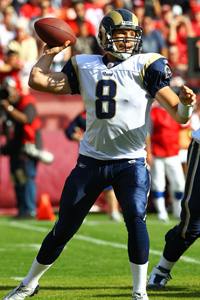 AP Photo/Kevin TerrellSam Bradford is still searching for his first road win as an NFL starter.
Sam Bradford's road opportunity.
The
St. Louis Rams
haven't won a road game all season. They've lost twice at home. The math is simple. The Rams must win twice on the road to reach .500 and at least once on the road, most likely, to win the NFC West title. They'll be facing a
Denver Broncos
defense that has allowed 20 touchdowns and a 100.8 rating to opposing passers. Bradford has three touchdowns and no interceptions in his past two road games. The Rams lost them by a combined four points. Time for a breakthrough? Denver is one of 11 teams with a losing record at home (2-3).
Bright young safeties.
The Kansas City-Seattle game features rookie safeties drafted among the first 14 overall choices. These guys deserve our attention Sunday. The Seahawks'
Earl Thomas
has five interceptions, having picked off
Philip Rivers
(twice), Bradford and
Drew Brees
. The Chiefs'
Eric Berry
had two sacks and two interceptions during a three-game stretch ending in Week 9. Who stands out to Seattle quarterback
Matt Hasselbeck
when he watches the Chiefs' defense? Hasselbeck: "Eric Berry. He's sort of their Earl Thomas. He's a very young free safety that can cover like a corner, he can play free safety, and as a quarterback that's the guy that you really have to be aware of. ... He's dangerous."
Walking the walk on Monday night.
The
Arizona Cardinals
and
San Francisco 49ers
have some big names. Some were high draft choices.
Larry Fitzgerald
,
Adrian Wilson
,
Darnell Dockett
,
Joey Porter
,
Frank Gore
,
Vernon Davis
,
Patrick Willis
,
Michael Crabtree
, etc. Which ones will show up on a national stage Monday night? Gore's the one to watch. He has 167, 112 and 99 yards rushing in his past three Monday night games (two against Arizona). Fitzgerald surprisingly hasn't finished a Monday night game with more than 46 yards receiving. Ex-Card
Anquan Boldin
(136) and current No. 2 wideout
Steve Breaston
(124) own the Cardinals' highest totals for receiving yardage on Monday nights
since 2000
.
Troy Smith the football eater.
The 49ers' quarterback has taken 11 sacks in two games featuring 59 total pass attempts. That's too many. Former starter
Alex Smith
took 13 sacks in seven starts, including six sacks in his final four-plus games (spanning 131 attempts). Line issues are partly to blame. Left tackle
Joe Staley
played hurt for stretches against St. Louis and missed the Tampa Bay game entirely. Still, Troy Smith has held the ball too long. That could be a problem on the road against an Arizona defense with some talented pass-rushers in Dockett, Porter and Wilson.
Where did John Carlson go?
Seattle's tight end made an important third-down catch as a bailout option against New Orleans last week, but overall, he hasn't factored much into the receiving game. Carlson has been spending time in the backfield as a lead blocker while fullback
Michael Robinson
recovers from injury. He has sometimes been needed to help in pass protection. And with 6-foot-5 receiver
Mike Williams
developing into a go-to target on third down, Seattle hasn't been hurting for a big target in the passing game. Twenty-five NFL tight ends have more receptions than Carlson, who has 25 and is on pace for a career-low 40 (down from 51 last season and 55 in 2008).
November, 26, 2010
11/26/10
4:00
PM ET
»
NFC Final Word
:
East
|
West
|
North
|
South
»
AFC
:
East
|
West
|
North
|
South
Five nuggets of knowledge about Week 12:
[+] Enlarge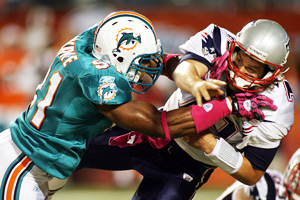 Marc Serota/Getty ImagesMiami's Cameron Wake will have a chance to add to his 9.5 sacks against Oakland's weak protection.
Cameron Wake is hitting a key stop on the Pro Bowl campaign trail.
The Dolphins' playoff hopes virtually have been extinguished, and their offense remains a mess with only six games to play. But outside linebacker Cameron Wake's breakout season will continue against a team that surrenders a lot of sacks. The Raiders rank second in sacks per pass play. They've given up 32. Wake ranks second with 9.5 sacks and should have plenty of opportunities to add to his total.
The Jets and Patriots won, setting up the year's biggest regular-season game.
With victories on Thanksgiving, the AFC East leaders each won a third game in 11 days, improving their records to 9-2 for their Monday night showdown in Week 13. Pardon me if I'm already looking past this weekend's games and fixating on the Jets' visit to Foxborough. The Jets are the NFL's last unbeaten team on the road.
Tom Brady
has won 25 straight home games and needs one more to break
Brett Favre
's record. No matter how the game unfolds, it probably will decide the division championship.
Bills fans officially can get excited about the offense if it does well Sunday.
The Bills' offense has generated some fun since
Ryan Fitzpatrick
took over at quarterback in Week 3. They scored 30 points against the Patriots, 34 against the Ravens and erupted for 49 points last week against the Bengals. Fitzpatrick is on pace to have a season that compares with the best in club history. Wide receiver
Steve Johnson
is approaching the season record for touchdown receptions. They'll face a Steelers defense that ranks fifth in total defense going into Week 12, first in run defense, second in sacks and fifth in third-down efficiency. The Steelers do rank 22nd in pass defense, but sixth in yards allowed per attempt.
This could be the weekend the Dolphins' run game finds some traction.
I emphasize the word "could" because their Week 11 game seemed
tailor-made for pounding the ball, yet the Dolphins refused
. The Dolphins went into that Thursday night game against the Bears with their third-string quarterback, just four days to get him prepared and
Brandon Marshall
out for most of the second half with a hamstring injury. But
Ronnie Brown
and
Ricky Williams
ran just six times for 11 yards. The Dolphins might be without Marshall against the Raiders, who happen to rank 25th in run defense and 27th in yards allowed per attempt. We'll see whether the Dolphins try to exploit that.
New England's defense is getting turnovers but still yielding too much yardage.
The Patriots have epitomized the bend-but-don't-break philosophy. They've collected five interceptions over the past two weeks. Those stops have made a huge difference in mitigating the real estate they're allowing. The Patriots went into Thanksgiving ranked 30th in total defense. The Lions were ranked 19th in total offense but amassed 406 yards, 69 yards above their average.
November, 26, 2010
11/26/10
4:00
PM ET
»
NFC Final Word
:
East
|
West
|
North
|
South
»
AFC
:
East
|
West
|
North
|
South
Five nuggets of knowledge about Week 12:
Heavy heat:
The Chargers' pass rush has produced a league-best 32 sacks. Peyton Manning's been great at getting rid of the ball, but against a top rushing group there won't often be a lot of time for things to develop downfield for him. And it appears he will still be missing a top piece of his pass protection, because running back
Joseph Addai
(neck) is doing only non-contact work in practices this week. The Colts can be super-effective with the short and quick passing game, but if the Chargers can find a big play against it, they could throw Sunday night's game out of whack. As for deep stuff, Manning has a passer rating of 61.8, and six of his seven interceptions are on balls thrown 15 yards or longer.
[+] Enlarge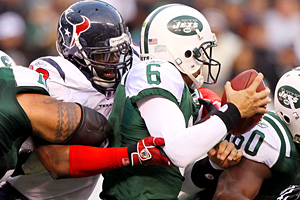 Jim McIsaac/Getty ImagesTexans defensive end Mario Williams will be on the mind of Titans rookie QB Rusty Smith.
Watch Williams early:
Titans rookie quarterback
Rusty Smith
has drawn a favorable matchup here, going against the terrible Texans' pass defense. The Texans simply can't afford to let Smith find any sort of comfort level early. The best hope for crushing the chance of any building confidence is for
Mario Williams
to introduce himself with a crushing hit. Deliver a jarring blow early, and Smith might be worrying about the next one for the rest of the game. Allow for good protection early by
Michael Roos
and the Titans' line, and you allow Smith to scan downfield and find someone, inevitably, running open.
Protecting Garrard:
The Jaguars have allowed 24 sacks this season. The Giants have recorded 27. If Jacksonville's offensive line doesn't pass protect well, the Jaguars will be in a lot of trouble.
Greg Jones
and
Marcedes Lewis
will need to play big roles. It's a big day for the backups. Either
Kevin Haslam
or
Guy Whimper
will play for
Eugene Monroe
at left tackle.
Jordan Black
has been the right tackle since
Eben Britton
went down and will see a lot of
Justin Tuck
. Fair or not, this game will do a lot for the national perception of the Jaguars. The Giants get as much coverage as anyone in the league and the Jaguars the least. If the Jaguars play well, a lot of people have no choice but to talk about it.
Twelve:
At 6-4, the Colts need to win the remainder of their regular-season games to keep their streak of 12-win seasons alive. They've won at least a dozen games in seven consecutive years and have quite a lead on the second best streak (Dallas did it four times from 1992-1995). To keep the potential of the streak alive, and more importantly to assure the Colts remain in first place after the weekend, they have to break through against a team that's been a serious problem recently. Since 2005, San Diego has fared better against Indianapolis than any other team, with a 4-1 record against the Colts, including the playoffs.
Johnson and Foster:
The Titans are sure to lean heavily on
Chris Johnson
in Smith's debut. If the pass game can be used to supplement a strong run effort, Tennessee won't have to ask Smith to do too much. On the other side, the Texans have not played their best in the first half of games. The route to faring better there might be getting
Arian Foster
the ball more. He's often looked like the best player on the field for Houston, but the Texans have struggled to find the right mix on offense, leaving themselves in position where they've had to mount some serious second-half comebacks.
November, 26, 2010
11/26/10
4:00
PM ET
»
NFC Final Word
:
East
|
West
|
North
|
South
»
AFC
:
East
|
West
|
North
|
South
Five nuggets of knowledge about Week 12:
[+] Enlarge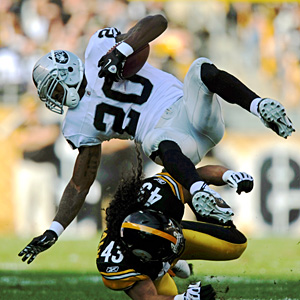 Jason Bridge/US PresswireThe Pittsburgh Steelers limited Darren McFadden to just 14 yards on 10 carries.
Raiders need to get running again:
It is clear the Raiders' best chance of winning is on the ground. Oakland, which is ranked second in the NFL in rushing yards per game behind Kansas City, was stuffed on the ground in a 32-point loss at Pittsburgh.
Darren McFadden
, who was leading the NFL in per game yardage average, had just 14 yards on 10 carries. Oakland and McFadden have to find a way to get the ground attack going against visiting Miami. According to ESPN Stats & Information, Oakland is second in the NFL with 14 runs of 20-plus yards. McFadden has eight runs of 20-plus yards himself. A key for the Raiders is re-establishing the inside running game. It led the NFL with a 5.5 per carry average on inside runs. However, in Pittsburgh, the Raiders averaged just 2.0 yards per carry on inside runs. It seemed to stifle the entire offense.
What could have been:
Steve Spagnuolo will see a very changed Denver Broncos team Sunday when he visits for the first time since he interviewed for the head-coaching job in January 2009 after Mike Shanahan was fired. Spagnuolo was a runner-up for the Denver job, along with Tampa Bay coach Raheem Morris and Minnesota interim coach Leslie Frazier. The job went to then-New England offensive coordinator Josh McDaniels. Spagnuolo, who was the Giants' defensive coordinator and was credited with stopping McDaniels' offense in the Giants' stunning Super Bowl win in 2008, soon became the head man in St. Louis. The attraction of a defensive coach like Spagnuolo in Denver was that he might improve the Broncos' weak spot and keep the same offense that was atop of the NFL under Shanahan. Instead, Denver went with a young offensive mind in McDaniels. In his second season, McDaniels has altered the team both offensively and defensively. McDaniels is 5-15 after starting 6-0 last season. There's no guarantee that Spagnuolo would have fared better in Denver than McDaniels has, but I'm sure the roster would be extremely different than it is now starting with quarterback
Jay Cutler
, who was shipped to Chicago after feuding with McDaniels.
The Brothers Turner:
I don't like our chances of seeing San Diego coach Nov Turner dressing up like his brother, Ron, and making fun of him in anticipation of the Turner family reunion Sunday in Indianapolis, as the Jets' Rex Ryan did before playing Cleveland and his brother, Rob, earlier this month. But I'm sure the game means as much to the Turner brothers as it did to the more high-profile Ryans. Ron Turner is in his first season as Indianapolis' receivers coach. He was previously the Bears' offensive coordinator.
Todd Haley is Mr. Challenge:
When Todd Haley throws the red flag, he must know something. Heading into Sunday's road game at Seattle, Haley is a perfect 3-for-3 on official challenges this season, according to ESPN Stats & Information. He is the only coach in the NFL who is perfect this season. So, if you see Haley yank out the challenge flag out Sunday, Chiefs fans, you'll have to like his chances.
AFC West reunion in Oakland:
When they host Miami on Sunday, the Raiders will see two familiar faces -- quarterback
Tyler Thigpen
and receiver
Brandon Marshall
. Thigpen will start if
Chad Henne
can't play. Marshall is dealing with a hamstring injury, but he has said he is hoping to play. Oakland will be ready for both players. Thigpen started two games against Oakland for the Chiefs in 2008., going 1-1. His win over Oakland was Thigpen's only win as an NFL starter. Thigpen was 29-for-55 for 313 yards against Oakland in the two games. He threw one touchdown, and he was intercepted twice. Marshall, who started playing extensively in his second season, played five games against Oakland from 2007-09 while he was with Denver. He had 27 catches for 373 yards and two touchdowns in the five games.