NFL Nation:

Final Word 2010 Week 13
December, 3, 2010
12/03/10
4:00
PM ET
»
NFC Final Word
:
East
|
West
|
North
|
South
»
AFC
:
East
|
West
|
North
|
South
Five nuggets of knowledge about Week 13:
[+] Enlarge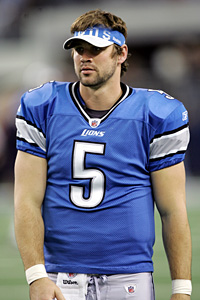 AP Photo/Paul JasienskiLions quarterback Drew Stanton will be making his second NFL start Sunday against Chicago.
Bad combination:
The
Chicago Bears
are tied for the NFL lead with 26 takeaways this season. In the
Detroit Lions
'
Drew Stanton
, they'll face a quarterback who has thrown seven interceptions in 104 career attempts while also losing two fumbles. That's nine turnovers in one start and eight relief appearances. If the Lions are going to take any pressure off Stanton, it will have to be with a running game likely to feature No. 3 tailback
Maurice Morris
. I don't like Stanton's chances of navigating the Bears' defense mistake-free, which is what he'll have to do in order to win this game. The Bears have 16 interceptions this season, 13 of which have come against their standard four-man pass rush. That means they'll be sitting back in coverage Sunday, simply waiting for Stanton to make a bad decision or an inaccurate throw.
History in the making?
The Lions haven't won an NFC North game since defeating the Bears in Week 8 of the 2007 season. Since then, they're 0-18 against the Bears,
Green Bay Packers
and
Minnesota Vikings
. Overall since that 16-7 victory against the Bears, the Lions have lost 46 of 51 games. Only one of their five victories over that stretch has been against a team with a winning record at the time, their Week 8 victory against the
Washington Redskins
this season. For those hoping or believing the Lions will win Sunday, I present these facts without comment to provide context for how historic such a victory would be.
Loving Lambeau:
How big of a late-season home-field advantage is Lambeau Field? Beginning in 1992, the Packers are 34-6 in regular-season home games played in December or January, according to the Elias Sports Bureau. That .850 winning percentage is by far the best in the NFL over that span. (The
New England Patriots
are No. 2 at .789.) The 18-year trend has spanned multiple coaching tenures, from Mike Holmgren (13-1) to Mike Sherman (13-2) to Mike McCarthy (7-2). And if you're keeping track, it's been even longer since the Packers lost a regular-season game -- at any point in the season -- to the
San Francisco 49ers
. The last time was in 1990, and the Packers have since won eight consecutive games against the 49ers. I realize every game stands on its own merit, but from a pregame perspective, this is a pretty good matchup for the Packers.
Brown and Blue all over:
You might not recognize the Packers on Sunday when they first trot onto the field. They'll be wearing throwback uniforms from the 1929 "Acme" Packers team that won the franchise's first world championship. In those days, the Packers wore blue jerseys, brown pants and brown (logo-free) helmets. So that's what they'll be wearing Sunday. If you're interested, Packers.com
published a photo gallery
this week of staff members putting the final touches on said uniforms. I'm no style maven, so I'll let you be the judge.
Mettle testing:
With a quarterback who committed 22 turnovers in the first 10 games of the season, Minnesota Vikings interim coach Leslie Frazier wants his team focused on the running game. That sentiment makes especially good sense for Sunday's game against the
Buffalo Bills
, who are giving up significantly more yards rushing per game than any other NFL team. Opponents are averaging 167.4 yards per game against them. The next worst rush defense is the
Arizona Cardinals
, who are giving up 146.5. This matchup is good timing for the Vikings, who at best will have a gimpy
Adrian Peterson
(ankle) on the field. Whether or not Peterson plays, you can expect significant doses of rookie
Toby Gerhart
and possibly No. 3 tailback
Albert Young
as well.
December, 3, 2010
12/03/10
4:00
PM ET
»
NFC Final Word
:
East
|
West
|
North
|
South
»
AFC
:
East
|
West
|
North
|
South
Five nuggets of knowledge about Week 13:
[+] Enlarge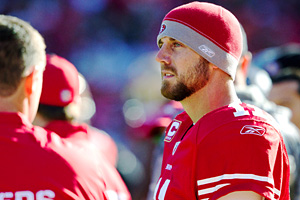 Jeff Lewis/Icon SMI49ers QB Alex Smith will be watching a member of his draft class, Green Bay's Aaron Rodgers, from the bench.
Quarterback contrasts.
The
San Francisco 49ers
' trip to Green Bay brings them face to face, again, with a familiar 2005 NFL draft storyline. Too many variables affected
Aaron Rodgers
and
Alex Smith
for anyone to say for sure what would have happened if the 49ers had selected Rodgers. What's striking five years later: the huge gap between how much these teams rely upon their quarterbacks. Only
Drew Brees
,
Tom Brady
and
Matt Ryan
have more third-down touchdown passes than Rodgers. Only
Eli Manning
,
Peyton Manning
,
Brett Favre
and
Carson Palmer
have more third-down picks. The ball is in Rodgers' hands, for better and worse. With Alex Smith on the bench, 49ers starter
Troy Smith
enters this game without a single touchdown or interception on third down (Alex Smith had two and four, respectively).
Turning it over.
The
Arizona Cardinals
were plus-three in the turnover column the last time they won a game (Oct. 10). They have committed 28 turnovers this season, two off the NFL high. Their opponent Sunday, St. Louis, has committed only 13, tied for sixth-fewest in the league. The Cardinals lost a tone-setting turnover on their first offensive play last week.
First-round differential.
The
Seattle Seahawks
' problems on the offensive line have nothing to do with rookie left tackle
Russell Okung
, who is playing quite well. Seattle's other rookie first-round choice, free safety
Earl Thomas
, has five interceptions and a touchdown return on a blocked punt. The Seahawks' Week 13 opponent, Carolina, hasn't selected a player in the first round since taking
Jonathan Stewart
and
Jeff Otah
in 2008. Otah is on injured reserve.
Stopping the streak.
The Rams head to Arizona riding an eight-game losing streak against the Cardinals dating to the 2006 season. When is enough finally enough? This could be the week. The last time the Rams beat the Cardinals,
Marc Bulger
passed for 309 yards, one touchdown and no interceptions at Arizona on Sept. 24, 2006.
Steven Jackson
managed only 62 yards on 24 carries. The Cardinals will probably gang up on Jackson again. Rookie
Sam Bradford
proved last week that he can carry the offense on the road.
Feeding Fitz.
The Cardinals'
Larry Fitzgerald
leads the NFL in wide receiver targets with 124, according to ESPN Stats & Information. Of the 50 wideouts with the most targets, however, Fitzgerald ranks 48th in percentage caught. His percentage has fallen from 63.8 last season with
Kurt Warner
as his primary quarterback to 47.5 percent this season. Of those 50 most-targeted wideouts this season, the five with the highest percentages of passes caught play with top quarterbacks. They are:
Austin Collie
(Peyton Manning),
Danny Amendola
(Sam Bradford),
Wes Welker
(Tom Brady),
Marques Colston
(Drew Brees) and
Roddy White
(Matt Ryan).
December, 3, 2010
12/03/10
4:00
PM ET
»
NFC Final Word
:
East
|
West
|
North
|
South
»
AFC
:
East
|
West
|
North
|
South
Five nuggets of knowledge about Week 13:
[+] Enlarge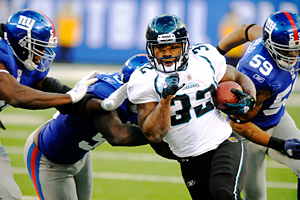 AP Photo/Henny Ray AbramsMaurice Jones-Drew has been blowing past defenses designed to contain him.
No matter the numbers:
Maurice Jones-Drew
has run well this season when teams have loaded up to try to stop him, according to ESPN Stats & Information. When opposing defenses expect run and bring more defenders into the box than the offense has blockers, Jones-Drew still produces. He has 37 carries under such circumstances and his 4.7 yards per carry average is tied for the third-best in the league. Since the beginning of 2008, only
Thomas Jones
(18) has more rushing touchdowns against the loaded box than Jones-Drew (15).
Three more TDs:
Dallas has not played in Indianapolis since Nov. 17, 2002, when the Colts beat them 20-3. It will be only the third Cowboys-Colts clash of the
Peyton Manning
era and he's 2-0 against Dallas. Manning already has an NFL-record 12 seasons with at least 25 touchdown passes. He needs three more TDs to make it 13. In his last two games -- losses to New England and San Diego -- Manning has thrown six touchdown passes but also seven interceptions.
Score more:
The Titans were faring great in the scoring department before their four-game losing streak. Now, over the past month, they've scored 25, 17, 16 and 0, a total of 58 points. That's less than half the point production from the four games before that (121). The Titans need some lengthy drives and big plays. They've talked over and over about the coverage WR
Randy Moss
is drawing. But his previous teams found a way to get him 948 catches against difficult coverages and it's time for the Titans to figure out how. Without Moss, they scored 30 in Jacksonville on Oct. 18.
Beat up:
Yes, the Jaguars are playing far better than they were when the Titans beat them up in the first game. The biggest difference heading into the rematch could be the health of the Titans' defensive line. Tennessee's pass pressure has dropped off and the group is dealing with injuries.
Sen'Derrick Marks
is probably out and
Jason Babin
,
Dave Ball
,
Jason Jones
and
Tony Brown
are all on the injury report. I expect more time for
David Garrard
and more room for Jones-Drew.
Run wary:
The Colts might have
Gary Brackett
back at middle linebacker, and they could use him. Under interim coach Jason Garrett, the Cowboys have shown more determination to run the ball. The undersized, undermanned Colts can certainly be run on. They've given up 136.9 yards a game and 4.9 yards a carry this season.
December, 3, 2010
12/03/10
4:00
PM ET
»
NFC Final Word
:
East
|
West
|
North
|
South
»
AFC
:
East
|
West
|
North
|
South
Here are five nuggets of knowledge about Week 13:
[+] Enlarge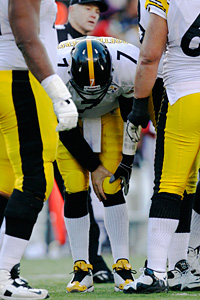 AP Photo/David DupreyThe Ravens will be sure to test Ben Roethlisberger's injured foot Sunday.
Footgate:
Does
Pittsburgh Steelers
quarterback
Ben Roethlisberger
have
a broken foot or is it sprained
? Either way, we will find out how badly injured Roethlisberger is in Sunday's prime-time showdown with the
Baltimore Ravens
. The Pittsburgh Post-Gazette reported Roethlisberger broke a bone in his foot against the
Buffalo Bills
. The report was quickly refuted by the team, which said it's simply "an aggravation of an old injury where scar tissue is present." There often seems to be a shroud of mystery surrounding the extent of Roethlisberger's injuries. But look for the Ravens to test his mobility with first place in the AFC North hanging in the balance.
Boldin's numbers:
Ravens receiver
Anquan Boldin
's numbers have dipped in the past month, as teams have put more emphasis on stopping the three-time Pro Bowl receiver. He has only 13 receptions in the past four games, but Boldin said he's not concern with numbers because the Ravens are 8-3. Baltimore acquired Boldin in an offseason trade with the
Arizona Cardinals
, and his presence has opened things up for teammates
Derrick Mason
,
Todd Heap
and
T.J. Houshmandzadeh
to make more big plays the past few weeks. Steelers defensive coordinator Dick LeBeau usually takes away an opponent's best option, which means Boldin could see plenty of coverage again.
Interior concerns:
An area where the Ravens have a huge advantage over Pittsburgh is on the defensive line. Buffalo's defensive line, and particularly
Kyle Williams
, gave the Steelers a lot of problems last week. Roethlisberger was sacked five times against the Bills, including the hit that twisted his foot. The Ravens have
Haloti Ngata
,
Terrell Suggs
and waves of defensive linemen to throw at Pittsburgh's struggling and banged-up offensive line. If Baltimore wins this matchup, it will go a long way toward slowing Pittsburgh's offense.
Passing attack:
Can the
Cincinnati Bengals
defend the passing game of the
New Orleans Saints
? Entering the season, Cincinnati's pass defense was the strength of the team. But injuries at safety and cornerback have made this an unexpected area of concern. New Orleans is third in the NFL in passing with a variety of weapons and a dynamic quarterback in
Drew Brees
. The Saints are the type of team Cincinnati doesn't want to face right now. It also doesn't help that New Orleans is on a four-game winning streak.
Delhomme gets another nod:
Cleveland Browns
quarterback
Jake Delhomme
will be the starter for the second straight week against the
Miami Dolphins
. Cleveland's revolving door at quarterback has been a big topic of discussion all season. It's questionable whether Delhomme -- who has one touchdown, six interceptions and a 54.2 passer rating -- has earned another start. But Browns coach Eric Mangini remains confident in the veteran, who is making $7 million this season. Rookie quarterback
Colt McCoy
(ankle) is hurting, but backup
Seneca Wallace
is healthy and has put up much better numbers (88.5 passer rating) in his four starts.
December, 3, 2010
12/03/10
4:00
PM ET
»
NFC Final Word
:
East
|
West
|
North
|
South
»
AFC
:
East
|
West
|
North
|
South
Five nuggets of information about Week 13:
Will they shake hands?
All eyes will be on midfield after Denver's visit to Kansas City on Sunday no matter the outcome of the game. Everyone will be looking to see if Kansas City coach Todd Haley shakes the hand of Denver coach Josh McDaniels. A firestorm started in Week 10 when Haley refused to shake hands with McDaniels after Denver crushed the Chiefs 49-29. Haley apologized the next day but neither he nor McDaniels shed light on what the issue was. The Broncos played hard until the end and I'm sure that had something to do with Haley's disgust. This week, both coaches have downplayed the significance of the incident. I would be surprised if there was another incident after Sunday's rematch.
[+] Enlarge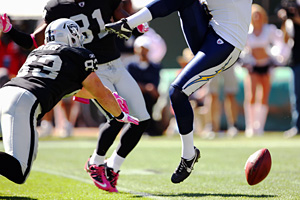 Ezra Shaw/Getty ImagesThe struggling Raiders may have to rely on their special teams if they want to beat the Chargers.
The Raiders need to get their block on again:
In the past two games, San Diego's special teams have actually been good after struggling in various areas in the first nine games. The Chargers' biggest problem on special teams had been in punt protection. San Diego has had five punts blocked this season, including two against Oakland. The Raiders took a 9-0 lead on two blocked punts in the first five minutes of their 35-27 win over the Chargers in Week 5. With the Chargers surging and the Raiders struggling, Oakland will need big plays from its special teams to pull off the season sweep.
Denver needs to stop the Chiefs on the ground:
Kansas City has the best ground game in the NFL -- averaging 174.3 yards per game and coming off a win at Seattle in which it rushed for 270 yards. In contrast, when the Chiefs lost at Denver, Kansas City managed only 51 rushing yards. A big reason why was because the Chiefs fell behind 35-0 in the second quarter. The Chiefs have to establish the ground game early and wear down the Broncos. Denver has allowed 100 points in the past three games.
How long will Norv's speech pay dividends?
San Diego coach Norv Turner
sparked his struggling team at halftime
of an Oct. 31 game against Tennessee. The Chargers were losing and on the verge of falling to 2-6. However, the normally stoic Turner let loose with an emotional speech at halftime, telling his players it was time to get going. His players listened. The Chargers came back to win the game and they have not lost since. San Diego is 6-5 and riding a four-game win streak. The Chargers have made a habit of getting hot late in the past three seasons, but this year's hot streak is, in part, due to their coach's speech.
Chargers can keep their bags unpacked for a while
: The Chargers can't ask for anything more. They trail the 7-4 Chiefs by one game in the AFC West as they head into December play. We all know how good San Diego is. The Chargers have won eight straight games in November and are unbeaten in 19 December games since
Philip Rivers
took over as the starting quarterback in 2006. The Chargers enter the month with three straight home games against the Raiders, Chiefs and 49ers in an 11-day stretch.
December, 3, 2010
12/03/10
4:00
PM ET
»
NFC Final Word
:
East
|
West
|
North
|
South
»
AFC
:
East
|
West
|
North
|
South
Five nuggets of knowledge about Week 13.
[+] Enlarge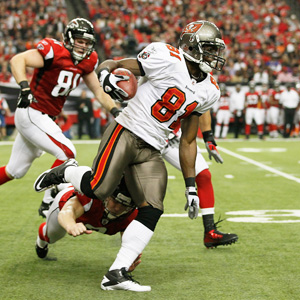 Photo by Kevin C. Cox/Getty ImagesThe Falcons have reconfigured their special teams coverage after Micheal Spurlock returned the ball for 209 yards in their previous match.
Point of no returns.
The last time Tampa Bay and Atlanta got together (earlier this season in the Georgia Dome)
Micheal Spurlock
almost single-handedly knocked off the Falcons with a few huge kickoff and punt returns. I wouldn't look for that to happen again.
Mike Smith
and his coaching staff sat down after that one and made some major changes to their coverage units. They switched where some guys line up and they also brought a couple of starters, most notably defensive end
Kroy Biermann
, onto the coverage units. Since then, the Falcons haven't been giving up much in the way of returns.
Storm brewing
. I just looked at the
weather forecast for Cincinnati on Sunday
and it's not very pretty. The Saints are a much better team than the Bengals. But with the temperature near freezing and the possibility of snow, this could be a very tough game for New Orleans. They're a team built for a dome, or at least good weather. Sean Payton may have to change his game plan and run
Chris Ivory
and
Reggie Bush
more than usual, and it would be nice if Bush did a better job of holding onto the ball than he did in Dallas on Thanksgiving.
Turnover-free zone
. We've already talked several times about how the Falcons have gone four straight games without a turnover. But we're going to do it again now because this is significant. If Atlanta can go without a turnover against the Bucs, the Falcons will become the first team since the NFL-AFL merger in 1970 to go five consecutive games without turning the ball over. If they do that, I think chances are pretty good they'll also extend their winning streak to six games and get their 10th victory of the season.
Safety dance
. Tampa Bay coach Raheem Morris has been a little coy about his plans at safety after
Cody Grimm
's season ended when broke his left ankle. We may see some of
Corey Lynch
back there. He's mainly been a special-teams guy but has been working in this defensive system in practice all year. I also think you might see cornerback
Ronde Barber
get some time at safety -- or maybe even some sort of hybrid position. What I'm saying is, if I'm Morris, I'm putting
Aqib Talib
on
Roddy White
all day. That's strength against strength. Then, I'm looking at Atlanta's other receiving weapons -- tight end
Tony Gonzalez
and receiver
Michael Jenkins
. I'd take my chances and let
E.J. Biggers
,
Myron Lewis
or
Elbert Mack
handle Jenkins, who is a role player. No matter if you line him up at safety or cornerback, I'd put Barber on Gonzalez and let the two veterans go at it.
An instant classic.
Ah, there's so much to say about this epic matchup between the
Carolina Panthers
and
Seattle Seahawks
. But we're limited on space here, so we'll keep it short. If John Fox really wants to get back at the people who are letting his contract run out, he should go out and win this game and maybe one or two more and cost Carolina the first pick in next year's draft. That's about the only thing the Panthers have to shoot for right now.
December, 3, 2010
12/03/10
4:00
PM ET
»
NFC Final Word
:
East
|
West
|
North
|
South
»
AFC
:
East
|
West
|
North
|
South
Five nuggets of knowledge about Week 13:
[+] Enlarge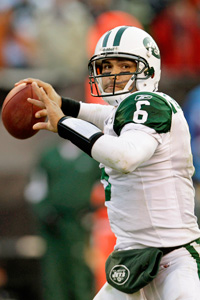 AP Photo/Tony DejakMark Sanchez likes to throw deep, but the Patriots have been more vulnerable on shorter routes.
When it comes to drawing up a passing strategy to win Monday night, the New York Jets would be wise to keep it short and simple.
Mark Sanchez
likes to throw deep. Only five quarterbacks have thrown more passes 21 yards or deeper than Sanchez has. But ESPN Stats & Information notes the
New England Patriots
' pass defense has been suspect on throws shorter than 15 yards. Opponents are posting a 98.9 passer rating, ranking the Patriots 27th in the league. But on passes 15 yards or longer the Patriots rank 12th in allowing a 74.4 passer rating. Patriots rookie cornerback
Devin McCourty
has a league-high five interceptions on throws that travel at least 15 yards.
With so many injuries, the Buffalo Bills might not be able to hang tough for long.
The Bills have been remarkable in their competitiveness over the past two months. The Bills looked putrid through their first five games, so I explored
what would happen if they played a UFL team
. Since then, they are 2-4, with all of their losses by a field goal and three of them coming in overtime. But the Bills' iffy defense suffered two more casualties this week. Starting right defensive end
Dwan Edwards
and starting linebacker
Reggie Torbor
were placed on season-ending injured reserve, giving less experienced players more responsibilities. They must contain some serious offensive firepower Sunday in the Metrodome.
Miami Dolphins receiver Brandon Marshall has been the year's most disappointing acquisition.
Marshall on Thursday spoke of his restlessness and bemoaned his lack of production. He said, "I've been too boring this year" and asked reporters for help in coming up with ways to show his emotions without drawing penalties -- as he has his previous two games before missing last week with a hamstring injury. "Say something. Spark some controversy. It's too calm." Marshall has one touchdown reception. Bills undrafted rookie
Donald Jones
has that many.
Steve Johnson has taken over the lead in drops, but Wes Welker is right behind him.
Johnson's awful afternoon against the
Pittsburgh Steelers
placed him atop the drop list ESPN Stats & Information tracks throughout the season. He now has nine on 99 targets. But there are established receivers high on the chart. Welker is tied for second with seven drops on 90 targets. Jets tight end
Dustin Keller
has six on 70 targets. Marshall has five drops on 95 targets. Patriots tight end
Aaron Hernandez
has five on 50 targets.
Lee Evans
of the Bills and
Jerricho Cotchery
of the Jets have four drops apiece. Only the
Detroit Lions
and
Indianapolis Colts
have dropped more passes as a team than the Patriots with 27. The Jets, Bills and Dolphins rank ninth, 11th and 12th, respectively. That's a lot of drops for one division.
Indianapolis is not New England's hottest rival.
In our Double Coverage debate this week
, AFC North blogger James Walker and I argued which rivalry was better, the Jets and Patriots or the
Baltimore Ravens
and Pittsburgh Steelers. One of Walker's main planks was the Jets aren't the Patriots' biggest rivals and proclaimed the Colts were. Here's what ESPN analyst and former Patriots linebacker
Tedy Bruschi
had to say:
"Throughout my career, with all the rivalries -- Steelers, Colts, Jets --
I always felt it more coming from the coaches during Jets week
. That's all the way back to Bill Parcells' years, when Al Groh was here, the whole drama of [Bill] Belichick being the 'HC of the NYJ' for one day and when Eric Mangini was here. You could feel the tension and motivation that coaches had to win this game when it was against the Jets. This may go back to when the coaches had ties. They coached you harder. When they were in front of you in defensive meetings, there was urgency in their voices. You knew it was Jets week and the coaches would lead the way. Colts, Steelers, we knew, and we really wanted to establish ourselves as the tough guys in the league against them. But this, against the Jets, was more of an organization versus another organization, and we really felt that."
December, 3, 2010
12/03/10
4:00
PM ET
By
Matt Mosley
| ESPN.com
»
NFC Final Word
:
East
|
West
|
North
|
South
»
AFC
:
East
|
West
|
North
|
South
Five nuggets of knowledge about Week 13.
[+] Enlarge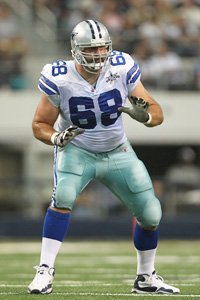 Matthew Emmons/US PresswireDoug Free will have his hands full with Colts DE Dwight Freeney.
Cowboys left tackle Doug Free needs to have his best game of the season.
Most left tackles need some help against Colts All-Pro defensive end
Dwight Freeney
, but I don't think Free will have that luxury. Right tackle
Marc Colombo
will need a lot of help against
Robert Mathis
on the other side. I actually think Free's up to the task. He'll have to get out of his stance quickly and get an immediate punch with his arms to force Freeney to re-start. As most of you know, Freeney will try to get to the outside and turn the corner on Free. He's been the Cowboys' best offensive lineman this season and I think he'll have a strong performance against Freeney. Is that a stone-cold lock of a prediction? Absolutely not.
It's time for the Giants to actually do something with their opening possession.
Offensive coordinator Kevin Gilbride spent a lot of time this week talking about how he likes to get a feel for defenses on the first series of games. The Giants finally scored on their first possession against the Jaguars, but it was only a field goal. The Eagles scored on their first three possessions against the Texans, but the Giants almost always wait until the second half to get going. They've been dominated in the second quarter. The defense has given up 82 points, and the offense hasn't always responded in the first half. With a beat-up team like the Redskins, you can't let them hang around. Just look at what almost happened to the Eagles on Thursday night. Gilbride needs to spend less time setting things up and more time dictating the action. I realize it's tough without
Hakeem Nicks
and
Steve Smith
in the lineup, but the Giants have enough weapons to get things done, as they showed in the fourth quarter against the Jaguars. Maybe they can get
Kevin Boss
going a little bit earlier in this game.
The Redskins have to unleash the pass-rush on Eli Manning early in this game.
If Washington can bring some pressure up the middle and get in Manning's face, it will cause problems.
Mario Manningham
's really the only wide receiver he has faith in, and I think
DeAngelo Hall
has a chance to lock him down. But if Manningham gets the ball on a quick screen, the Redskins have to run everyone to the ball. Manningham has deceptive speed and he's good at making defenders miss. This is also a game where the Skins have to get back to creating takeaways. They were on a torrid pace early in the season, but things have tailed off. Outside linebacker
Brian Orakpo
has to be thinking about the strip because Manning has some ball-security issues at times.
The Cowboys' safeties will be under a lot of pressure against the Colts.
Peyton Manning
looks for
Pierre Garcon
on a lot of vertical routes, but
Reggie Wayne
will look to get loose across the middle. It's important for
Alan Ball
and
Gerald Sensabaugh
to be more disciplined than ever. The Colts are looking for a safety to take one false step. If that happens, they're ready to pounce. And I had a chance to watch tight end
Jacob Tamme
in person against the Eagles. He doesn't have the speed of
Dallas Clark
, but he's a sure-handed receiver who can break tackles if the Cowboys aren't careful. Manning's like most quarterbacks in that he hates having anyone in his face. If nose tackle
Jay Ratliff
and defensive end
Stephen Bowen
can collapse the pocket in the pass rush, I think they can cause some mistakes. Manning took way too many hits against the
San Diego Chargers
. In Sunday's game, the Cowboys need to use a similar approach. If you allow Manning to find a rhythm, it could be a long day. But without any semblance of a running game, it makes him a little bit easier to defend.
Can McNabb continue his dominance of the Giants?
McNabb is 11-7 lifetime against the Giants, but he was wearing a different uniform all those years. He's won four consecutive games over the Giants while throwing to quality receivers such as
DeSean Jackson
,
Jason Avant
and
Jeremy Maclin
(in '09). I think McNabb has a comfort level against the Giants' personnel, but defensive coordinator Perry Fewell has changed things up. I think he'll throw a lot of different looks at McNabb, and I'd look for him to send
Deon Grant
and
Antrel Rolle
on some safety blitzes early in this game. If the Skins can block it up, McNabb will have a chance to make plays downfield. He needs
Santana Moss
to come up big for him, but I think
Terrell Thomas
will be ready for the challenge at cornerback. Without a running game, McNabb's a sitting duck. Maybe "sitting" isn't fair because of his mobility, but you get the picture. The Giants will try to make the Skins one-dimensional early in this game.
NFL SCOREBOARD
Thursday, 10/30
Sunday, 11/2
Monday, 11/3
WEEKLY LEADERS