NFL Nation:

Final Word 2010 Week 3
September, 24, 2010
9/24/10
4:06
PM ET
»
NFC Final Word
:
East
|
West
|
North
|
South
»
AFC
:
East
|
West
|
North
|
South
Five nuggets of knowledge about Week 3:
Monday night's game between the Green Bay Packers and Chicago Bears has been billed as a battle of coaching gurus, and for good reason.
Packers defensive coordinator Dom Capers is spinning a scheme that hardly resembles its 3-4 title, while Bears offensive coordinator Mike Martz has already displayed a willingness to move away from his traditional seven-step drop passes to help quarterback
Jay Cutler
. According to ESPN's Stats & Information, the Packers have used their base 3-4 set on 15 of their 114 defensive snaps this season. Most of the others have featured a form of the nickel or dime package with extra defensive backs. That trend poses an interesting decision for Monday night. Cutler has a 105.5 passer rating this season against nickel defenses, but he threw five interceptions in two games against the Packers' nickel last season.
[+] Enlarge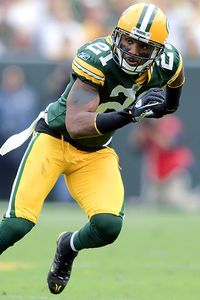 AP Photo/David StlukaCharles Woodson and the Packers' defense have played in their base 3-4 set only 13 percent of the time.
The numbers suggest the Packers should be judicious with their running game Monday night.
With tailback
Ryan Grant
(ankle) out for the season, the Packers don't have a runner who can stretch the field.
Brandon Jackson
,
John Kuhn
and
Dimitri Nance
have combined for a 2.7-yard per carry average outside of the tackles since the start of 2009, according to ESPN's Stats & Information. And the Bears' defense has been especially stingy on outside runs this season, holding opponents to 2.2 yards per carry in those instances. Realistically, the Packers should focus on grinding some hard inside yards and then working their play-action game with quarterback
Aaron Rodgers
.
Whom do you trust more?
A rookie first-round draft choice making his first NFL start? Or a middling veteran who has never started at the position? That's one of the key issues in Packers-Bears I, especially if the Packers start rookie
Bryan Bulaga
at left tackle (in place of the ailing
Chad Clifton
) and the Bears slide over right tackle
Frank Omiyale
to replace
Chris Williams
(hamstring). The significance of those possibilities can't be understated with two of the NFL's top pass-rushers on the field in Chicago's
Julius Peppers
and Green Bay's
Clay Matthews
. Even if Clifton and/or Williams manage to start, you're talking about two players who are injured enough to have missed significant portions of practice this week.
Minnesota Vikings quarterback Brett Favre said he didn't want to "raise red flags" this week in discussing the state of confusion within the team's offense.
But if the Vikings lose Sunday to the
Detroit Lions
, he won't have to. They'll go up on their own. Only
three 0-3 teams
have made the playoffs since 1990. In truth, Favre will pose an interesting test for a Lions defense built on the belief that a fierce front four can compensate for deficiencies in the back end. If defensive end
Kyle Vanden Bosch
and defensive tackle
Ndamukong Suh
can disrupt the Vikings' passing offense, they'll have a good chance for an upset. But even with a deficient group of receivers, Favre should be able to pick apart the Lions' secondary if he has time.
We have no choice but to update our annual "the last time the Lions won in X situation" statistic.
As they prepare for Sunday's game at the Metrodome, the Lions have lost 21 consecutive road games. They have lost 16 consecutive road games within the division, one shy of tying the post-merger NFL record set by the
Oakland Raiders
from 2004-07. Finally, the Lions haven't won in Minnesota since 1997. That 12-game stretch is the second-longest active road losing streak in the NFL, behind only the Lions' 18-game losing streak in Wisconsin.
September, 24, 2010
9/24/10
4:04
PM ET
»
NFC Final Word
:
East
|
West
|
North
|
South
»
AFC
:
East
|
West
|
North
|
South
Five nuggets of knowledge about Week 3:
[+] Enlarge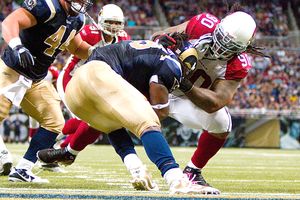 Dilip Vishwanat/Getty ImagesDarnell Dockett and the Cardinals have a chance to be the early leaders in the division.
Big opportunity for Arizona.
Yes, the Cardinals looked horrible in Week 2, but of all the NFC West teams, Arizona appears most likely to win in Week 3. The Cardinals are better than the
Oakland Raiders
and they're playing at home with much to prove. If San Diego beats Seattle and the Cardinals beat the Raiders, Arizona would stand atop the division with a 2-1 record heading into Week 4. Just another reminder that this division race could be close and the Cardinals, for all their struggles, figure to remain a part of it. I think San Francisco will be there in the end, but Arizona has a chance to buy some breathing room while the 49ers play road games against Kansas City and Atlanta (the 49ers have a 2-21 road record since 2005 in early games against teams other than the
St. Louis Rams
).
One week late on Chris Long hype.
Rams defensive end Chris Long was supposed to break through in Oakland a week ago, but Raiders tackle
Langston Walker
played better than I anticipated. Long and fellow Rams defensive end
James Hall
should have a better opportunity in Week 3 because they're playing at home and their opponent, Washington, has issues on the offensive line. Rookie left tackle
Trent Williams
suffered knee and toe injuries while allowing a sack to Houston's
Mario Williams
last week (Williams had three sacks in the game).
Barometer game for Seattle.
Beating the Chargers at Qwest Field could reveal plenty about the Seahawks' prospects this season. The team appears to lack the pure pass rush and overall talent to claim many victories away from home. Coach Pete Carroll has been hopeful that crowd noise at home can make his pass-rush more effective. It happened in Week 1 against San Francisco. Beating the 49ers and Chargers to go 2-0 at home would make it easier to envision the Seahawks going, say, 6-2 or 7-1 at home season. And if that happened, the team could get into the .500 range by winning one or two games on a road schedule featuring the Rams, Raiders and Tampa Bay Bucs.
Alex Smith needs help.
The 49ers' quarterback made strides by leading the fourth-quarter drive to a tying touchdown and two-point conversion against New Orleans on Monday night. Smith was effective largely because the Saints had to worry about the 49ers' running game. Smith will need more of the same from
Frank Gore
and his offensive line against Kansas City in Week 3. The Chiefs have allowed 3.8 and 2.8 yards per carry in their victories over San Diego and Cleveland, respectively. They haven't faced a running back with Gore's credentials, however. Smith and the 49ers have
won three road games
with fourth-quarter comebacks over the years. They had a 100-yard rusher in two of those games.
About those Cardinals.
They lost three of their first four home games last season and needed an interception return for a touchdown, plus a goal-line stand, to beat Houston in the one home game Arizona won during that stretch. Arizona plays its 2010 home opener against the Raiders on Sunday and I've seen nothing from Oakland suggesting an upset is coming. But the Cardinals seemed to lack fight and urgency against the Falcons last week. The Raiders improbably won at Denver and Pittsburgh during the final month of the 2009 season. Arizona needs to win this game before facing San Diego (road) and New Orleans (home).
September, 24, 2010
9/24/10
4:04
PM ET
By
Matt Mosley
| ESPN.com
»
NFC Final Word
:
East
|
West
|
North
|
South
»
AFC
:
East
|
West
|
North
|
South
Five nuggets of knowledge about Week 3:
Rediscovering the run
. The
Dallas Cowboys
are determined to run the football against the
Houston Texans
on Sunday in an effort to keep
Matt Schaub
and
Andre Johnson
off the field. Offensive line coach Hudson Houck has gone back to the basics with his guys in order to have them mentally prepared and to stop getting penalties. I think you'll see a different
Leonard Davis
against the Texans. He hasn't been moving his feet enough and it's allowing way too much penetration. This will be a hostile environment and an adequate running game would make life easier on
Tony Romo
.
[+] Enlarge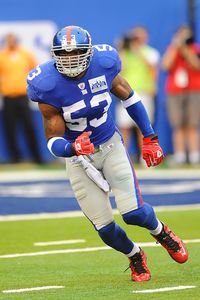 AP Photo/Evan PinkusKeith Bulluck will face the Titans for the first time since leaving Tennessee after 10 seasons.
Rolle with it
. Now that Giants safety
Antrel Rolle
has called everyone out after two games with the organization, where do we go from here? Rolle came off looking like a selfish jerk complaining that Tom Coughlin likes to arrive at games too early. Now, defensive end
Justin Tuck
is trying to nip this thing in the bud. I think the defensive line will have a huge game against the Titans. The big thing is maintaining gap responsibility. If
Jonathan Goff
doesn't show enough discipline, Titans running back
Chris Johnson
will make the Giants pay. Keep your eye on Giants linebacker
Keith Bulluck
in this game. He can't let his emotions get the best of him against his former team. I think he'll do a good job of helping Goff make the proper adjustments because he knows this offense so well.
Rediscovering the run, Part II
. The
Washington Redskins
will attempt to find some semblance of a running game against the
St. Louis Rams
on Sunday. I loved watching film of Skins left tackle
Trent Williams
from last Sunday's game against the Texans. His roll blocks were giving
Mario Williams
& Co. fits. This may be the week where
Clinton Portis
finds some room on the back side. And if that happens,
Donovan McNabb
should have success in the play-action game.
Santana Moss
could go off against the Rams. I like how offensive coordinator Kyle Shanahan is moving him around quite a bit. I think he's most dangerous in the slot. Look for Shanahan to dial up some double moves from Moss, who is playing with a lot of confidence right now. I'm also anxious to see how
DeAngelo Hall
's defense plays.
Vick's renaissance
. I heard something about a quarterback change for the Eagles this week. Expect the
Jacksonville Jaguars
to bring a lot of pressure up the middle against Eagles center
Mike McGlynn
. The inexperienced player had trouble making calls against the
Detroit Lions
and the Jags will try to confuse him again this week. Andy Reid acts as if
Michael Vick
is having the greatest stretch in league history. I'm anxious to see how Vick performs against a team that has reviewed his six quarters. And if he stinks up the joint, will Reid think about flip-flopping again? Fortunately for Reid, most of the national media has rushed to his defense.
Containing Andre Johnson
. It will be interesting to see how the Cowboys approach the Texans wide receiver in this game. They've had some success shutting down top receivers such as Carolina's
Steve Smith
and Philadelphia's
DeSean Jackson
in the past, but Johnson's better than both of those players. The Texans love to get Johnson on the move and try to hit him on crossing routes. It will be more important than ever to finish tackles Sunday. When
Terence Newman
couldn't tackle
Devin Hester
, the Bears wideout raced down the sideline to set up a touchdown in the fourth quarter. One of our most devoted readers,
Darren Woodson
, told me before the season that tackling would be a problem for this secondary. And I'm afraid Woody was onto something. Please enjoy the games this weekend and let me know if there's anything else I can do for you.
September, 24, 2010
9/24/10
4:02
PM ET
»
NFC Final Word
:
East
|
West
|
North
|
South
»
AFC
:
East
|
West
|
North
|
South
Five nuggets of knowledge about Week 3:
Keeping a balance:
The Texans won their first game largely thanks to the run and their second mostly because of the pass. If they can do both with some semblance of balance, it would benefit them greatly against a desperate Dallas team. Balance usually means an offense can be patient, and the more Houston can be patient, the more likely the Cowboys are likely to press.
[+] Enlarge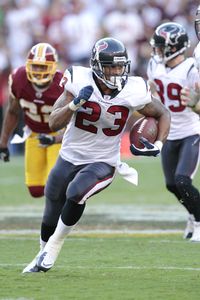 AP Photo/Bill BaptistAnother big game from running back Arian Foster could give Houston the balanced attack it will need against Dallas.
Sound tackling:
I'm not so sure
Michael Vick
has been as incredible as the Eagles are saying. Certainly he's dangerous and how he does against the Jaguars will garner giant attention Sunday. Jacksonville's secondary has holes, but they shrink if the pass rush is good. The question to me is sure tackling. Jack Del Rio pledged this would be a better tackling team than last year. One of the major culprits,
Reggie Nelson
, is gone. If the Jaguars can limit yards after the catch and big runs after contact, they could surprise some people in the team's second non-blackout of the season.
Two tights or three wide:
The Colts ran it far better last week with
Brody Eldridge
playing quite a bit as a second tight end doing a lot of blocking work. Denver has only two sacks and is allowing 4.5 yards a carry. Do the Colts feel like their line can hold up without much help, allowing them to attack with three wide receivers? Or do they use Eldridge a lot to ensure their best chances running it? Test the Broncos and see, I say. If the Broncos can't be disruptive or stop the run against three wides, the Colts can use either grouping virtually whenever they like and reduce any predictability.
Bounce back ability:
Adversity hits all NFL quarterbacks to some degree every year. How they bounce back is usually the big indicator about how effective they can be.
Vince Young
got benched last week and Wednesday said he still didn't know why. I guess he doesn't have to know why, he just has to know how not to get benched again. He's got to prove he's the long-term guy, and a good showing against the Giants could do much to help the cause.
The Texans have to be wary of over-pursuit:
Aaron Schatz of Football Outsiders says the Cowboys ran more draws than any other offense in 2009. Houston was the league's worst defense against draws last year, allowing an average of 7.6 yards per carry. We talked about the Texans' ability to be patient on offense. They've got to do the same on defense to avoid getting burned by run plays that need a bit of time to develop.
September, 24, 2010
9/24/10
4:02
PM ET
»
NFC Final Word
:
East
|
West
|
North
|
South
»
AFC
:
East
|
West
|
North
|
South
Five nuggets of wisdom about Week 3.
[+] Enlarge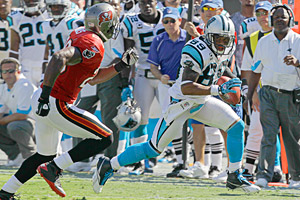 AP Photo/Chuck BurtonHow well will Steve Smith mesh with rookie quarterback Jimmy Clausen?
Three-ring circus.
Think about this:
Steve Smith
,
Chad Ochocinco
and
Terrell Owens
all will be in Bank of America Stadium on Sunday, which means the game between the Panthers and Bengals has the potential to be highly entertaining. I never thought I'd say this, but if you put those three receivers on the prima donna or volatility scale, Smith would probably come in third in both categories. Then again, with the Panthers 0-2 and turning to rookie quarterback
Jimmy Clausen
, Smith's engine might be running a little hotter than usual.
Trial balloon.
I'm more than a little surprised the game between the undefeated Steelers and the undefeated Buccaneers didn't sell out in time to lift the local television blackout for Tampa Bay. From what I've been able to gather, the Bucs weren't all that far from a sellout. Last year, the Bucs would have bought up those tickets and made sure the game got on television. It probably would have cost in the neighborhood of $500,000 to $750,000 to make this game was a sellout and the Bucs were really in a no-win situation. If they sold out, people would have said it was because Pittsburgh fans bought up the tickets. If the Bucs win this one and start 3-0, they show they're for real. From there on out, their fans will be the ones on the hot seat. If there's a good product on the field, it's time to show up at the stadium and the Bucs might be testing their fans for the future.
Give the kid a chance.
Advice to Carolina fans: Do not expect Clausen to step right in and save the world. He's a rookie quarterback and he's only got one legitimate wide receiver. But I think you've got a right to expect Clausen to be at least a little better than
Matt Moore
was in the first two weeks.
Trap game?
A lot of people talked about the Monday night game in San Francisco being a trap game for the Saints. They made it through that and I don't think you can say Atlanta really is a trap game because the Saints never take the Falcons lightly. If the Saints really are going to have a chance to win back-to-back Super Bowls, this game will be a huge test. It comes against a good team and it comes after the Saints have played two grueling games.
Dunta's game.
Let's break this down to the simplest of terms. The Falcons signed cornerback
Dunta Robinson
to play two games a year against the
New Orleans Saints
. Sure, there's a little more to it than that. But the Falcons know the road to the NFC South title runs through New Orleans and is dotted by
Drew Brees
and all his wide receivers. The Falcons went out and signed Robinson to counter that. A lot of people say the Falcons overpaid to get Robinson. If he helps get them a victory against New Orleans, I say Robinson will have earned his salary.
September, 24, 2010
9/24/10
4:02
PM ET
»
NFC Final Word
:
East
|
West
|
North
|
South
»
AFC
:
East
|
West
|
North
|
South
Five nuggets of knowledge about Week 3:
[+] Enlarge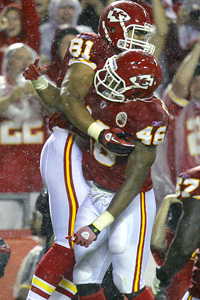 AP Photo/Charlie RiedelThe Chiefs haven't started a season with a 2-0 record since 2005.
Numbers favor Kansas City:
There's real meaning to Kansas City's fast start. It extends beyond the fact that the Chiefs are 2-0 for the first time since 2005 and that they won a total of just 10 games in the past three seasons. A 2-0 start means a team is on the right track. According to ESPN Stats & Information, 167 teams have started 2-0 since 1990. Of those 167 teams, 107 (64 percent) have made the playoffs. Only 28 teams (17 percent) have finished with a losing record. These stats don't necessarily mean Kansas City is on to something -- remember, Denver started 6-0 last season and ended up 8-8 -- but it is a meaningful start as the Chiefs prepare to host San Francisco.
San Diego's secret weapon:
The Chargers are excited about first-round pick
Ryan Mathews
as a primary back. And there's the dynamic but tiny
Darren Sproles
, who is a fine change-of-pace back and a weapon as a receiver. But the Chargers' running game doesn't stop at Mathews and Sproles. Teams must account for
Mike Tolbert
, who will likely start Sunday because of an ankle injury to Mathews . At 5-9 and 243 pounds, Tolbert usually requires multiple defenders to bring him down. The Chargers plan on using him often near the goal line, but I also expect to see him play more snaps in general, starting Sunday at Seattle. Tolbert has 108 yards on 18 carries in two games. In Week 1 at Kansas City, the third-year player had a 29-yard run. He added a 23-yard run in San Diego's win over Jacksonville last week. A combination of Mathews, Sproles and Tolbert will be a major headache for defenses.
The Asomugha-Fitzgerald show:
The Raiders are committed to using star cornerback
Nnamdi Asomugha
more aggressively this season to use his immense ability. Asomugha has moved around and even has played safety. The Raiders will need Asomugha at his best Sunday at Arizona. He will face
Larry Fitzgerald
, by far the best receiver Oakland has faced this season. The Cardinals' offense may be in disarray, but Fitzgerald is still a difference-maker.
Can Kansas City continue to make the key play?
In their two wins, the Chiefs have come up big when it counts. Will they continue their streak against the 49ers on Sunday? In Week 1, Kansas City's defense had a great goal-line stand against the Chargers. The Chargers' threat ended at the Kansas City 6-yard line with 39 seconds to go. In Week 2 in Cleveland, the Chiefs' offense closed the deal. On a gutsy call by coach Todd Haley, Kansas City converted a 4th-and-inches run play at the Browns' 36-yard line at the two-minute warning with the Chiefs holding a a 16-14 lead. Good teams win close games.
Is Thomas ready to replace Marshall?
When Denver drafted
Demaryius Thomas
, it did so hoping he'd be a replacement for
Brandon Marshall
, who was traded to Miami. Like Marshall, Thomas is a big receiver who possesses many skills. Thomas showed a glimpse of how good he can be when he had eight catches for 97 yards and a touchdown catch in his NFL debut during a Week 2 win over Seattle. The Colts certainly must account for Thomas on Sunday. Still, the Colts are probably relieved they won't be facing Marshall. Last December, when Denver roasted Indianapolis, Marshall set an NFL record with 21 catches against the Colts. Thomas is very likely not ready for that type of show, but after a strong debut, expect Denver to continue to go to its new receiver.
September, 24, 2010
9/24/10
4:00
PM ET
»
NFC Final Word
:
East
|
West
|
North
|
South
»
AFC
:
East
|
West
|
North
|
South
Five nuggets of knowledge about Week 3:
[+] Enlarge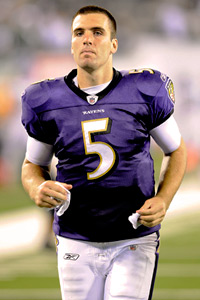 Rich Kane/Icon SMIJoe Flacco is looking to rebound against the Browns after a poor start to the season.
Baltimore Ravens quarterback Joe Flacco needs a solid outing Sunday against the Cleveland Browns.
The third-year player had the
worst performance of his career
, throwing a career-high four interceptions in last week's loss to the
Cincinnati Bengals
. Flacco's didn't look comfortable
and was pressing
, particularly in the second half. He's off to a very slow start, throwing for 402 yards, one touchdown and five interceptions in Baltimore's first two games. Flacco's passer rating is 41.2.
A key reason Baltimore's defense hasn't allowed a touchdown is its ability to dominate on third down.
In two games, the Ravens have held opponents to 4-for-29 (14 percent) on third-down conversions. That stuffs drives, helps Baltimore with field position, and gets the ball back in the hands of the offense.
One of the major issues with Cleveland's offense is its two starting receivers -- Brian Robiskie and Mohamed Massaquoi -- cannot get open.
Neither of the Browns' 2009 second-round picks has been fast enough nor experienced enough to shake free of coverage in the first two games. Robiskie and Massaquoi have been targeted 19 times and only produced five receptions combined this season. Backup
Josh Cribbs
has been the team's most explosive receiver. He caught a 65-yard touchdown reception last week in a loss to the
Kansas City Chiefs
. Tight ends
Benjamin Watson
and
Evan Moore
have also made plays.
When the Pittsburgh Steelers travel to play the Tampa Bay Buccaneers, they must be wary of the warm weather.
Tampa can be a hot place to play football this time of year. The temperature is expected to hover around the high-80s and lower-90s Sunday. There is also a 50 percent chance of rain. Browns Pro Bowl left tackle
Joe Thomas
told me after Cleveland's Week 1 loss to Tampa that it felt like it was 100 degrees on the field. AFC North teams aren't used to this kind of heat.
After facing two solid quarterbacks in Tom Brady and Flacco to start the season,
the Cincinnati Bengals catch a break Sunday with
Carolina Panthers
rookie quarterback
Jimmy Clausen
getting his first career start. The Bengals were relentless on defense last week and rattled Flacco. There's a good chance Cincinnati and defensive coordinator Mike Zimmer can do the same against Clausen. The Notre Dame product threw for 59 yards and an interception in relief against Tampa Bay last week.
September, 24, 2010
9/24/10
4:00
PM ET
»
NFC Final Word
:
East
|
West
|
North
|
South
»
AFC
:
East
|
West
|
North
|
South
Five nuggets of knowledge about Week 3:
[+] Enlarge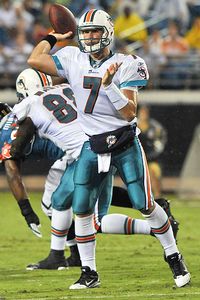 Fernando Medina/US PresswireShort passes could be the key to victory for Chad Henne and the Dolphins against the Jets.
The best way for the Dolphins to put up points on the Jets won't be the run game or the long ball.
When thinking about what the Dolphins' offense can do best, two images come to mind:
Ronnie Brown
and
Ricky Williams
pounding the ball and
Chad Henne
using his big arm. The best formula might be the short passing game. Since Jets head coach Rex Ryan took over and installed his defense, the Jets have allowed only 27.1 percent completions on passes longer than 15 yards, but 60.3 percent on passes 14 yards or shorter, according to ESPN Stats & Information. Henne took advantage last year in beating the Jets twice, completing 75 percent of his passes of 14 yards or shorter. He averaged 7.1 yards per attempt, gained 17 first downs and threw for a pair of touchdowns with no interceptions. On such throws against the Jets, Henne posted a 110.9 passer rating.
Nobody should be laughing about the Bills' chances to beat the Patriots.
True enough, the Bills never have won in Gillette Stadium and have lost 13 straight to the Patriots regardless of venue. But let's not forget the Bills would've won in New England last year if not for a fluke play. Buffalo presents some tough matchups for New England.
Ryan Fitzpatrick
isn't Buffalo's franchise quarterback, but he's the right choice for this game. New England's secondary has been vulnerable, and, unlike
Trent Edwards
, Fitzpatrick will test those unproven cornerbacks. Buffalo's chief strength is its underrated pass defense. If the Bills can get some pressure on
Tom Brady
, especially with sergeant at arms
Kevin Faulk
out of the lineup, then they'll have a chance.
Sunday night could be a huge turnover game for Mark Sanchez.
Young quarterbacks are erratic. Just when you think they have it figured out -- Sanchez had the best day of his career last week against New England -- they waver. Sanchez hasn't committed a turnover this season, but Miami has an opportunistic defense that must be passed against if New York wants to win. Miami extracted four turnovers out of
Brett Favre
last week. Granted, Favre has been prone to those kinds of games throughout his career, but Sanchez has shown that propensity as well. Sanchez will need to be on point.
Patriots outside linebacker Tully Banta-Cain is looking at Sunday's game like it's Christmas.
When you look at Banta-Cain's stat line for last year, you can't help but be impressed. He led the Patriots with 10 sacks. But take a look at his game-by-game production. Seven of his sacks came on three days, leaving him with three sacks in his other 13 games. Banta-Cain amassed five of his sacks against the Bills, two in the season opener and three more in the rematch. He's off to a decent start this year with 1.5 sacks through two games.
As happy as Brady is to know Aaron Schobel won't be chasing him Sunday, the Jets have to be even more stoked Ted Ginn isn't with the Dolphins anymore.
The Jets went to the playoffs last year, while the Dolphins watched on television. But the Dolphins did sweep the season series with monumental contributions from Ginn, whose last memory in South Florida will be of dropped passes and torturing the Jets. In the first game, which featured five lead changes in the fourth quarter, Ginn beat broken coverage for a 53-yard touchdown strike from Henne. In the rematch, Ginn set an NFL record by returning two kickoffs of at least 100 yards for touchdowns in a game the Jets lost by five points.
NFL SCOREBOARD
Sunday, 2/2
WEEKLY LEADERS