NFL Nation:

Final Word 2010 Week 9
November, 5, 2010
11/05/10
4:16
PM ET
»
NFC Final Word
:
East
|
West
|
North
|
South
»
AFC
:
East
|
West
|
North
|
South
Five nuggets of knowledge about Week 9:
[+] Enlarge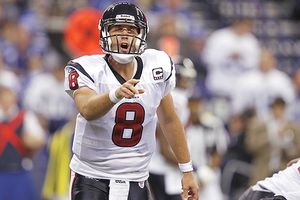 Joe Robbins/Getty ImagesMatt Schaub will have to match Philip Rivers' performance if the Texans hope to take down the Chargers.
Canceling out Rivers:
The odds are good that
San Diego Chargers
quarterback
Philip Rivers
, who's got
record passing yardage
through eight games, will be able to move the ball against Houston's porous pass defense. Rivers should succeed even with injuries at receiver and to
Antonio Gates
, who's
doubtful
. The Texans' best defense might just be a big offensive day for Houston, too.
Matt Schaub
was shaky last week, especially in the first half. He needs to carry the Texans and match Rivers.
New venue:
The Colts' game in Philadelphia is their first in the city since 2002 and their first visit to Lincoln Financial Field. In two games in the city with
Peyton Manning
at quarterback, he's thrown six touchdown passes and the team has two wins and 79 points.
Mike Tanier thinks
the Colts' defensive scheme, with lots of defenders in short zones, is perfect for containing a scrambling quarterback like
Michael Vick
. But this version of the defense will be missing two or three key pieces, depending on the status of cornerback
Jerraud Powers
.
Watch first down:
San Diego's offense is the second best in the league this season on first down, while Houston's is dead last,
Aaron Schatz tells us
. The Texans have to fare better on first down, and Gary Kubiak has to do better with the play calling there. Last week's failure in Indy was pinned largely on third-down ineffectiveness. But more yards on first and second down produce more manageable third downs and presto. Well, I guess you can fail to give the ball to
Arian Foster
enough there, too.
More shuffling:
The Colts pulled
Philip Wheeler
for
Pat Angerer
at strongside linebacker last week, but they'll probably shuffle linebackers again this week. This time it wouldn't be by choice, it would be because of
Clint Session
's elbow/arm injury. It's a guess as to how he's replaced if he's out, but the candidates to be the third linebacker include Wheeler,
Cody Glenn
,
Tyjuan Hagler
and
Kavell Conner
. We're also expecting receiver
Anthony Gonzalez
to be out, which means
Blair White
could get work if
Austin Collie
isn't ready or is limited.
Hurry up and wait:
The arrival of
Randy Moss
in Tennessee ranks as one of the biggest stories in the division this season. But the Titans are closed up for the weekend and his head start might not begin until Monday or Tuesday. As far as the potential to hear from him about being released in Minnesota and claimed by the Titans, we may not hear from him until Wednesday. We don't know if he'll provide both the questions and the answers as he said he would when he last talked as a Viking. The Jaguars, who also have a bye, will have a quieter return.
November, 5, 2010
11/05/10
4:02
PM ET
»
NFC Final Word
:
East
|
West
|
North
|
South
»
AFC
:
East
|
West
|
North
|
South
Five nuggets of knowledge about Week 9:
Bye-week success:
Two AFC North teams are coming off byes, and statistically that bodes well for the
Baltimore Ravens
and
Cleveland Browns
. Baltimore coach John Harbaugh is 2-0 in his career following the bye week, and Browns coach Eric Mangini is 3-1. Both clubs will have tough home games Sunday: the Ravens play the
Miami Dolphins
and Cleveland faces the
New England Patriots
.
[+] Enlarge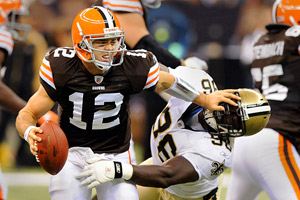 Chuck Cook/US PresswireColt McCoy could be the starter for the rest of the season with a strong performance against New England.
Real McCoy?
Against the Patriots, the Browns will start rookie quarterback
Colt McCoy
for the third straight game. This is McCoy's opportunity to solidify the starting job for the remainder of the season. McCoy's three opponents (New England, Pittsburgh,
New Orleans Saints
) have a combined record of 16-6. He has done a solid job splitting his first two starts but wouldn't leave any questions with an upset win over the Patriots (6-1), who have the NFL's best record. Veteran backup
Seneca Wallace
(ankle) could dress Sunday but isn't expected to play, according to Browns coach Eric Mangini.
Healthy Ravens:
Baltimore is as healthy as it has been all season and in prime position to make a run in the second half of the season. Safety
Tom Zbikowski
(foot) is the only major injury coming off the bye. Star safety
Ed Reed
(hip) will play his second game since coming off the physically unable to perform list, and receiver
Donte' Stallworth
(foot) will make his regular-season debut against Miami. Staying healthy is an important component of remaining a Super Bowl contender. Perhaps luck is on Baltimore's side with injuries this year.
Prime-time Steelers:
The NFL and national television networks can't get enough of the Steelers and quarterback
Ben Roethlisberger
. Just a few games removed from his four-game suspension, Roethlisberger will lead Pittsburgh into the second of three consecutive prime-time games Monday night against the
Cincinnati Bengals
. The Steelers played the Saints last Sunday in prime time and will play host to the Patriots next week in another night game. With the Patriots looming, the road contest against the 2-5 Bengals could be a trap game for Pittsburgh.
Few sacks in Cincy:
There are two primary reasons the Bengals haven't matched last year's consistency on defense, when the team was ranked No. 4 in the NFL. Cincinnati is suffering through injuries in the secondary, and the Bengals can't establish a pass rush. Cincinnati is last in the league with only six sacks in seven games. There are 10 players with higher sack totals than Cincinnati. With opposing quarterbacks having so much time to throw, recent injuries in the secondary to cornerbacks
Johnathan Joseph
and
Adam Jones
and safeties
Chinedum Ndukwe
and
Roy Williams
aren't helping matters.
November, 5, 2010
11/05/10
4:02
PM ET
Five nuggets of knowledge about Week 9:
[+] Enlarge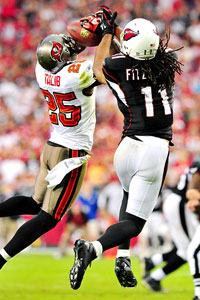 Chris Morrison/US PresswireExpect Bucs cornerback Aqib Talib to be matched up against Atlanta receiver Roddy White.
Matchup of the week.
People with the Falcons will tell you
Roddy White
has been the NFL's best wide receiver this season. People with the Buccaneers will tell you
Aqib Talib
is one of the NFL's best cornerbacks. These two will go head to head continually on Sunday when the Bucs and Falcons play at the Georgia Dome. The Bucs use Talib on the opposing team's best receiver, no matter where he lines up, and that will make for a great individual battle. But this one has the potential for being entertaining in more than just a physical way. Talib and White are extremely competitive and two of the more talkative and animated players in the game. Just because a play ends, don't stop watching these two. The real entertainment could come between plays.
Bulletin-board battle.
Largely because coach Mike Smith is a no-frills guy, the Falcons don't fight a lot of battles through the media. Although White sometimes is an exception, the Falcons are careful not to provide bulletin-board material for other teams. But they're not above collecting bulletin-board material from elsewhere. When Raheem Morris declared Tampa Bay the best team in the NFC nearly two weeks ago, word got to Atlanta quickly. Since the declaration came during Atlanta's bye week, the Falcons had a little extra time to ponder Morris' words. Smith might not have to give a pregame talk this week because Morris already provided the motivation.
Grudge match.
Speaking of motivation, keep an eye on Atlanta kicker
Matt Bryant
. He's not a big fan of the current regime in Tampa Bay. Bryant gave the Bucs some good years, but was run out of town last year. Although he's a kicker, Bryant can be a bit feisty, and he'll be looking for any opportunity for revenge against his former team.
All hands on deck.
It looks like the Saints are getting healthy. Cornerbacks
Jabari Greer
and
Tracy Porter
and running back
Reggie Bush
appear close to being ready to get back on the field. With a bye coming next week, there has to be a little temptation to rest everyone another week. But the Saints aren't really in a position to do that. Their win against Pittsburgh had to be physically and mentally draining, and fresh troops could help make sure positive momentum carries over into the bye week and beyond. Carolina might be a bad team, but the Panthers always seem to play well against the Saints. New Orleans needs to play everyone who's healthy this week.
Looking ahead.
Again, the Saints truly can't afford to overlook the Panthers, a team they beat by two points in the Superdome this season. But take a look at New Orleans' schedule after the bye. The Saints play Seattle, at Dallas, at Cincinnati and St. Louis. Assuming the Saints simply do what they should do, they'll be 10-3 heading into a Dec. 19 game at Baltimore.
November, 5, 2010
11/05/10
4:02
PM ET
»
NFC Final Word
:
East
|
West
|
North
|
South
»
AFC
:
East
|
West
|
North
|
South
Five nuggets of knowledge about Week 9:
[+] Enlarge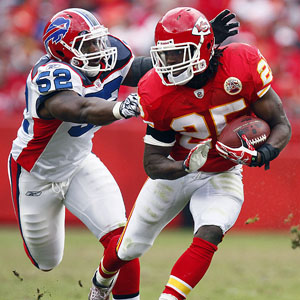 AP Photo/Ed ZurgaJamaal Charles is leading the Chiefs in rushing yards with 666 yards on 103 carries.
Running for first place:
The race for first place in the AFC West starts on the ground. The best way to win in the NFL is with the running game and that is being proven in the AFC West. Division-leading Kansas City (5-2) is leading the NFL in rushing with 190.4 yards per game. No team has averaged that many yards on the ground for an entire season since New England in 1978. Second-place Oakland (4-4) is second in the league in rushing at 168.5 yards per game. Sunday's game in Oakland could come down to which team's ground attack can be stopped. Kansas City is ranked seventh in the NFL in run defense, allowing 96.4 yards per game. Oakland is struggling to stop the run. It is ranked 26th against the run, allowing 127.4 yards per game.
Here is a look
at how Kansas City may be able to take advantage of Oakland's running defense Sunday. And here is
an ESPN video analysis
of that matchup. The forecast for Sunday in Oakland calls for rain, which could benefit the ground game for both teams.
Can San Diego stop Houston?
If they have a chance to improve to 4-5, the Chargers must stop the Texans' offense in Houston on Sunday. San Diego is ranked first in the NFL in total defense and No. 1 in pass defense. But it was ripped apart by Tennessee in the air last week. The Titans had 303 yards passing and five receivers caught passes of 24 yards or more. Houston has an explosive offense. If the Chargers' pass defense fails again, Houston will strike often.
Can the Chiefs continue their Oakland dominance?
The Raiders have an advantage in their crucial game against the Chiefs because they are the home team. It's a perfect opportunity to Oakland improve to 3-0 in the division this season. It already has defeated San Diego and Denver. However, Kansas City will enter the game with a lot of confidence.
It has a long winning streak in Oakland.
It has won seven straight games there -- the longest streak in Raiders' history.
Haley's fourth-down guts:
Second-year Chiefs coach Todd Haley has earned a reputation as a riverboat gambler. He loves to go for it on fourth down. He has done it 11 times this season, tied for the third-most in the NFL. The Chiefs have converted on fourth down six times. Haley is not apologizing for his risk-taking ways and it seems he won't stop doing it. "It's not a crazy-man mentality," Haley told reporters this week. "It's well thought out ... I don't expect everybody to agree with me or understand always exactly the way I'm thinking. But we're trying to develop a team here, and I want to be a great team. I want to be a great head coach because I know that for us to be a great team I probably have to be a great head coach."
Can the Chargers win on the road?
If the 3-5 Chargers, who ended a three-game losing streak Sunday against the Titans, are going to make a run, they have to finally win on the road. San Diego is 0-4 on the road. Playoff teams must win away from home. If the Chargers can finally fly home after a victory, perhaps they will climb back into the playoff conversation.
November, 5, 2010
11/05/10
4:02
PM ET
»
NFC Final Word
:
East
|
West
|
North
|
South
»
AFC
:
East
|
West
|
North
|
South
Five nuggets of knowledge about Week 9.

[+] Enlarge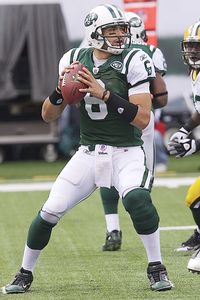 Richard A. Brightly/Icon SMIMark Sanchez of the Jets has thrown four interceptions over his past two games.
The Jets want Mark Sanchez to stop pouting.
To force Sanchez into acting as regal as a franchise quarterback should, offensive coordinator Brian Schottenheimer and backup quarterback
Mark Brunell
have been fining Sanchez for undesirable body language. This sounds like "Romper Room" stuff. Remember when the Jets color-coded Sanchez's play-call wristband last year? Schottenheimer suggested the fines are enacted for fun, but the team obviously felt something needed to be done. Perhaps the fines will help Sanchez refrain from whining to officials, gesturing to his receivers over drops or
haggling with pizzeria employees over 59-cent dipping sauces
.
We won't know how Randy Moss could have helped Miami until we see him in Tennessee.
The Dolphins could have had the future Hall of Fame receiver -- maybe the best deep threat in NFL history -- but declined to claim him off the waiver wire Wednesday and see what he could do with
Brandon Marshall
and
Davone Bess
. The Dolphins had 18th priority. The Titans got him at 22nd. We can imagine the impact Moss could've made for Miami, both positive and negative. The Dolphins' offense is struggling.
Marshall lobbied for the Dolphins to grab him.
Moss would have been a downfield threat and forced safeties to hang deep, opening up greater opportunities for
Ronnie Brown
and
Ricky Williams
. Moss also might have torn apart a young team from the inside out with his antics. The Titans might represent Moss' last NFL chance. If he wakes up, minds himself and plays well in Nashville, only then will Dolfans know how much they missed out.
The Bills' reward for being road warriors? A "home" game in Toronto.
The Bills haven't won a game, but they're still clawing and scratching. They lost their past two games by an overtime field goal on the road. What a pleasant change it would be to play in Ralph Wilson Stadium. Problem is, this is the week the Bills will play the Bears in Toronto as part of the
$78 million package of games they sold off
. The Bills last played a true home game in Week 5. With a bye, regular roadies and the Toronto subsidy, the Bills will go 35 days between games at Ralph Wilson Stadium.
Stats add up for a comfy Patriots victory in Cleveland, but that won't happen.
The Patriots have the NFL's best record, while the Browns rank 31st in scoring offense, 28th in total offense, tied for 12th in scoring defense and 22nd in total defense. But the Browns seem to play out of their Riddells against great teams. They knocked off the Saints a couple weeks ago in the Superdome. The Browns also are coming off a bye week, and head coach Eric Mangini always has a surprise or two in store for his mentor/rival Bill Belichick. The Patriots clearly are the superior team, but this matchup could be too close for comfort.
Cameron Wake will have a better Baltimore homecoming than Aaron Maybin did.
Although six years in difference, Wake and Maybin grew up 20 miles apart in Maryland. They both were noted pass-rushers at Penn State. Two weeks ago, the Bills made Maybin, their disappointing 11th overall pick last year, a healthy scratch in Baltimore. Perhaps he needs to do what Wake did to get a foothold in the NFL: reinvent himself by changing his name and going to play in Canada. Actually, the Bills are playing in Toronto on Sunday against a team that has given up the most sacks. Hmmmm ... I predict if Maybin plays, then he will record his first NFL sack on a field where Wake collected several. Maybin's odds would increase if he changed his name, as Derek Wake did a few years back.
November, 5, 2010
11/05/10
4:01
PM ET
»
NFC Final Word
:
East
|
West
|
North
|
South
»
AFC
:
East
|
West
|
North
|
South
Five nuggets of knowledge about Week 9:
Home sweet home.
The
Arizona Cardinals
'
Larry Fitzgerald
will be making his second NFL appearance at the Metrodome, where he served as a Vikings ball boy growing up in Minnesota. Fitzgerald's only previous NFL game at the Metrodome proved memorable. He caught 11 passes for 172 yards during a 2006 defeat featuring 824 yards of total offense between the teams. For all the Cardinals' struggles this season, they did amass 396 yards against Tampa Bay in Week 8. The Vikings have zero sacks while allowing 755 yards passing over their past three games. They have six sacks all season. Fitzgerald might find there's yardage to be had against this defense.
[+] Enlarge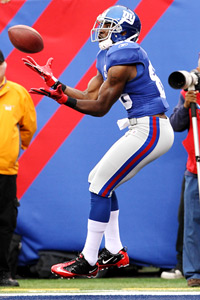 Alan Maglaque/US PresswireSeattle will be tested by Giants receiver Hakeem Nicks, who thrives in the red zone.
Whitehurst's turn.
With
Matt Hasselbeck
ruled out against the
New York Giants
, Seattle's
Charlie Whitehurst
becomes the third quarterback since 2000 to make his first NFL regular-season start in a Seahawks uniform. Of the others, only Hasselbeck won his starting debut, holding on for a 9-6 victory against Cleveland in the 2001 opener despite no touchdowns, two interceptions and a 48.4 rating.
Seneca Wallace
had three TDs, two INTs and a 76.8 rating in a loss to Kansas City in 2006.
Brock Huard
completed 19 of 34 passes for 172 yards and a 69.7 rating in a loss to Carolina in 2000.
It's the turnovers.
The Cardinals are 2-0 this season and 31-3 under coach Ken Whisenhunt when winning or even tying the turnover battle. They are 1-4 this season and 3-24 under Whisenhunt when losing the turnover battle. That's why it's so important for quarterback
Derek Anderson
to manage the game more efficiently. The late interception Anderson threw against Tampa Bay stands out as the classic unforced error. That type of play might be the only thing standing between the Cardinals and a third consecutive NFC West title.
Watch those DB blitzes.
The Seahawks have blitzed at least one defensive back on 25 percent of opponents' pass plays, collecting 11 sacks and holding quarterbacks to a 57.3 rating on those plays, according to ESPN Stats & Information. Some caution could be in order against the Giants.
Eli Manning
has completed 13 of 25 passes for 192 yards, two touchdowns and a 104.1 rating while taking only two sacks against DB blitzes.
Holding up in the red zone.
Seattle's pass defense has struggled overall, but no defense in the league has held opposing quarterbacks to a lower passer rating in the red zone this season. NFL quarterbacks have a 92.7 rating in the red zone this season, but the figure is only 56.3 against Seattle, ESPN Stats & Information notes. The Giants'
Hakeem Nicks
has six red-zone touchdowns, which leads NFL wide receivers. Nicks has eight receptions in the red zone, which ranks tied for first among receivers. He has not dropped a red-zone pass.
November, 5, 2010
11/05/10
4:01
PM ET
By
Matt Mosley
| ESPN.com
»
NFC Final Word
:
East
|
West
|
North
|
South
»
AFC
:
East
|
West
|
North
|
South
Five nuggets of knowledge about Week 9:
The Eagles have to account for Dwight Freeney at all times.
The
Indianapolis Colts
' All-Pro defensive end can absolutely take over a game, and that's why Eagles coach Andy Reid better make sure left tackle
Jason Peters
has some help a lot of the time. Peters has been a major disappointment for the Eagles the past two seasons, but maybe he'll display all that talent that he's rumored to have in this game. Scout-teamer Pannel Egboh has been playing the role of Freeney in practices this week. Left guard
Todd Herremans
told me Thursday that Egboh had really worked hard to pick up some of Freeney's moves, but it's a little difficult because he's 5 inches taller than the Colts' defensive end.
The Giants are looking for some noise reduction in Seattle.
I'm told the architecture at Qwest Field matched with the enthusiasm of the home crowd is what has caused a league-leading 99 false starts since 2005. The Giants have worked on silent counts this week and they know how important it is to be successful on first down in this environment. They are the top team in the NFC on first down with 6.47 yards per play. Offensive coordinator Kevin Gilbride has done everything possible to script himself a touchdown on the first drive Sunday. If the Giants score first, I think the crowd won't be as much of a factor. The Giants let the Lions hang around too long at home. If they have a chance to bury the Seahawks, they better get it done.
[+] Enlarge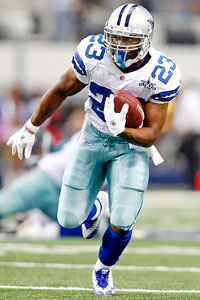 AP Photo/James D SmithTashard Choice could see his first significant action of the season against the Packers.
Will the nation get to meet Tashard Choice on Sunday night?
The Cowboys' third-string running back has been told to "get ready" for this game against the Packers, according to various reports. Choice has been quite forthcoming about the Cowboys' plans to get him involved in the running game early against the Packers. I know
Felix Jones
is going to play, but don't be surprised if Choice gets at least 10 touches against the Packers. And in Jason Garrett's pass-happy offense, that would qualify as quite a workload.
Michael Vick needs to make plays while protecting himself in this game.
I don't think Peters is going to play a clean game against Freeney, so Vick may be on the move from the jump. But he has to be wise about scrambling. If he has to slide instead of diving forward to get a first down, so be it. This guy is a huge injury risk based on the way he plays the game. Vick will take off and run at some point, but he has to know when to call it quits. I'm also anxious to see how
DeSean Jackson
performs after returning from a concussion. I would not put him back on punt returns in this game, although Reid said he has been working back there in practice this week.
Giants need to pound Charlie Whitehurst into submission early.
The Seahawks' backup quarterback will face a defense that has been very opportunistic in recent games.
Osi Umenyiora
was named NFC Defensive Player of the Month for October and I think he's poised to have a big game. The Giants also need
Jason Pierre-Paul
to continue his progress on defense and special teams. He needs to do some of the things that
Mathias Kiwanuka
(out for season) was able to do. I think the Giants will win this game handily because Perry Fewell's defense is poised to have a great effort against a young quarterback who isn't aided by a top running back.
November, 5, 2010
11/05/10
4:00
PM ET
»
NFC Final Word
:
East
|
West
|
North
|
South
»
AFC
:
East
|
West
|
North
|
South
Five nuggets of knowledge about Week 9:
Bring earplugs.
That's usually the advice to opponents who arrive at the Metrodome. This weekend, however,
Minnesota Vikings
coach Brad Childress might want to join in. At the very least, there is a rabid and vocal minority of Vikings fans whose discontent is running deep following Childress' decision to waive receiver
Randy Moss
. Sunday, we'll find out how widespread their displeasure is. Two years ago, fans
rained down chants of "Fire Childress"
during a sloppy victory over the
Detroit Lions
. At least in the early going Sunday, the Vikings face the possibility of a toxic atmosphere that offers little home-field advantage. It's nothing that a few early touchdowns couldn't eradicate, but remember this: The Vikings have scored only 21 points in the first quarter of their seven games this season.
Brett Favre is still here.
The Childress-Moss brouhaha all but eclipsed the fact that the Vikings quarterback practiced sparingly this week while dealing with elbow tendinitis, two fractures in his foot and a gash in his chin that required 10 stitches to close. We all know Favre is the Bionic Man and all, but at what point will all the king's horses and all the king's men not be able to put him back together again? We all know Favre is struggling to make it through games based on performance alone, having thrown 11 interceptions in 211 attempts. His 5.4 interception percentage would be the worst of his career. But in all seriousness, how many times will Favre bounce back from the type of hits he's taking? I have no doubt the
Arizona Cardinals
want to find out.
[+] Enlarge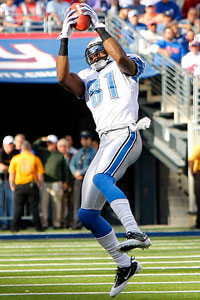 Jim O'Connor/US PresswireJohnson has a huge catch radius.
Switch-up.
There has been a lot of talk about the presumed matchup between Detroit Lions receiver
Calvin Johnson
and All-Pro
New York Jets
cornerback
Darrelle Revis
. But are we 100 percent certain that it will happen? It was only a month ago, after all, that the Jets assigned the bigger
Antonio Cromartie
to Minnesota Vikings receiver Randy Moss and had Revis chase slot man
Percy Harvin
. Cromartie did an excellent job on Moss for the most part, although Moss did beat him for a third-quarter touchdown. You wonder if the Jets won't repeat that pattern when they go to single coverage. Cromartie has more size to battle Johnson than Revis does. Just a thought.
Relief.
You have to wonder if the
Dallas Cowboys
' defense will be the necessary tonic to get the
Green Bay Packers
' offense on track heading into their bye. The Cowboys are allowing nearly 27 points per game and have generated only 10 turnovers, the ninth-lowest mark in the league. The Packers are in position to take some control of the NFC North by taking a game they should win at Lambeau Field. A victory would put them at 6-3 heading into their bye week with the prospects of getting a number of injured players back into the rotation afterward. Receiver
Donald Driver
(quadriceps) should be back in action by then, and the Packers should also have safety
Atari Bigby
(ankle) and cornerback
Al Harris
(knee) back no later than then.
The value of a bye.
It will be fascinating to see what the
Chicago Bears
come up with Sunday against the
Buffalo Bills
. The Bears have had two weeks to study their offensive problems, and it would be a case of gross negligence should no adjustments be obvious. Here's what quarterback
Jay Cutler
told Buffalo-area reporters
: "We've tried getting rid of the ball quicker and quicker so it's something that we definitely went into detail about over the bye week and we think that we've got everything solved."
He also said
that the Bears' pass-protection problems at times have distracted him from reading defenses downfield. All of that needs to end. The Bears have to find a way to get Cutler functioning at a higher level immediately. They might be able to beat the Bills no matter how Cutler plays, but there aren't many other teams on their schedule you can say that about.

NFL SCOREBOARD
Sunday, 2/2
WEEKLY LEADERS