NFL Nation:

Final Word 2011 Week 17
December, 30, 2011
12/30/11
1:32
PM ET
»
NFC Final Word
:
East
|
West
|
North
|
South
»
AFC
:
East
|
West
|
North
|
South
Five nuggets of knowledge about Week 17:
Pressure tells the story:
The
Houston Texans
sack or put quarterbacks under duress 28.0 percent of the time, the highest rate in the NFL. No one has a front that swarms as consistently as Houston's. The
Tennessee Titans
are recording a sack or putting quarterbacks under duress on 18.4 percent of opponent dropbacks this season, the second-lowest rate in the NFL. If
Matt Hasselbeck
is under constant pressure and
T.J. Yates
isn't, this game will lean toward the Texans despite the fact that Tennessee has much more at stake.
[+] Enlarge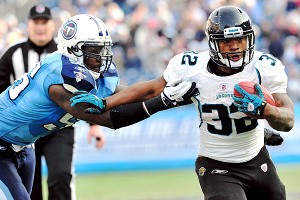 Don McPeak/US PresswireMaurice Jones-Drew has 1,437 rushing yards on the season and a sizable lead in the rushing-title race.
Big milestones in range:
Maurice Jones-Drew
has a 128-yard lead on the rushing title heading into the day, but the
Jacksonville Jaguars
would surely like to guarantee that the running back secures the honor. He will be just the sixth back since 1970 to lead the league in rushing on a team with five wins or fewer and the fifth to lead the league in rushing on the NFL's worst passing team. Tennessee receiver
Nate Washington
is 69 yards from a 1,000-yard season, which would be a giant accomplishment on this Titans team.
Ben Tate
could see a good share of carries against the Titans, but the 155 rushing yards needed to get him to 1,000 for the season is probably too much to expect.
Hands in the air:
Houston is very good at batting balls down near the line of scrimmage. ESPN Stats & Info says the Texans have batted down a league-high 19 passes at the line of scrimmage this season. No other team has more than 14 (
Miami Dolphins
). Hasselbeck is susceptible to linemen getting their paws on his throws. He has had 13 passes batted down this season, tied with the
New York Jets
'
Mark Sanchez
for the most in the NFL. Hasselbeck had his worst game of the season in the Oct. 23 loss to the Texans. To win this one, the Titans are going to need a good passing day. Hasselbeck needs 226 passing yards to become just the second Oilers/Titans quarterback to throw for 3,500 yards in a season, joining Hall of Famer
Warren Moon
. Moon did it in 1989, 1990 and 1991.
Open it up:
The Jaguars don't have the pass protection or the weapons to create a lot of big plays down the field. The
Indianapolis Colts
have gotten far better defense as they've won two straight, but they still have unproven guys in the secondary. With nothing to lose, the Jaguars should not try to play it safe with short passes -- look what that did for the Titans and Texans the past two weeks against Indianapolis. When they are not handing the ball to MJD, the Jaguars should chip
Dwight Freeney
and
Robert Mathis
as needed and tell
Blaine Gabbert
to test the pass coverage deep. I've written they should go crazy a few times this season. In the last game for this coaching staff, why not take chances?
Also:
Despite being inactive for two games and sidelined for much of another,
Arian Foster
has rushed for at least 100 yards in a league-high seven games. Since the start of the 2010 season, Foster leads the league in rush yards (2,840), rush touchdowns (26) and first downs (147). ... Only the
New York Giants
'
Jake Ballard
(15.9) has a higher yards per catch average than
Jared Cook
(15.5) among tight ends with significant action. … Gabbert had been sacked 37 times (tied for third-most in the NFL) and has the lowest passer rating (64.3) and QBR (21.3) among quarterbacks who have had significant playing time this season.
December, 30, 2011
12/30/11
1:30
PM ET
»
NFC Final Word
:
East
|
West
|
North
|
South
»
AFC
:
East
|
West
|
North
|
South
Five nuggets of knowledge about Week 17:
Draft order disorder.
Every NFC West team but San Francisco faces a potential significant shift in draft order based on Week 17 results. The
St. Louis Rams
will emerge with the No. 1 overall pick if they lose to the 49ers while Indianapolis defeats Jacksonville. The Colts will pick first if they lose, or if the Rams win. The winner between the
Arizona Cardinals
and
Seattle Seahawks
will finish 8-8 instead of 7-9, producing likely a swing of several spots in the order. The 7-9 team with the easiest strength of schedule will pick ninth. The 8-8 team with the strongest strength of schedule would pick 20th.
[+] Enlarge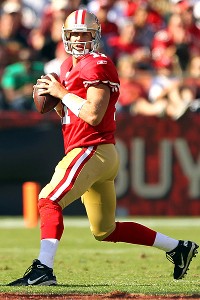 Ezra Shaw/Getty ImagesAlex Smith has had quite a 2011 season, including a passer rating that could eclipse some of Joe Montana's seasons.
Gunning for the record.
Two of the NFL's sack leaders will stand on opposite sidelines at the Edward Jones Dome. San Francisco's
Aldon Smith
has 14 sacks, one more than St. Louis'
Chris Long
. The NFC West in its current form has never produced two players with as many combined sacks in the same season. Smith needs one more to break the NFL rookie record
Jevon Kearse
set in 1999 (records kept since 1982). Smith and Long are both close to setting an NFC West single-season record since realignment in 2002.
Bertrand Berry
had 14.5 sacks for Arizona in 2004.
Patrick Kerney
had the same total for Seattle in 2007.
Alex Smith's improbable rating.
The 49ers must be pleased to know that Smith, with a 90.1 NFL passer rating through 15 games, has a chance to finish with a better single-season mark than
Joe Montana
posted with the team in 1981, 1982, 1986, 1988 or 1990. Passer rating is but one tool for measuring quarterback performance. No one is saying it's perfect, or even that Smith has played better this season than Montana did during those five seasons. Still pretty tough to believe, though, right?
Battle of the backs.
Frank Gore
leads NFC West running backs with 1,202 yards even though his production has trailed off late in the season.
Marshawn Lynch
would have to outgain Gore by 85 yards to overtake him for most rushing yards in the division. That is unlikely, but Lynch has set a furious pace lately. He leads the NFL in rushing since Week 9, gaining 855 yards over that eight-game period. The Rams'
Steven Jackson
ranks eighth in the league with 620 yards during that time. Arizona's
Beanie Wells
is 15th (541 yards), one spot ahead of Gore (527). All four primary backs in the division have topped 1,000 yards.
Spagnuolo's last stand?
The Rams started the season with an 0-6 record. They're in danger of finishing it with seven consecutive defeats. No team in the NFL has a worse record than the Rams since Steve Spagnuolo became head coach in 2009. St. Louis, shut out by the 49ers earlier this season, needs 10 points to avoid becoming the lowest-scoring Rams team since the franchise left Los Angeles. The 49ers, meanwhile, are allowing a franchise-best 13.46 points per game. The 1946 team, which played in the AAFC, allowed 13.5. The current team can break that record by allowing 13 or fewer points. The 1976 team holds the NFL-era franchise record at 13.57 points per game allowed. The current 49ers could break that record by allowing no more than 15 points to the Rams.
December, 30, 2011
12/30/11
1:30
PM ET
»
NFC Final Word
:
East
|
West
|
North
|
South
»
AFC
:
East
|
West
|
North
|
South
Five nuggets of knowledge about Week 17: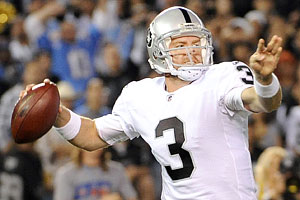 Harry How/Getty ImagesThe Raiders' playoff hopes may rest on Carson Palmer's ability to convert on third downs.
Best quarterback on third downs wins title?
The
Denver Broncos
can win the AFC West title with a win over the visiting
Kansas City Chiefs
, or if the
Oakland Raiders
lose at home against the
San Diego Chargers
. The Raiders can win the division if they beat the Chargers, and the Chiefs beat the Broncos. It could come down to the third-down efforts of Denver quarterback
Tim Tebow
and Oakland quarterback
Carson Palmer
. According to ESPN Stats & Information, Tebow and Palmer have been the worst quarterbacks in the NFL on third-down conversions this season. Palmer is achieving first downs on 28.6 percent of his third-down passes and Tebow has been picking up first downs on 23.1 percent of his third-down passes.
Raiders poised to be penalty kings:
The Raiders are close to becoming the NFL record-holders for penalties. Oakland has committed 155 penalties for 1,294 yards, just four penalties and 11 yards from setting the record. The current record-holder in both categories is the 1998 Chiefs, who went 7-9. Oakland coach Hue Jackson has been focusing on cutting down penalties since training camp. This has to kill him, but if the Raiders win the division while setting the new penalty records, the pain will be lessened some.
Will trends continue?
There are some interesting trends going into this pivotal weekend. The Chiefs -- who will be trying to help interim coach Romeo Crennel become the full-time coach -- are 1-9 in their last 10 trips to Denver. Oakland has won three straight games against San Diego after losing 13 in a row to the Chargers. San Diego, which is likely playing its final game under coach Norv Turner, has won its final game of the past five seasons.
Toss it Mathews' way:
According to ESPN Stats & Information, San Diego running back
Ryan Mathews
is averaging a league-high 8.9 yards per rush on toss plays to the outside in the past five games. It is a major improvement from earlier in the season. Mathews averaged only 3.2 yards per rush on those attempts in his first nine games this season.
Could be swan-song time:
Several key players in the AFC West are set to be free agents and could be about to play their final game with their teams. Among those players are Kansas City receiver
Dwayne Bowe
, Kansas City cornerback
Brandon Carr
, San Diego receiver
Vincent Jackson
, San Diego center
Nick Hardwick
, San Diego running back
Mike Tolbert
and Oakland running back
Michael Bush
.
December, 30, 2011
12/30/11
1:30
PM ET
»
NFC Final Word
:
East
|
West
|
North
|
South
»
AFC
:
East
|
West
|
North
|
South
Five nuggets of knowledge on Week 17:
Lambeau Field rematch:
The season's first game between the
Green Bay Packers
and
Detroit Lions
was a tense, physical and emotionally-charged Thanksgiving Day affair
that included two ejections
and eventually ended in a 27-15 Packers victory. The rematch figures to be less intense. The Packers are hoping to become the sixth team in NFL history to win 15 games in the regular season, but they aren't likely to sacrifice their health to do it. It's likely that coach Mike McCarthy will empty his bench at some point, even if most of his regular players start the game. Historically, the Packers have been strong finishers regardless of the circumstances. They have won their final regular-season game for eight consecutive years, the best active streak in the NFL, and are 16-1 in regular-season finales since 1994.
[+] Enlarge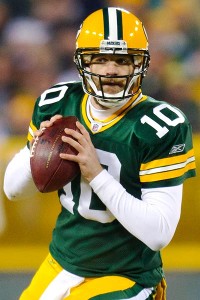 Jeff Hanisch/US PresswireThe Lions will also have to prepare for Matt Flynn for their Week 17 game against the Packers.
Lions positioning:
The stakes are simple for the Lions. A victory would be their first in the state of Wisconsin in 20 years, ending the longest streak of consecutive road losses to one opponent in NFL history at 19. It would give them their first 11-victory season since 1991, and would also clinch them the NFC's fifth seed in the playoffs and a first-round matchup at the winner of Sunday night's game between the
Dallas Cowboys
and
New York Giants
. Even if they lose, the Lions would still be the fifth seed if the
Atlanta Falcons
lose to the
Tampa Bay Buccaneers
. Otherwise, they will be the No. 6 seed and face a trip to play either the
New Orleans Saints
or the
San Francisco 49ers
.
Unleash Flynn:
McCarthy hasn't said much about his personnel plans for Sunday's game, but
he apparently told
former NFL quarterback and current broadcaster
Rich Gannon
that backup
Matt Flynn
will get at least some action. Starter
Aaron Rodgers
has suggested that Flynn is ready to compete for another team's starting job, and Flynn could sign elsewhere this offseason as a free agent. But there is a limited amount of regular-season tape to evaluate Flynn on, and none of it is from this season. So that makes whatever time he gets in Sunday's game particularly valuable to his future.
Quarterback issues:
The
Chicago Bears
will start 32-year-old journeyman quarterback
Josh McCown
at the Metrodome on Sunday, which I suppose is merited after his better-than-expected performance Sunday night against the Packers. But I strongly agree with
Dan Pompei of the Chicago Tribune
, who wrote this week that the Bears would be ignoring the central flaw of their season by not giving rookie
Nathan Enderle
extensive playing time. Backup quarterback
Caleb Hanie
flopped after taking over for injured starter
Jay Cutler
, sparking what is now a five-game losing streak. Part of developing backup quarterbacks is getting them regular-season playing time. If you can't squeeze a rookie quarterback into a Week 17 game after you've been eliminated from the playoffs, when can you? If Enderle is so ill-prepared that the Bears deem him unfit for even that assignment, they might as well cut their losses with him now.
Vikings stakes:
I wonder if Vikings fans are rooting for a victory or loss Sunday against the Bears. A win would allow them to avoid tying the franchise record for most losses in a season (13). They would also circumvent their first winless division record in team history. On the other hand, a loss would give the Vikings a top-three pick in the 2012 draft. A victory could drop them as far as No. 6. One thing is for sure: Everyone will be rooting for the Vikings to get into a goal-line situation. Coach Leslie Frazier has already said he'll give the ball to tight end/H-back Jim Kleinsasser, who will be playing in his final career game.
December, 30, 2011
12/30/11
1:30
PM ET
»
NFC Final Word
:
East
|
West
|
North
|
South
»
AFC
:
East
|
West
|
North
|
South
Five nuggets of knowledge about Week 17:
Ware QBs dare not tread:
Dallas Cowboys
linebacker
DeMarcus Ware
could become the first player ever to lead the NFL in sacks in three different seasons, according to ESPN Stats & Information. Ware led the league with 20 sacks in 2008, with 15.5 last season and currently has 18 with one game to go. Minnesota's
Jared Allen
has 18.5 and
Philadelphia Eagles
defensive end
Jason Babin
has 18, so this is a race that's going down to the wire. Of those three, Ware's the one with something to play for Sunday other than the league sack lead.
[+] Enlarge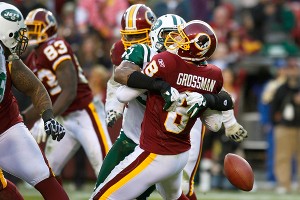 AP Photo/Evan VucciDespite playing in just 12 games this season, Rex Grossman is tied for the league lead in turnovers with 24.
You take it. No, you take it:
The game between the Eagles and the
Washington Redskins
has a chance to be sloppy. The Eagles are tied with the Buccaneers for the league lead in turnovers with 36. Right behind them are the Redskins, who rank third in the league this year with 34 turnovers. Washington quarterback
Rex Grossman
, who is tied for the league lead with 19 interceptions in spite of having played just 12 games, is also tied with San Diego quarterback
Philip Rivers
for the league lead in turnovers with 24.
Romo's signature season:
If Cowboys quarterback
Tony Romo
throws at least one touchdown pass and no interceptions in Sunday night's game against the
New York Giants
, he will become the sixth player in NFL history, according to ESPN Stats & Info., to throw at least 30 touchdown passes and fewer than 10 interceptions in the same season.
Aaron Rodgers
did it in 2009 and will again this year unless he throws four interceptions Sunday.
Tom Brady
did it in 2007 and 2010.
Brett Favre
turned the trick in 2009,
Peyton Manning
in 2006 and
Donovan McNabb
in 2004.
Eagles history:
Babin enters the game with an outside shot at Reggie White's team record of 21 sacks, set in 1987. Babin had three sacks each in his Week 14 and Week 15 games, so it's not out of the question that he could get three here against the banged-up Redskins line and match White's record. The Eagles will be playing hard, as
LeSean McCoy
has an outside shot at the league rushing title and the team is trying to stave off what would be just the third losing season in Andy Reid's 13-year tenure as their head coach.
Holding on when it counts:
The Giants' receivers have had an issue with dropped passes this year. They are tied for the league lead with 31 drops. But according to ESPN Stats & Information's "Next Level" numbers, 23 of those 31 drops have come in the first halves of games. Their 23 first-half drops are five more than any other team has this year, but 22 teams have more than the eight drops the Giants have in the second half or overtime. So the Giants' passing game does seem to correct itself as the game goes along. Those same "Next Level" stats say Giants quarterback
Eli Manning
was 4-for-11 with 8.6 yards per attempt when the Cowboys sent five or more pass-rushers in the first half of the Week 14 game in Dallas, but he was 8-for-11 with 12.7 yards per attempt and a touchdown against Dallas blitzes in the second half of that game.
December, 30, 2011
12/30/11
1:30
PM ET
»
NFC Final Word
:
East
|
West
|
North
|
South
»
AFC
:
East
|
West
|
North
|
South
Five nuggets of knowledge about Week 17:
[+] Enlarge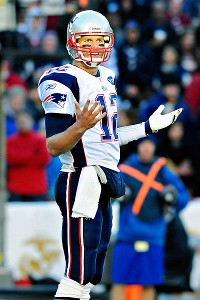 Brad Mills/US PresswireWhere's the love? Tom Brady is also on pace to break Dan Marino's single-season passing record.
Brady for 5,000:
With all the fanfare last week surrounding
Drew Brees
' surpassing
Dan Marino
's single-season passing record, there has been very little hype for
New England Patriots
quarterback
Tom Brady
's also eclipsing 5,000 yards this week. Brady needs just 103 passing yards Sunday against the
Buffalo Bills
to reach the milestone. Brady is on pace to surpass Marino's old mark (5,084) but probably won't have enough to catch Brees (5,087), who could play the entire Week 17 game against the
Carolina Panthers
.
Wrong side of history:
The Patriots could enter the record books for the wrong reasons Sunday. According to ESPN Stats & Information, New England needs to allow just 122 passing yards to set an NFL record for most passing yards allowed in a season. New England's 32nd-ranked defense allows 293.8 yards per game, making the record a near certainty. Buffalo quarterback
Ryan Fitzpatrick
throws the ball a lot and could give New England that record before halftime. This is an area the Patriots must address.
Bills on the road:
The Bills ended a season-high seven-game losing streak last week. But they still have another ugly streak hanging over them. Buffalo is just 1-6 on the road this year and has lost six straight games away from Ralph Wilson Stadium. The Bills' first and only road win of the season came in Week 1 against the
Kansas City Chiefs
. Since then, Buffalo has been outscored 194-93 on the road.
Marshall vs. Revis II:
One of the matchups I'm most looking forward to this weekend is
Miami Dolphins
receiver
Brandon Marshall
against
New York Jets
corner
Darrelle Revis
. These two have had great battles in the past, including earlier this season when Marshall had six receptions for 109 yards but Revis had a 100-yard interception return for a touchdown. Marshall is arguably Revis' toughest matchup in the AFC East. Both players
made the Pro Bowl
this season.
Fond farewell:
The Miami Dolphins will say goodbye Sunday to one of the franchise's greatest players. Defensive end
Jason Taylor
will retire after 15 NFL seasons. He played 13 seasons with Miami. Taylor, 37, is second on the Dolphins with seven sacks this season. That has been his best skill throughout his career. Taylor is sixth on the NFL career list with 139.5 sacks. Miami would love to send Taylor out with a victory against a division rival.
December, 30, 2011
12/30/11
1:30
PM ET
»
NFC Final Word
:
East
|
West
|
North
|
South
»
AFC
:
East
|
West
|
North
|
South
Five nuggets of knowledge about Week 17:
Stretching the field
:
Joe Flacco
beat the
Cincinnati Bengals
earlier this season by throwing deep. He connected on three passes of more than 35 yards, including a 38-yard touchdown to
Torrey Smith
in which he split safeties
Chris Crocker
and
Reggie Nelson
. But stretching the field hasn't happened as much as some expected this season, at least not consistently. Flacco's 25.4 completion percentage on throws that traveled more than 20 yards is the worst of any quarterback with at least 50 attempts since 2008, according to ESPN Stats & Information. This isn't anything new to Flacco, whose success rate in 2008 (25.5 completion percentage) ranks as the second-worst over the past four seasons.
[+] Enlarge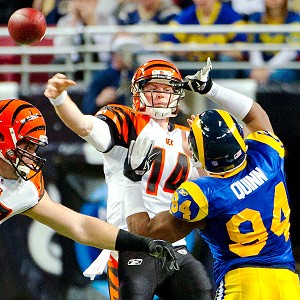 Scott Rovak/US PresswireAfter throwing 12 interceptions in the first 10 games, Andy Dalton has thrown just one pick in the past five matches.
Not giving any gifts
: While a lot of attention has centered on
Cedric Benson
's fumbling problems (five in two weeks), Bengals quarterback
Andy Dalton
has improved as far as protecting the ball. The rookie second-round pick has thrown one interception in his past five games, a total of 140 pass attempts. This impressive stretch started after Dalton was picked off a career-high three times in Baltimore. Since that last meeting, the
Baltimore Ravens
have had four interceptions in five games. The last time Dalton was picked off at home was Nov. 13, when he threw a fourth-quarter interception against the
Pittsburgh Steelers
.
Pressuring without all the pieces
: The Steelers have had to be creative in getting to the quarterback because they haven't been at full strength for most of the season. Their top two pass-rushers,
James Harrison
and
LaMarr Woodley
haven't played a full game together since Sept. 25 because of injuries and a suspension. Still, Pittsburgh's defense has produced the most duress for quarterbacks since Week 10 (causing pressure on 26.8 percent of dropbacks), according to ESPN Stats & Information. This has been the result of an increase in blitzing. The Steelers have rushed five or more on 47 percent of opponents' pass plays over the past eight weeks, the third-highest rate in the NFL.
Hillis back on track
: The
Cleveland Browns
'
Peyton Hillis
has recently looked like the running back from last season. He has a total of 211 rushing yards in two games after producing just 346 yards rushing in his previous seven this season (that's 49.4 yards per game). Hillis is once again powering his way up the middle of defenses. He has 57 carries in between the tackles the last four games; no other player has more than 38 over that span, according to ESPN Stats & Information. The Steelers' run defense is looking to rebound from last Saturday, when they gave up 103 yards rushing to the
St. Louis Rams
'
Steven Jackson
. It's the third time this season that a running back has gained more than 100 yards rushing against Pittsburgh (
Ray Rice
and
Arian Foster
were the others).
Sinking in Cincinnati
: The toughest spot for Baltimore to win lately has been Paul Brown Stadium. The Ravens have lost on five of their past six trips there, including the past two. Flacco has thrown one touchdown and six interceptions in his past two games in Cincinnati. The Ravens have had their struggles on the road this season, with a 3-4 record and losses at the
Jacksonville Jaguars
and the
Seattle Seahawks
. But Baltimore has played its best away from home when traveling inside the division. The Ravens have won four straight road games in the AFC North. Of course, the last divisional road loss was at Cincinnati in Week 2 of last season.
December, 30, 2011
12/30/11
1:30
PM ET
»
NFC Final Word
:
East
|
West
|
North
|
South
»
AFC
:
East
|
West
|
North
|
South
Five nuggets of knowledge about Week 17:
High-powered offenses:
Assuming the Saints play their starters, and they say they will, their game with the Panthers may look like a mismatch at first glance. But, look again. The Panthers are a much better team than they were earlier in the year. They've won four of their past five games and they've scored 164 points in that span. Since Week 12, only the Saints (189 points) and the Patriots (171) have scored more points. Carolina also has won three straight road games after snapping a 12-game road losing streak.
[+] Enlarge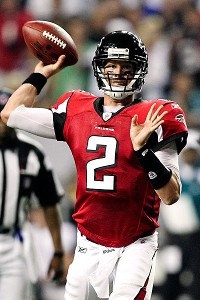 Daniel Shirey/US PresswireMatt Ryan is 73 yards away from setting the Atlanta franchise record for passing yards in a season.
Bright spot:
The Falcons can take a bit of good news out of Monday night's loss to New Orleans. They're very good at bouncing back from a loss. The Falcons have not lost back-to-back games since 2009.
Erasing Jeff George:
Like the Saints, the Falcons also are saying they'll play their starters. Let's hope that's true and let's hope
Matt Ryan
at least plays long enough to throw for 73 yards. If he does, he'll set the franchise record for passing yards in a season. The record is 4,143 yards and it was set by Jeff George in 1995. No team should have George at the top of its record book for 16 years.
Last dance?
I don't think the Bucs are literally playing for coach Raheem Morris' job on Sunday in Atlanta. I suspect ownership already has made a decision and one game isn't going to change it. There's been some speculation Morris could stay if he replaces himself as defensive coordinator and makes a change at offensive coordinator. It's possible, but I think it's highly unlikely. The Bucs have crumbled during a nine-game slide. If this were Morris' first or second year, he might stick. But this is his third year and, by that time, you should be seeing progress -- not major regression -- from a youth movement.
Stats are for losers:
Let's put Tampa Bay's nine-game losing streak in perspective. It's the longest active losing streak in the NFL. It's Tampa Bay's longest losing streak since losing 11 consecutive games between the 2008 and '09 seasons. The last time the Bucs lost 10 straight in a single season was 1977, the franchise's second season, when the Bucs lost their first 12 games. If the Bucs lose to the Falcons, Morris will join John McKay and Leeman Bennett as the only coaches in franchise history to have more than one 12-loss season.

NFL SCOREBOARD
Thursday, 9/18
Sunday, 9/21
Monday, 9/22
WEEKLY LEADERS