NFL Nation:

Final Word 2011 Week 3
September, 23, 2011
9/23/11
1:30
PM ET
»
NFC Final Word
:
East
|
West
|
North
|
South
»
AFC
:
East
|
West
|
North
|
South
Five nuggets of knowledge about Week 3:
Streak, Eagles, streak:
The
Philadelphia Eagles
have beaten the
New York Giants
six times in a row and will try to make it seven Sunday afternoon. Streaks have been a big part of this rivalry, but this is the longest one the Eagles have had against the Giants since they beat them 12 times in a row from 1975-81. They also beat them six times in a row from 1947-49. But the Giants lead the all-time regular-season series 79-71-2 and have had their share of the big winning streaks. The Giants beat the Eagles nine times in a row from 1997-2001, six times in a row from 1985-87, six times in a row from 1961-63 and nine times in a row from 1938-42. So history says there's a chance this all gets turned on its ear at some point.
[+] Enlarge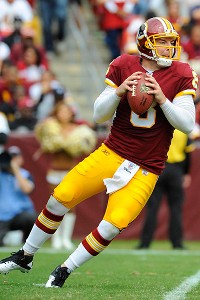 Brad Mills/US PresswireWashington's Rex Grossman can expect a lot of pressure from the Cowboys on Monday.
Cowboys coming for Grossman
: Redskins quarterback
Rex Grossman
has had a hot start to the season, but he's going to face more pressure Monday night than he has in his first two games. Cowboys linebacker
DeMarcus Ware
leads the league with four sacks through two games, and the Cowboys have the most sacks of any team, with 10. So, toughest test yet for a Redskins offensive line that looked extremely good in Week 2. Interestingly for NFC East fans, the Eagles are second in the league with nine sacks so far, the Redskins are tied for fourth with seven and the Giants have six, which puts them in a nine-way tie for sixth.
Giants wearing down
: When you've had as many injuries as the Giants have had, it can show up in surprising ways. As many of you have pointed out, the Giants haven't suffered too many significant injuries to star players. However, they've had so many injuries that it impacts their depth, and in turn their ability to finish games strong. The Giants have scored only seven points after halftime so far this season. Only the Vikings and Jaguars have scored fewer second-half points. And while we're only talking about two games here, it's a trend worth watching.
Hot-starting Skins:
A Redskins victory against the Cowboys on "Monday Night Football" would give them a 3-0 record for the first time since 2005 and the eighth time since the NFL merger. In six of the seven seasons in which they started 3-0, they reached the playoffs, with the one exception being their 8-8 season in 1978. At the end of two of the past four seasons in which they began 3-0 -- 1982 and 1991 -- the Redskins won the Super Bowl.
Vick vs. the Giants' blitz
: According to ESPN Stats & Information (which is where most of the information for these nuggets comes from each week), the Giants blitzed defensive backs against
Michael Vick
more than any other team in 2010. They did it 17 times in the Week 11 game in Philadelphia and 18 times in the Week 15 game in New Jersey. The Giants will tell you they figured out how to stop Vick, and that the blitzes from the secondary were part of it. And through the first game and a half last season, the numbers backed them up. Vick averaged only 3.6 yards per pass with no touchdowns, an interception and 15 rushing yards when the Giants blitzed a defensive back in Week 11 and the first half of Week 15. But after halftime of the Week 15 game, Vick was at 9.6 yards per pass with three touchdowns, no interceptions and 90 rushing yards. So he might have figured them out right back. We'll see how it goes Sunday, and if the Giants can afford to send extra defensive backs while they're so thin in the secondary.
September, 23, 2011
9/23/11
1:30
PM ET
»
NFC Final Word
:
East
|
West
|
North
|
South
»
AFC
:
East
|
West
|
North
|
South
Five nuggets of knowledge about Week 3:
Rex on the road:
The
New York Jets
have been very comfortable on the road under head coach Rex Ryan. According to ESPN's Stats & Info, Ryan is 6-0 on the road against non-divisional opponents. On Sunday the Jets will travel across the country to face the
Oakland Raiders
. New York to Oakland is one of the longest road trips in the NFL. It spans approximately 2,900 miles.
[+] Enlarge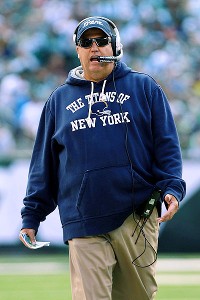 Nick Laham/Getty ImagesJets coach Rex Ryan is 6-0 on the road against non-divisional opponents.
Looking ahead:
Despite a 2-0 start, the Jets' game against Oakland is bigger than you think. New York follows this week with brutal back-to-back road games against the
Baltimore Ravens
(Oct. 2) and
New England Patriots
(Oct. 9). Both will be tough to win away from home. If New York beats Oakland and gets off to a 3-0 start, that takes some pressure off the next two weeks. But a loss to the Raiders on Sunday could put New York in a tough spot.
Safety a concern:
New England's safety position continues to be a concern. The combination of injuries, defections and lack of performance has made it one of New England's few areas of weakness. The latest is the recent thumb surgery for
Patrick Chung
, who hasn't practice this week. He is out for Sunday's big game against the
Buffalo Bills
(2-0). The Patriots are ranked No. 31 against the pass after two games. New England is lacking depth at the position with Chung's injury and the recent release former Pro Bowler
Brandon Meriweather
.
Jackson factor:
The Bills player with the best chance of slowing down Patriots quarterback and MVP candidate
Tom Brady
doesn't play defense. Buffalo running back
Fred Jackson
, the NFL's leading rusher, could be a headache for New England's defense. Jackson is running with a purpose. He's averaging 114.5 rushing yards per game and 6.5 yards per carry. The more first downs Jackson gains on the ground, the more Brady stays off the field. Both teams are expected to score a lot of points.
Must-win for Miami:
The Dolphins' road game against the
Cleveland Browns
is pivotal. Not only would an 0-3 start put the Dolphins in a huge hole, but a lot of people in Miami's organization would be on the hot seat. It starts with head coach Tony Sparano. He's been a lightning rod in Miami this past week. Dolphins fans and sports talk shows in South Florida already are starting to discuss potential replacements. Quarterback
Chad Henne
, who has improved this year, has been a hot topic the past couple of years. The Dolphins can quiet the talk for at least a week with a road win against Cleveland. Miami was one of the NFL's top road teams last season, posting a 6-2 mark away from Sun Life Stadium.
September, 23, 2011
9/23/11
1:30
PM ET
»
NFC Final Word
:
East
|
West
|
North
|
South
»
AFC
:
East
|
West
|
North
|
South
Five nuggets of knowledge about Week 3:
Tolbert not a force at the goal line:
The
San Diego Chargers
would like to see bowling-ball running back
Mike Tolbert
regain his mojo at the goal line Sunday against visiting Kansas City. According to ESPN Stats & Information, Tolbert has scored on just 1-of-6 goal-to-go situations in two games. Last year, he was 10-of-21 in those situations. Tolbert was stopped on fourth-and-inches at the goal line at New England last week. It was one of the most crucial plays of the game.
[+] Enlarge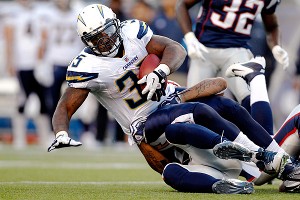 AP Photo/Charles KrupaThe Chargers need to get more production around the goal line from running back Mike Tolbert.
Raiders need to put hex on Rex:
One of the reasons
New York Jets
coach Rex Ryan has been so effective as a head coach is his confidence. He is not afraid to play anywhere. He certainly won't fret about entering the Black Hole on Sunday. Since he took over the Jets in 2009, Ryan's team is 6-0 against non-divisional AFC competition on the road. It's up to the Raiders to show Ryan the road can be a tough place.
Last trip to San Diego not good karma for Chiefs:
The last thing the
Kansas City Chiefs
need right now is bad memories. The Chiefs are floundering at 0-2. They have been outscored 89-10 in two games, they have injury issues, and coach Todd Haley is reportedly on the hot seat. A win at San Diego would solve a lot of problems, but the Chiefs will not be hitting the field in San Diego with terrific memories. The Chargers hammered the Chiefs, 31-0, in Week 14 of last season -- Kansas City's last visit. The Chiefs were without quarterback
Matt Cassel
, who had an appendectomy earlier that week.
Did the Titans pick the right QB?
Before the end of the lockout, there was speculation the
Tennessee Titans
would pursue a veteran quarterback to help groom first-round pick
Jake Locker
. A lot of the speculation centered on Denver's
Kyle Orton
. However, instead of trading for Orton, the Titans signed Seattle's
Matt Hasselbeck
. In the end, Orton didn't get dealt, and now the two veterans will face each other Sunday in Nashville. So far, Hasselbeck is enjoying a fast start for the Titans, so they probably don't have any regrets going into this matchup.
Raiders' defensive front could have a field day:
New York star center
Nick Mangold
is out for Sunday's game. Rookie free-agent
Colin Baxter
is expected to start in his place. Baxter was claimed off waivers from the Chargers after the Chargers cut him with the intent of stashing him on the practice squad earlier this month. Baxter has had nine practices with the Jets and will be in charge of protecting Jets' quarterback
Mark Sanchez
, who has a bruised arm. The Raiders' defensive front, one of the best in the league, must take advantage of this. They have to attack the middle of the Jets' line and try to make life as difficult as possible for Baxter. If Baxter fails, the Jets are prepared to use left guard
Matt Slauson
at center. That would put the Jets' offensive line in even more upheaval.
September, 23, 2011
9/23/11
1:30
PM ET
»
NFC Final Word
:
East
|
West
|
North
|
South
»
AFC
:
East
|
West
|
North
|
South
Five nuggets of knowledge on Week 3:
Early positioning:
Last season, the
Chicago Bears
took the early advantage in the NFC North race with a Week 3 victory over the
Green Bay Packers
at Soldier Field. This season, the Packers are hoping to put some early distance between them and their top rivals. A 3-0 start would be the Packers' first since 2007, but more importantly, it would give them a two-game lead over a Bears team that would be 1-2. (Technically it would be more than two games because of an early tiebreaker. But that breaks our unofficial rule on mentioning tiebreakers in September.)
Sod wars:
I firmly believe that constant public discussion about the playing surface at Soldier Field gives the Bears a level of competitive advantage. There is no doubt that some opposing players get caught up in concerns about loose sod and painted dirt. This week, the Chicago Park District re-sodded the field. Normally that would bode well for opponents. Loose sod is probably better than painted dirt. Regardless, the Bears have won nine of their last 10 NFC North games at home. The Packers were the only team to beat them in that stretch, a Week 14 victory in 2009. The Packers should feel fortunate they are playing at Soldier Field in Week 3 rather than Week 13.
Temptation:
You have to think that Bears offensive coordinator Mike Martz salivated this week as he watched film of a Packers defense that has given up 800 net passing yards in two games. He also knows that the Packers have lost safety
Nick Collins
for the season. But Martz backed himself into a corner last Sunday by overdosing on passing plays in the Bears' 30-13 loss to the
New Orleans Saints
. Whether or not he sees a favorable matchup, he just can't come out firing against the Packers. And even if he did it, chances are it wouldn't work. First, Bears quarterback
Jay Cutler
won't have his most reliable receiver,
Earl Bennett
, who has a chest injury. And Cutler has struggled against the Packers' nickel defense since joining the division in 2009. When the Packers have five defensive backs on the field, according to ESPN Stats & Information, Cutler has averaged only 5.7 yards per attempt, throwing two touchdowns and nine interceptions.
[+] Enlarge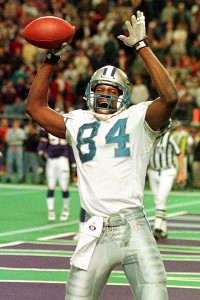 Craig Lassig/AFP/Getty ImagesHerman Moore celebrates his game-winning touchdown catch in the last game the Lions won in Minnesota.
Historical data:
Is the NFC North in for a seismic shift this weekend? For the first time in 30 years -- and the first time ever in the Metrodome -- the
Detroit Lions
are
favored to win a game in Minnesota
. The last time the Lions won a game in Minnesota was Dec. 14, 1997, when quarterback
Scott Mitchell
threw a one-yard touchdown pass to receiver
Herman Moore
with one second remaining in a 14-13 victory. The Lions also have an 11-game road losing streak in divisional play, the longest active streak in the NFL. All of that could end Sunday. The Vikings' discombobulated start to this season leaves them ill-equipped to handle a healthy and well-oiled Lions team that has sprinted from the gates this season. Vikings quarterback
Donovan McNabb
has lost seven of his past eight starts, a streak that began when his
Washington Redskins
lost to the Lions last season. The Lions are pushing for their first 3-0 start since 1980. We could go on and on....
Standard rush:
You might envision Lions defensive coordinator Gunther Cunningham as a mad blitzer. When he joined the Lions in 2009, he predicted they would
blitz on 40 percent of opponents' drop backs
. But this season, at least, Cunningham is smartly capitalizing on his talented defensive line and leaving his back seven in position to make plays as often as possible. According to ESPN Stats & Information, Cunningham didn't send more than four pass-rushers on any of the
Kansas City Chiefs
' drop backs last Sunday at Ford Field. On the season, he has sent at least one extra rusher 17.6 percent of the time. That's the third-lowest percentage in the NFL. Given the Vikings' limited passing effectiveness this season, there is every reason to believe Cunningham will follow a similar path this Sunday. If you can play good pass defense with four rushers, why send more?
September, 23, 2011
9/23/11
1:30
PM ET
»
NFC Final Word
:
East
|
West
|
North
|
South
»
AFC
:
East
|
West
|
North
|
South
Five nuggets of knowledge about Week 3:
Watch the Jaguars' defense:
It did not play badly in New York, it's just that the Jets were given so many chances by the Jacksonville offense.
Cam Newton
is due for a comedown, and a defense that loaded up on veterans this offseason needs to see a payoff Sunday in Carolina. Put the spotlight on
Paul Posluszny
,
Clint Session
,
Matt Roth
, probable new starting safety
Dwight Lowery
, and
Drew Coleman
. They were brought in to make this a good defense now, and if they can't fare well against a rookie quarterback and a rebuilding team, it will be a major disappointment. The defense should play well enough to give
Blaine Gabbert
a chance to win his first start if he plays efficiently.
[+] Enlarge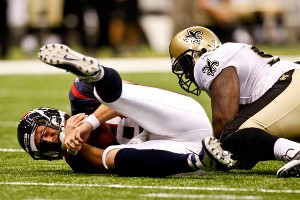 Derick E. Hingle/US PresswireThe Saints will look to bring pressure on Matt Schaub to slow down the Texans' air attack.
Blitz alert:
The Texans are probably sick of hearing about how challenging the blitz packages of Saints defensive coordinator Gregg Williams will be. But they'll also be reviewing the possibilities and reminding themselves of their schemes for handling blitzes.
Matt Schaub
is better when teams sit back and play coverages rather than coming after him. Still, although New Orleans wants to blitz and has the people to do it, the Saints are only 18th against the pass through two games. Although they collected eight sacks against the Packers and Bears, they've also allowed an opponent passer rating of 95.6. There will be room for Schaub to succeed.
Quick and short:
I expect the Colts will try to combat the Steelers' high pressure 3-4 front with quick, short passes, hoping for yards after the catch.
Kerry Collins
can certainly connect with
Joseph Addai
in such circumstances. He's done OK with
Reggie Wayne
and
Dallas Clark
. The guy who needs to be a bigger part of things is
Austin Collie
, who was targeted 10 times a week ago but had only three receptions for 24 yards. To move it better, particularly in the red zone where it was a struggle against the Browns, I think Collins-to-Collie has to become a bigger part of things.
Denver's health:
The Broncos were awfully banged up last week against Cincinnati when they managed to win without several key guys -- defensive end
Elvis Dumervil
, linebacker
D.J. Williams
, cornerback
Champ Bailey
, receiver
Brandon Lloyd
and running back
Knowshon Moreno
. At least some of those guys will return, and the Titans will face a better team than the one they have been watching on tape.
Kyle Orton
led Denver to a win at LP Field last season, so this is a trip the Broncos know they can make successfully. Underrated Titans left tackle
Michael Roos
will be ready for Dumervil if the defensive end is back.
Making Newton uncomfortable:
Newton's been very comfortable in his first two NFL games, even as Carolina has dropped both. For the Jaguars, making Newton do things he's not been doing well is a major goal. What might that entail? According to ESPN Stats & Info, Newton's been the best quarterback in the NFL throwing outside the numbers, where he's got a passer rating of 109.5 and a Total QBR of 91.6. Take away receivers on the perimeter and make him look inside the numbers and you'll find a much more average player: passer rating of 63, QBR of 39.2. The pressure is on
Rashean Mathis
and
Derek Cox
, particularly against
Steve Smith
, who is responsible for a good share of Newton's numbers to the outside.
September, 23, 2011
9/23/11
1:30
PM ET
»
NFC Final Word
:
East
|
West
|
North
|
South
»
AFC
:
East
|
West
|
North
|
South
Five nuggets of knowledge about Week 3:
Larry Fitzgerald road show resumes.
The
Arizona Cardinals
' Pro Bowl receiver caught a combined 23 passes for 251 yards in road games against Seattle over the 2008 and 2009 seasons. His production at the former Qwest Field dropped to three catches and 30 yards without a viable quarterback last season, but
Kevin Kolb
's addition puts Fitzgerald in position to pick up where he left off two years ago. The key variable this time is whether the Seahawks' improved size in the secondary can help them better combat Fitzgerald. Cornerback
Brandon Browner
, all 6-foot-4 of him, needs to fare better against Fitzgerald than he did against Pittsburgh's speedier
Mike Wallace
.
[+] Enlarge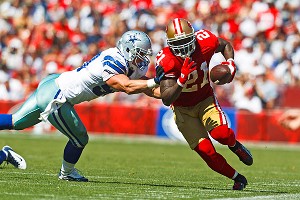 Jason O. Watson/US Presswire49ers running back Frank Gore hopes to get on track this Sunday against the Bengals.
Frank Gore search party targeting Ohio.
If tight end
Vernon Davis
was
not happy
with his production in the
San Francisco 49ers
' first two games, imagine what running back Frank Gore must be thinking. Gore hasn't disappeared from the 49ers' offense, but he's not getting the usual results. Gore has now gone five consecutive games without reaching 100 yards rushing, tying his longest streak since 2007. He has failed to exceed 2.68 yards per carry in consecutive games for the first time. He has failed to exceed that average three times in his past four games, another career first. The Bengals are allowing 3.5 yards per carry.
Sam Bradford's red zone adventure.
The
Denver Broncos
scored touchdowns on 10 of their final 11 red zone possessions under Josh McDaniels last season. The Rams have one TD in five red zone trips with McDaniels as their offensive coordinator in 2011, good for a No. 31 ranking in red zone TD percentage. Quarterback Sam Bradford is tied with McDaniels' former quarterback in Denver,
Kyle Orton
, for the most goal-to-go pass attempts without a completion this season. Both have four, one more than the 49ers'
Alex Smith
. The Rams' Week 3 opponent, Baltimore, allowed touchdowns twice in two red zone opportunities against Tennessee last week. Getting running back
Steven Jackson
back would help keep defenses a little more honest around the goal line, most likely.
2009 NFL draft class blues.
Aaron Curry
's demotion from the Seahawks' starting lineup brought renewed scrutiny upon what is shaping up as a mostly forgettable draft class.
Jason Smith
(Rams),
Michael Crabtree
(49ers) and
Beanie Wells
(Cardinals) rounded out a so-far-disappointing first-round group for the NFC West. The 49ers' opponent this week, Cincinnati, fared no better by taking tackle
Andre Smith
with the sixth overall choice. The Rams' opponent, Baltimore, found a starting tackle in
Michael Oher
, but overall, this will be an underwhelming 2009 first-round class on display in NFC West games.
Seeking that Kendricks connection.
Bradford's rapport with rookie tight end
Lance Kendricks
produced immediate positive results for the Rams through training camp and the preseason. Kendricks caught an 18-yard pass in the opener and a 26-yarder in Week 2, but he hasn't emerged as the consistent go-to target the Rams were envisioning. Bradford has targeted Kendricks only twice on third down, compared to six times for
Greg Salas
, four for
Brandon Gibson
and three for
Danario Alexander
. Kendricks hasn't helped his cause, dropping what could have been a touchdown grab against Philadelphia. But he's too good to be a one-catch-per-game player, particularly with
Danny Amendola
sidelined by injury. The Ravens have allowed six receptions for 80 yards to tight ends through two games.
September, 23, 2011
9/23/11
1:30
PM ET
»
NFC Final Word
:
East
|
West
|
North
|
South
»
AFC
:
East
|
West
|
North
|
South
Five nuggets of knowledge about Week 3:
[+] Enlarge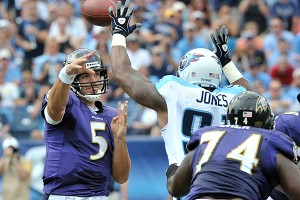 Jim Brown/US PresswireThe Ravens' Joe Flacco hopes to rebound from a subpar performance against Tennessee.
Rebound for Ravens:
This will show whether the Ravens learned their lesson in taking a less-talented team lightly. This is also a potential bounce-back game for quarterback
Joe Flacco
. The last time he completed fewer than half of his passes in a game (it was Week 2 of last seaosn), he came back the next week to throw three touchdowns against the Browns. It'll be interesting to see whether Flacco responds the same way this time.
Focus for Bengals:
The Bengals' week has included putting their slot receiver (
Jordan Shipley
) on injured reserve, dealing with wide receiver
Jerome Simpson
's getting detained in a marijuana incident and finding out that running back
Cedric Benson
could miss three games in October because of an NFL suspension. How the Bengals handle these distractions will tell a lot about a team that is starting over in many ways with a young quarterback and wide receiver. The home opener against San Francisco is blacked out. The Bengals understand they have work to do to convince their fan base.
Pressure for Pittsburgh:
The Steelers' trademark on defense has been the harassment of quarterbacks, forcing them into poor throws and timely turnovers. So far this season, the only consistent pressure by Pittsburgh came in the meaningless fourth quarter of last Sunday's shutout of the
Seattle Seahawks
.
James Harrison
and
LaMarr Woodley
need to ramp up the heat against Indianapolis'
Kerry Collins
, who is extremely mistake-prone after taking a few hits. This could lead to some easy scores for Pittsburgh.
Red-zone advantage:
The Browns have been stingy defending their turf inside the 20-yard line. Cleveland is tied for third in red-zone defense this year and didn't give up a touchdown last Sunday until there were 24 seconds left in the game. Among the many problems for the Dolphins has been punching the ball into the end zone. Miami head coach Tony Sparano said his offense has made the eighth-most negative plays in the red zone.
Strength against strength:
The best friend for a young quarterback like
Andy Dalton
is a strong running game. Under coach Marvin Lewis, the Bengals are 31-2 when one of their running backs gets at least 25 carries. Cincinnati's commitment to the run is going to get tested against the 49ers, who haven't allowed a 100-yard rusher in 24 straight games -- the longest current streak in the NFL.
September, 23, 2011
9/23/11
1:30
PM ET
»
NFC Final Word
:
East
|
West
|
North
|
South
»
AFC
:
East
|
West
|
North
|
South
Five nuggets of knowledge about Week 3:
Looking back, but not too far.
The Saints will wear their throwback uniforms Sunday against the Texans. But New Orleans fans better hope the defense doesn't turn back the clock too far. The Saints need to play defense the same way they did in last week's victory against Chicago. Houston has plenty of offensive weapons and the Saints can't afford to play the way they did in the season opener against Green Bay. It should help significantly that defensive end
Will Smith
is back after serving a two-game suspension.
[+] Enlarge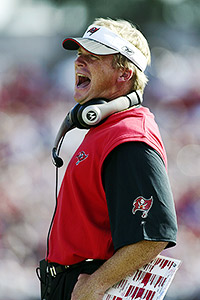 Andy Lyons/Getty ImagesThe last time the Buccaneers beat the Falcons, coach Jon Gruden was still prowling the sidelines.
One-sided rivalry.
Tampa Bay hasn't won against Atlanta since Jon Gruden was coaching the Buccaneers. The Falcons have won five in a row. Here's a little tip for Bucs coach Raheem Morris: Try getting your offense on track in the first half.
Josh Freeman
can rally his team from a 17-point deficit against a team like the Vikings. That's probably not going to work against the Falcons, who are a little bit better than Minnesota.
Shooting for 30.
The Saints can make some franchise history if they score 30 points against the Texans. It would mark the first time the Saints have scored 30 or more points in each of their first three games.
Revisiting the 1995 expansion.
The Jaguars and Panthers both came into the league in 1995. The Jaguars have had more regular-season success. They're 134-124, while the Panthers are 119-139. The Jaguars also hold a 3-1 advantage in head-to-head play. But the Panthers have reached a Super Bowl and the Jaguars haven't. I give a big edge to the Panthers in this one because their rookie quarterback (
Cam Newton
) already has shown he can play in this league. Jacksonville's rookie,
Blaine Gabbert
, will be making his first start.
Whatever happened to Roddy White?
The Atlanta receiver had 115 catches last season. Through the first two games, White has only 11 catches. He has been targeted on only one throw of more than 15 yards and that pass was incomplete. History has shown that you can't keep White quiet for long. He and Tampa Bay cornerback
Aqib Talib
are two guys who like to talk and their matchup could be interesting. But the real key could be if Bucs safeties
Cody Grimm
and
Sean Jones
are able to continue the trend of keeping White from getting open downfield.