NFL Nation:

Final Word 2011 Week 4
September, 30, 2011
9/30/11
1:31
PM ET
»
NFC Final Word
:
East
|
West
|
North
|
South
»
AFC
:
East
|
West
|
North
|
South
Five nuggets of knowledge about Week 4:
Nickel and dime:
The Saints fared great when they spread the field and emptied the backfield in their furious comeback against the Texans last week. It really took advantage of Houston's lack of cornerback depth. Jacksonville will face the same test.
Drew Coleman
was signed as a free agent to upgrade the nickel, and he'll need to play well against a receiving corps that gets Marcus Colston back. Fourth corner
William Middleton
will be on the field more too, especially if starting corner Derek Cox (doubtful, groin) is out. And linebackers will be tested in coverage against a team with a lot of weapons that likes to throw to running back
Darren Sproles
.
[+] Enlarge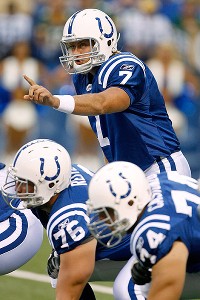 Brian Spurlock/US PresswireIn his third season in Indianapolis, QB Curtis Painter is expected to get his first start Sunday.
Curtis Painter time:
He will start for the Colts at quarterback on Monday night against the Bucs as
Kerry Collins
recovers from an apparent concussion suffered in the loss to Pittsburgh. Can Painter show some poise and put together a consistent effort? One thing that would really help his cause is being more accurate with
Reggie Wayne
. From 2008-10,
Peyton Manning
threw incomplete just 18.7 percent of the time he targeted Wayne. According to ESPN Stats and Info, Collins and Painter have combined to miss Wayne 39.3 percent of the time. You can't miss your primary target that often and have a successful passing game.
Steelers blitzes:
Pittsburgh's been great on defense without blitzing. The Steelers are allowing just 5.5 yards per pass attempt when sending four or fewer rushers, third-best in the league. But last year and so far this year,
Matt Schaub
is connecting on 71.4 percent of his passes when he's not blitzed, hitting for 8.2 yards per pass attempt. I'd expect Pittsburgh to bring more pressure to try to get Schaub out of rhythm. The Steelers have forced just one turnover this season.
First quarter points:
Three teams in the NFL have yet to score a first-quarter point this season. In Tennessee-at-Cleveland, we'll see two of them. If the Titans or Browns can find some early offensive rhythm, they'll get a big advantage. The Titans need to show some early intent, I think. While showing a determination to get
Chris Johnson
running, they would also be well served to call some plays that include tight end
Jared Cook
in the early part of the progression. He's got the potential to be a dynamic downfield matchup problem. With
Kenny Britt
out, it's time to start seeing it.
Ah, the memories:
The Saints' last trip to Jacksonville, for the last game of the 2003 regular season, was a memorable one. They trailed 20-13 when they completed a 75-yard miracle touchdown with no time left. The play featured a pass from
Aaron Brooks
and three laterals before
Jerome Pathon
scored. But
John Carney
's extra point went wide right, leaving the Saints with a 20-19 defeat and eliminating them from playoff contention. The Colts' last trip to Tampa Bay was Oct. 6, 2003. Indianapolis scored 21 points in the final 3:37 of the regulation to tie that game 35-35 before winning it on a
Mike Vanderjagt
field goal in OT.
September, 30, 2011
9/30/11
1:30
PM ET
»
NFC Final Word
:
East
|
West
|
North
|
South
»
AFC
:
East
|
West
|
North
|
South
Five nuggets of knowledge about Week 4:
Strength vs. strength:
What happens when the NFL's highest-scoring team meets the league's third-rated defense? We are about to find out. The undefeated Bills (3-0) travel to play the
Cincinnati Bengals
(1-2). Despite their struggles, the Bengals have been solid defensively under veteran assistant coach Mike Zimmer. The Bills and their spread offense will present plenty of challenges. Buffalo is averaging 37.7 points per game.
[+] Enlarge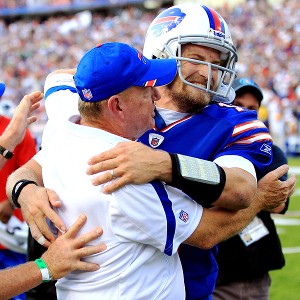 Kevin Hoffman/US PRESSWIRECoach Chan Gailey, left, hopes Ryan Fitzpatrick and the rest of the Bills can handle success.
No letdown:
Bills head coach Chan Gailey offered a new challenge to his players. Gailey wants to see how his locker room handles praise and success after Buffalo's surprising start. The national media is all over Buffalo this week, and the players are enjoying the unusual spotlight. This is a young group not accustomed to success. "It's a double-edged sword. If you play great you get [attention], but you've got to learn how to handle it," Gailey said. "If you can't handle it, then it won't be around long because you'll not play the way you're capable of playing. I'm talking to a lot to these guys about handling all this stuff and making sure they don't get away from what got us to where we are."
Must-win for Sparano:
Last week's game against the
Cleveland Browns
was a must-win for Miami as a team. Now, it appears the Dolphins are headed for their third consecutive non-playoff year. But Sunday's game against the
San Diego Chargers
(2-1) could be a must-win for Dolphins head coach Tony Sparano. Ownership will be watching closely to see if the Dolphins still play hard for Sparano, who is in the hot seat after a poor start. Miami has a bye after the Chargers game, which could be dangerous for Sparano. If the Dolphins fall to 0-4, that gives the front office plenty of time to reevaluate the coaching situation for the remainder of the season.
Bounce-back Brady:
New England Patriots
quarterback and reigning MVP
Tom Brady
had one of the worst games of his career in Week 3. He threw for a lot of yards but had four interceptions in a loss to the
Buffalo Bills
. For perspective, Brady threw only four interceptions all last season. Brady rarely has two bad games in a row. Also, the matchup against the Raiders sets up pretty well for New England's offense. Oakland has the NFL's No. 28th-ranked defense. The Raiders also are 28th against the pass.
Focus on preparation:
If not for former Jets quarterback Joe Namath, no one would pay attention to New York's focus and preparation this week. Namath criticized Jets coach Rex Ryan for the way he prepares his team. Namath also hinted that the Jets are overconfident. Expect New York to give its best effort against the Ravens in a prime-time showdown. The teams share mutual respect and have similar styles. This is a big game for New York, which travels to New England for another huge game in Week 5.
September, 30, 2011
9/30/11
1:30
PM ET
»
NFC Final Word
:
East
|
West
|
North
|
South
»
AFC
:
East
|
West
|
North
|
South
Five nuggets of knowledge about Week 4:
Remember the Saints:
On paper, Atlanta's trip to Seattle looks like the perfect get-well game for a team that's been struggling. Logic says this should be an easy win for the Falcons. But logic said the same thing the last time an NFC South team went into Seattle. That was in January, when the Saints came for a playoff game and wound up getting beat by the Seahawks. Seattle may not have a great team, but it's a very tough place for a team to come into. Crowd noise, the long trip and the time change can all be factors. Just ask the Saints.
[+] Enlarge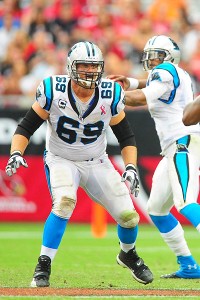 Mark J. Rebilas/US PresswireJordan Gross will have his hands full proteccting Cam Newton from former teammate Julius Peppers on Sunday.
Matchup of the week:
That would be Carolina left tackle
Jordan Gross
against Chicago defensive end
Julius Peppers
. Gross has more experience than any player in the league at blocking Peppers. Before joining the Bears last season, Peppers spent eight seasons in Carolina. Gross was drafted in 2003, the year after Peppers, and the two squared off in practice on a daily basis for most of their seven seasons together. Peppers probably won't be able to fool Gross, so he'll have to rely mostly on his pure athletic ability.
Carrying the banner:
When the Saints play at Jacksonville on Sunday, they'll be representing more than themselves. They'll be representing the NFC South, and they have a chance to end an embarrassing streak. No NFC South team ever has won a regular-season game in Jacksonville. The Saints, Buccaneers, Falcons and Panthers each are 0-2 in trips to Jacksonville.
Watch out for Roman Harper:
The New Orleans safety is a little bit like Tampa Bay cornerback
Ronde Barber
in that he's one of the best pass-rushing defensive backs in the NFL. That may be a little like saying someone has the strongest throwing arm of any first baseman in baseball, but it could be a big factor Sunday when the Saints face Jacksonville rookie quarterback
Blaine Gabbert
. Since 2006, Harper has 12 sacks, the most by any safety in that span. Harper already has 2.5 sacks this year. You can bet defensive coordinator Gregg Williams will be blitzing Harper -- and some other defenders -- frequently against Gabbert.
History doesn't matter in this one:
The Colts and Buccaneers are playing on Monday night, which automatically brings back memories of the last time the two teams played a Monday night game. That was 2003, and the game was the official mark of Tampa Bay's stumble after winning a Super Bowl championship. The Bucs led that game 35-14 with four minutes left in regulation.
Peyton Manning
engineered a dramatic comeback to force overtime, and the Colts kicked a field goal to win it. But Manning's hurt and won't play. Aside from Barber, no other Tampa Bay player was involved in that game. In fact, most of the young Buccaneers were in high school or junior high at the time.
September, 30, 2011
9/30/11
1:30
PM ET
»
NFC Final Word
:
East
|
West
|
North
|
South
»
AFC
:
East
|
West
|
North
|
South
Five nuggets of knowledge about Week 4:
Ochocinco could have been a Raider:
Chad Ochocinco
is headed to Oakland with many people wondering if he will ever help the
New England Patriots
. He has barely contributed to a high-powered offense and he had a crucial drop in the Patriots' loss at Buffalo last week. Ochocinco could have been a Raider. The Raiders asked permission to talk to Ochocinco in an attempt to acquire him from Cincinnati shortly before he was traded to the Patriots this summer. Oakland coach Hue Jackson coached Ochocinco in Cincinnati and the two remain close. Oakland considered Ochocinco as a veteran presence on a young receiving crew. It was probably a good thing Ochocinco went elsewhere. The Raiders are young at receiver, but they have a load of talent. With Ochocinco's career likely on the downslide, his presence could have gotten in the way of the development of the group.
[+] Enlarge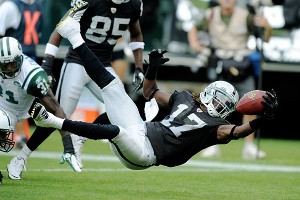 Kirby Lee/US PRESSWIREThe athleticism of Denarius Moore is a big reason why hopes will be high for Oakland's offense next season.
Never give up, Chiefs:
The game in Kansas City on Sunday between the
Minnesota Vikings
and the Chiefs is a game between two 0-3 teams. It may not create a lot of interest, but it may be worth tuning into after halftime. Craziness could happen. The Chief showed their only fight of the young season in the second half at San Diego last week. After not converting a first down in the first half (it was the first time that has happened in the NFL since the 2009 season according to ESPN Stats & Information), the Chiefs scored 17 second-half points in a 20-17 loss. The Chiefs scored a total of 10 points in the first 10 quarters of the season. To further give the Chiefs confidence, the Vikings have been horrid in the second half this season. The Vikings have blown double-digit halftime leads in all three games.
It's him again, San Diego:
The
San Diego Chargers
will have to deal with
Brandon Marshall
again. This time, he'll play the Chargers as a Dolphin. He tore up San Diego as a Denver Bronco before the receiver was traded to the Dolphins last year. In 2008, he torched former San Diego cornerback
Antonio Cromartie
for 18 catches and 166 yards. In total, Marshall, who has 17 catches this season, has 45 catches in six starts against San Diego.
Broncos have never been a big cheese in Wisconsin:
The
Denver Broncos
head to the Dairy State to play the world champion
Green Bay Packers
with the hopes of returning in a good mood. The Broncos are 0-4-1 against the Packers in Wisconsin, according to ESPN Stats & Information. Denver has also never won at Miami or Baltimore. Besides
Aaron Rodgers
and company, the Broncos have history going against them Sunday.
Expect an offensive explosion in Oakland:
Last team with the ball wins in Oakland on Sunday? Could be. The Patriots lead the NFL with 1,621 yards in three games. It is the most yards any team has compiled through three games, according to ESPN Stats & Information. Yet, the Patriots' defense is giving up yards at almost as large of a pace. New England has allowed an NFL-high 1,406 yards this season. It's the fifth most yards allowed by a team at this point of the season since the 1970 merger. The Raiders have scored 69 points in the past two games. This one could be fun.
September, 30, 2011
9/30/11
1:30
PM ET
»
NFC Final Word
:
East
|
West
|
North
|
South
»
AFC
:
East
|
West
|
North
|
South
Five nuggets of knowledge about Week 4:
Assessing the 49ers' chances in Philly.
The Eagles, losers of two in a row, haven't lost three games in succession since a 2007 stretch played mostly without their starting quarterback. The 49ers, winners at Cincinnati in Week 3, have not won games in successive weeks since the 2009 season (a bye interrupted their lone two-game winning streak last season). They have not won road games in successive weeks since beating Carolina and Indianapolis in Weeks 10-11 way back in 2001. Beating the Eagles in Philadelphia would open eyes to just how much change Jim Harbaugh has affected in a short period of time.
Yakety YAC, help the quarterback.
Three NFC West teams rank among the NFL's bottom five in yards after the catch on a per-reception basis, according to ESPN Stats & Information. The Seahawks rank 31st at 3.7 yards. The 49ers and Rams are both in the 4.3-yard range. The 49ers have no receptions longer than 39 yards and none longer than 26 by a wide receiver.
Michael Crabtree
's longest catch this season covered eight yards. The
Arizona Cardinals
are the exception within the division. They have five wide receivers and tight ends with at least five receptions and a 5.0-yard average YAC. Seattle's
Doug Baldwin
(8.0 YAC) is the only other non-running back in the division to meet that standard. The
St. Louis Rams
'
Brandon Gibson
has averaged eight-tenths of a yard after the catch.
[+] Enlarge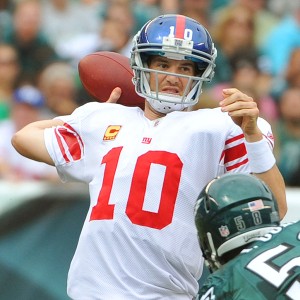 Jeffrey G. Pittenger/US PresswireThe Cardinals' secondary will be tested by Eli Manning, who's coming off a four-TD performance.
Cardinals' pass defense in focus.
Few teams push the ball down the field as aggressively as the Cardinals' Week 4 opponent. Giants quarterback
Eli Manning
ranks third behind
Cam Newton
and
Ben Roethlisberger
in how far past the line of scrimmage his passes travel on average. The Giants are one of five NFL teams averaging at least 8.8 yards per pass attempt. The Cardinals are one of eight teams allowing at least 8.0 yards per attempt. Manning, coming off a four-touchdown game at Philadelphia, tossed three scoring passes in his last visit to University of Phoenix Stadium (2008). He ranks tied for second in the NFL with eight completions on passes traveling more than 20 yards past the line of scrimmage.
Sam Bradford's long-term health.
The Rams' quarterback has taken 11 sacks in three games, a total he did not reach until Week 5 last season. He's facing a
Washington Redskins
defense that ranks sixth in sacks per pass play. Anyone else think former Rams coach Jim Haslett, now the Redskins' defensive coordinator, wouldn't mind introducing Bradford to pass-rushers
Brian Orakpo
and
Ryan Kerrigan
? The pressure is on a not-quite-healthy
Steven Jackson
to give the Rams needed offensive balance.
Seahawks have choices on defense.
Seattle was able to shut out the Cardinals'
Larry Fitzgerald
in the second half last week in part because Arizona's other weapons weren't all that threatening. Without
Beanie Wells
to worry about, Seahawks free safety
Earl Thomas
spent less time in the box and more time helping in coverage. Thomas would ideally provide similar support against Falcons receiver
Roddy White
this week, but doing so could carry additional risks against an Atlanta offense with more varied weapons. Falcons rookie
Julio Jones
caught six passes for 115 yards against Tampa Bay in Week 3, including a 49-yarder. On the positive side for Seattle, Falcons quarterback
Matt Ryan
has taken 13 sacks, the same total he took into Week 10 last season. That 49-yard strike to Jones marked the first time in eight tries this season Ryan has completed a deep pass (defined as one traveling more than 20 yards past the line of scrimmage).
September, 30, 2011
9/30/11
1:30
PM ET
»
NFC Final Word
:
East
|
West
|
North
|
South
»
AFC
:
East
|
West
|
North
|
South
Five nuggets of knowledge about Week 4:
Dallas must stop the deep ball
: According to ESPN's Stats & Information Group, without which Final Word would not be possible, Lions quarterback
Matthew Stafford
has yet to throw an interception this year on a ball thrown 11 or more yards downfield. He threw 14 of them over the past two seasons. SIG also reports that Stafford overthrew top receiver
Calvin Johnson
18 times over the past two years on balls that went 11 or more yards downfield and has only done so once this year in 10 attempts. What's it mean? That Stafford is getting better at throwing deep, especially to Johnson, and that the Cowboys must find a way to defend him deep. Whether that means
DeMarcus Ware
and the pass rush need to get to Stafford quickly enough to take away deep throws or whether
Terence Newman
and
Mike Jenkins
have to make plays in the secondary or both, the Cowboys versus the Lions' deep passing game is a key matchup to watch Sunday.
[+] Enlarge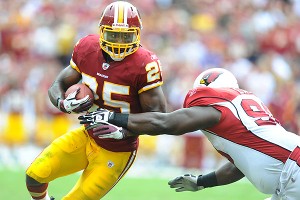 James Lang/US PresswireRedskins running back Tim Hightower is averaging 3.5 yards per rushing attempt.
Who should run the ball for the Redskins?
:
Tim Hightower
is clearly the starter and has done some good things. They particularly like him in the passing game, as a receiver and a blocker. But as a runner, he's been underwhelming so far this season, averaging just 3.5 yards per rushing attempt. Part of the issue is that the Redskins are determined to run the ball 30 times a game even if it's not always working, and so whoever's running it is going to find the going tough at times. But rookie
Roy Helu
, as Hightower's backup, is averaging 5.7 yards per carry on his 16 carries so far. If he gets into games and shows more burst and speed than Hightower, you'd have to think he's a real threat to start stealing carries, no?
McCoy's toughest test so far
: The
San Francisco 49ers
have excelled so far this year in stopping the run with their defensive front. According to ESPN Stats & Info, the Niners have held opponents to 2.97 yards per carry when using seven or fewer defenders in the box. Now, Eagles running back
LeSean McCoy
has the second-most rush yards in the league against seven-or-fewer-man fronts, and is averaging 6.39 yards per carry when teams keep seven or fewer in the box. So, something's got to give there.
Eli owns October:
Giants quarterback
Eli Manning
has a career record of 20-4 in the month of October. Among quarterbacks with at least 15 October starts since 1950, only Otto Graham (22-4) has a better record in the month. The key for Manning is always to limit turnovers, and last week's victory in Philadelphia broke a streak of seven straight games in which he'd thrown at least one interception. Over the past three seasons, the Giants are 8-1 in games in which Manning did not turn the ball over via interception or fumble. The last time they lost such a game was Nov. 8, 2009 -- a 21-20 loss to the Chargers in which Manning was sacked five times. When Manning plays a clean game, the Giants win.
Cowboys play 'em close
: Each of the Cowboys' past nine games has been decided by three points or less. Dallas is 5-4 in those nine games, including a 2-1 record so far this season. The last game they played that was decided by more than three points? Their Week 11 victory on Nov. 21 of last year, at home against this week's opponent, the
Detroit Lions
.
Shaun Hill
and
Jon Kitna
were the starting quarterbacks in that game, which the Cowboys won 35-19 in spite of being outgained 338-265. If you remember that game, you probably remember it for
Bryan McCann
's 97-yard punt return touchdown.
September, 30, 2011
9/30/11
1:30
PM ET
»
NFC Final Word
:
East
|
West
|
North
|
South
»
AFC
:
East
|
West
|
North
|
South
Five nuggets of knowledge about Week 4:
Speed rushers:
Two weeks ago,
Kansas City Chiefs
linebacker
Tamba Hali
put four hits on
Detroit Lions
quarterback
Matthew Stafford
. Last week,
Minnesota Vikings
defensive end
Jared Allen
sacked him three times while fellow defensive end
Brian Robison
brought him down twice. Hali and Allen are two of the NFL's best pass rushers. Sunday, the Lions will face the best. No NFL player has more sacks this season (5.0) or over the past three seasons (51.5) than the
Dallas Cowboys
'
DeMarcus Ware
. Stafford has had success getting the ball downfield despite facing those elite rushers. But the Lions probably don't want to find out how much damage Ware can do. They would be well-advised to devote more attention to him than Hali and Allen saw. Tight end
Brandon Pettigrew
is one of the NFL's top blockers at his position. The Lions might need to utilize him in that regard Sunday.
"Statement game:"
I personally hate that phrase and think it's mostly irrelevant in the world of the NFL. With that said, I think the Lions have their best opportunity yet to demonstrate how far they've come and to set their fan base into a frenzy heading into their Oct. 10 prime-time game against the
Chicago Bears
. The Cowboys are 2-1 and have designs on the NFC East title. The Lions, meanwhile, have won in Dallas only twice in their history. Last season, the Bears began walking with a little extra pep in their step after winning at Cowboys Stadium. The Lions could do the same. A win would give the Lions their eighth consecutive regular-season victory, dating to last season. That would be their longest winning streak since taking nine consecutive games from 1953-54.
[+] Enlarge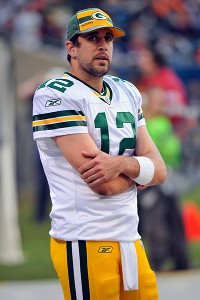 Rob Grabowski/US PresswirePackers QB Aaron Rodgers could make Denver pay if the Broncos continues to blitz as often as they have in their first three games.
Faint hopes:
The
Denver Broncos
have never won in the state of Wisconsin. They've lost seven consecutive road games and are one of three teams in the NFL whose pass defense has netted them zero interceptions this season. That's a bad combination for a 1-2 team traveling to Lambeau Field. Want some more? The Broncos have felt compelled to blitz on 41.9 percent of opponents' dropbacks this season, the sixth-highest rate in the NFL. Packers quarterback
Aaron Rodgers
is completing an NFL-high 74.4 percent of his passes against the blitz. It's unlikely to work Sunday for the Broncos. On his weekly radio show, Rodgers noted that the Packers have seemed an afterthought from national observers. "Let everybody talk about Philly and Dallas and Washington and Detroit and Buffalo and we'll keep on doing what we're doing," he said. It's hard to imagine the Packers doing anything other than continuing to plug along Sunday.
Run to daylight:
The
Carolina Panthers
are giving up an average of 117 yards rushing per game this season, the seventh-worst mark in the NFL. As we've
discussed a few times
, the Bears haven't paid enough attention to their running game this season. That has to stop Sunday. We can spend all the time we want discussing the return of Panthers coach Ron Rivera and tight end
Greg Olsen
. I'm sure they're both pumped for this game. But the Bears can control it if offensive coordinator Mike Martz can find a way get the running game going. The Panthers should be vulnerable in that area.
Someone will win
: The 0-3 Minnesota Vikings will play at the 0-3 Kansas City Chiefs. Something has got to give, right? A matchup of two winless teams after at least three weeks is relatively rare; it's happened six times in the past 10 years of NFL play. The Vikings haven't given up on their playoff hopes quite yet. After all, three teams have advanced to the postseason over the past 21 seasons after starting 0-3. But if the Vikings fall to 0-4 on Sunday, the most interesting question remaining in their season will be when rookie quarterback
Christian Ponder
will get on the field. When they acquired starter
Donovan McNabb
this summer, I don't think the Vikings believed they would be facing a Ponder Watch so early in the season.
September, 30, 2011
9/30/11
1:00
PM ET
»
NFC Final Word
:
East
|
West
|
North
|
South
»
AFC
:
East
|
West
|
North
|
South
Five nuggets of knowledge about Week 4:
Wake up, Browns:
Cleveland's 2-1 start is impressive. It's even more impressive considering the Browns don't start games until the second quarter. The Browns have yet to put up a point in the first quarter this season, getting outscored 20-0 in the opening period. The offense takes its nod from quarterback
Colt McCoy
, who is 9-for-18 for 55 yards in the first quarter this season. Playing catch-up has to stop Sunday against Tennessee.
[+] Enlarge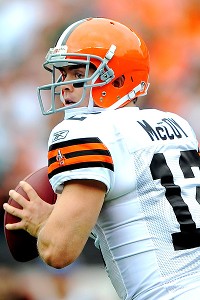 Andrew Weber/US PRESSWIREColt McCoy and the Browns have been outscored 20-0 in the first quarter so far this season.
Keep Santonio Holmes out of the end zone:
No one has hurt the Ravens more recently than wide receiver Santonio Holmes. He's scored a touchdown in seven straight games against Baltimore. His eight touchdowns in that stretch are the most by any player against the Ravens since 2007. If the Ravens want to slow down the Jets playmaker, safety
Ed Reed
should line up on Holmes' side of the field the entire game. It will be tough for any of Baltimore's cornerbacks to handle Holmes in single coverage.
Bring on the blitz:
The Steelers have blitzed on about one-third of the opposition's pass plays, which is a little above the league average. Beating the Texans will require more of it. The key to disrupting Houston quarterback
Matt Schaub
is being aggressive against him. He is completing 58.3 percent of his throws when defenses rush five or more, which is significantly lower than his completion rate (71.4 percent) when defenses send four or fewer (according to ESPN Stats & Information). Getting consistent pressure has been a problem for the Steelers, who have a combined 3.5 sacks from
James Harrison
and
LaMarr Woodley
.
Make the gunslinger pay:
The Bengals know first-hand how the Bills'
Ryan Fitzpatrick
will take more risks than other quarterbacks when throwing passes in tight windows. Fitzpatrick was Cincinnati's fill-in starter in 2008 and threw for 316 yards against the Bengals last season. To slow down the NFL's highest-scoring offense (37.7 points per game), defenses have to be in position when Fitzgerald decides to gamble. The Bengals, though, have only one interception this season.
Defend home turf:
The Ravens are 20-5 at home during the John Harbaugh era, which is the third-best mark since 2008. How dominant have the Ravens been at M&T Bank Stadium? During that time, the Ravens have more than doubled the point total of the opposition, 633-314. Baltimore is playing at home for the first time since the season opener, which was a 35-7 rout of the Steelers.

NFL SCOREBOARD
Thursday, 9/4
Sunday, 9/7
Monday, 9/8