NFL Nation:

Final Word 2011 Week 5
October, 7, 2011
10/07/11
1:30
PM ET
»
NFC Final Word
:
East
|
West
|
North
|
South
»
AFC
:
East
|
West
|
North
|
South
Five nuggets of knowledge about Week 5:
[+] Enlarge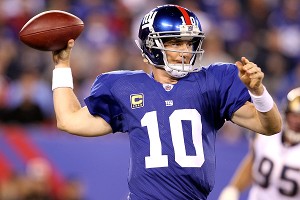 Al Bello/Getty ImagesEli Manning has thrown just two interceptions through four games this season.
Eli on the money
:
New York Giants
quarterback
Eli Manning
has played two straight games without throwing an interception. Not coincidentally, the Giants, who host Seattle on Sunday, have won both of those games. The last time Manning played three straight games without an interception was Weeks 2-5 of the 2008 season, and the Giants won all three of those games too. (They had a bye in Week 4 that year.) During Manning's career as a starter, the Giants are 32-8 in games in which he does not throw an interception and 35-39 in games in which he throws at least one. That includes postseason.
Eagles a fourth-quarter mess
: The
Philadelphia Eagles
have held fourth-quarter leads in each of their past three games and lost all three, but that doesn't tell the whole story of how complete these collapses are. Philadelphia, which plays at Buffalo on Sunday, has been outscored 36-0 in the fourth quarter over the past three weeks. They've been outgained 335 yards to 282. They've converted 2 of 8 third downs and allowed opponents to convert 9-of-14. They've committed three turnovers and forced none. According to ESPN Stats & Information, during their three-game losing streak, the Eagles' nine fourth-quarter possessions have resulted in three turnovers, two missed field goals, two turnovers on downs, one punt and the end of the game. That, folks, is not getting it done.
If I had a nickel:
Bills running back
Fred Jackson
is fourth in the league in rushing yards. He also has the most rushing attempts in the league in situations where defenses employ at least five defensive backs. The Eagles are by far the worst defense in the league against the run when using five or more defensive backs. They allow 11.9 yards per rush when they have at least five defensive backs on the field, 3.3 yards more than the second-worst team in the league, and a first-down conversion percentage of 42.9. It's possible they might want to change at least part of what they do against the run if they don't want Jackson to shred them too badly.
Pierre-Paul's impact:
Osi Umenyiora
missed the first three games of the year while recovering from knee surgery and
Justin Tuck
has missed two games with a neck injury. Yet the Giants' defense has still managed 12 sacks so far and ranks fifth in the league in that category. The Giants are on pace to surpass last year's team sack total of 46, and the main reason appears to be the emergence and consistency of second-year defensive end
Jason Pierre-Paul
, the team's first-round pick from the 2010 draft. If the Giants can ever get Tuck, Umenyiora and Pierre-Paul on the field at the same time, they could be downright terrifying.
Seahawks' improving pass game:
Seattle was last in the league in passing offense through two weeks, but once receiver
Sidney Rice
returned from his injury in Week 3, things changed. Rice has the second-best yards-per-catch average in the league over the past two weeks at 17.1, and the Seattle passing attack has ranked 22nd (a big jump from 32nd) over the past two weeks. Seattle's surely not the most dangerous offense the Giants have faced or will face this season, but someone in the secondary is going to have to account for Rice, who has the size and speed to make big plays against anyone.
October, 7, 2011
10/07/11
1:30
PM ET
»
NFC Final Word
:
East
|
West
|
North
|
South
»
AFC
:
East
|
West
|
North
|
South
Five nuggets of knowledge about Week 5:
[+] Enlarge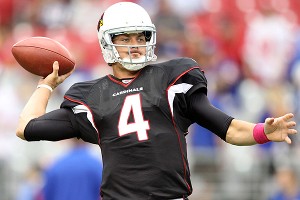 Christian Petersen/Getty ImagesKevin Kolb is completing just 38.9 percent of his throws from outside the pocket.
Burden could fall on Kevin Kolb.
Beanie Wells
' ability to carry the
Arizona Cardinals
' offense against the
New York Giants
might not translate to the team's game against Minnesota in Week 5. The Vikings are allowing 76.3 yards rushing per game and 3.3 yards per carry. Both figures rank among the top six in the league. Minnesota's strong run defense could put more pressure on Cardinals quarterback Kevin Kolb to carry the offense. Kolb hasn't made consistently good decisions on when to bail from the pocket and what to do once he does. He is completing only 38.9 percent of his throws from outside the pocket, one reason he ranks 27th among 32 quarterbacks in Total QBR from there (6.7).
Introducing the real 49ers.
The
Tampa Bay Buccaneers
shut out San Francisco at Candlestick Park last season, the 49ers' first home shutout since 1977. So much has changed for the 49ers since that game, however.
Alex Smith
has replaced
Troy Smith
at quarterback. Jim Harbaugh has replaced Mike Singletary as head coach.
Joe Staley
is back in the lineup at left tackle. The 49ers will have seven different starters on defense, most representing upgrades. One concern: The 49ers are without nose tackle
Isaac Sopoaga
, a potential concern against a runner as powerful as the Bucs'
LeGarrette Blount
. And to think, Blount would have been a 49er had he not
reneged on an agreement
with the team as an undrafted free agent.
Marshawn Lynch's opportunity.
The
Seattle Seahawks
' offensive line took pride in allowing no sacks in its most recent game. A repeat performance on the road against the New York Giants isn't realistic. However, this game does give the Seahawks an opportunity to improve their unproductive ground game. The Giants have allowed 100-yard rushers in their past two games. The Seahawks have failed to top 64 yards rushing in three of their four games. Marshawn Lynch has gained 61 percent of his rushing yards after contact this season, the fourth-highest percentage in the league, according to ESPN Stats & Information. Seattle's line need to keep defenders off him a little longer.
An unlikely interception drought.
Few safeties cover as much ground as quickly as the Seahawks'
Earl Thomas
, but that has not translated to interceptions. Thomas, after picking off five passes in his first 10 NFL games, has intercepted none in his past 12, counting playoffs. A penalty wiped out an interception for Thomas against Arizona this season. Seattle has collected only two of the 125 interceptions thrown in the NFL this season, and the Giants'
Eli Manning
has cut down on turnovers dramatically. A turnover from Thomas would certainly help their chances in a game few expect them to win. He's playing too well to go much longer without picking off passes.
49ers staring down history.
A victory over the Tampa Bay Buccaneers would leave the 49ers with a 4-1 record for the first time since 2002. Long-snapper
Brian Jennings
is the 49ers' only remaining player from that season. That 49ers team improved to 4-1 with a 28-21 victory over Seattle. How long ago was that game? One of Jennings' current coaches, Bobby Engram, returned a punt 61 yards for a touchdown that day.
October, 7, 2011
10/07/11
1:30
PM ET
»
NFC Final Word
:
East
|
West
|
North
|
South
»
AFC
:
East
|
West
|
North
|
South
Five nuggets of knowledge about Week 5:
[+] Enlarge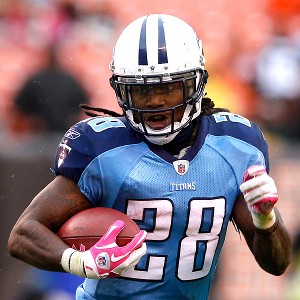 Matt Sullivan/Getty ImagesChris Johnson was effective last week with the Titans protecting a big lead. Can he keep it up against the Falcons?
Counter action:
A week ago, we examined how the Titans had moved away from some run plays that had benefited
Chris Johnson
in the past, plays that unconventionally featured
a counter element
. In the win at Cleveland, those plays re-emerged. K.C. Joyner said the Titans employed that counter action on Johnson's 25-yard run and again on an 8-yard gain in the win over the Browns. It was a good adjustment and needs to be part of what the Titans do going forward. Look for it against the Steelers.
Darren McFadden to the left:
ESPN Stats & Information says that Raiders running back Darren McFadden has had great success running to the left this season. He's averaging a remarkable 8.2 yards per carry going that direction. It's bad news for the Texans, because they've been susceptible to runs in that direction, allowing 6.35 yards a carry, the fourth-highest average in the NFL. I'm sure defensive coordinator Wade Phillips and the Texans are aware of this and will be concentrating on making sure it's not an issue Sunday at Reliant Stadium.
Quiet first quarter:
The Colts and the Chiefs are two of five teams in the league that have not scored a first-quarter touchdown this season. Kansas City is the only team that hasn't scored a rushing touchdown. Defensive ends
Dwight Freeney
and
Robert Mathis
may be the Colts' two most productive players through four weeks. Kansas City quarterback
Matt Cassel
's protection and ability to get rid of the ball have been pretty good; he's been sacked only five times so far. The ability of the Colts' pass-rushing duo to hit and harass Cassel may be the biggest factor in the game.
No let up:
When we first looked at the Jaguars' schedule, this game against Cincinnati looked like one they should win. But heading into a game pitting rookie quarterbacks head-to-head,
Andy Dalton
versus
Blaine Gabbert
, the Bengals have the league's top defense. That's not good news for a Jacksonville offense that's last in points per game and second to last in yards per game. On the bright side, the Jaguars have won seven times in a row against the Bengals in Jacksonville. Gabbert threw flat-footed too often this past Sunday in the loss to New Orleans and needs to be better mechanically to increase his offense's chances to move the ball and score some points.
Badly timed injury:
Former Titans tight end Frank Wycheck (who I work with on Nashville radio) rates
Craig Stevens
as one of the best blocking tight ends in the league. Stevens would figure to be key in a game against the physical Steelers, even without the injured
James Harrison
. But the tight end has been out this week with a rib injury suffered in Cleveland, and odds are he's unable to play. Without him at Heinz Field,
Daniel Graham
and
Jared Cook
will have to do more blocking. I expect the Steelers to try to really test them and for Tennessee to really miss Stevens.
October, 7, 2011
10/07/11
1:30
PM ET
»
NFC Final Word
:
East
|
West
|
North
|
South
»
AFC
:
East
|
West
|
North
|
South
Five nuggets of knowledge about Week 5:
Raiders likely to miss Andre Johnson again:
For the second straight season, the Raiders are expected to face the Texans without having to defend superstar receiver Andre Johnson. He has a hamstring injury that will likely keep him out of the Raiders' visit to Houston on Sunday. Houston beat Oakland, 31-24, in Week 4 of 2010. The Texans relied on 249 yards rushing in the game.
[+] Enlarge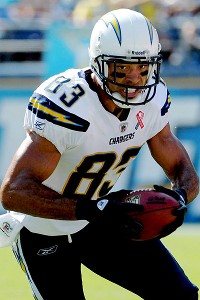 Kirby Lee/US PRESSWIREVincent Jackson and the Chargers' receivers could be set for a big day running after the catch against Denver.
Yards after the catch available in Denver:
The Denver Broncos' defense must do all it can to keep the Chargers' receivers in check after they catch the ball. San Diego's' receivers are strong after the catch and the Broncos' defense has been one of the worst in the NFL in allowing yards after the catch. According to ESPN Stats & Information, Denver has allowed 96 catches that involved yards after the catch. It has allowed 556 yards after the catch in four games for an 8.4-yard average per catch. Of Denver's passing yards allowed, 48.1 percent come after the catch. Denver has missed left cornerback
Champ Bailey
in the past three games. He is an outstanding tackler and he is hoping to play Sunday.
Crucial Luck game:
If the
Kansas City Chiefs
win at Indianapolis on Sunday, they will push further away from the Andrew Luck sweepstakes. The Stanford quarterback is considered as the best prospect to enter the NFL in years and he will surely be the No. 1 overall pick. The Chiefs beat Minnesota in Week 4 in a battle of winless teams. Now, the Chiefs play the 0-4 Colts. If the Chiefs lose this game, they'll still be in contention for the Luck. Although getting Luck is one heck of a consolation prize, no one involved in Sunday's game is hoping to have the No. 1 pick.
Raiders need to show they can win a non-divisional road game:
The Raiders have ended a lot of nasty streaks lately and they are currently enjoying the NFL's longest division win streak, which stands at eight. Oakland can end a bad streak at Houston. According to ESPN Stats & Information, Oakland has lost seven consecutive non-divisional road games since a win at Pittsburgh in Week 13 of 2009. Since the start of 2006, the Raiders are 3-23 in non-divisional road games. It is the worst record in the NFL during that stretch.
Chargers like playing in Denver lately:
The Chargers are averaging nearly 23 points a game. They scored a season-high 26 points in a Week 4 win over Miami. Perhaps Sunday's trip to Denver will spark an explosion by the Chargers' offense. They have loved playing in the Mile High City the past five years. Since 2006, the Chargers have scored 179 points in five games in Denver. Their lowest output in that stretch is 32 points. The Chargers are 4-1 in their past five trips to Denver. Their only loss in the stretch was the infamous Ed Hochuli game in 2008 when the Broncos won, 39-38, in a classic game that was marred by a controversial late call by the official.
October, 7, 2011
10/07/11
1:30
PM ET
»
NFC Final Word
:
East
|
West
|
North
|
South
»
AFC
:
East
|
West
|
North
|
South
Five nuggets of knowledge about Week 5:
Welker visits Revis Island:
How do you stop
New England Patriots
receiver
Wes Welker
? That's been a huge topic of discussion this week as the Patriots prepare to face the
New York Jets
. The Jets have a trio of talented corners in
Darrelle Revis
,
Antonio Cromartie
and
Kyle Wilson
. Although New York won't reveal its game plan, expect Revis to cover Welker, the NFL's leading receiver, for some or all of this game. The Jets love to put top receivers on "Revis Island." It would make a lot of sense for the Jets to slow down Welker with Revis and see whether other receivers can beat New York's defense. Welker does a lot of damage from the slot. But Revis is good enough to cover all parts of the field.
[+] Enlarge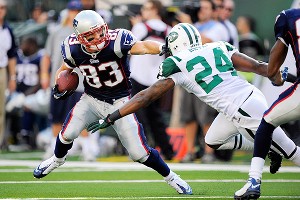 Rich Kane/Icon SMIThe Jets will likely try to put Patriots receiver Wes Welker on "Revis Island."
Mangold's impact:
Jets head coach Rex Ryan says ground-and-pound football is back. It starts Sunday against New England. New York is expected to get Pro Bowl center
Nick Mangold
back from a high-ankle sprain. The Jets' offensive line has been horrendous in the two games Mangold has been out. Mangold should have an impact, even if he's not 100 percent. He won't get an easy assignment. Mangold will have to battle Patriots defensive tackle
Vince Wilfork
a lot in his first game back.
Big week for Fred Jackson?
Buffalo is a pass-first offense. But the Bills also have been able to run the football efficiently in the first month of the season. That might be Buffalo's best chance to beat the
Philadelphia Eagles
on Sunday. The Eagles are ranked 30th against the run and are allowing 5.3 yards per carry. Bills tailback Fred Jackson is averaging a 5.8 yards per carry. Methodically moving the chains will keep Philadelphia's explosive offense off the field.
Winning third downs:
Buffalo's offense has been very good. But third-down conversions were suddenly a problem for the Bills in last week's loss to the
Cincinnati Bengals
. Buffalo was 4-for-14 on third-down conversions. The Bills' offense couldn't stay on the field and mustered only three points in the second half. That helped Cincinnati overcome a 14-point deficit. The Bills have to execute a lot better at home to beat the Eagles.
Dolphins' issues:
Miami's bye week comes at a good time, because the team has a ton of issues to fix. The biggest is how to get last year's sixth-rated defense back on track. This season Miami's defense, which has many of the same players, has been awful. The group is ranked No. 30, a drop of 24 spots from 2010. The running game also needs to be fixed. Starting running back
Reggie Bush
hasn't been as effective as the team hoped. Finally, can quarterback
Matt Moore
do anything to spark the team? Miami is in the dumps after losing four straight. Moore needs to infuse energy into the team when the Dolphins play their next game against the Jets on Oct. 17.
October, 7, 2011
10/07/11
1:30
PM ET
»
NFC Final Word
:
East
|
West
|
North
|
South
»
AFC
:
East
|
West
|
North
|
South
Five nuggets of knowledge about Week 5:
Ford Field debut:
Unless you count last year's rescheduled game between the
Minnesota Vikings
and
New York Giants
, Monday night will mark the first prime-time regular-season game in the history of Ford Field. It's the Lions' first appearance on "Monday Night Football" since Oct. 8, 2001. This game against the
Chicago Bears
has long been sold out, and the
Detroit Lions
sold 2,000 extra standing-room only seats. The building will be flush with people hoping to see more magic from the Lions and receiver
Calvin Johnson
, while also putting a three-game gap between the home team and their division rival. Here's a tip for those 2,000 of you trying to position yourself in the stadium: Johnson has caught seven of his eight touchdown passes on the right side of the field this season. Just sayin'.
[+] Enlarge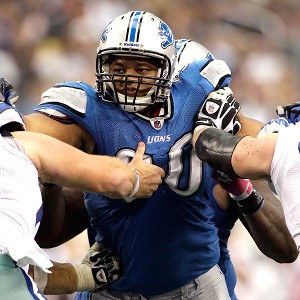 AP Photo/Tony GutierrezThrough four games, Lions DT Ndamukong Suh has two sacks and eight tackles.
Protecting Cutler:
What's the best way to keep Bears quarterback
Jay Cutler
off his back Monday night? Improved pass protection or minimal pass plays? I'm sure the Bears would like both, but they might have to settle for the former. The Lions have an opportunistic and feisty defense, but they can be run against. Through four games, opponents are averaging 4.8 yards per rush against them, the 10th-highest mark in the league. The Lions have a modest nine sacks this season, but the Bears don't want to take their chances against
Ndamukong Suh
and company. As of this moment, it appears the Bears will have a different set of starters on the right side of their offensive line, including right tackle
Frank Omiyale
, who was benched last week against the
Carolina Panthers
. Run, Bears, run.
Quick starts:
The
Green Bay Packers
scored 28 points in the second quarter of last year's divisional playoff game against the
Atlanta Falcons
. That trend has continued in the 2011 season and would be the perfect avenue to taking out what will surely be an electric crowd Sunday night at the Georgia Dome. The Packers rank second in the NFL with 80 first-half points and are tied for the NFL lead with seven touchdown passes in the first half, according to ESPN Stats & Information. Receiver
Greg Jennings
has 17 first-half receptions, second in the NFL. There is no doubt the Packers will try to jump on the Falcons early, and it wouldn't be surprising to see them use their new no-huddle scheme to do so.
Getting outside:
Why did the Falcons trade up in the draft to select receiver
Julio Jones
? Largely because the Packers' cornerback tandem of
Charles Woodson
and
Tramon Williams
dominated their receivers on the outside in last year's pair of matchups. Woodson and Williams limited Falcons quarterback
Matt Ryan
to 4.6 yards per attempt on passes outside the numbers, according to ESPN Stats & Information, and Ryan finished those two games with a cumulative Total Quarterback Rating of 3.2 on such passes. Both cornerbacks have struggled at times this season, Williams in part because of a bruised right shoulder, and it will be interesting to see if the Falcons try to capitalize with Jones, who has 24 receptions in his first four NFL games.
So close:
Will Sunday be the day the Vikings break the ice? They have been historically close to this point; rarely has an NFL team started 0-4 by such a slim margin. The Vikings' four losses have come by a combined 19 points, fewer than all 0-4 teams since the 1970 merger except for the 1991
Tampa Bay Buccaneers
(13) and the 1974 Detroit Lions (14), according to the Elias Sports Bureau. I think that's why coach Leslie Frazier hasn't instituted personnel changes or shown any indication he plans to veer from his original vision. He believes the Vikings have been too close in their four losses to merit an overhaul. Maybe all they need is a home game against a 1-3 opponent to get things started. Hello,
Arizona Cardinals
.
October, 7, 2011
10/07/11
1:30
PM ET
»
NFC Final Word
:
East
|
West
|
North
|
South
»
AFC
:
East
|
West
|
North
|
South
Five nuggets of knowledge about Week 5:
[+] Enlarge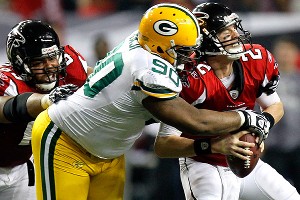 Kevin C. Cox/Getty ImagesThe Falcons have an opportunity to avenge last season's playoff loss to the Packers in the rematch Sunday.
Playoff rematch.
The
Atlanta Falcons
clearly haven't been the same team as they were when they went 13-3 in the regular season last year. You can trace all their troubles back to the devastating home playoff loss to the Packers. That game weighed heavily on the minds of the coaches and players during the offseason. Maybe so heavily that the Falcons haven't recovered. Sunday night's rematch might be an opportunity for the Falcons to climb back on the horse and exorcise some of the ghosts from that playoff loss.
Paging Mike Williams.
The Buccaneers have been starting slowly on offense and haven't shown a lot of consistency. One way to fix that might be getting receiver Mike Williams more involved. He was clearly Tampa Bay's No. 1 receiver as a rookie, but he's been very quiet so far this season. The Bucs, who play at the 49ers on Sunday, say Williams is drawing more attention from defenses and there's truth in that. But true No. 1 receivers find ways to deal with coverage. Plus, it would help if
Arrelious Benn
and
Preston Parker
show enough to take some of that coverage away from Williams.
Saints are well-grounded.
On paper, the game between the Saints and Panthers looks as if it should be a shootout between
Drew Brees
and
Cam Newton
. It could be. But don't be surprised if the Saints run the ball a lot. They had great success with the run last week, putting up 177 yards against Jacksonville. The trio of
Mark Ingram
,
Darren Sproles
and
Pierre Thomas
is working quite nicely so far this season. It could work even better against a Carolina defense that hasn't stopped the run (31st in league, 143.8 yards per game).
Turning point?
It's obvious the Panthers are way better than they were last season. Newton has made the offense exciting, and the Panthers have lost some close games, including last week in Chicago. They're 1-3, but you get the sense the Panthers are close to turning the corner. They have a chance to officially make that next step. Defeating the Saints would send a message to the rest of the NFL that the Panthers are for real.
Time for Big-Play Ray.
Defensive end
Ray Edwards
hasn't recorded a sack since signing with the Falcons in the preseason. Edwards was supposed to beef up an Atlanta pass rush that hasn't come up with a sack in the past three games. This game is a chance for Edwards to make a statement. He's very familiar with the Packers because he used to play for their division rival, the
Minnesota Vikings
. Edwards produced two-sack games in two of his past three meetings against the Packers.
October, 7, 2011
10/07/11
1:30
PM ET
»
NFC Final Word
:
East
|
West
|
North
|
South
»
AFC
:
East
|
West
|
North
|
South
Five nuggets of knowledge about Week 5:
Protect Ben Roethlisberger:
The Steelers' quarterback has a sprained left foot and won't be able to elude pass-rushers like he's done in the past. Roethlisberger has been sacked 14 times this season, which is tied for third most in the NFL. Injuries have made it difficult for Pittsburgh to maintain continuity on its offensive line. If recently signed
Max Starks
starts at left tackle, it will mark the 10th different starting offensive lineman for the Steelers this season -- two more than any other team in the NFL (according to ESPN Stats & Information).
[+] Enlarge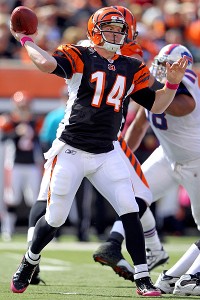 Andy Lyons/Getty ImagesAndy Dalton has performed well away from home this season.
Road warrior rookie:
The Bengals'
Andy Dalton
has displayed a great deal of poise for a first-year quarterback, especially when it comes to handling the adversity of playing on the road. In two starts away from home, Dalton has completed 66.1 percent of his passes for 413 yards. He has thrown three touchdowns and no interceptions for a 105.7 rating. Dalton should target tight end
Jermaine Gresham
against the Jaguars, who got lit up last Sunday by Saints tight end
Jimmy Graham
(10 catches for 132 yards and one touchdown).
Another test for run defense:
The Steelers have another shot at redeeming themselves when it comes to stopping the run. Pittsburgh has already allowed more 100-yard rushers in four games this season than the previous three seasons combined. The Steelers are looking to get back on track against a running back who righted himself last week. Titans running back
Chris Johnson
gained more yards rushing last Sunday against the Browns (101 yards) than his first thee weeks (98 yards). Pittsburgh's front seven will be without linebacker
James Harrison
(eye) and defensive end
Aaron Smith
(foot).
Validation time:
The Bengals surprised everyone with an upset win over Buffalo, which evened their record at 2-2. But Cincinnati started last season at 2-1 before losing 10 straight games. The Bengals can prove they're a different team with their next three games against opponents whose combined record is 2-10 -- at Jacksonville (1-3), home against Indianapolis (0-4) and at Seattle (1-3). Those just happen to be the three worst offenses in the NFL, and Cincinnati just happens to have the No. 1 defense in the NFL.
Moving on up:
It looks like a strong possibility that Steelers running back
Isaac Redman
will go from third string to the starting lineup. Pittsburgh's top two running backs --
Rashard Mendenhall
(hamstring) and
Mewelde Moore
(ankle) -- didn't practice Wednesday or Thursday. If both are sidelined, Redman would have to carry the workload against the Titans and the NFL's eighth-ranked run defense. Undrafted out of Division II Bowie State in 2009, Redman has averaged 4.8 yards per carry in his two-year career. He has never carried the ball more than 10 times in a game.