NFL Nation:

Final Word 2011 Week 9
November, 4, 2011
11/04/11
1:30
PM ET
»
NFC Final Word
:
East
|
West
|
North
|
South
»
AFC
:
East
|
West
|
North
|
South
Five nuggets of knowledge about Week 9:
Where's V-Jax?
Much of the Chargers' offensive woes are being pinned on quarterback
Philip Rivers
. Yes, he is off to the worst start of his career. But he is getting a lot of help. The Chargers' playmakers have not been making big plays. Top receiver
Vincent Jackson
has slowed down. He had 17 catches in the first three games of the season for 266 yards and two touchdowns. In the past four games, Jackson has 10 catches for 206 yards and one touchdown. If the Chargers are going to be able to keep up with high-flying Packers on Sunday, Jackson is going to have to increase his production.
[+] Enlarge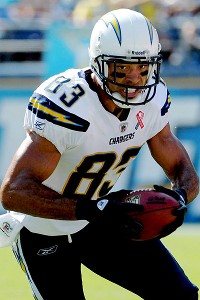 Kirby Lee/US PRESSWIREThe pace of Chargers receiver Vincent Jackson has slowed since the beginning of the season.
Can Raiders break another streak?
A byproduct of the Raiders' terrible run from 2003-09 was that they built a lot of bad streaks. The good news, for Oakland, though, is since last season, they have been busting several negative streak. Oakland -- which hosts Denver on Sunday -- has a chance to end another bad streak. It has lost eight straight games after its bye week. It is the longest streak in the NFL dating back to 1990, according to ESPN Stats & Information. It would be an upset, though, if this streak extends to nine.
Prater is getting his kicks:
According to ESPN Stats & Information, Denver kicker
Matt Prater
is a perfect 18-for-18 on kickoffs going for touchbacks in Denver this season. Prater has 26 touchbacks on 30 kickoffs overall (86.7 percent). The Broncos have 59 return yards against them this season, which is an average of 2.0 yards per kickoff. Prater could be challenged in Oakland, Sunday, though. Oakland return man
Jacoby Ford
has four career kickoff returns for touchdowns and he has shown he is not afraid to take the ball out of the end zone.
Who needs Luck?
A month ago, the Chiefs' home game against the
Miami Dolphins
would have had major Andrew Luck Sweepstakes ramifications. The forecast was the loser of the game could end up being the big winner and land the Stanford quarterback, who is widely considered the best NFL prospect in years. But the Chiefs have won four straight games, are 4-3 and are tied for first place in the AFC West. The Dolphins have lived up to their end of the Luck bargain, though, at 0-7. The Chiefs have another prize on their mind -- beating the Chargers and moving a game closer to the postseason.
Tebow not moving the chains:
There are a lot of reasons why the two-game
Tim Tebow
starting era is not working in Denver. There's delivery, accuracy and pocket issues. But the truth is, he is not moving the ball. According to ESPN Stats & Information, Tebow has converted 3-of-17 third-down chances this season. It is a league-worst 17.6 percentage. He has been sacked six times on third down. He has the same amount of completions on third down.
November, 4, 2011
11/04/11
1:30
PM ET
»
NFC Final Word
:
East
|
West
|
North
|
South
»
AFC
:
East
|
West
|
North
|
South
Five nuggets of knowledge about Week 9:
From the Dept. of Sore Subjects:
The
Dallas Cowboys
and
Seattle Seahawks
have met twice since the famous 2006 playoff game that
Tony Romo
blew with a botched field-goal snap, and I'm sure it comes as little comfort to Cowboys fans to know that Dallas has won both. Even if the Cowboys win and improve to 4-4, this will be the second straight season in which they made it through the first half with a non-winning record. According to ESPN Stats & Info, the last time that happened was 2001-02. They were 2-6 after eight games in 2001 and 3-5 in 2002. Last season, you might remember, they were 1-7.
[+] Enlarge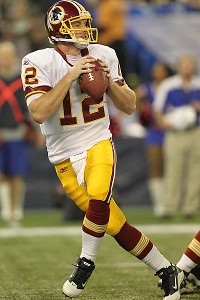 Luc Leclerc/US PresswireRedskins QB John Beck needs better protection from his offensive line.
Timing John Beck:
Is the
Washington Redskins
quarterback to blame for the 10 sacks he took last week? ESPN Stats & Information has a "next level" number that indicates the issues might lie up front with the offensive line. According to S & I, Beck takes an average of 2.57 seconds to release the ball after it is snapped, which is a league-average figure. Last week, six of the 10 sacks the Bills recorded against Beck and the Redskins happened before that 2.57-mark. So while it was nice of Beck to come out and take responsibility for some of the sacks, the overall problem is, I believe, that banged-up offensive line in front of him. The good news is that offensive lines tend to improve as they play together, so maybe it'll be better this week?
Manning protecting the ball:
New York Giants
quarterback
Eli Manning
has been interception-free in four of his past five games. He had only four games all of last season in which he didn't throw at least one interception. After throwing a league-leading 25 interceptions in 2010, Manning has just five so far this season through seven games. Additionally, according to ESPN Stats & Information, Manning in 2010 had 14.1 percent of his passes either picked off or tipped by a defensive player, which was the sixth-highest such figure among qualifying quarterbacks. This season, he's had only 9.1 percent of his passes intercepted or tipped by a defender, which is the 33rd-highest such figure among qualifying quarterbacks.
Shady finds the end zone:
Philadelphia Eagles
running back
LeSean McCoy
has scored a touchdown in each of his team's first seven games this season. That's the sixth time since the merger that a running back has accomplished that feat. Four running backs -- Dallas' Emmitt Smith in 1999, Washington's George Rogers in 1986, Washington's John Riggins in 1983 and Buffalo's O.J. Simpson in 1975 -- have scored touchdowns in each of their team's first eight games. Also, incidentally, since rookie
Danny Watkins
took over at right guard for the Eagles in Week 5, Philadelphia is gaining 6.3 yards per carry as opposed to the 5.4 it was gaining with
Kyle DeVan
as the starter at that spot.
Rematch fun:
The Giants-Patriots game is the ninth game this season that has been a rematch of a Super Bowl. The team that won the Super Bowl in question is 6-2 in those games, including the Giants' victory against the Bills in Week 6. The only two that have gone the way the Super Bowl didn't go were the Bills' victory last week against the Redskins and the Packers' Week 4 victory against the Broncos.
November, 4, 2011
11/04/11
1:30
PM ET
»
NFC Final Word
:
East
|
West
|
North
|
South
»
AFC
:
East
|
West
|
North
|
South
Five nuggets of knowledge about Week 9 (remember, the Carolina Panthers are on bye):
Classic trap game:
The
Atlanta Falcons
are coming off their bye and they've got what seems like a very winnable game against the
Indianapolis Colts
. Assuming they win, the Falcons will play a very big game the following week, when they host the Saints. So it's not all that difficult to imagine the Falcons looking beyond the Colts. They should be on a three-game winning streak by the time they play the Saints. But you can't assume anything in this league. If I'm coach Mike Smith, I'm reminding the Falcons (repeatedly) about what happened to the Saints last week when they went up against the winless
St. Louis Rams
.
Stay in the pocket:
When the Buccaneers defeated the Saints in Week 6 in Tampa, quarterback
Josh Freeman
had his best game of the season. That happened largely because Freeman got great protection. He was not sacked and was under duress only four times, according to ESPN Stats & Information. That allowed Freeman to stay in the pocket and he was particularly effective, averaging 7.6 yards per attempt and throwing for two touchdowns and no interceptions. While staying in the pocket in all his other games, Freeman has averaged 6.3 yards per attempt with five touchdowns, nine interceptions and seven sacks.
[+] Enlarge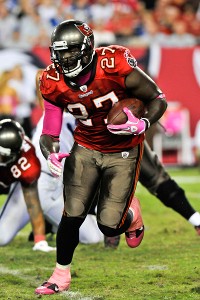 Fernando Medina/US PresswireLeGarrette Blount has lobbied to be an every-down back, but that doesn't mean the Bucs are ready to trust him in pass protection.
Every-down back?
With
Earnest Graham
lost for the season, Tampa Bay running back
LeGarrette Blount
has said he's ready to stay on the field for passing downs. That may happen some, but I'm not buying into the theory that the Bucs suddenly have decided they can trust Blount in pass protection on a regular basis. I'm thinking we'll see a fair amount of
Kregg Lumpkin
as a third-down back and I wouldn't be surprised if the Bucs use a six-man offensive line at times with offensive tackle
Demar Dotson
checking in as an eligible receiver.
At home on the road:
Since the arrival of Smith and quarterback
Matt Ryan
in 2008, much has been made about how successful the Falcons have been in the Georgia Dome. Well, going to Indianapolis shouldn't provide too much of a scare. The Falcons also have been pretty good on the road recently. They're 6-2 in their last eight road games. Since the start of the 2010 season, they're 8-4 on the road. Only two teams in the NFL have better road records during that stretch.
Sticking with 'The Burner':
Although rookie receiver
Julio Jones
is expected to return after missing the past two games with a hamstring injury, the Falcons would be wise to remember what they did offensively in winning those two games. They used
Michael Turner
and the running game as the focal point of the offense. Turner averaged 130.5 yards in those two games and he also can open lots of doors in the passing game. Since Turner's 2008 arrival in Atlanta, the Falcons are 25-1 in games in which he has more than 21 rushing attempts.
November, 4, 2011
11/04/11
1:30
PM ET
»
NFC Final Word
:
East
|
West
|
North
|
South
»
AFC
:
East
|
West
|
North
|
South
Five nuggets of knowledge about Week 9:
Beating Big Ben at Heinz
: The Ravens have lost five straight times to quarterback
Ben Roethlisberger
at Heinz Field, where he has thrown 10 touchdowns and two interceptions against Baltimore during that streak. The last time the Ravens beat Roethlisberger on his home turf was 2006, which is also the last time they won the division. But Roethlisberger has some motivation as well. He turned the ball over a career-high five times (three interceptions and two fumbles lost) in the season opener at Baltimore, the most turnovers by a player in a game this season. Since then, he has six turnovers in seven games.
[+] Enlarge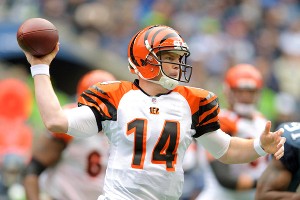 Steven Bisig/US PresswireAndy Dalton has been comfortable on the road this season, completing 64.4 percent of his passes.
Rookies on the road
: The Bengals' young players are bucking the trend that they're supposed to struggle away from home. Maybe Cincinnati's rookies just like playing in front of packed crowds, something they don't see at Paul Brown Stadium. First-year quarterback
Andy Dalton
has completed 64.4 percent of his passes and has averaged 190 yards passing on the road this season. He has thrown seven touchdowns and three interceptions for a 91.8 passer rating on the road, according to ESPN Stats & Information. His prime target has been rookie first-round pick
A.J. Green
, who is looking for a touchdown catch in his fifth straight road game. Cincinnati takes a 3-1 road record into Tennessee.
Slumping at the start
: The Browns' first-quarter woes aren't just a rut. It's becoming the Grand Canyon in terms of dysfunction. Cleveland has been outscored 44-3 in the first quarter this season, and the three points are the fewest in the NFL. It's actually the fewest by a team in the first quarter through the first seven games of a season since the 2000 Cardinals had three points (this comes courtesy of ESPN Sports & Information). Don't look for this trend to change at Houston on Sunday. The Texans have outscored teams, 57-13, in the first quarter. If the Browns are in comeback mode early again, they might have to get away from their running game and
Peyton Hillis
, who is expected to return from a hamstring injury.
Stopping the big runs
: The Bengals shouldn't have much concern over the NFL's No. 2 run defense going against struggling running back
Chris Johnson
, right? Well, maybe they should have some concern. Cincinnati has been strong against the run overall, allowing only two running backs to go over 66 yards rushing. The Bengals' weakness has been the big runs. They've given up a run of at least 16 yards in all but one game, and there have been three 20-plus yard runs against them in the past four games. Johnson has only broken two runs over 20 yards this season, but he's had 44 in his previous three seasons.
Cooking with Rice
: The Steelers have allowed only three 100-yard rushers in their last 58 games (dating back to 2007), and Ravens running back
Ray Rice
has produced two of those. He gained 141 yards on the ground at Pittsburgh in December 2009 and ran for 107 yards in the season opener against the Steelers. In that last meeting, Rice became the first running back since Jacksonville's
Fred Taylor
in 2007 to rush for over 100 yards and average over five yards per carry in a game against the Steelers. Pittsburgh ranks No. 8 in the NFL in run defense this season.
November, 4, 2011
11/04/11
1:30
PM ET
»
NFC Final Word
:
East
|
West
|
North
|
South
»
AFC
:
East
|
West
|
North
|
South
Here are five nuggets of knowledge about Week 9:
Rex Ryan versus Buffalo:
The
New York Jets
should feel very confident facing the
Buffalo Bills
on Sunday. New York swept the Bills last season by a combined score of 76-21, and Ryan is 3-1 all-time against Buffalo since 2009. On paper, the Jets have plenty of good matchups against the Bills. New York is one of the few teams talented enough and deep enough at defensive back to defend Buffalo's spread offense successfully.
[+] Enlarge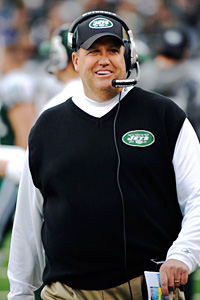 AP Photo/Bill KostrounRex Ryan and the Jets swept the Bills last season by a combined score of 76-21.
Winless on the road:
The Jets remain one of seven NFL teams yet to win a road game. New York is 0-3 away from Met Life Stadium and losing by an average margin of 12 points. The Jets have to turn that around if they want to remain in playoff contention. New York (4-3) is just one game behind the
New England Patriots
(5-2) and Buffalo (5-2) in the AFC East. The Bills are 4-0 at home, which includes last week's win in Toronto, Canada, over the
Washington Redskins
.
Protecting Sanchez:
New York's offensive line is playing better. But it faces Buffalo's front seven, which is coming off its best performance of the season. The Bills recorded an astounding 10 sacks against Washington, which was the second most in franchise history. The Jets have allowed 16 sacks of quarterback
Mark Sanchez
in seven games. New York allowed only 27 sacks all last season.
Slowing down the Pats:
What's happened to the New England Patriots' high-scoring offense? The Patriots have scored their lowest point totals of the season the past two weeks. New England scored 17 and 20 points against the
Pittsburgh Steelers
and the
Dallas Cowboys
, respectively. That has many wondering whether teams have finally figured out quarterback
Tom Brady
and Co. The Patriots were fortunate enough to get a late touchdown against Dallas to pull out a 20-16 victory. But opponents are not giving up huge yards and are controlling the clock against New England. Look for Sunday's opponent -- the
New York Giants
-- to have a similar game plan.
Thunder and lightning:
The winless
Miami Dolphins
(0-7) have been unable to get their running-back duo of
Reggie Bush
and
Daniel Thomas
on the same page. Sometimes that's been because of injuries and other times it was questionable game plans and play-calling. But this week is a good opportunity for Bush and Thomas to help Miami. The
Kansas City Chiefs
have the NFL's 22nd-ranked run defense. Bush is coming off his first 100-yard game this season, and Thomas (hamstring) is expected to return. Miami's best chance to pull the upset is for Bush and Thomas to run wild against the Chiefs, who are coming off a short week of preparation.
November, 4, 2011
11/04/11
1:30
PM ET
»
NFC Final Word
:
East
|
West
|
North
|
South
»
AFC
:
East
|
West
|
North
|
South
Five nuggets of knowledge on Week 9, which includes byes for the Detroit Lions and Minnesota Vikings:
History and matchups:
For weeks, national discussion has centered on whether the
San Diego Chargers
might serve up the
Green Bay Packers
' first loss of the season. Analysis of the matchup suggests otherwise,
as we discussed Thursday
. So does history. The Packers have never lost in San Diego, crafting a 5-0 record since the series began in 1970. Coach Mike McCarthy, meanwhile, has never lost to an AFC West team in five games. Those facts hardly make this game a lock, but they tell us that historically and recently, it's not been a shock for the Packers to play in unfamiliar environments or against rarely faced teams. The Packers are hoping to become the third Super Bowl champion to open the following season 8-0. Three of the Chargers' four victories have come against the Vikings (2-6),
Miami Dolphins
(0-7) and
Denver Broncos
(2-5).
[+] Enlarge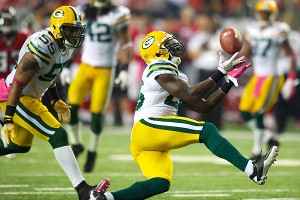 Dale Zanine/US PresswireSan Diego's Philip Rivers, who has thrown 11 interceptions, needs to be careful against the Green Bay defense, which has picked off 13 passes.
Pass defense:
Chargers quarterback
Philip Rivers
is averaging 297 yards passing per game, but he's also thrown an NFL-high 11 interceptions in seven games. That performance would seem to fit into the wheelhouse of the Packers' defense, which is giving up the second-highest average of passing yards per game (289) but is one off the league high with 13 interceptions. The Packers have intercepted at least two passes in each of their past five games, the most efficient run in the NFL over the past 10 years. Rivers likes to let it fly, but this season at least, he's not getting away with it. Nine of his 11 interceptions have come against an opponent's nickel or dime defense, which the Packers play about 75 percent of the time.
Stopping the run:
There has been
plenty of discussion
about the
Chicago Bears
' matchup against
Philadelphia Eagles
quarterback
Michael Vick
, who is 0-4 against the Bears in his career. But you wonder if Eagles running back
LeSean McCoy
isn't the Bears' biggest obstacle to victory. McCoy leads the NFL with an average of 107.7 yards per game and has scored at least one touchdown in each Eagles game this season. The Eagles crushed the
Dallas Cowboys
' otherwise stingy run defense for 239 yards last week and are the NFL's best running team through eight weeks. The Bears have had trouble stopping the run this season; opponents are averaging 5.2 yards per carry against them, the second-highest total in the league.
Road woes:
The Bears' two games this season at the home fields of opponents have been disasters. The
New Orleans Saints
ran them out of the Superdome in Week 2, and the Bears self-destructed in a Week 5 loss to the Detroit Lions. Lincoln Financial Field isn't likely to be as loud as the Superdome or Field Field, where the Bears committed nine false start penalties, but it can still treat opponents rudely. The top candidate to be affected? Let's go with left tackle
J'Marcus Webb
, who ranks fourth in the NFL with eight penalties this season. He's been called five times for a false start, twice for holding and once for illegal formation.
Hester factor:
The Bears'
Devin Hester
has an NFL-record 16 kickoff/punt returns for touchdowns in his career. Five have come in seven career Monday night games, most recently last December at the Vikings. We're not saying anything here. We're just saying.
November, 4, 2011
11/04/11
1:30
PM ET
»
NFC Final Word
:
East
|
West
|
North
|
South
»
AFC
:
East
|
West
|
North
|
South
Five nuggets of knowledge about Week 9:
[+] Enlarge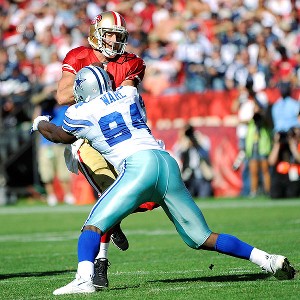 Thearon W. Henderson/Getty ImagesCowboys outside linebacker DeMarcus Ware will be facing a Seattle Seahawks offensive line that has allowed a league-high 28 sacks.
Huge weekend for sack opportunities:
The
Seattle Seahawks
, having allowed a league-high 28 sacks, must contend with the
Dallas Cowboys
' DeMarcus Ware, who collected four of his 12 last week. The
San Francisco 49ers
'
Aldon Smith
and
Justin Smith
have a combined nine sacks over four games. They now face a
Washington Redskins
offense that took 10 sacks against Buffalo. The
St. Louis Rams
, coming off a six-sack game against New Orleans'
Drew Brees
, now face an
Arizona Cardinals
offense that allowed six against Baltimore last week.
Quarterback continuity at a premium:
The 49ers' ability to protect
Alex Smith
and keep him healthy was a concern heading into the season. Smith had missed games to injury last season. He had missed an entire season previously. He had started 16 games in a season just once. Heading into Week 9, Smith is the NFC West ironman at the position. Arizona's
Kevin Kolb
has a turf-toe injury that could sideline him Sunday. St. Louis'
Sam Bradford
, who took every snap in 2010, has missed two games and could miss another. The Seahawks'
Tarvaris Jackson
is back in the lineup for the first time since Week 5. Smith, meanwhile, is on pace to make his ninth start in a row dating to last season.
More on that 49ers pass rush:
The team is getting good pressure despite sending four or fewer pass-rushers on 82 percent of opposing dropbacks, the third-highest percentage in the league, according to Doug Clawson of ESPN Stats & Information. That figure is up from 73.1 percent last season. All four sacks against Cleveland last week came with the 49ers rushing four or fewer. That gives the team added flexibility in coverage. Opposing quarterbacks have been under duress on 20.4 percent of dropbacks, up from 11.9 last season. Aldon Smith's addition is key. Smith, who plays in sub packages, has six of his 6.5 sacks on plays when the 49ers rushed four or fewer.
Marshawn Lynch and the end zone:
Getting the ground game going stands as a top priority for the Seahawks over the final nine games of the season. The team expects to have its projected offensive line starting for the second week in a row after not playing together since Week 1. Marshawn Lynch hasn't found much running room, but he does have a rushing touchdown in three consecutive games. He's looking to become the first Seattle runner since
Shaun Alexander
in 2005 to score one in four consecutive games. The Cowboys allowed 239 yards rushing to Philadelphia last week after entering the game allowing a league-low 69.7 yards per game.
Power backs in spotlight:
With Bradford and Kolb limited or out entirely, running backs
Steven Jackson
and
Beanie Wells
could play more prominent roles when the Rams and Cardinals play at University of Phoenix Stadium. Both are big, bruising backs. Both are running with attitude. The Rams allowed a season-low 56 yards rushing against a New Orleans team that leans heavily on the pass. Before that, however, the Rams had allowed at least 168 yards on the ground four times. The Cardinals have been more vulnerable against pass than run, but Washington and Minnesota each rushed for 172 yards against Arizona.
November, 4, 2011
11/04/11
1:30
PM ET
»
NFC Final Word
:
East
|
West
|
North
|
South
»
AFC
:
East
|
West
|
North
|
South
Five nuggets of knowledge about Week 9:
Over in the first?
The Texans have scored 57 points in the first quarter, third most in the league. The Browns have scored three, the fewest in the league. If the patterns hold, could we have a snoozer by the time the teams switch ends? ESPN Stats & Information says no quarterback has been less threatening downfield this season than Cleveland's
Colt McCoy
. He has three 30-yard pass plays in 163 completions. That's 1.8 percent, the lowest percentage of 30-yard plays of anyone this season. I don't expect the Texans to have receiver
Andre Johnson
(hamstring), but Houston should still be more threatening downfield than the Browns.
[+] Enlarge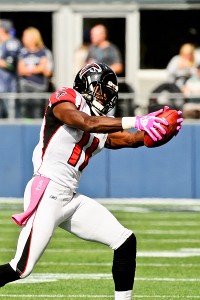 Joshua Weisberg/Icon SMIIn Julio Jones' last full game, he caught 11 passes for 127 yards.
Bad timing:
The Colts seem to be catching the Falcons at the wrong time. If
Julio Jones
returns from a hamstring injury that cost him the last two games, he will have wide eyes looking at the Indianapolis secondary. In his last full game, Jones was targeted 15 times, the fourth most for any player this season. He wound up with a franchise-rookie record 11 catches for 127 yards. On defense, the Falcons have broken out of a sack slump with eight in their last three games, not good news for
Curtis Painter
, though he should be behind a better line as some guys are healing up.
Watch the deep stuff:
Cincinnati rookie receiver
A.J. Green
is giving the Bengals something the Titans lack without the injured
Kenny Britt
-- a serious deep threat. According to ESPN Stats & Information, Green has six receptions on throws more than 20 air yards downfield this season, tied for fourth most in the NFL. Only four rookies have had more than six such receptions since the start of 2008. The Titans have covered reasonably well this season. Odds are we'll see both
Cortland Finnegan
and
Alterraun Verner
working against Green. They'll need a pass rush to help make it work.
Never ahead:
The Colts have run 77 plays when leading this season, the fourth fewest in the NFL behind the Broncos, Seahawks and Rams. Just 16.6 percent of the Colts' offensive plays have come when leading this season compared to 41.9 percent the three seasons before with
Peyton Manning
.
Dwight Freeney
and
Robert Mathis
have been quiet in recent weeks, and they obviously thrive when a quarterback has to throw. Indianapolis is best playing from ahead, and the Colts have rarely been in that situation this season.
Bengals in nickel:
Cincinnati's pass defense has been stronger when it has had at least five defensive backs on the field, allowing just one touchdown. The Titans are hardly a great three-wide team considering their third receiver is
Lavelle Hawkins
. They'd be wise to go with two tight ends more often and feature
Jared Cook
, a player who's been underused. The Bengals have not covered tight ends well this season. Why let Cincinnati get into its nickel package when
Matt Hasselbeck
has thrown five of six picks against defensive sets with at least one extra defensive back?
NFL SCOREBOARD
Thursday, 12/5
Sunday, 12/8
Monday, 12/9