NFL Nation:

Final Word 2011 Wild Card
January, 6, 2012
1/06/12
1:30
PM ET
»
Wild-Card Final Word
:
Bengals-Texans
|
Lions-Saints
|
Falcons-Giants
|
Steelers-Broncos
Three nuggets of knowledge about Sunday's Steelers-Broncos wild-card game:
[+] Enlarge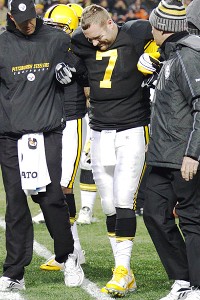 AP Photo/Gene J. PuskarBen Roethlisberger's mobility has been limited since suffering a high ankle sprain.
Sitting target
:
Ben Roethlisberger
's high ankle sprain is clearly affecting his mobility, which has in turn affected his ability to handle the blitz. Roethlisberger has frustrated defenses over the years by shrugging off pass-rushers to extend plays and hit a wide receiver deep downfield. In his first 13 games, he completed 61.2 percent of his passes against the blitz (according to ESPN Stats & Information), throwing seven touchdowns and three interceptions. Since the injury, he hasn't been able to escape the pressure. As a result, his completion rate against the blitz has plummeted to 28.6 percent (6-of-21 passing). The Broncos' pass rush is led by
Von Miller
(11.5 sacks) and
Elvis Dumervil
(9.5).
Playoff road block
: No one ran the ball better this year than the
Denver Broncos
. With running back
Willis McGahee
and quarterback
Tim Tebow
leading the ground game, the Broncos averaged 164.5 yards rushing, which is 11.5 yards more per game than anyone else in the league. The Steelers ranked eighth in run defense this year, but they are first when it comes to the playoffs. Pittsburgh hasn't allowed a 100-yard rusher in 17 consecutive postseason games, which is tied with the Redskins for the longest current streak. Teams didn't really test the Steelers' run defense this season. Opponents averaged 25 carries a game against Pittsburgh, which was the eighth-fewest in the NFL.
Backup plan
: The Steelers placed starting running back
Rashard Mendenhall
on injured reserve this week after he tore his ACL. Statistics say Pittsburgh's running game will be more explosive without him. Since the start of 2010, Mendenhall averaged 3.9 yards per carry, the fifth-worst among the 28 players with at least 300 rushes in the past two seasons (according to ESPN S&I).
Isaac Redman
, who is expected to replace Mendenhall, is averaging 4.5 yards per carry over that span. Mendenhall also had the second fewest yards after contact (1.6 per carry) among running backs with at least 200 carries. The rest of the Steelers averaged 2.6 yards after contact.
January, 6, 2012
1/06/12
1:30
PM ET
»
Wild-Card Final Word
:
Bengals-Texans
|
Lions-Saints
|
Falcons-Giants
|
Steelers-Broncos
Three nuggets of knowledge about Saturday's Bengals-Texans wild-card game:
[+] Enlarge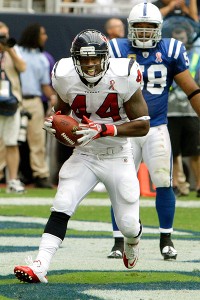 Bob Levey/Getty ImagesBen Tate is looking to duplicate his regular-season performance against the Bengals in Saturday's AFC playoff game.
Yards after contact:
Per ESPN Stats and Info, the Bengals defense allowed 2.0 yards per rush before contact this season, the third-lowest total in the league. But Cincinnati is allowing 1.9 yards per rush after contact, seventh-worst in the NFL. The Texans led the league with 1,133 yards after contact this season.
Ben Tate
ran well against the Bengals in the regular-season game (eight carries for 67 yards with a 44 yarder) and quarterback
T.J. Yates
had a giant 17-yard run on the game winning drive.
Arian Foster
had just 41 yards on 15 carries. Given a second chance against Cincy coming off a week's rest, I think Foster won't just slip off defenders when he's taking handoffs but also after pulling in receptions.
Hands up:
The Texans led the league with 19 passes batted down, largely thanks to their work against
Andy Dalton
on Dec. 11, when they got their hands on eight. Dalton had the most passes batted or defended this season (79), while the Texans led all defenses with 94 defended passes. The Bengals are likely to call a lot of three-step drop quick throws. Defensive linemen and outside linebackers can't usually get to the quarterback that quickly. So the next best thing is to pull up and look to get a paw on the ball. Odds are defensive coordinator Wade Phillips finds more ways to fluster Dalton than Dalton finds solutions to what the Texans try to do to him.
No mo:
The Texans don't come into the playoffs with momentum, as they've lost three in a row. This year's Texans and Broncos are the seventh and eighth teams to reach the playoffs after losing their final three games since the AFL-NFL merger in 1970, according to the Elias Sports Bureau. Each of the previous three teams to enter the postseason on a losing streak of at least three games won its first playoff game: The 2009 Saints won Super Bowl XIV, the 2001 Raiders advanced to the divisional playoffs and the 2000 Vikings made it to the NFC Championship Game.
January, 6, 2012
1/06/12
1:30
PM ET
»
Wild-Card Final Word
:
Bengals-Texans
|
Lions-Saints
|
Falcons-Giants
|
Steelers-Broncos
Three nuggets of knowledge about the Steelers-Broncos wild-card game Sunday:
[+] Enlarge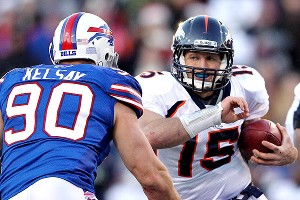 Luc Leclerc/US PresswireWill Tim Tebow be able to pull out of his recent slump during his first postseason NFL game?
Can Denver enjoy a home-field advantage again?
Remember, when Denver used to be one of the most difficult places in the NFL to play? That's no longer the case as the Broncos were just 3-5 at home this season. Perhaps the postseason will rekindle the old Mile High magic. According to ESPN Stats & Information, Denver has the fourth-best home record in postseason history with a 12-3 record.
Can the Broncos be this year's Seahawks?
In the locker room last Sunday, after the Broncos backed into the playoffs with three straight defeats, multiple Denver players brought up Seattle's win over New Orleans in the wild-card round last year. Seattle was 7-9, but it stunned the defending Super Bowl champions. Denver, 8-8, spent the week believing it can duplicate the Seahawks' feat against the defending AFC champions. According to ESPN Stats & Information, Denver has more motivation. Four of the past five teams that have reached the playoffs without a wining record have won a game, dating back to 2004.
Can Tebow turn it around?
Denver quarterback
Tim Tebow
is entering the playoffs in a major slump. He completed just 46.5 percent of his passes -- the worst completion percentage since 2000 of any quarterback to start at least 10 games. He may have trouble turning around his fortune Sunday. Pittsburgh had the NFL's No. 1 ranked pass defense this season and it allowed just 171.9 passing yards a game.
January, 6, 2012
1/06/12
1:30
PM ET
»
Wild-Card Final Word
:
Bengals-Texans
|
Lions-Saints
|
Falcons-Giants
|
Steelers-Broncos
Three nuggets of knowledge about Sunday's Falcons-Giants wild-card round game:
[+] Enlarge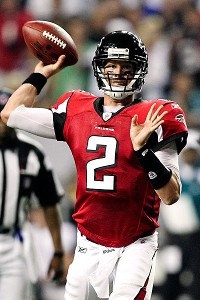 Daniel Shirey/US PresswireMatt Ryan has played much better against standard pressure in the second half of the season, throwing 12 TDs and no picks.
There's no place like home ... or is there?
From 1990 to 2003, the first 14 years after the NFL expanded the playoffs to include 12 teams, home teams were a combined 41-15 in this wild-card round. But over the past seven seasons, home teams have a record of just 13-15 in this round. Will the
New York Giants
have a home-field advantage over the
Atlanta Falcons
come Sunday? Well, it'll be cold, but not horribly so. Weather.com is currently showing a forecast high of 45 degrees and a 0 percent chance of precipitation for Sunday, so about the best for which a dome team like Atlanta could hope traveling north this time of year. The Giants were just 4-4 at home this year (though they did win a "road" game in their home stadium on Christmas Eve against the Jets), and the Falcons were 4-4 on the road. So that doesn't really tell us much, does it?
Ryan versus the rush:
Falcons quarterback
Matt Ryan
isn't likely to see a lot of blitzes Sunday, since the Giants' defense relies on its four down linemen to pressure the quarterback. That's likely fine with Ryan. According to ESPN Stats & Information, Ryan has thrown 12 touchdown passes and no interceptions when the opponent rushes four or fewer over the past seven games. In his first nine games of this season, Ryan had nine touchdowns and eight interceptions in such situations. That likely means the line is blocking better for him and he's not making as many bad decisions under pressure as a result. We shall see if
Justin Tuck
,
Osi Umenyiora
and
Jason Pierre-Paul
can buck the trend.
Big-play dudes:
In
Julio Jones
and
Victor Cruz
, the Falcons and the Giants have two of the best receivers in the league at making things happen after they catch the ball. Jones, the Falcons' rookie from Alabama, ranked first in the NFL this year among qualified receivers with 7.6 yards per catch after the reception. Cruz, the Giants' second-year breakout star, was second in the league in yards after the catch with 601 and third in the league with 7.3 yards per catch after the reception. Cruz was second in the league with nine catches of 40 or more yards, second only to Detroit's Calvin Johnson. Jones was tied for fourth in that category with seven such catches. That all comes courtesy of the "Next Level" stats we get every week from ESPN Stats & Information.
January, 6, 2012
1/06/12
1:30
PM ET
»
Wild-Card Final Word
:
Bengals-Texans
|
Lions-Saints
|
Falcons-Giants
|
Steelers-Broncos
Three nuggets of knowledge about Saturday's Bengals-Texans wild-card game:
Ending playoff droughts:
While the Texans are in the playoffs for the first time in their nine-year existence, the Bengals are enduring a much longer wait. Cincinnati has the longest active NFL streak without a playoff victory, going 20 years, according to ESPN Stats & Information. The Bengals' last postseason victory came in the 1990 wild-card playoffs against Houston -- and that's the Oilers, not the Texans. On Saturday, Cincinnati will look to end that draught that has spanned 7,768 days. Bengals coach Marvin Lewis is trying to end his own personal losing streak in the postseason. If he falls to the Texans, Lewis would become the first head coach to lose his first three playoff games since Wade Phillips dropped his first four before earning a postseason win in 2009.
[+] Enlarge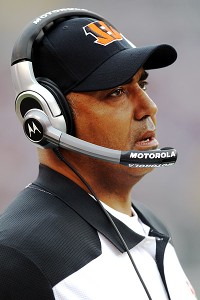 Mitch Stringer/US PresswireMarvin Lewis is aiming to avoid seeing his personal playoff losing streak hit three games.
Making the tackle
: If the Bengals can stop the Texans and the NFL's second-ranked running attack, they have a good shot at winning. To do so, Cincinnati has to fix a run defense that has crumbled down the stretch. In the first 10 games of the season, Cincinnati allowed 88.6 yards rushing per game. In the past six, the Bengals have given up 131.5. The run defense bottomed out in the regular-season finale when it got lit up by the Ravens'
Ray Rice
for 191 yards on the ground. The problem comes down to tackling, or the lack thereof. According to ESPN S&I, the Bengals are allowing 1.9 yards after contact per rush, seventh-worst in the NFL. With running backs
Arian Foster
and
Ben Tate
, the Texans lead the league with 1,133 yards after contact this season.
Avoiding the swat team
: Elias Sports Bureau confirms that this marks the first postseason game since the 1970 merger to have rookie quarterbacks starting for both teams (
Andy Dalton
for Cincinnati and
T.J. Yates
for Houston). Dalton rarely has to worry about getting knocked down. The Bengals allowed the fourth-fewest sacks in the NFL this season. His biggest concern is having his passes knocked down. Dalton had the most passes batted or defended this season (79), including eight against the Texans on Dec. 11, according to ESPN S&I. That's not unusual for Houston, which led all defenses in defending passes (94).
January, 6, 2012
1/06/12
1:30
PM ET
»
Wild-Card Final Word
:
Bengals-Texans
|
Lions-Saints
|
Falcons-Giants
|
Steelers-Broncos
Three nuggets of knowledge about Sunday's Falcons-Giants playoff game:
[+] Enlarge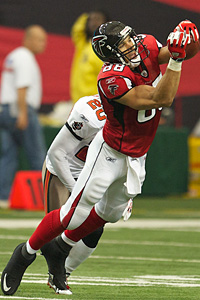 Dale Zanine/US PresswireWill star Falcons tight end Tony Gonzalez finally notch his first playoff win on Sunday?
Not a hard road.
The Falcons aren't known as a great road team, especially when they have to play outdoors. But traveling to MetLife Stadium shouldn't be as frightening as many people think. The home-field advantage isn't as big a deal as one might consider. Since 2004, home teams are 13-15 in wild-card playoff games.
Protecting Matty Ice.
It already has been established that one of the biggest matchups in this game will be Atlanta's offensive line against New York's pass rush. The Falcons had a tough time protecting
Matt Ryan
early in the season, even against base defenses. But Atlanta's offensive line has been better of late. In his past seven games, Ryan has 12 touchdowns and no interceptions against four or fewer pass rushers. But, with
Osi Umenyiora
,
Justin Tuck
and
Jason Pierre-Paul
, the Giants are one of the league's best at generating a pass rush from their front four.
Gonzo's unlucky streak.
Atlanta tight end
Tony Gonzalez
probably will be a first-ballot selection to the Pro Football Hall of Fame. He already holds virtually every receiving record for tight ends. But there's one thing Gonzalez never has done. He's gone through his entire career without winning a playoff game. Gonzalez's 238 regular-season games without a playoff win are the most by a position player in the Super Bowl era. Gonzalez played in three playoff games with Kansas City and was with Atlanta last season when the Falcons lost to the Packers.
January, 6, 2012
1/06/12
1:30
PM ET
»
Wild-Card Final Word
:
Bengals-Texans
|
Lions-Saints
|
Falcons-Giants
|
Steelers-Broncos
Three nuggets of knowledge about Saturday's Lions-Saints playoff game:
[+] Enlarge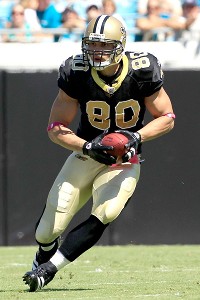 Sam Greenwood/Getty ImagesSaints TE Jimmy Graham has become one of the toughest matchups for opposing defenses in the NFL.
The Graham Factor:
You can make the case that New Orleans tight end
Jimmy Graham
isn't really a tight end. He might be more of a wide receiver in a tight end's body and that's going to create matchup problems for the Lions. Linebackers don't have the speed to stay with Graham and defensive backs don't have enough size to shut him down. Graham finished the regular season just one reception short of becoming the third tight end in history to have 100 catches in a season. Of Graham's 11 touchdowns, nine came on passes outside the yardage numbers on the field, according to ESPN Stats & Information. That was a league high among all receivers and four more touchdowns than the next tight end.
The blitz is coming.
It's no secret that New Orleans defensive coordinator Gregg Williams likes to use the blitz. The Saints led the league by sending five or more pass-rushers on 51.1 percent of opponent dropbacks during the regular season. Detroit's
Matthew Stafford
isn't used to a lot of blitzing. Stafford was blitzed on 24.6 percent of his dropbacks, the lowest of any quarterback in the league. But Stafford struggled when he did see the blitz. He threw six interceptions in situations in which he faced five or more rushers. Only four quarterbacks threw more interceptions in those situations.
At home in the dome.
Saints fans always have been a dedicated bunch. But in recent years, the crowd at the Mercedes-Benz Superdome has made it one of the NFL's most intimidating venues. With a Saturday night game, Saints fans will have all day to get ready and that's only going to help New Orleans on the field. The Saints went 8-0 at home in the regular season. In those games, the Saints averaged 41.1 points and 492.6 yards per game.
January, 6, 2012
1/06/12
1:30
PM ET
»
Wild-Card Final Word
:
Bengals-Texans
|
Lions-Saints
|
Falcons-Giants
|
Steelers-Broncos
Three nuggets of knowledge about Saturday's Lions-Saints wild-card game:
Historic battle:
I did my best this week to make our preview coverage about the actual game and its matchups, as opposed to just how unprecedented a victory Saturday night would be in recent Lions history. (Here's
a link to our handy "Lions-Saints" tag
.) But here goes: The Lions are one of two NFL teams never to have won a wild-card playoff game, tallying an 0-6 record since its advent, according to ESPN Stats & Information. They haven't won a playoff game of any sort since the 1991 season, and its been 54 years since they've won a playoff game on the road. (A 31-27 victory at the
San Francisco 49ers
in the 1957 Western Conference playoffs.) The Lions are 11-point underdogs against a Saints team that hasn't lost at home this season. It's no surprise that the Twitter hashtag #shocktheworld has emerged this week. For any number of reasons, there aren't many people counting on a Lions victory Saturday night.
[+] Enlarge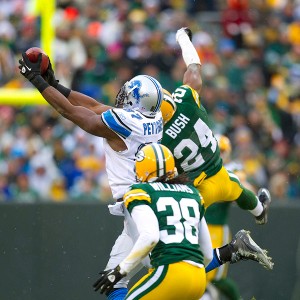 Jeff Hanisch/US PresswireBrandon Pettigrew has just as many catches (27) as teammate Calvin Johnson over the Lions' past four games.
More than Megatron:
Saints defensive coordinator Gregg Williams noted this week that "guys that are 6-5 end up being 5-5 when they get flipped over on their head," an obvious reference to Lions receiver
Calvin Johnson
. But no matter how much attention the Saints pay to Johnson, they'll no doubt be aware of the
impressive across-the-board production
the Lions got during their 3-1 finish to the regular season. Johnson caught 27 passes and four touchdowns over that span, but tight end
Brandon Pettigrew
also caught 27 passes, while receiver
Nate Burleson
had 22 and
Titus Young
17. Young scored four touchdowns, Pettigrew two and Burleson one. The Lions aren't likely to win if Johnson gets shut out, but they have the capacity to compete even if he is limited, especially if quarterback
Matthew Stafford
can beat the Saints' blitz
as we discussed earlier this week
.
Impact player:
As the quarterback, Stafford will have more opportunities to impact the outcome of the game than any other Lions player. But a close second will be any of the Lions' key pass-rushers up front. Whether it's
Ndamukong Suh
or
Kyle Vanden Bosch
or
Cliff Avril
, someone needs to make Saints quarterback
Drew Brees
uncomfortable in the pocket early and maintain the pressure for the duration. Otherwise, Brees will pick the Lions apart. In the teams' first meeting, the Lions put Brees under duress on only three of his 38 dropbacks. He completed 26 of his resulting 36 passes for 342 yards and three touchdowns. Suh, Vanden Bosch and Avril have each had dominant games at one point or another in their careers. At least one of them must produce another Saturday night.
NFL SCOREBOARD
Sunday, 2/2
WEEKLY LEADERS