NFL Nation:

Final Word 2012 AFC Week 1
September, 7, 2012
9/07/12
2:24
PM ET
»
NFC Final Word
:
East
|
West
|
North
|
South
»
AFC
:
East
|
West
|
North
|
South
Five nuggets of knowledge about Week 1:
Manning's last game against Pittsburgh:
It's been 20 months since
Peyton Manning
has played an NFL game, as a neck injury kept him out of all of last season. Manning will begin a new chapter in his Hall of Fame career when he quarterbacks the
Denver Broncos
against the
Pittsburgh Steelers
on Sunday. It will be Manning's first game against Pittsburgh in nearly four years. On Nov. 9, 2008, Manning led the Colts to a 24-20 road victory over the Steelers, completing 21 of 40 passes for 240 yards, three touchdowns and no interceptions. I'm sure both the Broncos and Manning would take a similar effort in this outing against the Steelers.
How will the Chiefs run the ball?
The
Kansas City Chiefs
believe they can have one of the best running games in the NFL with
Jamaal Charles
coming back from a torn anterior cruciate ligament he suffered in Week 2 of last season and because of the signing of
Peyton Hillis
. With Charles' speed and Hillis' punishing approach, the pair will be particularly important Sunday against the Falcons. The Chiefs have injuries on defense and pass-rusher
Tamba Hali
is serving a one-game NFL suspension -- just what the pass-happy Falcons want to see. According to ESPN Stats & Information, the Chiefs did not record one sack with Hali off the field last season. That's why Charles and Hillis have to be successful: The Chiefs need to establish a run attack and eat the clock to keep the ball away from Atlanta.
[+] Enlarge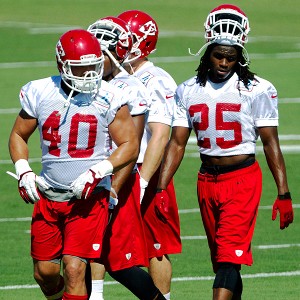 AP Photo/Orlin WagnerThe contrasting styles of Peyton Hillis (40) and Jamaal Charles (25) will be key to the Chiefs' ball-control efforts against Atlanta.
Can Chargers find offensive rhythm?
The Chargers are going to be rusty on offense Monday night at Oakland. The team had several injuries on offense in the preseason and the first unit really didn't get much time together in games this summer. Quarterback
Philip Rivers
didn't even play in the third (and most important) preseason game because of injuries on the offensive line. It could take time for this unit to come together.
Instant bad memories for Oakland:
In the last game that counted in Oakland, after Denver lost at home to Kansas City, all the Raiders had to do was beat the Chargers to go to the playoffs for the first time since 2002. However, San Diego, which was eliminated from the playoff race the week before, hammered the Raiders 38-26, keeping them out of the playoffs. It also cemented Hue Jackson's departure from Oakland. Now, the Dennis Allen-led Raiders can get off to a good start in 2012 by handling the same Chargers.
The Thomas-Taylor showdown:
Stepping onto the field in Denver on Sunday night will likely cause Pittsburgh cornerback
Ike Taylor
to shake a little. On the last play of a game that counted on that field, Denver receiver
Demaryius Thomas
stiff-armed and badly beat Taylor on his way to a 80-yard touchdown pass from former Denver quarterback
Tim Tebow
on the first offensive play of overtime to give the Broncos a wild-card-round victory over the Steelers. The play will live forever in both Denver and Pittsburgh. I'm sure Manning will try to create some new memories for Thomas and Taylor if the opportunity presents itself Sunday night.
September, 7, 2012
9/07/12
1:30
PM ET
»
NFC Final Word
:
East
|
West
|
North
|
South
»
AFC
:
East
|
West
|
North
|
South
Five nuggets of knowledge about Week 1:
Debuting as linebackers:
Longtime Colts defensive ends
Dwight Freeney
and
Robert Mathis
debut as outside linebackers in Chicago in new coach Chuck Pagano's 3-4. In nickel situations they'll probably look a lot like they always have. But on early downs they'll be moving around and far less predictable than they've been in the past. They have the most favorable matchups of anyone on defense for the Colts in this game -- Bears tackles
J'Marcus Webb
and
Gabe Carimi
are unproven pieces of a line that needs to offer better protection for quarterback
Jay Cutler
. (Here is Kevin Seifert
on the matchups
.) Pagano is going to find ways to attack those guys. The Bears should counter by getting the Colts into nickel and looking to attack nickelback
Justin King
and strong safety
Tom Zbikowski
until they prove they can slow the pass.
[+] Enlarge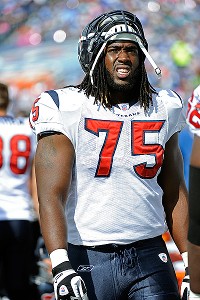 AP Photo/Frederick BreedonRight tackle Derek Newton is part of a revamped right side of Houston's offensive line.
New right side:
The Texans spent the preseason sorting out the right side of the offensive line after guard
Mike Brisiel
left for Oakland as a free agent and
Eric Winston
was released in a cost-cutting move. Enter guard
Antoine Caldwell
and the surprise winner of the right tackle job,
Derek Newton
. Per ESPN Stats and Info, the Texans averaged 5.1 yards per rush to the right side last season -- the NFL's sixth-best average to that area. Caldwell played 210 plays at right guard last season, and Newton logged 11 plays at right tackle.
Crafty vs. crafty:
Titans nickel cornerback
Alterraun Verner
is looking forward to going against
Wes Welker
. There are some things in which
Tom Brady
and Welker are virtually unstoppable. But Verner has a knack for staying on top of short, underneath stuff out of the slot and is good at trusting the coverage help a defensive call will provide. He said that although Welker is typically cast as crafty, he's crafty too. Verner said that after this matchup, everything else will seem easier. How he holds up against the league's most productive inside receiver will be a big piece of the Titans' defensive story Sunday.
Revealing an offense:
Mike Mularkey said early in training camp that the Jaguars' offense won't just be what we saw him call with Atlanta as offensive coordinator. Rather, he and his staff -- with guys like coordinator Bob Bratkowski, quarterbacks coach Greg Olson, receivers coach Jerry Sullivan and running backs coach Sylvester Croom -- sat down and pieced together an offense that combines elements from all of their backgrounds. The first-team offense performed well in the preseason, so we didn't spend a lot of time talking about its being vanilla. But I expect we'll see some surprises on offense against the Vikings as we see what, exactly, Mularkey and his staff have constructed.
Questions to be answered:
What's the rotation at outside linebacker look like for Houston, and how much does first-rounder
Whitney Mercilus
get on the field to offer
Connor Barwin
a rest? ... Will receiver
Austin Collie
, not far removed from a concussion, play for the Colts? ... Does rookie linebacker
Zach Brown
get on the field for the Titans in packages with an emphasis on slowing the Patriots' tight ends? ... With
C.J. Mosley
starting beside
Tyson Alualu
at defensive tackle for the Jaguars, how much will
Terrance Knighton
get on the field?
September, 7, 2012
9/07/12
1:30
PM ET
»
NFC Final Word
:
East
|
West
|
North
|
South
»
AFC
:
East
|
West
|
North
|
South
Five nuggets of knowledge about Week 1:
Miami's ground attack:
The Dolphins' passing struggles this preseason have been well documented in this space. Now that the games count, expect Miami to be more conservative with rookie quarterback
Ryan Tannehill
. The Dolphins would be wise to draw up a simple game plan to run as much as possible against the dangerous
Houston Texans
. Miami has a decent stable of running backs, led by starter
Reggie Bush
, and deploying them successfully is the best way to keep the game close. If Miami falls behind early and tries to pass its way back in the game, look out! The Texans' pass rush could cause the Dolphins major problems.
[+] Enlarge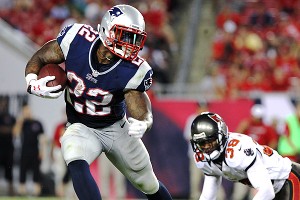 Kim Klement/US PresswireStevan Ridley is likely to receive the lion's share
of carries for New England against Tennessee.
Ridley the focus:
New England Patriots
tailback
Shane Vereen
has been held out of practice this week with a foot injury and is not expected to play. That means most of the responsibility will be on second-year tailback
Stevan Ridley
. He beat out Vereen in training camp for the starting job but was still expected to share carries. For Sunday's game against Tennessee, Ridley likely will be the workhorse, with help from backup
Danny Woodhead
.
Sanchez must perform:
Perhaps no starting quarterback in the NFL faces more pressure to perform in Week 1 than
Mark Sanchez
. His job security has been in question from the day the
New York Jets
traded for the popular
Tim Tebow
. Then Sanchez failed to lead the Jets to a single preseason touchdown. There is no way around it: Sanchez enters the season on a short leash. He must play well against the
Buffalo Bills
at home Sunday or questions will increase about his job security.
Statement for Jets' D:
New York talked this offseason about the potential of having the best defense in the league. The Jets can go out and prove it Sunday against the Bills. New York -- particularly at cornerback -- has matched up well against Buffalo's multi-receiver offense in recent seasons, winning five consecutive games in the series. The matchup between Pro Bowl corner
Darrelle Revis
and Bills No. 1 receiver
Steve Johnson
, if healthy, will be huge. Johnson
has done well
against Revis in the past but is
nursing a groin injury
. Johnson said he expects to play but is listed as questionable. Meanwhile, Revis will be motivated to start the season strong.
Fitzpatrick crossroads:
Buffalo quarterback
Ryan Fitzpatrick
enters a pivotal year in his career. The Bills will go as far as Fitzpatrick takes them this season. He is one of the streakiest quarterbacks in the NFL. At his best, Fitzpatrick can get hot and beat any team. But at his worst, he's prone to multiple turnovers that are difficult to overcome. Fitzpatrick has worked on fundamentals and consistency, and he will need it on the road against the Jets' excellent defense.
September, 7, 2012
9/07/12
1:30
PM ET
»
NFC Final Word
:
East
|
West
|
North
|
South
»
AFC
:
East
|
West
|
North
|
South
Five nuggets of knowledge about Week 1:
Steelers' inside running game:
Pittsburgh lost first-rounder
David DeCastro
(knee), but their interior offensive line trio of
Willie Colon
,
Maurkice Pouncey
and
Ramon Foster
is a massive group that could be able to dominate Denver's suspect interior triangle, which could be the team's biggest weakness. Also, DE
Elvis Dumervil
will be at a disadvantage in the running game against Steelers OT
Max Starks
, and LB
D.J. Williams
will miss this game because of a suspension. That leaves the Broncos very vulnerable against a power running game, particularly up the middle. Pittsburgh will mix in small doses of
Chris Rainey
, but for the most part look for it to feature
Isaac Redman
and/or
Jonathan Dwyer
, two heavier power backs who could wear the Broncos down. Of course, this approach also would be very beneficial for keeping
Peyton Manning
on the sidelines as well as possibly opening shots deep downfield off play-action to
Mike Wallace
or
Antonio Brown
.
[+] Enlarge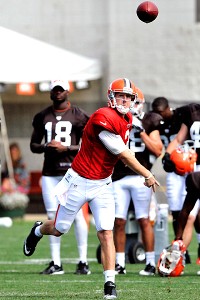 David Richard/US PRESSWIREThe Browns will discover in Week 1 what kind of NFL quarterback they have in rookie Brandon Weeden.
Which Ravens' offense will we see on Monday night?
Over the past few seasons, Cam Cameron's offense in Baltimore has been about as bland and predictable as any in the league. To some degree, that made sense considering
Joe Flacco
was a young quarterback adjusting to the NFL from a very small college and the fact that Baltimore had
Ray Rice
at its disposal. So why not feature the running game with some deep shots downfield that often came off play-action? But in today's NFL, that style of offense can only take you so far. In the preseason, Baltimore featured a lot of no-huddle with Flacco being the focal point of the offense. This change could allow Baltimore to catch opposing defenses, Cincinnati in this case, in favorable personnel groupings and control the tempo of the game. But to run it successfully, Flacco needs to be very adept at exposing the weaknesses that Cincinnati's defense presents to him and making the correct play calls before the snap. By the preseason indications, Baltimore is ready to trust Flacco with such responsibilities.
Bad draw for Browns, Weeden:
The Browns'
Brandon Weeden
is my least favorite of the five rookie starting quarterbacks starting across the NFL. He is a very good pocket passer with a big arm, but Weeden doesn't move his feet well, can stare down receivers and hasn't shown he is adept at handling pass-rush pressure. Well, the Eagles are a brutal opponent for this aged rookie's first start, as their pass rush and defensive line rival any in the league. Philadelphia is extraordinarily deep up front and will consistently rotate fresh bodies into the game to attack upfield and disrupt Weeden, who can be statuesque in the pocket. Compounding matters, the Eagles' corners figure to play a high percentage of press-man coverage, and the Browns' young wide receivers have yet to show they can consistently beat such coverage at this level. This doesn't bode well for the Browns or Weeden.
Where's Ike?
Almost as much as any team in the NFL, Pittsburgh likes to match up its top cornerback,
Ike Taylor
, on the opponent's No. 1 receiver. When the Steelers and Broncos met last postseason, it was
Demaryius Thomas
against whom Taylor most often lined up. That ended poorly for Pittsburgh on what was Tim Tebow's best day as a professional throwing the football. But
Eric Decker
was knocked out of that game and was not a factor. Because of his sticky hands and precision route running, Decker looks to be the more Peyton Manning-friendly target. It will be very interesting from the start of this game how Pittsburgh views the Broncos' two starting wide receivers. It could be a tactic that Denver's future opponents mimic going forward.
Cincinnati's run game:
Bernard Scott
is a better outside runner, but
BenJarvus Green-Ellis
is the reliable between-the-tackles back who can sustain a large workload. Running against the Ravens is never an easy task, but in this matchup, going to the outside might be the preferred route, as Baltimore lost two elite outside run stoppers in
Jarret Johnson
, who is now with San Diego, and
Terrell Suggs
, who is sidelined with an Achilles injury. However, Scott might not be healthy for this contest and Cincinnati favors Green-Ellis overall. So assuming Green-Ellis is the main ball carrier, most of the Bengals' runs should be aimed up the middle. That could be a problem considering Cincinnati's interior line has been decimated with injuries and simply put, the Ravens are fantastic at stopping the inside run. So expect the Bengals to have to rely on
Andy Dalton
and the passing game plenty on Monday night.